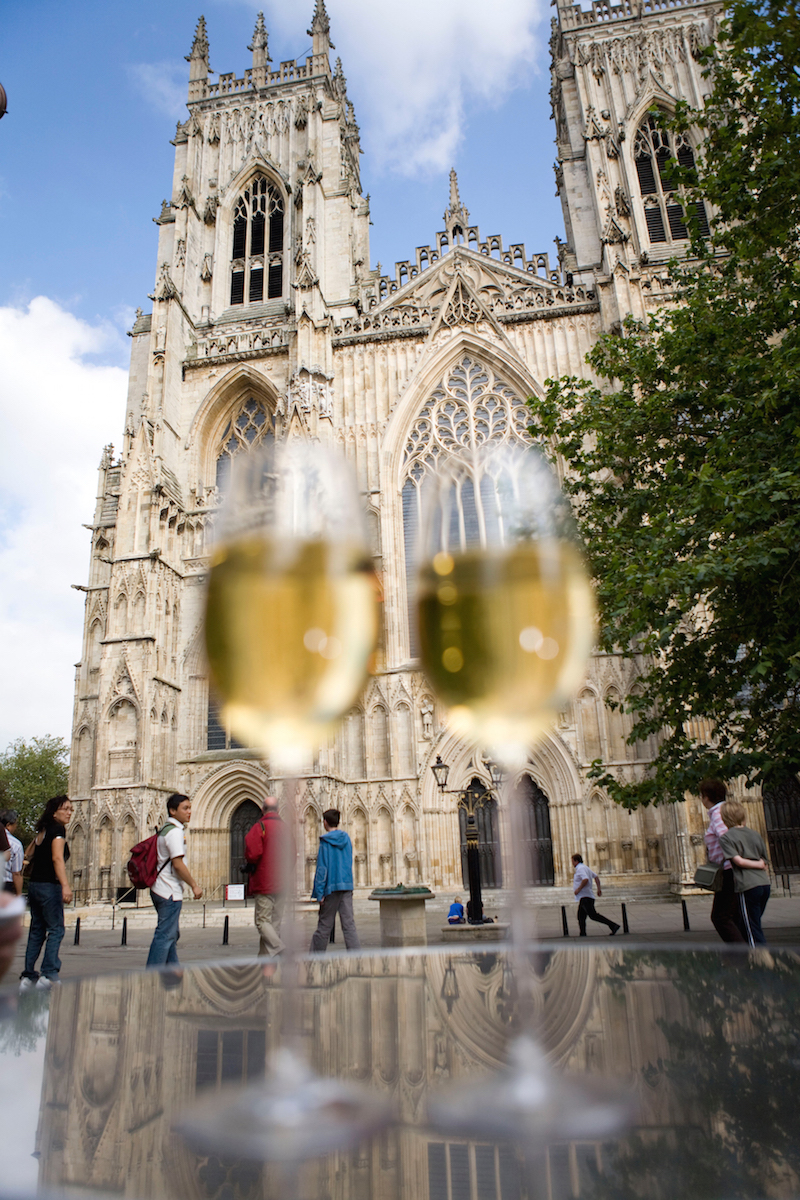 Yorkshire's capital achieves more top-scorers than Leeds, Newcastle or Oxford
Harden's 100 crowns Bristol's Casamia as UK's No. 1 dining destination
A ropey year for Manchester as Edinburgh, Brighton, Bristol and Birmingham all outclass England's second city
The UK's best towns for foodies, and top 100 Restaurants are revealed today in Harden's Best UK Restaurants 2019. The guide is on release both digitally (as an app, available in both the Apple and Google stores) and in print (being by far the country's most comprehensive print restaurant guide with over 2,700 entries).
Harden's 28th annual poll surveyed 8,000 diners who contributed 50,000 reviews, which, as analysed and curated by the editors, form the basis for Harden's inclusions, ratings and reviews.
This year saw a surge in interest in the York dining scene, whose rather staid dining culture has been transformed in recent times with the arrival of a slew of ambitious modern openings.
Amongst the UK's main restaurant cities York entered the top-20 list in terms of its number of top-scoring destinations, ranking at 8th=: on a par with more established foodie destinations such as Bath; and ahead of big cities such as Leeds, Oxford and Newcastle. With Le Cochon Aveugle (at 91), it also has a representative amongst the Harden's 100: the country's culinary crême de la crême (see below).
The guide's editor and co-founder Peter Harden said:
"During Harden's 28 years of reviewing, York has hitherto been one of those charming British cities with inspiring medieval architecture, but, by contrast, a middle-of-the-road selection of pubs, tea-shops and bistros. But in the last year or two, the city has shot to prominence as a foodie-magnet, with an assortment of Shoreditch-worthy arrivals in recent times such as Arras, Le Cochon Aveugle, Skosh and the yet-to-be-rated Roots."
Of the Harden's 100 Best UK Restaurants, the No. 1 slot went to the Sanchez-Inglesias family's Casamia in Bristol (up from No. 2 last year). With tickets to eat in the restaurant sold four months in advance, the Harden's review applauds "an attention to detail you don't see in other fine dining restaurants" but notes that "it's the theatre and introduction by the chefs that really rounds off the experience".
North of the border, Edinburgh (with 51 listings), is still unrivalled outside London in terms of quality, with 13 restaurants amongst the guide's top scorers. Of these, four are in the Harden's 100: Restaurant Martin Wishart (at 18), Castle Terrace (at 53), Number One (at 71) and Kitchin (at 95).
Amongst England's cities, Brighton edged out Birmingham to receive the highest ranking this year in terms of the number of top-scoring establishments; and with the Little Fish Market (99) it also achieved an entry in the Harden's 100. But Birmingham was only narrowly behind, and ahead at the very top of the market, with more Harden's 100 entries than any other English city with Adam's (at 22) – Simpson's (at 42), and Purnell's (at 59).
Manchester (with 62 entries) again scored the guide's biggest total number of reviews outside the capital: even more than Edinburgh's 51. In terms of quality, however, England's second city continues to suffer from a patchy profile, with a number of its top venues going through major change (Manchester House) or closing this year (Rabbit in the Moon). After an excellent year last year, it sank back to 5th= position for top-scoring entries and yet again failed to achieve any listings at all in the Harden's 100.
Of the Harden's 100 ranking of the country's best of the best, the split was 49/51 between London and non-London restaurants.
Scotland put in a strong performance accounting for 7 entries on the top-100 list. Outside of those Edinburgh restaurants noted above, Scotland's representatives in the Harden's 100 were Andrew Fairlie in Auchterarder (at 55), The Peat Inn Cupar (at 58) and The Torridon Restaurant in Annat (at 94). Glasgow again put in a strong showing as the 5= city outside London in terms of top scorers and 6= in terms of the total number of entries.
Wales achieved a respectable 3 rankings in the top-100 list, with The Walnut Tree at Llandewi Skirrid (at 34), Gareth Ward at Ynshir in Eglwys Fach (at 44), and Tyddyn Llan in Llandrillo (at 47). Cardiff maintained its position in the top-20 in terms of total number of entries (at 20=).
Modern British and French restaurants still predominate in the Harden's 100 (accounting for 53 and 19 listings respectively) but Asian cuisines gained ground with 16 listings in total (5 Chinese, 5 Japanese and 6 Indian).
This is the second year the Harden's 100 list of top restaurants has been published independently from The Sunday Times, who made the ranking the basis of their annual Food List supplement for 6 years from 2010 to 2015.
Top Restaurant Cities in the UK by 1) Quality and 2) Overall Coverage
Top scorers are those restaurants under £60 per head scoring a 5/5 rating for food; or those over £60 per head scoring either 4/5 or 5/5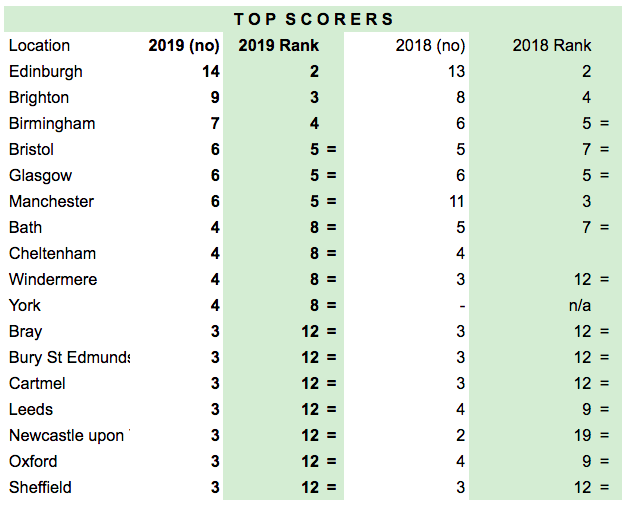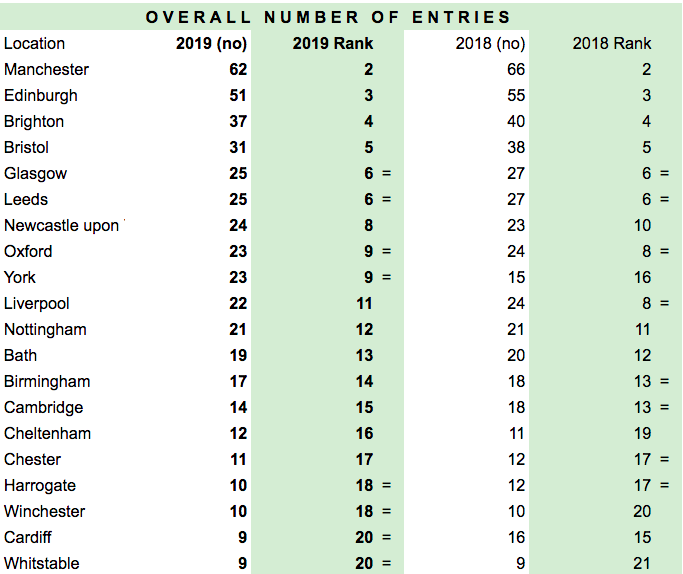 The Harden's 100 ranking of the UK's best restaurants in full
| | | |
| --- | --- | --- |
| 1 | Casamia, The General, Bristol (2) | |
| 2 | Texture, London (33) | |
| 3 | The Araki, London (1) | |
| 4 | Restaurant Nathan Outlaw, Port Isaac (4) | |
| 5 | The Ledbury, London (3) | |
| 6 | La Dame de Pic London, London (90) | |
| 7 | Fraiche, Oxton (12) | |
| 8 | Winteringham Fields, Winteringham | |
| 9 | Waterside Inn, Bray (7) | |
| 10 | Hambleton Hall, Hambleton (43) | |
| 11 | Core by Clare Smyth, London | |
| 12 | Aulis London, London | |
| 13 | The Five Fields, London (28) | |
| 14 | Bubbledogs, Kitchen Table, London (27) | |
| 15 | Sushi Tetsu, London (16) | |
| 16 | Belmond Le Manoir aux Quat' Saisons, Great Milton (25) | |
| 17 | The Fat Duck, Bray (5) | |
| 18 | Restaurant Martin Wishart, Edinburgh (9) | |
| 19 | The Box Tree, Ilkley (39) | |
| 20 | Lympstone Manor, Exmouth (54) | |
| 21 | Sorrel, Dorking | |
| 22 | Adam's, Birmingham (32) | |
| 23 | Restaurant Sat Bains, Nottingham (13) | |
| 24 | Indian Accent, London | |
| 25 | Le Gavroche, London (22) | |
| 26 | Morston Hall, Morston (36) | |
| 27 | Quilon, London | |
| 28 | Artichoke, Amersham (61) | |
| 29 | Black Swan, Oldstead (8) | |
| 30 | Moor Hall, Aughton (30) | |
| 31 | L'Enclume, Cartmel (18) | |
| 32 | Yorke Arms, Ramsgill-in-Nidderdale (19) | |
| 33 | The Feathered Nest Inn, Nether Westcote | |
| 34 | The Walnut Tree, Llandewi Skirrid | |
| 35 | The Clove Club, London (10) | |
| 36 | Brat, London | |
| 37 | Pétrus, London (41) | |
| 38 | Midsummer House, Cambridge (21) | |
| 39 | Hedone, London (42) | |
| 40 | L'Ortolan, Shinfield | |
| 41 | Hunan, London (56) | |
| 42 | Simpsons, Birmingham | |
| 43 | Mãos, London | |
| 44 | Gareth Ward at Ynyshir, Eglwys Fach (15) | |
| 45 | Freemasons at Wiswell, Wiswell | |
| 46 | Lucknam Park, Luckham Park Hotel, Colerne | |
| 47 | Tyddyn Llan, Llandrillo (38) | |
| 48 | Hakkasan (Group), GROUP | |
| 49 | The Sportsman, Seasalter (85) | |
| 50 | The Neptune, Old Hunstanton (44) | |
| 51 | Raby Hunt, Summerhouse (29) | |
| 52 | Fera at Claridge's, Claridge's Hotel, London | |
| 53 | The Castle Terrace, Edinburgh | |
| 54 | The Clock House , Ripley | |
| 55 | Andrew Fairlie, Gleneagles Hotel, Auchterarder (35) | |
| 56 | Gidleigh Park, Chagford (11) | |
| 57 | The Square, London | |
| 58 | The Peat Inn, Cupar (94) | |
| 59 | Purnells, Birmingham (88) | |
| 60 | Pied À Terre, London (23) | |
| 61 | Lumière, Cheltenham | |
| 62 | Verveine Fishmarket Restaurant, Milford-on-Sea | |
| 63 | Min Jiang, The Royal Garden Hotel, London (99) | |
| 64 | Le Champignon Sauvage, Cheltenham | |
| 65 | Cotto, Cambridge | |
| 66 | Zuma, London (79) | |
| 67 | Nobu, Metropolitan Hotel, London | |
| 68 | Amaya, London | |
| 69 | The Greenhouse, London (20) | |
| 70 | Hide, London | |
| 71 | Number One, Balmoral Hotel, Edinburgh | |
| 72 | The Harrow at Little Bedwyn, Marlborough (83) | |
| 73 | Lickfold Inn, Lickfold | |
| 74 | La Trompette, London (71) | |
| 75 | Roux at Parliament Square, RICS, London (46) | |
| 76 | Roganic, London | |
| 77 | Chez Bruce, London (53) | |
| 78 | Story, London (17) | |
| 79 | Jikoni, London | |
| 80 | Hélène Darroze, The Connaught Hotel, London (37) | |
| 81 | Yauatcha (Group) | |
| 82 | Marcus, The Berkeley, London (75) | |
| 83 | Pollen Street Social, London (77) | |
| 84 | Elystan Street, London (69) | |
| 85 | Dinings, London | |
| 86 | Chutney Mary, London | |
| 87 | Outlaw's at The Capital, London | |
| 88 | Trinity, London (97) | |
| 89 | Duddell's, London | |
| 90 | Roux at the Landau, The Langham, London | |
| 91 | Le Cochon Aveugle, York (40) | |
| 92 | Trishna, London (64) | |
| 93 | Murano, London (48) | |
| 94 | The Torridon Restaurant, Annat | |
| 95 | The Kitchin, Edinburgh (47) | |
| 96 | Paris House, Woburn | |
| 97 | The Ritz, London (45) | |
| 98 | The Frog, London | |
| 99 | Little Fish Market, Brighton | |
| 100 | Wilks, Bristol (65) | |
Recent News from Harden's