Harden's regular round-up of the restaurant critics' meals, from the week ending 28 July 2019.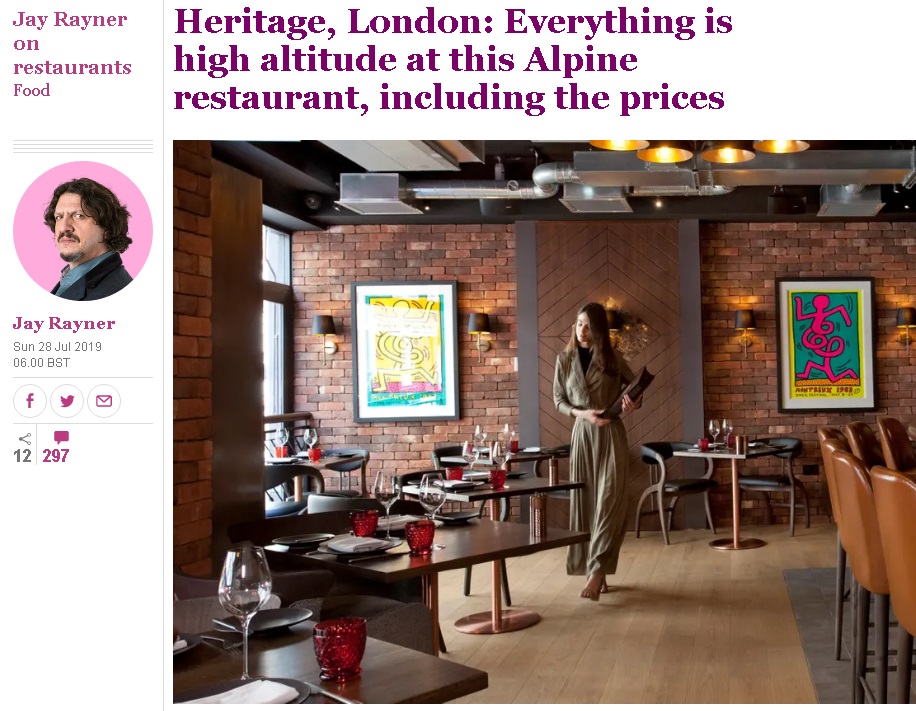 Jay Rayner for The Observer made some sweeping generalisations about Switzerland to start his review ("it's expensive, tooth-achingly polite, efficient and profoundly committed to dairy fats") but only to point out that Heritage manages just three out of four.
To be fair, the drop in efficiency was caused by a power outage, but the staff handled it "exceedingly well" and there was no effect on his "night of Alpine joy".
Jay described the restaurant as an "orgy of varnished dark wood, banquette and heel click", and his first dish of rosti with maple-glazed lardons as "a nutritional outrage and therefore completely marvellous".
Unfortunately, due to ill-advised cheese combinations (Jay knows his fondue), the next course was "one of the most irritating fondues I have ever attempted to eat", forming "endless ribbons and strings, like Spider-Man is trying to get the hang of his kit, and failing". It was accompanied a consolation of "drop-dead gorgeous plates" of roasted vegetables (even though they "want nothing to do with" the melted cheese).
Bought-in desserts that appeared at the same time as the electricity left Jay feeling "very politely and rather elegantly fleeced". Just one question remained – "why would you open a restaurant serving food specifically designed to get you through a blizzard, in the depths of summer?"
---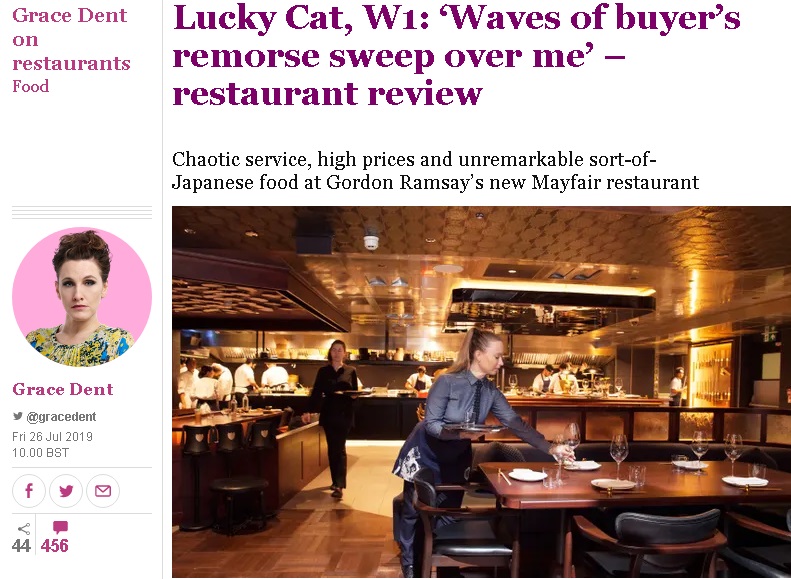 Grace Dent for The Guardian paid a visit to Gordon Ramsay's latest opening, the "gargantuan, Japanese-ish" Lucky Cat, a "hulking, gorgeous, sexily lit, mock-1930s Tokyo drinking club" festooned with  "many dozen welcoming maneki-neko felines… waggling their paws" (or "waving goodbye to next month's mortgage payment"?)
It's not the "best sort-of-Japanese food being served within a mile radius ", but the "heaving" crowd ("a mix of moneyed tourist couples, business dinners and special-occasion parties ") didn't seem to mind the so-so food or the eye-watering prices. ("At these prices, everything should be exquisite, which it very much is not.")
Grace ate "teeth-chatteringly sweet saikyo miso black cod" with "unremarkable steamed rice", a "teensy plate of prawn toast", "bland, flabby smoked shortrib", "fiercely fishy and semi-inedible" monkfish cheek katsu, and then duck that was "delicious, sticky, crunchy, fatty and served with cucumber and a half-decent pillowy bao" (and cost £27). Pudding was a "pineappley spin on rum baba" that felt "microwaved".
Service was "chaotic" – there was "more staff on the floor, swaying and mouthing nonsense, than at the closing number of Live Aid in 1985". Lucky for them and their jobs, "Lucky Cat doesn't need me. My feelings will make no difference to its audience". (10/30)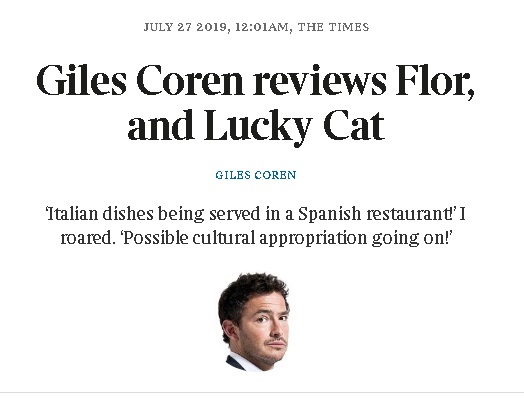 Giles Coren for The Times' Saturday Magazine also reviewed Lucky Cat, after a visit to Flor. He riffed (at length) on an outraged theme of cultural appropriation, accusing Flor (a Spanish restaurant from the team behind Lyle's) of serving authentic and delicious Italian dishes.  (25.5/30)
He went on to spin an hilarious gag about how Lucky Cat has "nothing going on that you could possibly call cultural appropriation", copying as it does from "two very successful British chains, Nobu and Roka".
Unlike Grace Dent, Giles found the service "impeccable, kind, thoughtful, well informed, very eager to please", but just like her, he thought that Lucky Cat was "dark, divey, nightclubby" and the clientele "baffling".
"Lucky Cat is mad, frantic, very expensive, rootless, brilliant, awful, showy, totally lacking in confidence, not very well thought out and really, when you think about it, terribly, terribly funny." (18/30)
---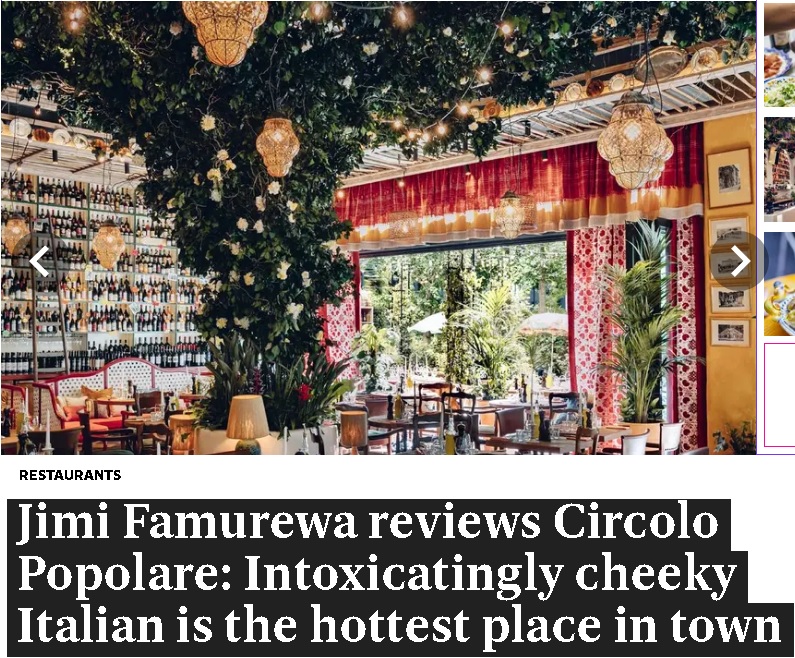 Jimi Famuwera for The Evening Standard noticed a theme when he dined at Circolo Popolare ("French restaurant group Big Mamma's unfathomably enormous, typically overblown follow-up to Gloria in Shoreditch"): everyone had a similar expression, "a highly specific mix of bedazzled awe, dumbstruck amusement and slight, mouth-gaping terror".
It was an overwhelming (but ultimately winning) experience, from the room (which "feels like stepping into an alternate dimension of supreme restaurant industry confidence") to the shouty "ALLCAPS" menu of "metre-long rectangular pizzas" and "fruit-clogged fish-bowl cocktails" and the "boisterous, cluttered, Italianate razzle-dazzle" atmosphere.
The food was better than he expected "at a place with a giant, wipe-clean menu". "Fantastically sloppy Sardinian empanadas" followed "belting" rotolo, although the crudo croccante were "merely passable". The main courses of pizza ("packing a balanced blast of sunshine") and pasta ("fine if a little lacking in zap") were chased with goo puddings.
Circolo Popolare is "intoxicatingly cheeky, stealthily drilled and primed to leave you sporting a smile as wide as the Mediterranean", and it "legitimately feels like the hottest place in town" right now, but time will tell whether it's a "truly sustainable game changer or merely Jamie's Italian in cooler trainers". (9/10)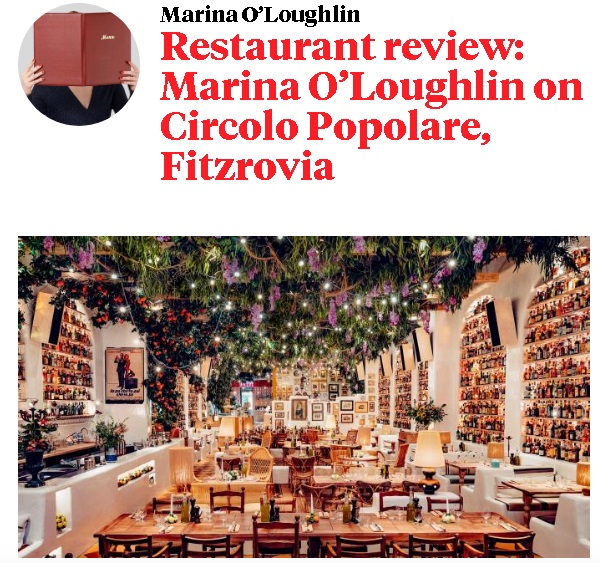 Marina O'Loughlin for The Sunday Times also reviewed Circolo Popolare, and likened it to a "dazzling" circus, a "huge, elaborate, wonderful, extravagant, campy gimmick" where "the food simply doesn't matter at all".
"The food isn't as good as at Gloria; in fact — brace for the professional term — it's a bit crap", and it's "as Sicilian as a Tesco Value lasagne" but it is "cheaper than other big-ticket joints in central London" and the experience is "utterly funtastic".
It's also something new, something "deliciously transgressive" at a time when all other newcomers are "intent, beardy boys perving over produce in austere little restaurants".
"This bunch don't open restaurants to feed people or win culinary awards, but as all-caps EVENTS."
"Over the top? Understatement of the millennium."
---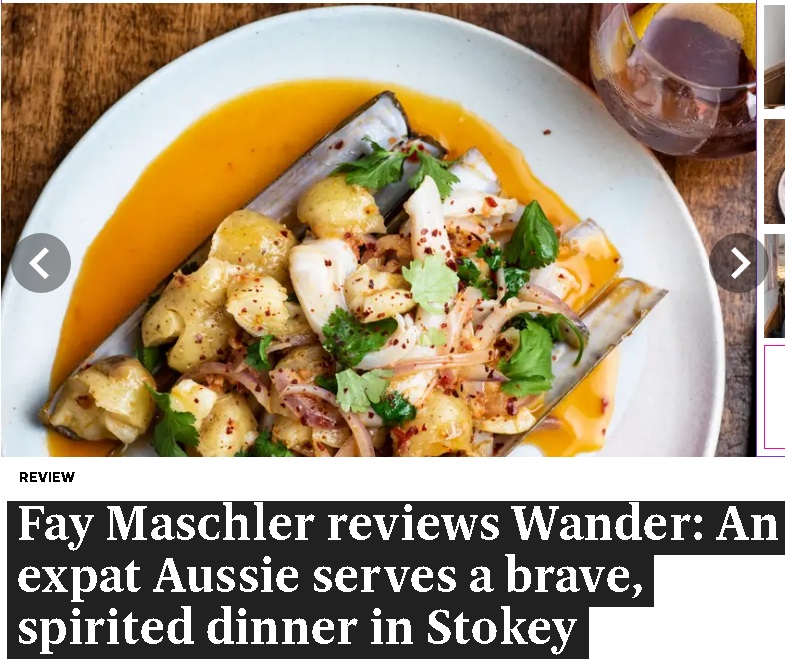 Fay Maschler for The Evening Standard wandered to "lucky Stokey" (several times, as is her way) for a taste of chef-patron Alexis Noble's cuisine, which rewarded her with a "spirited, brave and, by the way, extremely good-value dinner".
Dining from the 12-course chef's banquet meal, delivered "with well-judged timing" – and a "fascinating wine list" – Fay ate "a combination of hits and near misses", the best of which included "exceptional sourdough… with whipped Vegemite" ("nourishing bliss"), truffle burrata with gooseberry and Thai basil ("a slightly reckless global tour that turns out triumphant") and razor clams poached in cider with nduja ("a brilliant melding of flavours and textures").
Fay's dining companion detected a hint of "early-period Sally Clarke" and looked forward to seeing the "chef and the welcoming accommodating staff in a space that merits their skills". (****)
---
Tom Parker Bowles for The Mail on Sunday was at Siren, the new London home of Nathan Outlaw, "a true piscine king, a benevolent and rather brilliant kraken of the kitchen".
The nautical decor is "just the right side of too much, not so much ironic as a sly, jolly grin", and the service "as warm as it is well drilled".
Tom ate "gentle, soft and subtle" cuttlefish black pudding and turbot that was "cooked beautifully" while his companion had a Cornish crab risotto that was "too good to share".
"Siren is very much a taste of Goring future."(****)
---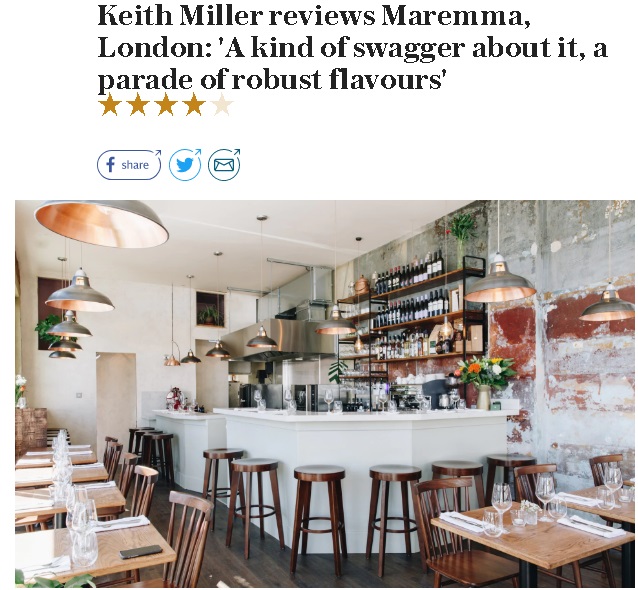 Keith Miller for The Telegraph ate at newcomer Maremma on the hottest day of the year, so awarded medals all round to the staff, diners, and especially chefs – "the very definition of grace under pressure".
Inside it's "an artfully scruffy palimpsest of previous decorative schemes" (he didn't like the counter-style seating, or the "unrivalled view of the bins on Arlingford Road").
The food, drawn from a coastal "micro-region of south-western Tuscany", was "simple and produce-led" and had "a kind of swagger about it, a parade of robust flavours", including cold roast tomato soup ("a rhapsody on the theme of its lead ingredient") and a chickpea pancake with crispy aubergine that had "notable levels of oomph", all washed down with wine from an "interesting, but pricey and faintly recherché, all-Italian list".
"It's a perfect restaurant for grown-up couples." (****)
---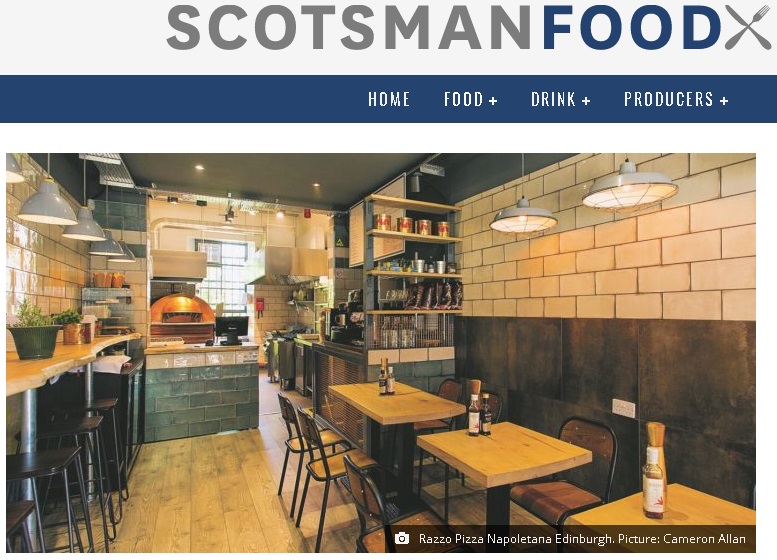 Gaby Soutar for The Scotsman reviewed Leith pizzeria Razzo with her nieces, training them up as "mini-Ruth Reichls". They despatched starters of mozzarella fritta ("breaded wands of stringy cheese"), "melty and creamy" gnocchi and arancini, followed by pizzas of "billowing" dough that "almost made me want to eat the crusts first" (including a Nutella one) that they scored "a million out of ten". Gaby scored them a more restrained (but still high for her) 80%.
And also…
William Sitwell for The Telegraph ate "plate after plate of food I defy anyone not to love" at Robata in Soho. (****)
---
In The Financial Times, Nicholas Lander was in France, enjoying "some fantastic dishes" at Le Chambard: "Anyone who finds French cooking predictable will have their eyes opened by this Michelin two-star in Alsace."
---
Mark Taylor of Bristol Live gave his top score to Glassboat, the "floating restaurant" and veteran of the city's restaurant scene "as resilient as a pair of shoes sprayed with several coats of Scotchguard". It has "a more brasserie flavour" these days under exec chef Jake Platt ("one of the few chefs I trust implicitly when it comes to seasonality, provenance and classic technique"). (15/15)
---
Daisy Jackson of the Manchester Evening News reviewed the second Manchester branch of Liverpool-based Indian street food chain Mowgli: "the chain has expanded faster than an unleavened bread dough in a bath of hot oil". "Order as many dishes as possible and loosen your belt accordingly." (***)
More from Hardens