Harden's regular round-up of the restaurant critics' meals, from the week ending 14 July 2019.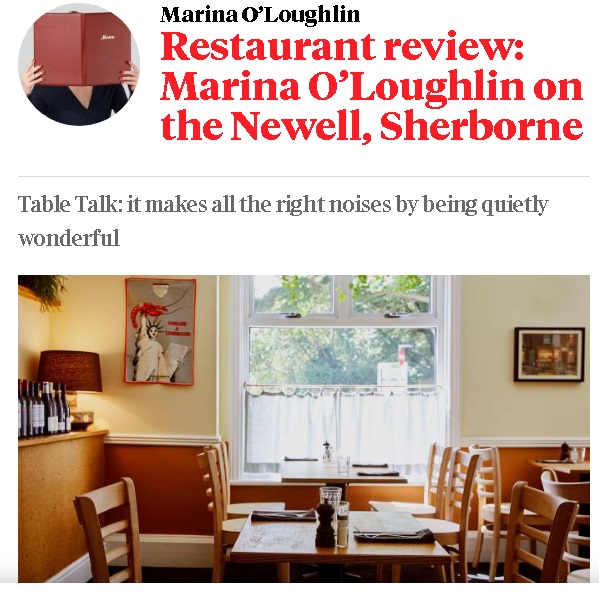 Marina O'Loughlin for The Sunday Times celebrates the restaurants she calls "quietly wonderful" – not the "flashy and splashy and showy and spendy" places chased down (and sometimes closed down) by food critics and hordes of Insta-tourists, but the "friendly places, staffed by good people, serving straightforwardly delicious food".
One she recalls – where the chef firmly told her it wasn't worth the effort travelling 400 miles to visit – was Sticky Walnut, Gary Usher's first venture. He has, of course, "gone on to replicate this ludicrous business plan over and over".
There was another in London's Denmark Street once, which garnered "remarkable outpourings of affection from critics"; the Giaconda Dining Room has gone, but the couple who ran it are now in Dorset, running The Newell in Sherborne.
It's "thoroughly unflashy, a plain-looking former pub" in a town where "life moves slowly". That "air of unhurried calm extends to the dining room", where the welcome from Tracey Petersen is genuine and where chef Paul Merroney is expertly turning out "dishes from another era" (his "classical training is very evident") – "crab bisque, eggs mayonnaise… risotto alla Milanese, spinach rotolo – and the dead giveaway, délice Joconde" (all Giaconda specials).
"Would I travel 400 miles to eat here? Honestly, probably not. But if it were within staggering distance of me, or I it, you'd have to prise me out of the place."
---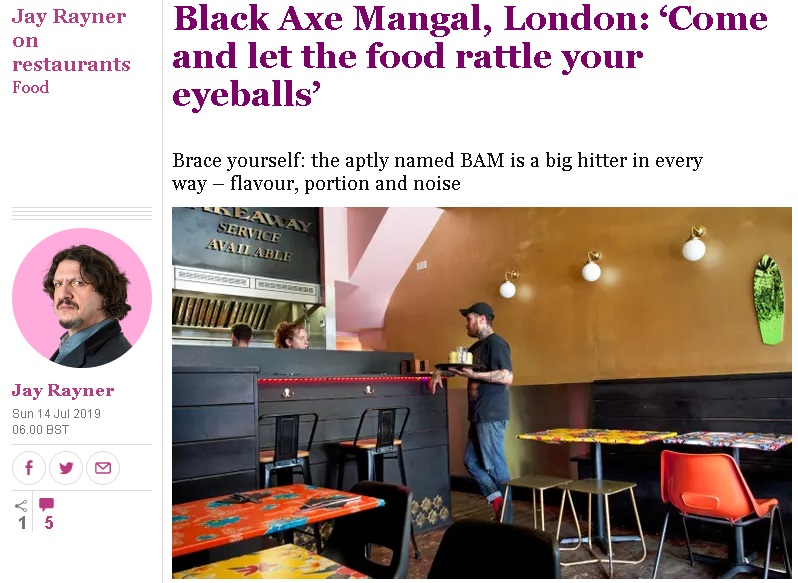 Jay Rayner for The Observer had heard great things about 'BAM' but hadn't reviewed it in the four years since it landed in Highbury Corner. Reports of "huge flavours and noise and queues" had made it sound "like a hoot – just not necessarily my hoot". But a cancelled launch party in the area and Monday night closures – and a free table (queues are up to an hour long at weekends) – meant that he was on the doorstep looking for dinner.
It's "a cramped space with room for just two dozen, with an open kitchen dominated by a graffiti-ed wood-fired oven". Tattooed chefs do "muscular things with the good food" to the beat of heavy metal, and everybody gets "sweaty and fed".
Chef patron Lee Tiernan spent years as the head chef of St John Bread and Wine – his take on Fergus Henderson's much-copied bone marrow and parsley salad is "a pimped version, with go-faster stripes, an aerofoil, a paint job and something involving fuel injection under the hood" – much like BAM itself.
That wasn't the only dish that "slaps you round the chops and slaps you again just to be sure" – there was a salt beef and sauerkraut steamed bun that was "essentially a Reuben sandwich with new tailoring", a "huge" Barnsley chop "bathed in the warm benediction of shrimp butter", a dish called "crispy fuckin rabbit" that's "indeed very crisp and very meaty and surfs a wave of sultry heat and sweet courtesy of the slutty sauce it sits upon" – with a Crunchy Nut choc ice for dessert (a "righteous use of breakfast cereal") – all because "the kitchen doesn't understand the word "enough"".
"If you're not sure, take the risk. Come let the food rattle your eyeballs."
---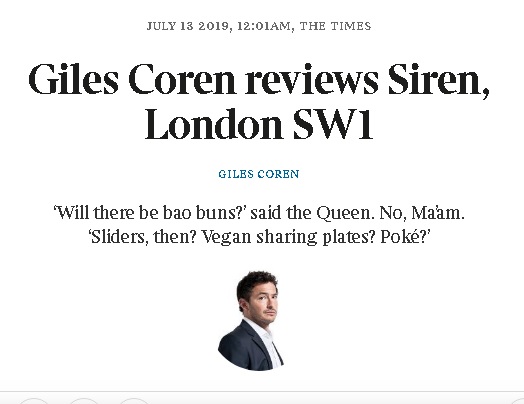 Giles Coren for The Times' Saturday Magazine relates his entire review of Nathan Outlaw's new London outpost as an imaginary conversation with The Queen. The Goring has long been known as a Royal favourite: "well into her nineties, she is still quite often photographed going in… for lunch".
In Giles' fevered imagination, Her Majesty panics about a new restaurant at the hollowed hotel. Would it disrupt the ordered peace that she has come to rely on? ("Simple, British, the finest ingredients, terrific wine list, lots of space between tables, thick carpet for that reverential hush so beloved of the senior diner.")
Would there be "pulled pork bao buns"?  "Sliders, then, or raw vegan sharing plates? Poké?" What about the staff? Are there "heavily tattooed men with forearms like hams, doing dainty little things with microherbs"? And is the decor to be "all exposed brick and hard furnishings… will one be expected to haul one's royal posterior up onto a vertiginous bar stool in the manner of an elderly panda seeking coitus with a flamingo?"
The imaginary monarch is reassured that none of that is in evidence by Giles's description of Siren's "reasonably conservative" look ("a conservatory full of potted trees overlooking the lawn and shrubbery, which feels rather like the setting for a country house performance of Lady Windermere's Fan") and by his run-through of the "exceedingly fancy" menu, although he toyed with treason by describing the battered turbot as "even better suited than cod" to the deep-fry treatment.
But after all that reassurance, down the description of Nathan Outlaw's tartare sauce ("a thing of beauty"), she still called him a knob. (21/30, with 10/10 for Majesty)
---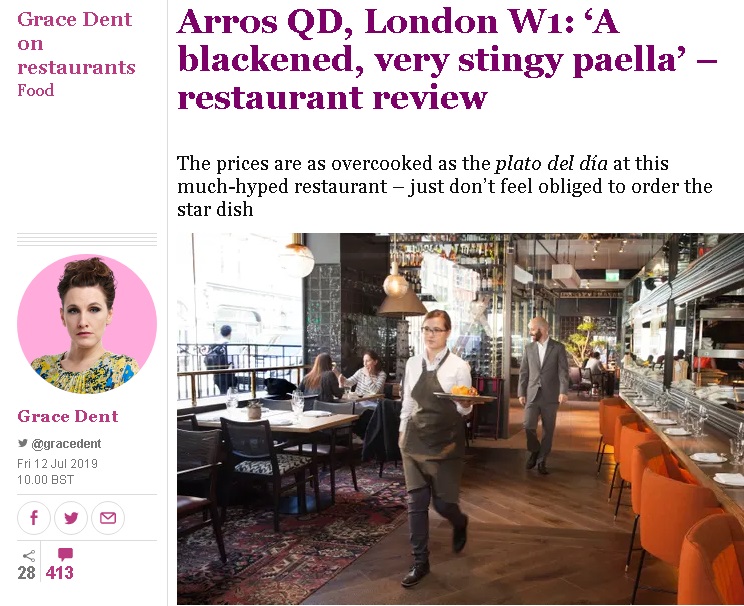 Grace Dent for The Guardian felt "oddly shortchanged" on her visit to Arros QD's first Saturday service. The hype (and "social media froth") surrounding Quique Dacosta's new pad had been rolling for months, and promised "a hot, new, glamorous, unmissable palace of paella".
QD himself had spouted his "quasi-spiritual, peak-chef earnestness" to the "noisemakers who matter, which meant that soon even partially sighted Trafalgar Square pigeons knew Dacosta had come to transform forever the way Britain understands the one-pan comfort food often called "the Spanish Sunday roast"."
It was the "cheese stones" ("lumps of parmesan, manchego cream and cocoa butter that look, in a Heston Blumenthal way, eerily like coal and taste exactly like charcoal-covered mini Babybels") that made Grace think that "this is not the place I was sold". Not to mention the wobbly chair at her terrible table "at a window overlooking filthy concrete bollards outside".
For full authenticity, "the rice here is cooked until its main thrust is a crisp core on the bottom of the pan with blackened parts at the edge" – but it felt just like a "blackened, very stingy version" of a paella that was only just "pleasant enough".
Grace's tip is to not feel obliged to order the paella at all – her other dishes included a kale citrus salad that "was an actual zinging marvel with a delightful and accomplished tomato dressing" – and she wishes the overpriced paella hadn't filled her up too much to try the "giant cookie with araguani chocolate".  (15/30)
---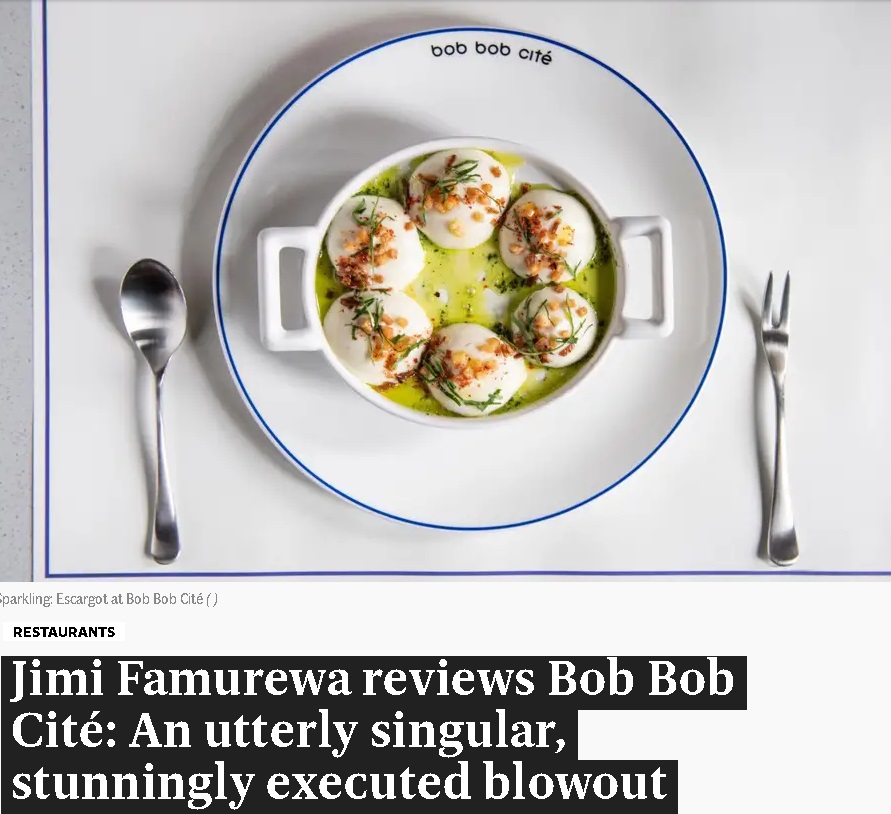 Following a now well-trodden path of critics, Jimi Famuwera for The Evening Standard visited Bob Bob Cité, the long-awaited, no-expense-spared sibling to Bob Bob Ricard. Before his visit, he'd imagined himself firmly in the camp of those who'd consider it "a gaudy preview of their own private hell: a high hall of wankerdom" where "some distinctly average comfort food is bestowed with cult status thanks to the gimmick of a 'press for champagne' button".
It wasn't hard to predict that he'd change his mind – BBC hasn't left many naysayers standing, overwhelming dissention with sheer force of its unadulterated glitz, and wow-factor cooking by Eric Chavot.
"By meal's end, I staggered out of this glittering eyrie stuffed, wowed and, to be honest, a little annoyed to have mostly been proved so very wrong." He paid soft launch prices, but firmly believes that even at full price, it would have been "an utterly singular, stunningly executed blowout".
The "mirrored… jewellery box of a space" takes "the original Bob Bob's Orient Express theme shunted into an imagined Philip K Dick future"; Eric Chavot's menu of "Franco-Russian come-ons sparkled right away… familiar brasserie pleasures, rendered with both uncommon grace and cranked-to-11 intensity". It was nothing less than a "procession of things that consistently exceeded the promise of the words on the menu".
"Bob Bob Cité may be a snooty Instagram backdrop for oyster-fuelled flexing but it floods you with a delirious wave of giddying little details… it already has the unmistakable sheen of a true destination." (8/10)
---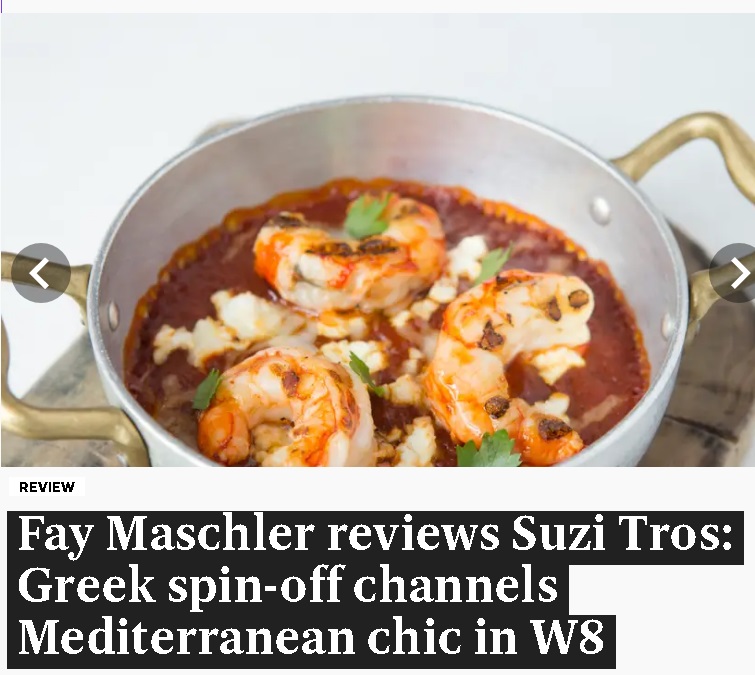 Fay Maschler for The Evening Standard ate at Mazi spin-off (and close neighbour) Suzi Tros, where head chef John Skotidas can be grateful she didn't lecture him on proper Greek cooking and ingredients, like she did with her dining companion and her readers (she has a house there, you know). She did let the management know how noisy it was, though ("It will be fixed soon, says Adrien"), and complained about the price of ouzo.
Suzi's menu is "divided by derivation or approach — Hors d'oeuvres, Raw, Garden, Fish Market, Butcher, Dessert" and served up as small plates with "relatively modest" prices ranging from £2 to £22, accompanied by "well-chosen and sometimes revelatory Greek wines".
Her four-star rating doesn't quite match the tone of the review, which was a shopping list of lacklustre compliments like "salt-baked carrots (three) glazed with maple syrup… constitute an interesting thing to do with carrots" and "chicken thighs, fat blistered on the grill, served… on a soft tacos, make a point about the global aspect of good ideas". (****)
---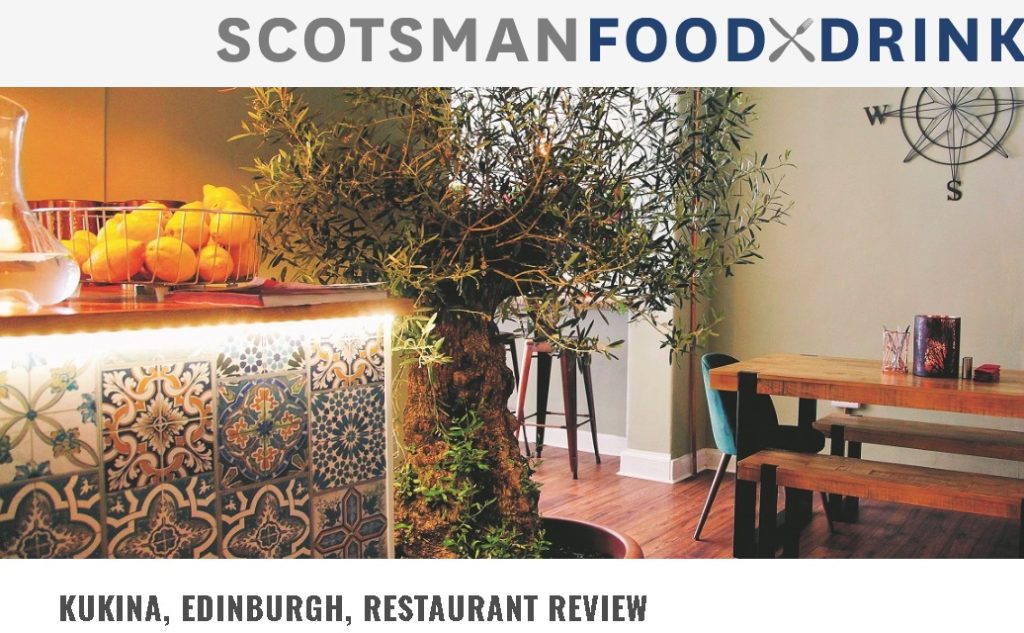 Gaby Soutar for The Scotsman was in Leith,  where she was thoroughly entertained by a "woman in a window" of new Turkish restaurant Kukina, "sitting on the floor and kneading pats of dough, before rolling them out with a long thin wooden pin, brushing them with oil and cooking on a hot griddle". Sadly, the lady rolling gozleme ("a sort of Turkish flatbread") was the best thing about Gaby's visit.
It's a "rather upmarket-looking space, with its rhino grey walls, copper light fittings and lanterns on tables"; the menu "mainly consists of this bread, or meal packages featuring it", and is very limited at lunch for no apparent reason. "The actual bread was good" but "fillings were a little sparse and patchy", and the "accompanying meze were a bit of a downer" and "all slightly lacking in pizzazz".
Puddings fared better – "mega sticky-bottomed" baklava and a banana and Nutella gozleme ("the production line never stops") that "left us with faces and clothes inadvertently painted in chocolate camouflage, like Apocalypse Now vs Willy Wonka". (65%)
The Scotsman also reported on a new Edinburgh opening from Stuart Ralston, chef-patron of Aizle. Noto will open in New Town in August.
---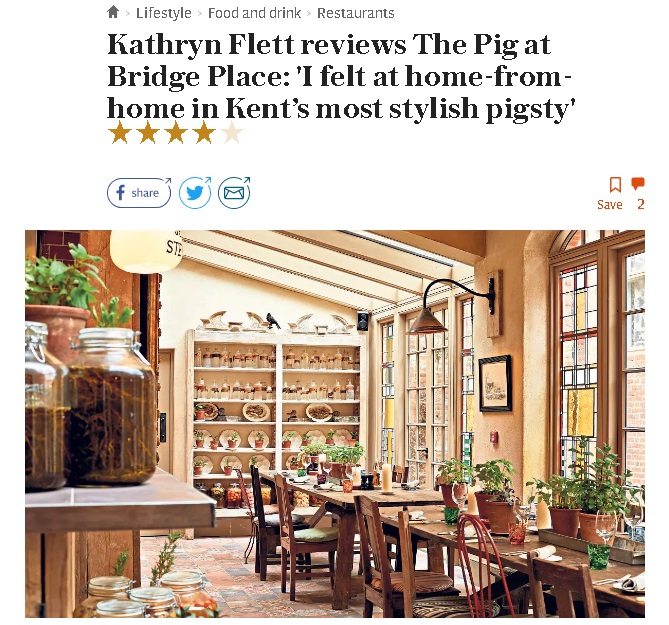 Kathryn Flett for The Telegraph was at new boutique hotel The Pig, the sixth in a mini-chain from the Hotel du Vin founder that has the USP of "combining an interesting building with a fantastic kitchen garden". It's a "handsome gaff – a Jacobean mansion that became a rock venue in the Sixties and Seventies", outside Bridge village in Kent. The kitchen garden, in planning for a year before opening, is "worth a visit in its own right".
"If Boden did restaurants…" probably sums up the whole experience, in the nicest possible way. Although "Fact: if you're allergic to romcoms you'll probably hate the Pigs" works pretty well, too.
The menu is "expansive and chattily arch" and service was "easy-going yet efficient, incidentally, which is quite the feat". She felt "stylishly nannied" throughout.
"It's not cheap and it's rather pleased with itself. However, as that's occasionally a reasonable description of me, too, I felt at home-from-home in Kent's most stylish pigsty."
---
And also…
William Sitwell for The Telegraph has claimed this week that a disgruntled chef from a recent review is harassing him by phone and text. So it's a good thing that he enjoyed his meal at The New Inn in Coln St Aldwyns in Gloucestershire, where the "imaginative little bites felt radical for a pub in the sticks".
---
Tom Parker Bowles for The Mail on Sunday travelled for a whole hour and a half in order to declare himself "a long, long way from home" when he dined at Singburi in Leytonstone.
The diminutive BYO doles out "Thai food in all its thrilling, brow-beading greatness": "even the simplest things are done with aplomb". Tom ate deep-fried sweetbreads "with the most sensational nam jim jaew, a roasted chilli dipping sauce" that had "heat and depth and fragrance and texture and pure, unbridled delight".
He name-dropped a few of his Thai holiday haunts ("it takes us straight back to Hua Hin"), as well as the name of his dining companion, a Thai-raised writer who impressed Tom by demanding off-menu dishes and ordering in fluent Thai – only to find that the waitress was Filipino. It's enough to strike horror into the heart of a Daily Mail reader. (****)
---
In The Financial Times, Nicholas Lander discovered "some great scran" at  The Little Chartroom and Fhior in Edinburgh.
Recent News from Harden's