Harden's regular round-up of the restaurant critics' musings, from the week ending 9 February 2020.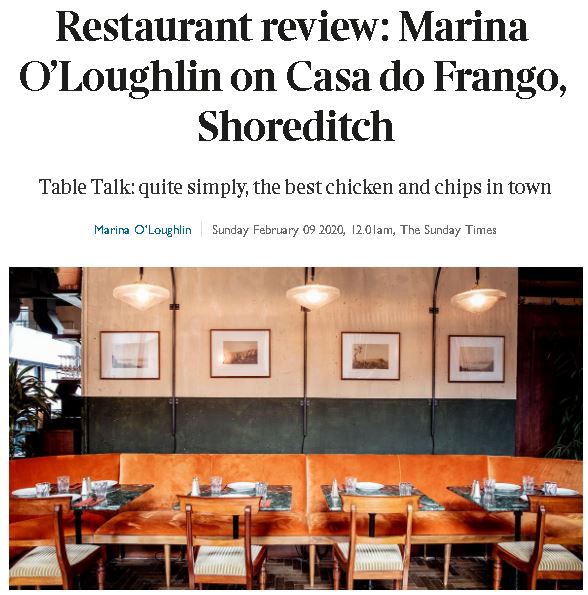 "Tortured food v excellent ingredients unmucked-about — I know what wins every time" Marina O'Loughlin for The Sunday Times was craving chicken and chips after enduring a TV show in which Heston Blumenthal made a lavish, edible set.
The new Shoreditch branch of Casa do Frango – just like the Borough original – offers "superb chicken and chips, plus a handful of other dishes, all with a flavour of the Algarve". And "there isn't a bum note". "Everything tastes sparky, made at the moment, made with care."
"This is a lunch to sink into, napkin up to chin, grinning in anticipation". The "fat, shell-on prawns" (with "antisocial quantities of caramelised garlic") provide "a mouthful that sings of the blue waters of the Med". The eponymous chicken was "all bite and depth and flavour. Skin is bronzed and frazzled in parts, meat smoky from the wood grill, the chillied baste a joyful smack in the chops". (All "infinitely superior" to the other piri-piri chicken available, well, everywhere – and also "better than many of the restaurants around Little Portugal in Stockwell".) Both the "fluffy and pale yellow" chips and the "pretty fine" pasteis de nata are impressively made on the premises.
Staff were "heaven: cheerful and clued-up, bouncing around like Tigger". The space was "cleverly designed to look like the kind of family-run trouper you'd find in the old country", with a bar downstairs: "the list of luscious Portuguese wines alone — the most expensive white, from one of the Alentejo's top producers, costs £36 — is worth the visit."
"A 20-quid meal that tastes like a million bucks."
---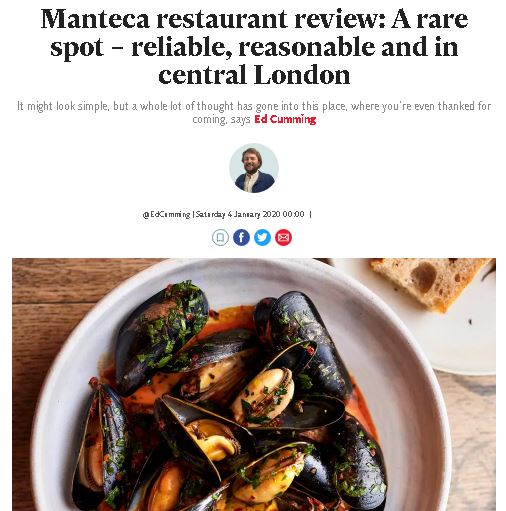 Ed Cumming for The Independent was at Manteca, "the permanent incarnation of 10 Heddon Street, a popular pop-up on the fringes of Mayfair that was open for four months last year", now located just a stroll from Liberty.
"Its creators, Chris Leach and David Carter are best known as meat men" (Cater from Smokestak, the Shoreditch "barbecue-van-turned-reliable-meaterie", and Leach from Sager + Wilde and Pitt Cue Co) so "it's slightly surprising that while there are big flesh options on the menu… the focus is just as much on pasta".
That said, "there's a lot of pork on the menu, pointing to an unobtrusive whole-animal philosophy" – think pigtail ragu, mortadella and nduja mussels.
"We order all four of the pastas between two and it is too much food"; the crab cacio e pepe was "just the right side of moreish". "With a couple of glasses of wine each, the bill came to £50 a head. It would be easy to spend less."
Half of the "surprisingly large" and "unpretentious" room is held for walk-ins. Staff are "knowledgeable but easygoing" – "we are even thanked for coming, a startlingly rare occurrence".
"Manteca has the potential to become that rarest of spots: a reliable, reasonably priced standby in central London, flexible enough to handle a work lunch and a grand bouffe. An unfussy idea, executed with aplomb, a vision for 2020."
---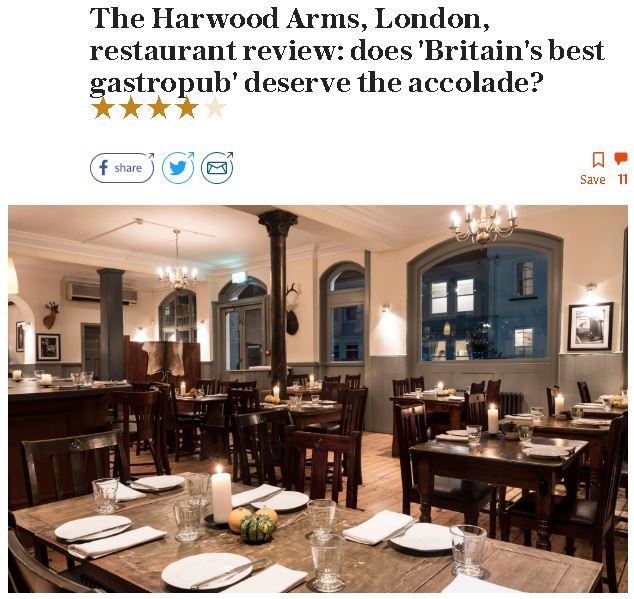 Following the announcement that The Harwood Arms is the UK's Best Gastropub ("in a list sponsored by the Catalan beerco ­Estrella Damm"), Keith Miller for The Telegraph paid the place a visit, while musing on the exact definition of a gastropub.
A gastropub, as he rightly points out, is not just a "restaurant in a former pub (RIAFP)" – or Heston's Fat Duck would be categorised as one, which is blatantly wrong. After asking the Twittersphere, the closest Keith came to a definition was that "a gastropub might be somewhere that was serious about food – whatever we meant by that – but you should feel welcome there whether you'd come in for a drink or a three-course dinner – or hadn't even made up your mind yet".
Or, to put it another way, it's "a porous, informal, social space, where good food is on offer but not compulsory, and where the goodness of that food is something that can be taken for granted".
Even though he's not sure he could pop along to The Harwood Arms just for a drink, he went for a meal – at "£49.95 for three (excellent) courses, it's by no means crazily expensive". It's a "very handsome conversion, austere and aristocratic, of a Victorian pub on a quiet residential street"; "everything's ultra-rigorously sourced", there's an "imaginative if wallet-blistering wine list" a regularly changing menu, and "staff were energetic and unfalteringly friendly".
"If the Harwood is a RIAFP, it's an extremely good one, no doubt about it."
---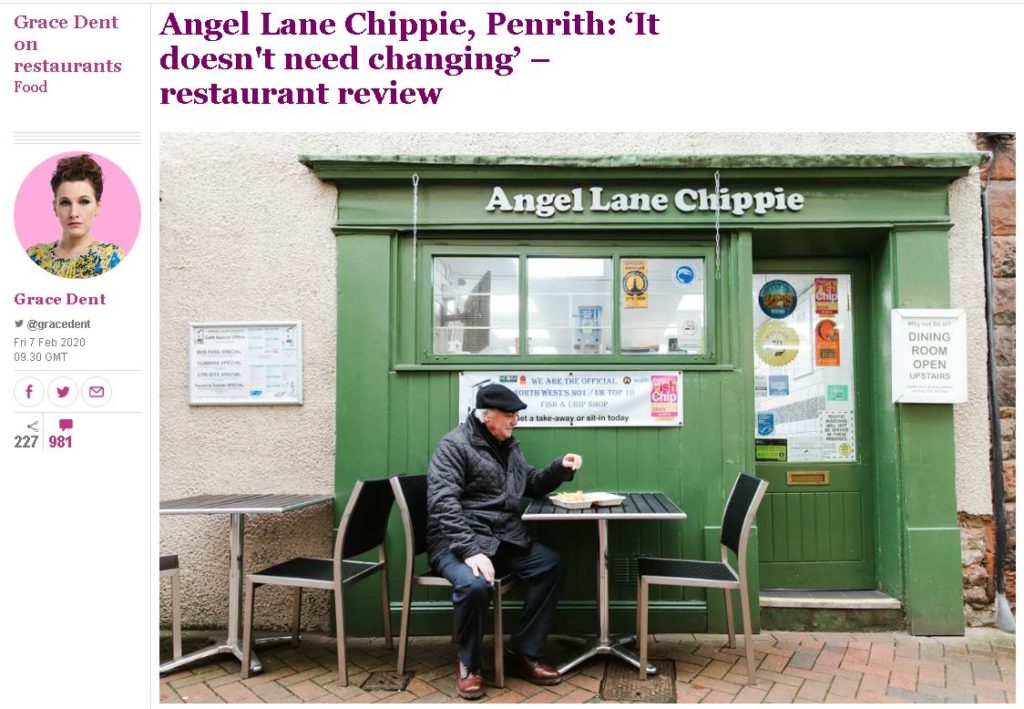 "There are few things nicer than ambling hungry into a sweet, vinegar-scented chip shop to find the fryer bubbling, chips being methodically shovelled on to paper and a glass-fronted warmer cabinet rammed with mystery items decked out in batter."
Grace Dent of The Guardian is always whisked "straight back to British chippies in the 1970s" when she visits Angel Lane Chippy in Penrith. It may be "nostalgic, but it's also forward-reaching: they're committed to using haddock and cod that's sustainably sourced".
The cod is "always curly, firm-fleshed and clogged with extra globs of thick batter". If you eat in the restaurant upstairs, "they'll bring you a stainless-steel pot of tea and your fish and chips on a plate with a wedge of lemon, as if you're Queen Noor of Jordan or something".
"Angel Lane is wonky, ancient and doesn't need changing." And now we've left the EU, we might all be eating more fish 'n' chips. "We live in bizarre times for our teas right now, and they're about to get even more fishy."
---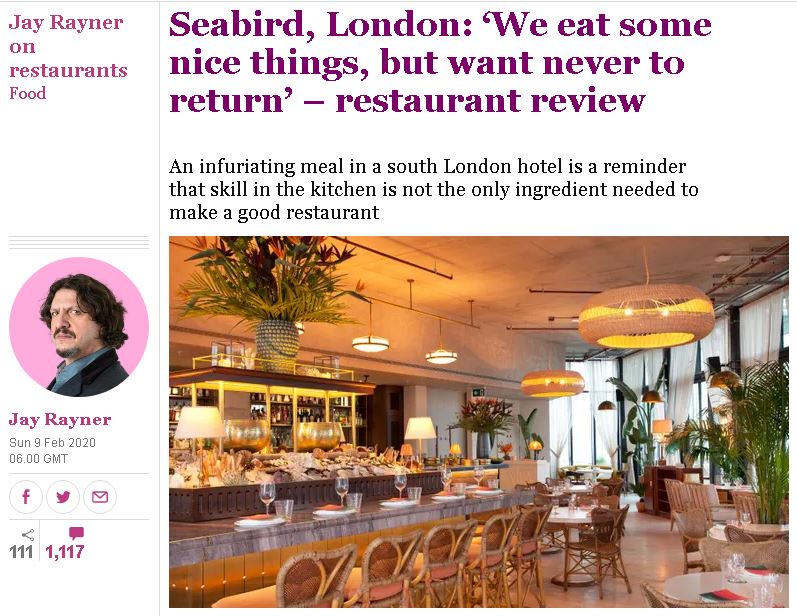 The new Hoxton hotel in Southwark is – according to Jay Rayner from The Observer – "either a glorious homage to the funky conversions of lower Manhattan's red-brick warehouse buildings, or a vaguely tragic attempt at the architectural equivalent of an American accent".
The restaurant on the top floor (which wasn't full the day Jay visited) has Joshua Boissy and Krystof Zizka at the stoves ("the starry duo behind Maison Premiere, a much-adored seafood place in Brooklyn"), plus a raw bar "boasting the widest selection of oysters in London and a fish and shellfish menu with Iberian influences". It looks like a "faux beachside cabin", every table has a "stinky paraffin lamp", the music "booms" and some of the seats are "so low, we could shovel dinner straight off the table into our mouths".
The waiter did that slightly arrogant thing of not taking notes, and then forgot a side dish. There's "a casual London violence to the knotty business of pricing" (a starter of sea bream crudo was £17, oysters are £4 each, a mackerel main course was £18, all of which made Jay "proper grumpy") and the wine list only "has massive choice… if you spend more than £40".
For dessert, "a trio of filled, glazed doughnuts are a moment of joy. A gluten-free manchego cheesecake would have been great, perhaps with the addition of gluten" – and no grated manchego.
"We eat some nice things at Seabird. The problem is, restaurants are so much more than the efforts of skilled cooks."
---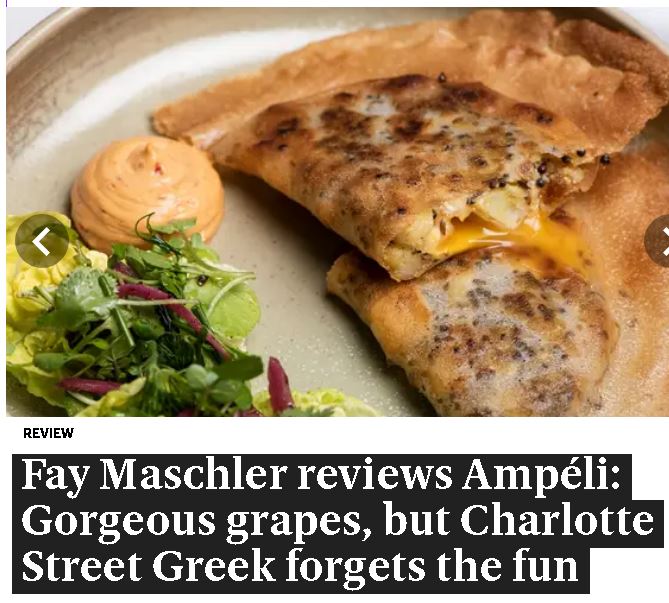 Fay Maschler for The Evening Standard was most impressed with the "awesome" wine list at Ampéli, the Greek restaurant on Charlotte Street that replaced a branch of Señor Ceviche. As you'd expect from a restaurant whose name is "the Greek word for vineyard". "All the staff including the founder, Athens-born photographer Jenny Pagoni… are well clued up about" the wines on offer.
Most of the food – divided into hot and cold 'social plates' and large plates – she found to be underseasoned, a "bit feeble" and lacking in punch. (Fay does have a home in Greece, so she may be unfavourably comparing to her local restaurants?) Praise was given to spiced potato burik with runny egg yolk ("beautifully fried, the filo carapace crisp and golden") and "great" lamb chips, "glossily burnished from the grill".
The atmosphere was a little underseasoned too – if only the ground floor wine bar stayed open late. "Long gone are the days of Anemos Taverna [formerly also on Charlotte Street]… bouzouki music, dancing on tables, smashing plates… but a little of that and less of the self-conscious, health-conscious eastern Mediterranean approach to the food — all the go in Athens, says the press release — would make me love Ampéli more."
---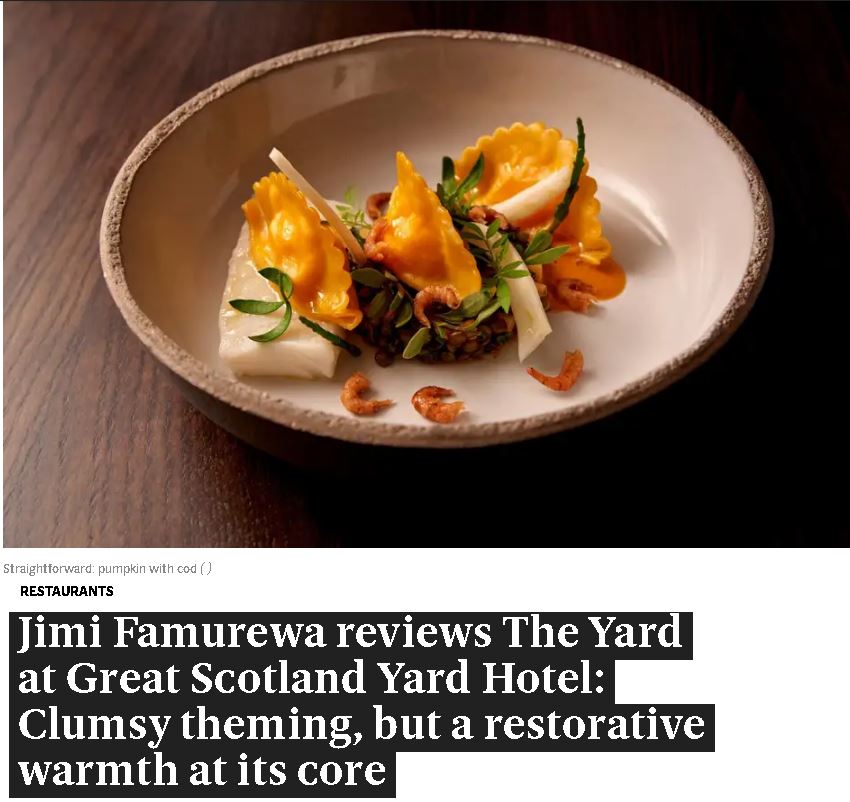 Like Jay Rayner the week before, Jimi Famurewa for The Evening Standard was intrigued by the staff uniforms at this restaurant in the former Metropolitan Police headquarters. According to one server, the "pyjama-striped grandad collar shirts with jaunty braces and cropped, bowed-leg chinos" are supposed to reflect prisoner outfits (although why they were accessorised with knuckle dusters on Jay's visit is anyone's guess).
The "ornately tiled", "art-littered" room, with "showpiece open kitchen" was almost empty on the Friday night that Jimi visited with a friend (who identified the overall atmosphere as "slightly bricked-in, airport terminal anonymity".
Odd clothing and "clumsy theming" aside, Jimi enjoyed his meal (Jay described his as "the worst new restaurant from a critically acclaimed chef I have ever reviewed", so it's an improvement). It got better after mediocre snacks and starters, with a "rich, buttery beef tartare" that "signalled a sharp, sudden uptick". He also loved the Tamworth pork jowl ("slow-cooked to flavourful, glistening softness") and haunch of fallow deer ("so flawlessly rosy it might have been cooked by a supercomputer").
Desserts of weightless chocolate mousse ("with tiny coffee doughnuts") and a "sublime, dissembled apple tarte Tatin" with "vivid caramelised depth" were not avoided. It might not be revolutionary, but the "uncommon verve, attentiveness and generosity of spirit… blazes through".
Robin Gill and "executive chef Alex Harper have concocted one of those dependable, hyper-central establishments that most of us need in our repertoire; perhaps as a balm for Londonphobic visiting relatives. The Yard has elegance, care and a kind of restorative, rural warmth at its core."
---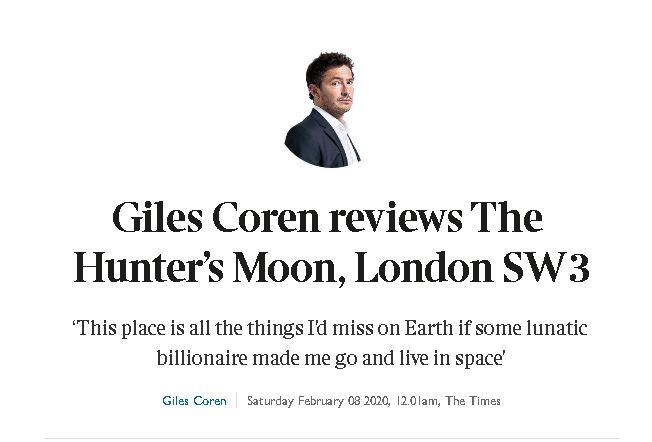 Giles Coren of The Times visited a new Fulham Road pub that describes itself (rather cringingly) as "a traditional countryside pub and dining room in South West London".
But Giles likes country pubs, and his children needed lunch, so in they went. "It works. It is good. It is cosy." It is "oak-floored, green-walled and pretty, with a small bar area, good beer on tap, open fire, a warm welcome for children and dogs and a bigger, brighter dining room out back".
Eating vegan, Giles had spiced Syrian lentil soup that was "glorious, warming and fresh and filling, with… engaging levels of herb and spice" and a "classy" cep and confit Jerusalem artichoke lasagne. He also mopped up his daughter's gravy with her leftover roast potatoes and Yorkshire pudding, and tried Esther's cauliflower cheese, but ate a vegan dinner to make up for it.
"This was a top, top country pub lunch in town, with a buzzy atmosphere (the place was rammed…), lovely service and good, hearty, thoughtful cooking. Absolutely worth the trip." (Sadly, also, because of where it is, it's "quite expensive".) (24/30)
---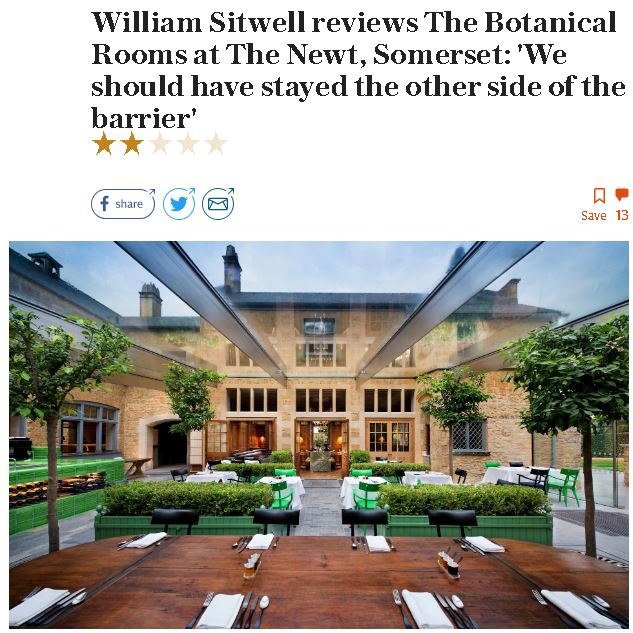 William Sitwell for The Telegraph was curious to visit The Newt ("a country-house hotel that opened last summer, having had squillions lavished on it"), despite locals' advice to eat elsewhere.
The hotel discourages passing trade and walk-ins by insisting on a reservation, so he made one and went back. The "classic iron-stone Georgian building" is a bit "sparse" inside.
Some "thin-tasting" freebies were followed by " simply awful" starters (charred cauliflower posing as "smoked eel rarebit" for William, "chicken wings… hiding under strips of pumpkin and swimming in a watery soup" for his wife Emily).
Emily was served the wrong fish, but it was "cooked to perfection, crisp skin, buttery and gorgeous", while William's rib-eye steak (£36) was "grey, with stringy fat, barely charred and overcooked", topped with "deeply tasty slow-cooked pulled beef: perfect with pasta, odd on top of steak".
"We should have stayed the other side of the barrier, with the welcoming folk of Bruton."
---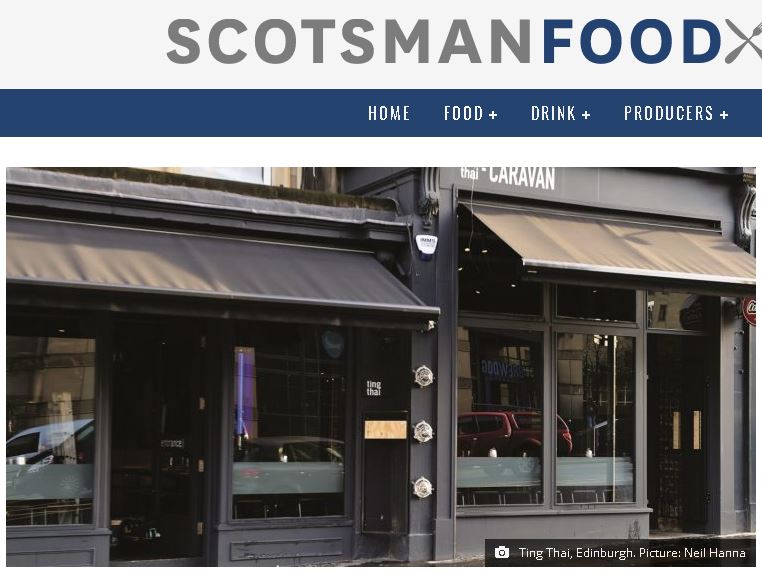 Gaby Soutar for The Scotsman visited a new branch of the often "rammed" Bristo Place Thai, "slotted in" to Lothian Road in an area handy for "pre-theatre land". It's an exact clone of the original, with the "menu and interior… almost exactly the same as the Bristo Place venue, including that strange computer generated image of a bichon frise".
She ate Bangkok spicy chicken wings and puffy crispy pork skins with "their unctuous and opaque Ting chilli jam", followed by a "triple prawn whammy" of dishes and "steamy Thai jasmine rice".
Ting Thai number two is "as good as the original. It doesn't disappoint."
And also…
In time for Valentine's Day, Tom Parker Bowles for The Mail on Sunday gave his list of Britain's 50 most romantic places. Most of them were fairly predictable (J Sheekey, Andrew Edmunds, Le Manoir, Clos Maggiore), although his inclusions of the Anstruther Fish Bar and Riley's Fish Shack in Tyneside were a little more surprising.
---
The Financial Times reviewed the "astonishingly good" Sunda in Melbourne; "chef Khanh Nguyen's palate is particularly attuned to desserts and, happily, we ordered all three".
---
The Bristol Post reviewed the new Clifton branch of Spoke & Stringer, which opened in late 2019 and is now open in the evenings. Dishes are "inspired by cuisines from South American and European coastal regions" from a "menu focused on seasonality and simplicity". "Quesadillas form the centre piece of the evening menu."
---
Daisy Jackson in The Manchester Evening News reviewed The Edinburgh Castle, a revamped Ancoats boozer with a "beautifully crafted interior" and "a restaurant upstairs, serving a smart menu of high-end small plates". Downstairs in the pub you can feast on a variety of Scotch eggs ("smoked ham and piccalilli… is the best of the bunch"), parmesan doughnuts, wild rabbit faggots and "fancy but familiar" fish 'n' chips, with "Vimto-spiced Eccles cake" for pudding.
"There's work to be done, but The Edinburgh Castle is delivering the cosy comfort that Ancoats – all glass and concrete and straight lines – was so sorely missing… It'll fill your belly, fill your pint glass, fill your heart."
---
Recent News from Harden's