Here is our weekly round-up of what the national and local restaurant critics are writing about, for the week ending 6 June 2021.
*****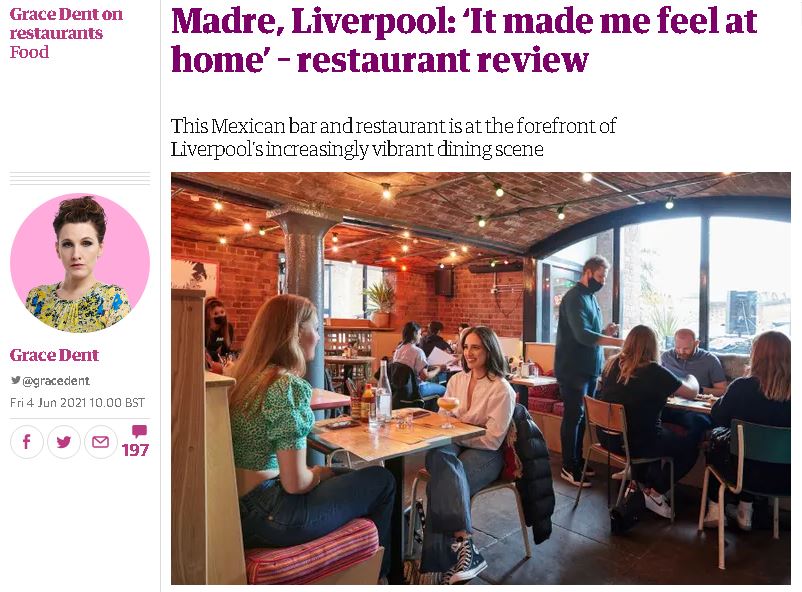 The Guardian
Grace Dent was in Liverpool, surrounded by the familiar voices of her childhood. "There's an increasingly vibrant restaurant scene" here, thanks to the billions "spent on rejigging and rebuilding the city".
She mentions Pilgrim and Belzan and the forthcoming Nama, and lunches at Madre, which "feels more like a boisterous bar" at the moment, albeit an "unmissable" one.
This summer, Grace plans to spend more than one afternoon in Madre's "suntrap courtyard" working her way through the "ambitious" menu of tostadas and tacos and sharing plates (as you'd expect from a Belzan/Breddos Tacos collaboration), and drinking the powerful cocktails.
" Right now… the food has taken a back seat. But it's fun, it's definitely open and it's making many, many Liverpudlians happy. And, right now, that's about as good as it gets."
*****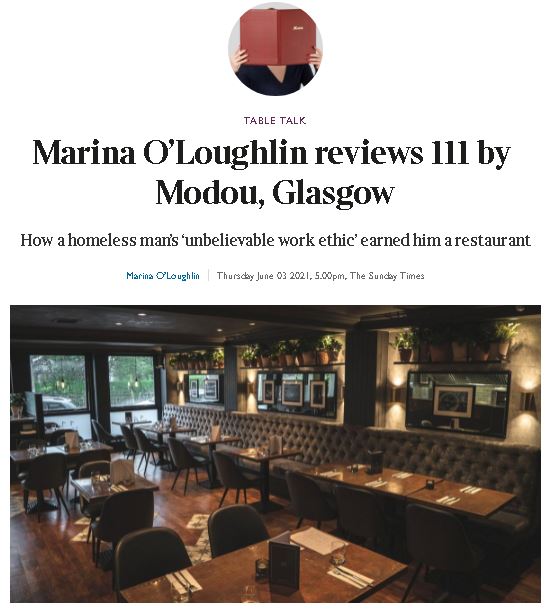 The Sunday Times
"Whatever's served, one thing is constant: serious bang-for-buck tasting menu action."
Enticed by a heartwarming tale of hard work and generosity, Marina O'Loughlin headed to Glasgow and 111 by Modou.
The 111 was formerly 111 by Nico, the same Nico who has since opened six (nearly seven) branches of his always-changing tasting-menu-only Six by Nico restaurant. The Modou is Senegal-born Modou Diagne, who started work there as a kitchen porter, having been homeless and speaking barely a word of English.
In March 2020 (right before lockdown), Simeone gave the restaurant to his now head chef, the ultimate reward for his "unbelievable work ethic", loyalty and skill. 111 by Modou opened in August 2020 with a new look ("plusher and less hard-edged than before"), a tweaked version of the Six by Nico formula ("five courses for a gentle £35" with real flexibilty and choice)and a new chef-patron.
The menu "rewards exploration"; "each diner gets their own bespoke version: an exhilarating demonstration of technique and composition", and "a lot of fun" to boot.
"None of this would soften my own stony heart if the cooking weren't as impressive as Diagne's."
*****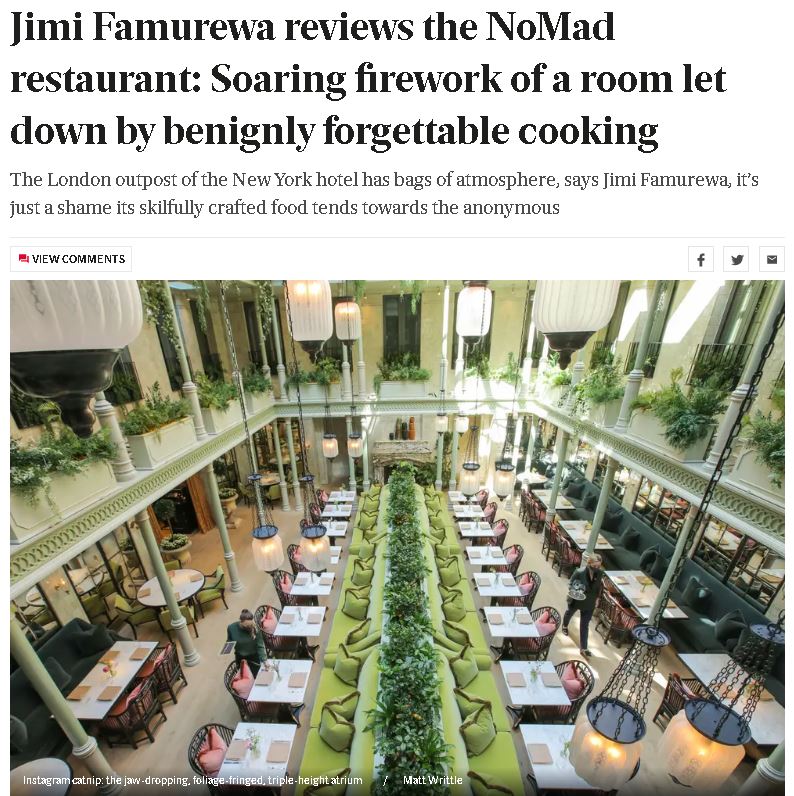 The Evening Standard
Jimi Famurewa reviewed visited Covent Garden newcomer NoMad, a "long-simmering blockbuster outpost of the feted New York hotel" that's "seemingly manifested from thin air in a prime spot opposite the Royal Opera House".
"The ambition and swagger can't be faulted", and he does admit his expectations were high after a year of lockdown missing American hotels and all that they offer. The hotel itself is a "sprawling, saucily darkened labyrinth of twinkling chandeliers", and the restaurant a "jaw-dropping, foliage-fringed, triple-height atrium".
The menu from exec chef Ashley Abodeely, however, lacks confidence, and comes across as "a nervy grab-bag of global influences, accented here and there with some live fire cooking and identifiable flashes of spendy Francophile luxury". In the realisation, starters and desserts were strong enough, but mains "more perfunctory".
A "slight air of the benignly forgettable haunts a fair bit of the cooking", but the "slickly run firework of a room" will draw Jimi back again.
*****
David Ellis revealed the plans for the latest "stylish" branch of Bao – a noodle shop in Shoreditch that will "celebrate Taiwanese noodle shops", and interviewed Sally Abé on the new restaurant and the a "female-first team" she's leading at the Conrad London St. James. The Pem – named for suffragette Emily Wilding Davison's nickname – will be unstuffy, a "good-time restaurant, albeit one marked by its elegant, subtle cooking".
Also from David Ellis, three articles on vegan outlets: 123V inside Fenwick (where one outraged customer returned a burger "on the grounds that she didn't eat meat"), the late June opening of Tom Kerridge's "predominantly plant-based" Bad Vegan, and Crouch End's fun, new Ready Burger, "gloriously, unashamedly ripped straight from the McDonald's playbook" and 100% plant-based.
*****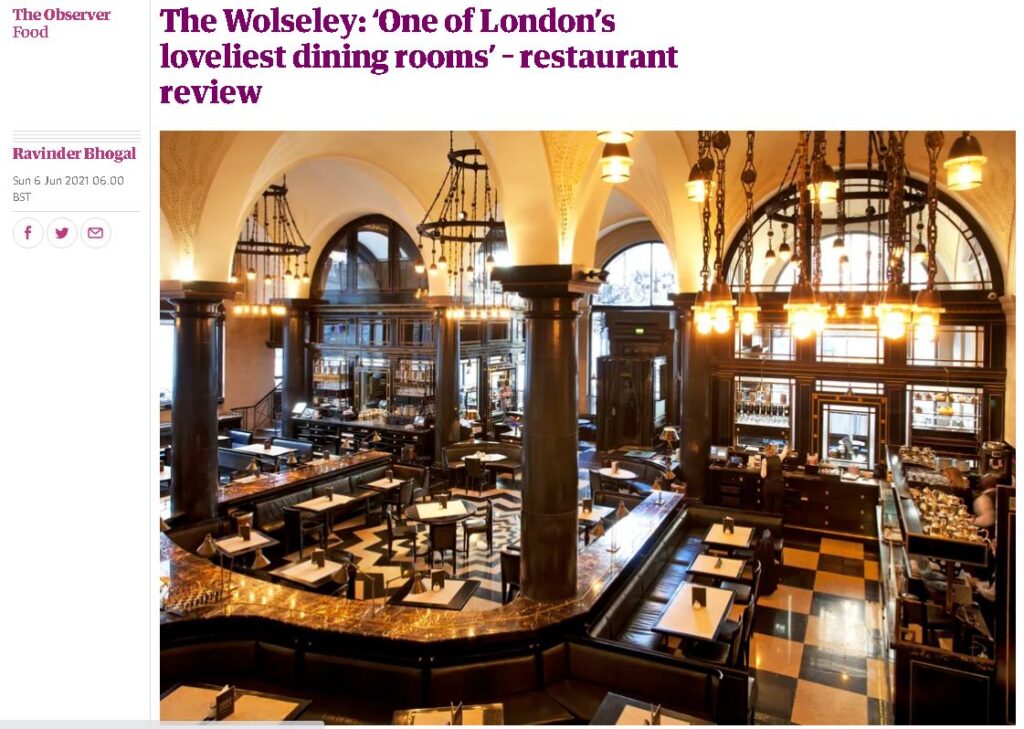 The Observer
"Returning to the calm reassurance of The Wolseley is a joy-filled antidote to this unsettling time."
Jikoni's chef-patron Ravinder Bhogal is standing (sitting?) in for Jay Rayner this week; "before I tackle the opening night of my own restaurant, I need to immerse myself in a cocoon of sanity and civility". And where else to do that but The Wolseley? And on the "grand re-opening" night too.
"I have felt at home among the dinner jackets and champagne flutes in a cocktail dress, a sari or jeans." Corbin & King, the "architects of ambience" have created "a restaurant as close to perfection as you can get" – and one which Ravinder observed closely when planning her own restaurant; "running a restaurant is ultimately about the business of doing pleasure. Good food and fancy interiors aside, it's about how you make your guests feel."
Her top tips: the seasonal specials and the "pretty-in-pink peach melba éclair" which is "a joy-filled antidote to bleak times"
*****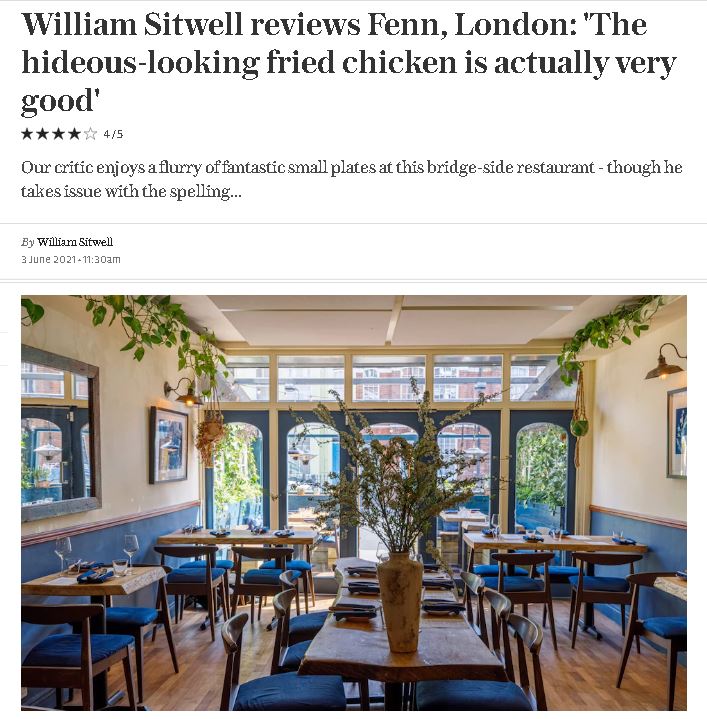 The Telegraph
William Sitwell stayed in his comfort zone again this week (mostly SW postcodes) with a review of Wandsworth Bridge Road newcomer Fenn, where he enjoyed a "flurry of fantastic small plates" including some "hideous-looking chicken" that was actually very good.
*****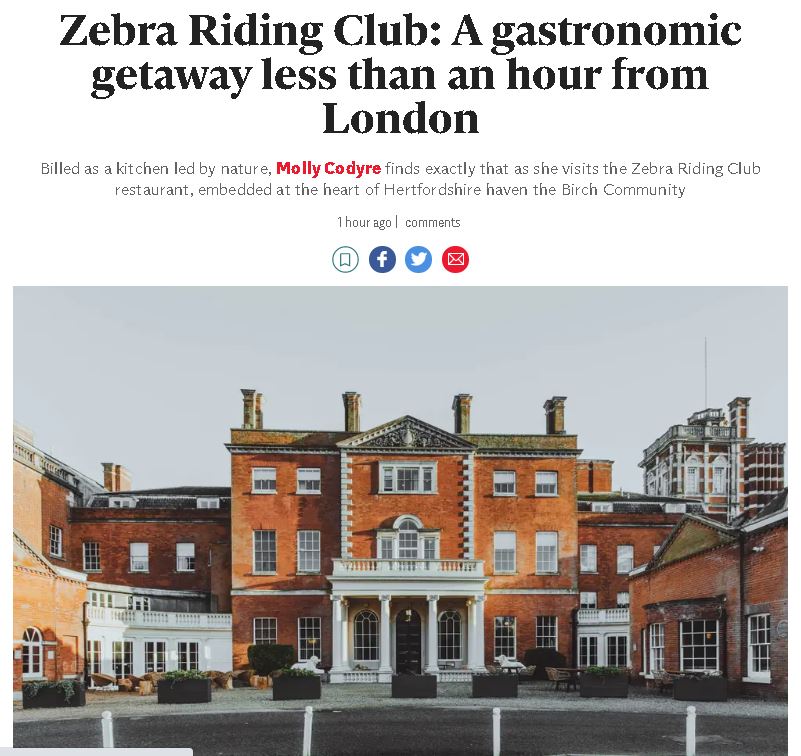 The Independent
"What sounds like it could be an over-considered and incense-scented haven for wannabe hippies is in fact a beautiful reprieve."
Molly Codyre ventured north out of London for a "truly indulgent night out" at the restaurant at Birch Community in Cheshunt.
Zebra Riding Club is "spacious yet cosy" and very "Cotswolds-meets-Hackney", and "offers just three set menus" – meat, fish and veggie. The cooking purports to be by Robin Gill, formerly of Clapham's The Dairy, although as he's also supposed to be in situ at Bermondsey Larder, he might just be more of a consultant.
Whoever was cooking, Molly was suitably impressed; "Birch could bill itself solely as a gastronomic getaway – the restaurant is certainly good enough to hold up to that reputation".
*****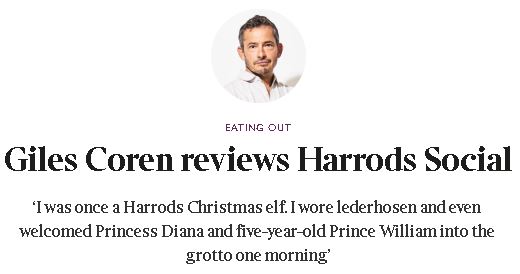 The Times
Giles Coren loves department stores ("the endless options for consumption. The absence of windows and clocks – like in a casino") and spent a memorable Christmas working as an elf in Harrods grotto. This was his scene-setting preamble for a visit to Harrods Social.
It's "big" and "breezy" in there; it was "built originally as the in-house Harrods Brasserie, before closing for lockdown barely a week after launch". With the added "Atherton "Social" brand", it re-opened post lockdown 3.
The menu is a "joyful little thing" stuffed with "fresh, British, seasonal" goodies – "Although, ye gods, the prices!" Cornish lobster and chips is £65, and the mac & cheese "a possibly record-breaking £29". But it was also "excellent".
Harrods comped him the meal so he didn't give a score, and donated the £150 cost to Hospitality Action when he got home, the generous little elf.
*****
The Mail on Sunday
Tom Parker Bowles enjoyed a "classic country pub lunch served up with lashings of traditional British weather" at The Swan at Swinbrook, "in the most idyllic of Oxfordshire pub gardens" just before indoor dining was allowed again.
The Swan is "one of those country pubs that does the country pub thing perfectly" – for Tom, that's "decent draught local beer, a short but well-priced wine list… a menu that takes in all the pub classics, plus a few local, seasonal things without ever banging on about their being local and seasonal".
He enjoyed the "quietly confident cooking", a "cold Picpoul" and – as pudding arrived – "a downpour so intense that conversation becomes tricky".
*****
The Scotsman
For National Fish & Chips Day on June 4th, Gaby Soutar reviewed The Bay Fish & Chip Shop in Stonehaven, which has "won a display cabinet's worth of prizes". Fish suppers in "Trump-coloured batter" were ordered in advance and collected from the hatch, along with hand-dived scallops and battered white pudding, and declared "all fantastic".
*****
And also…
In The Financial Times, a review of "a masterclass in hospitality" at Pompette in Oxford:  "there is nothing sexier than quiet self-assurance, particularly in a steak tartare".
*****
Recent News from Harden's