Harden's regular round-up of the restaurant critics' musings, from the week ending 23 February 2020.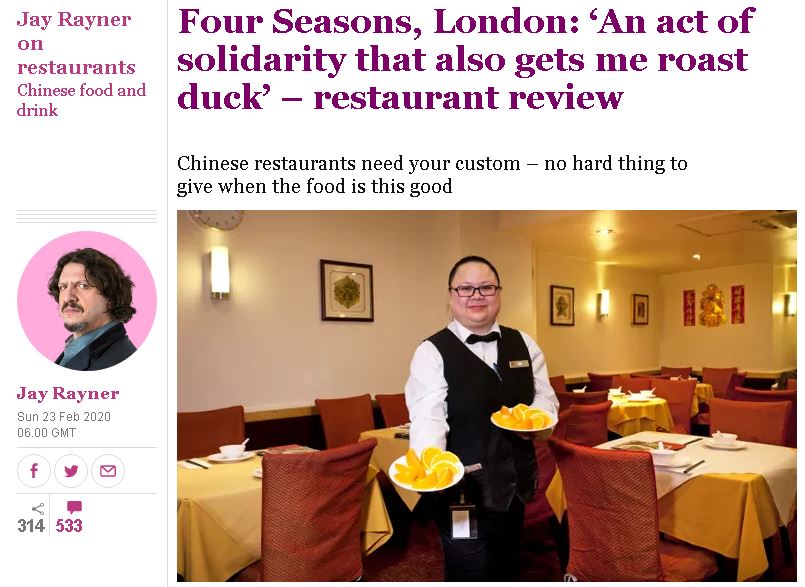 "Because a nasty virus has broken out in a city 5,500 miles away from London, Britain's Chinese community is suffering." Jay Rayner from The Observer was in London's Chinatown to show his support for the restaurant trade there, suffering heavily from people staying away (as are others around the country). "The pedestrianised street is sparsely populated and through the picture windows, chairs and tables sit forlorn and empty. I've never seen it like this before."
Happily, "this is an act of solidarity that also gets me roast duck." Jay visits this branch regularly ("I… like the brisk and efficient staff who greet me like a total stranger every time, despite the fact I've been going for years") and always has "Cantonese roast meats of one sort or another" and greens.
Jay and his companions ate "eye-rollingly savoury" char sui, roast duck "with a big old tangle of morning glory" cooked with minced pork and chilli ("it is illegal to not scrape" the bottom of the cooking pot) , then "big curls of salt and pepper squid in a fine, lacy batter and, because I'm feeling adventurous, lamb with ginger in a dark, sticky Peking sauce. We drink jasmine tea and a few Tsing Tao beers and run up a bill of £130 for four."
"This is a review with a simple message: go and support your local Chinese restaurant. Go show them that ethnicity is not a marker for disease."
---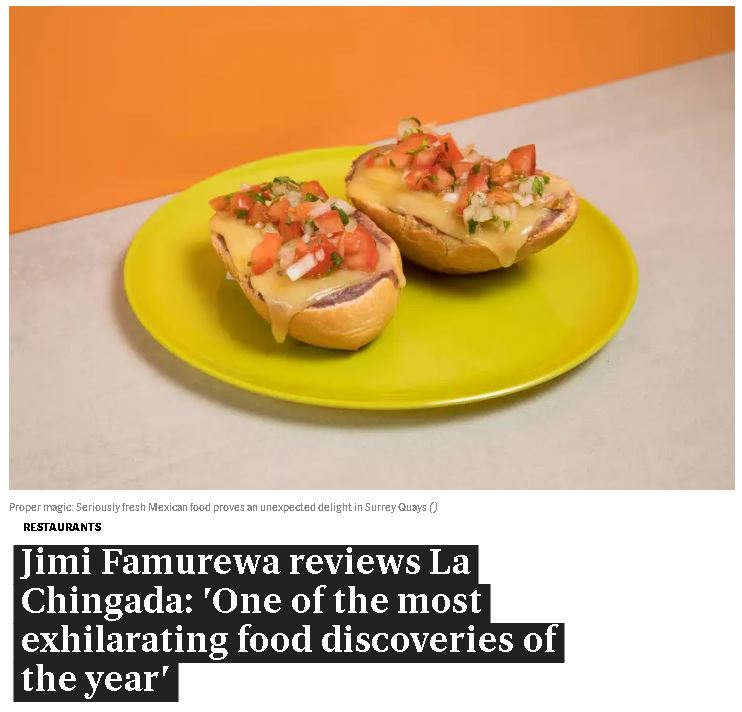 Jimi Famurewa for The Evening Standard made "one of the most exhilarating food discoveries of the fledgling year" and had his "mind steadily blown" by Mexican food.
He approached with some caution initially: would it really be the "uncommonly authentic, independently run Mexican taqueria in, of all places, Surrey Quays" being mentioned in "breathless dispatches" all over social media? Even Jimi, one of south-east London's biggest champions, had his doubts: "while I welcomed the swirl of a rare hype-storm in my part of town, I worried that it was all too good to be true".
It's as "small as a modest kebab shop… painted screaming orange, piped with Mexican pop songs" and "so brightly lit it has the apparent aim of attracting passing air traffic". Seating comes only in the form of "two parallel banks of high, fluorescent stools".
Tacos el pastor were "just fat and zing and dimpled corn tortillas packing a revelatory high waft of freshness". The saudero ("brisket slow-bubbled in beef fat for four hours until it liquefies into a hypnotically rich stew") had Jimi "posting fallen scraps of meat into my mouth with an unstoppable zeal that I'm quite glad no one I know was there to witness". He "wasn't crazy" about the quesadillas but loved the accompanying "fantastically fresh, neatly chunked guacamole" and "vivid rainbow of house-made salsas".
"La Chingada's effectiveness is surely heightened by a collective longing for the kind of cheap, unaffectedly appealing operations that draw queues in the cooler boroughs of the US", but it's without doubt "a heartfelt triumph that blazes as bright as its light bulbs and puts this slept-on stretch of the capital firmly on the culinary map". (7/10)
---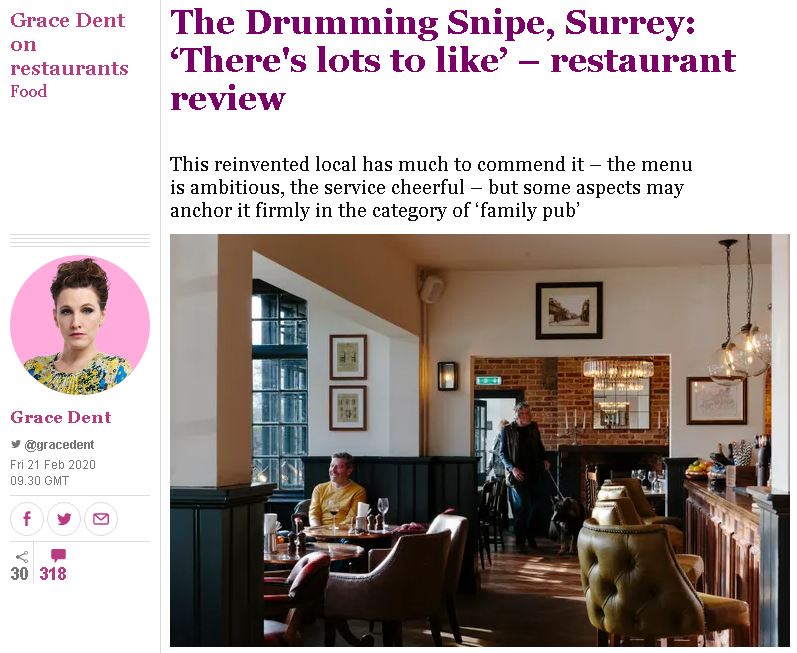 "This is not, to my memory, a part of the world where cods' tongues, celeriac fritters or cuttlefish bolognese feature on any "pub grub" menu; or cockerel with gizzard sauce or kid goat rack, for that matter."
Grace Dent of The Guardian grew up near Woking when her father was garrisoned at Aldershot, and visited again to review this "rather gargantuan" and "very modern type of gastropub", which did indeed have all those things on the menu; it's simply "doing everything that large pubs in out-of-the-way locations have to do these days to thrive".
Making pubs "future-facing, community-centred and at the same time vaguely profitable" these days means attracting all kinds of customers, from couples to families and solo diners. They don't always go that well together (hint: if you're taking your toddler out for a nice meal, don't give it a tambourine, and respect other people's choice to move away from you).
The place was "bustling" when Grace and Charles popped in for "a midweek lunch". The "seriously thought-out" menu ("ripe with good-quality produce") is "ambitious, very, very meaty, sometimes wobbly and occasionally raw". They ate "hot, crisp celeriac fritters" and "excellent and accomplished beef shin croquettes"; "another starter of Jerusalem artichoke soup with a Quicke's cheddar toastie was a work of decadent majesty". Charles devoured a mixed grill of "goat chops, cockerel thigh, piles of Longhorn beef skirt, Portland lamb leg… a whole Hägar the Horrible smörgåsbord".
Details could be tweaked and improved, desserts could be more tempting, but overall, The Drumming Snipe is "bright, shiny and rather classy". (20/30)
---
Tom Parker Bowles for The Mail on Sunday waxed lyrical (and more) about Trivet, yet stuck with his traditional four-star rating for another week.
Tom was expecting a restaurant from the "former head chef of the Fat Duck", Jonny Lake, to demonstrate considerable "culinary high-jinks", with dishes like "bluetooth blancmange… Or edible anger. Or The Cars That Ate Paris".
Instead, he found cooking that was "pure, clean and utterly confident"; that reminded him of "Phil Howard, a man whose technique is flawless, yet he always gets straight to the soul of his ingredients. Lake is the same. Modest, unassuming and spectacularly talented, this is the sort of place you know will impress, time after time after time."
"Trivet is one of those places where quality shines at every level, from service right down to the salt", serving "assuredly satisfying modern cooking to please even the most fussy of palates. It's not cheap. But this is a serious restaurant. Up there with the best".
---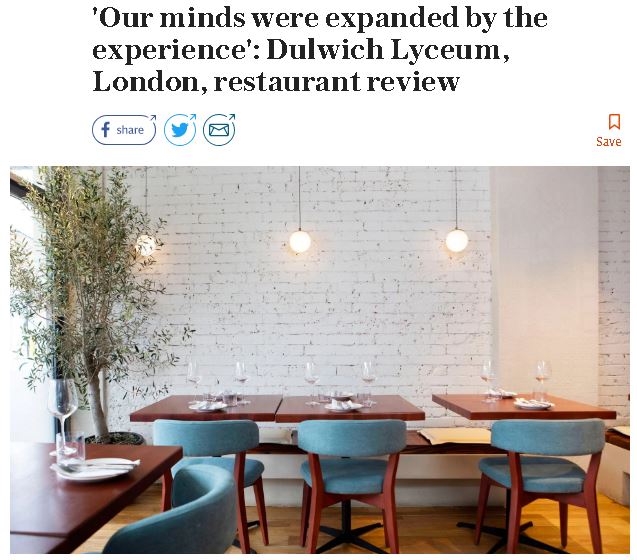 "Dulwich Lyceum joins its older sibling, Peckham Bazaar, in sprinkling some exotic stardust over a faintly banal London place-name." Keith Miller for The Telegraph ventured south of the river to sample chef-patron John Gionlenka's second opening.
It's "an elegant, muted space, with lots of neutrals, on-trend retro-futurist lighting and some pretty Islamic-style geometrical tracery along one side". The sharing-plates menu veers more westerly than Peckham Bazaar, with a wine list stretching to Marseille, although "ground zero for both restaurants (as it is for the Albanian Gionlenka and his Greek wife) is the Balkan Peninsula – a crossroads in the ancient world, as in the modern one".
The cooking is "modern and distinctive", redolent of "somewhere windswept and herby, with salt in the air and hard white limestone underfoot, warm and fragrant from the sun". "Everything was characterised by a sense of inquiry, somehow: a pursuit, for the most part successful, of balance between strong and potentially antagonistic flavours." The smoky tarama, "a star ingredient at PB", features heavily here too.
"Aristotle, who topped the bill at the original Lyceum for some years… would surely have approved."
---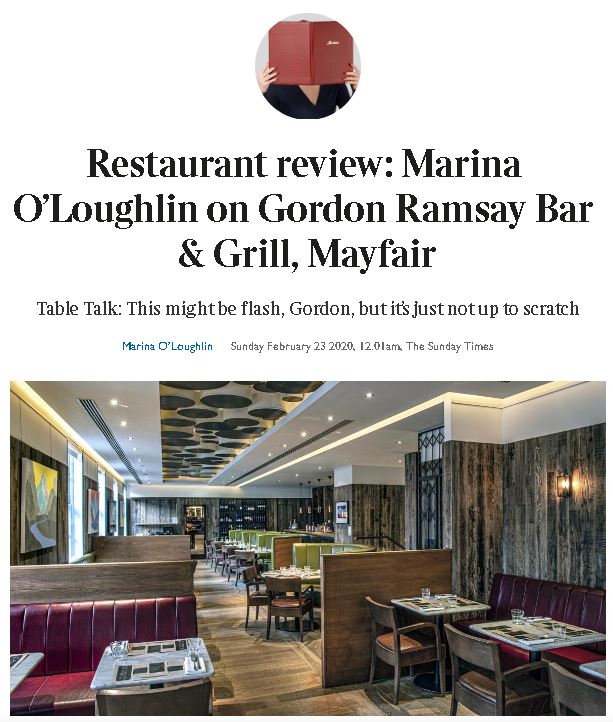 "What is a restaurant critic to do when a big-name chef's circus rolls into town?" When Lucky Cat opened, Marina O'Loughlin for The Sunday Times "left well alone": "having a go at Big Sweary seems the perfect definition of pointless… Ramsay and his empire are rhino-skinned juggernauts, unbothered by the fleabites of criticism."
But when this restaurant opened, in the same hotel, with almost no publicity, Marina was intrigued ("Where was the grandstanding? The influencer freebie events? The social media shitstorm? Tumbleweed.") "This was the most scarlet of rags to this here Taurean bull. So off I duly charge."
Opposite the entrance to Lucky Cat, "through an unmarked door, what used to be Maze Grill now looks like somewhere Alan Partridge might bring his own big plate, a corporate banality designed by Cheers nostalgics", and is filled with "sad, transient clientele all waiting to be touched by celebrity fairy dust".
The menu is "for comfort-scoffing: canonical steakhouse/sports bar offerings". Dishes designed to "cheer, not challenge. But nothing we eat makes us happy." Sirloin steak (a "genuinely fine piece of meat, aged properly") is "gristly and ungenerous" and sides are "expensive and unsatisfying". "But such is the power of the Ramsay name that the place is full on a weeknight."
"Our dreary trudge of a meal, no desserts, one shared starter, three cocktails and a glass of wine — no, not each — nudges £170 for two. The cocktails are fine. And the staff, largely European, are lovely. But the rest? No thanks. It is zero fun."
---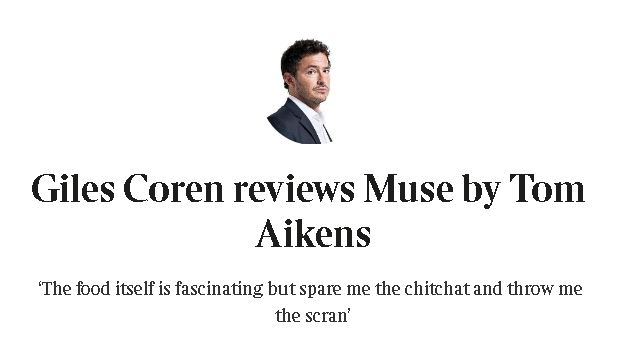 Giles Coren for The Times' magazine was the latest in a long line of critics to visit Tom Aikens' new restaurant. He's the first to mention Tom's 'difficult' history and just how cramped Muse is (the picture in the review shows tables for two along a long banquette that are so close to each other that you wonder how guests get to their seats), but not the first to mention the slightly uncomfortable biographical stories that come with each course (often from Tom himself, although "he is not a natural sharer and I am not sure why he is doing it"). "Hold the chitchat, Tommy boy, and throw me the scran."
"If you've got money put aside for silliness and you like toweringly ambitious, grandiloquent cooking, in small portions, with a lot of talk, a lot of backstory, in a pretty house, in a posh part of town, I think you'll like Muse a lot."
The food itself was clearly great; "eye-catching canapés", the "warm and crunchy, treacly" sourdough and chicken butter ("a fine dinner on its own"), "a cracking little mackerel dish", an entire course of beetroot, a "great piece of beef… with a tangle of shredded and crisped brisket on top, and a scene-stealing onion" and "pudding, which Tom was always brilliant at and still is".
"The food part is fascinating but spare me your bloody life story. As nobody has ever written under one of my restaurant reviews. Ever." We believe you, Giles.
---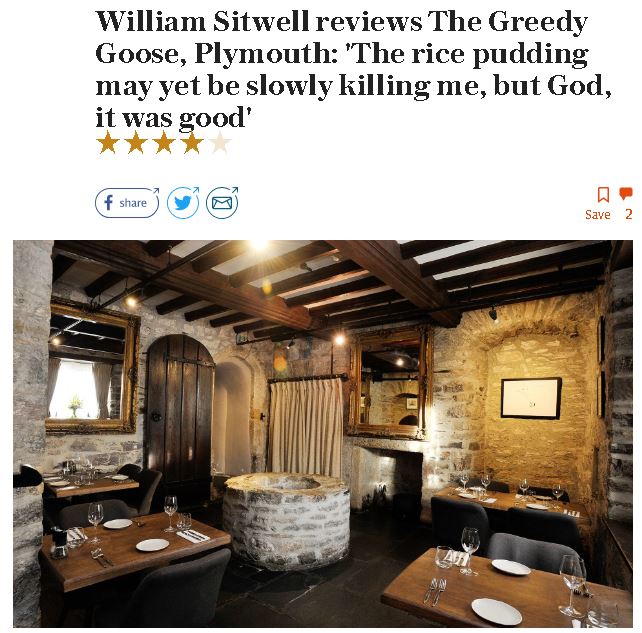 William Sitwell for The Telegraph was in one of Plymouth's oldest buildings, Prysten House, "where part of the ground floor is taken up by… The Greedy Goose", a "cosy sort of dungeon" with "tiny" windows "letting in little natural daylight", and the "walls made of local limestone rubble. It's been open for five years, but has recently relaxed the rules on babies and children.
William had a "delicious little starter of smoked salmon on charred brioche" followed by "perfectly cooked" roast pollock (the "healthy option" made less so by too much butter), while his wife "was in rhapsody" over Jerusalem artichoke soup which she followed with a "beautiful piece of pork belly". A "generously large" portion of rice pudding ("God, it was good") finished the meal. (****)
---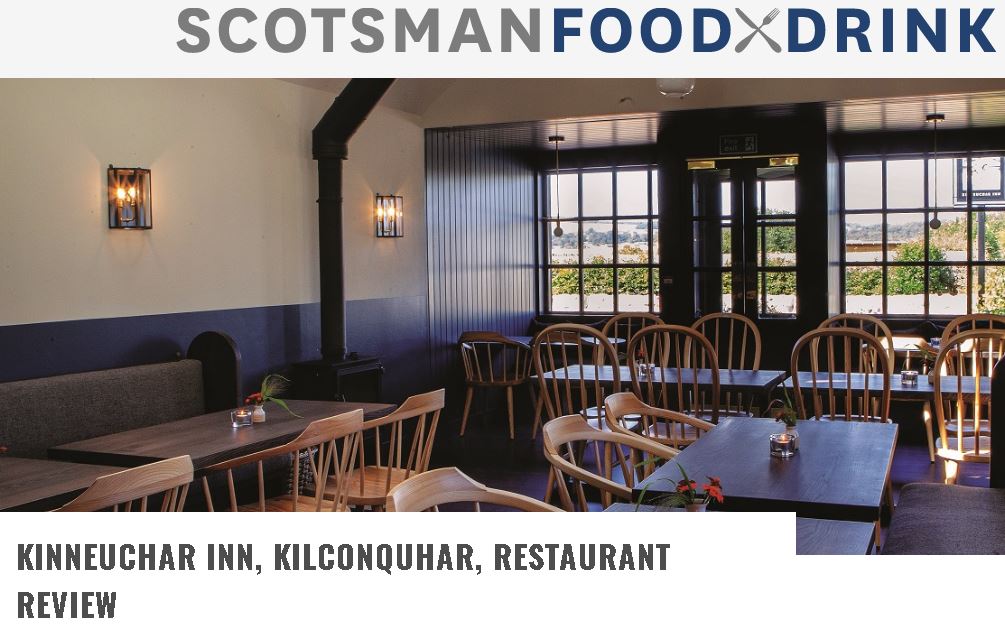 Gaby Soutar for The Scotsman visited a new Morningside Indian, whose name translates from Hindi as "fun". The BYO aspect is certainly fun, and she enjoyed dishes of dahi kachori ("two sea anemone-sized puffy dough balls" filled with dal), lamb chops (served with a sauce "as green and hot as a caterpillar in a sauna"), saag chicken, lamb bhindiwala and Goan curry, although the naan bread was disappointing and "don't bother with pudding". (70%)
Gaby visited another newcomer for her second review of the week, one which has garnered press interest from further afield, thanks to the new owners, chef James Ferguson and front-of-house Alethea Palmer, both hailing from Rochelle Canteen.
Kinneuchar Inn is "a whitewashed 17th century building" opposite the village church offering a menu of snacks as well as the traditional three courses. The snack of cod's roe is "so good, we don't talk", and Gaby's dining partner was "in raptures" over his celeriac soup starter; mains of skate wing and roast Luing beef were both "beautiful" ("the magic was in the gravy"), while the baked rice pudding was a "Damascene moment" (appropriately only available on Sundays), which may have contributed to the highest Scotsman score we've seen yet. (90%)
And also…
Nicholas Lander for The Financial Times reviewed Ampéli, "taking a brave step" in London's Fitzrovia: "with an all-Greek wine list, restaurateur Jenny Pagoni makes a distinctive impact on the London scene".
---
BristolLive featured VX Bristol, the Bedminster vegan junk food restaurant and shop which was "was named the third best vegan restaurant anywhere in the world by Big Seven Travel".
---
The Liverpool Echo had a review of Woo Tan Scran, Liverpol's first Chinese chippy that's 100% plant-based: "Woo Tan Scran has officially made me love vegan food".
Recent News from Harden's