Harden's regular round-up of the restaurant critics' meals, from the week ending 18 August 2019.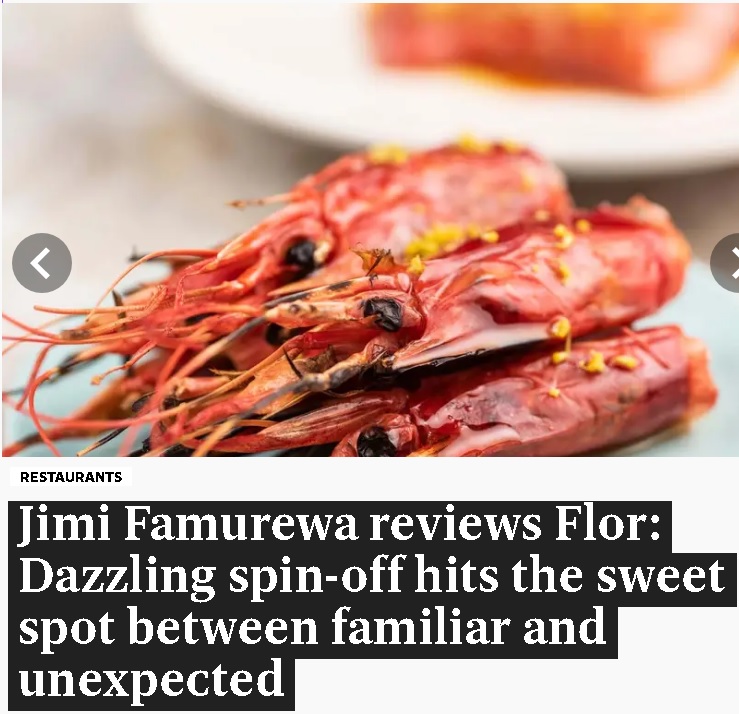 Jimi Famurewa for The Evening Standard found Southwark newcomer Flor to be "lightly challenging" and "utterly astonishing", with food that "hits a sweet spot between the unexpected and the familiar… between thoughtful, modern refinement and messy, chin-dripping joy".
Flor is the "wildly hyped Borough Market spin-off of Lyle's", a "bright, bottle-stacked dining room" up "a tight, spiral staircase", where the "immensely skilled approach is underpinned by simple, human warmth". Jimi's meal there started with "sourdough as religious experience" ("just ridiculously impressive") and the level of excellence never dipped: "the hits kept coming", from hake brandade to lamb ribs, raw prawns with "yuzu kosho citrus dressing" and a whole roasted Anjou pigeon (from which his companions nibbled "every scrap off the bone").
He recommends you finish with the "astonishing" brown butter cakes (rather than the "the internet-famous, striped slab of… 'Neapolitan' ice cream") – they were "little, dimpled miracles of flooding, fudgy sweetness that tasted like the hollowed-out heart of the greatest sticky toffee pudding imaginable".
"This may well be the least surprising restaurant success of the year. But that doesn't make it any less dazzling." (9/10)
---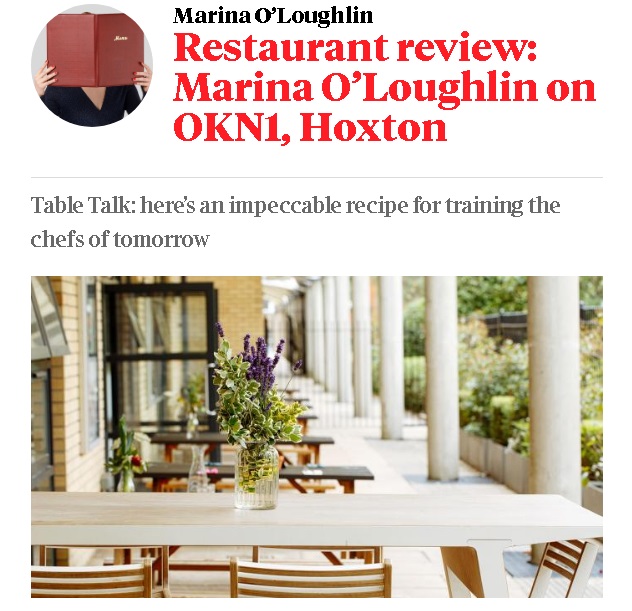 Marina O'Loughlin for The Sunday Times began her review with a worrying report on the future state of the hospitality industry. The CEO of UKHospitality, Kate Nicholls, reports that hospitality is "the third largest private-sector employer — twice the size of financial services — or fourth largest industrial sector". Furthermore, "hospitality is one of the largest employers of young people: 60% are under the age of 25, so [it is] a vital source of employment, giving them their first taste of work, with real, tangible, transferable skills."
And where do all of these people come from? "Currently, 25% of hospitality workers are non-UK nationals… this rises to 80-90% in London", equally split between EU and non-EU nationals. What's going to happen to them – and the restaurants, hotels and cafes they work in – when we leave the EU?
There's a glimmer of hopefulness in the restaurant Marina reviewed this week. OKN1 (the OK stands for Open Kitchen) is a Hackney "collaborative kitchen and training restaurant" attached to New City College, where trainee chefs work and serve alongside professionals to get a taste of real restaurant work.
The cuisine is "New European" according to OKN1's website (without a hint of irony, apparently); the menu ranges from fast casual to fine dining, with no "theme or particular ethos", apart from being "designed to give the trainees as thorough and wide an experience as possible". And the cooking is "good" – "not in a knock-your-socks-off way or dazzle-Instagram way, but fine and decent and absolutely worth all of our time".
Marina ate "beautifully done" popcorn chicken with a "sparky and satisfying" charred sweetcorn relish and "appallingly addictive chicken-salt chips" from the pub-grub end of the spectrum, as well as a more "sophisticated" grilled asparagus starter with a "clever and beautifully executed lovage aïoli". More "complex" still was the hake fillet with "Cornish dirties" (potatoes), chorizo and roasted peppers, "better than many a fish dish I've eaten in upscale professional restaurants". They also do brunch and a "mean" cocktail".
"You'd have no idea you were in the hands of students… go, support the chefs of tomorrow. With a business that's currently responsible for £39bn in gross tax receipts for the UK, we're going to need every one we can get, folks."
---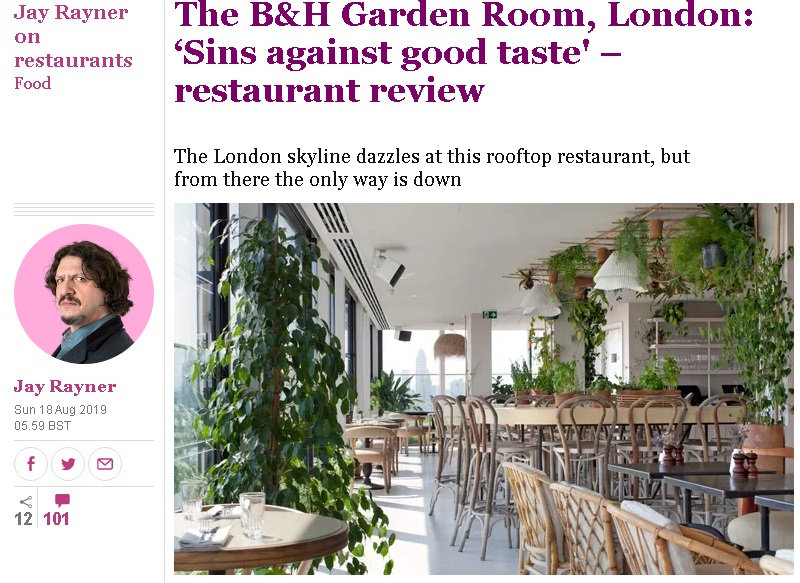 "Never eat in a restaurant that is on a boat, that turns or has a view because it won't ever be about the food." Jay Rayner for The Observer broke his own mantra for this review, so he only has himself to blame.
He was drawn in by "creative lifestyle company" Bourne & Hollingsworth's hyperbole about how they "curate beautiful spaces". And they have done just that on the 10th floor of the Assembly hotel – Garden Room's "view really is spectacular and on a summer's evening, as the sun dips behind the capital's glass cliff faces, it feels like a special place to be".
And then the food arrived, and everything went horribly wrong. The "terrible food… is a brutal exercise in portion control and failed staff motivation". Jay recommends ordering the crispy kale salad after the prawn and mushroom skewers, just as he did, as "the new trauma will deaden the old". It was a combination of previously fried, greasy kale, with some steamed, undressed bits, and nuts ("which, like my hopes and dreams, are crushed") – "thuds of green matter, waiting to be composted".
Garden Room is "attempting to find the cultural pulse without ever understanding the things it's trying to do. Just putting pomegranate seeds on to a roasted cauliflower salad does not make you Yotam Ottolenghi" ("especially if the vegetable is barely coloured…it's the sort of dish you knock up for your offspring's new vegan partner because you don't like them very much").
"The best dish of the night is a leg of duck confit, with an overcooked celeriac and potato gratin and a tooth-achingly sweet cherry sauce. It's food fit for a banquet. By which I mean the banqueting suite of a regional ring-road hotel where they're handing out awards for innovation in quantity surveying."
For dessert Jay endured a "chocolate marquise, which has completely split", before encountering another that sent him "running up the Charing Cross Road" to his members' club at The Ivy. The dessert was iced berries in white chocolate sauce, a famously off-menu favourite devised by The Ivy itself. At Garden Room it was "a deep bowl of cloying white chocolate soup, bobbing sparsely with abandoned berries which have lost their chill and are drowning… seemingly prepared by someone who has never met the original… the culinary equivalent of grievous bodily harm".
Jay ordered "the original" at The Ivy and it was "exactly as it should be: a large plate spread tightly with frozen fruit. A modest amount of hot, white chocolate sauce is then poured on at the table. It's sweet and sour and crunch and burst and hot and cold and clever." He nursed his anger and all was well with the world again.
---
Tom Parker Bowles for The Mail on Sunday has abandoned his trademark four stars for a second week running! After top marks for Bristol's Little French last week, it's a not-so-great two stars for newcomer Moncks of Dover Street, "from the folk behind nearby Park Chinois, that rather fabulous folly of Cantonese deluxe".
It "certainly looks the part… the very picture of a well-heeled Mayfair brasserie", and service "is immaculate". The menu is "purringly unthreatening and reassuringly Mayfair: fillet steak and fish of the day, burgers made from 35-day aged beef… salads for people who can't be arsed to eat. Truffles are everywhere". "Even the hubbub is cut from superior cloth."
Starters were "not bad, just drab", including a "meagre to the point of meanness" lobster roll with a filling that was "a crustacean take on Heinz sandwich spread". Quinoa falafel for TPB's newly vegan companion were "dustily dry, like eating balls of compressed sawdust", and his steak tartare was "perfectly acceptable, if a trifle under-seasoned", accompanied by a "surprisingly good" mac and cheese.
"Despite the beauty of the room and the slick assurance of the service, Moncks leaves me cold." (**)
---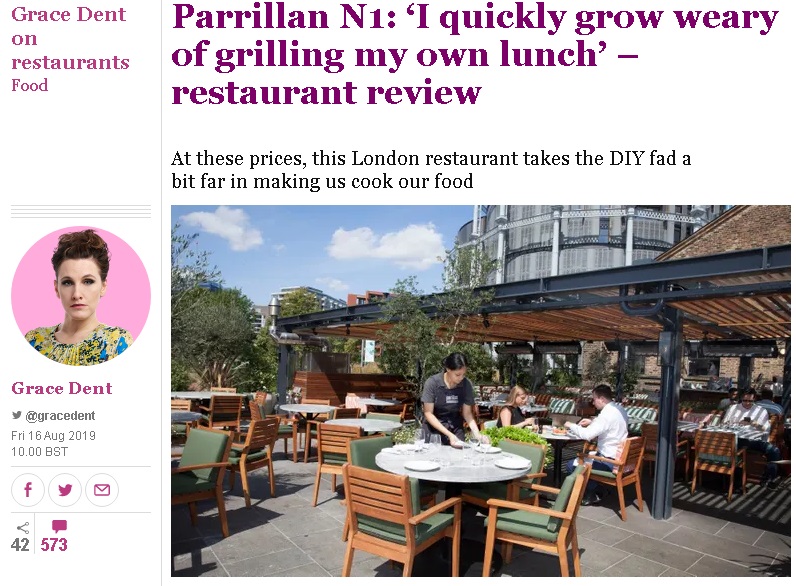 Grace Dent for The Guardian grilled her own dinner at Parrillan: "I'm not sure I wholly approve, but here we are".
The concept at the Coal Drops Yard newcomer serves "impeccable meats and shellfish" raw ("and all at premium prices), then expects "you to grill them yourself on your own personal mini grill in the centre of each table", judging the cooking times with no prior knowledge or skill.
"Parrillan is a wholly convivial experience. It is sexy and European." But it also, rather unfortunately this year, relies on "proper summers, balmy nights and a lack of sideways sleet".
"Within 10 minutes, I grow weary of the responsibility of grilling my own lunch, but the men at my table are delighted by the task".
"By 2025, I'll be showing up at restaurants with a stash of Finish Quantum tablets in my bag and loading the dishwasher." (14/30 – 19/30, depending on how well you cook your own dinner)
---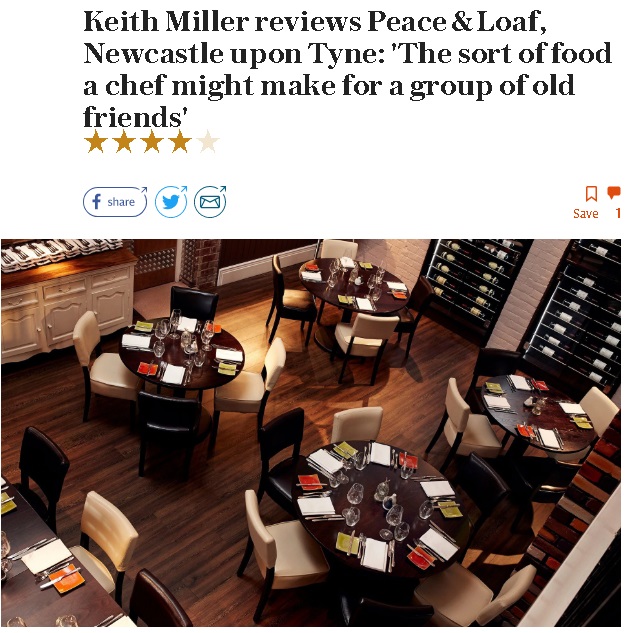 Keith Miller for The Telegraph had had Peace & Loaf on his list "for ages", and took advantage of a parental drop-off to have lunch there.
It's the ultimate antidote to a certain sort of restaurant that's currently very popular, places of "joyless virtuosity… called Twig or Sprout or Hwaet!; places that tick off trends like rosary beads, that wear their umlauts like this season's must-have hat".
At Peace & Loaf there's no "napkins… so artisanal you could flay a new potato with them". It's "a really likeable space, but not a screamingly fashionable one", with "kindly, twinkly-eyed staff", exuberant presentation ("no tweezers around here") and flavours that were "bold and brash". "It slightly resembled the set of a Friends-style sitcom set in the hospitality trade."
After some free crispy nibbles and "the best peas EVER" (with butter and chives), Keith and his daughter ate a dish of "low tide" shellfish and tempura softshell crab "prettily strewn with sea purslane", and then "the blowout option, iberico pork and lobster". For pudding they "shared a many-splendoured fantasia involving several different iterations of chocolate and passion fruit".
---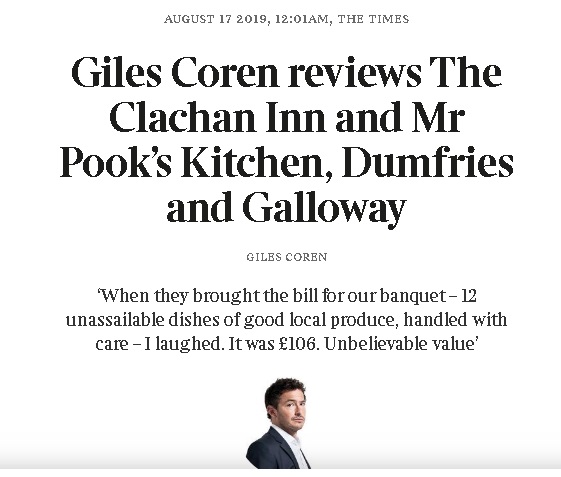 Giles Coren was back in The Times with a double review after a week away (although as Mr Pook's suggested on their Instagram page that he actually visited a "wee while" ago, we suspect his summer holiday is longer than a week).
Visiting friends in Dumfries & Galloway (turn left at the border), Giles was astonished at the prices at The Clachan Inn. They ate a "magnificent three-course banquet for four, twelve unassailable dishes of good local produce, handled with great care and authority, in a nice room, with plenty of booze and lovely service" – and the bill came to £106. As Giles says, that's "the average price PER HEAD of the meals I review in London and the rest of the country. Unbelievable value."
"A lovely rural pub with top-flight comfort food served by brilliant kids." (23/30)
Mr Pook's, in Castle Douglas, is "cheffier than the Clachan", a "great new restaurant in a grand, airy, modern conversion in an old bank on a quiet, pretty high street in a small town that looks very nice indeed".
A "dazzling little amuse-bouche" and a "top-quality" local charcuterie platter kicked off the meal, which continued with an "epic" starter of a "stonking breaded and deep-fried duck egg squatting on a rich square of confit pulled boar, crisp-edged, hefty, supremely piggy". Main courses were "very good indeed" and there were "wonderful local cheeses" and "seriously fine puddings" to finish.
Service was "professional, calm, knowledgeable, occasionally cheeky". The bill was twice that of the Clachan, but still only "£37/head for three amazing courses with booze and complimentary bits and pieces".
"Mr Pook's is the superswanky home of a serious chef, with well-drilled, experienced staff, top-end ingredients, big ideas and Insta-ready presentation in the throbbing metropolis of Castle Douglas." (23/30)
---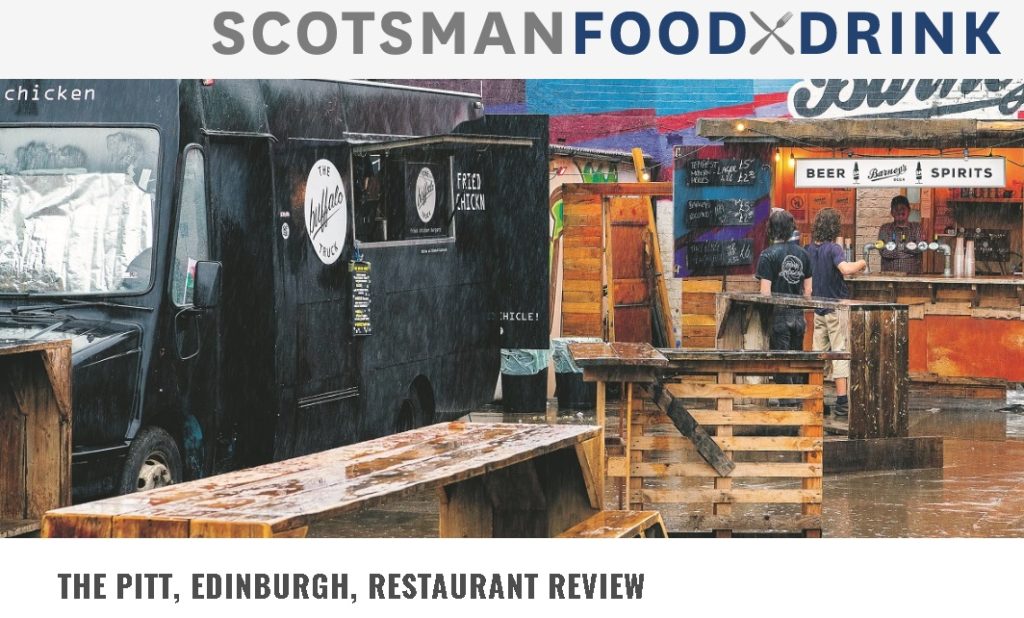 Gaby Soutar for The Scotsman encountered some suspicious looks asking for receipts at the stalls she visited at The Pitt street market, the recently enlarged "family-friendly weekend food market" in Leith.
She sampled the hangar steak with "fantastically salty, oily and crispy" chips from Barnacles & Bones (specialising in shellfish and obscure cuts of meat) and a Korean burger in "a russet coloured and craggy crisp crumb" from "fried chicken specialists" The Buffalo Truck.
Don't be put off by the "worst sign" (and the "menu that looks like it's been written by a chimp or serial killer") at The Sausage Man, or by the woeful name at Wanderers Kneaded – "the goodness of the pizza… is in inverse proportion to the badness of their name" (and they emailed Gaby a receipt, no less – "it is the future, and flying skateboards will happen soon").
MOO Pie Gelato offered the only dessert option; "they eschew sophistication in favour of dirty shakes", homemade gelato and "cinnamon sugar churro waffles" – enough said.
"Even if my receipts don't make it through the bean counters, due to stains and some of the writing being indecipherable, that feast was worth every penny." (85%)
And also…
In The Financial Times, Tim Hayward reviewed Shell Bay Seafood Restaurant in Dorset: "under a new team, this place now serves stunning fish in an amazing location with very reasonable prices… worth travelling miles to experience".
---
William Sitwell for The Telegraph reviewed Baraset Barn near Stratford upon Avon: "a decent country gaff that beams with positivity", run by "two jovial middle-aged boys who dress like they're popping to the taverna in Corfu".
---
BristolLive's Mark Taylor reported on the opening of Marmo: "While not a dramatic departure from predecessor Bar Buvette – with its seasonally-tuned, ingredient-led menu and penchant for natural wines, it's more of a continuation on a theme – Marmo is still one of the most significant new openings of the year and a restaurant to savour".
Mark also reported that over 500 people have pre-booked for Bianchi's, the very-nearly-open sibling to Pasta Loco and Pasta Ripiena that's taken over the Montpelier site of the much-loved and mourned Bell's Diner (RIP).
---
Daisy Jackson for Manchester Evening News visited a Polish restaurant hidden away off Deansgate. Platzki has "a real farmhouse vibe… that makes you feel as though you've strolled into a grandmother's kitchen". She ate "delicately al dente and phenomenally filling" pierogi stuffed with slow-cooked pork and a "heartening plate" of pretty potato dumplings. "There's such undeniable competency in the kitchen here at Platzki, and such a charming familial atmosphere, it's a crying shame to not see it teeming with over-stuffed customers." (****)
Recent News from Harden's