Our weekly round-up of what the national and local restaurant critics are writing about, for the week ending 13 September 2020.
Check with your local and favourite restaurants before heading there; many are still operating strict timings due to reduced cover numbers and social distancing requirement, with reduced menus and booking systems (even if they didn't take bookings before); look at their social media pages for details – all available via hardens.com.
*****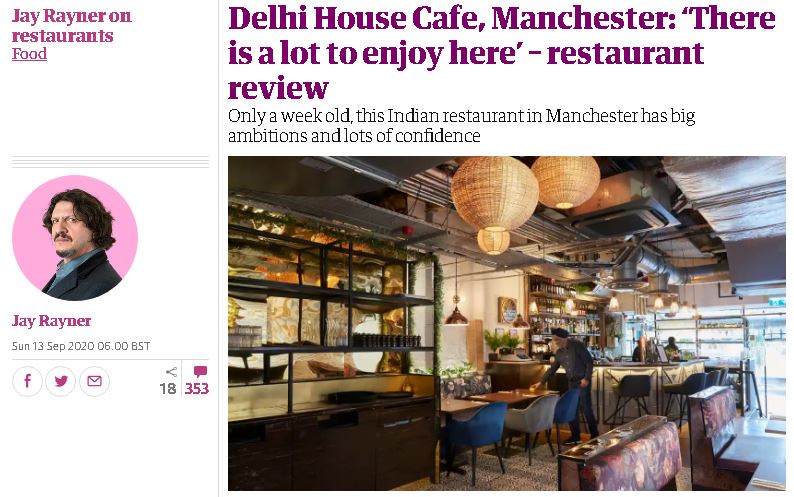 The Observer
Jay Rayner was in Manchester, checking out the newly-opened ("eight days old as I lollop through the door") Delhi House Cafe, inside the city's Corn Exchange.
"Any culinary tradition worth its salt, and various other seasonings, is an accretion of ideas and techniques shaped by the moment in which they were first pressed into service. Someone always went before. Here then, is the Delhi House Cafe, attempting to pick up the flame."
"The shimmering white-on-white flock paper on one wall feels like a knowing wink" to the standard high-street curry house, although "teying to offer something a little different" (their words) "isn't that radical for a city which already has outposts of Dishoom, Mowgli and Bundobust". But the newcomer does possess "a real verve and enthusiasm" that makes it feel "like a mature business well into its stride", and what's more "boasts some of the best trained, and most cheery staff I have come across in a long while".
The dahi poori deliver "crunch and then the burst of tamarind sweetness across the satisfying mess of vegetables" and are a "jolly reminder" of those from the "much-missed Kastoori in Tooting"; chicken ghee roast was "a ripely sauced, butter-rich curry" and his tandoori lamb chops were "a glorious, spice-crusted exercise in bone nibblage".
Two "deep-fried offerings" felt "like a failure of nerve", but would be "child friendly", he concedes. The dessert menu was "more expansive than those found at most Indians", with lashings of sugary goodness, "a long cocktail list, a short wine list and a cheery selection of ales".
"Mostly there's the sense of a shared endeavour which is all heading in the right direction. It's a welcome addition to the less than impressive offering at the Corn Exchange."
*****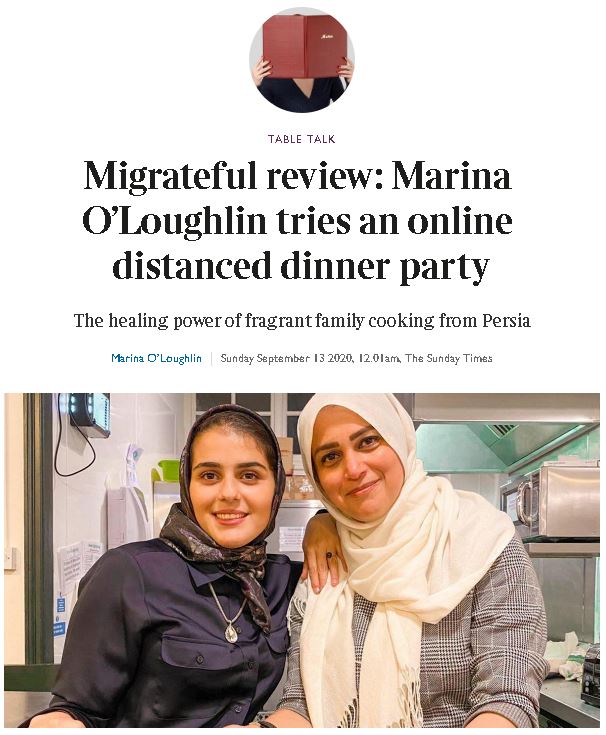 The Sunday Times
There was "a melodious selection of favourite Persian dishes and sweetmeats; 120 of us in homes all around the capital are unboxing our dinners in anticipation".
Marina O'Loughlin tried out an online, socially distanced dinner party from Migrateful this week. "Iranians Elahe and Parastoo have delivered us a taste of the cookery of their homeland courtesy of a small charitable organisation called Migrateful, dedicated to working with asylum seekers, refugees and migrants, helping them to adjust to their new homes via the medium of cooking."
"The food is moving, evocative, Iranian comfort food that makes me feel homesick for a place I've never been." The starter of kuku sabzi ("rather like a frittata") is "an aromatic blockbuster, dizzyingly herbaceous", followed by "adas polo: basmati laced with nutty green lentils" and meatballs, and then loz to finish, "buttery, sticky hand-formed almond flour rounds, floral with cardamom and topped with sugared petals".
The Migrateful chefs "taught cookery classes, being given training in confidence and public speaking by the organisation, helping them to share their stories. And they have many stories to tell".
"Currently they are available only in a number of London postcodes, although there are Migratefuls in Bristol and Kent too and they're still running a number of classes online: Filipino, Bengali, Sudanese, Gambian, Angolan, Syrian: a litany of places where bad things continue to happen to decent people."
*****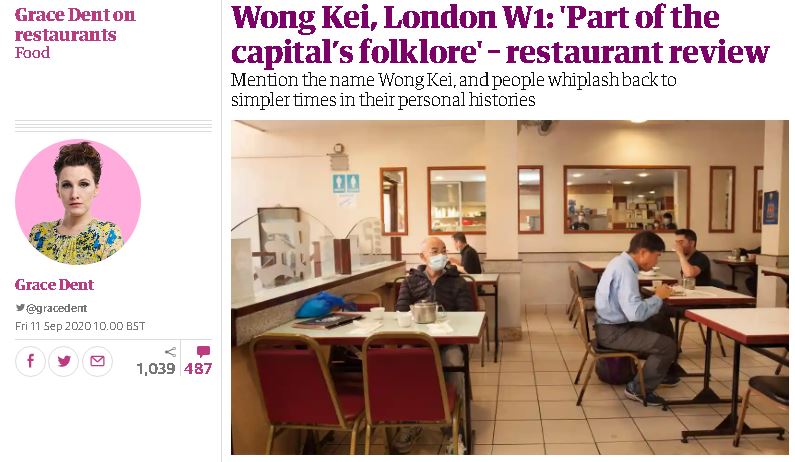 The Guardian
""Can I keep hold of the menu?" I asked the waitress, who immediately went to take it off me. "No, you can't – you'll get it dirty," she said, snapping it away in a delicious burst of semi-rudeness. That made my day. The world might be sliding to hell in a handcart, but my beloved Wong Kei is alive and kicking."
Grace Dent has been returning to her Chinatown stalwart ever since lockdown eased ("midweek, mid-afternoon, downstairs, alone – much as I have done for the past 25 years"), and has found it just the same as ever; "much more affable and sleepy these days" but it does have more to compete with. "Chinatown is… scrabbling to stay upright in a London depleted of tourists", although the usual afternoon crowd of "gossiping grans" haven't strayed or been put off by the pandemic.
"It has existed for so very long, and fed so many, that it is less of a restaurant and more part of the capital's folklore."
"Wong Kei's menu remains a broad church: deep-fried intestine, bitter melon and stewed ducks' webs sits close to lemon chicken and Singapore noodles. Service is always super-rapid and dishes always turn up far too hot to start eating straight away. And that's a line I've not written about any restaurant in more than 20 years."
*****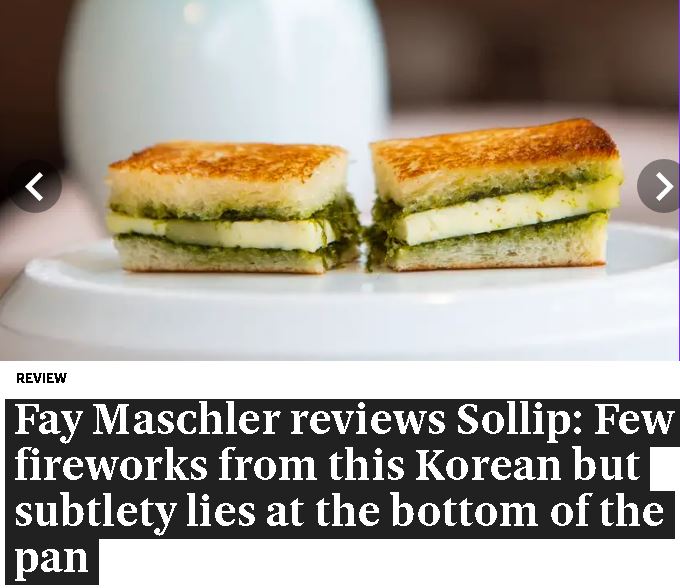 The Evening Standard
Fay Maschler ate at Sollip, the Bermondsey Korean restaurant that unfortunately chose March 2020 in which to open; it pivoted as a grocer, and still sells pickles and now it has re-opened as a restaurant.
She starts with a gentle word of warning: "Korean to me, and maybe to you, can signify fireworks on the plate, set off by garlic-driven kimchi. Here Korean is but a subtle influence on European traditions." Fay uses the word "demure" to describe one dish.
The best dish was the house cassoulet of "belly pork and notably virtuous cannellini beans with 10-months-fermented kimchi slightly revving the broth", but she thought the gamtae sandwich ("a doll's house sando") was fishy, the daikon tarte Tatin was "cold and lonely" and suggested that service could be improved.
A "brave, still rather tentative mom-and-pop endeavour… Independent and to some extent groundbreaking, it deserves support."
*****
Fay's regular week in food column included a meal at 10 Greek Street, snacks in the "suavely revamped dining room" of The Windmill in Mayfair, Portland Crab Salad at 45 Jermyn St and a takeaway from Farang via Dishpatch.
*****
The Standard also reported a two-thirds reduction in the number of new restaurant openings in the key autumn launch season, compared to last year, calling it an "unprecedented gastronomic slump".
*****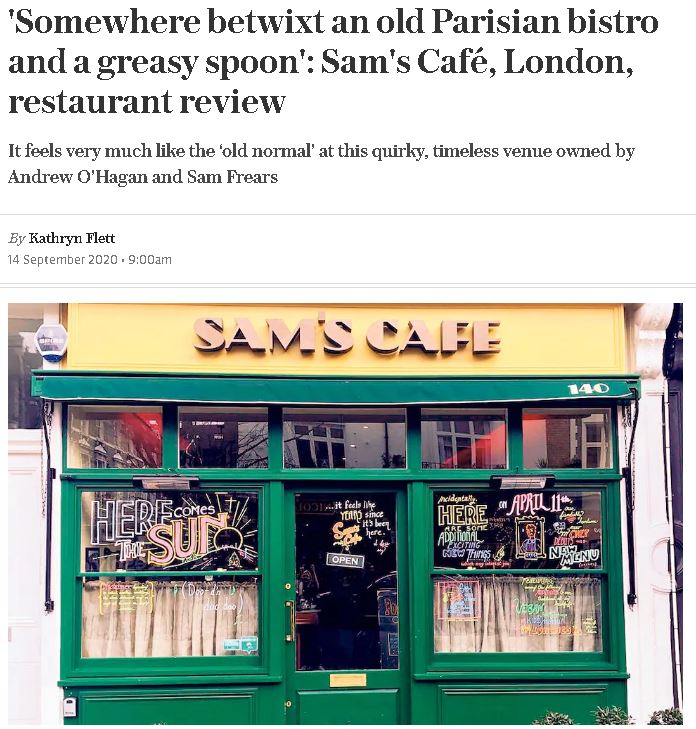 The Telegraph
"As I strolled along Regent's Park Road it was recreational business as usual: squint and in PH it's still Summer 2019."
Kathryn Flett visited Sam's Café in "leafy, picture-postcard-pretty" Primrose Hill; it "closed 18 months ago in its… previous Regent's Park Road incarnation, reopening three weeks ago a few hundred yards away. Helena Bonham Carter cut the ribbon".
"Like its residents, Sam's looks modern yet timeless – the corner site an airily stylish marriage… of Farrow-and-Ball-meets-melamine with an atmosphere somewhere betwixt an old Parisian bistro… and a True Brit greasy spoon."
The menu"ranges confidently and comfortably between, say, vegan sausage with scrambled tofu and a steak ciabatta chased by a knickerbocker glory, making it as conducive to a ­food-tart like me as it is to PH's kombucha-inhaling Pilates-mums".
While no destination (but "absolutely" check it out if you're in the area), Sam's is one of those "freshly-opened, happily optimistic places like Sam's say something timely and important about our futures". There's "no reason why Sam's shouldn't pack them in for another 30 years".
*****
Also in The Telegraph, William Sitwell gave a 5* rating to Hot Stone, the "steak-and-sake joint" in Islington, and exhorts his readers to "dine here", but gave a warning "for God's sake, don't order sake by the glass".
*****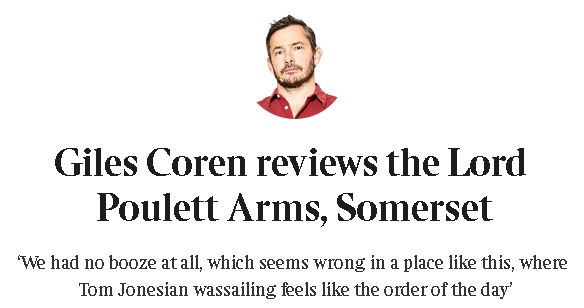 The Times
For Giles Coren, passing Stonehenge on the interminable A303 marks a countdown to several "top-class hostelries run by Matt Greenlees, Daniel Brod and Charlie Luxton". The latest to join the group is the Lord Poulett Arms in Hinton St George, an "old inn… as beautiful as it has been since 1680, built in that honeyed stone" of the area.
"Inside, it is of course all flagstones and candles and half-plastered walls, painted in Farrow & Ball "Pus" and cut away to reveal ancient features and fireplaces."
Stopping here on the way to Cornwall meant a quick lunch and no booze, but the family still managed to put away a roasted heritage carrot salad, a "glass jar of potted ham hock", a "skillet of sweet River Exe mussels", "huge, fluffy slices of Somerset rarebit", a steak and a hamburger for the kids.
"The great thing about the Lord Poulett is the service" – so great that the team even wrote a book about the "art and heart of hospitality" during lockdown, apparently a "brilliant thing – far more poetic, witty and applicable than the staff manual… restaurant groups roll out to help their employees".
However, we'd have to agree with Giles on his last point, that "it's probably time someone wrote a companion volume, for guests, about how to behave in restaurants and treat staff with the courtesy and respect that is their due." (23/30)
*****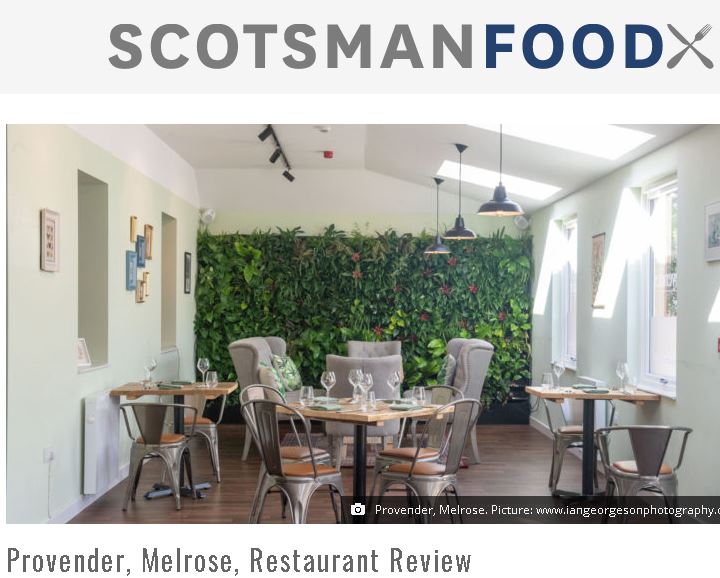 The Scotsman
Gaby Soutar gave a nod to her lockdown-favourite takeaway, the surf and turf pizza from Wanderers Kneaded pizza van in Edinburgh's Meadow Place (@wandererskneaded); "topped by guanciale-wrapped king prawns and pesto, is the pizza everyone wants. It's the edible Kardashian and viral TikTok dance of social media". (83%)
The Scotsman's other reviewer, Catriona Thomson, chose Provender in the "the genteel town of Melrose" in the Scottish Borders, for her first restaurant review since lockdown ("I feel like a tortoise that has been hiding inside its shell").
Provender, one of just "nine Scottish businesses are deemed by the Michelin folks to make Bib grade", are "big supporters of local businesses and Scottish produce" and are also "providing takeaway for those corona cautious types".
Highlights of the meal included her heritage tomato and compressed watermelon salad ("this flavour combination is a winner"), her companion's crispy ham hock and black pudding croquettes ("I only just managed to stop him before he licked the plate") and also his main course of Perthshire venison haunch ("the taste sensation of the plate was the port and blackcurrant gravy which was declared a triumph").
*****
Also in The Scotsman was an article on the best restaurants on the NC500, the 500-mile North Coast route that "has everything – towering peaks, white beaches soaked by turquoise waves, historical treasures. Peace. Tranquility." Recommendations included Kylesku Hotel, the Captain's Galley in Scrabster, Sutor Creek Cafe in Cromarty, The Storehouse in Evanton, the Seafood Shack in Ullapool and Applecross Walled Garden.
*****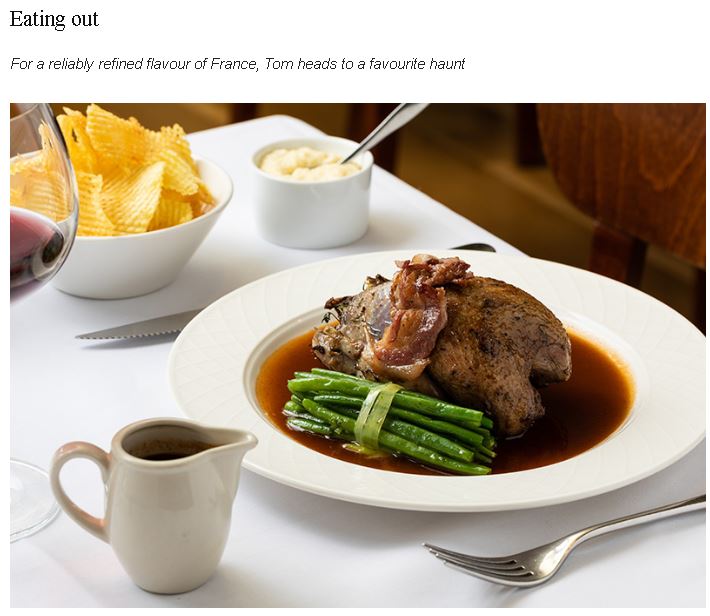 The Mail on Sunday
"Familiarity doesn't always breed contempt. In fact, when it comes to my favourite restaurants, the opposite is invariably true. Sometimes, I know exactly what I want to eat, and exactly where to eat it. Where consistency trumps novelty, and the experience is all."
Tom Parker Bowles (in his new column with wine expert Olly Smith) in The Mail's YOU magazine was at Le Colombier, the bastion of "old Chelsea" types, who probably all miss Racine and La Brasserie as much as Tom does.
"Inside, a cool breeze flutters through the open windows, into a room daubed in Provençal blue. Service is mainly young, slick and very French, but with rather more charm than disdain." There's "expertly sourced fish" and "good bread" and "chilled house rosé", fish soup, oyster and even "roast grouse à l'Anglaise… every bit the equal of its brethren at Wilton's or Rules" ("Sometimes, even the French concede that British can be best.")
"Le Colombier… cooks up peerlessly consistent French brasserie food" and "does so with the broadest of smiles".
*****
And also…
Over the weekend, The Financial Times published articles on The Towpath Cafe in Haggerston ("Taste the soul of the city at London's chicest canalside hangout"), why restaurateurs often close on Mondays and FT readers' top tips for the best places to eat al fresco in London.
*****
Birmingham Live visited the city's new Dishoom, rating the "very buzzy atmosphere", creamy black dahl, "proper Indian comfort food" such as the "mouthwatering" chicken tikka and "excellent breakfast" bacon naan. Scoring 4/5 over three visits, "Dishoom does add something extra and special to what we already have".
*****
Manchester Evening News congratulated The Cartford Inn on placing first in The Telegraph's Pub of the Year 2020, and revealed that a "derelict warehouse near Heaton Park has been transformed into a smart new bar and restaurant" called The Goods In "from the same team behind the suburb's popular cafe and bar All The Shapes".
*****
Recent News from Harden's