One of the main icons behind London's Restaurant revolution died today at the age of 88.
Sir Terence Conran was key one of the key figures in driving London's restaurant revolution of the 1990s.
Harden's criticisms of his restaurants also became a talking point, with our brand for a time being known for its iconoclastic stance on London's most famous restaurateur.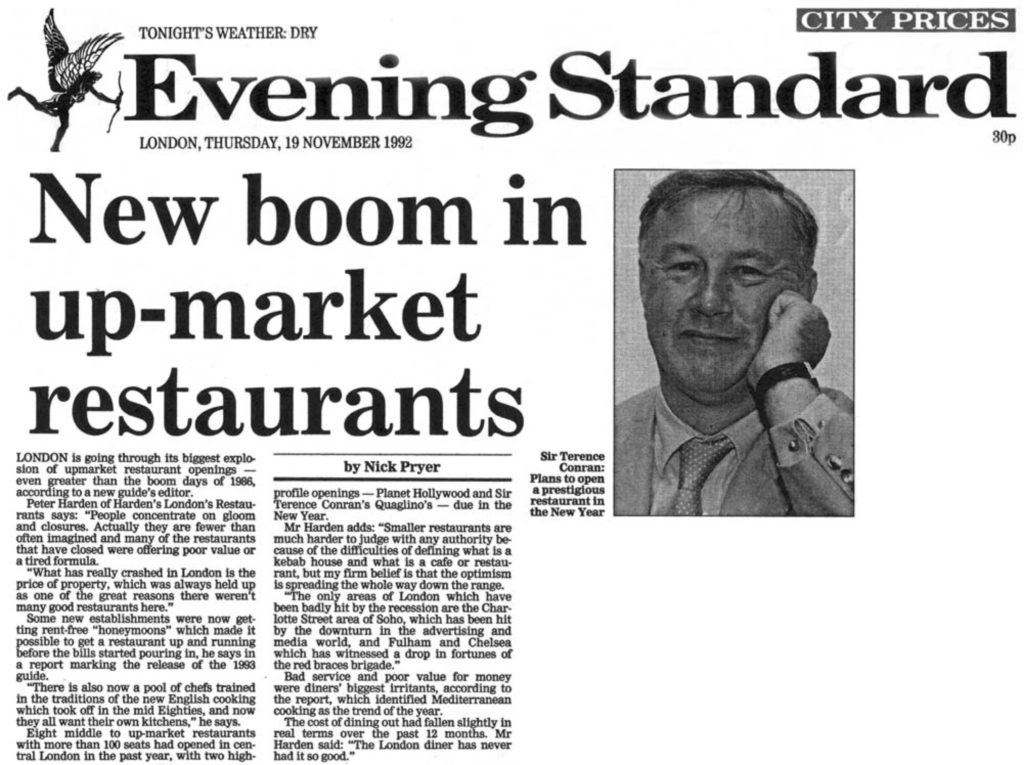 Conran had already made a fortune before his restaurant career with his founding of the famous Habitat furniture chain in the 1960s.
His ultimate creation of Storehouse plc in 1986 – with its international expansion of the Habitat brand and consolidation of Habitat with some of the UK's other best-known retail brands (BHS, Mothercare, Heals) – helped cement his position as one of the UK's best known businessmen.
He had already started the restaurant phase of his career, opening Neal Street in Covent Garden in the 1970s. The venture subsequently morphed into a partnership with his brother-in-law – TV chef Antonio Carluccio – in 1981.
(Carluccio became its full owner in 1989 and he and his wife Priscilla – Conran's sister – subsequently went onto expand their neighbouring deli into the Carluccio's chain).
For Conran, it was the resurrection of an interest in eateries he had first kindled as a young designer, launching Soup Kitchen near Charing Cross in the early 1950s.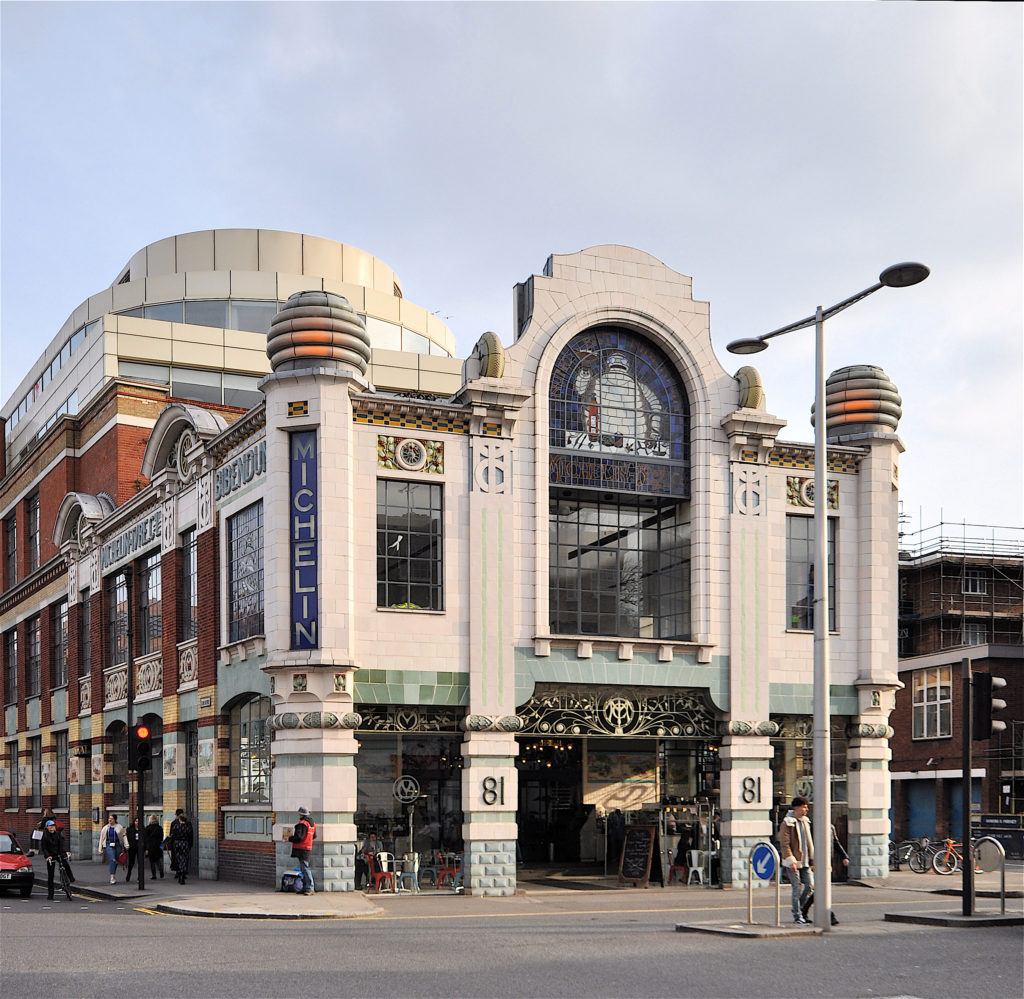 Following on from Neal Street, in 1987 he took another step into restaurants with his purchase and redevelopment of South Kensington's landmark Michelin Building. On the ground floor he created The Conran Shop – another style icon of its day and in the foyer, there was the chic Bibendum Oyster Bar. Up above the wonderful, light-filled space he created became Bibendum: still certainly one of London's finest modern dining rooms.
In an Instagram post, the current incumbent at Bibendum Claude Bosi remarked:
"Sir Terence Conran was a visionary and a real legend. I really wish I met him earlier. This restaurant was so important to him; we will do our best to continue to make him proud. Tonight I will have a cigar in his honour. All my thoughts with his family – RIP Sir Terence."
Leaving Storehouse in 1990, as he was about to turn 60, Sir Terence launched himself fully into the restaurant phase of his career. At the time, London restaurants were the butt of the jokes of visiting Americans for how inadequate they were. But change was in the air, and Conran seemingly scented it.
Quaglinos (mentioned in the article headlining the page) was his next brainchild, arriving in 1993 with the conversion of a huge St James's Ballroom dating from 1929 that had fallen into neglect.
What set the opening of Quaglinos apart was the size of the restaurant and the correspondingly massive PR blitz behind it. At that moment of time, the small scale of London restaurants compared to those found in New York or Paris was something of a talking point amongst international travellers. This was the start of a sea change.
With his trademark cigar in hand whenever there was a photo-op, the professionalism Conran brought to the exercise of opening restaurants learnt from his days running a major PLC, set him head and shoulders above his competitors at the time.
He was also helped by the fact that Planet Hollywood – a less ambitious but similarly gargantuan and at-the-time glam restaurant project, backed by the titans of action movie heroes of their day – Stallone, Schwarzenegger and Willis – was opening at the same time, just down the road. The Evening Standard seemingly could talk of little else and there was an unprecedented media focus on the two debuts.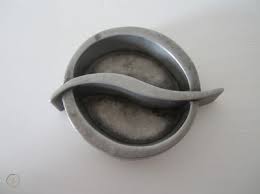 With hyped restaurant openings nowadays two-a-penny (well, in non Covid times anyway) it is hard now to recall the scale of interest in Quaglino's. Its massive size (350 seats), its cigarette girl (yes, you could still smoke in restos then), the iconic ash tray, the much hyped staircase: all were the talk of the town. In fact, it was the talk of the nation, in a way that democratised restaurant-going and was culturally hugely important in repositioning restaurant going as something of mass rather than niche interest.
But that was just the beginning. With the London property market totally crashed out in the early 1990s recession, Conran spotted a huge opportunity.
Landlords at the time, especially in the City of London and large commercial developments, despised restaurants: they considered them bad credits and far more trouble than they were worth.
Conran did a sweet deal on a huge amount of property on the south bank where the developers were grateful to do something in a terrible property market. It was just near the Design Musuem which he'd opened in 1989 and opposite the City near Tower Bridge.
And so Conran set to launch six restaurants at once in what was to be christened his "Gastrodome". Le Pont de la Tour (and its grill), the Butler's Wharf chop house (and bar) and Cantina del Ponte. Key to the day-to-day operations was Joel Kissin, who he had first headhunted in 1987 to help him run Bibendum and who became his partner in the growth of Conran Restaurants.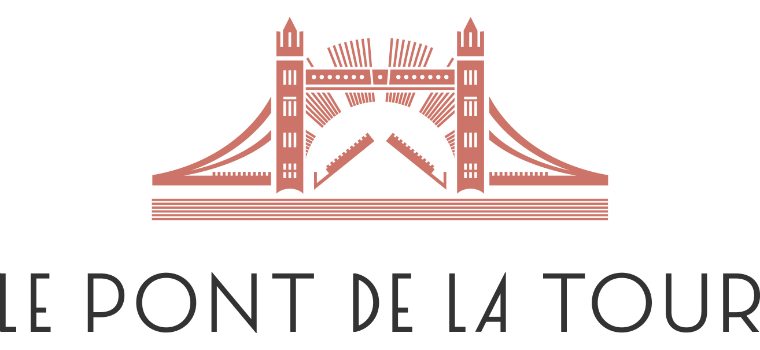 The success of the Gastrodome (where else would Tony Blair choose to wine and dine Bill Clinton, but Le Pont de la Tour) saw developers across London salivate at the PR potential the stardust the Conran name could bring to their properties.
Indeed, it was also the start of a major re-evaluation amongst landlords in how they came to view restaurants as tenants and came to appreciate the benefits to a development (nowadays seen as essential) that a top restaurant could bring to a new property venture.
Another gigantic, landmark opening – Mezzo – followed in 1995 with the conversion of Soho's famous defunct the Marquee Club. With 700 seats it was hyped as Europe's biggest restaurant. The Conran juggernaut was unstoppable with the 1997 development of another huge, prominent building – Chelsea's lovely looking Bluebird Garage – into Bluebird Bar, Café and Club; and the creation of Marylebone's Orrery above a second Conran Shop.
For sure, no-one could any longer accuse London of lacking large eateries. Next stop was NYC, with the (troubled) opening of Gustavino in a vast space near the Queensboro Bridge, also in 1997. Joel Kissin had left to start the US operation and – with his departure and the lukewarm opening of the New York restaurant – it felt like a turning point for the constantly expanding group.
The Conran group's concentration on huge restaurants and its mad, headlong rush to expand unsurprisingly led to a loss in quality, a decline the restaurant critics of the era seemed reluctant to call out. Not so the Harden's survey! And also not so the news editors of the broadsheets, who scented a story and who gave Harden's page 3 of the Times and The Telegraph on the same day when we launched our 1999 guide.
Mezzo was the biggest problem in which we reported
"very mean portions of conveyor belt modern British cooking at extortionate prices, not to mention pushy and shoddy service leading to the biggest let-down ever".
Many other memers of the chain at the time, though, were dubbed "thoroughly mediocre" while some (Orrery and Sartoria) "might be good if they weren't so greedily priced".
Sir Terence's response was denial, accusing us of using "purple prose [to sell guide books]". He also noted that if you went into Mezzo you would find it "absolutely packed" (but this situation didn't last long and it would soon be reformatted).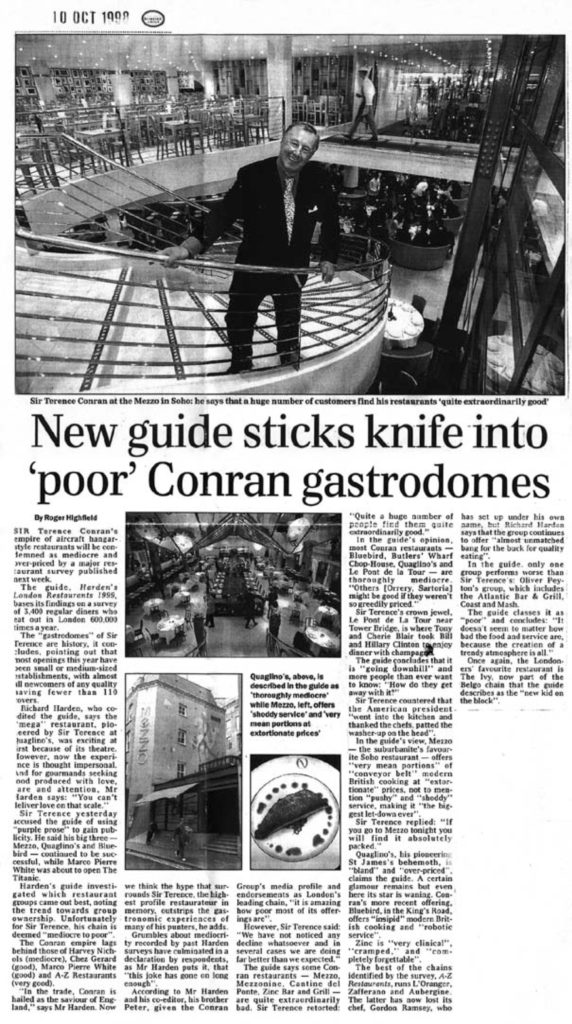 Change to Conran's management became more evident in the same year with the appointment of David Loewi (who joined from the hotel trade) as Managing Director. As Sir Terence started to step back, Des Gunewardena – who had joined the business in 1991 – also became more evident in the running of the business ultimately to become its Chairman and CEO as he is today.
The two D's rechristened the business D&D London in 2008, the culmination of a buy-out process which had started a couple of years earlier. As D&D London the chain has continued to grow as one of the country's most successful groups at the quality end of the market.
Sir Terence didn't stop there though, continuing to open restaurants under the Prescott & Conran name. Ultimately it was not to be a particularly happy end to the story with Lutyens, Albion, Parabola, Les Deux Salon and Neo Bankside all failing to endure and the restaurant group ultimately going bust in 2018, owing £14m despite Conran lending the business £22m.
But while the Harden's survey has not always had kind words to say about Sir Terence Conran's ventures, and though his restaurant business didn't end for him on a high, there's no taking away from the man the profound effect he had on the London restaurant scene.
Sir Terence Conran's know-how, sophistication (if not warmth) of style and gigantic projects pumped huge life, razzamatazz and belief into a nascent market that badly needed it. He helped put London on the world map for food. For that he certainly deserves his place in London's restaurant hall of fame.
A statement from his family said:
"He was a visionary who enjoyed an extraordinary life and career that revolutionised the way we live in Britain. A proud patriot, Sir Terence promoted the best of British design, culture and the arts around the world and at the heart of everything he did was a very simple belief that good design improves the quality of people's lives.

"From the late forties to the present day, his energy and creativity thrived in his shops, restaurants, bars, cafés and hotels and through his many design, architecture and furniture making businesses. Founding the Design Museum in London was one of his proudest moments and through its endeavours he remained a relentless champion of the importance of education to young people in the creative industries.

"Sir Terence enjoyed a remarkable life to the full and always maintained that his work never felt like a job – everything he did for business he would have done for pleasure.

"In his private life he was adored by his family and friends and we will miss him dearly. It gives us great comfort to know that many of you will mourn with us but we ask that you celebrate Terence's extraordinary legacy and contribution to the country he loved so dearly."
---
This article had been edited since it first appeared: 1) as we have become aware of minor inaccuracies which have been corrected; and 2) as the original piece has been expanded upon to become more comprehensive.