Harden's weekly update of where the critics are eating, recommending and avoiding, for the week ending 1 September 2019.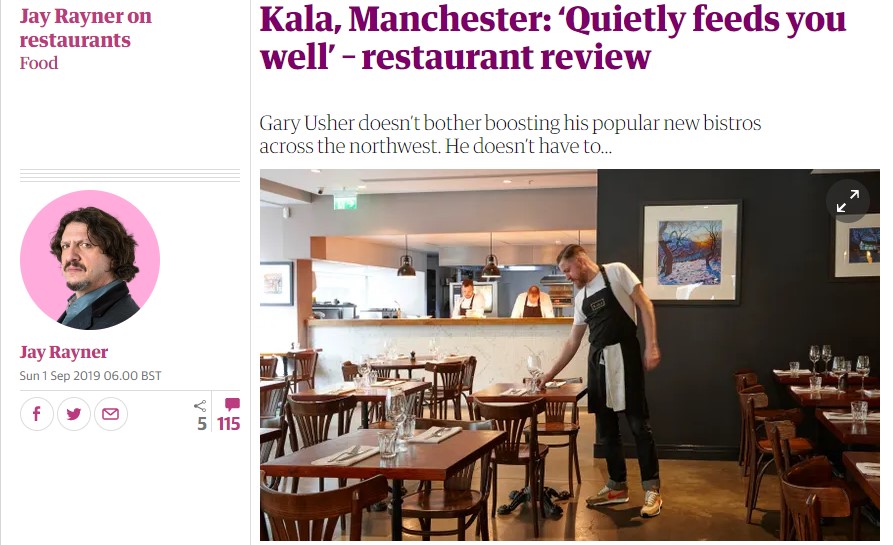 Jay Rayner for The Observer headed to Manchester to try out the latest jewel in Gary Usher's crown. He wasn't welcome, of course – when Usher opened his very first restaurant, Sticky Walnut in Chester, he actively discouraged critics, saying it was "a local bistro for local people" – but Jay went anyway.
The group of restaurants, all individually named, "don't serve ground-breaking food" and don't try "leap boundaries, or draw attention". Usher's "deft cooking" provides "the kind of classy, appealing food you'd like to eat repeatedly, and at a reasonable price" – it's not the journalistic hook Jay prefers, but he dealt with it manfully.
Kala (Usher's sixth restaurant) was crowdfunded like three of his others, and broke "the world record for crowdfunding £100,000 in just 11 hours". It's a "first-floor space" with a "polished concrete floor… emerald green banquettes… shell- shaped wall lights… an open kitchen", staffed by "inked and eager waiters".
Jay ate a "faultless", "pleasingly pink" chicken liver parfait and "snowy burrata", followed by a "rugged leg of crisp-skinned duck confit" served with "a neon orange sweet potato purée" ("a root vegetable transformed into an act of kindness and care") with touches that create "a plateful which both makes sense, and is achingly pretty".
He thought the "torched" plaice was a little over-salted ("I know, Gary, I know; bloody restaurant critics") but had "deep, intense love for a side dish of charred little gem, sprinkled with deep-fried capers" and the "sizeable chips which are really just superb roasties". Pudding "laughs in the face of summer" with Yorkshire parkin and a passion fruit choux bun ("you're in Manchester and here, they take the sweet end seriously").
"The health of a restaurant culture is… defined by places like Kala quietly feeding you well."
---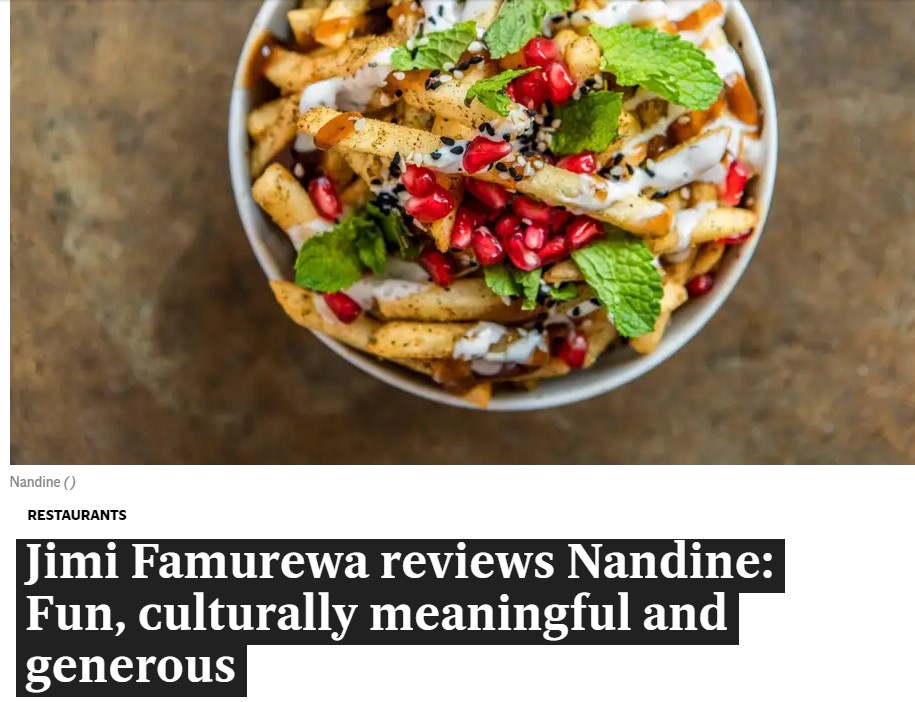 Rejoicing in the wonders of Camberwell Church Street, Jimi Famurewa for The Evening Standard mused that he'd "not fully appreciated that this connective strip of south-east London — which takes in pizza… Xinjiang cuisine… and new-wave Nigerian — is now so well stocked with varied, inexpensive places to eat as to be almost ridiculous".
Jimi ate at Nandine, presumably influenced by Jay Rayner's glowing Observer review of a few weeks ago, and was equally entranced, not just with the "sneakily cool" ambience or the "seductive origin story" but the whole package: it's "a restaurant of such vividness, heart and unassuming dexterity that I'm struggling to conceive of anyone stepping through its doors without falling in love".
There's also the "hang-on-they-must-have-left-something-off-the-bill" moment which can't help but appeal.
The food is a "rollicking primer on the ways Kurdish food pulls from neighbouring regions (Iran, Turkey, Syria) while honouring its own traditions of sour, multilayered flavour", culminating in a meal that was a "prolonged blur of torn bread hunks, messy forkfuls and indecent groans of pleasure".
"I can't think of another opening that feels as fun, culturally meaningful and generous as this place." (9/10)
The Evening Standard also reported on an interview with Marco Pierre White published in the Irish Independent in which he stated that "women are more emotional in the kitchen". Neil Rankin (chef-owner of the Temper restaurants) took to Instagram to describe the comments as "nauseating baseless antiquated bulls***" and called MPW a "rambling dinosaur". Well said.
---
Tony Turnbull is standing in for Giles Coren once more in The Times' Saturday magazine. He chose his review targets using a map of the UK's foodie sites of interest, which reminded him "what a rich hunting ground Shropshire is".
His first port of call was the Netherwood Estate (not actually in Shropshire), where the restaurant Pensons occupies a recently "converted barn that dates back to the 15th century". The "overengineered" car park was the only thing he could find to complain about. Chef Lee Westcott (ex-Typing Room) makes "full use of the 1,200-acre estate" and "good-sized kitchen garden… self-sufficiency can't be a million miles away".
After drinks and snacks (including a pig's head croquette that was "sweet piggy heaven") on the terrace (with a "bewitching view"), Tony embarked on dinner. "You're in set menu territory here", sensibly priced at different levels during the week from £27-£75. Sourdough with Marmite butter ("as pillowy as Kylie Jenner's lips… carbohydrate of the gods") was followed by an "utterly brilliant" meal that was "a masterclass in balance: sweetness and acidity, crunch and emollience". And "all of it absolutely perfect and brought to the table with a mix of professionalism and charm".
"Not cheap, for sure, but my best meal of the year by a country mile."
The next day found him at The Coach House in Norbury, an "attractive inn…lightly Farrow and Balled but retaining its historical charm", where yet more "excellent sourdough" heralded "the chef's intent". The meal was "stupidly good value for cooking of this quality", from a Raymond-Blanc-inspired chef of just 22, Harry Bullock, who's "clearly destined for great things".
---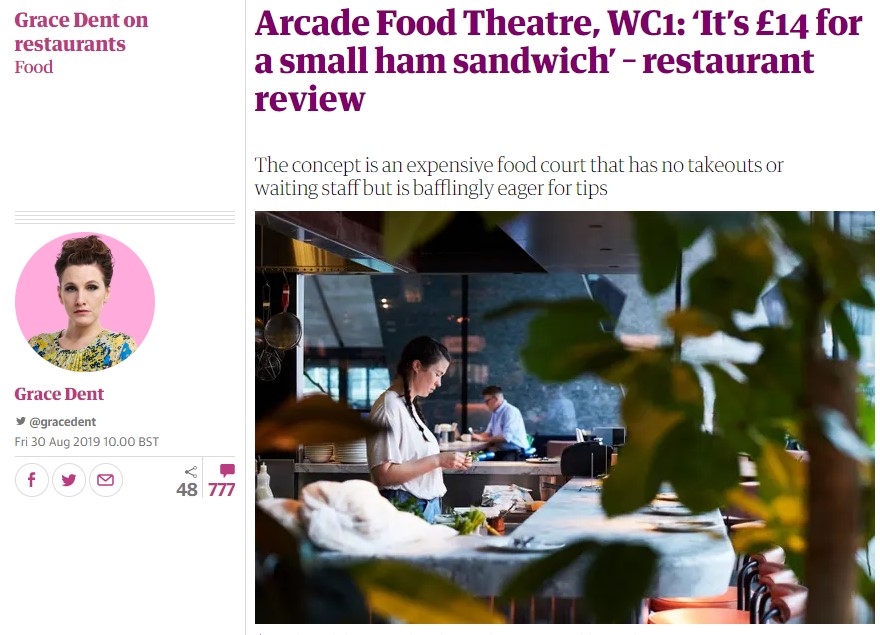 Grace Dent for The Guardian was not impressed with Arcade Food Theatre at Centre Point, no matter how many Instagram feeds it has featured on (she thinks they must have all attended the launch party and got food delivered to them on trays, for free).
Was it the result of a "chaotic blue-sky-thinking meeting gone awry"? It's essentially a posh food court – "you still queue, order, ship your own drinks and sit open-plan" but anywhere calling itself a "collection of independent kitchens and incubation-focused mezzanine space showcasing emerging culinary concepts" needs to take a long hard look in the mirror. And that's before you see the prices or actually visit – "most things are difficult" here.
The line-up of vendors is "beyond doubt impressive", including "delightful, growingly cultish bakery Pophams", a baby version of Borough's Caso do Frango and others with "incredible pedigrees". And it's "luxuriously built and exhaustingly modern", definitely "a billion miles removed from loading a tray with Spud-U-Like… at Manchester Arndale Centre Food Court, or eating a streetfood burger at a picnic table under a railway arch".
None of the stalls do drinks (apart from coffee), there's almost no way of knowing when your food is ready ("there is nothing as gauche or functional as a buzzer" here) and everything is "punchily priced" – on her second visit (nothing was open at her first), Grace "whipped through around £33 in about half an hour". Tou's Insta-famous pork katsu sando is £14, and it's more of a snack than a meal. (We've seen it, it's genuinely tiny; Marina O'Loughlin in last week's Sunday Times estimated it at about £2 a bite.)
Grace ate "delightful, definitely decadent" Black Sea pide from Oklava (£12), "London's best almond croissant" and coffee from Pophams and the tofu and egg version of Tou's sando, "clearly someone, somewhere's idea of a delicious sandwich, and I thoroughly respect that" (£10.50).
(Food 5/10, Service and Ambience 0/10)
---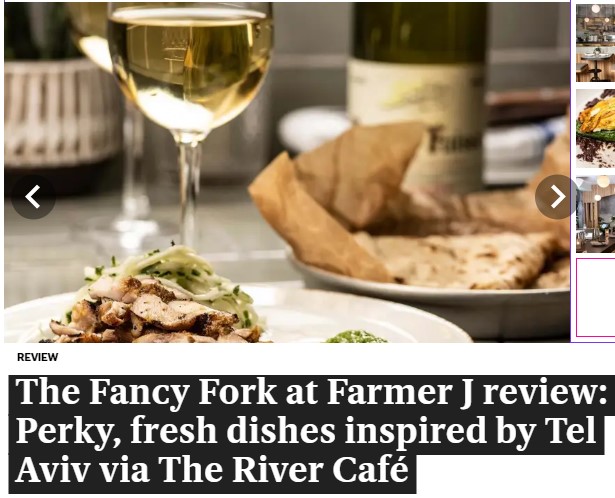 David Sexton for The Evening Standard tried out the new-ish evening offering from Farmer J, the City and Canary Wharf mini-chain that has "plenty of daytime fans already" – especially "given the desolation that is lunchtime for office workers most days", it's "a welcome addition to life" with "right-on-trend delivery of Mediterranean/Middle Eastern" food.
In the evening, this branch is called The Fancy Fork, and dishes out sharing plates from Galilee-raised chef Shuli Wimer, who spent half a decade at The River Café. Although the bread was disappointing, dishes of stuffed zucchini flowers ("delicious"), bone marrow toast (a "cushy adaptation of the St John classic" with "a big bone on the side made for glutinous, happy spooning"), chicken shwarma ("spicy and hot, just as this easy dish should be") and squid freekeh "risotto" ("more ambitious… another successful tweaking of a more familiar dish") were well received, but left no room, or enthusiasm, for dessert. (****)
---
Tom Parker Bowles for The Mail on Sunday handed out his latest four stars to Borough newcomer Flor, "the new place from the fellas behind Lyle's, an East London restaurant of near-legendary allure". It's "not exactly breaking new ground" – at this point, Tom lists all the places around the world where he's seen the exact same "open kitchen and small plates, natural wines, bare brick walls and endless jars of pickles (home-made, of course)" concept, but Flor is "a cut above the quasi-industrial norm".
He lunched with a grumpy Sam Hart (more name-dropping); together they dined on "pristine" rock oysters, red prawns ("a dish already spoken of in hushed tones by the food illuminati", which gained the Hart approval – Barrafina being one of the first to serve them), and "deep brown and deeply flavoured" anchovies and lardo on toast, "an inspired pairing, richly seductive, with the merest wink of filth".
A "delicate" tomato tart ("more classic, but no less wonderful") was followed by lamb ribs, "soft nuggets of serious meat nestled among a charred mass of exceptional fat" ("we gnaw the bone clean"). Puddings included "a sort of Mr Whippy made from ricotta… smooth and exquisitely salty" and "a hunk of beautifully kept Comte".
"In short, a class act, from start to end. Sensibly priced too… No surprise at all." (****)
---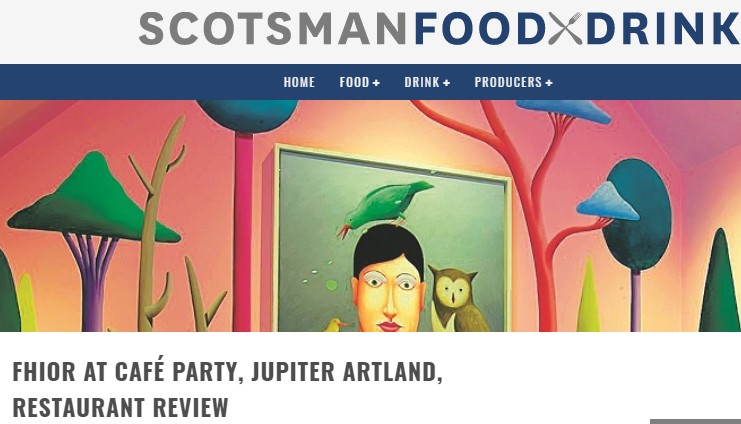 Fhior at Café Party, Edinburgh
Gaby Soutar for The Scotsman reviewed the pop-up (until September 29) from "lovely restaurant Fhior, on Edinburgh's Broughton Street", in the courtyard of Jupiter Artland, an art park.
She and her companion enjoyed Tobermory smoked haddock ("creamy, deep and rich, toasted and buttery on the top") and "comforting" farfalle, followed by "skinny and crispy chips" and raspberry chocolate cheesecake brownie, which gave the "pleasingly palate squishing effect of doing a dental impression".
"If this is the kind of fuel they provide for looking at art, I plan to get more cultured every day." (80%)
---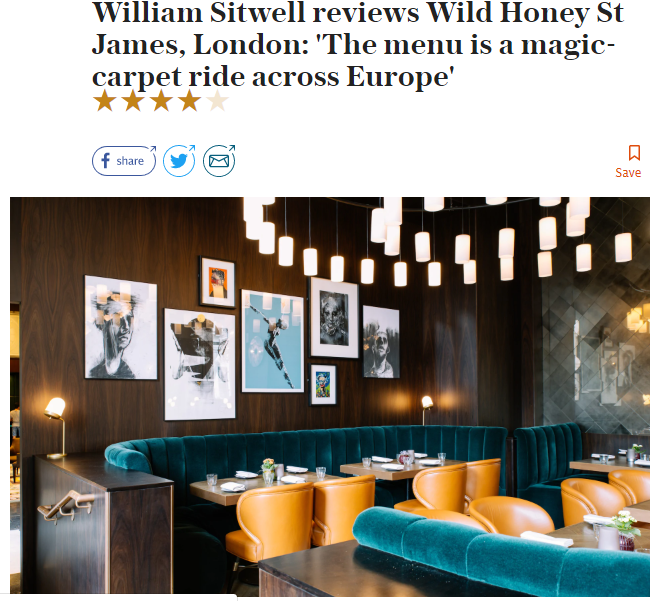 Mayfair's Wild Honey, from chef Anthony Demetre, was "a narrow space with booths and a feeling of intimate conspiracy, fuelled by French-inspired cuisine" for a decade until its closure a few years ago. Now it's been reborn in a Sofitel, as is "not the Wild Honey we know and love", says William Sitwell for The Telegraph, but "doubtless Demetre's deal with Sofitel makes more sense than the insane rent he was likely paying in Mayfair".
"It didn't feel anything like Wild Honey… the ceilings are vast. Swirling lights on lines of metal hang from the ceiling… and the menu itself is a magic-carpet ride across Europe."
It's fair to say William was not enamoured so far, but the food changed his mind; his dining companion Emily had an "incredibly good" 'Andalusian-style' gazpacho, while he tried the cacio e pepe, and was served the "most extraordinarily, bravely almost uncooked but just perfect macaroni… a moreish dream. I could have eaten six times the amount on the plate".
A deconstructed bouillabaisse followed, which was "DIY heaven… the sum of the parts just gloriously epic" – so much that he didn't even want to taste Emily's "fantastic" Cornish cod. (****)
And also…
Tim Hayward for The Financial Times was in Newcastle, at Mascalzone, eating "the kind of food you dream of finding in a small family-run place": "you won't believe you're not in Italy".
---
Marina O'Loughlin for The Sunday Times was in New York, eating at David Chang's latest opening Kawi in "NYC's luxury shopping hub Hudson Yards".
"It's no secret that developers offer sweetheart deals to name chefs: name chefs = footfall. But this anodyne, corporate space with no windows, this uber-mall restaurant by numbers — surely it must jar with a man who made his name as a game-changer?" What would his younger self say – the one "who pretty much rewrote the New York restaurant blueprint"?
"Chang is no longer young or hungry. Nothing about either of his newest restaurants — I also go to the latest, Bar Wayō, just to make sure — gives me the Momofuku frisson."
Recent News from Harden's