Here is our weekly round-up of what the national and local restaurant critics were writing about in the week ending 10 October 2021.
*****

The Evening Standard
Jimi Famurewa did us all a favour and reviewed Salt Bae's London newcomer, saving his readers the trouble and hundreds of pounds in the process. He was even graced by an audience with the "Turkish butcher, restaurateur and human meme" to cut up his wagyu striploin – see image below.
Surprising no-one is his opinion that Nusr-E t Steakhouse will never "come close to justifying the hype, the weirdly devoted following or those disdainfully inflated prices". "This is a bad restaurant; a vibeless business lounge of a room where mostly amateurish Frankie & Benny's-level food is served at insultingly high prices."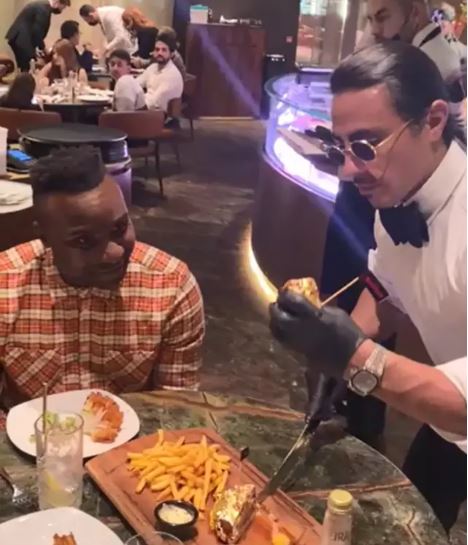 Yes, the wagyu was "shockingly good… beautifully charred, capably rested and meltingly tender", but it was also £120. "Gökçe, if the recent history of his launches tells us anything, will be gone soon. Off to another town, and another hyped Nusr-Et opening" and then "it will just be expensive, unexceptional food being served up by a waiter or waitress".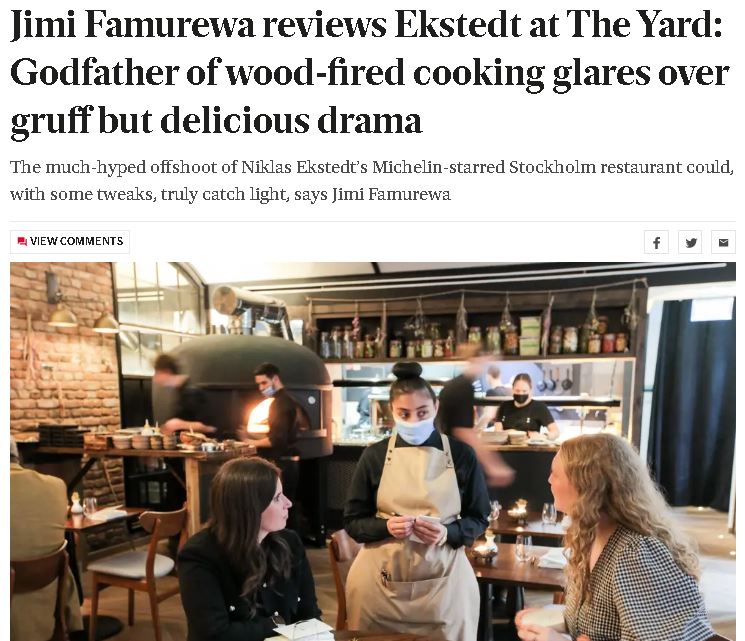 Jimi also reviewed Ekstedt at the Yard, the "much-hyped offshoot "of Niklas Ekstedt's "Michelin-starred live-fire restaurant in Stockholm" that displays the same "intense, single-mindedness" as the original – and the same "prohibitive" pricing.
It's "exquisitely skilled, culturally fascinating and also, maybe, just a little bit frustratingly one-paced"; the "hotel context probably hinders more than it helps". The seven-course tasting menu left Jimi feeling "both dazed by the procession of courses and naggingly hungry".
*****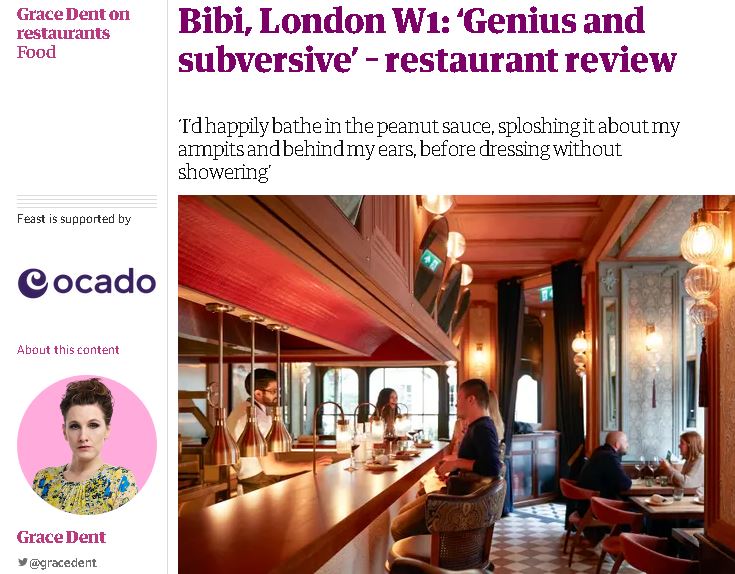 The Guardian
Grace Dent made it to BiBi before all the other critics; yes, it's another one of those high-end Mayfair openings, but it's no Nusr-Et or Gordon Ramsay at The Savoy – Bibi seems to be the exception that "proves that not all high-end restaurants are built equally".
"I've recommended this odd, experimental, beautiful restaurant for both date nights and those needing to lovebomb clients."
Chef Chet Sharma "is part genius and clearly part subversive, as are all the best people to leave in charge of your dinner"; the menu is "gloriously obsessive" and service menu "precise, professional and deftly drilled".
"Every dish was unusual, unexpectedly presented and a playful reimagining of a classic", reminding Grace of Gymkhana when it opened (BiBi is also backed by JKS).
*****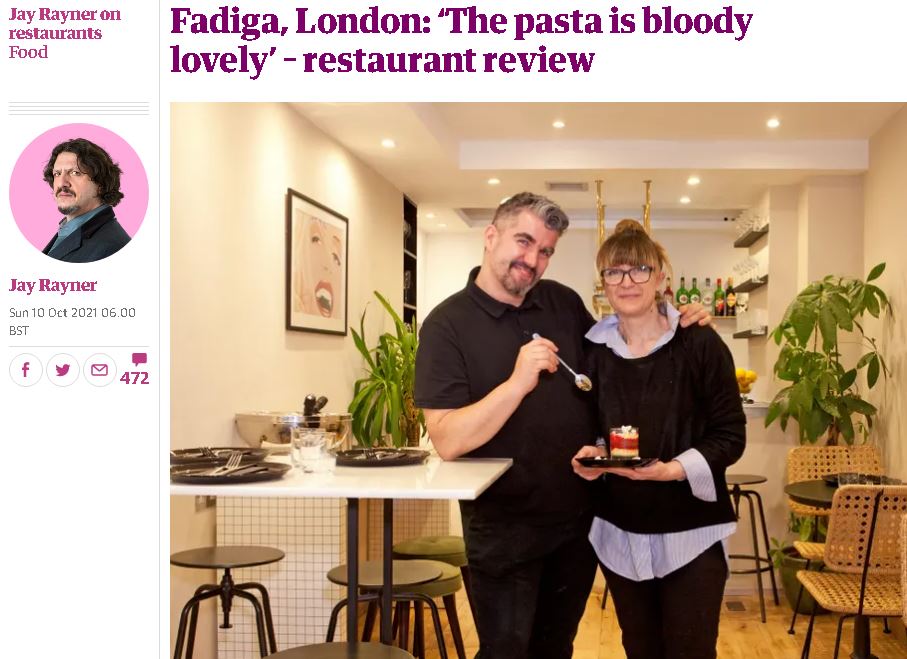 The Observer
A tip from his hairdresser led Jay Rayner to discover Fadiga, a family-run 'pastificio' on Soho's Berwick Street which arrived with no fanfare. You can watch pasta being made fresh at the marble counter in the window (and buy it uncooked to take home, too); the food is all from the Emilia-Romagna region, 'with particular focus on the culinary tradition of the city of Bologna'.
There are nine mains, plus three specials on offer; the pasta "is bloody lovely, full of the requisite slipperiness and bite and tension", the dishes are "all comfortingly familiar", and the portions are "for those with ambitious appetites".
"There is about it all the slightly nervy air of a new venture finding its feet, but in the sweetest and most beguiling of ways."
*****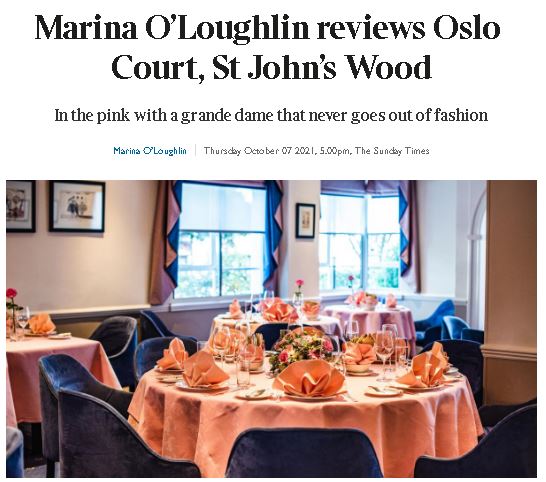 The Sunday Times
Marina O'Loughlin went old school with a trip to Oslo Court, that St John's Wood "grande dame that never goes out of fashion", because " I feel it should have a tribute paid to it at least once a decade while it continues to exist. Because by all the rules of logic it really shouldn't".
Dishes that "exist only here", sauce boats, fishknives, "an overwhelming kaleidoscope of food" and a "wine list thick with serious labels at tiny mark-ups" all delight her as ever.
"On it sails, stately as, cosseting its regulars like family, all wrapped in the pink glow of familiarity."
*****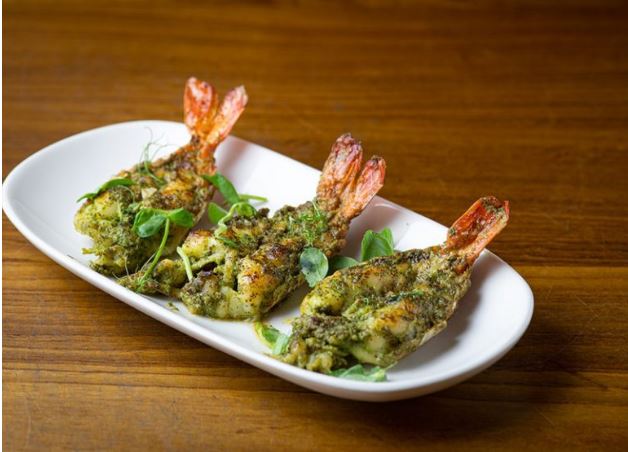 The Mail on Sunday / YOU Magazine
Tom Parker Bowles ventured to Clay's Hyderabadi Kitchen in Reading after enjoying their "at-home dishes, in lockdown", which was "love at first bite", Mughal empire-style – the "fragrant echoes of Persia and Turkey – meets the thrilling tang and heat of the Andhran south".
He and his companion managed to make it through half the menu, including "Indian fried chicken on an almighty, epic level" and dough-sealed clay pot lamb. Chef and co-proprietor Sharat Syamala "does all this alone" while his wife runs front of house with "with warmth and charm".
"I cannot tell you how much I love this place. And there's still half the menu to discover. Hey ho. Any excuse to return."
*****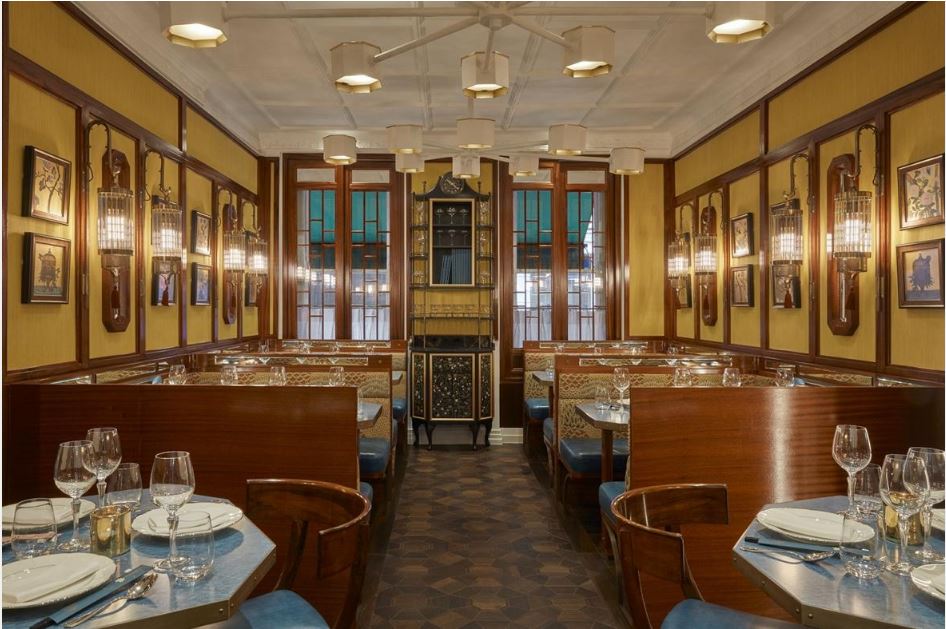 The Times
Giles Coren visited MiMi Mei Fair to rekindle a memory of the Chinese restaurants of his younger days. There are "all manner of excellent London locations" serving Chinese food "by region and with respect", but he was looking for a more nostalgic, generic menu.
He found it in MiMi Mei Fair, but it was disappointing. Service was "ovely" and the room was charming and pretty, but the food didn't measure up. "The flavour profile of every mouthful was simply "fried"" and the prices were "a nailed-on outrage", resulting in a bill of almost £120 a head.
"They need to either slash the prices in half or improve the cooking by a factor of two."
*****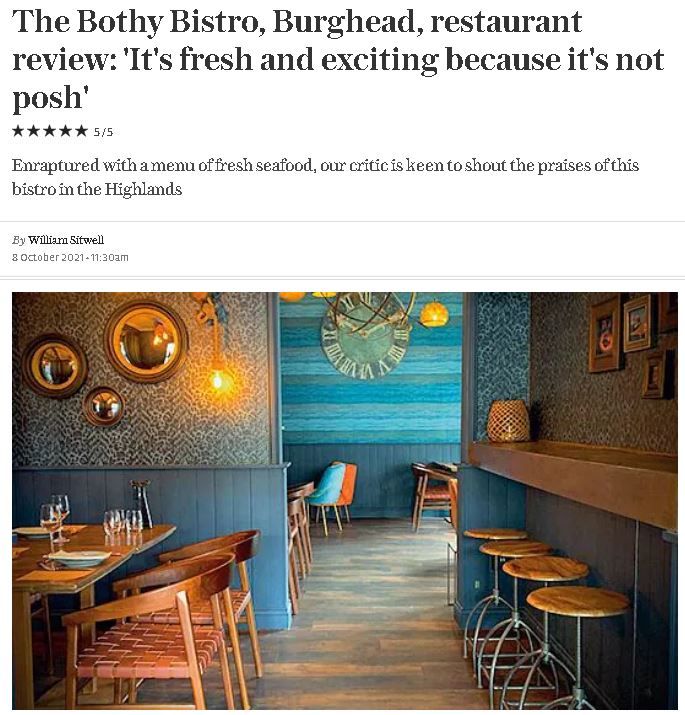 The Telegraph
William Sitwell was in the Highlands of Scotland, at The Bothy Bistro in Burghead, which he awarded five stars for their "fresh and exciting" menu of seafood and "not posh" dining room painted in azure blues – he called it "utterly charming and beautifully simple… a glorious, sensational discovery". (*****)
*****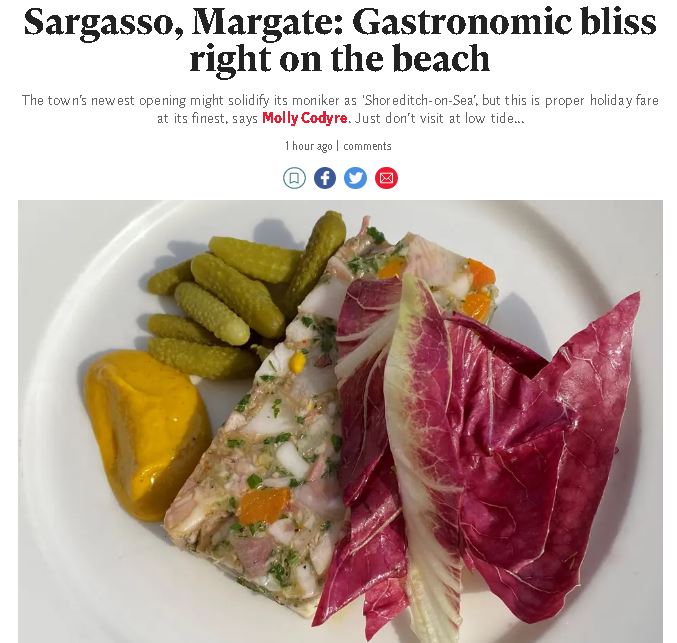 The Independent
Molly Codrye was in Margate, checking out the "newest opening" Sargasso, which has been "purchased and revamped by the team behind Columbia Road's Brawn", bringing "the same Italian-accented dining ethos and great wine list" with them.
As an Australian, she was initially baffled by the whole idea of Margate, but realised that "if you can throw yourself into that contrast, it ends up being a joyous place" (if you can avoid the seaweed smell).
The "loosely, undefinably European" food "pulls in a range of influences, but it's ultimately familiar" – and the "parmesan fritters have already gained cult status on social media"; "the epitome of proper holiday fare".
*****
And also…
Gaby Soutar for The Scotsman visited a Dutch import that landed in Edinburgh during lockdown; Greenwoods serves an all-day breakfast menu (with "very good flat whites") to city centre fans.
*****
The Financial Times asked "Will everyone still love Langan's?" as they had a "first taste at the Mayfair institution on a mission to recapture its glorious past".
*****
Manchester Evening News revealed that Nutters is to close at the end of the months "after 28 years on the region's fine dining scene"; the venue is being sold to the "independent Albert's Group who own restaurants in Castlefield, Worsley, Didsbury and Standish".
*****
Birmingham Live celebrated the opening of The Cod's Scallops (the Nottingham-based chain's fifth branch) in Harborne; it becomes the only West Midlands location to sell Sat Bains' lockdown hit, 'Momma Bains samosas".
*****