Our weekly round-up of what the national and local restaurant critics are writing about, for the week ending 9 August 2020.
Restaurants, pubs, bars and cafes in England were permitted to re-open on Saturday 4 July after over 100 days of enforced closure. Some establishments remain closed – the owner of the three Market Halls, for example, has decided to remain closed until social distancing has ended.
For the month of August, the government 'Eat Out to Help Out' scheme, aimed at boosting the restaurant sector, is offering a 50 per cent discount, up to a maximum of £10 per person, on food and non-alcoholic drinks, any Monday to Wednesday. The first week was hailed as a success by the industry (see our article here) although the future is by no means secure, with insolvency a very real threat for many restaurants.
Check with your local and favourite restaurants before heading there; many are operating strict timings, reduced menus and booking systems, even if they didn't before; look at their social media pages for details (all available via hardens.com).
*****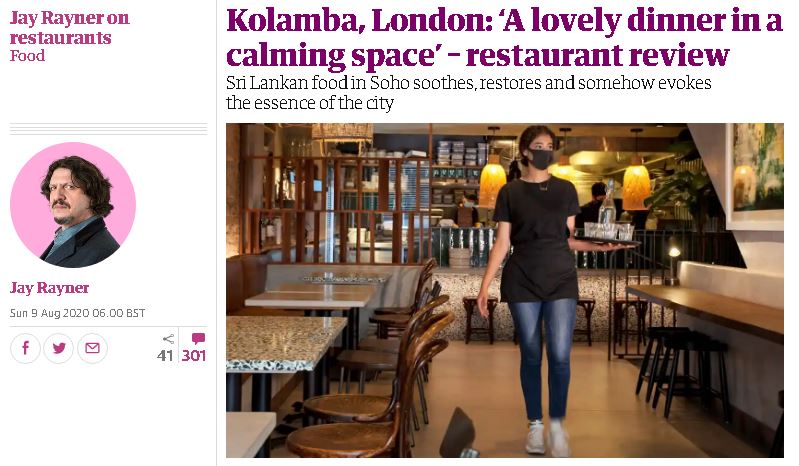 The Observer
Jay Rayner enjoyed a calming dinner at Kolamba, the family-recipe-inspired Sri Lankan in Soho; a culinary reminder that "London, like so many of our great towns and cities, is only the sum of its people, so many of whom started elsewhere".
He described the space as decorated in various shades on his own invention, the "UK breakfast cereal colour chart" ("I have just invented this… though I live in fear of the restaurant that demands I reference Limited Edition Unicorn Fruit Loops"), with "big woven hanging lampshades and lighting turned down to that place on the dial marked "moody". It's calming, and suits a muggy, damp summer's evening."
The "menu of punchy, elbow-in-the-ribs dishes… can transport you elsewhere" for the evening; food, ordered by phone and QR code, "arrives in vibrant gashes of colour" in contrast with the "muted tones" of the restaurant. Jay started with "battered and deep-fried cuttlefish in a sweet, fiery sauce" and Aunty Mo's chatti roast, the very essence of a dry meat curry" which is accompanied by "a deep green coconut sauce for lubrication, dotted with shimmering drops of flavoured oils, so it looks like an edible lava lamp".
Main dishes included "pork belly braised down in coconut milk" and "black pepper prawn fry… a mess of powerfully sauced seafood". ("Don't wear a white shirt.") "But the standout dish is the seemingly humble dal… less soup than fiery stew." He finished with a dish of the "mellifluously named watalappam, a set custard of spiced coconut with cashew nuts, and scoops of salted jaggery ice-cream".
" I have made it clear that it's a lovely dinner, and a calming, restorative space. But it is something else. Kolamba is the gentle, ocean-deep pulse of the wide and diverse city, reasserting itself."
*****
Fans of the recently re-opened Balthazar in Covent Garden might be interested in The Observer's interview with Keith McNally, proprietor and owner of five other restaurants in NYC, who survived Covid physically, but has been hard-hit financially.
Another interview, with Jamie Oliver, looks back over his career, his fight against childhood obesity and discusses the future, including turning his Jamie Oliver Group into a B Corporation.
*****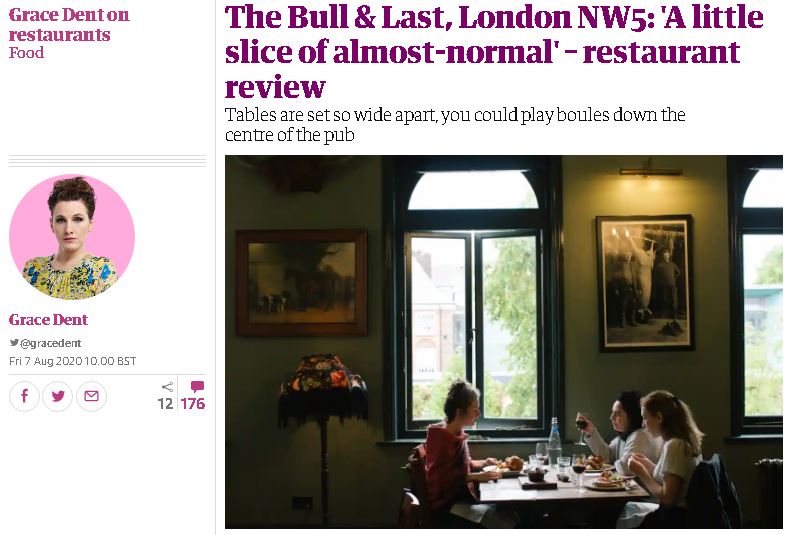 The Guardian
Grace Dent was in Kentish Town, visiting much-loved and much-missed gastropub The Bull & Last, which closed in October 2018 for "a grand redesign, with plans for a fresher, brighter pub with six new boutique-hotel rooms".
"Instead, it found itself in a pandemic, and ended up reopening as a takeaway and tap room, offering new ways to picnic on nearby Hampstead Heath with gravlax, Ferrero Rocher ice-cream and a litre of carry-out cinsault rosé, and serving up Sunday roasts with shorthorn beef from north Essex or spring green and taleggio pithivier."
"This new rebirth, however, establishes it as a destination in its own right, with cooking that's careful, ambitious and surprising."
Grace ate "good, warm Irish soda bread", fancy Campania tomatoes on toast and salmon smørrebrød ("four fat chunks of pink, cured fish lounging on an earthy, horseradishy, slaw-like bed") to start. "Yes, battered haddock and triple-cooked chips is still on the menu, but The Bull & Last is now giving itself room to be unapologetically fancy. Why have that when you can have roast Cornish cod with grilled hispi cabbage in a butter and dill sauce?"
With the North – and her family – back in lockdown, Grace consoled herself with dessert, "a plate of peanut butter cookies, banana ice-cream and hot chocolate sauce".
"It's hard to be churlish about anything at The Bull & Last. The staff are lovely, service is better than at most restaurants and they serve glorious British booze." They are steering the course well, Covid-wise, too, "offering two specific sittings at lunch and dinner, with tables so wide apart, you could play boules down the centre of the pub".
"Despite its new lofty leanings, this is still somewhere to bring your family for scotch eggs, bowls of chips and a sunny day meet-up at one of the outdoor tables."
*****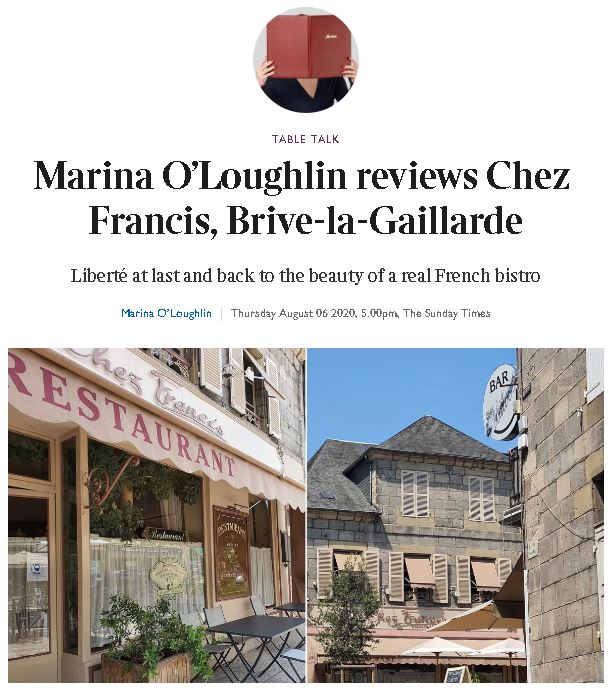 The Sunday Times
Marina O'Loughlin did what felt like "an illegal flit", across the Channel ("fully bubbled by car and Eurotunnel, then bombing down the autoroute for hours") to the southwest of France, home of "culinary chauvinism" and duck for every course.
"It's strange to be out of the country after months of not being out of the house. Strange and wonderful; I find myself marvelling at France's simplest things."
Not one for culinary ambition is Chez Francis in Brive-la-Gaillarde, a "fiercely regional" spot, just "seconds from Brive's magnificent covered market" with an "exterior painted an attractively fusty shade of surgical bandage. Walking through its brass art deco doors is like falling into the arms of an old pal."
The "walls and ceilings are scrawled with aphorisms by authors and writers from the city's annual literary festival… The Charlie Hebdo team comes here and it shows. If it were anywhere else you'd suspect clever pastiche, but no, it's real. Thirty-odd years of realness, family-run by the Tessandiers."
She was "steeled for crushing disappointment" – in London, such a perfect spot almost guarantees less-than-exciting food – but the menu ("untranslated: yay!") delivered; "everything we eat is as perfect as the setting".
"Chez Francis has restored my faith not just in French bistrot culture and traditional cuisine, but also in the ability to refresh and modernise without blobs of soja, ceviche or sashimi de boeuf. It's very rare that, writing about a restaurant, I find myself desperate to go back: this is one of those occasions."
*****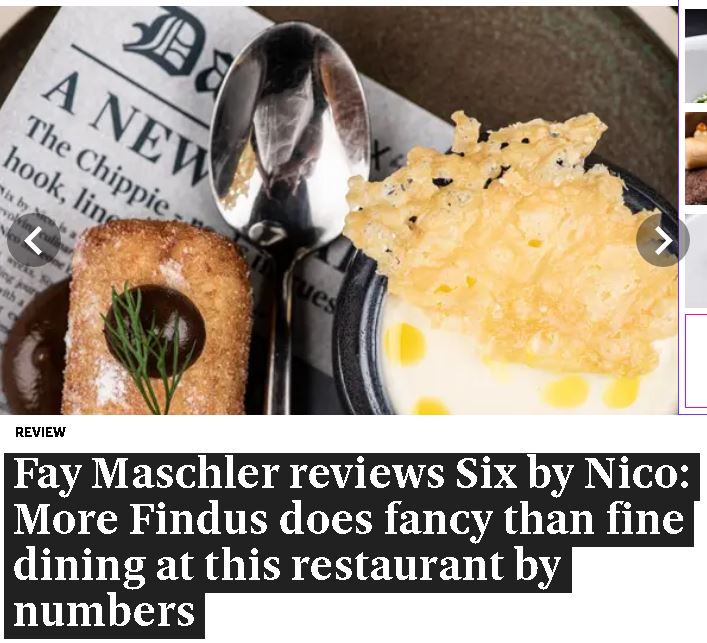 The Evening Standard
Fay Maschler this week was the first of the national critics to review the new (due to open in March, but didn't, obviously) London branch of Six By Nico – there are five others from the original in Glasgow to Belfast, Edinburgh, Manchester and Liverpool. All branches follow the same formula, "a fixed-price six-course tasting menu changing in inspiration and content every six weeks".
Simeone's first menu in a new venue is always 'The Chippie', nodding to his grandparents' business. Despite acknowledging "quite sophisticated preparation and presentation", Fay is a tad sneery about the whole concept, calling the kitchen a "well-drilled production line of cooks", and the concept "somewhat illusory fine-dining". The premises (a former Zizzi) "could be described as glamorous in a nightclubby sort of way".
Even the price, an incredible £35 for six courses – a bargain in Fitzrovia – only "seems alluring" to her – she lists the perfectly reasonable (for London) costs of the extras, as if no other restaurants charge for wine, bread and aperitifs.
The first two courses were "breadcrumbed morsels" – a salt cod croquette and monkfish cheek respectively, which gave her the cruel headline "Findus does fancy". She found the steak pie too sweet, although the 'Fish Supper' cod was "fine"; the claws were out again for the 'Smoked Sausage' course, which arrived in a glass dome filled with woodsmoke ("Aah, flashback!").
It's hard to disagree with her criticism of the dessert course – something called 'Deep Fried Mars Bar' shouldn't be anything but; it turned out to be "chocolate confections plus blood orange sorbet".
"Six by Nico is cooking by numbers. Still, it's open, energetic, busy and if you stayed with one bottle of the cheapest wine at £29, arguably fair do's." Fay finishes by listing her favourite tasting menus, the cheapest starting at £55.
Mixed feelings on this review. Is this the sort of traditionally harsh restaurant criticism that should be avoided in these difficult times? Or is that PC nonsense and it's fair enough?
Elsewhere in the country, Six by Nico has struggled in our survey to achieve much of a backing. But they must be doing something right as they are springing up everywhere. Is it a creative, affordable concept, opening up new cuisines in a familiar setting – a clever way of keeping the customers coming back for more. Or does it owe its undoubted popularity to providing a tasting meal lite experience at a knock-down price?
*****
Fay's regular week in food page lists all her meals out, which this week included Sabor Al Fresco, open outside for five weeks on "pedestrianised Heddon Street" and "a parade of little sculptures" of dim sum at A Wong.
The Standard has published a list of restaurants offering the best Eat Out to Help Out deals in August; the success of the first week is covered in a separate article and another detailing the bargain breakfasts some diners are scoring, while the ever-admirable Dishoom group is going beyond the EOTHO deal by offering all meals half price (Monday-Wednesday).
*****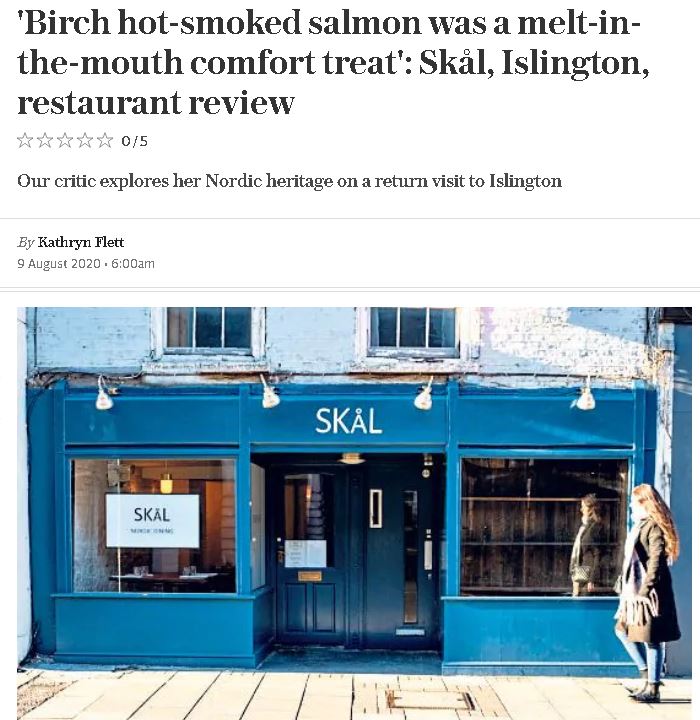 The Telegraph
Kathryn Flett's review of Islington's Skål, published on 9 August, is from a pre-lockdown meal out in early March; some newspapers published time-lagged reviews into April, but none of them have recycled reviews that are quite this old – and these days, utterly irrelevant.
Equally oddly, the online review has a 0/5 rating – we're imagining this is an error because she's not rating, rather than rating it zero.
All said, Kathryn enjoyed exploring her Viking heritage (she didn't know that Finland is Nordic, but not part of Scandinavia, for example; we'd have to admit the same) at this "calmly hunker-down-andhygge" joint, where she was presented with "great little plates of knockout tastes" including rye crackers, a "fluffy roe butter" and "plumply pink Moomin-shaped radishes". The "birch hot-smoked salmon was a melt-in-the-mouth comfort treat". Altogether a "delightful lunch". (Skål is open again, taking part in Eat Out to Help Out, and also offers a takeaway menu.)
*****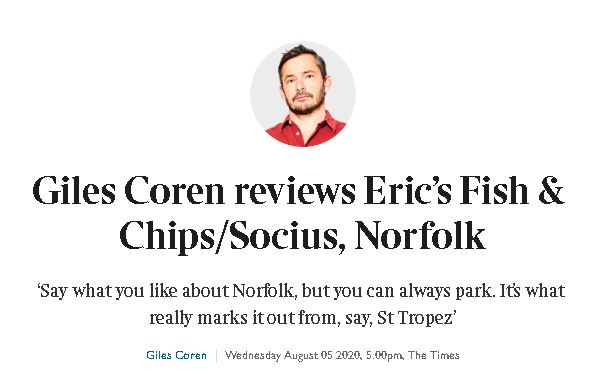 The Times
More reviews of Giles Coren's holiday meals this week; his vacation in north Norfolk appears to have been heavily subsidised by his column, despite insisting during lockdown that he was giving up reviewing.
This week he covered Eric's Fish & Chips, from Eric Snaithe, head chef at his family's boutique hotel at Titchwell Manor, although he couldn't remember whether it was the Holt or original Thornham branch he visited (a quick peek at the comments reveals he was clearly in Thornham). Either way, the meal was "… perfect. Historic. Epic. At the very top end of what fish and chips should be", with "firm, flaky, white flesh at the peak of condition" and "old-fashioned chip shop chips tasting of plain Norfolk potato, mostly soft, but with shards of crunchy edge every now and again… none of your dark brown, too crunchy, too hot inside, triple-cooked waxies". 8/10
At Eric's, they ate on picnic tables in the car park, and then visited Socius in "chichi" Burnham Market (on recommendation from friends), where they also dined in the car park due to a booking error (Esther booked for the week after by mistake, but the staff accommodated them brilliantly).
"Service from both the excellent manager and her staff was brilliant. It's a tapas-style menu, everything on it is great and even though they were at full capacity there was no hanging about."
Their plates included king prawns, "wonderfully dark and sticky" chicken thigh nuggets, tartares of "neatly cubed" tuna and of aged beef ("excellent and both huge portions for the price") and arancini of Baron Bigod ("a Suffolk Cheese"). In place of a main course, Giles refused to share "a grandstanding… plate of sticky lamb belly".
"Tucked away in its brilliant, purpose-built space in a car park behind the off-licence, with its excellent staff and top-class cooking", Socius definitely adds something to Burnham Market. 8/10
*****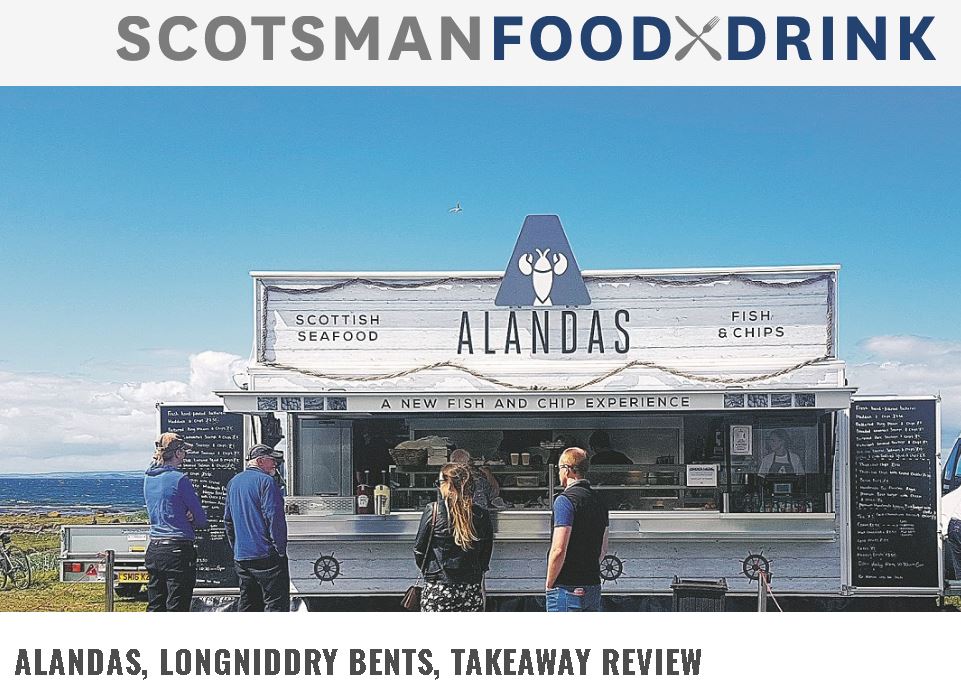 The Scotsman
Gaby Soutar was out and about, celebrating the "(the 15th anniversary of) my 30th birthday" and enjoying a fish 'n' chips takeaway from the Longniddry Bents kiosk, a "savoury-scented destination" run by "bricks and mortar" Prestonpans restaurant Alandas (there's also a gelateria in North Berwick).
Her other half went for a "very large" portion of haddock and chips, with "juicy" fish; "the chips were winners, especially as there were loads of salty and crispy shards to be scavenged at the bottom of the tray". Her king prawns, in batter "like an oiled and inflatable Sumo suit" and "threaded onto a wooden kebab stick" were also "a beast of a meal".
A portion of chilli and garlic squid "consisted of loads of fishy rings, all coated in an addictive brick-coloured and grooved batter" – with more chips. (70%)
For pudding, she had "birthday cake… from Afternoon Tea Ltd (www.afternoontealtd.com)" – an "exciting furlough project" from Ross Snedden, head pastry chef at The Balmoral. "This business is one of the nice things to come out of lockdown, like fire poppies on scorched ground."
*****
Local Scotsman readers will appreciate the article listing venues in which to indulge in Afternoon Tea Week 2020, 10-16 August; takeaway and delivery options included.
*****
And also…
Tim Hayward in The Financial Times reviewed So LA in London ("one of the last restaurants he reviewed before lockdown") for a "luxe California-style takeaway". "Everything is heartbreakingly perfect."
*****
Henry Hitchings in The Economist delivered an eloquent essay on why exactly people go to restaurants (spoiler: "it's not about the food"), using The Wolseley and the Corbin & King partnership as an example. "Over the past 40 years the pair have brought both fizz and elegance to London's restaurant scene, refreshing sites that are tired but well-located, creating hotspots of glamour."
*****
Bristol Live reported on the new steakhouse restaurant Steak Me Out; owner Rob Gilkes started a delivery business while on furlough from his pub manager job, and its popularity has led to him expanding into a bricks-and-mortar establishment (while also continuing deliveries)
*****
The Manchester Evening News listed restaurants going above and beyond the Eat Out to Help Out scheme, by offering bigger discounts or extending the deal to other days of the week.
*****
This week again produced nothing from Tom Parker Bowles in The Mail on Sunday.
Recent News from Harden's