Harden's regular round-up of the restaurant critics' musings, from the week ending 1 March 2020.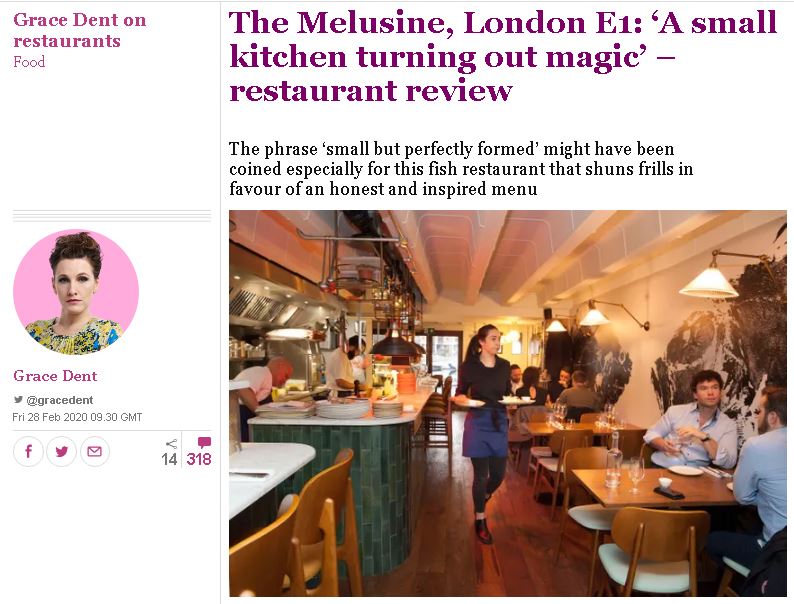 "Luring actual Londoners to St Katharine Dock is no mean feat", Grace Dent of The Guardian says of the "peculiar cul-de-sac close to the Thames-side crown jewels tourist drag of the Tower of London".
But The Melusine, she "felt strongly, had bags of promise", and so persisted with getting Charles there for a meal. Owner, "Greek chef Theodore Kyriakou, opened Livebait way back in 1995", selling up before the roll-out, to set up the Real Greek and The Greek Larder. Here, he has teamed up with The Greek Larder's manager to open a "small, self-effacing fish restaurant".
"The Melusine's menu shifts with the tides." The day Grace was there, a 700g plaice was on offer, which they opted to share. Small plates to start brought a "pungent, excellent taramasalata", "a generous array of confit purple and yellow carrots", "fresh, crisp squid… with cold-smoked rump", giant langoustines "with a fiery, jalapeño aïoli" and battered rock oysters "topped with lamb prosciutto" ("with each one, I am pleasantly surprised").
"The plaice itself is delicious; its buttery, caper-heavy dressing elevating it with great aplomb. Pudding is blue cheese ice-cream, the sort of dessert I call "compelling"… but oh, the bowl is empty, and there we are."
"This was, quite simply, a great midweek dinner in a simply furnished and decorated room… and with no flamboyant airs or graces. It's a small kitchen turning out magic, with Kyriakou leading the way." Food and service both received a rare 10/10. (28/30)
---
Tom Parker Bowles for The Mail on Sunday busted out an unprecedented extra half star for this week's review, "a new Soho restaurant from chef Victor Garvey" on the former site of his Rambla venture. So LA (no-one seems quite sure how to write it, their website uses SO|LA, TPB goes with Sola) is inspired by the culinary melting-pot of Los Angeles, although more "West Coast haute cuisine" than "burritos and burgers"
From the "minuscule open kitchen at the back" arrives cooking that's "precise, poised and delicate, the technique expert and assured" and yet still "entirely unbound by formal convention".
Tom ate "robustly exceptional focaccia" with "the most delicate of smoked Yukon Gold mousselines", Dungeness Crab, served in "a half seashell with a gently saline spoonful of caviar, a cloud of almond sabayon, sharp cubes of compressed Granny Smith and a seaweed-infused waffle". ("Nut groves and fruit orchards meets deep ocean.")
Both the langoustine and mushroom potsicker were "immaculate", while the seared foie gras was "magnificent", but "sometimes there can be a little too much going on. Occasionally, Garvey needs to hold back, let his talent and those wonderful ingredients take the weight."
The wine list is "a cracker from Zeren Wilson" – "fascinatingly American" – and service was "as warm as a Bel Air afternoon". All in all, "a rare taste of West Coast haute cuisine in London. High end, but informal, where technical skill is matched by the sheer quality of its ingredients. There's ambition here but talent to match it." (****1/2)
---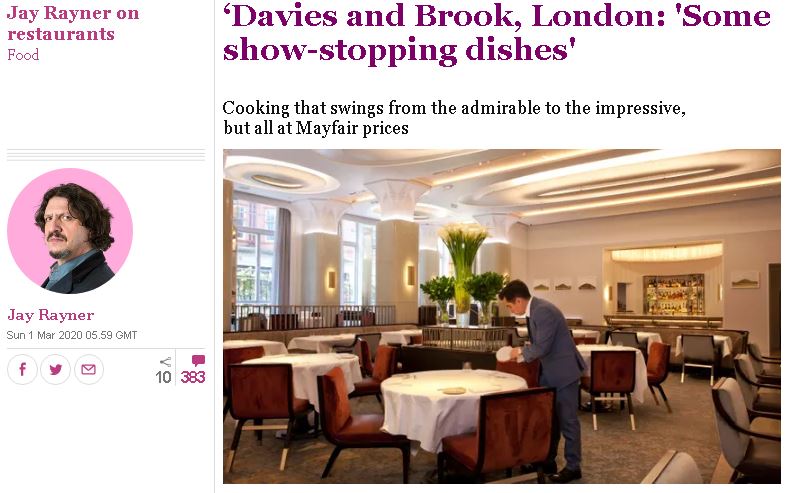 "Complaining about the prices being too high at Claridge's is like moaning about the Pope being too religious or Rory Stewart being too annoying. It literally comes with the territory, that territory being a corner in London's Mayfair. So let's acknowledge that… and move on."
Jay Rayner from The Observer tried out the £98 a head, four-course menu at Claridge's which has imported "one of New York's most garlanded chefs", Daniel Humm. He was a little miffed to get the worst table in the room ("a thin tableclothed strip against a narrow sofa" on the mezzanine) even having booked two months in advance; "perhaps restaurants should introduce theatre-style pricing: the lousier your seat the less you pay".
The room (which Jay has visited to review in both its most recent guises) "has been pared down to cool downlit greys, with artfully arranged vases of calla lilies" and is "all extremely poised, as is the cooking, which has a pronounced Asian accent".
Tasters of congee and crab with savoury custard are "clever, if texturally challenging" and accompanied by "fabulous, golden-glazed brioche-like bread rolls"; "everything is coffee-table photography book pretty" – but something you'd "never live with at home".
Then, amazingly, the "main courses are simply two of the best plates of food I have been served in London in many years"; "pert, perfectly cooked pieces of black cod" and "the evolution of that duck dish" Jay had at Humm's Eleven Madison Park a decade ago, with "an uncommon depth of flavour and tension". ("Oh my.") Desserts included an "exceptionally well made" McDonald's apple pie and an "over-engineered After Eight".
"Are gastro-palaces like this worth the expense? For cooking of this quality, yes, they are." But "taken in the round, I doubt it's something I will ever quite feel the need to do again."
This week, Jay also published an interesting article comparing the review styles of UK and US restaurant critics.
---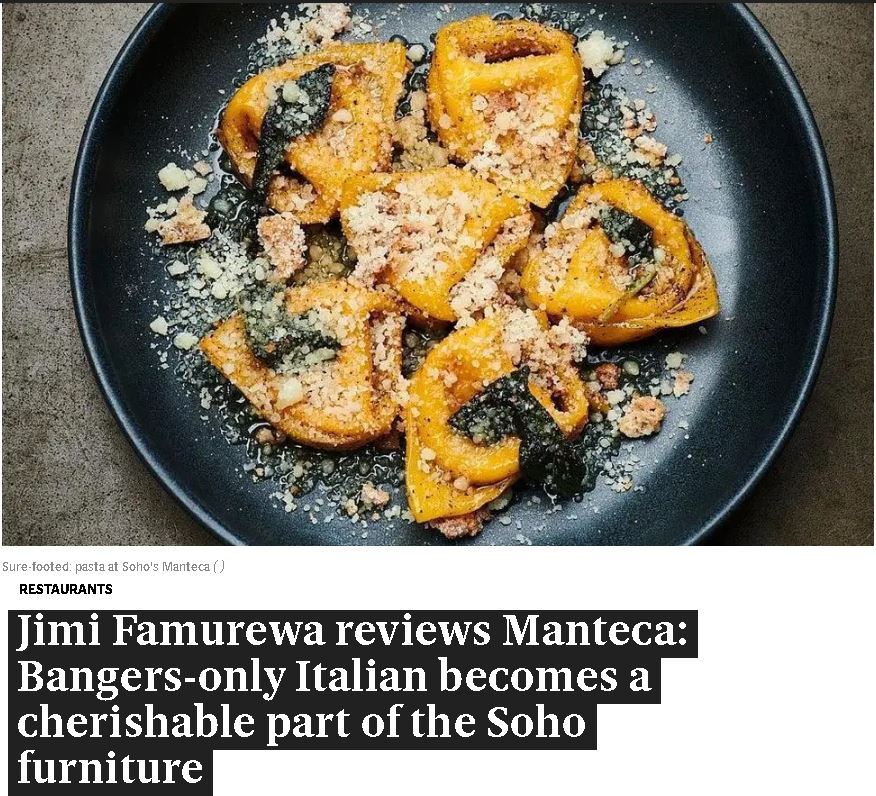 "London's fresh pasta wave, which might be more accurately described as a sort of tsunami of slow-simmered ragu, is not stopping any time soon."
Jimi Famurewa for The Evening Standard reviewed Manteca, the "new permanent iteration of Chris Leach and David Carter's thunderously popular autumn residency at 10 Heddon Street". It's a "faithfully rendered hand-rolled pasta place (with an additional focus on nose-to-tail cuts of meat)" – but, for Jimi, that "doesn't quite convey the correct level of excitement and specialness".
"Leach has a sorcerer's way with flavour. And everything around him — capable, beaming staff, approachable vibe, sanely priced wines and bracing Amaro cocktails — has a sure-footedness that is rarer than it should be."
The "long, navy-painted oblong of a space, lined by cascading plants" has "quiet, unobtrusive confidence", and was "steadily busy" on Jimi's Friday lunchtime visit.
"Terrific" foccacia and "soft, pink folds of gently whiffy, house-made mortadella" were followed by the "certifiably legendary pink fir potatoes with smoked cod roe: cragged, golden nuggets of uncut pleasure and sweet vindication for lifelong taramasalata ultras". His friend's tonnarelli brown crab cacio e pepe ("tangled strands in a silken, insistently rich, sunset yellow sauce") was "the sort of thing to make you want to twang off a diving board and leap in". There was also a "succulent, smoky tyre of pork belly" and "beautifully short and crumbly" rhubarb tart.
There's "subtle genius" at work here, a "bangers-only approach to the snappy, ever-evolving menu". "Manteca began life as something that was impermanent by design, but it already feels like a cherishable part of the Soho furniture; an instant classic." (8/10)
---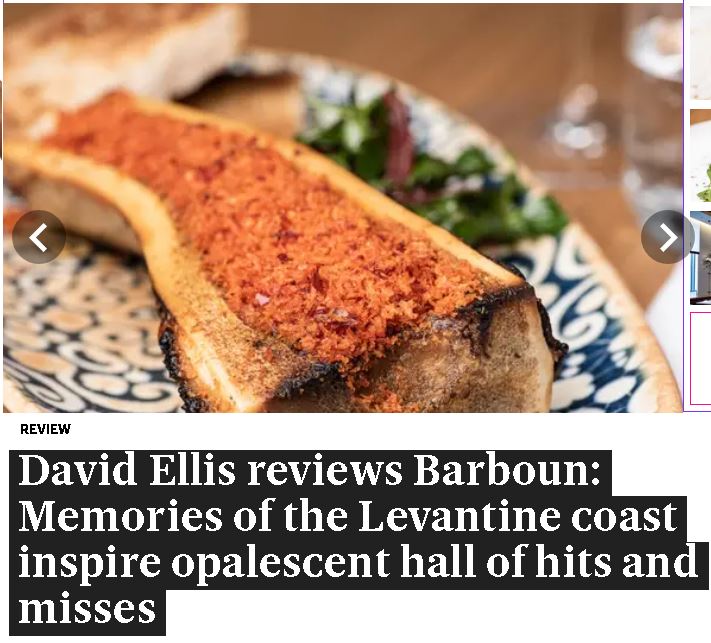 "All-day Barboun is one of those vexing places that zig-zags between good and bad, happiness and frustration", says David Ellis for The Evening Standard.
Housed in "a brand new Hilton – one of those doing its best to hide that fact", Barboun offers food inspired by "the Levantine coast and remembered from childhood" of owner Hus Vedat (Hovarda and "the now-shuttered Yosma") and chef Fezile Ozalgan.
"Most joys come early on, with the £10 cocktail list impressing" and the "accompanying nibbles" being "the best of what we eat". Starters "sound a warning" and "though reminders of earlier brilliance cut through, pricey mains saddened".
"The best coffee I've drunk in a restaurant" and "puddings prove the late saviour". (***)
---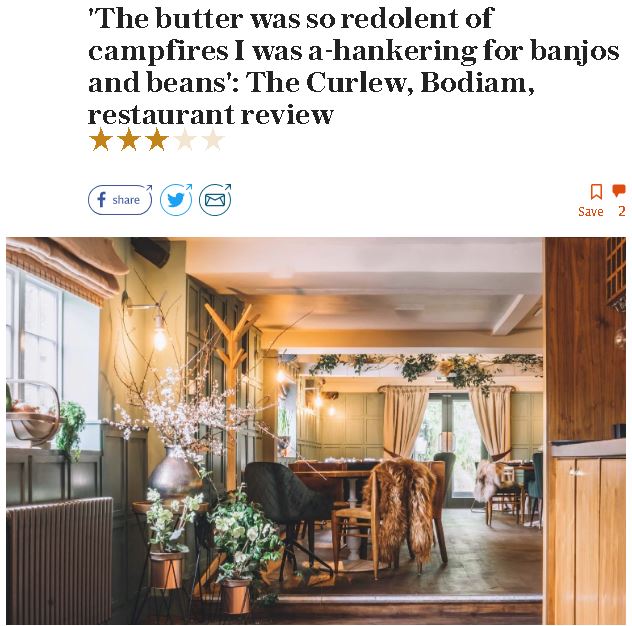 Kathryn Flett for The Telegraph was in Sussex, the first to try out The Curlew (which was "wildly popular for a few years") under its new management by the "young team behind the nearby Small Holding, just over the Kent border – a charmingly runcible setting for fetishistic seasonal foraging" (there's a name check for us here, too, noting that The Small Holding gets "a mention in Harden's 100 Top UK Restaurants" – thanks, Kathryn!)
It was already "very busy" on the third night of the new service; little has changed inside, and "the vibe is warm, dark-walled, mildly contemporary and snug". "I suspected there were some teething problems, though nothing interfered with the stream of mostly minimalist sharing plates heading our way."
"Everything was broad-stroke "good" (much like the Small Holding, though portions are more generous here, happily) without ever being "great"." Kathryn and her date didn't agree on very much, although both liked the "tender" 24-hour lamb (despite it being "overcooked by about two of those hours"). DIY meadowsweet marshmallow "S'mores", delivered with a "super-hot wood-burning tabletop Higoshi clay stove" were "a disaster waiting to happen", however.
"The bill was just shy of £150, including three glasses of wine and a beer, for what was an essentially gussied-up "casual" gastro-pubby sort of dinner – Bib Gourmand food at star-chasing prices."
---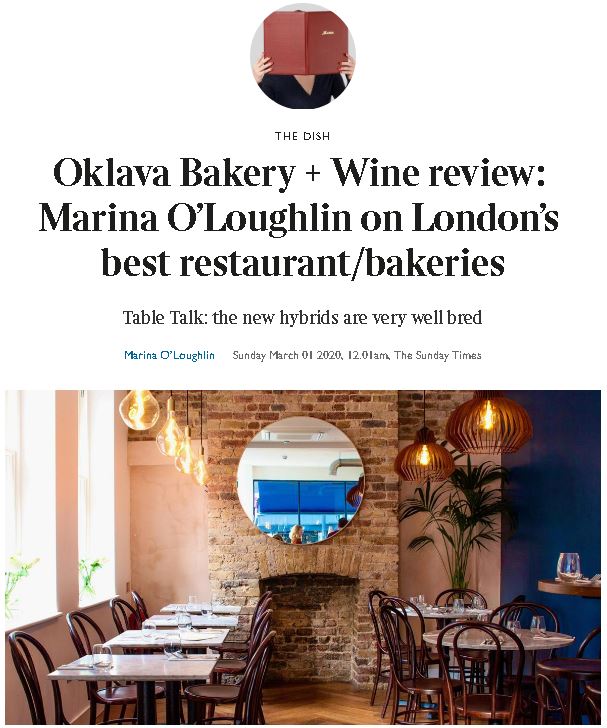 London's best bakery / restaurants
Failing to secure a booking for Dominique Ansel's new Treehouse restaurant in Covent Garden, Marina O'Loughlin for The Sunday Times mused on the hybrid restaurant. We already have the "coffee shop/restaurant, the butchers/restaurant, off-sales/restaurant" and now the "Ansel-style hybrid that seems to have captured everyone's imagination: the bakery/restaurant".
"It was probably San Francisco's Tartine that made the idea of baked goods cool, quite a feat in carb-phobic California, and the idea is now spreading like sourdough spores."
On a tour of London's own bakery/restaurants, Marina visited Flor in Borough ("the first thing that greets you… is the day's selection of baked goods…. God, they're good") and declared the upstairs restaurant "a treasure". ("Yes, with the mandatory hot London restaurant small plates + natural wines formula, but done beautifully.") There's "clever use of a tiny space… enviable fixtures" and "the little brown butter cakes are unmissable: their unassuming plainness disguising sheer, sticky sybaritism".
Next was Jolene, "one of the capital's most beautiful restaurants… they've done wonders with an uncompromising space", but she found it "a little full of itself… self-satisfied, promising more than it actually delivers". The food was "all fine enough but not light years better than you'd find in any less smug National Trust tearoom".
Finally, Marina reviewed Oklava Bakery + Wine, "Selin Kiazim's reinvention of Kyseri" as "a bakery outpost of her Shoreditch restaurant". The kitchen is "a whizz with the baked goods" and "even salads are fun". Formerly expensive and small-portioned as Kyseri, Oklava Bakery + Wine is generous and less startling, price-wise. "This is one of those places where an hour for lunch turns into three, complete with negronis and carafes of crisp, fragrant Turkish chardonnay."
"The bakery as restaurant (or vice-versa) makes a lot of sense. It allows day-long trade for the restaurant and utmost flexibility for the user. It's all about having cake and eating it."
---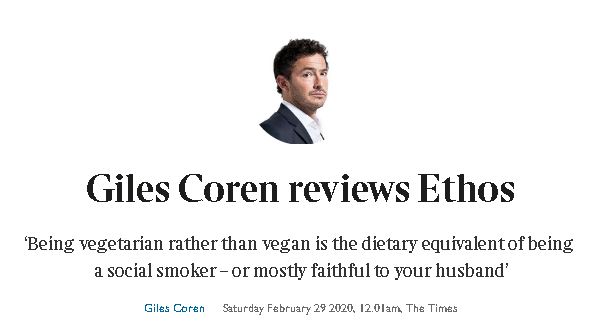 Giles Coren for The Times' Saturday magazine was drooling "at the forbidden naughtiness of a Quorn lasagne" and aloo Scotch eggs while out for lunch at Ethos – he's vegan until 6pm each day, if you've somehow missed it.
Initially (and like the true recent convert), he was disappointed to find that Ethos is vegetarian. ("I didn't know we still had vegetarians. What's the point of them? They are still dependent on animal farming for eggs and dairy.") His "chortling carnivorous inner soul" also mocked the canteen-style buffet set-up, where you weigh your food and pay accordingly (especially as "this system is stacked against the vegan, sadly, because our food is much cheaper than the rest").
But the "30 or 40 dishes laid out… look … fantastic. Fan-bloody-tastic", from "bright, bouncing salads of every imaginable vegetable and fruit, glistening and fresh and cool" to "curries and bakes and roasts and pastas", all "kept lively by the very high turnover".
"It is not all delicious" (for example, "the vegan mac and cheese is filthy: sloppy old macaroni the colour of cat sick with the thin, abusive flavour of tinned coconut milk") but Giles did enjoy "supremely addictive" Thai sweetcorn fritters, the vegan aïoli ("one of the three or four great condiments of the 21st century") "gorgeous" turmeric cauliflower and "historic" baba ghanoush. (21/30)
---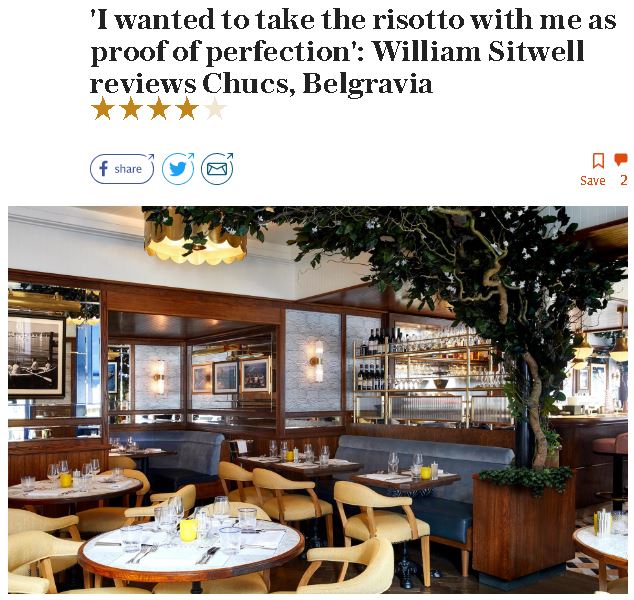 William Sitwell for The Telegraph reviewed the newest branch of Chucs, a "very opulently yacht-like" addition to the "collection" that's "currently at a sweet spot in its growth", having "started as a single restaurant – designed like a glamourous yacht – in Mayfair in 2014" and now numbers six restaurants and cafés.
The clientele ("all female on my visit") were "Chelsea aristos, tanned Euros" and the "menu, while not overlong, is one of those lovely concoctions that seems to be able to include every classic Italian dish you might dream of. "
After a "competent calamari" starter, William's companion had a "truffle and lovage risotto, with a soft egg to mix in" that was "exceptional" ("I wanted to stuff it into my pockets and take it around with me as proof of perfection") while he ate "delicious" zucchini fritti. (****)
---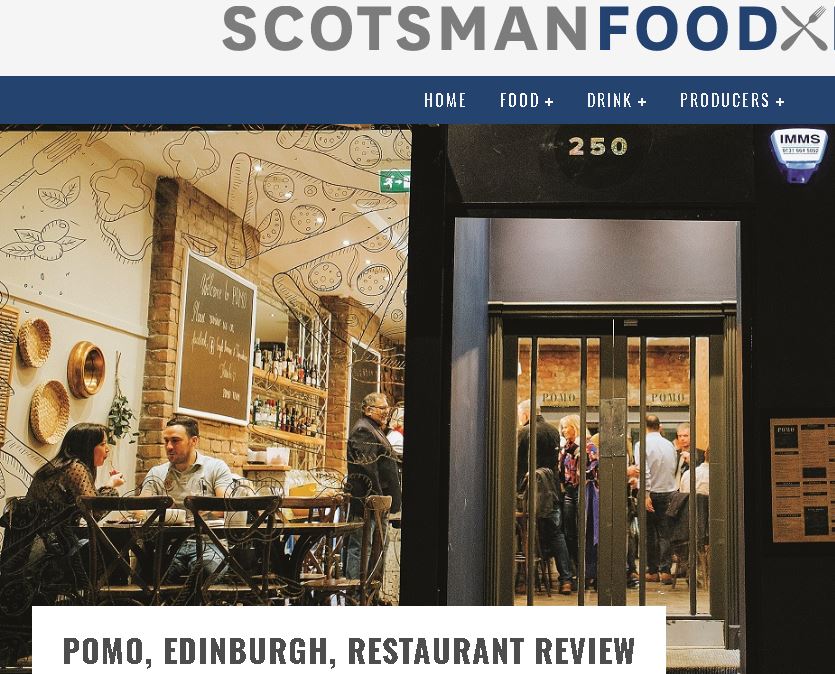 Gaby Soutar for The Scotsman visited a new pizzeria from the owners of two other Edinburgh restaurants (neither "particularly exciting, but they have a formula of homely and hearty Mediterranean food that has undeniable appeal when you just want to get fed").
Pomo majors in pizza, with a choice of bases including vegan and gluten-free, and a few pasta dishes, such as orecchiette ("a bowlful of… little ears, harvested from elves, voles and newborn Yoda overnight, each cupping a salty and bionically garlicky buttery sauce".)
Puddings "aren't particularly inspiring", but she'd go again for the pizza.
And also…
Tim Hayward for The Financial Times reviewed Sons + Daughters, London: " Try this sandwich shop where such a simple product is dignified with thought, care and craftsmanship… it's hard to imagine eating anything better".
---
BristolLive reviewed Broken Dock, which "occupies a lovely secluded spot on the jetty directly opposite the SS Great Britain" making it "one of the go-to places when the sun shines, but it's equally as enticing after-dark the rest of the year"; "confident cooking and excellent service by the water's edge".