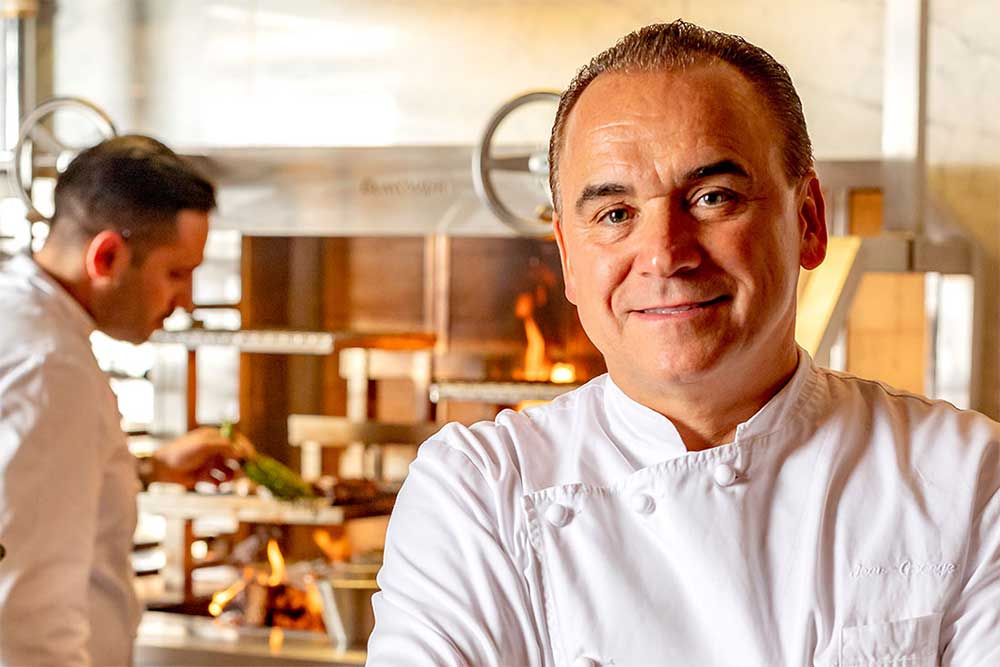 The legendary name 'The Connaught Grill' has reappeared at the hotel, some 20 years after it closed its doors.
The famed grill, which first launched in 1955, was for decades the most redoubtable bastion of old-school celeb haunts, and served the kind of 'throwback' Anglo/French cuisine that even in the 1980s seemed to be from a long bygone age.
Some of our more seasoned reporters might recall what a distinctive place it was under Michel Bourdin, who commanded the kitchen from 1975 till the Hotel's updating in 2001.
That early noughties refurb was the end of an era: out with the wonderful old menu with items like 'Consommé "Prince of Wales"' or 'Noisette de Venaison Aux "Perles d'Aphrodite"'. Out with the ruddy faced, tail-coated young serving staff, who could somehow miraculously change a soiled tablecloth prior to the dessert without you noticing. Out with the blue blooded if very unfashionable decor.
The new-look Connaught Grill isn't in fact where it used to be – which nowadays is occupied by Hélène Darroze – but in a newly-created-to-look-as-though-it's-always-been-there space at the back of the hotel.
Leading the revival, Jean-Georges Vongerichten who also runs Jean-Georges at The Connaught.
The NYC-based chef has updated the food and will now be serving rotisserie chicken from a wood burning grill, langoustines and Dover sole, British game and seasonal vegetables.
There will be a few old school classics, one of which is 'oeuf en surprise', which Vongerichten remembers eating himself. A pie of the day menu will feature, as will Sunday roasts.
"Ever since we started the project of restoring The Connaught way back in 2008, I have dreamt of breathing life back into The Connaught Grill, a mythical restaurant that somehow captures a special place in guests' hearts," said the hotel's co-owner Paddy McKillen.
"We are bringing the Grill back to be discovered by a new generation – a Connaught Grill of today not yesterday – using craftsmen and chefs of today, but with the spirit and old school charm of the legendary Connaught Grill."
Update: an email from one or our readers…
I read your piece on the Connaught Grill and its heyday in the 70s under Michel Bourdin. I had a friend who worked there for some years under him.
However, I worked in the Summer of 1969 in the kitchens, while doing my Hotel Management degree. At the time Michel Bourdin's predecessor worked there. His name was Daniel Dunas and the Connaught Grill was every bit as good then as subsequently. In those days it was considered one of the top restaurants in London (Not perhaps a great bar at that time). I wonder if they still have the very steep steps the waiters used to have to use to take dishes up and down. Hopefully something a little more modern now.
I do have a story that does me no credit but was still fun to tell. One day Princess Margaret came to dinner at the Connaught and they had prepared 2 sumptuous legs of lamb. I was asked to take one from the oven to the hotplate. Yours truly managed to drop it on the sawdust floor! However, Chef Dunas was very gracious and didn't fire me. He simply had the roast cleaned up and served to her Highness and she survived the ordeal for many subsequent years!
I also had the indignity, under a temporary Summer Chef while Monsieur Dunas was absent, of having afternoon tea sandwiches thrown at me as they weren't up to scratch. You can understand why I never took catering very far!!!
Anyway nice to see that the Grill has returned even if it has moved location.

Recent News from Harden's