Our weekly round-up of what the national and local restaurant critics are writing about, for the week ending 31 May 2020; the country remains in lockdown, with restaurants, cafes and bars officially closed due the coronavirus outbreak since March.
Gradual easing of lockdown rules recently means that restaurant and bars can start planning for re-opening in early July, albeit with socially distanced (possibly only al fresco) dining and drinking. Several restaurants, including high-profile names such as Nathan Outlaw's Siren, however, have already announced they will not be re-opening.
You can still support your local and favourite restaurants; many are offering takeaways or deliveries, or you can buy produce, meal kits, vouchers, cookbooks or merchandise. Check out their social media pages for details (all available via hardens.com)
---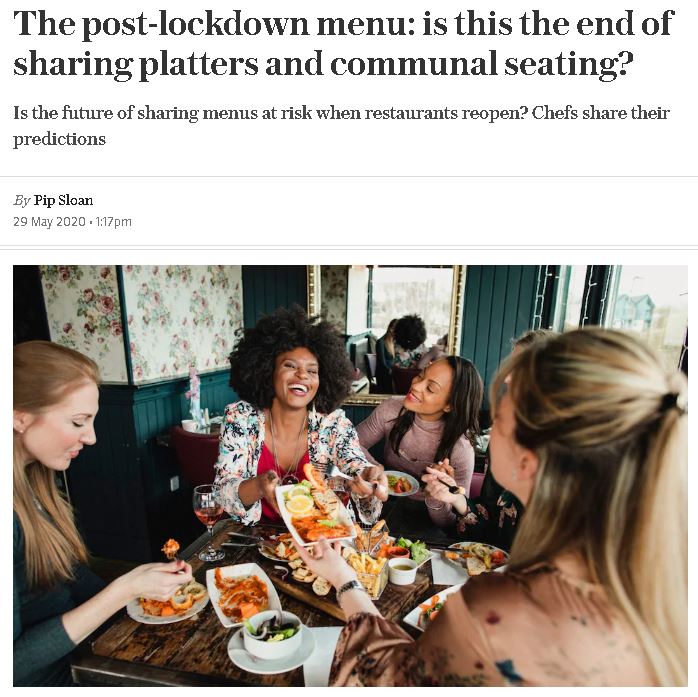 The Telegraph
Pip Sloan looked at the post-lockdown menu options that will no longer be available to us: not just the physical menus, but also "those concepts fuelled by our penchant for help-yourself tapas, 'small plates', feasting platters and communal tables."
"And let's not forget the Sunday carveries, all-you-can-eat buffets, salad stations and serve-yourself drinks facilities, which allow us to graze and guzzle at our own pace… Coronavirus could change all this. " Of course "for many people, an end to sharing plates might come as a relief" (it's certainly "a silver lining" for The Telegraph's regular restaurant critic, Kathryn Flett).
Furthermore, "it is likely that a distancing rule in some form will still be in place when restaurants reopen in July, meaning canteen-style tables may be off the cards". Some restaurants, such as Arros QD, whose communal paellas are the very core of the restaurant, will be using "individual serving cutlery… much like what you would see in a Chinese restaurant".
The lack of guidance isn't helping restaurants decide their respective ways forward, but we are all looking forward, "in whatever format and by whatever rules", to them re-opening. "We can but hope we aren't forced to wear socially-distanced swimming pool noodles on our heads or sit behind shower curtains," says Flett, "but I'm longing for restaurants to reopen, so ultimately, whatever works best for them, works for me."
---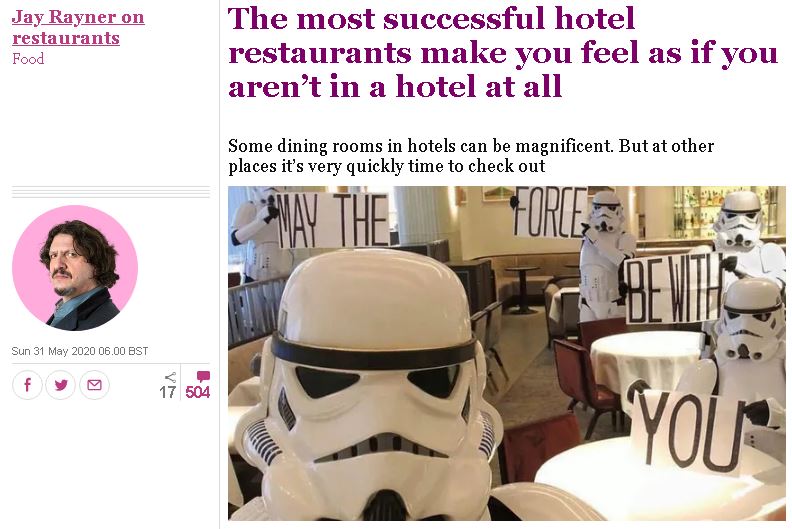 The Observer
"The hotel restaurant: the hospitality business's version of the casino slot machine. You never know whether it will deliver, but you keep pulling on the handle hopefully."
Jay Rayner appreciated the Claridge's Instagram post on Star Wars Day ("the most fun I'd ever seen anyone having there") and mused this week on the hotel restaurant. It's not all bad: "I've eaten very good things in restaurants located within hotels", including the room occupied by stormtroopers in eth photo, currently Davies & Brook, which garnered a "long wet-lipped eulogy" from Jay for the "dry-aged duck breast with a sweet-sour, blood-enriched sauce. It was love at first lick".
Jay was also "thrilled by a cast iron pot of silky mashed potato enriched with pokey Tunworth cheese, trotter jus and pork crackling" at Gridiron, and "charmed by the kooky sleight of hand" of Heston Blumenthal's meat fruit at Dinner. He fondly recalled meals at hotel restaurants no longer with us: "lip-smacking beef cheek dish cooked for me by James Martin" when he was at The Talbot Hotel in Yorkshire, the "indecently tumescent raspberry soufflé" at the Pompadour by Galvin in Edinburgh, and Brasserie Chavot's soft-shell crabs, which were "delicious while they lasted".
One of his earliest hotel restaurant meals as a critic was at The Connaught, which served "the kind of food ex-boarding school boys like: mushroom and quail's egg vol-au-vents, calf's liver and bacon…" and where "the waiters came in stiff-collared waves". This was in 2001, just before Gordon Ramsay took over there, part of his "fierce land grab" of hotel restaurants that should have been a breath of fresh air, but "ended up feeling like his own tribute act".
"In too many instances the creation of… a stand-alone restaurant… ends up as a desperate act of architectural misdirection; an attempt to convince you that the space was always meant to be this, and not the big echoing ballroom off to the left of the lobby which they didn't quite have a use for." And that's before you get to the issue that bugs them all: "access to the bogs". "They should be three steps away, through a door off the dining room. Most of the time in hotels, they are four corridors away, up two flights of stairs, in an annex, by the spa."
He finished by "cheerleading" for "the ones that get it right": The Game Bird at the Stafford Hotel ("it works, I think, because they don't pretend to be anything other than what they are"), The Holborn Dining Rooms, "with chef Calum Franklin's monumental pie action, feels like it just happens to be adjacent to, rather than part of the Rosewood Hotel", and Min Jiang, "the glamorous Chinese with great-value Peking duck", which works because "when you enter via the lift, you feel like you aren't in a hotel. And that's exactly what you want from a hotel restaurant".
---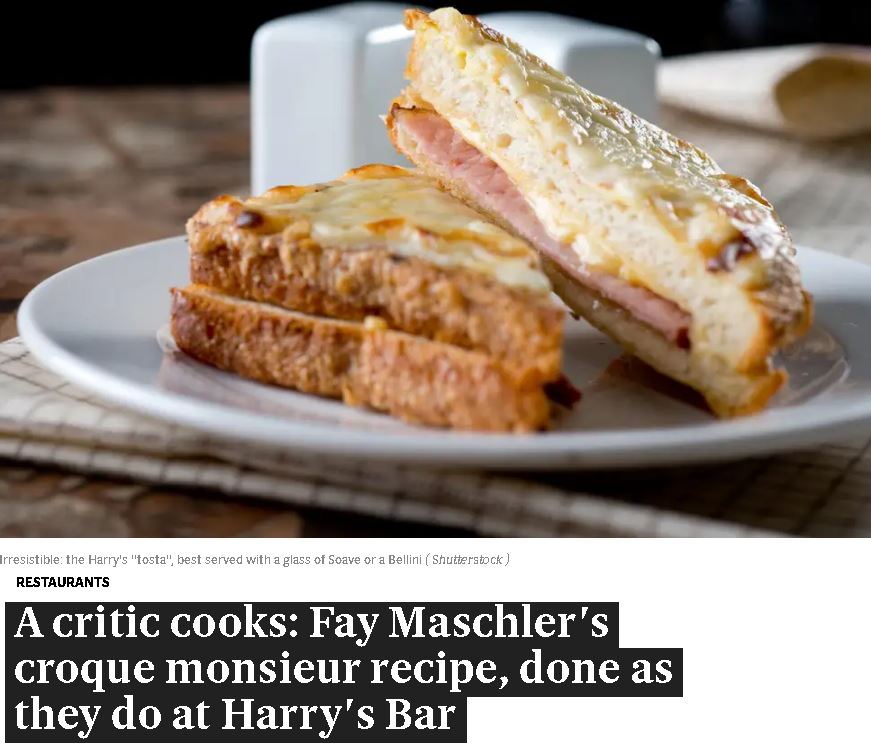 The Evening Standard
Having trailed her new 'recipe and recollections' column last week with a hefty plug for her sister's restaurant, Fay Maschler reveals her secret recipe for… a cheese and ham toastie.
To be fair, it's actually the croque monsieur from Harry's Bar in Venice. Apparently last time Fay visited Venice, she left Harry's because she wasn't "known well enough by the legions of faithful staff to get a good table and the Venetian "sconto" – a bill for inhabitants and "friends" that gives at least a third off. I was just another tourist".
The recipe begins: "To create your own Harry's at home, find low seating, use yellow linen napkins if available and make these irresistible "tosta"…" We didn't make it much further, although did spot another reference to her sister.
---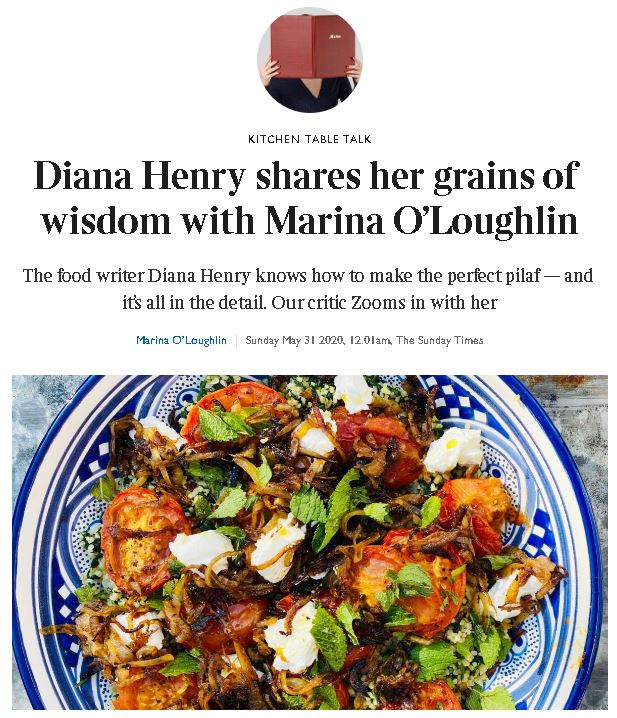 The Sunday Times
This week Marina O'Loughlin had a Zoom interview with her cookery hero, DIana Henry. "She and I have known each other for years, starting off as email penpals — I basically fangirled her. Food has been cooked earlier, because Henry batted off any suggestion that she teach me anything."
Diana talks about the lockdown and the sudden revival of cookery, about her new book, provisionally called North, which she started researching long before the trend for all things Scandi took off, and about how she doesn't want to be a TV chef ("you couldn't pay me enough to stand in a studio").
"I'm devastated without restaurants, I tell her. All privilege duly checked, as ever, but it's like life has seeped all colour." Diana feels the same way about travel.
"If she were able to jump on a plane now, where would she go? "There's a place in the Veneto called Antica Locanda Mincio. A river runs through the village, and the restaurant's right by its small bridge, tables spread out under plane trees… you eat pumpkin tortellini, maybe a veal chop, then peaches they grew themselves and bottled the year before. I love that. I love the care.""
---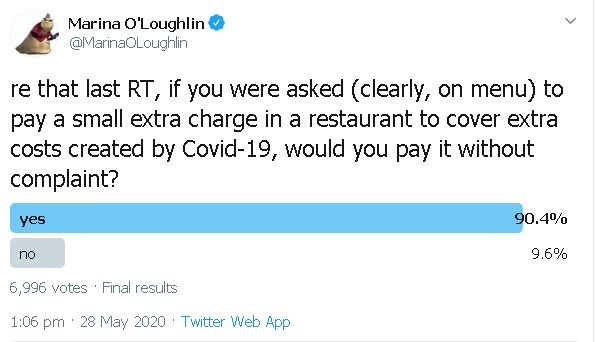 Following the news about US restaurants proposing a COVID-19 surcharge on bills, Marina carried out a straw poll on her Twitter feed to see if people would agree to it here: an incredible 90.4% said that they would be happy to pay.
---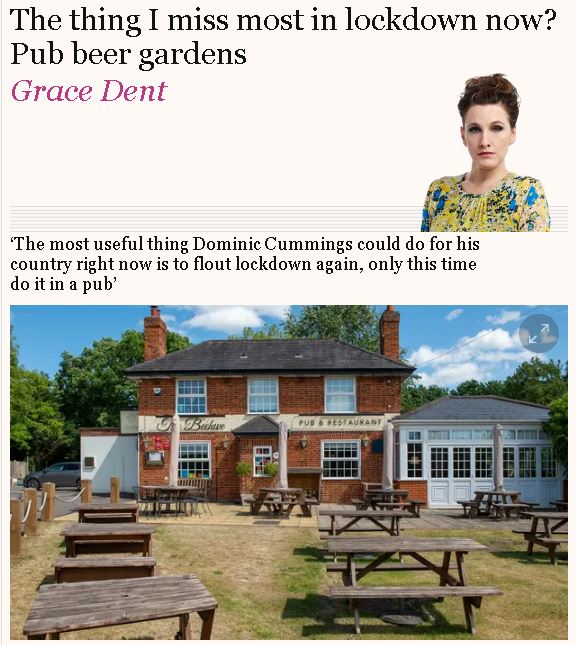 The Guardian
Grace Dent is missing pub beer gardens. Lukewarm takeaway chips from her newly re-opened chippie are no compensation after two months of lockdown.
"All these unseasonably glorious May days have been going to waste." Can there be a "sadder sight" than pub gardens "across the land… much-loved but now abandoned sun traps, their tatty wooden benches baking indolently in the sun"?
She's dreaming of a day when she can once again enjoy "cloudy cider with friends, giant Jenga, hot chips in a plastic basket, cheap ketchup in sachets, bad jokes and lots of sunburned forearms. Things will move on, but I know I will never take my right to loiter and languish, to laugh with friends or to drink lager from a pint glass for granted ever again."
---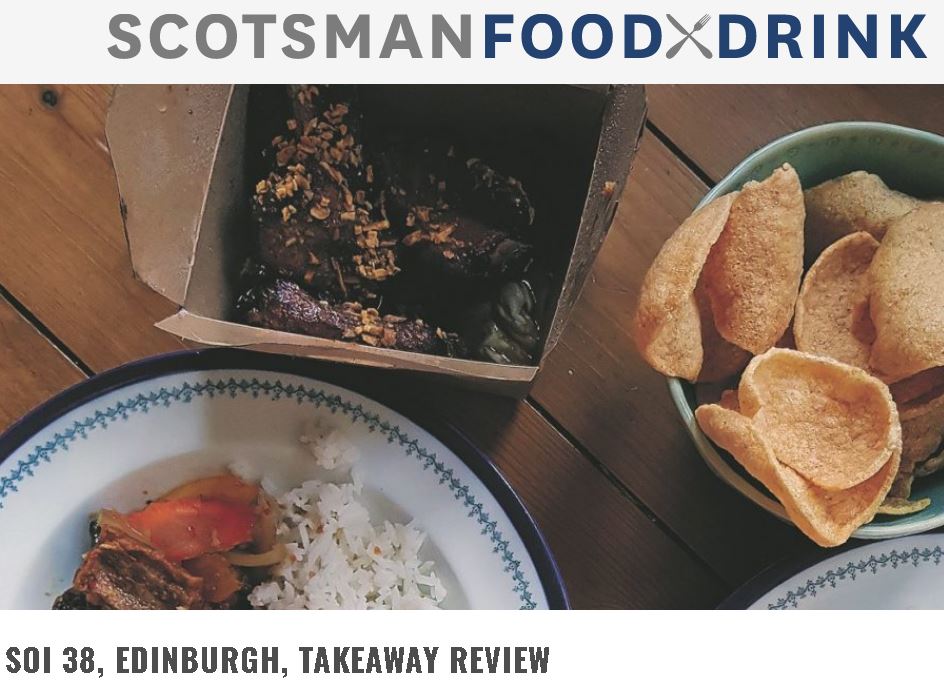 The Scotsman
Gaby Soutar reviewed a Thai restaurant's takeaway provision this week. Soi 38's dishes had great sauces, the soft and nibbly deep fried pork spare ribs" were "excellent" but the sticky rice had sadly " gone into rigor mortis territory". Still, she's planning a visit once lockdown is over, so it wasn't at all bad. (70%)
No puddings at Soi 38 meant she got to delve into her delivered box of delights from Mimi's which can be sent all over the UK ("they've been selling up a storm on social media"). "The gateaux stork arrived at our door with a baby blue box, which contained six brick-sized traybakes." Her favourite was "the Scottish rocky road, hewn from Tunnock's Wafers and Snowballs".
---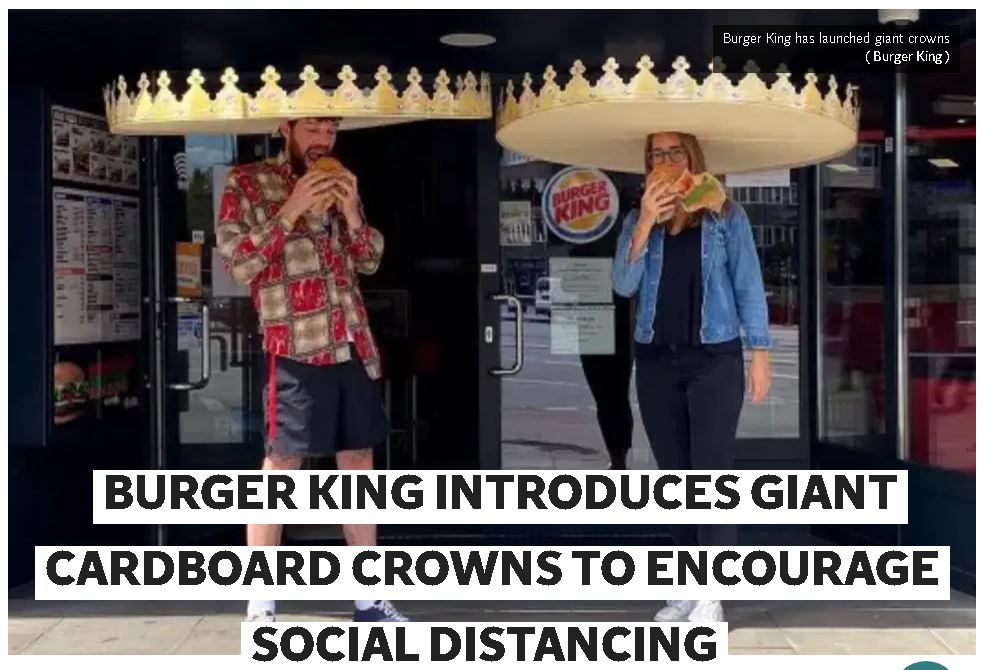 The Independent
Not particularly newsworthy, but we did enjoy this image of Burger King's new 'social distancing' cardboard crowns, sadly only being given out in Germany as yet.
And also…
In The Financial Times, Tim Hayward asked "What is the future of restaurants?" and explored" what Britain's hospitality sector could look like in the wake of coronavirus", while Nicholas Lander questioned whether restaurants can "adapt their wine lists after the pandemic": "Drinks sales are key to the success of any restaurant, but how they are achieved will have to change".
---
The Bristol Post reported on the "wave of job losses at restaurants… expected in the wake of the coronavirus crisis", according to a report by accountancy group UHY Hacker Young. Almost as importantly, they also publish the recipe (reposted by Marks & Spencer from a foodie Instagram account) for Percy Pig crispies.
---
The Manchester Evening News reported on the closure of Yang Sing's Trafford Centre branch. Yang Sing Cathay "has been a fixture in the food court since the shopping centre's opening in 1998", but owner says "losses incurred by the coronavirus lockdown leave it with 'no option'". In better news, Altrincham Food Market's food hall is re-opening for takeaways.
---
In The Times, the Corens moved onto discussing their bedtime reading.
---
Still nothing from Tom Parker Bowles in The Mail on Sunday. How he won restaurant writer of the year at the recent Fortnum & Mason Food and Drink Awards is anyone's guess – he hasn't published a word since 12 March.
Recent News from Harden's