Here's our regular summary of what the national and local restaurant critics have been writing about in the week ending 26 December 2021.
This is the last proper Review of the Reviews of the year, it's a short but packed edition, with the 'best ofs' still trickling in (Marina and Grace delivered theirs last week, and so can relax and eat leftovers until 2022); so is it really a 'Review of the Review of the Reviews'?
*****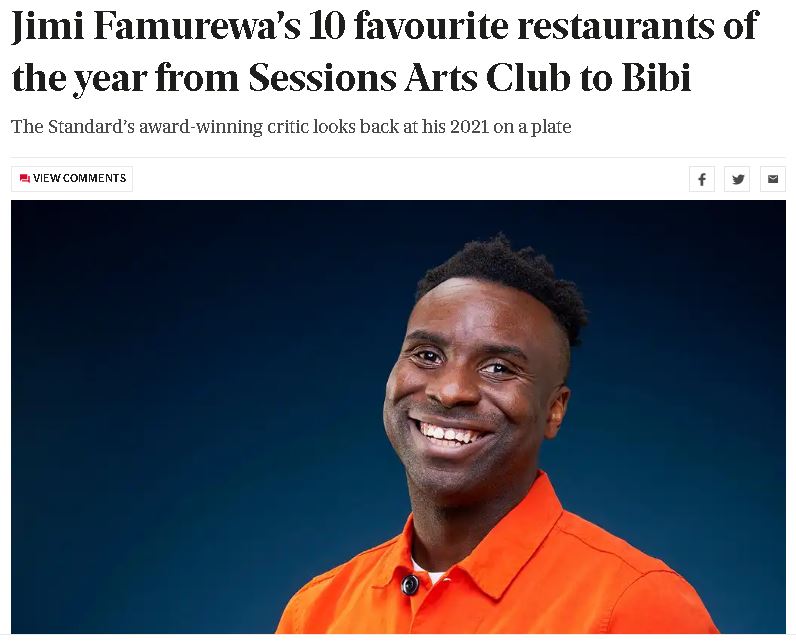 The Evening Standard
Jimi Famurewa presented his 10 best new restaurants of the year, which is pretty good going in a year which only really started in April; the "compressed calendar precipitated verve, ambition and by my count, more than 250 openings".
Yes, the "conjoined apocalyptic horsemen of Brexit, supply chain issues, coronavirus and chronic understaffing" did make for some "terrible dining experiences (it would be remiss of me here to not mention my run-in with everyone's favourite salt-sprinkling Turkish grifter)" but Jimi is "in awe of the magic some of this city's restaurateurs have been able to conjure amid converging crises; at the joyful distraction, inspired cooking and lasting happy memories they've facilitated".
In Mayfair, Bibi brought "coolness, fastidious craft and flavour intricacy, smartly leavened by [Chet] Sharma's eye for a playful, personal flourish" and Ivan Tisdall-Downes' cooking at the "re-materialised" Native at Browns had "imaginative, wild-spirited subtlety".
At Rita's in Soho, Gabriel Pryce's cooking "possesses a dazzling poise and confidence, perfectly pitched between comfort and surprise"; up the road, Mr Ji's "artfully reimagined" Taiwanese chicken shop was for Jimi "one of the year's most singular, surprising restaurant kitchens".
Out east, the "inspired supporting dishes" made BAO Noodle Shop one to look out for in Shoreditch, while Russell Norman's much-anticipated Trattoria Brutto was "a sincere love letter to the gingham-clothed, backstreet trattorias of urban Florence" and Sessions Arts Club simply "really, really is that impressive". Winning a fourth nomination for east London, canalside Cafe Cecilia "seems to frequently find some mystical, hidden gear of deliciousness".
Sumi brought "Michelin-level sushi mastery without the glumly serious omakase counter surroundings" to West London, while South London boasts Danclair's where the eponymous chef's "eclectic, homestyle cooking… has a real magnetism, sensitivity and lack of pretension".
*****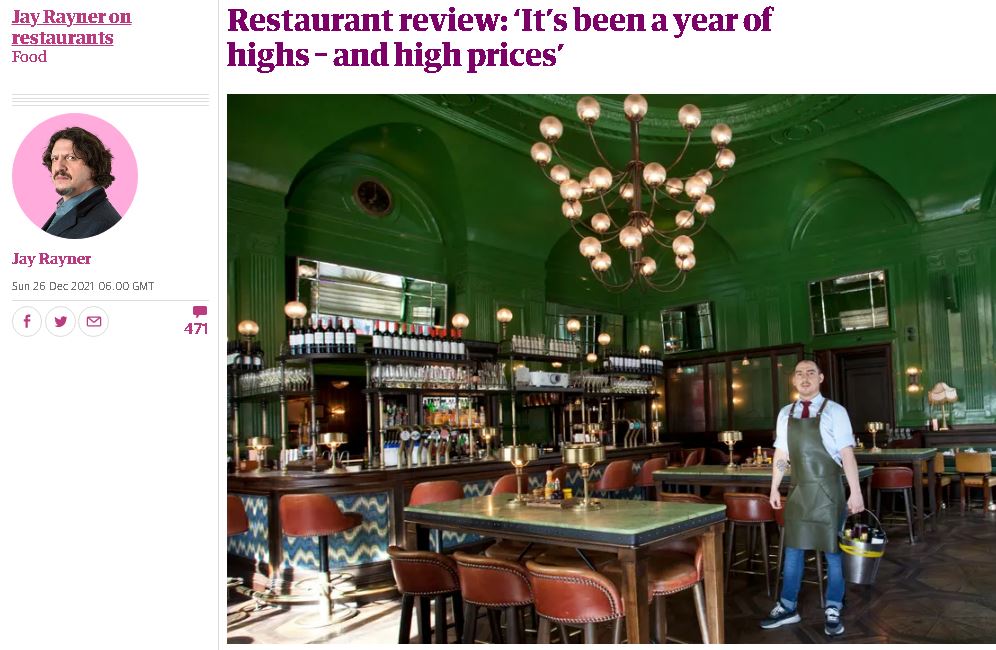 The Observer
"It was the year we craved the normality of a meal out, regardless of how abnormal an experience it might have to be for that to happen… If the essentials were present – a list of dishes that you hadn't cooked yourself, someone to fetch them, a pass on the washing up – many of us were there for it."
During the first months of the year, Jay Rayner filled his time and column by cooking his own meals, having "reacquainted myself with the brilliance of great recipe writers and cooks such as Claudia Roden, Simon Hopkinson and the late Gary Rhodes". But from the moment he could, he was out of the kitchen and dining out, whatever the weather.
Three of his top dishes of the year came from outside London; the Double Red Duke in the Cotswolds ("butch, gutsy cooking"), Sonny Stores in Bristol ("demolishing a plate of perfect meringues with white peaches will stay with me for a very long time") and Erst in Manchester (whose "tiny menu… which delivered so much more than it promised").
"The dish that I got the most correspondence about was the golden carb and dairy fat wonder of a double XL triple cheese toastie served to me at the Wigmore."
He was also "thrilled by the intense nerdiness of Humble Chicken" and gives "honourable mention" to "the bravery of the Dirik brothers at Mangal 2 who have broken from the traditions of the many Turkish grill houses around them in Dalston, to serve something a little more subtle", and to the "extraordinary bespoke sushi experience" from Chris Restrepo at Kurisu Omakase ("I do so love dinner and a show").
As always, Jay's most popular reviews were the 'less positive' ones; this year it was the one where he ripped into the pop-up Polo Lounge at The Dorchester ("they deserved it for marking up bog standard wines by a factor of six or seven"), closely followed by his "stupid stunt" dining on Kebab Kid takeaway outside Salt Bae's wildly overpriced Knightsbridge restaurant.
*****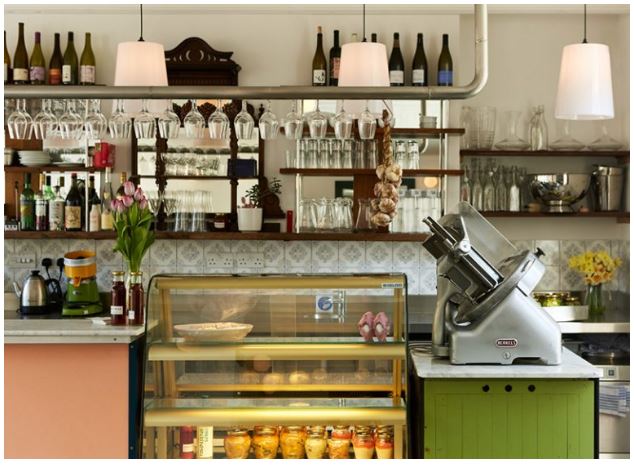 The Mail on Sunday
Tom Parker Bowles in YOU Magazine bucked the trend by publishing an ordinary review of Café Deco, the "small Bloomsbury restaurant where things are stripped back to their essence, free of pomp, pretension and fuss".
The "short, handsome menu… skips across Europe with knowing aplomb" – understandly when you learn that "head chef Anna Tobias trained under Jeremy Lee, Ruthie Rogers and Margot Henderson, a blessed culinary trinity" – and the wine list is "interesting and well-priced"
Café Deco is already "one of those rare and wonderful restaurants that despite being just a year old, feels like the oldest of friends".
In the same article, wine expert Olly Smith shares his tips for New Year fizz, imploring us to "buy British bubbly and support our homegrown vineyards".
*****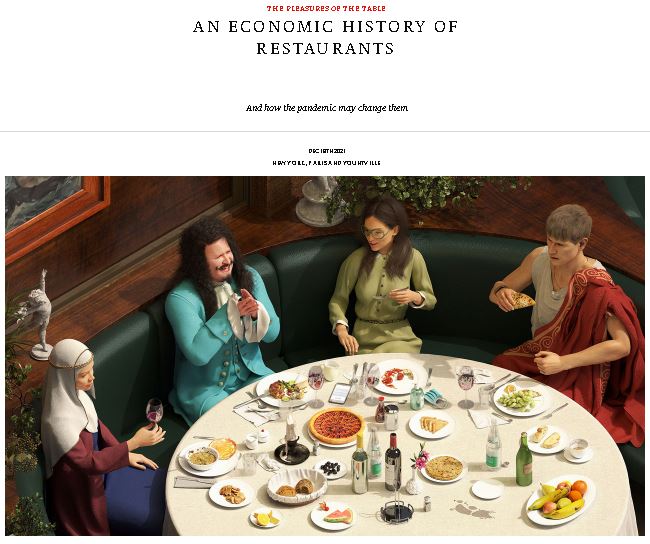 The Economist
In the Christmas edition, an economic retrospective on the history and future of the restaurant, viewed through the lens of the pandemic: "being deprived of restaurants has made people realise how much they value them".
*****
And also…
In The Financial Times, a recipe for Galette des Rois – the "king of puff pastry puddings" – traditionally made to "celebrate the coming of the magi, it's the crowd-pleaser of baked seasonal puddings; also a 24hour food tour of Manhattan with chef Jason Atherton, who "shares his favourite spots to eat and drink in NYC".
*****
In the Birmingham Mail, a list of "all the fabulous new Birmingham restaurants that opened in 2021".
*****