Here is our weekly round-up of what the national and local restaurant critics were writing about in the week ending 20 December 2021 – the penultimate ROTR of the year!
*****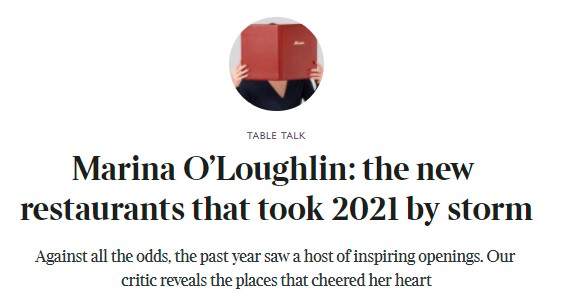 The Sunday Times
"Who in their right minds would open a restaurant at a time like this?"
Marina O'Loughlin asked the question on all of our minds, and yet, as she rightly says, "over the past 12 months we have seen some beauties land and thrive".
"Right about now I expected to be writing an elegy to the recently deceased. Instead I'm celebrating the newly hatched. That the people of hospitality are still creating, innovating and trucking on is testament to an industry with balls of steel. I salute the lot of you."
In this salute, Marina gives us a shopping list of places all over the UK, going into detail on several, and including many that didn't appear in her Sunday Times reviews.
*****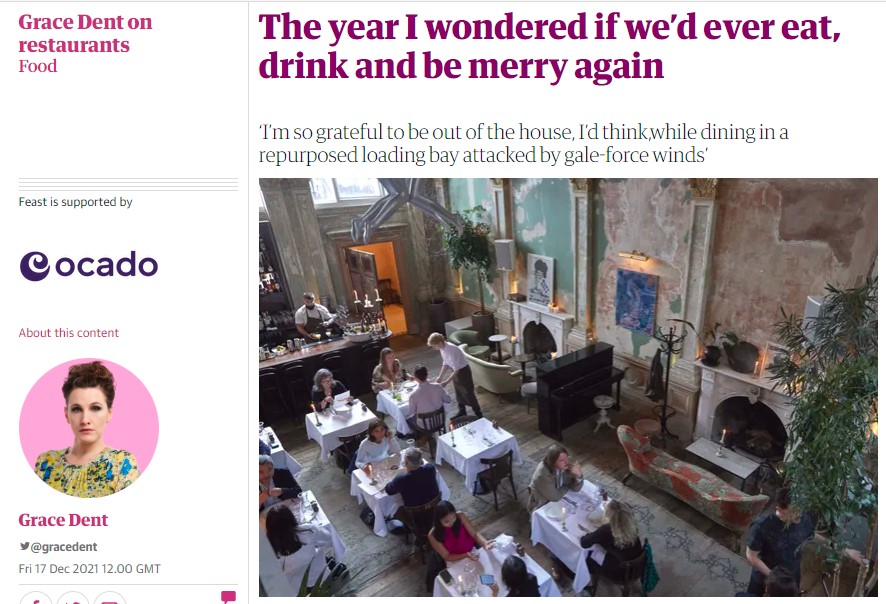 The Guardian
Grace Dent offered up her review of her dining-out year, which "began somewhat hopelessly: shutters down, tables up" and included the death of her mother at a time when funerals were strictly number-limited.
"Restaurants and cafes have always been a hobby, a passion, but now that they were closed, I realised that they were more vital for my sanity than I'd ever figured."
Then, between mid-April and June, there was "the whole eating outdoors era of 2021" which – especially considering the uncooperative British weather – "took a lot of Pollyanna-level positivity". One had to be very positive or just plain desperate to be "dining in a repurposed loading bay as gale-force winds attacked the hastily assembled gazebo", waited on by inexperienced and under-staffed teams.
There have been highlights and high points, though, including a new addition to her list of recommendations (Sessions Arts Club if you couldn't guess).
"It's been a hell of a year in more ways than one. Next year, though, I have literally no idea what's on the menu."
*****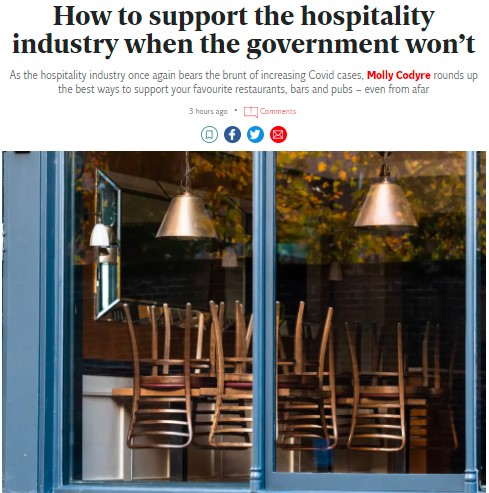 The Independent
"This article should have been my last review of the year."
Molly Codrye highlighted the crisis affecting the industry, and what restaurant customers can do to support the community "continuously scapegoated by the government throughout the pandemic… been beaten down time and time again".
It's nothing we haven't seen and done before: takeaways, vouchers, hampers, meal kits and merchandise. It will all support your favourite restaurants and keep them afloat at what should be their busiest time of year.
"It's the silly season: you deserve it, and it will be the difference between survival and closure for many business owners."
*****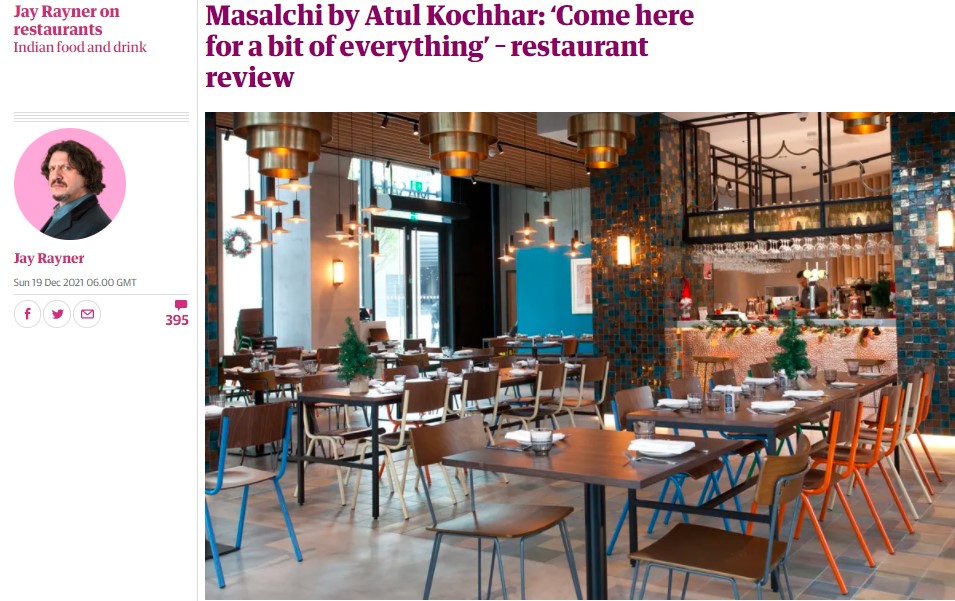 The Observer
Jay Rayner was in Wembley at Masalchi, the newcomer from Atul Kochhar, opened just five days after his "massively spendy and also quite simply massive" Mathura in Victoria (where there's an £85 wagyu fillet with 24ct gold leaf on the menu "because, as we know, sigh, eating gold leaf is a thing").
Masalchi is so close to the stadium that "on match days diners will be able to hear the crowd sigh with disappointment when a goal is missed" – it's a "big old beast of a glass-walled room, which can seat 120".
"Wembley is a focus for the capital's Indian community. Masalchi is surrounded by brilliant, cheap and often long-established restaurants, representing various parts of the subcontinent's culinary traditions… if his kitchen gets it wrong, the Indian community… will quickly let him know."
Rather than geographical precision, the menu takes "inspiration from street food across the entirety of the Indian subcontinent" and is "keenly priced". "Expect uncompromising fire and depth."
"Until now Atul Kochhar has been a chef who has swum only in the deep waters of high-end Indian food. This is his first casual spot. I suspect it won't be his last."
*****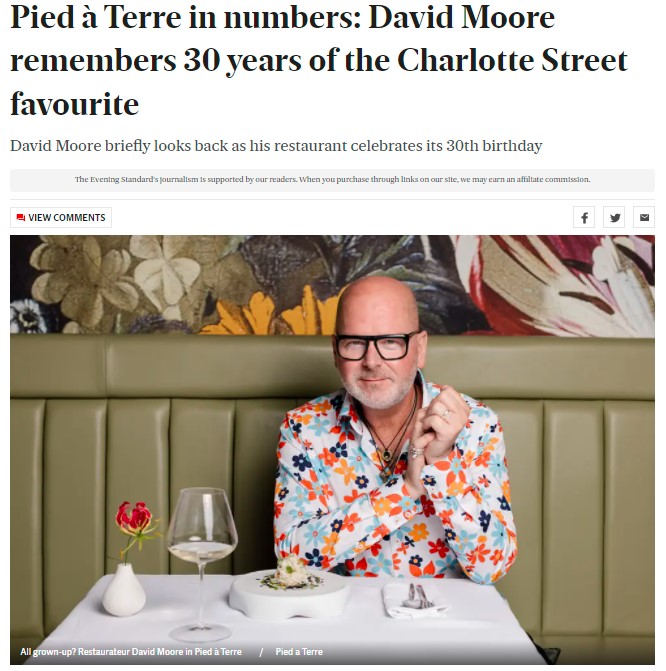 The Evening Standard
David Ellis looked back at 30 years of Pied à Terre, the beloved Charlotte Street restaurant.
"For a big name to survive three decades is rarer than might be expected: to have stayed at the top of its game is rarer still."
Also by David Ellis, a summary of the current 'Plan B' situation for hospitality industry (written mid-week and with changes happening every day).
No review from Jimi Famurewa this week; is he busy writing his summary of the year for next week?
*****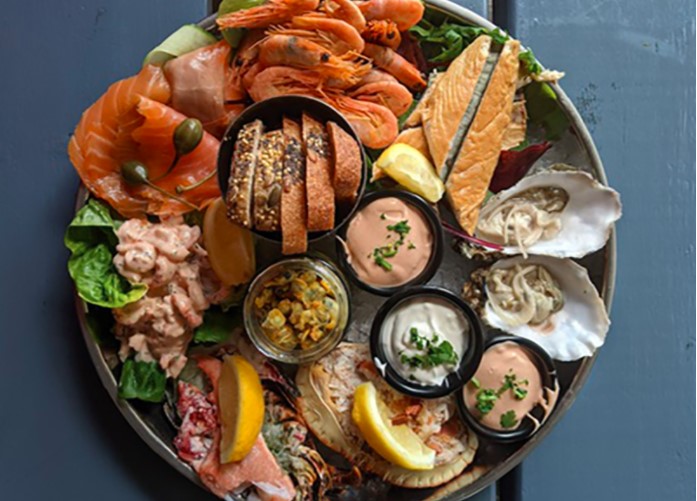 The Mail on Sunday
Tom Parker Bowles for YOU Magazine was in another of his spiritual homes – North Norfolk – enjoying the "safe foodie haven" that is The White Horse in Brancaster Staithe, "where the service is as warm as the food is unpretentious".
"This most civilised of seaside pubs" provided him with a "very decent passionfruit margarita" and an "abundantly generous" seafood platter, while the lobster bisque gave him the opportunity to use his favourite expressive technique, with its "sonorous crustacean grunt".
*****
And also…
In The Financial Times, a summary of their favourite films about food – handy in case we're all stuck at home again soon.
Also, Tim Hayward reviewed Hiden — Japanese Curry Lab, where Hideaki Yoshiyama ("a chef of incomprehensible intensity") has "taken this stretched and battered foodway and reconstructed it with the kind of rigour I find irresistible".
Koffmann & Vines head over to Akoko, which they judge "Excellent" overall: "If Akoko serves an elevated version of West African cooking that is accessible to an international audience, what's wrong with that? It is very good cooking."
*****
In The Scotsman, Gaby Soutar visited Musselburgh, with a view to relocating from pricey and cramped Edinburgh, and was further tempted by The Ship Inn there, whose mammoth £48 "Chippy Sharing Platter" was "like a supersized seaside version of chicken in a basket" with squid, lobster, scampi and haddock "all well-cooked, hot, bouncy and fresh tasting" with "lots of decent chip-shop chips".
"I could hardly straighten up again, let alone walk, after that Gaby Vs Food session. I think my flat might seem even smaller now that I've inhaled the entire contents of the sea."
*****