Happy New Year! Here's our regular summary of what the national and local restaurant critics have been writing about in the week ending 2 January 2022 – as expected, the food pages are full of Veganuary and Dry January once again, but there are a few real reviews, too.
*****
Congratulations to the industry folk who were recognised in the New Year Honours List: chef Angela Harnett and hotelier Robin Hutson both received OBEs (they are business partners at Lime Wood Hotel where Angela runs the Hartnett & Holder restaurant); renowned Middle Eastern cookery writer Claudia Roden was awarded a CBE; and restaurateur Amritpal Singh Maan of Covent Garden's Punjab was made an OBE for his charitable work (which included providing over 200,000 meals during the pandemic).
*****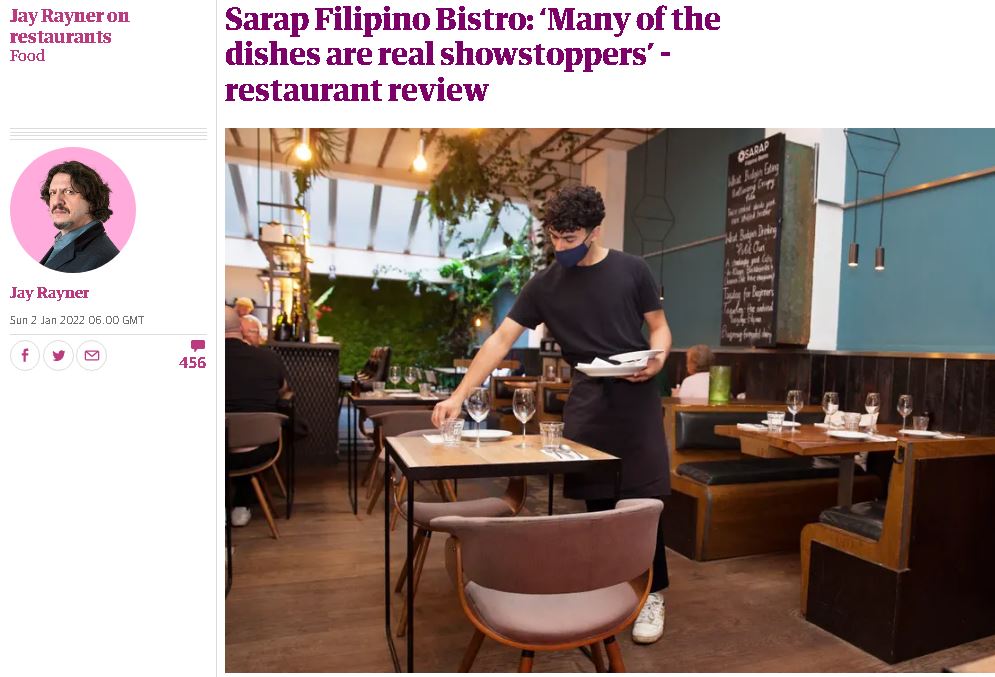 The Observer
Jay Rayner reviewed the newest inhabitant of 10 Heddon Street ("which has become a bit of an incubator for new restaurant ventures"), Sarap Filipino Bistro.
He was quite miffed that he was "at least four people short of a piglet party" – a minimum of six are needed to pre-order the "famed lechon" whole roasted piglet "stuffed with lemongrass and truffled adobo rice". A party had it while he was in, and he wandered over for a look, but wasn't offered a share.
Filipino-born chef Ferdinand "Budgie" Montoya "has been on a long and twisting journey to get here, both figuratively and literally", and "describes what he is doing here as delivering authentic flavours "proudly inauthentically"".
The short menu offers "a softer, often warmer version of the sharp, sweet and salty flavours I am used to from elsewhere in southeast Asia", including a "good consolation prize" of a stuffed pig's trotter.
"I like Sarap Bistro very much. The food is unfamiliar in a good way and the execution is precise."
*****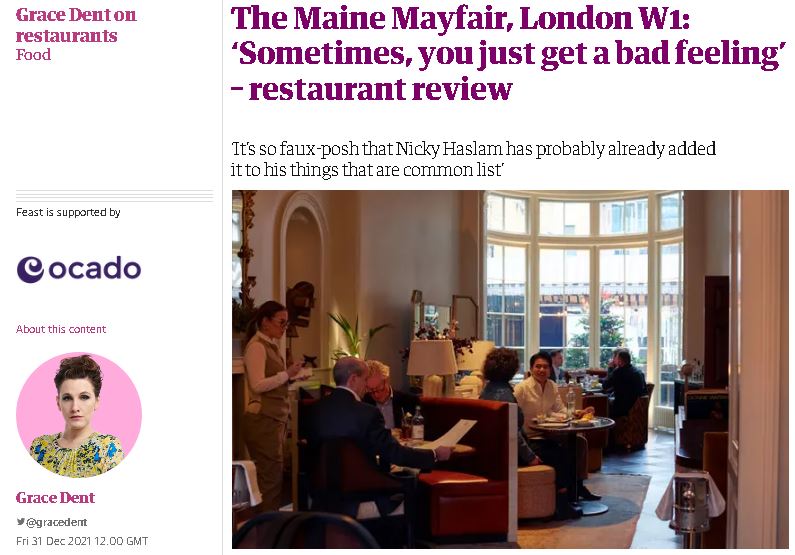 The Guardian
"Sometimes, you just get a feeling."
Grace Dent reviewed The Maine in Mayfair, the vast (350 covers) multi-level brasserie that opened at the end of 2021, "all guns blazing with self-hype and wild promises".
For Grace, it had "an olde-worlde feeling… and a strong synthetic aftertaste"; the menu is "riddled with New England flavours served in the international language of the soulless private members' club". Dishes were missing or under-generous, and the "tacos are simply best avoided; no happiness can be found here".
The staff ("a heady mix of inexperienced, hyper-confident and assertive") were focused on upselling, correcting and lecturing.
"The Maine will be a roaring success, however, because it is ostentatious, starry, looks fabulous in photographs and the clientele who will keep it afloat aren't really interested in eating."
*****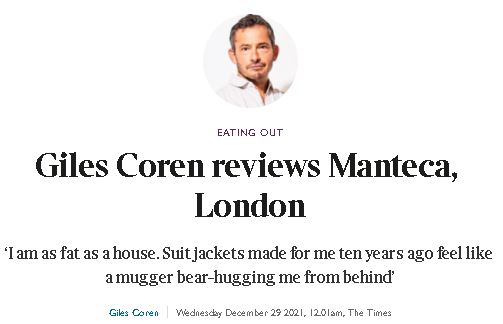 The Times
After "lockdown… and nearly two years of slobby living", Giles Coren is worrying about his weight, which takes up a good deal of his word count. But not until after Christmas and the lunch he reviewed here in early December…
This week, he was at Manteca in its new Shoreditch home, where he devoured "an entire plate of whoops-I-didn't-even-stop-to-consider-what-it-was-before-it-had-all-gone" followed by several other dishes of "Italian nose-to-tail eating" from David Carter, "the Bajan barbecue genius behind Smokestak".
"Kate Moss said once that "nothing tastes as good as skinny feels", and I kind of agree. But I tell you what: lunch at Manteca comes bloody close." (27/30)
*****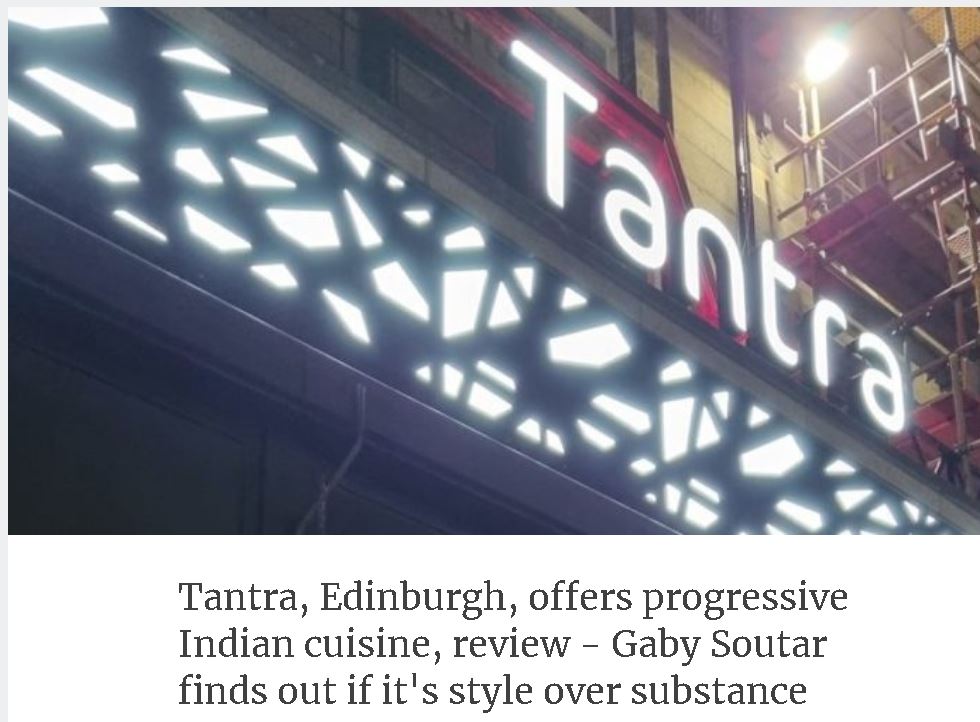 The Scotsman
Gaby Soutar reviewed newcomer Tantra on Edinburgh's Castle Street, and enjoyed " the most doolally drink I've ever had", embedded in dry ice, topped with flowers and " three Domestos-coloured cherries". The food menu was an equally "unique concept" helped along by the "Instagram-friendly interior".
Cancellations made the place too quiet, and gave it "a sense of despondency". Food-wise, the starters were good, but "things swiftly went downhill" with a black-and-gold-robed lamb shank that was almost inedible, alongside a overpoweringly scented bowl of jasmine rice.
"I can't sugar coat the fact that this was one of the most expensive bills I've had for months and I left hungry."
*****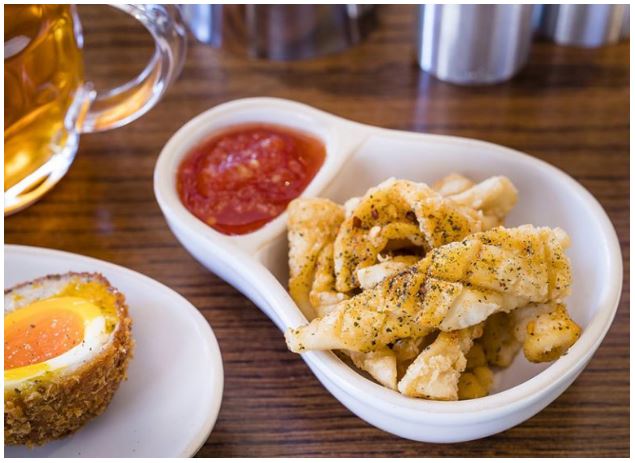 The Mail on Sunday
Tom Parker Bowles in YOU Magazine was in Chelsea, hankering for pies at The Fox & Pheasant, "a gently gussied-up boozer that's a football boot's fling from Stamford Bridge".
There's "good ale on tap, and jugs of Bloody Marys, and the air is scented with comfort" in the pub, and there's a "small dining room, in the conservatory" at the rear. The wifi password "You're Beautiful" revealed the identity of the owner as the singer James Blunt.
"This is the sort of place that draws one back, again and again."
*****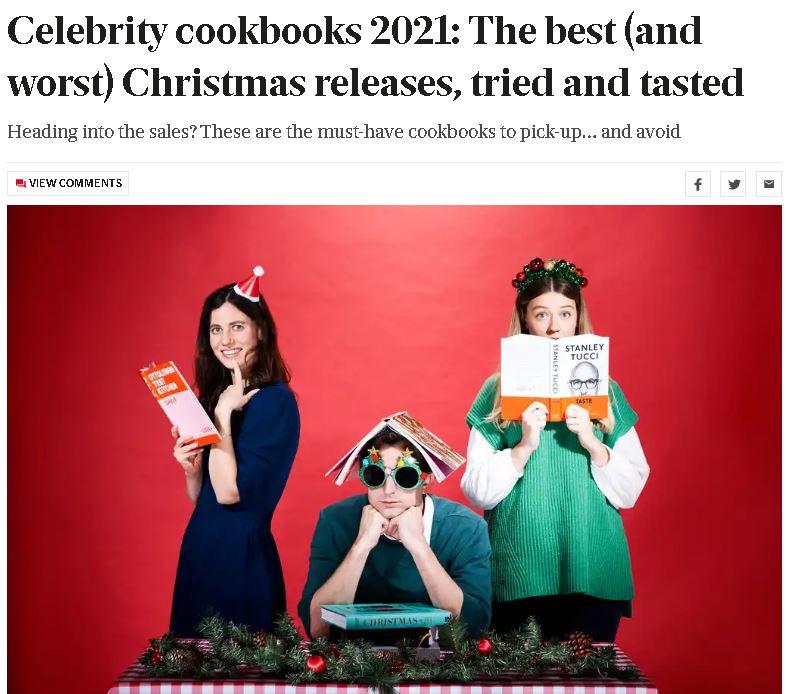 The Evening Standard
A round-up of the best and worst celebrity cookbooks is our New Year fodder from The Standard's food writers. Unsurprisingly, Ottolenghi comes out on top.
*****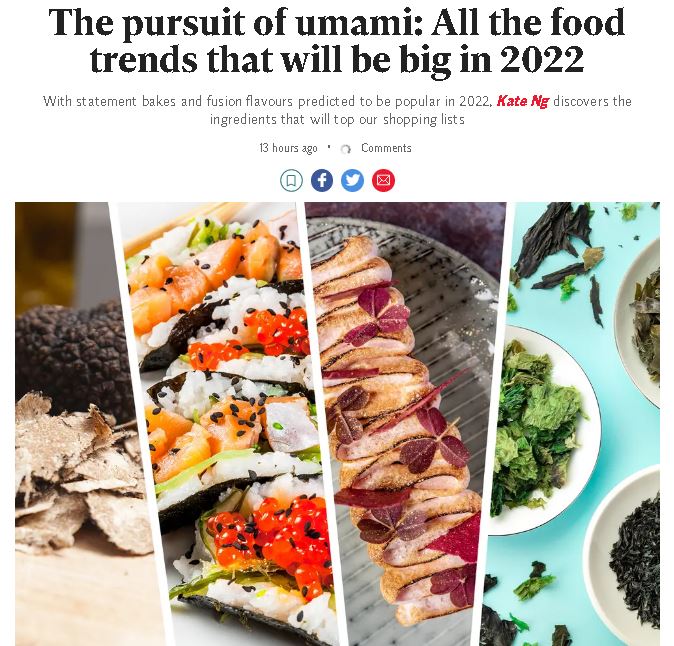 The Independent
Kate Ng gave us a review of 2021's trends (takeaways, home baking, veganism, plus a list of the food trends we should be seeing in 2022. Umami hits from sea greens, soy and truffle will be big, apparently, as will 'climatarianism' – "a diet focused on reducing your carbon footprint". We weren't thrilled to hear that fusion cooking looks to be making a comeback, though.
*****
And also…
The Financial Times reviewed Catch in Weymouth, who are "serving fish landed at their door by local boats, and they're doing it brilliantly": "I'm happy to offer the opinion it was bloody gorgeous".
*****
The Bristol Post published a list of the new bars and restaurants opening in 2022, including a massive food hall from the BoxPark company
*****