Here is our weekly round-up of what the national and local restaurant critics were writing about in the week ending 27 June 2021.
*****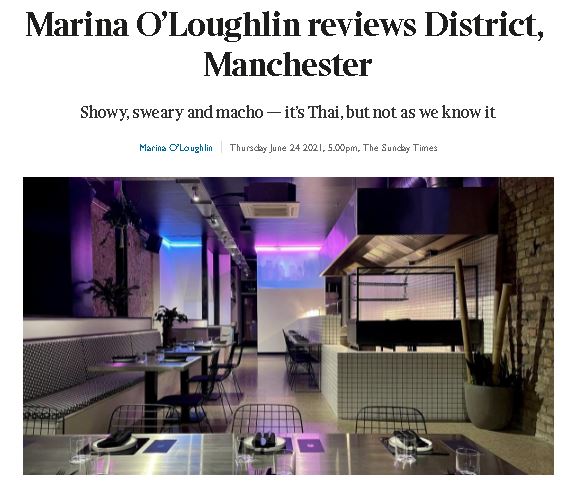 The Sunday Times
"Oh goody, more men playing with fire, more white boys cooking Thai food," thought our intrepid Marina O'Loughlin when viewing the restaurant's website ahead of this week's review, all "Philip K Dick fanboy prose", and "sweary and macho" social media tones.
"Nor does the look of the place fill me with joy. Monochrome and sharp-edged."
Set in Manchester Northern Quarter, around the corner from a sibling establishment, Tokyo Ramen, District has an uncompromisingly "butch" persona, with "open grills and massive blowtorches and… shiny black placemats that look like switched-off iPads" and a menu that shouts in "steampunk" staccato. It all made Marina feel terribly weary.
But – and don't we always love it when there's a 'but' – the first small dish arrives and she was "poleaxed, startled into cartoonish gawping". Raw sea bass in a "slurpable" nam jim broth was, "as an opening salvo… jaw-dropping. And set the tone for a remarkable meal" in which there was "not a single missed step, not an off-note or moment of tedium".
"The food lives firmly in the Thai canon of flavours, sauces, preparations, but the performance is entirely their own."
"I come away fully enthralled, taste buds feeling as though they'd been spark-plugged into line. This is energising, exhilarating cooking."
*****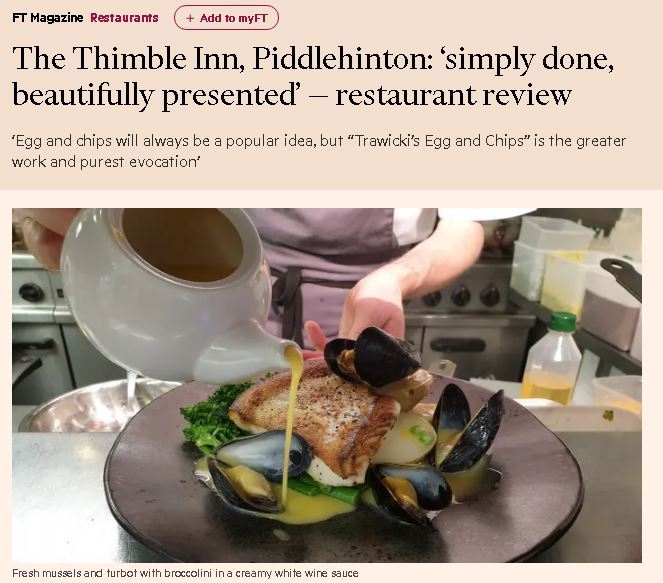 The Financial Times
"A 'spontaneous drive-by' at a place I just happened to be passing in the normal run of things… turns out, serendipitously, to be so bloody good I can't keep quiet about it."
Tim Hayward reviewed a pub we'd not previously come across (and clearly nor had he); The Thimble Inn in the gloriously named Dorset "micro-village" of Piddlehinton served up a meal of "outrageously high quality" that was "simply done" and "beautifully presented".
"It was abundantly evident that chef-proprietor Michal Trawicki and his team know their onions with respect to brilliant craftsmanship, creativity and excellent sourcing of ingredients."
With this in mind, Tim ordered the egg and chips, which "will always be a popular idea, but 'Trawicki's Egg and Chips' is the greater work and purest evocation".
*****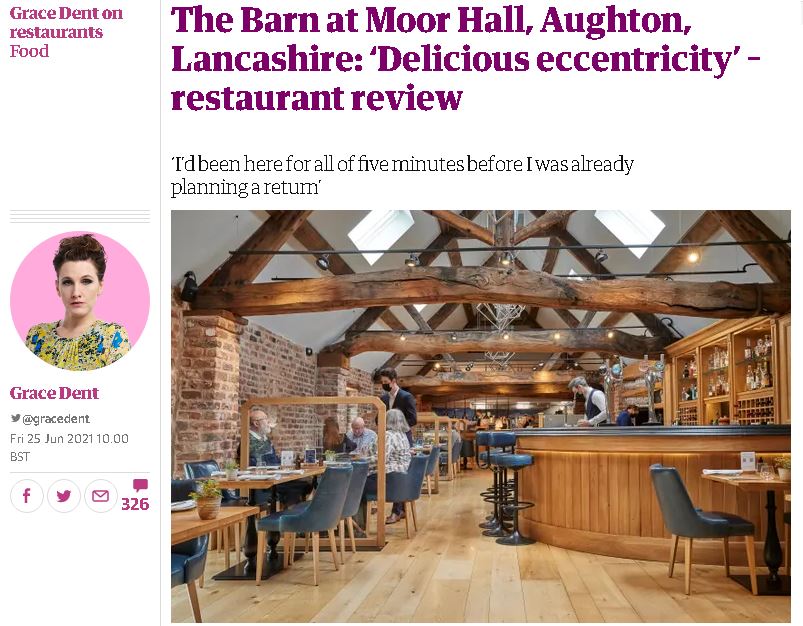 The Guardian
"Life may never be the same again, but at least there are some delightful, morale-lifting spaces where things came back bigger and bolder and better."
Grace Dent was at The Barn in Aughton, which isn't as rustic as it sounds, being a "lavishly converted outhouse a few dozen footsteps from Moor Hall, a double Michelin star-garlanded restaurant run by chef Mark Birchall" and run by the same team.
You could call it a "more relaxed little sister who lives next door", but not that relaxed – " on any given service, The Barn is like the Bolshoi Ballet performing Swan Lake for Khrushchev".
From the "lunchtime set-menu deal", Grace and Charles shared their mains, which included a "Cornish turbot with an unforgettable warm roe tartare" and "the vegetarian option of dreams", stuffed, roasted Jerusalem artichoke.
"At places such as The Barn and Moor Hall, the car park is full, the standards are high, the staff are world-class and the till seems to be ringing."
*****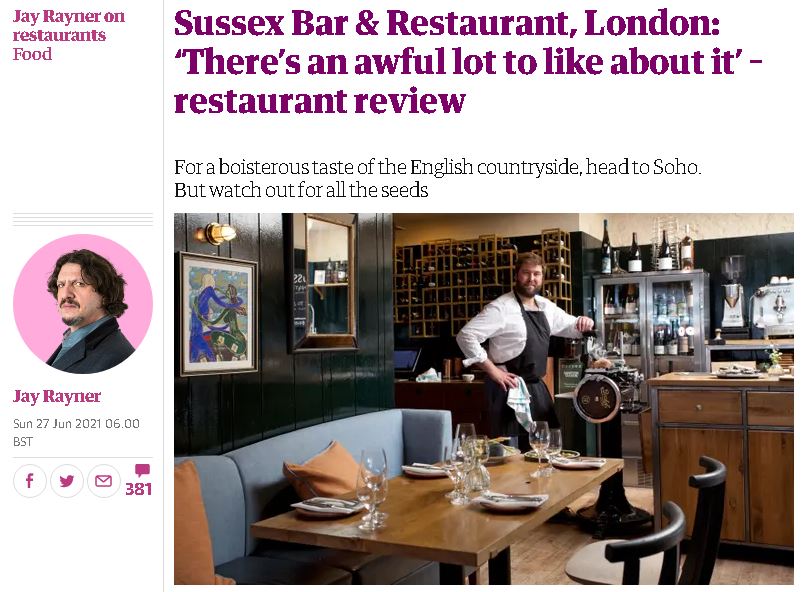 The Observer
Jay Rayner was in Soho, at Sussex Bar & Restaurant, in the "venerable premises" that once housed Bruno Loubet and also Arbutus.
Gladly, Sussex "stands in the noble tradition of what has gone before". It's the fourth restaurant from the Gladwin brothers (The Shed, Rabbit, Nutbourne); they "source a lot of their produce and some of their wines from the family farm in West Sussex".
"There are clear outbreaks of Vaughan Williams Englishness… but there is also cosmopolitan inquisitiveness" (and lots of seeds).
Starters "give a real sense of where we're going", mains are "robust and sturdy in a very good way", but "dessert feels like an afterthought" – Jay suggests that maybe cheese "may be the best way to go".
*****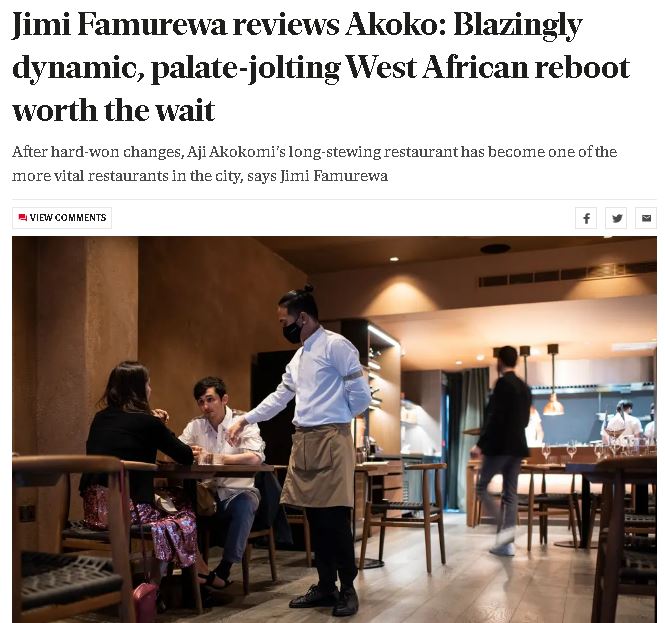 The Evening Standard
Chief critic Jimi Famurewa is back, with the accolade of restaurant writer of the year – for the second year running – from the Guild of Food Writers under his belt – congratulations, Jimi!
His review of Akoko, "entrepreneur Aji Akokomi's long-stewing, contemporary West African restaurant in Fitzrovia", proclaims it to be "one of the more vital, distinctive and blazingly dynamic new restaurants in the city".
From the "detailed sumptuousness" of the decor and atmosphere (like "a dream sequence from the minds of second-generation Black Brits who want their jollof alongside a thoughtful, low-intervention wine programme") to the "confident and expressive" range of dining options, "Akoko's triumph is to re-energise tradition with a flash of modernity".
Despite "staffing musical chairs and conceptual tinkering", this "retooled, 2.0 version… seems to have a newfound clarity, expansiveness and verve".
*****
David Ellis, editor of the Reveller, has a "sense that a new wave of parties is just about to kick off" with the rise of Ibiza-style 'disco dining' in a way that's not been seen outside Mayfair for some time. Ave Mario, the Saxon, The Windmill and Café de Paris are all part of it.
Also from David Ellis, an article on the latest series of supper clubs coming to Carousel this week; "a series of one-off suppers to celebrate the best of Black talent in the UK's dining scene" has been curated by William Chilila, the former Akoko head chef who's now cooking at Pan-African Mayfair joint Stork.
*****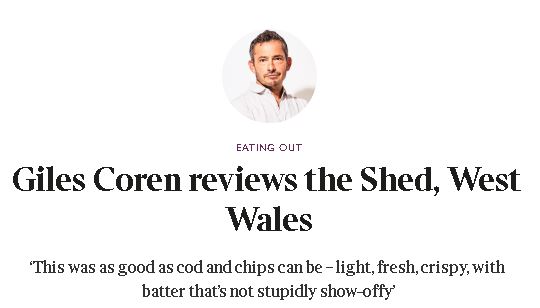 The Times
Giles Coren spent the majority of his review bemoaning the lack of rapid charging stations for his Jaguar on the way to West Wales, and suggested a new era of coaching inns and guide books is called for.
It was only at the bottom of his fourth column (out of a total of five) that he recommended two restaurant that accommodated him and his family. Pizzatipi occupies a "breathtaking space" in "lovely" Cardigan overlooking the river; the "menu is short and insanely well-priced with big, flat, crispy, super-thin, char-egded stonebacked pizzas starting at £7".
Also worth travelling (by EV Jaguar) for is The Shed at Porthgain, a stroll along the coastal path and down a long flight of steps. Top Tip: "immediately place your order to avoid disappointment and a long, long wait". The food was "as good as cod or haddock and chips can be" and "superb value" and there were recycling bins too, but no charge for Giles' eco Jaguar (did he mention he has a Jaguar?).
*****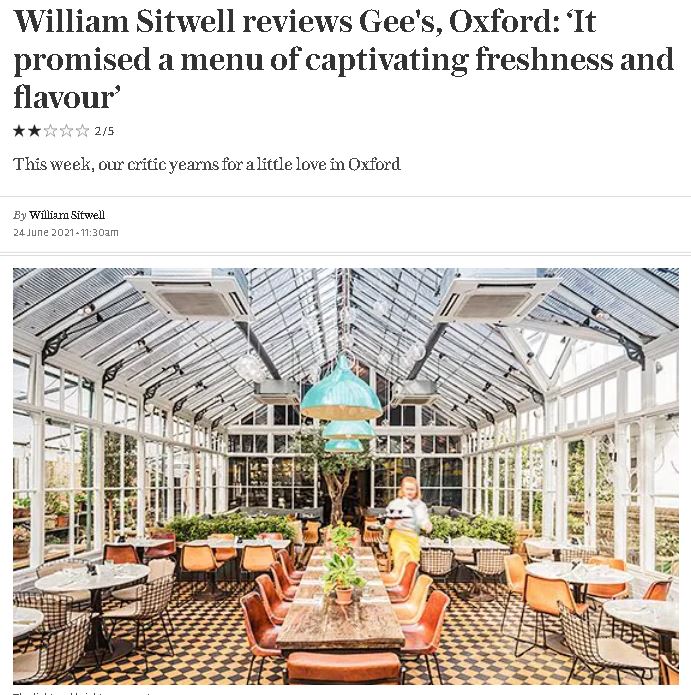 The Telegraph
William Sitwell wasn't enthralled with Gee's in Oxford (a regular Top Tip for romance in the city), despite "drooling in anticipation" on arrival.
He didn't like his seat in the "grand" glasshouse "gloriously overflowing with plants" so moved inside; once there, he perused the menu, "a thing of stylistic beauty" that promised "captivating freshness and flavour".
Sadly, the starter shrimp pizette arrived with burnt edges and were un-rescueable; the main courses were good but in portion far in excess of their appetites, and the orange sorbet dessert was "sickly sweet".
"As brigades get back into the swing of things, chefs at the pass need to remember the good old days when dishes that didn't quite cut the mustard got rejected." (2/5)
*****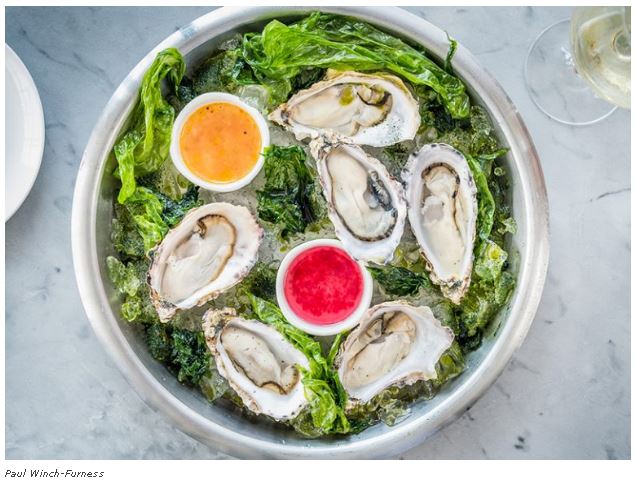 The Mail on Sunday
"A feast to sate Neptune."
Tom Parker Bowles and his son gorged themselves on seafood at The Salt Room in Brighton on "the first searing day of summer"; it's "the most civilised of rooms, with the most civilised of staff", overlooking "the old iron bones of the old West Pier".
"Starters show a kitchen of some talent", while mains are "less refined, but no less joyous".
"Brighton is always a fine place to eat, and The Salt Room is up there with the best."
*****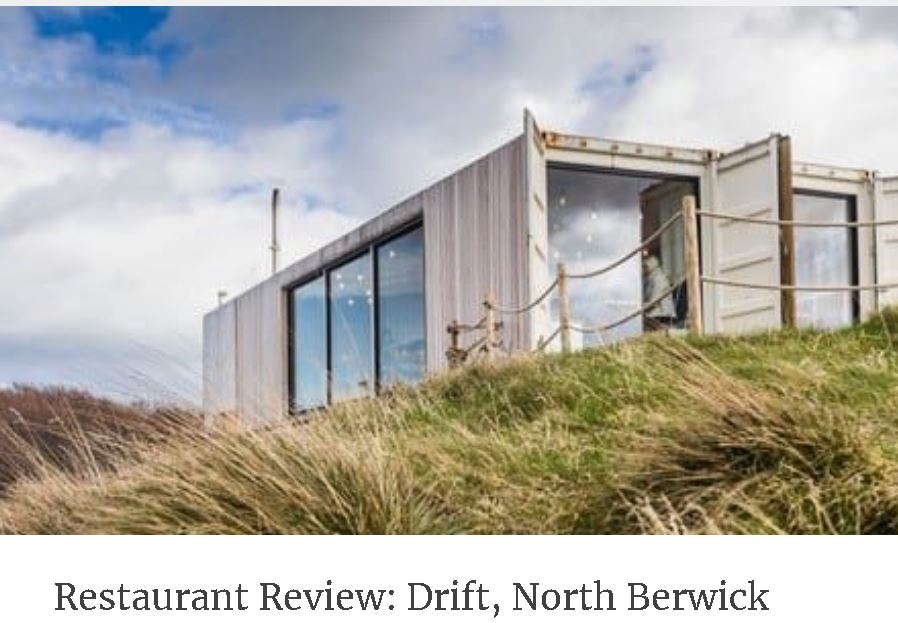 The Scotsman
Overlooking the Firth of Forth, Drift at Canty Bat was the enviable destination for Gaby Soutar's anniversary lunch this week; this "clifftop coffeehouse" recently took on a new head chef, Lewis Lane, "to take the venue in a smarter direction".
Following the "ultimate picnic selection" to start, an " impossibly gorgeous-looking" piece of sea bass was served as the main. After a break for a walk (nearly a fall) down to the water, they "re-bagged" their table for dessert.
Also in The Scotsman, an encyclopaedic A-Z of Edinburgh's "newest and best" restaurants and cafes that should get the trade booming again.
*****
And also…
Bristol Live reporter Mark Taylor shed a "tear of joy" dining at Sri Lankan Stokes Croft newcomer Nadu (from the team behind Clifton's Nutneg). "There simply wasn't a dish on the menu I didn't want to order and of those we did try, there wasn't a duffer among them."
*****
Recent News from Harden's