Harden's weekly update of where the critics are eating, recommending and avoiding, for the week ending 19 January 2020.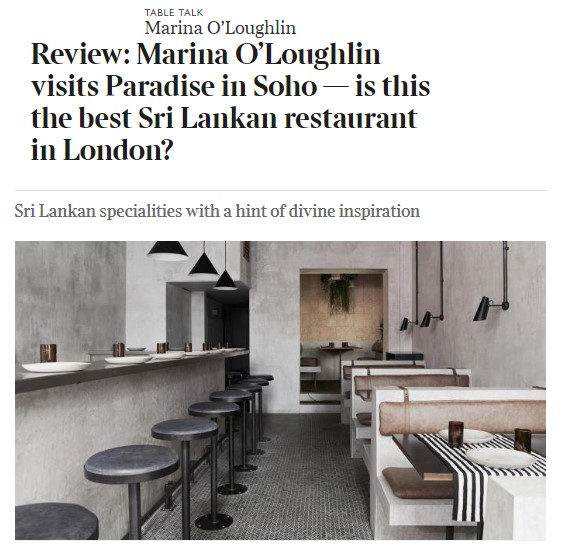 Marina O'Loughlin for The Sunday Times booked for a return visit to Paradise immediately after her first, and even "felt so evangelical about the place" that she posted on Instagram about the mutton rolls ("the best I'd eaten, the spicing multilayered and resonant, the shoulder meat-stuffed rolls substantial but a million miles away from some of the oafish bruisers sold in the name of Sri Lanka's favourite log-shaped snacks"). Cue the trolls bitching about the cost (£5.50 for two).
Yes, "you can buy them so much cheaper in Tooting or West Midlands canteens or street-food stalls in Colombo and Galle" but they are "time-consuming and labour-intensive" to make – and this is Soho, where rents are astronomical, and they've clearly "spent a bit on decor" at the ex-Spuntino venue.
Marina was annoyed "because Paradise is doing what it does with real care and love", using British ingredients of "striking" quality to create Sir lankan classics; she was still thinking about the "spoonable" Highland pork cheek curry ("of such thrilling complexity") days later ("and resenting the fact I had to share any of it"). "Even incidentals are notable" – the sambols, hopper and roti.
On her second visit, with three friends, "at the end of the meal every single bowl and plate looks like the aftermath of a plague of particularly ravenous locusts".
There's obviously an investment here, with an eye on a roll-out, with all the brand dilution that could entail, but, "for now… Paradise is just this little beauty. They plan to offer monthly changes to the choice of dishes. I'd happily book a seat for every new menu."
---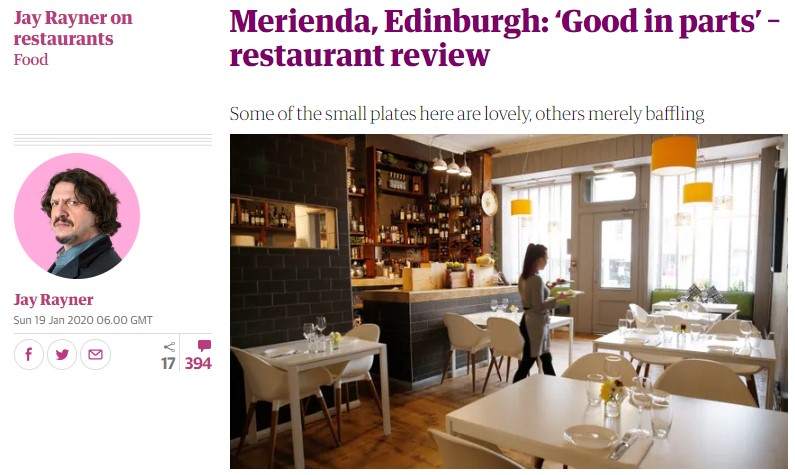 The Observer's Jay Rayner mused that dinner at Merienda was the exact opposite of the 'giant art' movement. Whether deliberate or not, they are "rendering the ordinary much more interesting, simply by making it very small indeed".
He originally thought that the dishes (£7-£8) were sharing plates, but was informed that they are "tasting-menu sized", which all "means it's not quite as good value as at first it seemed".
"As each tiny plateful arrives, I am forced to push my reading glasses up the bridge of my nose and peer down, as if examining a rare jewel."
It's an interesting concept, and also one that requires them to have at least 20 items on the menu ("If it's about small and often, then they can't get away with a compact menu of greatest hits.") and not many places can get away with that.
There were some good dishes, but they were "gone quickly", such as the filo pastry and crabmeat, topped "with a full Ker-Plunk of green apple batons… sweet and salty and crisp and crunchy".
There were also less successful dishes that "just missed the point, baffled us or weren't very nice", including a "overpoached and… grossly underseasoned" salmon and a plate of tuna carpaccio with blue spirulina" covered in "dribbles and drops of tasteless sauce in two shades of blue, like Dulux emulsion. There's a good reason why savoury foods are rarely blue. It's a plate of wrongness that also tastes of nothingness".
There's "friendly and efficient service" but Jay's conclusion was that Merienda is "the proverbial curate's egg: good in parts".
---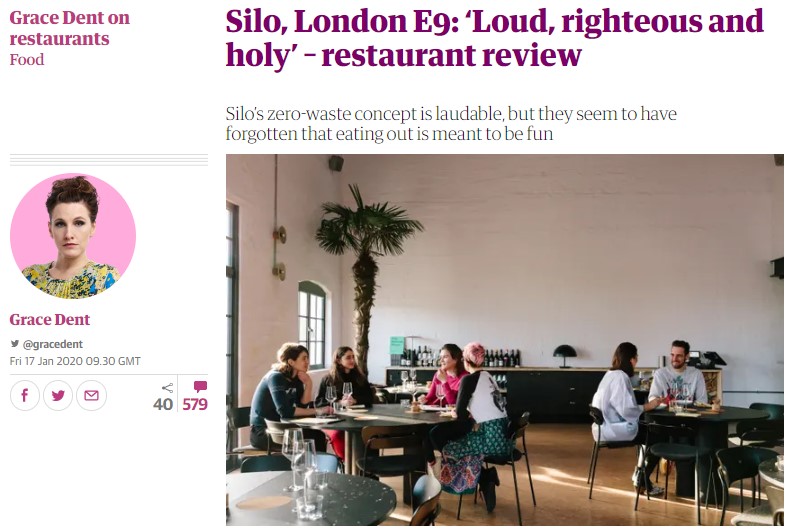 "Silo has been so loud, righteous and holy in the run-up to its London opening that anyone with even a smattering of curiosity in the food scene is aware that it's here."
Grace Dent for The Guardian wasn't in the mood for 20 questions from her server when she visited Silo, Doug McMaster's "zero-waste restaurant that serves a six-course tasting menu". And yet he persisted on asking if she really understood their "concept" – and also explained every single thing to her "despite me having not asked any questions". When serving the "tiny sliver of radish with a small fart of hemp cheese goo inside", for instance, he explained "the lifespan of the radish and the seasonings and the puddle of glop in which it sits and all the minuscule stages of its cooking process".
Silo occupies a "large, gorgeously lit loft" above Crate Brewery ("where, for reference, you can get a decent pizza and a beer, and no one tells you anything at all").
The meal felt to Grace like "a 1985 Tomorrow's World segment on "How we'll eat out in the future", in which Judith Hann shows us Silo's magnetic table made out of recycled plastic packaging with the cutlery hidden within, and its aerobic digester".
Unfortunately, Silo "suggests that, in the future, going out for dinner will be so little fun that eating corned beef in your bunker will be a lot more entertaining".
Ethics aside, the "very burnt artichokes and the non-intervention wines that do not taste remotely of wine" didn't impress Grace much. The "small piece of braised Friesian bull" ("delivered with a soliloquy on its various life stages" and "its noble death") was less enjoyable after the speech on its origins, although the "tiny suggestion of pumpkin ice-cream" was "delicious".
"There are chefs all over Britain, in rural pubs and tiny cafes, who are making a stiff effort to grow their own vegetables, source kindly, re-use and recycle, and who love the planet, but they're doing so with a fraction of the fuss and po-facedness of Silo." (9/30)
---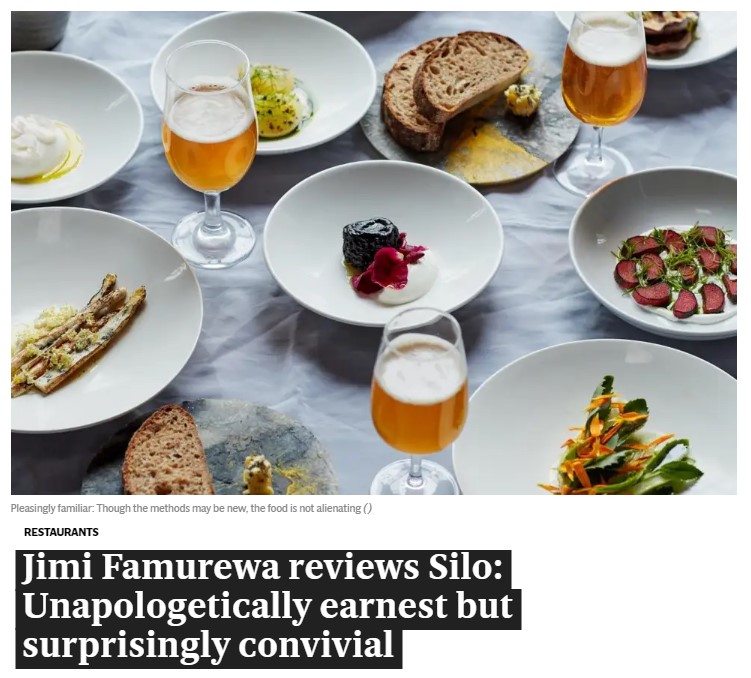 Jimi Famuwera for The Evening Standard also visited Silo ("not so much another restaurant opening as it is the headquarters of a benevolent sustainability cult") – he also rated it 9, but 9/10 rather than Grace's 9/30.
To be fair, he was also overwhelmed by its earnestness (like "being cornered at a party by an eco-evangelist who really, really wants to tell you how they can comfortably fit a year's rubbish in a jam jar") and the lengthy menu descriptions, but "from the instant you gobble the jolting, citric freshness of a dinky blood radish cannelloni", he realised that it's just "a place where spellbinding, veg-focused cooking is served by passionate, engaged people".
What Grace called "gorgeously lit" was, to Jimi, "vaulted, industrial gloom"; the fore-rib of mature bull was "slow-braised into otherworldly, flaking ribbons" and the coal-roasted Jerusalem artichoke Grace disliked was "a rushing collision of smoke, fluffed sweetness and ripe tang". Only in a few dishes did the "the pursuit of zero-waste cleverness… crowd out common-sense restraint" – notably the puddings made from squash and linseed (more like "challenging, hair-shirted experiments than sinful doses of exuberance").
"McMaster has created something radically serious but surprisingly convivial." (9/10)
---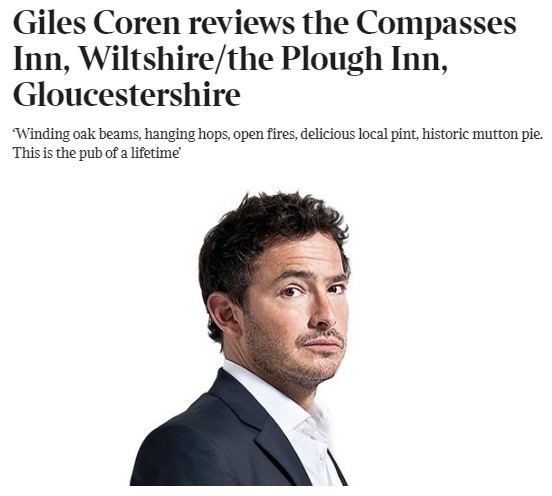 After "stepping down from the Coren Family" last week, Giles Coren for Saturday's Times magazine is back reviewing restaurants – so much so that he went to two pubs for this review, and dragged his family with him.
The first, The Plough Inn at Cold Aston in Gloucestershire (handily just up the road from his country home), has a "lovely setting opposite the huge old tree at the village crossroads" with "seating outside on summer evenings", and "used to be a bit unfriendly" with "terrible, terrible food". But it changed hands after a refurb five years ago and has been "getting better ever since"; "the fish is good, the sourcing is local, the wine list is nice to look at." (24/30)
A little further away from home (or second home) is The Compasses, which Giles called "the actual pub of a lifetime" in Lower Chicksgrove, way off the beaten track "on the banks of the Nadder in darkest, darkest Wiltshire". Landlord Ben Maschler is "an ex-Londoner and former proprietor of the great Drapers Arms in Islington".
It's a "stunning 14th-century inn" with "winding oak beams, hanging hops, open fires, high-backed benches" and great food; Giles ate "hot, puffy parsnip fritters with a blue cheese dip and a historic mutton pie: rich, dewy meat in the shortest, crispiest, stickiest pastry", a "lush, utterly compelling gratin of flageolet beans" and washed it down with "a delicious local pint". (26/30)
---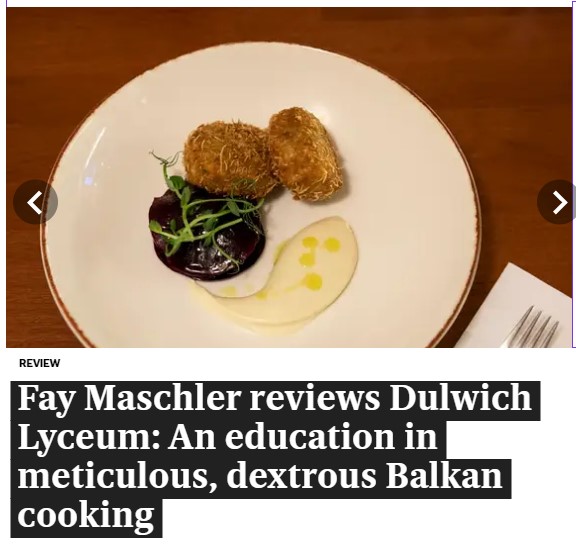 Fay Maschler for The Evening Standard truffled out a new restaurant in Dulwich for her review this week, Dulwich Lyceum is "the second restaurant, after Peckham Bazaar, from chef-patron John Gionleka" and serves "spirited and delectable Ottoman food".
There's no description of the place itslf, but Fay says the service is "gracious", the customers "nicely assorted" and the "relatively short menu… authentic in spirit, healthy, ingenious and reasonably priced".
She ate little dumplings (manti), salt cod fritters, Cornish monkfish, "stuffed quail, chickpea and prune tagine" and a "version of pastilla, the Moroccan filo pastry pie… made with rabbit, apricots and almonds" made with "meticulous detail and dexterity".
"The dessert I like best is orange-scented baklava with poached quince and walnut ice cream." Greek wines were mentioned favourably, as was the low volume of music. (****)
---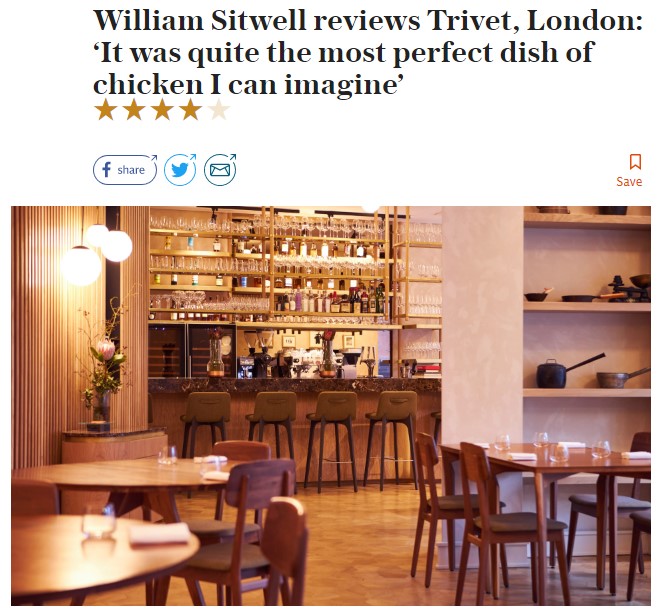 William Sitwell for The Telegraph was in gentrified Bermondsey, where ex-Fat Duck duo Johnny Lake (chef) and Isa Bel (sommelier) "have created a beautiful restaurant of cloudy beige walls, indented shelves bearing antique pots… and oak panelling that sneaks round into the open kitchen". This complements the short menu (five choices per course) of cooking that "you really cannot fault" and the "Gutenberg Bible of a wine list"; both subtly pre-warn diners that a cheap meal is not forthcoming.
He loved the first course, of a "collapsible panini" flavoured with sour cream and onion, and was then "tempted by the simple intrigue promised by a plate of 'chicken with a vinegar sauce'" (although less so by the £29 price tag – "the glorious results of gentrification and the audacious ambition of chefs"); "it was quite the most perfect dish of chicken… that I can imagine. Soft and flavourful, with crisp skin and the most sublime mashed potato".
"If you can afford Trivet, God speed." (****)
---
Tom Parker Bowles for The Mail on Sunday visited Willesden Green this week, and the sushi restaurant that replaced the veteran Sushi Say a few years ago (which he visited several times).
Some of the more obscure dishes he tried from the menu back then are still available (some only "if you ask nicely"). There are "excellent home-made pickles", an "exemplary" dipping sauce and several Nobu classics on the menu. "Service is swift and sweet, the sake list interesting."
Unfortunately, he found a "small but insistent" bone in his "fresh but unlovingly cut piece" of yellowtail, which is why he downgraded his mark to just three stars.
"The sushi counter may have had an off day. We all do. But a bone in the yellowtail is the cardinal sashimi sin." (***)
---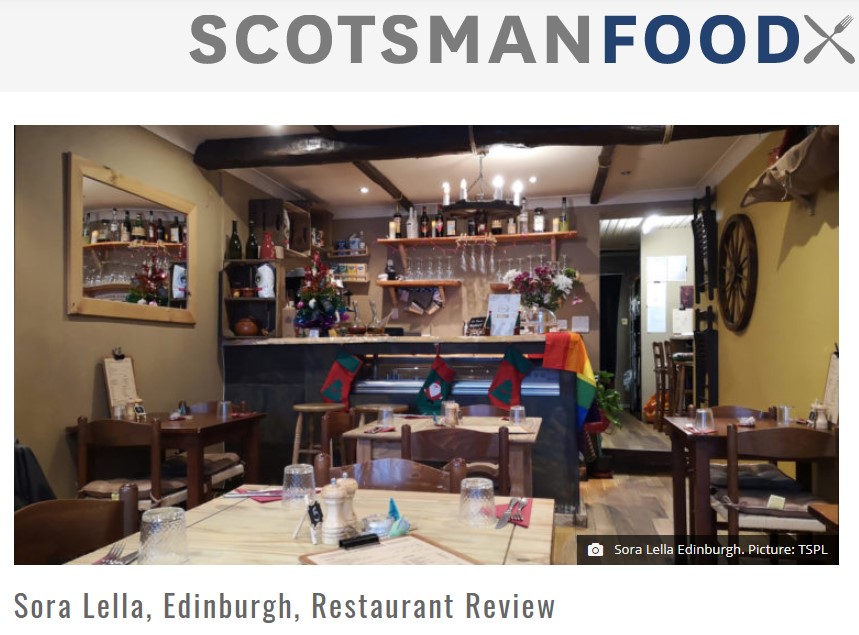 Catriona Thomson for The Scotsman chased away the winter blues with a Veganuary visit to Sora Lella in Tollcross, a plant-based Italian that's a great introduction to vegansm, with "familiar-looking fare" – pizza, pasta and the like – and lots of "faux" cheese and meat dishes for those missing dairy and meat.
Catriona's vegan carbonara arrived "heavily smothered in a sauce so creamy it easily could have been mistaken for dairy", although the smoked vegan sausage was "a bit chewy". The classic pizza ortolana ordered by one of her children was declared a "success" too. No room for desserts, but they noted the vegan tiramisu for their next visit (70%)
---
Also in The Scotsman, Gaby Soutar was thoroughly "underwhelmed" by a new kebab shop on the Lothian Road, despite a launch with firebreathers and a celebrity appearance (someone from Peaky Blinders, apparently). German Doner Kebab (established in Berlin since 1989!) is decorated, like the original, in depressing "grey and orange"; there's no "dessert action, so make a run for it to try the brand new Nice Times Bakery nearby" and be soothed by the "Barbara Cartland-esque pastel tones" there. (55%)
And also…
In The Financial Times, Tim Hayward reviewed Sola, Victor Garvey's replacement for Rambla, which quietly opened before Christmas and is "a homage to California cuisine"; "the roulade of salmon is quite the loveliest bit of fish you'll consume for approximately an aeon". He called it "brilliant cooking from someone who turns out to be that most important and rare thing in a chef . . . a total enthusiast."
Recent News from Harden's