Harden's weekly update of where the critics are eating, recommending and avoiding, for the week ending 17 November 2019.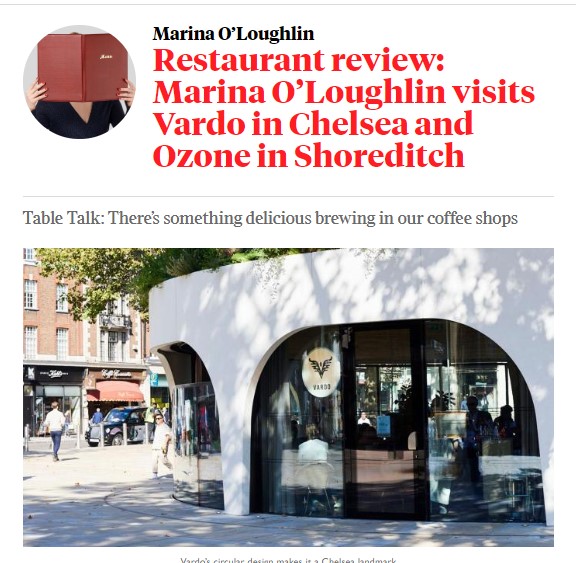 Marina O'Loughlin for The Sunday Times visited two places this week; both what she describes as "third-wave" coffee shops (she missed the first two). "Coffee shops are now equipped with cocktail programmes and catches of the day; they've become wood-oven and wine-list-toting actual restaurants."
The first, Vardo (from the team behind Caravan), popped up in Chelsea in an astonishing new building that's "destined to become a new Chelsea landmark… that looks like something a subterranean supervillain might live in, its greenery-disguised head cone breaking through the concrete". Wrap-around windows can retract in summer; inside, "under swooping wooden architectural "ribs", you feel as if you're eating beneath the gills of an unearthly mushroom. It's both futuristic and natural, and I kind of love it".
The food has Caravan's familiarity ("the unmissable cornbread… and the pizzas, always superb") with a "no boundaries" all-day menu "mostly executed with delicious dash". But "in such a setting, in such a building, you expect to be wowed".
Her second visit was to the newly opened second branch of Ozone Coffee Roasters; an outfit that started in "a dairy farming town in rural New Zealand". There on a recommendation, she didn't expect much from the "blocky gaff just off Bethnal Green Road" but discovered "a bit of a wonderland – less Costa and more San Francisco's seminal Tartine Manufactory".
Her lunch would have done "justice to far more ambitious city-centre restaurants": her taste buds are still thinking about the "aged Yorkshire beef mince, ripe and sticky and gamey, piled up on their own focaccia, dusted with smoked cheddar, homemade, crisp, mustardy piccalilli on the side".
The coffee in both places is "first class". But "despite Vardo's striking beauty, I know which of these I'd rather hang out in — and it's not Vardo's fault. It's Chelsea's."
---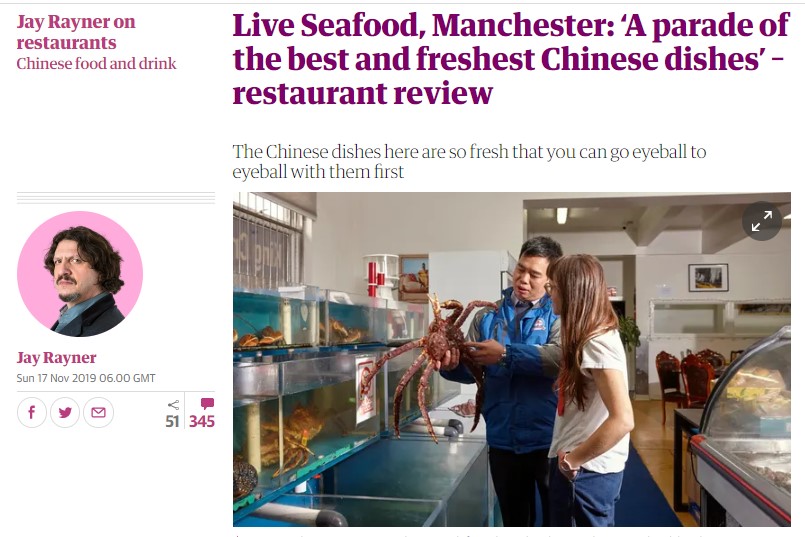 Jay Rayner for The Observer met his dinner in Manchester this week. Live Seafood is an "obscure" ("and utterly, delightfully nuts") spot that's both a "retail and a catering operation, Hong Kong style". Tanks of fish and seafood, from king crabs "the span of a car tyre" to "live turbot, eel and carp" fill the room. You can buy them whole and live to take away, or have them cooked and prepared for you to eat there (no extra charge for cooking, you pay market price either way). "You must be prepared to walk the tanks and discuss what you want with the staff."
The place itself, aside from the bubbling tanks and big round table with lazy Susans "on a scuffed drag, a mile or so east of Manchester Piccadilly station", a former pub decorated with "giant images of lobsters, king crabs and shiny fish" and often with fairy lights ("they love a fairy light at Live Seafood"). There are private room upstairs too, decorate with characters from Finding Nemo ("you've seen the movie, now eat the cast").
The "extensive laminated menu… leans towards the Sichuan end of things"; there are meat dishes, but that "would be an odd way to go". The live produce has a market price, and is cooked at no extra charge. "You must be prepared to walk the tanks and discuss what you want with the staff, as if you know what the hell you are doing."
"A meal here won't be some mere novelty… It will be a parade of the best and (obviously) freshest Chinese seafood dishes you will ever have had placed before you." Jay started with "cracked velvet crabs, served salt and pepper-style", followed with "a heaped platter of clams, with black bean sauce". Deep fried prawns arrive on a plate decorated with a flashing fairy light.
The "star of the show" was a whole sea bass, complete with head and tail; "courtesy of mind-boggling kitchen knife gymnastics, it has been transformed into a fish-porcupine hybrid. The flesh has become thick battered fingers which have risen up in the fryer to point accusingly. It's then drenched in a sweet garlic sauce. God, it's good."
He recommends you go with a large party to get the very best from the place; it will also be cheaper per head.
---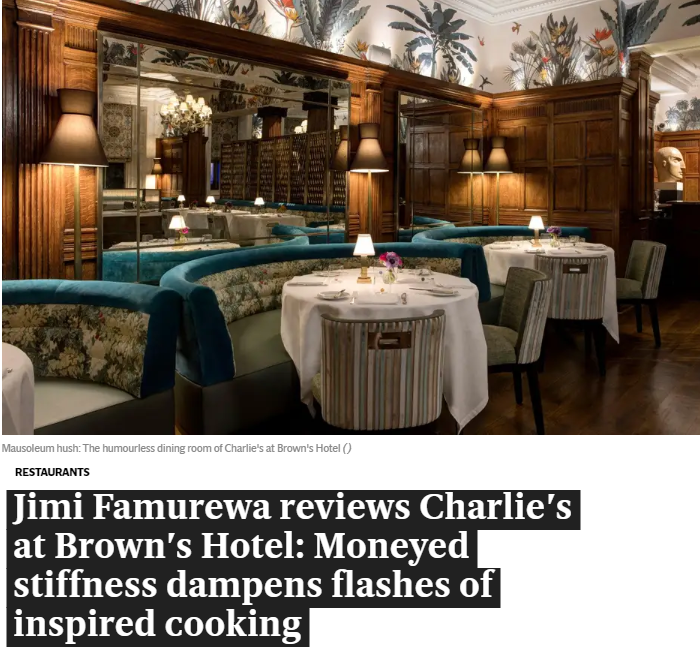 Jimi Famuwera from The Evening Standard was playing at being a "one-percenter" for the evening when he went to Charlie's, the new restaurant at Brown's Hotel from "Michelin-approved chef director Adam Byatt". Normally he "has a soft spot for some well-placed flash", but he wasn't so enamoured with this experience.
Charlie's has a "sort of perfunctory, moneyed stiffness" about it, rather than the "timeless grandeur" the designers were no doubt aiming for. "Yes, there is some rousing food and vague gestures towards glamorous theatricality (such as a gleaming jet-age trolley bearing daily lunchtime specials). But there is also something inhibited and vibeless about the general tableau of sedate oyster lunches and hovering, jumpily deferent staff."
The food won Jimi over though: "there were occasional, unignorable flashes of inspired cooking" from the menu of "comforting, reassuringly spendy Britishness". There were lows (a "strangely gritty, arid snack of tempura wild mushrooms") and highs ("a lavishly filled chicken and ham pie, crowned by a puffed, golden plinth of fantastic pastry"), with some "terrifically complex" touches, "some creditable sides" and a pudding that reminded him of Strada.
"The trappings of immense wealth had never looked like less of a laugh" – a "luxury restaurant can feel like a mini holiday into a different sort of life. But not every excursion into rarified territory is going to warrant a return trip." (6/10)
---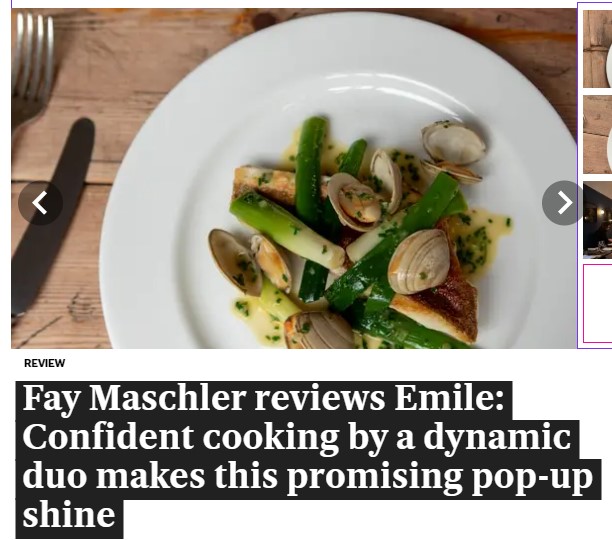 Fay Maschler for The Evening Standard ventured to the City this week, dropping in on "a six-month set-up from business partners Damian [Clisby] (formerly restaurant director of Petersham Nurseries) at the stove with Nick [Gibson] (from buoyant gastropub The Drapers Arms) in charge of the wines".
The pop-up is named after Clisby's grandfather, and Fay is "pleased to be in a place imbued with quiet confidence" – no-one even told her how to order. The "short, classic menu" has "nods to slow food, plant-led eating and also knowledgeable home-style cooking".
Fay enjoyed the Dusty Knuckle sourdough and Lincolnshire Poacher croquettes; she returned for a Sunday lunch that was "picture-perfect, soft, rosy, accommodating, the sort of vision you might have if pining for British food". Other dishes are "expert yet unaffected", including "memorable salads", "great pasta" and "a chocolate, coffee and hazelnut dessert that is sternly irresistible". (****)
---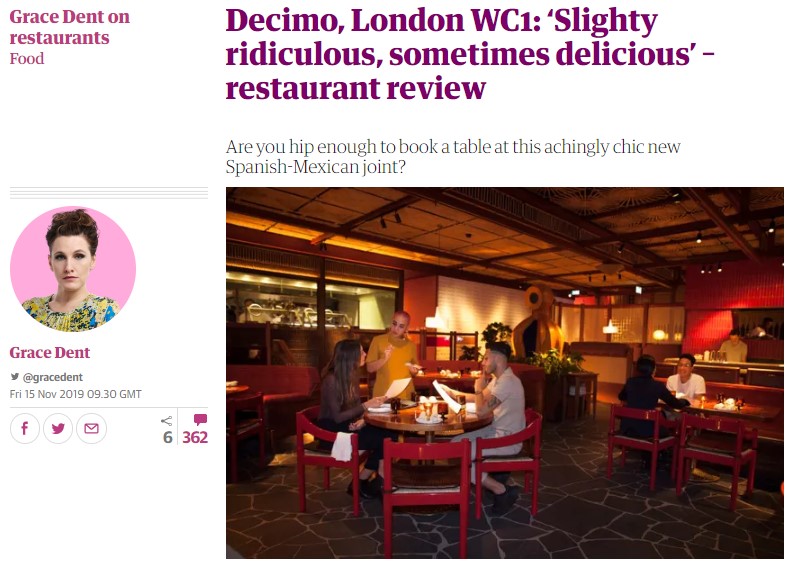 Much as we've said for years now, The Guardian's Grace Dent isn't overly keen on restaurants that come with a side order of vertigo: London is "not pining for any more fancy restaurants at the top of tall buildings, yet still they come. I could write a hospitality MA thesis on how cooking standards plummet the more floors one ascends to the pretty view".
Casamia's Peter Sanchez-Iglesias has moved into the top floor of The Standard Hotel, "in a meticulous restoration of the 1974 brutalist architectural chunk that was once Camden town hall" ("in parts, a David Lynch-style dreamscape of fractal carpets and flickering hearth fires, and in others a party palace on a Quentin Tarantino set"). Can he buck the trend of plummeting standards at restaurants with a view? Grace was definitely curious.
Well, yes and no. The interior "feels like the beginning of a whole new era in London restaurants, and it is entirely Los Angeles in mood. Vast, slick, multi-levelled, painstakingly designed, laden with cacti and succulents". It's the opposite of every other "multi-million-pound hotel restaurant" – no "chilly, sterile space" here. Decimo is "beautiful, decorated in shades of burgundy, ombré and green" – "gorgeous, sexy and glamorous as hell".
Food-wise, it's "slightly ridiculous, sometimes delicious, sometimes "meh", but at least it aims to challenge". Cabbage and blue cheese? Caviar with omelette? Dishes arrive on "wooden boards, on top of brown parchment paper, or on pale, marble slabs. Dinner resembles an autopsy by a highly precise pathologist."
One of the best things Grace ate there ("or indeed have eaten all this year") was a dish of marinated red peppers, served without bread ("carbs do not play a huge part on Decimo's menu, or in the lifestyle choice of anyone who works there"). Interestingly, her companion didn't remember eating anything – but recalled the staff (what Grace called "a dragoon of hostesses, all six foot tall and clad in fitted, floor-length hessian smocks tailored to their tiny ribcages"). (24/30)
---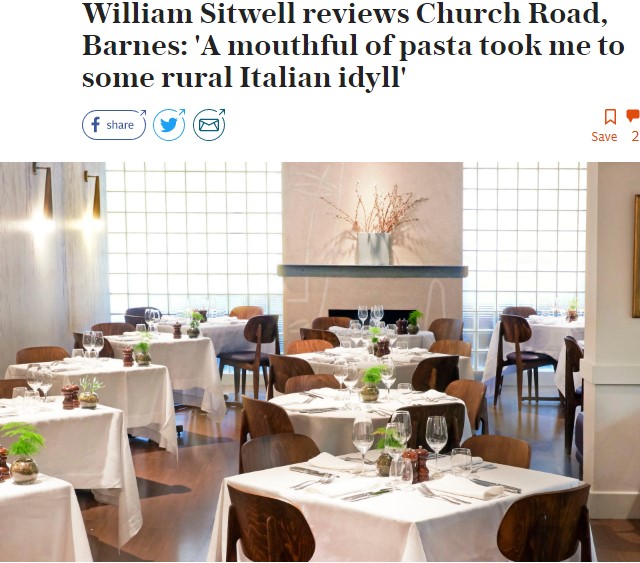 William Sitwell for The Telegraph was at Church Road in Barnes, risen from the ashes of "neighbourhood gem" Sonny's and under the same ownership. Big news, locally.
Dishes on the menu are "beautifully described and evocative" ("menu writing is an underrated art" – although he did offer some grammatical notes later on).
William's strozzapretti "starter was a gorgeous and warming pile of thick pasta among sausage meat, with loads of Parmesan and a tiny hint of chilli" that "took me to some rural Italian idyll".
His main was a disappointingly small dish of prawns ("five un-charred, wretched little numbers") and he suffered from serious food envy as his companion ripped apart a "beautiful plate" of whole roast grouse. (***1/2)
---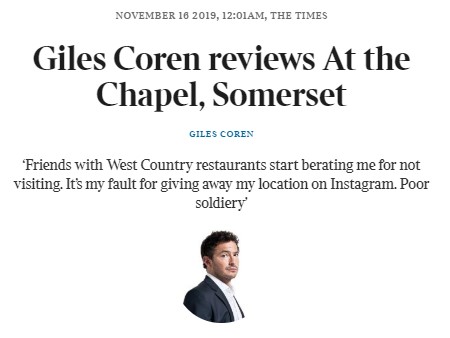 Giles Coren for Saturday's Style magazine in The Times escaped the city for a family trip to Somerset to stay at The Newt (not a freebie, he was careful to point out). They enjoyed the "wonderful" gardens and "ate meals compiled from the wonderful produce in the vast kitchen garden, some of which were delicious and some less accomplished, but will sort themselves out in the end". He carelessly Instagrammed his trip and was promptly inundated by requests from West Country restaurateur friends to review their places.
He didn't visit his friends at the Compasses Inn in Chicksgrove, Brassica restaurant in Beaminster, The Talbot, Babington House or The Beckford Bottle Shop. Instead, he chose a local eatery from TripAdvisor because it served pizzas and cheeseburgers ("and that meant the kids would be happy"). It "could have been awful" but "it was much, much better than that. It was bloody wonderful".
The converted chapel is "a bright, modern space, with art deco lines" and "a room of great freshness and bustle, bare wooden tables heaped with good food and alive with chatter and hum".
Esther ate roast squash risotto that was "light on the fork but densely packed with flavour, autumnal and leafy", while Giles had whole south coast plaice, "perfectly roasted, slathered with shrimp butter". The woodfired sourdough pizza served to his daughter had "strong, nutty dough and top, top quality charcuterie" and his son's cheeseburger came with "Westcombe cheddar and some of the best fries in the West Country".
A "great, great lunch in a great, great space, in a great, great, great part of the world". Not bad for TripAdvisor find. (24/30)
---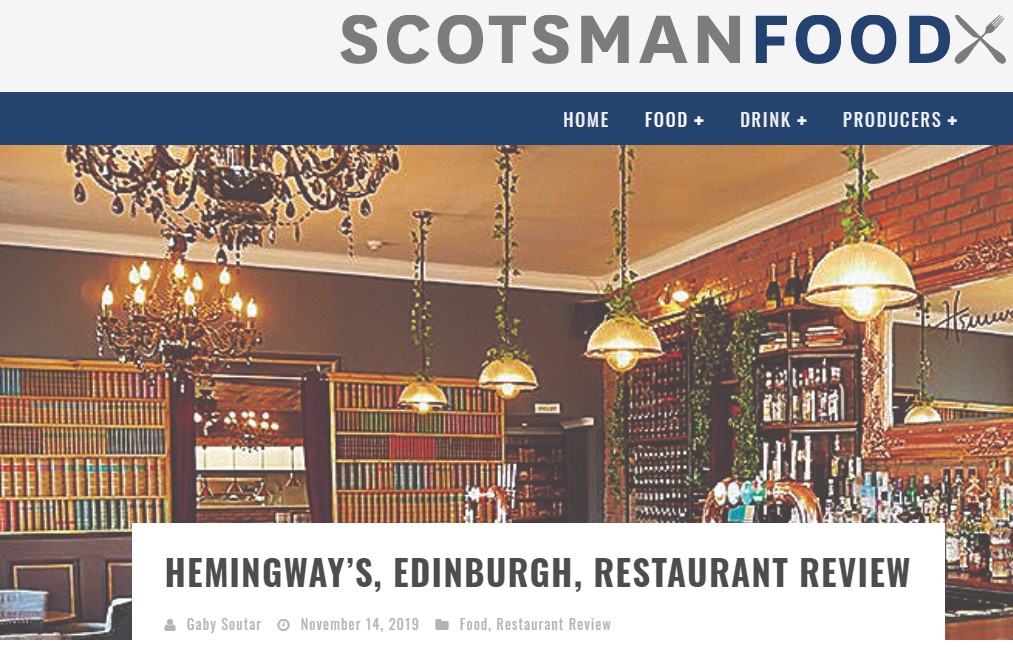 Gaby Soutar for The Scotsman visited "Leith's new library-themed pub and restaurant", with its "typewriter lampstands and book spine-printed wallpaper" and small plates menu. There had clearly been a big night before she went "on a Sunday lunchtime, it feels like this place is hung over and still in its pyjamas".
Dishes she tried from the menu "divided into categories like Sea, Land or Garden" included crispy Thai prawns ("a hot sweet hit"), confit suck leg and buttermilk chicken. She "also accidentally ordered a pizza, of sorts, as a side dish" – the flatbreads are "big enough to do a single person for lunch".
"The food here surprised me. It might be a little less fancy than the menu suggests, but the flavours are bolshy and, I imagine, suitable for hangovers. If only a few of last night's drinkers had returned for lunch." (75%)
---
From Normah's last week to Norma this week for Tom Parker Bowles for The Mail on Sunday. They could hardly be more different, but were awarded the same four-star review.
After a lengthy diversion about an evening spent with a Sicilian lady of shady character, who had strong opinions about pasta alla norma ("always rigatoni"), Tom focused on the restaurant review.
"Norma is a good-looking, lavishly fitted-out place, with a soft sultana glow, with marble, Moorish curves and foliage weaved among the hanging lamps. The walls are already suffused with succour and good cheer. And service is equally warm."
The menu from Ben Tish is "a selection of Sicilian greatest hits, along with a few more modern dishes that wear its history like a heady scent". He would have preferred a stronger caponata, but the pizzette fritte were "expertly done". There was also "a fine take on the classic pasta con le sarde, with sardines, raisins, breadcrumbs, fennel and pine nuts" but overall he sometimes found that the "rough edges are too smoothed".
"Despite the West End polish, I adored Norma, a languorous, lingering lunch, in the most lovely of rooms, where rights are wronged, enemies cursed and friendships lauded loudly. Sicilian, then, to its core." (****)
---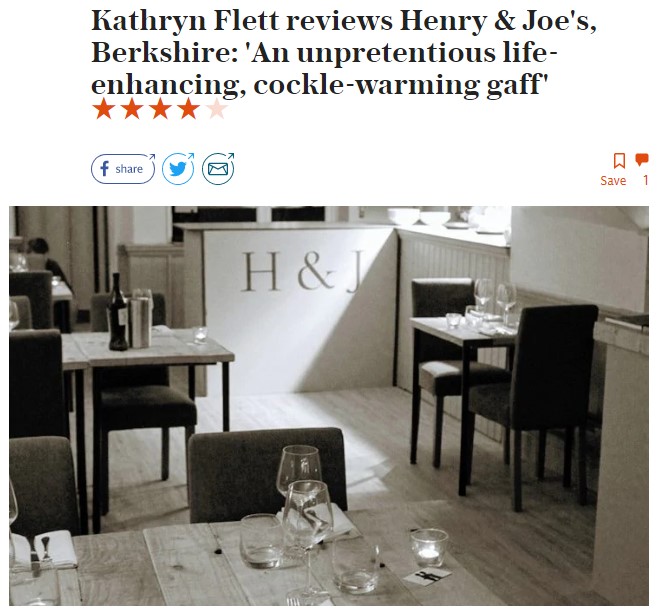 Kathryn Flett for The Telegraph is the first national critic to review Henry & Joe's in Newbury, and she declared it to be "an unpretentious life-enhancing, cockle-warming gaff". She arrived with sorrows to drown, having been caught in "apocalyptic rain".
"Praise be I'd had the foresight to book online – because it is a tiny joint". Henry is in the kitchen and Joe hosts – and is to "H&J's front-of-housery what Mr Tumble is to CBeebies". This wouldn't work in the West End, but here, on this day, it "very nearly made me cry with joy".
She "ordered all the side" to go with her pork cutlet dish with "collapsible flavourful braised cheek… and a robust nom-nom reduction". "All the veg were on form and the flavour pile-up was entirely satisfying."
She understood why the place is "quite the toast of Newbury". Maybe not a recommendation to rush down there (it's booked until 2020 anyway) but "do pop in and give them both a hug" if you're in the area.
And also…
Nicholas Lander for The Financial Times was at Kāwi in New York, following "the appeal of a tried-and-tested chef" and eating "Yesterday's stinky soybean stew – spiced pork belly with soyabeans" that was "lip-smackingly delicious".
---
Keith Miller for The Telegraph discovered a new favourite in Naifs, a veggie and vegan bistro in Peckham. "I can absolutely imagine going there every few weeks if I lived nearby."
Recent News from Harden's