Here is our weekly round-up of what the national and local restaurant critics were writing about in the week ending 18 July 2021.
Today (19 July) marks "Freedom Day" in England, with all Covid restrictions in pubs and restaurants now lifted.
*****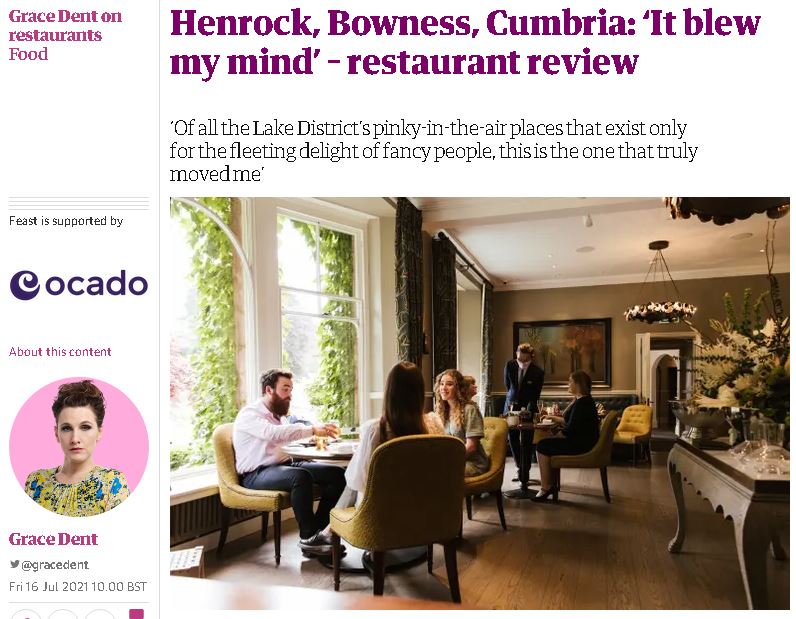 The Guardian
"I sighed with a heady mix of peak elation and existential regret that I couldn't stay at least a week."
Grace Dent  was in Cumbria, where "all the delicious, sanely priced places are booked up six months in advance" so she ended up at one of the "nigh-inaccessible fine-dining spots that almost nobody local has ever visited" – in this case, Simon Rogan's Henrock at Linthwaite House hotel.
"Of all the Lake District's pinky-in-the-air places that exist only for the fleeting delight of fancy people, lunch at the gorgeous Henrock is the one that truly moved me."
From the "landscaped gardens" with a "dizzying vantage point across Lake Windermere" ("like something from the Seven Wonders of the Ancient World") to the "charming, world-class staff" and "confidently pan-Asian" food ("a journey of curious, imaginative flavours"), "it's all, well, a bit too much" and "worth scrimping and saving for".
The puddings "steal my heart to the point where I am planning a return for afternoon tea before I've even asked for the lunch bill".
"And that is the point of restaurants such as Henrock: they blow your mind a little bit and leave you cerebrally different from the slightly grumpy woman who got out of the car a couple of hours earlier."
*****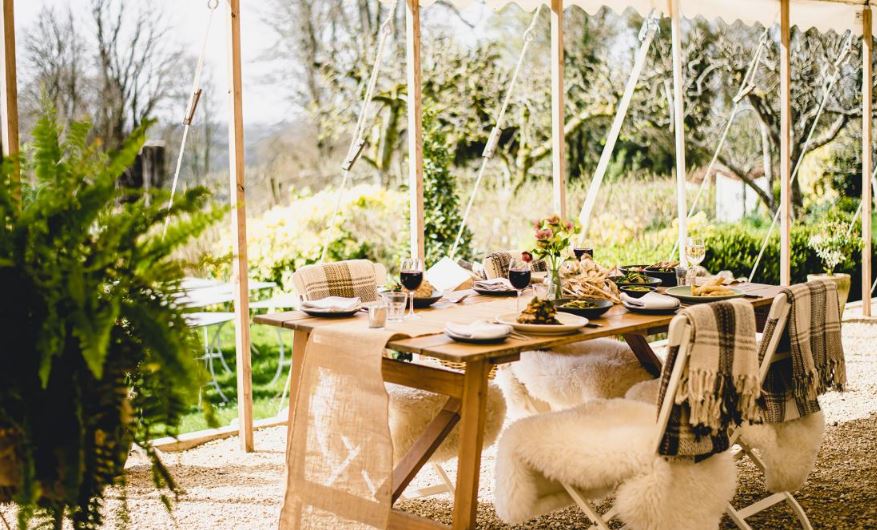 The Times
"There is nothing to compare to grazing on early summer English produce in the middle of an early summer English garden."
Giles Coren is still on his magical mystery tour of pubs and restaurants with "lovely gardens to eat in, decent cooking and wonderful local produce", all largely based along his holiday travel route and near his country house.
This week he called in at "beautiful, mazy old pub" The Compasses Inn at Lower Chicksgrove for "a quick pint and a catch-up with its landlord, Ben Maschler" (son of Fay) to admire the "big wooden terrace" that give views over the fields.
Then on, five miles up the road, to Pythouse Kitchen Garden, which boasts (according to Giles) "the best garden yet, with probably the best garden restaurant that you will ever find".
"The menu is fixed at £28 per head for what is effectively four courses, each incredibly wide-ranging and generous", inspired by the "heart-stopping walled garden" and cooked by Darren Broom who was hired just before lockdown hit in 2020. It's lunch only for now, but that might change.
Giles' long lunch with the owner's brother (Oz Milburn, co-founder of Kitty Fisher's and Cora Pearl) ended with "the most original and exciting pavlova imaginable" and him feeling very "er, tired and forgetful".
"Paradise found." (30/30)
*****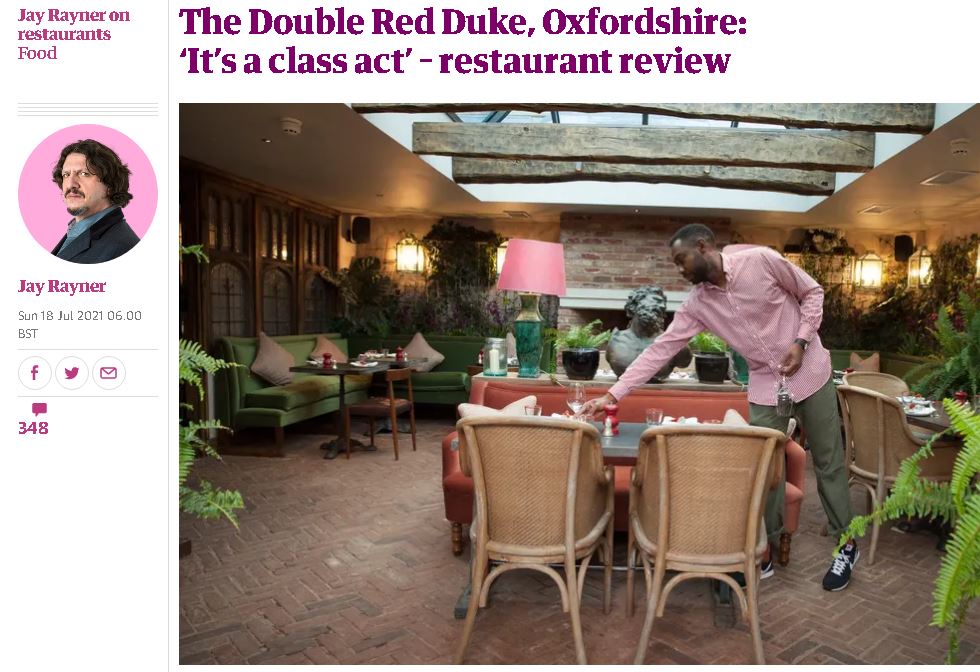 The Observer
"The menu at the The Double Red Duke reads as an unfussy version of pub food. It even includes a cow pie. "
Like William Sitwell in The Telegraph, who visited Double Red Duke in Clanfield last week, Jay Rayner proclaimed this lavishly converted pub as a "class act" that's absolutely "worth the trip". He eloquently describes it as a "handsome honey-stoned pub in that part of Oxfordshire where nothing bad has ever happened and nobody has ever farted".
Ex-Hawksmoor head chef Richard Sandiford is in charge of the kitchen, which seemed "committed to getting the named dishes right, rather than reinventing the wheel, to give it unwanted corners". Steaks feature heavily, as you'd imagine, but Jay had fish, offal and seafood that was "shown due care and attention", too.
The "simplicity of the words" on the menu "barely begin to tell the story".
*****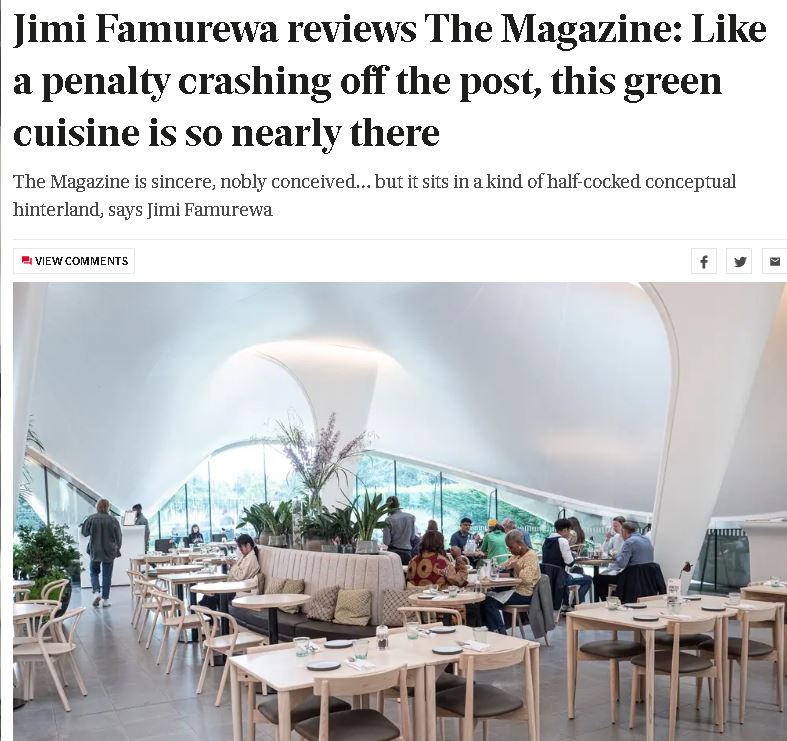 The Evening Standard
Chief critic Jimi Famurewa checked out The Magazine, a "climate-conscious new restaurant from the Benugo team" in the Zaha Hadid designed Serpentine site that's see several restaurant come and go since opening eight years ago.
The "breathtaking drama" of the space remains – the "undulating, futurist canopy… felt like stepping into some utopian space terminal" – and the menu "looks forward", with the new Climavore ethos that fosters sustainable and regenerative production methods. It's all very "sincere" and "nobly conceived".
Delivery had many "positives" but also several "missed beats", much of it "agonisingly close to brilliance" but overall, Jimi had the "familiar, pre-pandemic (and pre-critical ceasefire) sensation of a well-meaning, pleasantly run place that… just didn't quite have it".
"You only need to look at the other restaurants uniting radical, climate-aware principles with spectacular, playful food… to know that these two things aren't mutually exclusive. "
*****
Also in The Standard – and very welcome in the mini-heatwave we are currently experiencing – an article on London's best ice cream and gelato shops.
*****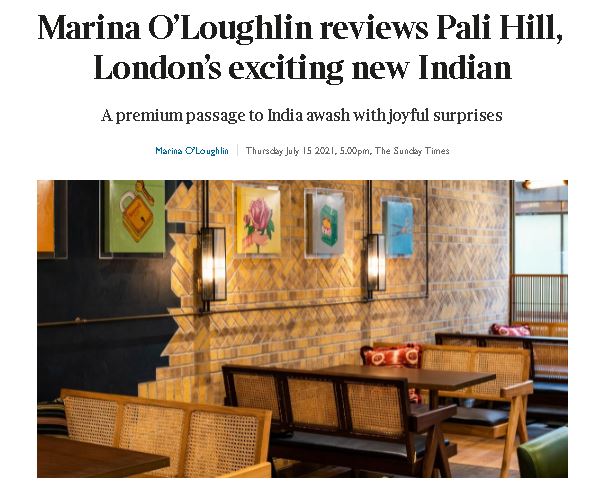 The Sunday Times
"Any worries that it might be a little reductive… are trampled when two of the best starters I've had in a long time turn up together."
Marina O'Loughlin went on a "premium passage to India" with a trip to Pali Hill, the Indian restaurant (named for an "upscale" Mumbai neighbourhood) that replaced Gaylord (RIP). She'd never been to Gaylord, but had built up the fantasy of a delightfully "fusty old joint" so much that she hadn't wanted to visit its replacement. "This is very much my loss: Pali Hill is a beauty."
"They may say they're tootling all over the subcontinent, but many dishes have a seductive south Indian provenance." Head chef Avinash Shashidhara, who spent "ten years at the illustrious River Café" coks up dishes with "a delicacy and … aliveness that's just captivating".
On a hot summer day, Pali Hill was "an air-conditioned oasis of seriously fine cooking. The place is beautiful too."
"Thrilling stuff… RIP Gaylord, but it's a big sexy hell-lloooo to Pali Hill."
*****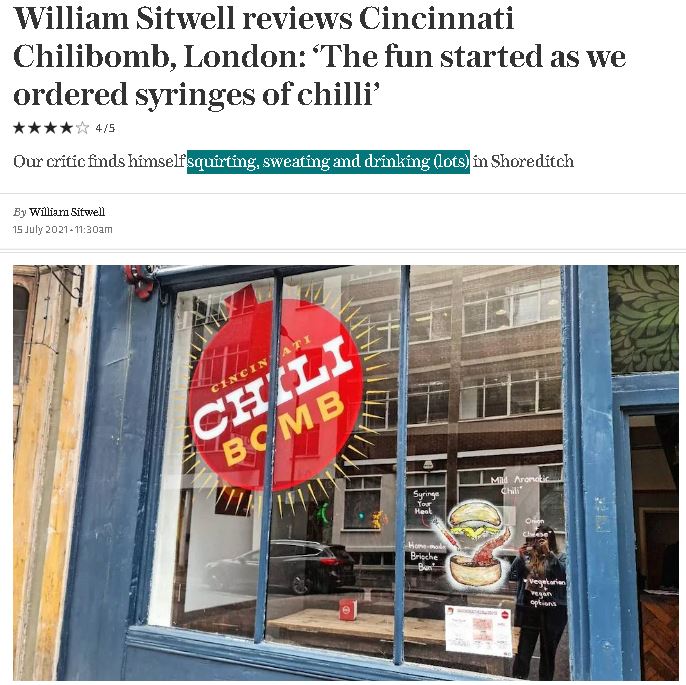 The Telegraph
William Sitwell reviewed East London newcomer Cincinnati Chillibomb, which involved "squirting, sweating and drinking (lots)" and syringes full of chilli.
The site formerly housed a Swedish smokehouse, and looks and feels like "it's been on the map for years". the restaurants, from former Kensington Place maitre d' Tim Brice, is "an homage to the seven years he spent as a teenage in Cincinnati", the Ohio city famous for its chilli bars and voting Jerry Springer as mayor.
William and his brother challenged each other with ever stronger syringes of chilli on their chillibombs (Tim's invention) and jalapeno shots.
"This place is nuts, but if you feel the need for a mad, crazy time and enjoy the catharsis of blowing your head off, your table awaits." (4/5)
*****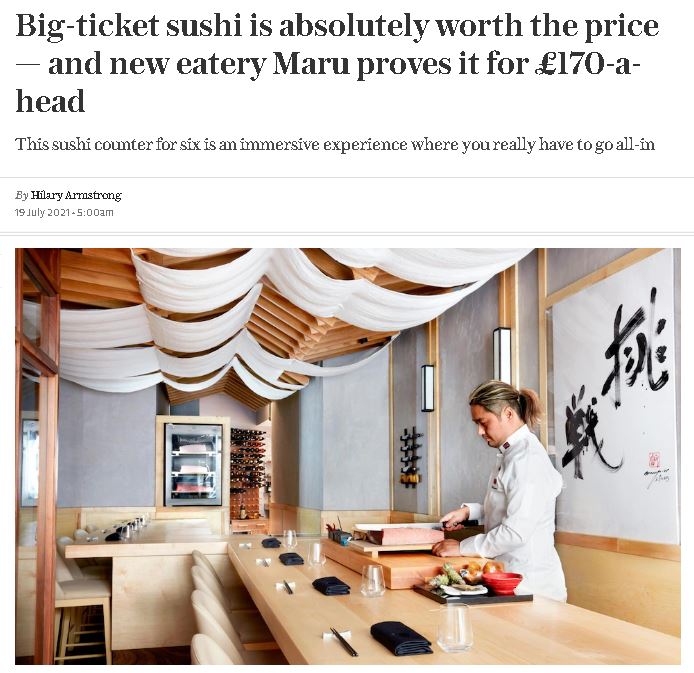 Also in The Telegraph, Hilary Armstrong reviewed Maru; the twenty-course, £170 menu is all chosen by "ambitious" sushi chef Taiji Maruyama. "Don't ask me to choose a favourite."
"When people question whether big-ticket sushi is 'worth it', omotenashi is the answer. It's that harmonious exchange between guest and host, with an element of live performance: no two experiences are ever the same."
Maru is best for "single-minded foodies and Japanophiles. It's an immersive experience and you have to go all-in".
*****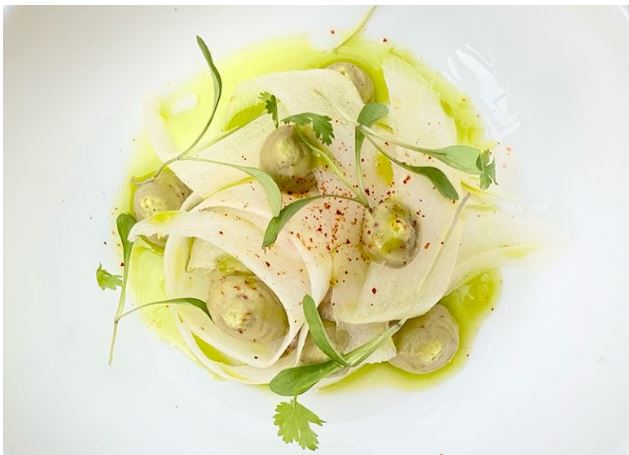 The Mail on Sunday
"The easy, unforced feeling of a true neighbourhood restaurant, in a part of London where such things are all too rare."
Back with his regular column alongside Olly Smith on wine, Tom Parker Bowles reviewed Cépages, the "Notting Hill bistro with French wine coursing through its veins" that he finds very "reassuring".
The menu of small plates "mixes the heartily bourgeois with an occasionally elegant flash of haute" with further flashes of "old-school, grand French cooking, with a gently modern feel".
"Everything at Cépages is suffused with easy charm and delight."
*****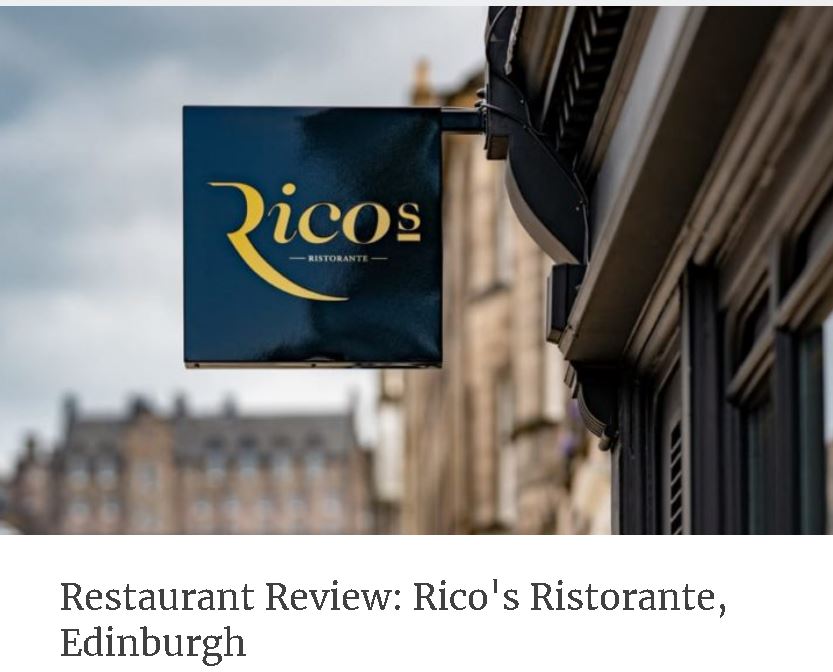 The Scotsman
Gaby Soutar visited Edinburgh newcomer Rico's, unaware until she got there that she'd been booked in by the restaurant's PR; she was given the VIP treatment all night and comped the meal.
It's "pretty sexy, in a Vettriano sort of way", taking over the site of Martin Wishart's restaurant The Honours – "I know many places like this in Glasgow, not so much in Edinburgh".
She enjoyed the signature cocktail ("the drinkable version of a marabou-feathered pair of baffies") and an unusually good fried day boat squid before embarking on mains and the "great flavours" of gelato. (16/20)
*****
Also in The Scotsman, an article on all the restaurants and bars in Edinburgh's newly opened Bonnie and Wild food hall, "the largest single food and drink site in Scotland" with space for 700 diners.
*****
And also…
In The Financial Times magazine, a review a meal at Noble Rot Soho, which was "the best thing to have passed my lips in 18 months"; "the pâté aux herbes tastes as light, fresh and fragrant as Nigel Slater's window box".
*****
Bristol Live reviewed the former Glassboat (RIP) site, now called FiSH, a "classy floating restaurant that is already navigating the choppy waters of Covid with serious aplomb".
*****
Recent News from Harden's