Our weekly round-up of where the national and local restaurant critics are reviewing and what they are recommending, for the week ending 15 March 2020.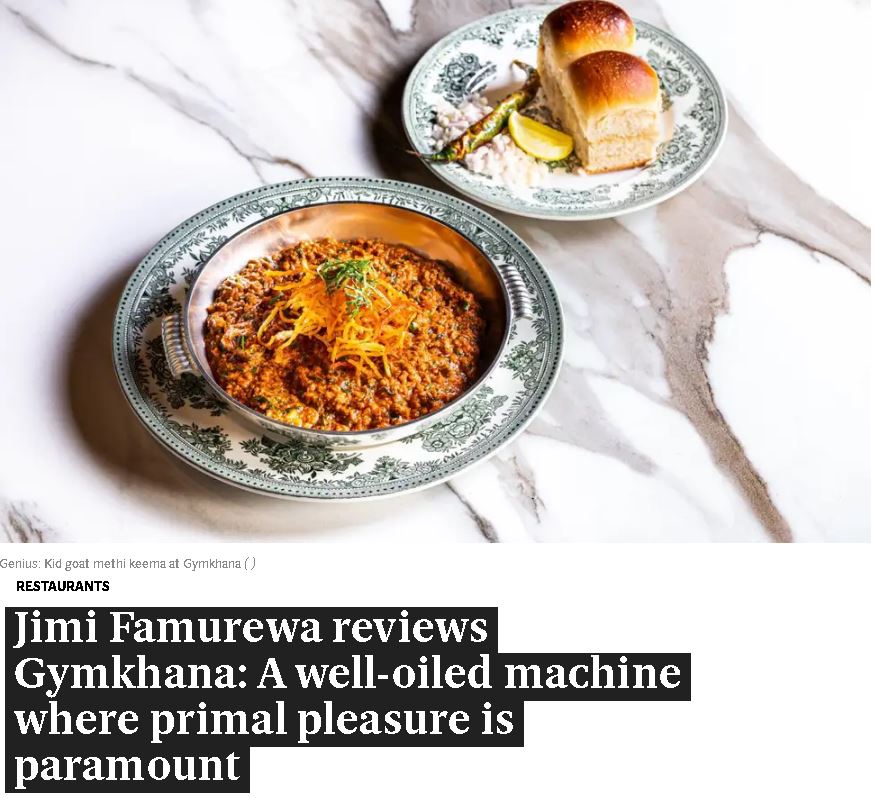 Jimi Famurewa of The Evening Standard visited Gymkhana, "reopened in bolstered form after a kitchen fire forced it to close for eight months" and declared that "it somehow seems stronger than ever". Does "Gymkhana's boundless success and intangible appeal… keep the proprietors of other high-end Indian restaurants up at night"?
On his visit, it was "even more thickly thronged with A-listers and food anoraks" – and "even trickier to book unless you're happy to eat at 10.15pm". Surely it can't live up to the hype? "Oh wow, it absolutely still does."
The post-fire "the refurbishment is much more than a lick of paint", with decor that's now "maximum Mayfair" with a basement bar that's "an impossibly louche, Raj-era den of pouting red banquettes and high-gloss wood".
"They don't muck about here": Jimi's Chennai chicken 65 was "fryer-hot, skimpily battered pieces of bird with tinglesome layered spice and mind-bending succulence", and the "tandoori lamb chops, as thick and scorched as a fist plunged into a sputtering volcano, still had juicy, flavourful tenderness to make you shut your eyes and sigh". The "famed wild muntjac biryani … pastry-sealed, boisterously fragrant tangle of steamed rice and deer meat" is on the £32.50 set lunch menu.
Gymkhana "stylishly manages the trick of feeling like both the apogee of splurge-happy Indian dining and an admirably democratic place to slurp at fingers and joyfully dab away chilli sweat; it is a whirring, palpably well-oiled machine that never forgets to keep primal pleasure at its core… this justified modern classic burns brighter than ever".
---
Grace Dent for The Guardian was the first of our regular critics to review Tom Kerridge's new Manchester outpost, in the "beautifully restored former stock exchange".
There's an odd thing about the place – you'll know if you've been. The "grand dining room" ("Edwardian baroque architecture") is certainly "one of the most elegant in the north-west", all "dressed up in shades of calming sage, bottle green and rich camel". "There are bowler-hatted doormen, a polished chessboard reception hall floor" … and "large, mute, widescreen tellies fixed high on the walls". For a luxury hotel of such "cosseted ambience", they strike a very odd note.
"The food, currently, is not excellent; it is good, and beautifully presented, but somewhere along the line, the urge to turn honest, decent pub grub such as chicken kiev, scotch egg and Manchester tart into fine-dining small plates becomes a little uninspiring."
"The loveliest thing I ate was a delightful bowl of Cornish monkfish with a Keralan moilee curry sauce filled with generous handfuls of sultanas, pine nuts and capers and served on Tenderstem broccoli: outstanding. I ate this while watching some adverts for shaving balm and betting apps. With the sound turned off. " (21/30)
---
Jay Rayner for The Observer was "thrillingly giddy and euphoric" in Dublin, at Bastible to try out the food from chef Cúán Greene, an " exceptionally gifted chef… bursting with good taste and technique". Jay happily mentions his name in comparison to the legendary René Redzepi of Noma. The tasting menus ("a joyful dance") is just €45, "it warrants a weekend in Dublin" all by itself.
---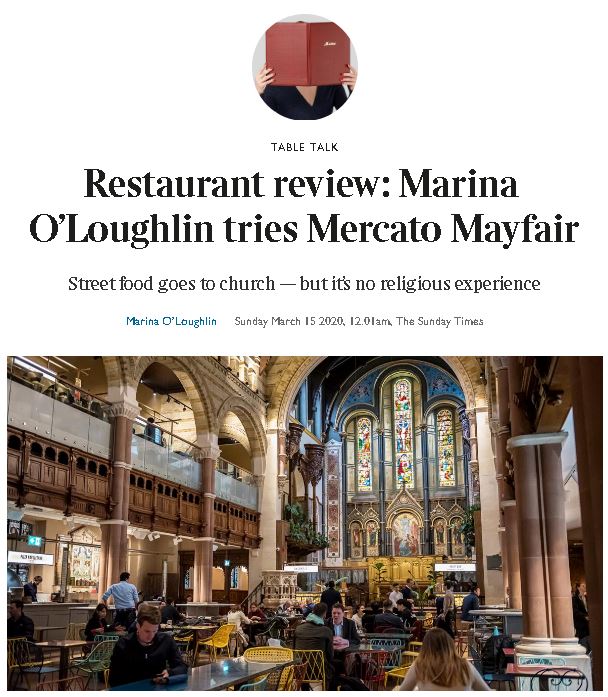 Having discovered the modern street food craze on a visit to Portland (which "welcomed the mushrooming of micro-restaurants on every corner with wide-open arms"), Marina O'Loughlin for The Sunday Times Magazine was initially "delighted when the trend hit the UK" – "the whole shebang came across as a giant win, win, win: businesses and punters and entrepreneurs, everyone happy in the sunlit uplands of fun and affordability and good food".
"And then street food started to change. For one thing … it came indoors. And then they became slicker and slicker."
"Streetfood 2.0 brought effectively food malls with existing "name" restaurateurs, collection buzzers and card readers, all carefully insulated against, er, the actual street."
Mercato Mayfair is one of these, albeit in a "dazzling" setting, "St Mark's Church, a ravishing Grade I listed slab of Greek revival history". " Despite the market's name, this is no monocultural Eataly" – there's German beers, Turkish pide, bao and dumplings, but the "best things among this collection of mostly unknown names are, unsurprisingly, Italian". No wonder it's "thronging with affluent Italians" on both of Marina's visits. ("They'll no doubt return to the homeland, prejudices against food in Britain comfortingly intact.")
And it's expensive – " I'm not keen on spending £22 on 300g of ribeye or £13 on shaved truffle potatoes to hoover up at a tiny table while being constantly bumped by backsides of queuing customers".
"MM delivers neither the thrill of discovering real street food nor the comfort of a restaurant, inhabiting an unhappy valley between the two."
---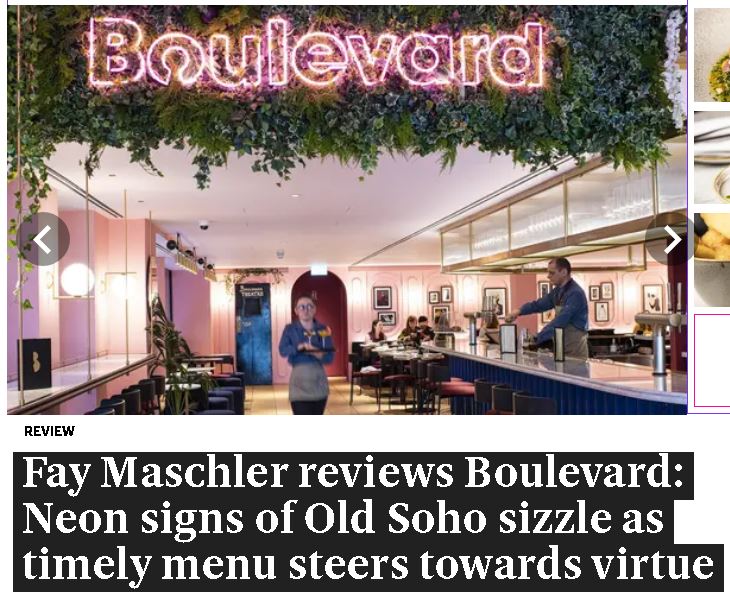 After a "performance in the new, agile, adaptable, chic and comfortable space that once housed Raymond Revuebar we move to the restaurant in what is now Walker's Court. The neon Revuebar signage sizzles on."
Fay Maschler for The Evening Standard ate several times at the new restaurant, which is painted "Wes Anderson" pink, to a "mildly sexy result". Some dishes weren't available, others didn't work so well, but overall -reading between the reviews of play and films she's seen – she seemed to like it.
"This is a menu that steers you gently towards virtue. That can be happily undone with chocolate & olive oil cake with whiskey custard and vanilla ice cream." It's the "creation of executive chef Greg Hillier" and "is plant-based unless otherwise noted with warnings of (f) for fish, (m) for meat and (v) for vegetarian, an interesting, timely reversal of tradition."
"Staff are amiable, hours easy, drinks reasonable; Boulevard in all its entertainments is a welcome addition to Soho." (***)
---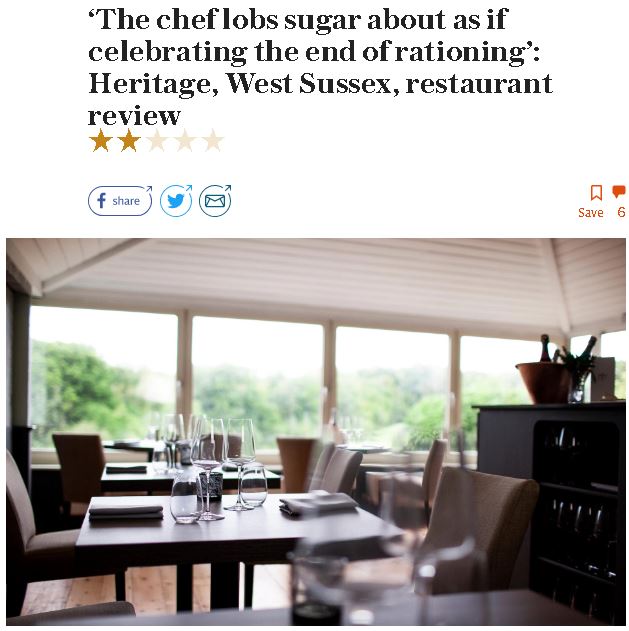 There's "no à la carte here, you must opt for a full or exploding monty; there's a choice of five, seven or nine courses". William Sitwell for The Telegraph was in Slaugham ("deepest West Sussex") to try out the new restaurant "at the back of this pebble-dash-covered former pub".
Design-wise, he's not keen on the logo or the "grey wallpaper scrawled with thin trees that look like so many ghostly veins" or the "wall of glass that makes up one whole side of the room… at night it's like a huge black mirror". But the service was "as cheery, professional and tidy as you could wish".
An amuse bouche of "warming and subtle" velouté was followed by… another velouté. "But this was all marvellous compared with what followed." All the next dishes were ruined by the heavy-handed use of sugar: "the creator of our dinner… lobs it about as if they're celebrating the end of rationing".
"Delicately cured smoked salmon emerged with… sugar-coated walnuts. Eurgh." The main chicken dish came with shallot tarte tatin, and the cheese was served with "sweet apple chunks and sugary chutney". Dessert – and maybe the whole meal – was a " tsunami of sugary foulness I'm trying to forget". (**)
---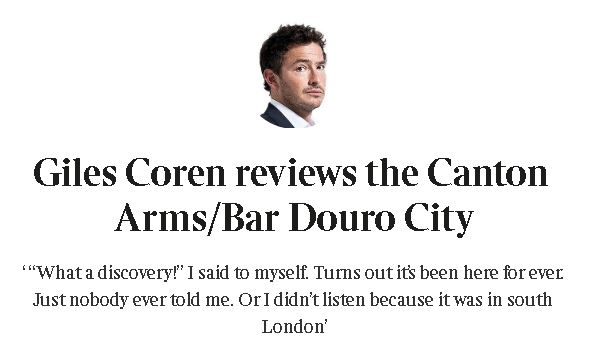 Giles Coren for The Times' Saturday Magazine discovered The Canton Arms after a short Sunday morning trip to The Imperial War Museum, only to then discover we've all known about it all this time. No matter, he and his family had a "bloody wonderful" lunch anyway. (With no mention of his veganism, it was good for us too.) (24/30)
Lambeth being home to several "fantastic" Portuguese restaurants ("huge fun in the evening with grown-ups") was his tenuous link to a second review of Bar Douro City, "a nice bright, modern spot in one of those endless new plazas popping up all over the city", where he delighted in the cooking ("some of the best to be found outside the home country") and the "charming" service. He was also pleased to find out "it hasn't been around for years and years with me the very last to know".
Giles "scoffed crispy spherical croquetes of the magnificent Portuguese sausage called alheira", washed down "sweet roasted suckling pig piled into those flat floury muffins called bolo do caco" with vinho verde, enjoyed " unbelievable gambas à la guilho" and bacalhao, followed by presa iberica and "some top-flight pasteis de nata". (25/30)
---
Tom Parker Bowles for The Mail on Sunday was in Birmingham, mourning the (supposedly temporary) closure of Al Frash (although he found a new favourite balti just opposite, in the form of Shababs). He was actually there to review Opheem, "at the other end of the culinary scale", to "find out if chef proprietor Aktar Islam is as talented as they say he is".
"It's £20 for lunch at Shababs, but can run to more than £100, with a bottle of wine, at Opheem. Despite the obvious differences, both are cracking places to eat."
After "obligatory freebies" (we're not going to feel sorry for you, Tom), he ate "lamb fat brioches… masterpieces of the baker's art, gloriously light and lovingly spiced", Bengali mutton shami kebabs with "spicing… as delicate as it is assured", "crisp and greaseless" tempura soft-shell crab and Punjabi Thangri masala, with a "lusciously, lavishly rich" sauce, "depth and balance and a slow, languorous chilli burn".
"This is modern Indian cooking at its best, pure but never prissy, with the most eloquent understanding of spice. And at £30 for two courses (plus half a bottle of wine), incredible value, too." (****)
---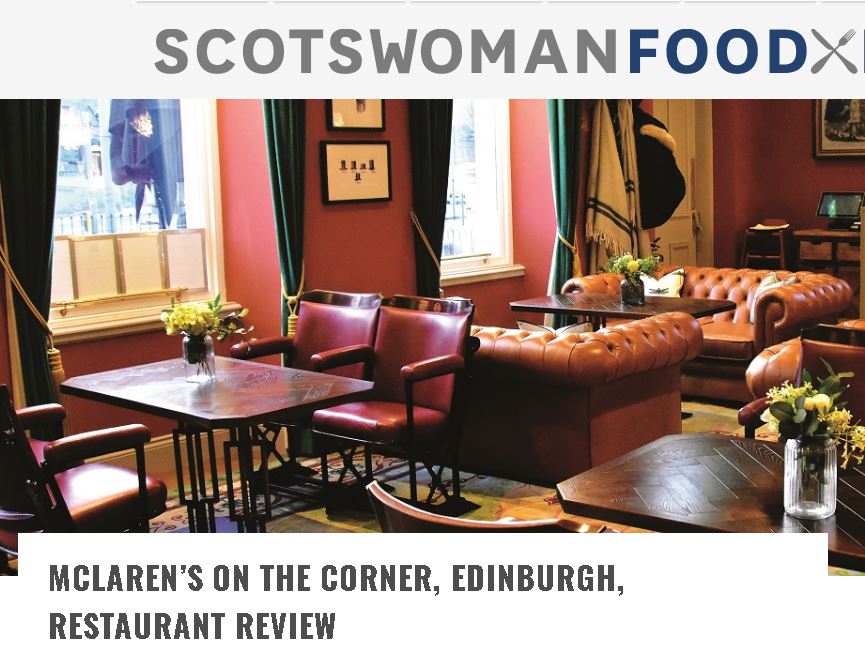 In The Scotswoman (still celebrating International Women's Day?), Gaby Soutar visited McLaren's on the Corner, a newcomer in a former Holy Corner bank, and Catriona Thomson reviewed The Fat Pheasant in Newton, "recently reopened as a gastropub… by local entrepreneur Karina Bowlby, who simply couldn't sit back and see her local closed".
Mclaren's is "owned by the Signature Pub Group, who also have 14 other style bars in Edinburgh, from Copper Blossom to The Huxley, as well as four in Glasgow, three in Aberdeen, one in St Andrews and another in Stirling". Similar to its siblings, "it's all about the look" – apparently a "home from home" theme that features, among other things, " a picture of a country gent with the head of a chihuahua. Just like my own lounge".
There's two restaurants here ("and about half a dozen menus") but they still only managed to serve "a fairly ordinary meal". A few outright disappointments (her pie of the day came with no "undercarriage" and "way too many peas", devilled duck eggs "looked pretty gross", and tandoori chicken legs came with a confusing "portion of cold lime and coriander quinoa") were balanced by some winners ("the fancy take on bacon, egg and chips" and the porn star Alaska dessert with its "central reservation of pineapple salsa"). (70%)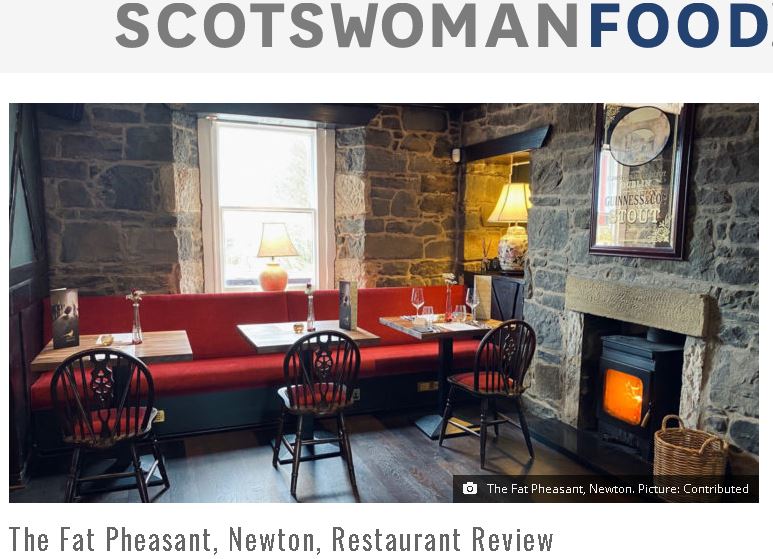 Catriona's review of The Fat Pheasant was altogther more positive. It's a "warm and welcoming place, painted a cheerful red… definitely a venue where kids and dogs are welcomed", a "friendly country pub where fresh produce is served from Scotland's natural larder". Staff are "attentive and efficient and struck exactly the right balance between being chatty and leaving you to get on with your lunch".
"Gordon Ramsay-trained chef Andrew Thomas Hughes is at the helm" and produced not just "delicious smells" but also an impressive Sunday lunch set menu that ended in a dessert "demolished at lightning speed" (during the week there's also "pheasant or venison burgers and steaks").
"This game old bird recommends this place as ideal to hit the hunger pangs, lock stock and barrel, so bag yourself a bargain and get a meal at The Fat Pheasant in your sights pronto." (80%)
And also…
In The Financial Times, Tim Hayward reviewed Daffodil Mulligan: "The chef's attempt to shift from his fine-dining roots is laudable, but there were a couple of pretty average, unusually heavy-handed dishes".
---
On Bristol Live, a celebration of two of the city's Indian restaurants – The Mint Room and Nutmeg -making it into the Top 30 list of Indian restaurants in the country, as published by The Sunday Times last week.
---
The Manchester Evening News reported on the Bolton opening of Rosa, a 'high-end' Italian from two local lads, in a former police station.
---
Also in The Manchester Evening News, crowdfunding restaurateur Gary Usher is closing all five of his Elite Bistros for two-and-a-half days a week, with immediate effect, in order to "alleviate pressure on all of the teams, but also on the business as well".
Recent News from Harden's