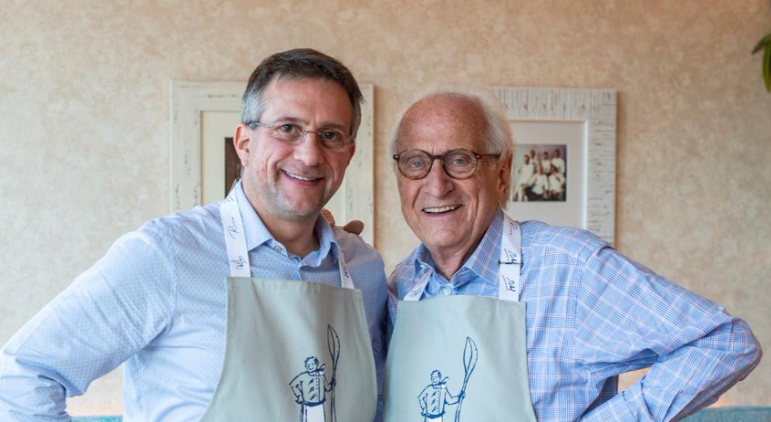 Chef and restaurateur Michel Roux OBE has died aged 79. He passed away on Wednesday, surrounded by his family at home in Bray, Berkshire, having suffered from a long-standing lung condition.
His son Alain, who is also a chef, and daughters Francine and Christine, said in a statement: "It is with deep sadness that the Roux family announces the passing of our beloved grandfather, father, brother and uncle, Michel Roux OBE.
"We are grateful to have shared our lives with this extraordinary man and we're so proud of all he's achieved.
"A humble genius, legendary chef, popular author and charismatic teacher, Michel leaves the world reeling in his wake.
"For many, he was a father figure inspiring all with his insatiable appetite for life and irresistible enthusiasm.
"But above all, we will miss his mischievous sense of fun, his huge, bottomless heart and generosity and kindness that knew no bounds. Michel's star will shine forever lighting the way for a generation of chefs to follow".
Roux became one of the most revered and respected names of Britain's culinary world, having set up Le Gavroche with his brother Albert in 1967 and later in Bray, establishing The Waterside Inn in 1972. Both earned three Michelin stars and the Waterside is one of the few restaurants in the UK to have hosted Her Majesty The Queen in its public dining room.
The Roux brothers are oft-cited as "the godfathers of modern restaurant cuisine in the UK", having inspired and trained generations of fellow Michelin star chefs and running two of the best restaurants in the country for decades. Albert's son – also Michel Roux – has become one of the country's most famous food-related celebrities and the dynasty has recently entered its third generation with the success of Emily Roux's Caractère.
Michel and Albert made gastronomic history when their London restaurant, Le Gavroche, became the first three Michelin-starred restaurant in Britain in 1982.
They also founded the Roux Scholarship, which pioneered British cooking and helped propel and ignite British talent. The first winner was Andrew Fairlie, while others include Sat Bains, Simon Hulstone, and Luke Selby.
In 1986 the brothers separated their business interests – Albert taking Le Gavroche and Michel taking The Waterside Inn – to give both fathers a business they could pass onto their respective sons. In 2002, Michel handed the day-to-day running of the business to his son Alain (the same year as being awarded his OBE).
In recent years, Michel has split his time between Bray and a home in Switzerland. Having been introduced to him after a lunch at The Waterside Inn a couple of years ago, one of his most memorable features was his very deep and sonorous voice (perhaps linked to his lung condition), which – with his flowing silver locks – gave him an air of almost-biblical gravitas, albeit one softened by his easygoing charm.
Roux's legacy will live on in his restaurants, cookbooks, TV shows, and in his culinary family.