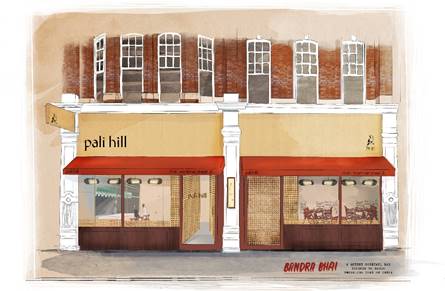 In May 2020, Rahul Khanna and Kabir Suri, of Azure Hospitality in India, will launch their first UK venture on Mortimer Street in Fitzrovia.
Inspired by India's diverse culinary heritage, the ground floor restaurant, Pali Hill, will offer an eclectic menu of regional sharing plates. Downstairs, Bandra Bhai will be an underground cocktail bar, inspired by the illicit hangouts of India's smuggling era.
The menu was designed by head chef Avinash Shashidhara, and will include seasonally changing small plates such as poori sagu with spring peas and broad beans, salad of banana blossom, black chickpeas, fresh coconut and lime.
There will also be large sharing dishes such as steamed Parsi-style sea bream with coriander, mint and green chilli ,and Coombe Farm kid goat pulao with merinda tomato and yoghurt raita.
Dishes from the grill will include razor clams with kokum juice and fresh coriander and grilled Middle White pork with sweet tamarind, crushed black pepper, bay and fennel. The menu will also feature lesser-known gluten-free flatbreads made using rice, jowar and ragi flour as well as regional classics, chaats, home-style dals, fried fish and slow cooked meats.
The bar will be filled with velvets, gaudy art and kitsch upholstery, with cocktails by Luke Ridge (previously The Ivy Club and Dandelyan).