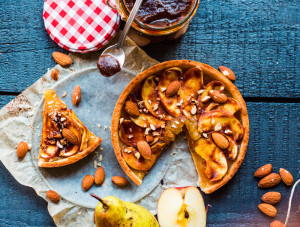 French haute cuisine, the wellspring from which culinary magic seems to flow across the world, has been sidelined of late in favour of rusticity, simplicity and (let's face it) dirty great burgers. But can the classics ever truly go out of style? Surely we all just need a gentle reminder of France's culinary prowess? Well, as we near Bastille Day (14 July) Harden's is here to champion champignons à  l'ail, cry 'confit de canard' and promote pâtisserie. Here are the UK's top French restaurants according to our 2015 survey…
LONDON
£50 and over
Le Gavroche W1
£136
"Steeped in classic Gallic tradition", this "formal" Mayfair basement is "immune from trends and fashion", and – with Michel Roux Jr often very much in evidence – "unsurpassed" for those looking for a "majestic" old-school meal; "the bill makes you cry", though, so "book months ahead for the fantastic lunch deal".
Pied à Terre W1
£99
Marcus Eaves's "fabulous food, beautifully presented" maintains David Moore's "plush" Fitzrovia fixture as one of the capital's foremost foodie temples; the ambience can seem "stuffy" though (going on "dull", if you sit at the front).
Pétrus SW1
£92
"An outstanding all-rounder" – Gordon Ramsay's Belgravia dining room may be a bit "corporate" in feel, but no one's complaining about its "wonderful culinary creativity", "legendary wine list" or "tip-top" service.
Gauthier Soho W1
£63
Ring the bell for entry to Alexis Gauthier's "wonderfully quirky" Soho townhouse – a perfect venue "for a luxurious date"; the "dreamy" Gallic cuisine (with much emphasis on vegetables) and "impeccable" service are far from secondary attractions, however, and the "superb" wine list includes "some real curiosities".
The Square W1
£113
"Discreet, quiet and well-spaced", this Mayfair landmark has long been a top expense-account choice, thanks to Phil Howard's "brilliantly focussed" cuisine, and the "phenomenal" wine list; the experience can seem "a bit soulless", though, and it is of course "astronomically expensive".
Under £50
Brawn E2
£49
"Deep flavours and lovely textures" from a "quirky" menu, plus Caves de Pyrène's "glorious" biodynamic wines, decidedly make this "fascinating and characterful" East End bistro the group's star performer nowadays.
Casse-Croute SE1
£37
"Just the sort of place you look for in Paris, and only rarely find" – this bijou Bermondsey yearling may only have a "limited" menu and "cramped" interior but it's "perhaps the best of the new-style old-style bistros!"
Comptoir Gascon EC1
£44
"A good, cheap alternative to Club Gascon" – the "attractive" spin-off from the famous Smithfield tapas bar, nearby, "does a nice line in duck and other meaty treats", plus "excellent-value" wine.
Toasted SE22
£46
"Another local gem" in the Caves de Pryène (Terroirs and so on) empire – this East Dulwich yearling mixes a "brilliant selection of small plates for sharing" with the wine importer's "lovely draught wines at amazingly reasonable prices".
UK RESTAURANTS
Waterside Inn, Bray
£200
"Champagne and canapés by the Thames can't fail to seduce" – the Roux family's "magical" haven is at its romantic zenith on a sunny day; "it may not be at the culinary cutting edge", but a meal here offers a "divine" combination of "sumptuous" classic cuisine and "seemless" service; the bill? – "heart-stopping".
Le Manoir aux Quat' Saisons, Great Milton
£190
"Worth the 300 mile round trip!"; for "spectacular" food in a "stunning" setting, Raymond Blanc's "impeccable" country house hotel and dining room offers "a sublime experience" that's "worth pushing the boat out for"; "make sure you leave time to explore the gardens before dinner!"
Gidleigh Park, Chagford
£139
It's very hard to fault any facet of this "luxurious yet understated" Tudorbethan manor, "beautifully situated" down "a magical mystery tour" of windy lanes on the edge of Dartmoor; despite his many commitments, Michael Caines's cuisine is absolutely "terrific", and service is "flawless" too.
Andrew Fairlie, Gleneagles Hotel, Auchterarder
£132
"Without a doubt, one of Britain's best restaurants"; this renowned dining room "spells luxury from the moment you enter its fashionably muted and spacious interior", and its cuisine is "truly outstanding" – it is also "frighteningly expensive", though, and there were a couple of "anticlimactic" reports this year.
Paris House, Woburn
£116
"Top-notch cooking, interesting flavour combinations, beautifully presented food… and all in a magnificent parkland setting" – most reporters can find very little to fault at Phil Fanning's "inventive" restaurant, in a Tudor house on the Woburn Estate; no surprise, then, that it's quite "expensive".
Restaurant Martin Wishart, Edinburgh
£92
"Consistently near perfection"; with its "wonderful" dishes and its "first-class" but "unobtrusive" service, this Leith fixture is, say fans, "the best restaurant in Scotland"; if there is a criticism, it is that the style can sometimes seem a little "stiff".
Fraîche, Oxton
£90
"Mark Wilkinson is a brilliant one-of-a-kind", and his "marvellous", "artful" cuisine made this "serene" but unshowy Wirral dining room this year's UK's No. 1 in the survey; "in Tour de France parlance, «hors catégorie!»".
Harry's Place, Great Gonerby
£82
"It should be on everyone's bucket list!"; Harry & Caroline Hallam's "unique" 10-seat venture "never fails to delight", thanks to his "exquisite French-based cooking" and her "exceptional attention to detail"; of necessity though, the atmosphere is "rather dependent on who else is dining that day".
Artichoke, Amersham
£78
"In the beautiful cobbled streets of Old Amersham", these converted 17th century cottages are "well worth a detour"; Laurie Gear's "presence at the pass in the open kitchen gives a wonderfully personal feel to the place", and his "intense" and "creative" cuisine is amongst the UK's best.
Le Champignon Sauvage, Cheltenham
£78
"Unpretentious but perfect"; "disarmingly humble yet utterly driven" chef David Everitt-Matthias "continues to amaze" at this acclaimed dining room, where his "magically intense" cuisine is served by wife Helen's "brilliant and personable" staff; as ever, though, the decor can seem "a less certain attraction".
Thackeray's, Tunbridge Wells
£69
This "beautiful" Regency villa, near the town centre, is "a great place to take someone to make them feel special" – "the modern Anglo-French cooking showcases top local produce" and "can be outstanding", although it's "let down a little" by sometimes "rather random" service.
The Box Tree, Ilkley
£68
This landmark fine dining destination (since 1962) can seem "a little stuffy" by contemporary standards, but the "faultless" food offered by new head chef Laurence Yates is decidedly "21st century"; "not cheap… but then for a restaurant with this heritage, producing food of this quality, it shouldn't be!"
The Vanilla Pod, Marlow
£65
Michael Macdonald's dining room can feel "a tiny bit cramped", but its style can also be described as "intimate", and it wins high praise for its "attentive" service and "absolutely top-notch food" (which is at least as good as at the much-ballyhooed Hand & Flowers, nearby).
Checkers, Montgomery
£64
An "outstanding" restaurant-with-rooms that's not just "by far the best place to eat (and stay) for miles around", but of a quality that's "very unexpected" – chef-proprietors "Stéphane Borie & Sarah Francis used to work at the Waterside Inn, and you get very similar quality at a fraction of the price!"
Bosquet, Kenilworth
£55
"The best cooking in the area"; Bernard and Mary Lignier may have been in business for over 30 years, but his "authentic" SW France cuisine and her "charming" and "efficient" service make this the sort of "old-fashioned" establishment that's still very hard to beat; "good wine selection" too.
Chez Roux, Inverness
£55
"Always a great experience"; a number of reporters express "surprise" at the "very high standard of traditional French cuisine" on offer at this riverside outpost of the Roux empire; puddings are "particularly superb" – "don't bother to count the calories!"
Maison Bleue, Bury St Edmunds
£54
"I'm thinking of moving house so I could eat here every day!";Pascal and Karine Canevet's "provincial French restaurant", near the Cathedral, is "one of the best regional restaurants in the country", thanks to its "spot-on" service and "perfect" Gallic fish dishes.
Great House, Lavenham
£54
"It's so good I have now moved to the village to be close by!"; the Crépy family's "extraordinary" venture is "top drawer in every respect"… from the "beautiful" setting in an ancient house on the market square, to the "lovely" service and "excellent Gallic cooking".
Yalbury Cottage, Lower Brockhampton
£53
"Truly wow", "the best meal we've eaten in a long time"… there's no let-up in superlatives for Ariane & Jamie Jones's "wonderful" (and remote) restaurant-with-rooms; only problem? – "you wants to eat everything", so "pace yourself to leave room for the wonderful puds!"
Recent News from Harden's