Here is our weekly round-up of what the national and local restaurant critics were writing about in the week ending 8 August 2021 (with links to last week's reviews when your ROTR editor was on holiday!)
*****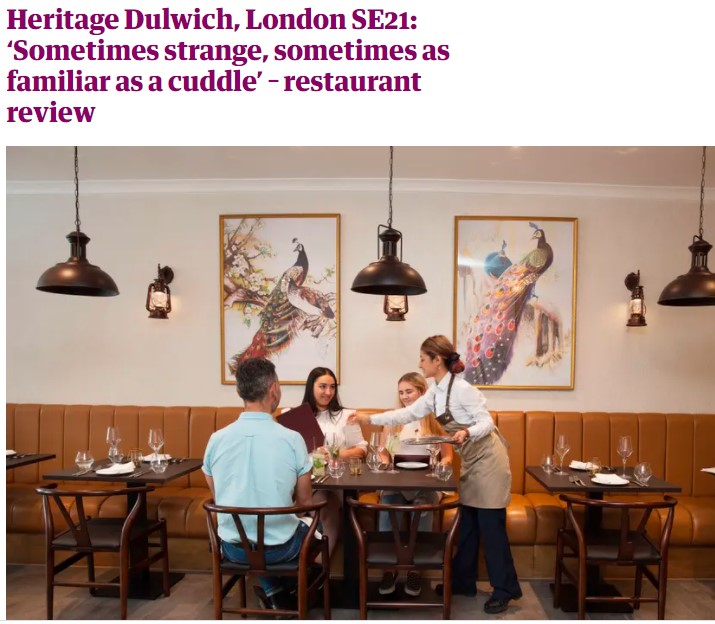 The Guardian
"I keep a picture of the ("humongous, fiercely seasoned, dark crimson") king prawns on my phone and sometimes look at them during sadder life moments in life."
Grace Dent reviewed Heritage in Dulwich, a "new-ish modern Indian neighbourhood restaurant" a place "I didn't plan to write about, but somehow it ambushed me" from Dayashankar Sharma, the chef behind Grand Trunk Road in South Woodford.
"Sharma is an Indian chef who dances a fine line between high-end, crowdpleasing classics…and more unexpected delights"; Heritage is similar to both Gymkhana and Chutney Mary but "presently relatively easy to book and marginally cheaper than both".
Heritage is "serious about its cocktails, and the outdoor seating area lends itself nicely to a few small plates and a session of getting elegantly tipsy". The menu offers "hearty food that wants to please; sometimes strange, sometimes as familiar as a cuddle" and service is delivered by "quickfire, diligent staff".
"Heritage had a bumpy start, but by rights it should become a south London classic."
Last week Grace reviewed the "delicious daftness" at The Cheese Barge, the "barge de fromage" moored in London's Paddington Basin, because "life is short, so what the hell?"
"It's been a long and upsetting time for restaurants. A barge filled to the brim with fromage is silly, but fun, and I like it."
*****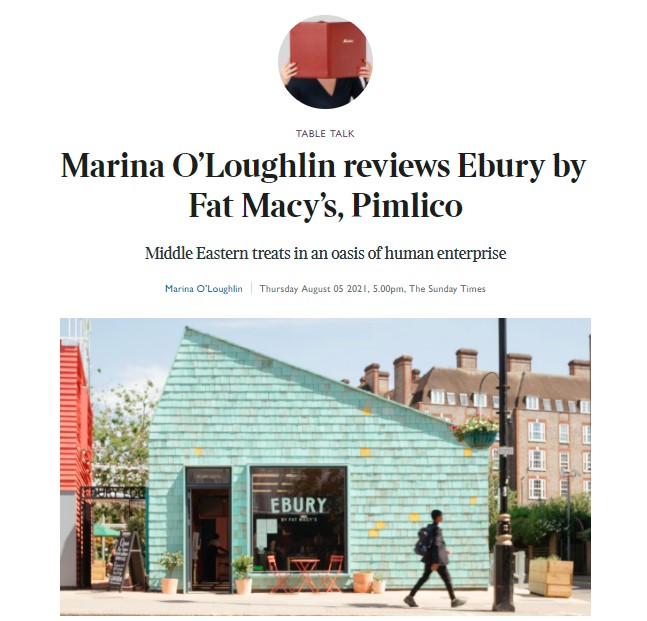 The Sunday Times
"It's all most unexpected."
Expecting to find a "cod-American posh fast-food supper club" in Peckham, Marina O'Loughlin was surprised to discover today's review restaurant in "off-radar" Pimlico; Ebury by Fat Macy's is in Ebury Edge, "a "meanwhile use project" designed to take advantage, until 2024, of an area in a state of regeneration and flux" with a "curious and cute collection of Sobranie Cocktail-coloured shacks".
Furthermore, it's a genuine social enterprise – "facilitating a way out of hostel living for the staff" – and even more surprising, serves a "Middle Eastern menu". There's a shop that "sells deli goods and natural wines" too.
Even turning up on a pre-event training day didn't dampen the experience; they "ace our lunch with charm and — yes — hospitality, not missing a beat either kitchen or service-wise".
"It's a mellow place to hang. I could imagine hours spent happily over a few glasses of catarratto or vermentino and excellent drinking snacks."
Last week, Marina was in Chester, at new plant-based restaurant Hypha.
*****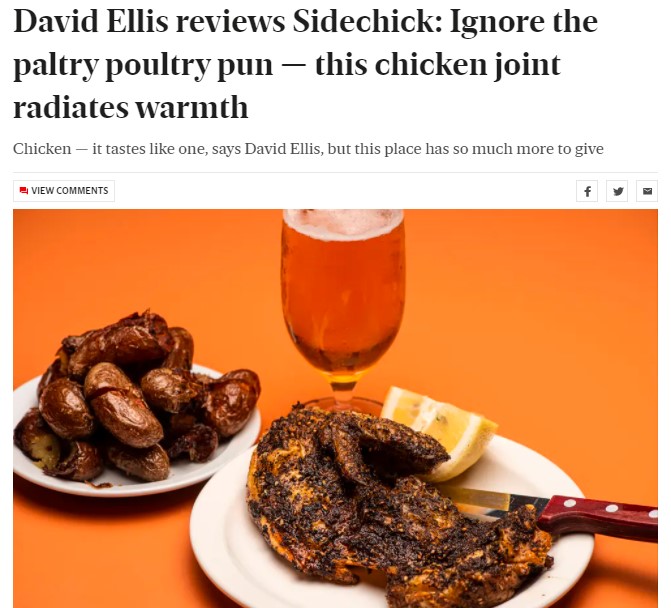 The Evening Standard
David Ellis reviewed Sidechick ("ignore the paltry poultry pun"), which started as a lockdown spin-off from Patty & Bun.
"The concept is half or whole chickens cooked three ways… served with a run of sides." So far, so Nando's, but "the two are bound only by their preference for poultry". Sidechick is cooler, serves no chips and the provenance of the birds is impeccable. Also, "this place radiates its welcome", which is not to be sneered at, post-pandemic.
"The real joy is tucked away in the starters and sides; order enough and you might overlook that there's no other meat, no fish, and no main-course vegetarian option."
*****
David Ellis also interviewed celebrity chef Andi Oliver about taking her delivery concept Wadadli permanent in Hackney this month. There are just two dishes, a seafood boil with Caribbean and southern flavours, and a vegan dish, both designed for sharing.
David also looked forward to the October opening of Carmel; don't expect a Berber & Q 2.0, instead they plan more of a "coming of age" of their original concept.
Last week Jimi Famurewa reviewed Ave Mario, which he described (after several separate visits) as "the biggest, most anticipated launch of London's post-pandemic era… but it is also its first enormous disappointment"; the "brain-scrambling vastness" of the place "hits with all the subtlety of a Swarovski-encrusted fist". All in all, the dishes "felt a touch Nonna's Gone to Iceland", with just too much "amateurishness" to ignore.
"Ave Mario is keenly run, lively and visually alluring but it smacks of sequel bloat and a brand getting slightly lost in the sauce of its own success."
*****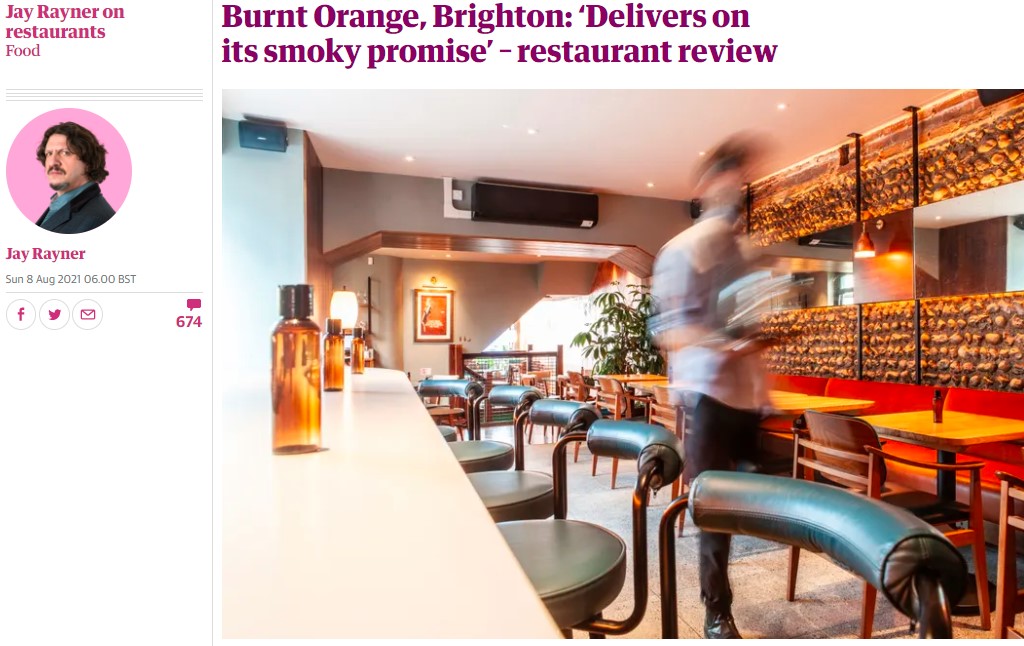 The Observer
"At Burnt Orange there's a lot of searing and blistering, smoking and flaming."
Jay Rayner visited Brighton newcomer Burnt Orange, which has a "stonking wood-fired oven at the heart of the kitchen"; even the name triggered "lustful, crisped and crispy thoughts" in his head.
The place "thrums with an apparent eagerness to display on-trend credentials", from "Persian limes and harissa, preserved lemons and wild garlic" on the menu and a music list "curated" by Fatboy Slim (this last bit triggered Jay in a bad way).
Luckily, the food "saves Burnt Orange from being an annoyingly self-conscious exercise in trend-surfing"; as the team are also responsible for The Salt Room and Coal Shed, this wasn't terribly surprising. Here, the specialism is "the impact of smouldering wood".
Last week Jay reviewed The Bradley Hare in Wiltshire, a "glossy relaunch of a country pub" from a team including several former members of the Soho House empire, which "tells you everything you need to know". The food is "thoughtful and thought about" and overall it's "an extremely civilised retreat from a world that, frankly right now, deserves to be shunned occasionally".
*****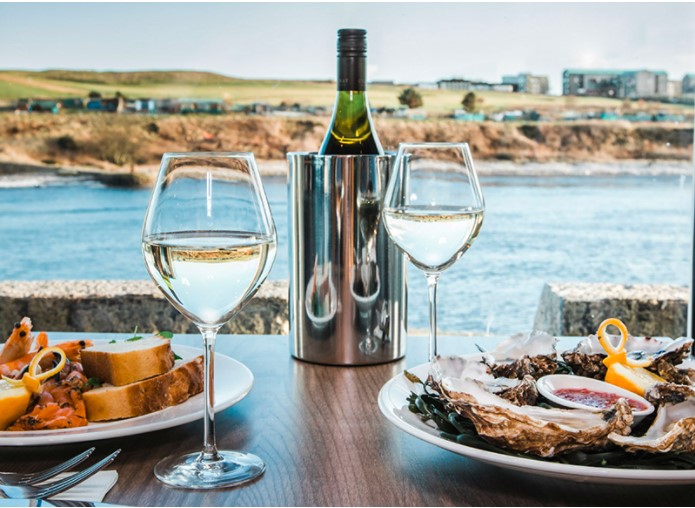 The Mail on Sunday
Tom Parker Bowles for YOU Magazine travelled to Northeast Scotland for dinner at Silver Darling (named for "an old description for the herring"); the "ebb and flow of the catch" unfortunately denied him lobster or scallops but there was plenty of other freshly-caught options.
There's a "bonny view" (with lots of grey) from Aberdeen's old Customs House; the dining room, "with vast glass windows, is a civilised place in which to spend an early summer's afternoon".
*****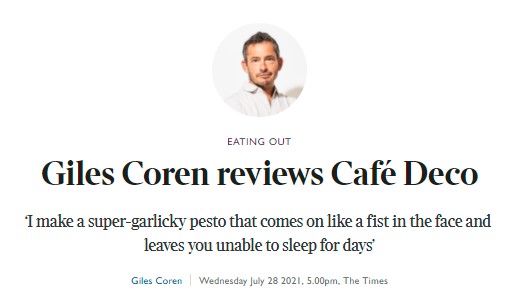 The Times
No August reviews from Giles Coren yet, but last week he was at Café Deco in Fitzrovia,
Somehow, he missed out on all the hype around Rochelle Canteen ("I know it's a massive thing, but I just don't really know what it is") but he is aware that Anna Tobias, the chef at Café Deco, once cooked there. Her new place is in association with the team from 40 Maltby Street ("another restaurant at the heart of a scene that I missed out on, whenever it happened").
Giles dined with old friend Amol Rajan, who has "become a lead presenter of the Today programme and landed a massive new interview show, whereas I have gently back-pedalled" since they last saw each other, pre-Covid, and is now the more famous of the two.
Together they ate "pretty much the whole of the short, three-snack, five-starters, five-mains menu" in the "bright and pale" space. Giles noted that the "aesthetic" of the food bore a similarity to St John (whose founder is married to a co-owner of Rochelle). (23/30)
*****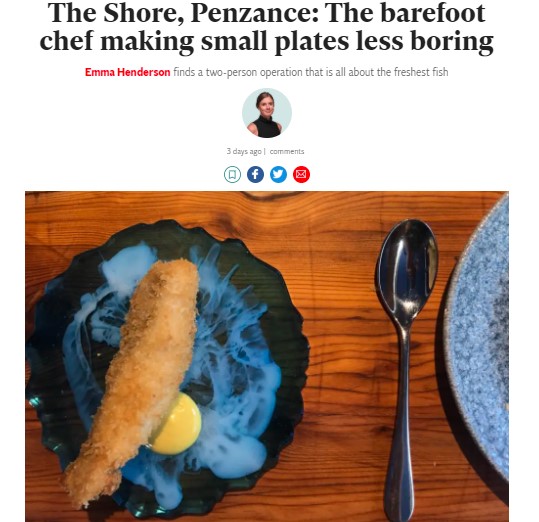 The Independent
"Have you ever been for dinner and the actual head chef greets you at the door? And then shows you to your table and chats."
Emma Henderson was in Cornwall, up close and personal with the chef of The Shore in Penzance, where a barefoot Bruce Rennie and "one sole waiting staff member" run an "impressive" double act.
Rennie's "enthusiasm for the provenance of the food is second to none"; there's "undeniable threads of Japanese influence throughout, from raw lobster and fermentation to miso, but it's still whole-heartedly Cornish with an utter obsession with fresh ingredients".
Décor is "muted" and faintly nautical; the place has just six tables at the moment, so serves a fixed (not tasting) menu with an optional wine flight of "fruity and fresh whites… clearly chosen to bring out the best of the fish".
"Providing incredible quality food to guests… clearly matters far more than profit. That is not only rather unheard of, but quite admirable too."
*****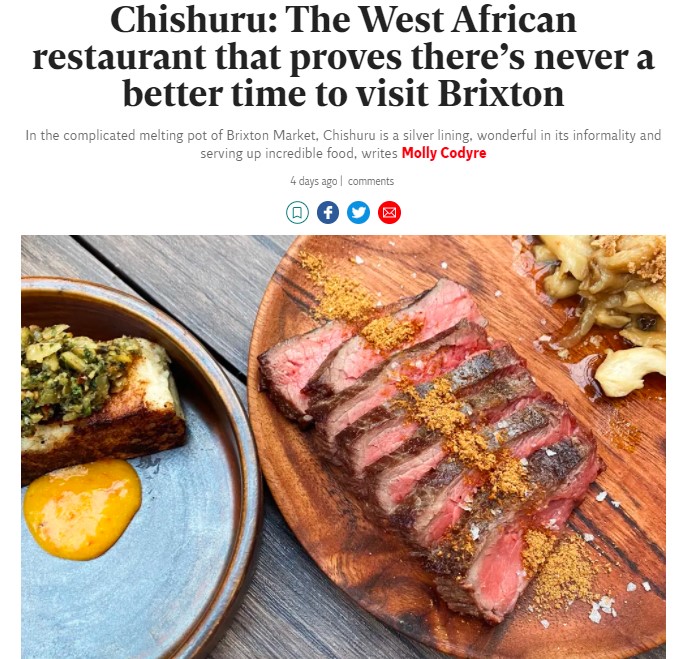 Also in The Independent, Molly Codyre reviewed Chishuru, a "silver lining" in the "complicated place" that is Brixton Market, a "complete and utter joy, wonderful in its informality and serving up incredible food".
Chishuru is "a prime example of why it's such a travesty that West African food has been overlooked for so long in the mainstream food world". Molly claims no great knowledge of the cuisine, its ingredients or techniques, but "you don't need to be an expert to know that what you get at Chishuru is special".
Molly referenced the Vice report last year that looked at how many Black-owned restaurants were reviewed in the major national newspapers, and praised Adejoke Bakare and her team for pushing boundaries; "when someone breaks through this thoroughly gate-kept industry, it is something worth paying attention to".
"Whether you take cultural factors into account or not, Chishuru is a restaurant that should be high on your must-visit list. Bakare and her team draw you in with their friendly yet familiar service and highly considered yet fundamentally simple dishes."
*****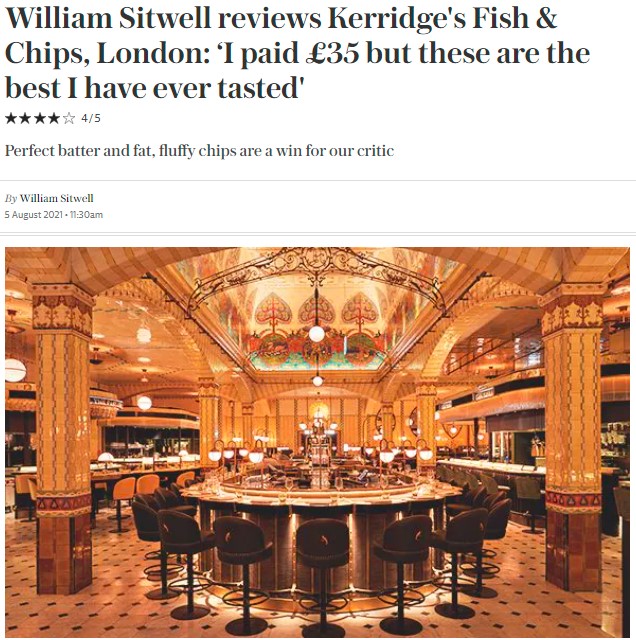 The Telegraph
William Sitwell reviewed one of the many famous-name concessions that have been introduced into Harrods since its huge revamp ("the food halls are incredible"); Kerridge's Fish & Chips has been lambasted in certain newspapers for serving a £35 fish & chips dish, but William tried it and declared them "manifestly the best version I have ever tasted".
It's "tucked into a corner of the… chic dining area", a "slick, dark, stylishly-lit set of kitchen, bar and booths" and – disappointing Morecambe Bay shrimps aside – is a "hugely fun, tasty and memorable treat". (****)
Last week, William gave a rare five-star score to The Charlton Arms in Ludlow, where "Heaven's gates opened with a perfect chicken Kiev".
*****
The Scotsman
Gaby Soutar reviewed hot newcomer Heron in Edinburgh, which evolved from lockdown fine-dining delivery company Bad Seeds. It's on Leith shore, in the "beautiful corner building" that previously housed The Raj and Kcal Kitchen – it "looks fresher and more modern than it has for decades".
One "arty plateful of colour" after another makes it an "excellent addition to The Shore". (9/10)
Last week Gaby tried out a few of the concessions at the newly opened Bonnie & Wild Scottish Marketplacev in Edinburgh, which is "casual and buzzy, like its European counterpart food markets, with wooden tables and bar-style seating". Creel Caught from Masterchef: The Professionals 2016 winner, Gary Maclean, served up a "buttery and rich" hero dish of Arbroath Smokie. (8/10)
*****
The Financial Times
Tim Hayward reviewed Kensington newcomer Pino whose "arrival is a bit like the announcement of a royal baby". His takeaways? "Never, ever paint the inside of a dining area blue… The fritto misto was actually very good but had trouble asserting itself visually in the gloom".
Other recent FT reviews include Nicholas Lander's visit to The Forest Side Hotel in Cumbria, which he declared "extremely impressive"; "from the first snack, an ultra-fine tartlet of salmon eggs, it was obvious the pastry section has a particular talent".
The FT Magazine review of Lurra described it as "small but gracefully formed restaurant specialising in Basque cooking" whose chefs "know exactly what they're doing so they can do it with élan" – the food "defies physics… God it was good".
*****
And also…
The Manchester Evening News reported on a new opening from the owner of Don Giovanni; People Hale is an all-day restaurant an bar from Adam Karim, who also ran Mahiki in the city before it closed.
Also in the MEN, rumours of a London export, Sexy Fish (part of Caprice Holdings) possibly opening above the very similar Spinningfields restaurant, Australasia.
*****
Bristol Live reviewed the opening of a second Mollie's Motel & Diner, just off Cribbs Causeway, giving it a ***** rating as "a brilliant concept and one set to change the direction of travel for budget roadside hotels".
*****
Recent News from Harden's