The Atlas SW6
"A standard-bearer for the gastropub category" – this "beautiful, traditional pub" is hidden-away near West Brompton tube and offers "gourmet food" with "a nice Italian slant", delivered by "cheery and charming staff". There's also "a cracking, huge, new terrace garden" (expanding the old one), which is "a real gem".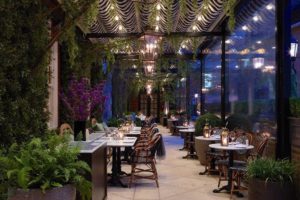 Dalloway Terrace, Bloomsbury Hotel WC1
An exceptional al fresco dining space – a leafy terrace, complete with fully retractable roof – is the special reason to truffle out this year-old eatery, whose bucolic nature is utterly at odds with the grungy environs of Centre Point. Limited but consistent feedback on its cooking too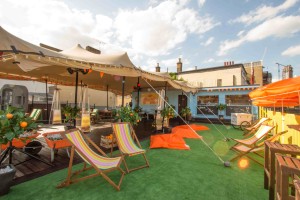 The Gun E14
This historic Docklands tavern has "a wonderful atmosphere right on the Thames" and views directly across to the O2. "Long established as a riverside gastropub", it serves "imaginative, distinctive food" in the "classy dining room" or al fresco on a heated terrace.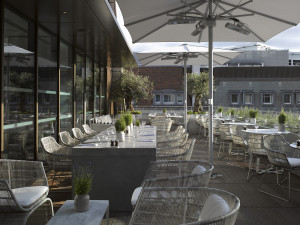 Angler EC2
"Ultra fresh seafood and superb views" are undisputed attractions of this rooftop venture near Moorgate. But while the terrace (heated in winter) is undoubtedly "lovely", the overall impression of the venue as a whole can be "pretty soulless", and fans concede that it's "so expensive" too ("the bill's only fine if you're a banker").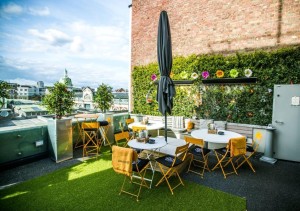 Bird of Smithfield EC1
Limited but upbeat feedback on this "buzzy" five-storey Georgian townhouse in Smithfield – it's most worth knowing about for its summer roof terrace.
Boisdale of Canary Wharf
"Good fun" (a rare commodity in Canary Wharf) is to be had at this "surprisingly enjoyable" (including at the weekend) Scottish themed venue, whose meaty fare, "great live music and selection of drinks" follow a similar formula to the Belgravia original. "If you can grab a space on the terrace, it's an ideal place for an after work bevvie too".
Carrafini SW1
"You always leave feeling you have been well looked after", after a visit to this veteran trattoria near Sloane Square, whose "old school, wonderfully welcoming staff remember everyone". The food is "reliable (if unambitious") and even if "the tables are rather close to each other", "there always seems to be a happy crowd". "Nice terrace in summer".
The Dove W6
"An atmospheric 18th-century hostelry right by the river on Chiswick Mall", a short walk from Hammersmith. There's "excellent pub food" – "true English fare" – "and local London Pride ale on tap", but it's really all about the location: "lovely outside on the terrace in the summer, or cosy by the fire in winter".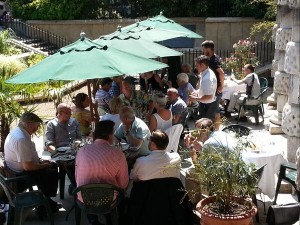 Gordon's Wine Bar WC2
"Dark cave-like cellars" create a superb atmosphere at this epic old wine bar (dating from 1890) by Embankment Gardens, which also boasts one of central London's nicest outside terraces (with BBQ in summer). The "excellent choice of wine and sherries" is another reason the world and his dog flock to the place – the self-service pies, cold cuts, cheeses and salads are certainly no incentive to hurry along.
The Ladbroke Arms W11
This attractive and atmospheric "gourmet pub", at the Holland Park end of Ladbroke Grove, "definitely requires a reservation, especially on weekends", but it's "worth the aggravation" for the "delicious food" and "great local beer". Top Tip – "the real draw is the terrace on a nice day".
The Lighterman N1
"A terrific location at Granary Square" – with "stunning views overlooking the canal", "a sunny terrace with lots of outside space" and attractive first-floor dining room – win massive popularity for this "very atmospheric" King's Cross yearling. And it's "well-run" too – staff are "surprisingly efficient and personable" and its "typical British dishes" are "well-executed and tasty" with impressive consistency.
Manicomio SW3
Although their prime locations – next to the Saatchi Gallery off Sloane Square in Chelsea and in the City – mean they are "not cheap", these "good-natured" Italians provide a "solid" level of cooking and a "fun" atmosphere. Top Tip – lovely outside terrace in SW3.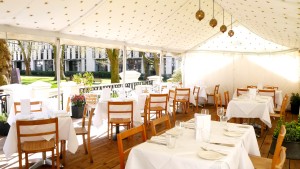 Ognisko Restaurant SW7
The "very beautiful time-warp setting" of an impressive old émigrés club, complete with "clubby" bar and "high-ceilinged dining room", helps create a "very relaxing" experience at Jan Woroniecki's South Kensington gem (whose "terrace at the rear is a hidden secret for outdoor summer dining"). The "Polish comfort food" is "lighter than you expect", and there's "a huge range of vodkas".
"The sheer genius and simplicity of always-exciting Tuscan food prepared from ingredients of unparalleled quality" have won global renown for this "unique", "off-the-beaten-track Italian, in the obscure backstreets of Hammersmith. Its prices, however, are "daylight robbery" – and while its army of fans say that "if you believe it's overpriced, you don't get its concept of provenance, care and integrity", an equally large band of sceptics "appreciate the top-quality sourcing, but still think charges are absurd for rustic dishes (it might be cheaper to fly to Italy for the day, dine and fly back…"). And the atmosphere? "On a summer evening you could not ask for a better location" than its Thames-side terrace, but when it comes to eating inside first-timers can be surprised at how "hectic and noisy"its canteen-like set-up can be; service meanwhile veers from "charming" to "indifferent". Still, it's always full, so you can't blame them" and "if I was a billionaire I'd go every week!"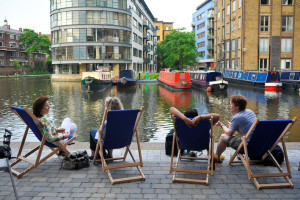 Rotunda N1
"Especially on a sunny day, overlooking the canal"(by which it has a large terrace), this "buzzy" arts centre brasserie provides a "beautiful setting". Some dishes can seem "run-of-the-mill", but, Top Tip – "they serve wonderful meat" from their own Northumberland farm (and it's "very good for Sunday lunch").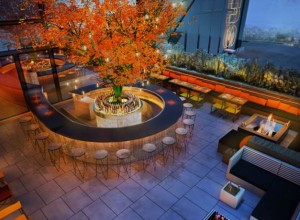 Sushisamba EC2
"It's high up and happening" ("even the lift to get up there is brilliant!") and "you can't knock the breathtaking view, or for that matter the food" on the "impressive" 39th floor of the Heron Tower, which "shouts romance" and has "a beautiful roof balcony" to boot. Even so, whether you can justify the "astronomical" prices is debatable, and while the "bold" Japanese/South American fusion bites are "exquisitely tangy and fresh", it can seem like "there's even more emphasis on how they look than how they taste". A sibling Sushisamba is to open in Covent Garden Market's Opera Terrace this year.
"The best time to go is in the summer when you can sit outside" on the big terrace of this tranquil hangout – a converted 20th century pub, attractively set on the water in Little Venice, where the food offering is "limited" but "reliable".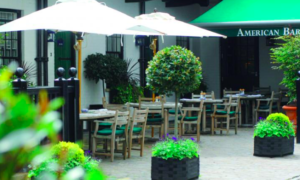 The American Bar SW1
"Benoit is the perfect host" at this preppy St James's hideaway, at the end of a cute mews (splendid outside tables in summer), festooned with the ties and hats donated by patrons in decades past. Best known as a drinking den ("the 'White Mouse' is a must"), it also nowadays has a fairly substantial 'club-brasserie-style' menu, served from breakfast on, but – especially if you are having a dram – "bring lots of money".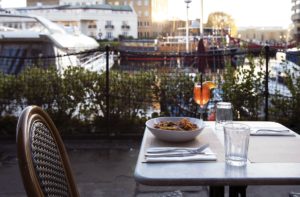 Emilia's Crafted Pasta E1
"A table outside overlooking the dock is perfect, and I haven't even mentioned the delicious pasta!" – this St Katharine's Dock newcomer does what it says on the tin, and early reports are full of praise for its "authentic homemade dishes at a great price".
Although they almost pre-date the 'hipster', these high-quality, funky little cafés, with their "superb coffee, great tapas, freshly squeezed juices, breads, cakes and toasties" hold their own well against newer competitors. "The best F&W is at Somerset House, where on a sunny day you can sit outside and look at the beautiful architecture and fountains, just a minute from the Courtauld and the Strand".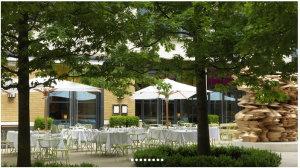 Ham Yard Restaurant W1
"Sit outside in the quiet courtyard and enjoy a civilised lunch away from the bustle of Soho" at this "lovely" Firmdale hotel ("the set deal is fab value"), which provides an amazingly tranquil "haven" for the West End, and particularly comes into its own for a "fun, delicious and affordable"afternoon tea. In the evenings (including pre-theatre) feedback is less positive, with accusations of "style with no substance" ("very beautiful, but nothing that earnt the price demanded").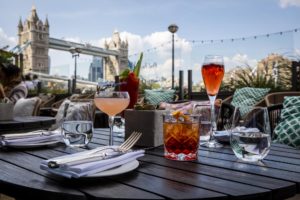 Le Pont de La Tour SE1
"It's wonderful if you get a table outside in good weather" at this smart D&D London Thames-sider, named for its superb views of Tower Bridge. When it was first opened by Sir Terence Conran it was the hottest ticket in town, but – despite a major refurb last year – only a dwindling number of fans still see it as "a special place for special occasions", and increasingly it is viewed as "overpriced and coasting along on its past reputation".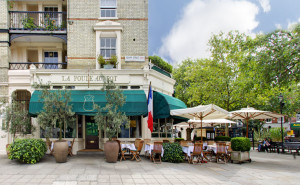 La Poule au Pot SW1
"The deliciously dark and candle-lit interior is romance personified", at this "sensual French delight" in Pimlico, whose intimate nooks and crannies have made it a famed trysting spot for as long as anyone can remember. The food "has come off the boil" in recent times: "just in case you notice it, it's old fashioned, bistro fare, and not particularly cheap, but no-one cares". Service meanwhile is very Gallic – "they respond more favourably to Francophones!" Top Tip – "fab outside space in summer".
Rochelle Canteen E2
"A hidden treat" in Spitalfields – this offbeat (and on a sunny day "amazing"), venue from Melanie Arnold and Margot Henderson – wife of St John's Fergus – occupies the converted bike sheds of a former school ("just lovely on a summer's day sitting outside in what was the playground, now a walled courtyard") and offers "simple, well-cooked food for those in-the-know" (NB it's no longer BYO, they now have a license). In September 2017, a new 'Rochelle' was announced taking over the bar/café at the ICA on the Mall – spiritually speaking, the two locations seem poles apart.
A "funky wine selection" is a feature of both these Hackney haunts, although only the Paradise Row venue – set in a hip railway arch, and with "a lovely outside space" – serves substantial food (it's just tiny bites in Hackney Road). Chris Leach (formerly of Kitty Fisher's) took over the stoves in February 2017, and reports (mostly) say the cooking is also an attraction in itself.
The Spencer SW15
A huge outside area across the road, with picnic tables on Putney Common (where you can order food), is a hard-to-beat summer feature of this "great South London gastropub", which serves very dependable scoff to all-and-sundry (including dog-lovers).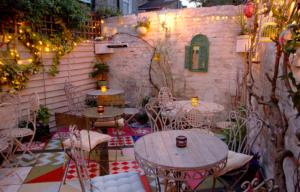 Andi's N16
"Amazing brunch and a gorgeous little garden!"are highlights of this "very good addition to Stokey", where La Patronne, 'Great British Menu' judge Andi Oliver, is "exceptionally friendly and jolly", and provides an imaginative, modern British menu.
Brew House Cafe, Kenwood House NW3
"If you can just muster enough patience to manage the queues at the check-out, there's nowhere better on a sunny day in North London for a delicious piece of cake and a cup of tea than this stunning garden", which adjoins the self-service café within the stable blocks of this stately home, on Hampstead Heath; "wonderful breakfasts" too.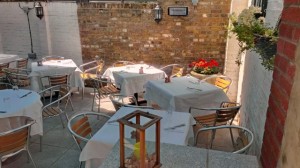 La Collina NW1
"Piedmontese cuisine that's unusual and very well executed" and some "very good house wines"have carved a dedicated following for this "traditional Italian with a modern twist", tucked away on the fringes of Primrose Hill – a "romantic"spot, whose "ambience is exceptional in the garden in summer".
The Fox & Hounds SW11
"This atmospheric old corner pub in Battersea" is a "buzzy, friendly, traditional spot" serving "a Med-inspired menu that never disappoints". "Cosy and warm in winter, with stunning Christmas decorations, it also has a fabulous rose-clad garden in summer".
Ivy Chelsea Garden SW3
The most popular of the Ivy's spin-offs is this "ladies-who-lunch" favourite on the King's Road, whose "garden is to die for" (although "it's an uphill struggle actually being seated in it") – a "super, bustling and tastefully decorated venue with fabulous people watching opportunities" (and where the Top Tip is "its great breakfast: it's much quieter so service is spot on!)"
"It looks so magical", and there's "genuinely nowhere else like" this "secret-garden-style"venue near Richmond Park – a "truly enchanting"candle-lit greenhouse, within a garden centre – and the fact that "you can take a riverside stroll before or after your meal is heaven!". "On a dull day however, the wobbly tables and chairs, untrained waiters, and ridiculous queues for the toilets make you feel that at these prices, you're being ripped off", especially as when it comes to the ambitious cuisine nowadays, while "the ingredients are interesting, their realisation is only fair".
The Swan W4
Fans hail "the best pub garden in London" ("loads of tables set amongst leafy trees") at this hidden-away Chiswick-fringe gastropub, but its panelled, cosy interior is lovely too. "Charming" staff and "consistently delicious, keenly priced" food make it an impressive all-rounder.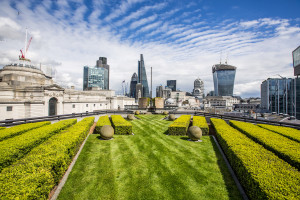 Coq d'Argent EC2
"Whisking up in a lift and having it open onto a gorgeous rooftop" helps set up good vibes – especially for expense-accounters – at D&D London's well-known landmark, "in the heart of the City" (right by Bank). "You are paying for the view" to some extent, but its current culinary performance is "sound – perfectly OK without being exceptional".
Recent News from Harden's