Our weekly round-up of what the national and local restaurant critics are writing about, for the week ending 30 August 2020.
The government's 'Eat Out to Help Out' scheme successfully boosted the restaurant sector during August; several restaurants are choosing to continue the discounts, without the government subsidy, in September.
Check with your local and favourite restaurants before heading there; many are still operating strict timings, reduced menus and booking systems, even if they didn't before; look at their social media pages for details (all available via hardens.com).
*****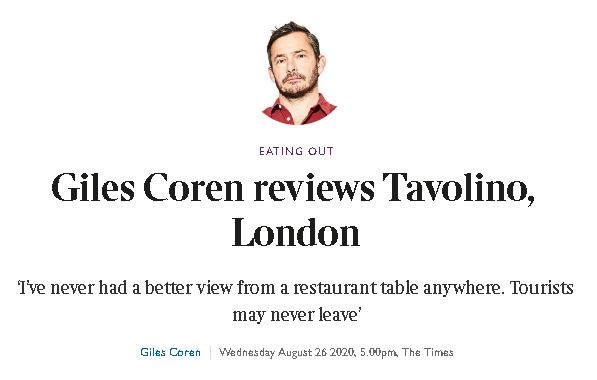 The Times
"I have never had a better view from a restaurant table anywhere, nor can imagine one. Foreigners adrift in London this summer who find themselves in this spot may never leave. It is the perfect tourist destination for an hour or two."
Giles Coren, along with Fay Maschler (see also), is the first of the critics to review Tavolino, the new Italian from ex-Bancone chef Louis Korovilas. But first, his usual preamble, this week about the heady drinking days of his early journalism career in the mid-Nineties at a grim pub in Wapping, and a radio interview on the first day of Eat Out to Help Out at The Redwood sports pub in London Bridge, after which he and the interviewer had a "practically free" lunch there ("chilli and guac and truffle mac and cheese fritters") which "wasn't bad at all".
After this lunch they moved up the road for another, searching for Tavolino in the "glistening, newly built glass and steel district" on the river; once there he discovered "a gleaming super-modern giganto-restaurant with a terrace outside for what looks like well over 100 people and absolutely, positively, the most staggering view you could ever ask for, across the rippling olive-brown waters of the Thames towards the immaculate little 1,000-year-old Norman cube of the Tower of London and, to the right of it, the hilarious stylistic pastiche of Tower Bridge".
After being "sanitised from head to toe with alcohol (but only on the surface)", Giles and his gang took up residence outside "at the end of the busy terrace, closest to the river, where we could swivel in our seats, lean back against the window and stare out at history, jaws agape".
"What there is to eat and drink is fine, if you don't work yourself up into too much of a tizzy about authenticity and craft. It's chain Italian – somewhere along the lines of the late Jamie's Italian or a sort of Italian Giraffe (Girefettorio?) – and is clearly intended as a template for a midmarket rollout, which has been a tough gig for the past few years, virus or no virus, and I wish them luck."
"Staff are very nice and do that thing of looking and sounding very Italian" even though his server was actually Albanian. For the food, Giles advises readers to "steer clear of the "secondi"… things like a saddle of lamb are never best in this sort of place – but there was nothing wrong with the pizza marinara, or the bottle of brunello or the grappas or the espresso or the long lazy stagger home down the embankment in the afternoon sunshine".
"This, if we'd found it in 1995, would have been a lunch venue for the ages. And for a view like this with a glass of wine I would still walk many miles on a Monday afternoon." (7/10)
*****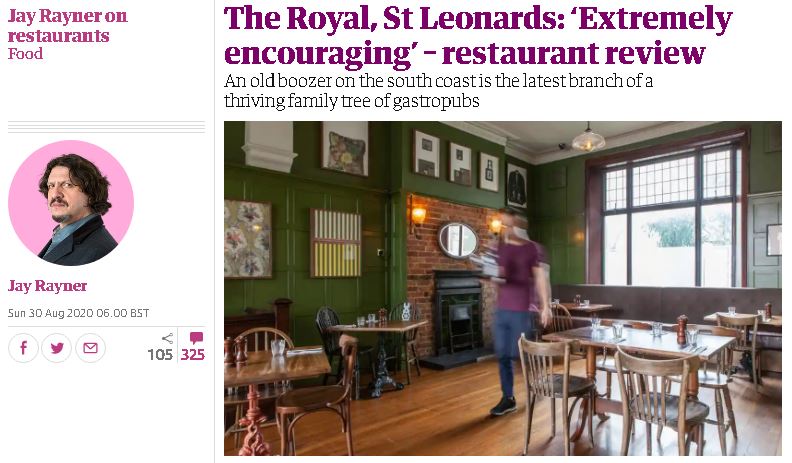 The Observer
Jay Rayner tried out a new-ish gastropub on the Sussex coast; The Royal in St Leonards-on-Sea is "the latest branch in a delicious restaurant family tree stretching back almost 30 years", starting – of course – with The Eagle in Farringdon.
"The dishes they serve are never pretty, but they are damn attractive. They're built around sturdy, reliable ingredients. Pies may feature. There might be outbreaks of piccalilli or shepherd's pie, which would suggest a British sensibility. But it's all filtered through an understanding of the eternal verities of rugged French and Italian country cooking. It's food that lubricates conversation, rather than trying to be the focus of it."
The Royal was "once one of the roughest pubs in town" but it's been stripped back and painted "in calming shades of pea green" by "James Hickson, who runs front-of-house here, and chef Sam Coxhead", both of whom have worked at some of London's best examples of the genre.
"It's all extremely civilised. Doubtless this will infuriate some locals who liked it when it was the other type of pub."
The menu was "short and tightly written", including a "big scoop of soft, melting pork rillettes that could double as a face cream"; the "buxom fillet of mackerel" with "bubbled and crisped" skin was "a plate of food that's checking on your welfare" and there was also a "very good roasted monkfish wrapped in pancetta" (not a saltimbocca, menu snobs beware) and "a deep-filled beauty" of a plum and almond tart.
"Servings are generous"; the feasting menus at £27 "sound extremely encouraging". Jay's "schlepp" to the coast and back "to see the latest addition to this particular extended restaurant family had been a delightful and entirely rational thing to do."
*****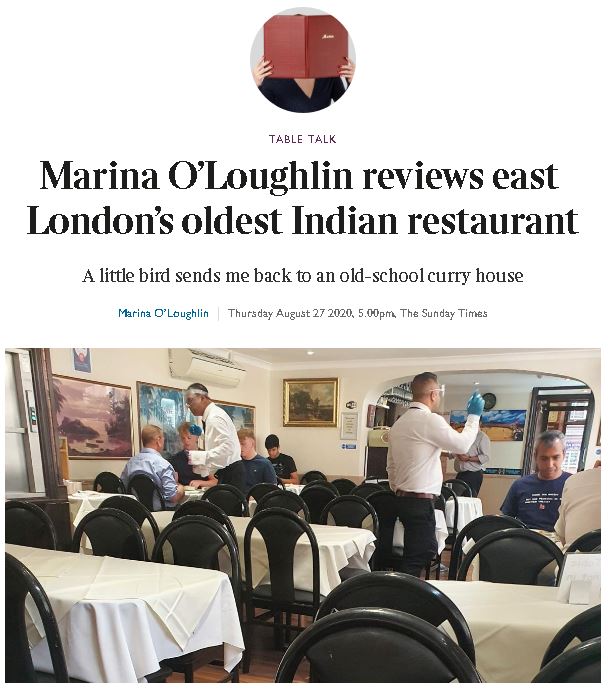 The Sunday Times
"So many businesses in jeopardy, so many livelihoods threatened by the virus. City centres echo with metaphorical tumbleweed. The Halal Restaurant is an avatar for every curry house the length of the country — and yes, it's happily a curry house — finding it difficult to get even regulars back through their doors. Man cannot live by takeaways alone."
A tweet by the daughter of the owner of The Halal Restaurant, east London's oldest curry house (housed "in a building dating from the 18th century") tugged at the heartstrings of Marina O'Loughlin, who immediately rushed there to show her support. She'd been before ("of course I had: there's nothing I love more than somewhere that has seen off every upstart trend over the years, laughing in the face of faux burgers and freakshakes") but happily went back.
"The welcome is real. Service is charming, verging on the courtly; the food fabulously unreconstructed." There's the finely chopped salad garnish with every dish, the mixed tandoori grill, the "mince biryani" on its stainless steel oval serving platter with a "chewy tangle of toffee-brown fried onions on top", everything is wonderfully familiar. "It would be ridiculous to say that the Halal Restaurant is home to the greatest Indian food in the capital, but it's good, very good. And it tastes like the past, deliciously." Even so, Marina found something new to order that she'd never had before, her "blowsy egg naan…with its netting of almost-omelette coating", was "a bruiser".
The proud father of the 'tweeter', owner Mahaboob Narangoli "couldn't be happier" with the support and custom that the viral tweet has garnered. Long may it last.
"Man cannot live by takeaways alone… that [The Halal] has turned adversity around for now, having to beg people not to turn up without bookings in case they have no tables, is uplifting."
*****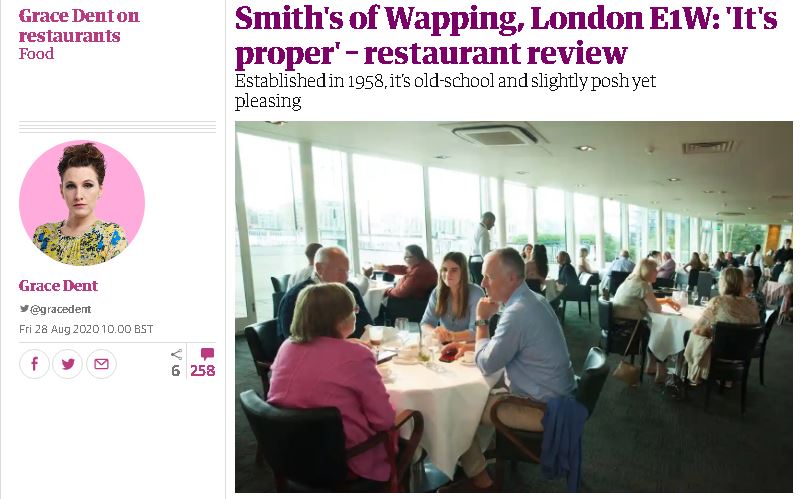 The Guardian
Grace Dent was in east London, at the "old-school and slightly posh yet pleasing" Smith's of Wapping, a branch of the fish-focused Ongar original (now over 60 years old). Lots of the other tables were celebrating a "landmark occasion" and "having a merry old time".
"It's that type of place: a pristine tablecloths and crisp-shirted staff calling you sir or madam spot; there's none of that waiters squatting on their haunches and calling you "guys" here, or dishes coming in any order "when they're ready"." There's no "Michelin-star mimicry such as butter on rocks or bread in hessian sacks" here; steaks come served with a "grilled tomato and field mushroom" garnish and you can still order scampi in a basket (albeit a china one "lined with a mocked-up sheet of newspaper").
"Despite the Hungry Horse, fun pub-style fayre, prices at Smith's are high enough to make it an occasional splurge type of place" but it's "reliable and really very easy to spend three hours in", and they are "working jolly hard to keep everyone safe" with "comfortingly vicious" hand sanitiser and lots of space (although Grace misses listening in on other diners).
Yellow fin sashimi was "pleasant enough" but the "nicely judged" monkfish in a "subtle, katsu-style sauce" was "instantly forgettable"; Charles ate octopus in a "rather delicious" smoked chilli and garlic sauce, and they finished off with a "lovely if not exactly memorable" Tiptree strawberry tart.
"The room was heaving with laughing, tipsy sixty-somethings having a nice time and enjoying their freedom. Smith's doesn't need to change a thing – it has found its winning formula."
*****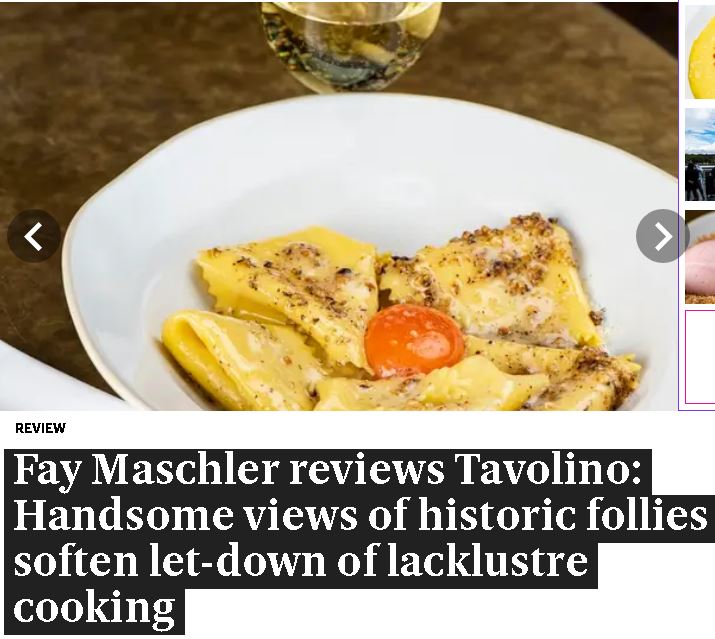 The Evening Standard
"The arrival at newly opened Tavolino of chef Louis Korovilas, formerly head chef of Bancone and whose Godfather, says the publicity, is Giorgio Locatelli, seems like an opportunity not to be missed."
Not alone in being the first as usual (Giles Coren also reviewed it – see above -although his was published days later) Fay Maschler also dined outside at More London, which "rattles with chains" ("Tavolino, with its large terrace adjacent to playful fountains where on a sunny evening children splosh and splash, was previously a Strada").
On both her visits, her reservation was lost, which can't have helped her disposition; Fay also states that "some of the staff make up in enthusiasm what they seem to lack in experience", which could be explained by the fact that one offered to help her with the Italian words on the menu. Regular readers can only imagine her reaction.
She had a few notes of advice for several of the dishes, but could recommend the "orzotto" with sweetcorn and confit chicken wing ("Also the pizza ­Margherita with its thin sourdough base.")
"Add on ice-creams or sorbets emerging from a notable pastry kitchen and just lose yourself in the historic sweeping view of Tower Bridge, the Tower of London, HMS Belfast and the skyscraper follies of the City. And have a Negroni. That is done well."
*****
Fay's regular week in food page included lunch at The Ritz ("no superlative would be superfluous"), an "upstanding aubergine Parmigiana at happily re-opened Norma in Charlotte Street" and a meal at The Royal Oak, a restored 17th century pub in Ramsden, Oxfordshire (which just happens to be owned by her stepdaughter).
*****
The Standard published a list of restaurants extending their Eat Out to Help Out deals into September, and reviewed celebrity-branded alcohols, including Buckingham Palace Gin (*****) and Trump Cru Chardonnay (0 stars).
*****
The Scotsman
Gaby Soutar was in Hopeman on the Moray Firth, clearing out her late mother-in-law's home, and popped down to the West Beach Caravan Park to enjoy a meal at The Bootlegger's Bothy, "the covid project from the people behind" The Bothy Bistro in nearby Burghead.
"They've set up a food van, Dory, a corrugated tin roofed barbecue shack, The Grill, and Peggy, the turquoise vintage Citroen van that serves drinks… There are also various seating areas – a double-decker bus (currently shut), but also lots of pale blue picnic tables, some of which are rain-proof thanks to a huge sail of tarpaulin."
The "the socially distanced queue" was "marked by buckets and spades"; takeaway boxes of food were collected and eaten at picnic tables.
From The Grill, there were scallops – "I don't think I've ever had as many scallops in one sitting. There were about a dozen Shetland sweeties, with tea-coloured edges", accompanied by " two flattened and peppery coasters of "Teddy's black pudding", as well as nibbly crispy onions".
The smoked brisket bun was "a monolithic thing… heavy hunks of beef, all doused in a "gravy mayo"… in a very sweet and soft charcoal bun… It was the bollard of foodstuffs. You could tie your boat to it, and it probably wouldn't drift off."
From the "more casual" Dory, "mozzarella and halloumi dirty fries" ("Filth, indeed.") and sticky toffee pudding (with "sweet sauce about a fathom in depth") eaten on the dunes. (83%)
*****
The Mail on Sunday
In The Mail's YOU magazine, Tom Parker Bowles (in his new column with wine expert Olly Smith) was in raptures about his latest discovery, "the fiery delights" of Nigerian food. He ventured to Tiwa n Tiwa in Peckham to try the "magnificent" native Nigerian dish of suya ("grilled slices of meat, lavished with yaji, a vigorous mix of salt, spices and ground peanut crackers"), which was "quite simply one of the most thrilling things to pass my lips since, well, I'm not entirely sure".
With football on the TV and "the air… thick with vigorous debate" , Tom and his Nigerian friend drank iced Trophy beer and awaited the suya, which arrived "charred, chewy, slightly fatty and speckled with spice" with a "bracing chilli blast, followed by whispers of ginger, cumin and garlic, and something else, something mysterious and intoxicating".
They later drove to Dalston to continue his education at Asorock, where he ate "chewy fried plantains" and learned about red soup, which has "rich depth and mild sweetness, and a subtle, fruity scotch bonnet tang".
"There's so much more to try. This is a country whose food rivals China, India and France for depth, range and technique. I know nothing, save that I am hungry for more."
*****
And also…
Our very own Peter Harden was interviewed in The Staff Canteen about how the various restaurant guides, Harden's included, are handling 2020.
*****
The Financial Times reported on the economic effects of Covid-19 in New York, where the "lunchtime rush has been replaced by all-day hush"; "Covid-19 means crunch time for the sad desk salad".
*****
The Telegraph published handy lists of restaurants in London and the UK which are continuing the Eat Out to Help Out discounts into September, and also produced an article on Open Kitchens, the organisation created to connect chefs and community charities during the lockdown.
*****
The Independent interviewed Riaz Phillips, the chef behind the new heritage recipe book Community Comforts, containing "more than 100 recipes from cooks from migrant backgrounds, with the proceeds going towards a fund for Bame victims of Covid-19". He started the book after hearing about how black and Asian communities were disproportionately affected by the virus; proceeds go to the long-term supportive initiatives at Majonzi Covid-19 Bereavement Fund.
*****
Bristol Live and its Birmingham sister site both list local restaurants extending the Eat Out to Help Out discounts into September.
*****
Recent News from Harden's