Harden's regular round-up of the restaurant critics' meals, from the week ending 29 September 2019.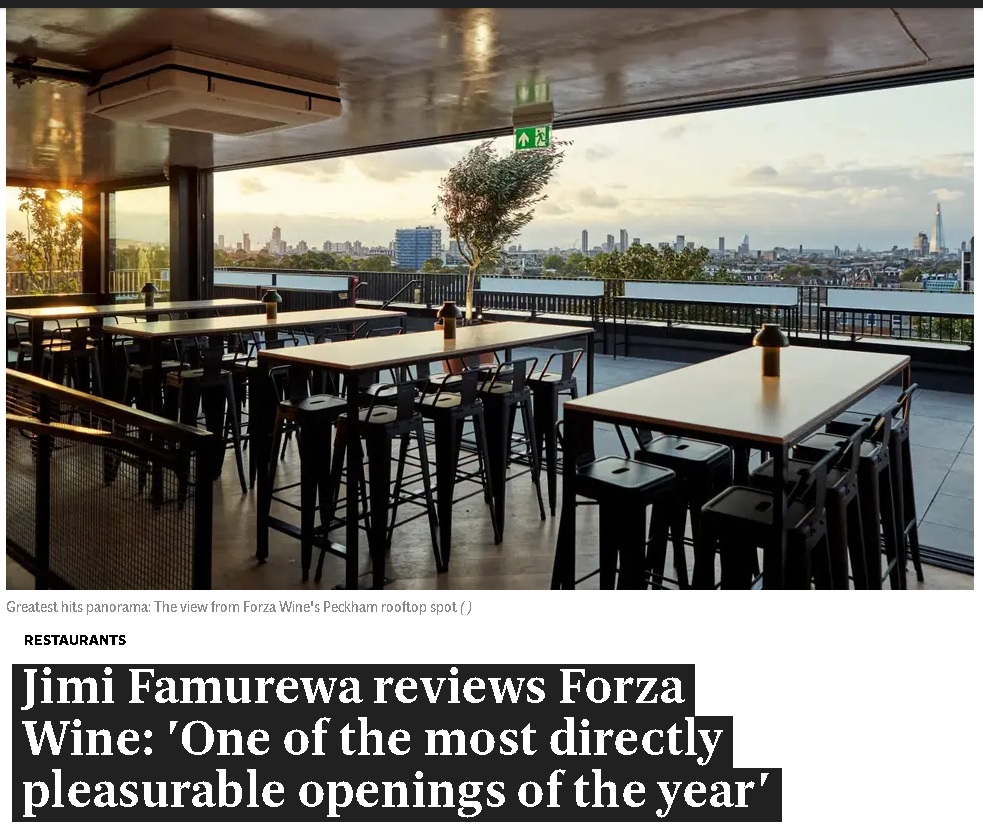 Jimi Famurewa for The Evening Standard encourages readers to ignore any "sniffiness" they might feel about Forza Wine, on the fifth floor of "a shiny new multi-level co-working complex that looms above Rye Lane"; yes, it has a "familiar kind of sharing plate and Frozen Negroni-fuelled playfulness", and is yet another "artfully utilitarian" Peckham joint in which "to drink pale ale and flood… Instagram stories".
But it's also "a sleek, high-perched oasis where the view is outrageous, the vibe is irresistible and the crowd-pleasing aperitivo food marries a cutlery-shirking primality with real thoughtfulness and verve" – a definite contender for "being one of the most confident, directly pleasurable openings of the year".
A lift is promised, but Jimi and his family had to endure "the lung-busting hike up five floors" in order to claim the prize of "maddeningly addictive" snacks, a "dazzling, steady bustle" with "potted fig trees, big shared tables" and "a greatest hits panorama of surrounding London landmarks".
They ate salami, sourdough, fontina toasties ("with a ripe, melted filling that was the elastic stuff of three-foot cheese-pulls"), a "sort of Italian nacho plate", courgette fritti and chicken Milanese, topped off with "soft serve, crushed biscotti and salted olive oil caramel sundaes". There were "microscopic niggles" but most of the dishes had a "snafflable, easy-going air but, also, the palpable whirring swan-legs of serious technique". (9/10)
---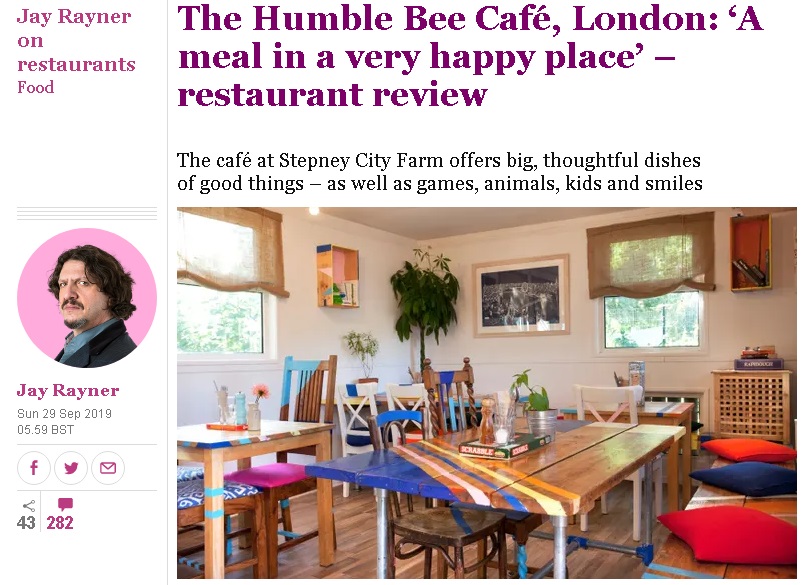 An east London city farm's community cafe is not where you'd expect to bump into Jay Rayner from The Observer, but that's where he was this week, having "a meal in a very happy place" with "mismatched furniture, games… on the tables, and an awful lot of peace" to enjoy alongside the "whole bunch of edible reasons for going there in the first place".
Stepney City Farm currently provides 15% of the ingredients for its cafe, "but will, in time, provide much more"; "the vital importance of places like this" isn't just growing, but education and community and well-being – "space in which the old skills are kept alive". And cute animals too (yes, some of them are destined for the kitchen, but "for the most part the menu scribbled on the blackboard goes the way of the vegetable").
Jay ate a salad of "roasted and pickled fennel, with the caramelised, nutty bite of roasted Jerusalem artichokes" ("a big, thoughtful bowl of the good things "), and from the list of open sandwiches ("you can measure the depth of these "sandwiches" with a long ruler") he had "their take on egg mayonnaise… simply outrageous". The kitchen here "is as sodden with rippling ambition as any populated by some crack white-jacketed brigade, with the glint of tweezers clipped to their lapels."
Maybe it's not London's newest culinary destination, but "The Humble Bee feels like a place where nothing bad can happen, and keep not happening".
---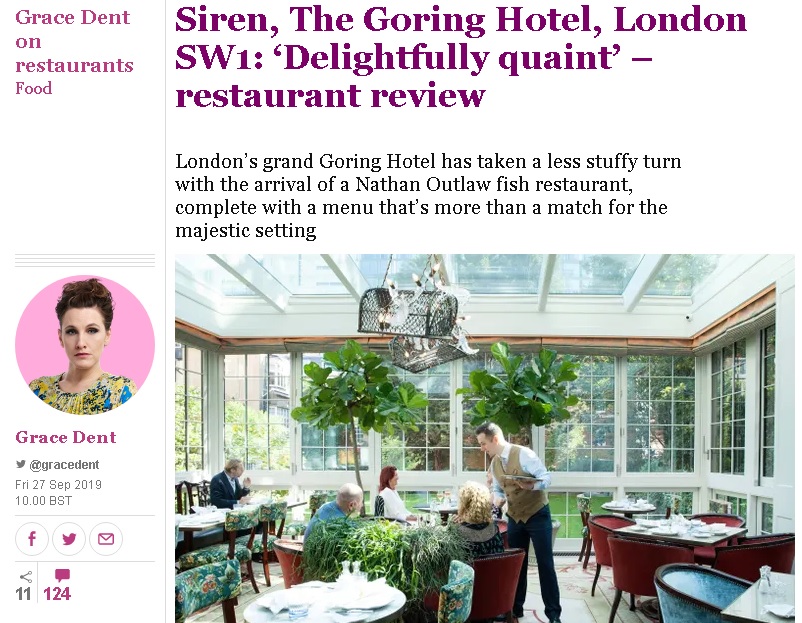 Most of the critics we cover have been decidedly lukewarm about Siren, Nathan Outlaw's new London outpost at The Goring; nothing bad, just unsure about the decor, the space or even the food. Grace Dent for The Guardian loved all of it – maybe because she visited after it had had some settling in, or maybe she – quite rightly – wasn't expecting London's oldest privately-run hotel to have suddenly gone hipster, all sharing plates and fermenting.
It's also not "just another sterile hotel space to avoid", or "bloody dull" as "almost all "fancy incoming chef" versus "nosebleedingly expensive hotel" square-offs" tend to be.
So it's still "delightfully quaint", with "amazing" staff ( who got a 10/10 all to themselves); the "garden-facing dining room is … definitely London's prettiest restaurant-with-a-view of the year", opening out (when it's not raining) "on a quintessential British country-house lawn".
"Siren's menu eschews jargon or trend, but still retains a sparkle. You will be fed by the end of your meal. Feasibly thoroughly skint, too, but fed nonetheless." Grace ate a "delicate" lobster tart ("something of a work of art"), "perfectly judged" turbot and "exquisite" puddings ("the stars of the show, even though they begin at 12 quid for ice-cream").
"Outlaw's rugged charm is the perfect foil to the Goring's dainty aloofness… Siren lured me in and seduced me. Things got very rocky." (27/30)
---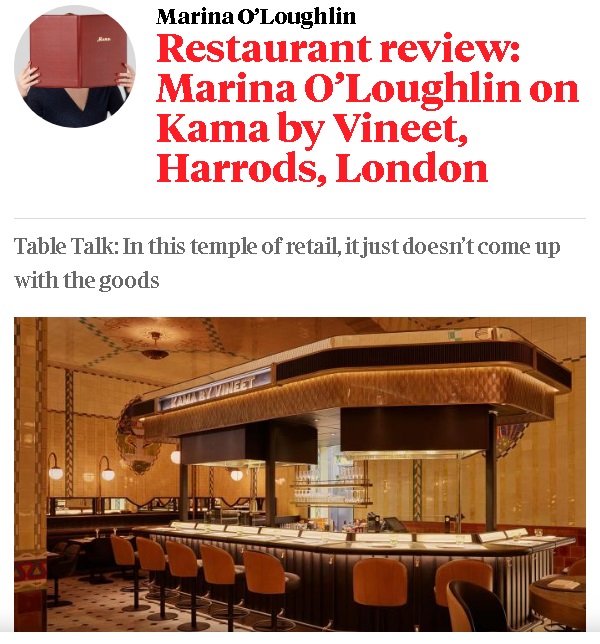 Marina O'Loughlin for The Sunday Times was at Harrods this week, checking out the refurbished and relaunched Food Hall. She approached the luxury venue "with fondness" and nostalgia for the years that the toy department kept her sane (and her kids entertained) when she was an impoverished single parent. (Solo parenting the classiest possible way, Marina, huge respect.) Others, obviously, go for the "high-rolling, vaguely trashy luxury, a million square feet of ugly handbags costing a month's rent and hushed rooms glittering with gemstones and ludicrous watches". Each to their own.
Vineet Bhatia's new outlet has been "slotted in like a Tetris block with nameless others punting pasta, sushi, grilled meats, fish and chips"; her initial impression of the David Collins refurbishment of this "gorgeous series of food halls" is that's it now looks like The Ned. ("Not a compliment.")
And the food? Her companions were left "boggling" at prices like £14 for two samosas (which were "good: crisp pastry, a freshly spiced filling", but at that price need to be all-caps amazing); another dish of "oversalted broccoli" was even less successful, but there was a "textbook, if dinky, biryani". Sadly puddings were "just a bit grim, particularly a gritty, tongue-coating malai kulfi".
"At my projection that the bill is likely to hit north of £200 for the three of us, there's an outbreak of extreme sniffiness." The wine list is equally pricey, jumping from £35 to £58 in one leap.
"Even the tiniest luxury should make you feel happier to be alive… Bhatia is undoubtedly a talented chef… one of the godfathers of modern Indian cuisine. But his Harrods joint only makes us feel bargain basement."
---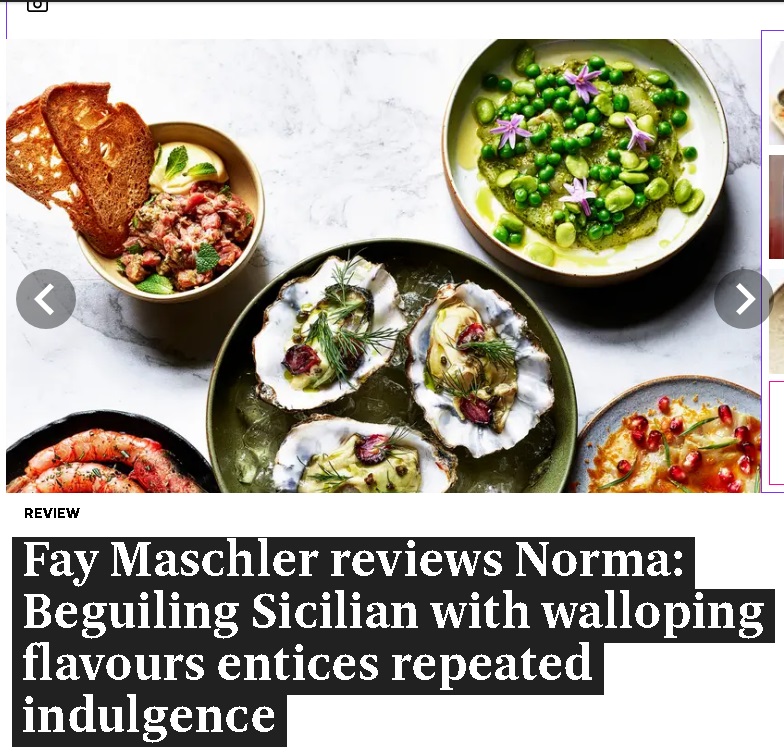 Fay Maschler for The Evening Standard may have been pipped to the critics' post last week by Giles Coren, but she did a better job of reviewing Norma, visiting several times ("I keep going back. Well, it's just down the road" – definitely this week's theme, see Giles and TPB), and not just for a quick lunch. "The hours are unusually user-friendly and the malleable menu can be manoeuvred to deliver a reasonable bill."
The "whole decidedly jaunty menu" is inspired by Sicily, and "the island's Moorish connections" inspired "the seductive tile, marble and velvet décor", making a "voluptuous" setting for "gifted chef Ben Tish" and his cooking.
From the raw bar at the entrance, she tried "dark and delicious" salt-marsh lamb crudo served with lamb fat crostini. From the Snacks section came homemade foccaccia, chick pea panelle and spaghettini fritters "as crisp and effective as Supreme Court President Lady Hale's spider brooch".
The Antipasti section featured a heartily recommended dish of pan-fried violet artichokes ("the real things, lovingly prepared, not those abominations from a jar", although she didn't like the rose veal "smothered in smoked eel mayonnaise" ("rather a big step backwards" from vitello tonnato). She also didn't share the "Sicilian enthusiasm for sardines, raisins and pine nuts" in the pasta sauce.
Slow-cooked cherries with almond milk pannacotta and cherry sorbet was a "standout dessert", though, with "cheery, cherry intensity".
Just one last quibble: "Please, can we all agree that we now understand the concept of sharing?" (****)
---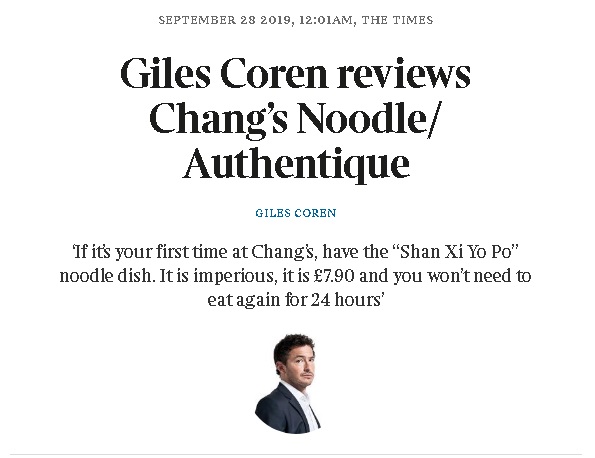 Giles Coren in The Times used up a considerable portion of his wordcount to complain about how far away restaurants are, and saying he'd much rather review places near his houses in north London and Gloucestershire or his new office – "anything more laborious than a ten-minute toddle home afterwards looms in the contemplation throughout any extended repast and rather spoils it".
El Bulli? "Not one of the (admittedly stupendous meals) came even close to compensating for the hellish Ryanair flights, the grimness of the hotels in godawful Girona or the billion-euro three-hour car transfers to the restaurant's ridiculous location."
So he went to Chang's three times in one week – it's near his office. It's "reasonably big and quite dark, with mostly long communal tables" which reminds him of "staff canteens in the megahotels" of Asia (when has he ever been in one?); "everyone in there is Chinese and the food is very good and not stupid expensive".
If you go, and it's your first visit, he advises on the "Shan Xi Yo Po", wide hand-pulled noodles from northern China "sitting under steamed bok choy and beef brisket, and… rich, sticky, salty sauce". He also likes "citrussy shredded pigs' ear" and "the fragrant chilli pigs' trotters" – and wonders why the customers take pictures of him. (24/30)
He squeezed in a few main pointers about his newest local, Authentique, which he never thought would work, but is always "rammed". It's an épicerie in Tufnell Park from "four lovely young French guys", a "stunning wine shop" serving up "plates of epic charcuterie… wonderful warm crusty sourdough… a dazzling array of Gallic cheese" and "rotating kitchen residencies". (27/30)
---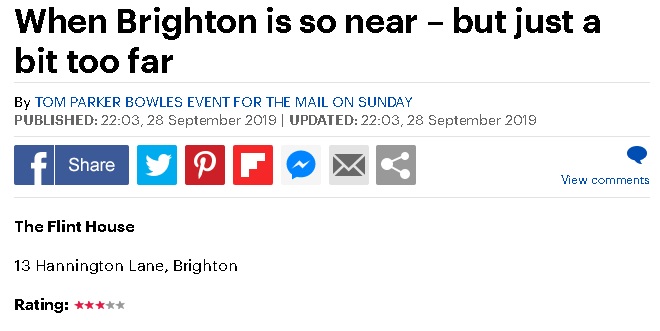 Tom Parker Bowles for The Mail on Sunday also riffed on the theme of how far one is prepared to travel for a good meal. From the three-star rating he gave The Flint House, regular readers will know that the end of the M23 is possibly Tom's "too far".
It's all about how you travel, though – after all, he "once flew to San Sebastian… for about 35 courses at Mugaritz", "Paris is easy enough" and "Belfast is a breeze".
Maybe it was just the food, rather than the distance or the service ("warm and wreathed in smiles") – and maybe the fact that "competition is fierce" in the area.
A "serious starter" of braised squid with n'duja and olives was followed up with some other decent dishes (the "vegetarian dishes are really very good") but then mains were "just a touch dull".
"Nothing actually goppingly bad. The sort of meal, though, that's forgotten within moments of leaving." (***)
---
And also…
In The Financial Times, Tim Hayward was at The Olive Branch in Clipsham, which he called "too adorable", with "excellent food and endearingly undesigned decor " that filled him with joy.
---
William Sitwell for The Telegraph ate at Flor near Borough Market (sibling to Lyle's in Shoreditch, which he describes as "that part of London where you need a beard to enter"). The "cod brandade was the best, most delicious, naughtiest sort of fish pie".
---
Keith Miller for The Telegraph was at Three Uncles, a new City Chinese, where "a particular hit was Hainan chicken, it's just profoundly, soul-soothingly chickeny".
Recent News from Harden's