Our weekly round-up of what the national and local restaurant critics are reviewing and writing about, for the week ending 26 July 2020.
Restaurants, pubs, bars and cafes in England were permitted to re-open on Saturday 4 July after over 100 days of enforced closure.
Check with your local and favourite restaurants before heading there; many are operating strict timings, reduced menus and booking systems, even if they didn't before; look at their social media pages for details (all available via hardens.com).
*****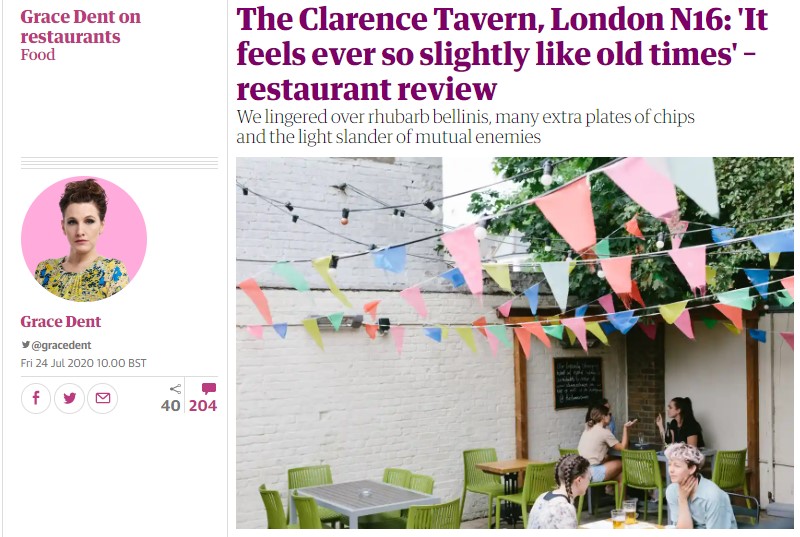 The Guardian
Grace Dent was at The Clarence Tavern in Stoke Newington this week; it opened under the Anchor & Hope team "four whole days" before lockdown, and is now up and running again.
The Clarence strikes Grace as "the perfect parable of Britain's ongoing fightback"; it was "once Steptoe's in the 1980s" and "since then, it's been The Daniel Defoe, The Clarence (again) and the Stoke Newington Tea House (though still, confusingly, serving beer), before reverting to its original name, registered in 1860".
"And, yes, now it's serving potted shrimp with gooseberries, and farinata with sweet and sour aubergine, too, because times must also change."
"The evening menu is a single sheet of thoughtful, certainly-better-than-pub-grub options", but it's "still very much a boozer: service is polite, casual, and certainly not silver, floors are stripped, tables are sparsely set, there's a neat, scrubbed outdoor terrace, and the clientele are aged from seven to 70".
"No vegetarian will leave The Clarence and claim their option was tasteless and done to death. This was a somersault of flavour." Grace implores visitors to order the peach and brown butter tart, "which is all the right kinds of sweet, moist and summery".
"An evening here gave me a fresh lease of life… We stayed for more than three hours, and lingered over rhubarb bellinis, many extra plates of chips and the light slander of mutual enemies. It felt ever so slightly like old times."
"The Clarence Tavern had the worst grand opening imaginable. Its second attempt is worth singing about."
*****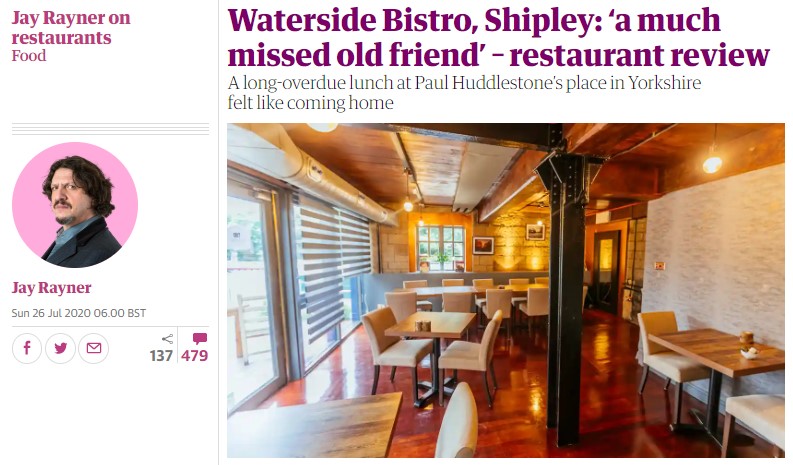 The Observer
Jay Rayner has ventured far afield this week, to Shipley in Yorkshire and "a much-missed old friend" The Waterside Bistro. Chef Paul Huddleston returned home, via MPW at The Criterion, Le Jules Verne in Paris and a stint in Monaco, to open "his own restaurant by his own stretch of water" housed in "an old Yorkshire stone Quayside building".
Jay has deliberately avoided the "glitzy" re-openings in the capital, in order to gauge the effects of the pandemic on the regions. After tweeting out for news, he heard from many restaurants and their fans too, "who were simply delighted that a place they loved was reopening". The Waterside "has a lot of customers who love it very much, and I can quite see why".
Here in Shipley, Paul and his sous chef Elvis "turn out plates of big flavoured food, underpinned by big kitchen technique", all "from a tiny kitchen. The menu may look and sound fantastically '70s but the 'prawn cocktail" here is actually "nuggets of deep-fried lobster" accompanied by "the funky kick of brown crabmeat and nutmeg" with "crisp leaves of lettuce, built for scooping". The steaks, cut "from an animal raised nearby… dry-aged in a room lined with salt from the Himalayas", come "with a range of sauces… so classic they could name a horse race after them".
And "there is more recent ambition at work here. Even just a thimble of vegetable soup to get us going is a luscious, well-made thing".
"A thick disc of braised pork collar arrives with pieces of roasted fillet and golden, bubbled fragments of battered black pudding that shatter beneath the teeth. For we are in Yorkshire and this is what a proper lunch looks like." Jay isn't ashamed to admit that he spooned the sauce of the other main dish ("rust-coloured lobster bisque that comes with a seared fillet of skin-on trout") straight out of the jug. A trio of desserts completed the meal.
"At around £17 each, both of these dishes are great value. There's also a pared-back lunch menu."
Paul and his wife worked at Morrisons during lockdown, and managed to keep staff on furlough; these days there are fewer tables inside to support social distancing, which reduces income, but they've re-opened anyway. "They need support. If you can give it, please do."
*****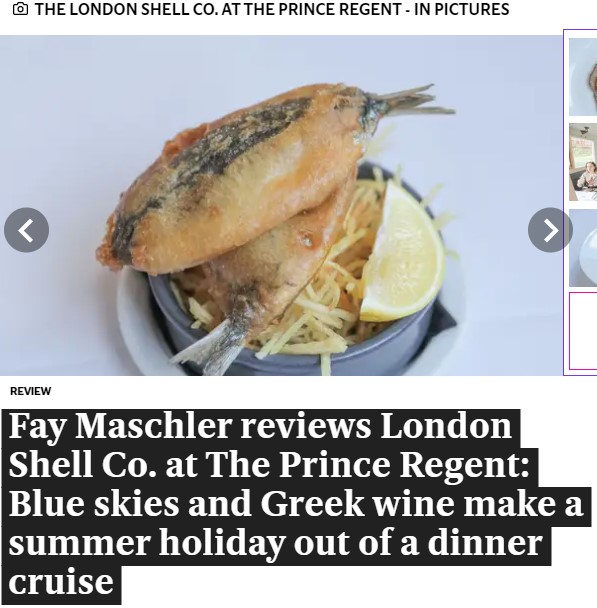 The Evening Standard
"Setting off from Paddington Basin with the sun still quite high in a clear blue sky and a glass of prosecco tickling my nose was a different, out-of-London-body experience."
Fay Maschler visited The London Shell Co aboard The Prince Regent barge in Paddington, for the "five-course fish-driven" dinner, hosted by Harry Lobek, co-owner with his sister Leah. As the barge cruised to Camden Lock and back, she enjoyed a tiny starter of fried mackerel with "irresistible tiny salty shoestring fries", a course of pepper-cured Arctic char, another of crabmeat on chilled peach soup, a main course of "precisely cooked monkfish with springy courgette ribbons" with "baked cheesecake with Pedro Ximénez strawberries" to finish.
*****
Fay's regular week in food page is also back, which this week included Bastille Day at French House.
"If you fell in love with the street food vibe last summer, it is still perfectly possible to enjoy it again in 2020 – you'll just need to play by the rules." A list of the capital's re-opened street food markets, complete with their social distancing conditions, is a handy guide.
The Standard has published a list of favourite restaurants offering the Eat Out to Help Out discount in August, as well as a list of 30 must-try dishes from London's re-opened restaurants, in case you hadn't made your own list during lockdown (and even they say "in all honesty, the list could be 10 times the length if we had the time").
The newspaper's list of London's confirmed re-openings is still being regularly updated (also here), and for those of you who are heading to the pub instead of a restaurant, there's also a list of places offering delivery after 10pm.
Also in The Standard, an article on the pedestrianisation of Seven Dials, and in order to give a boost to "help bars, restaurants and retailers that have struggled during the Covid-19 pandemic". Additionally, a "one-way system will also be introduced in Neal's Yard to ensure social distancing", with newly installed "hand sanitisation points" throughout the area.
Newcomers are thin on the ground, but there's good news on the way, in the form of a street-food inspired concept, The Indian Alley, being launched in Camden Market by the team behind Benares, plus a trio of dining concepts within Borough Market – fine dining from Elizabeth Haigh with Bā at Mei Mei, veg stall Turnips launching two dining concetps and Shuk pita purveyor serving collaborative Israeli dinners at Erev from July 31.
*****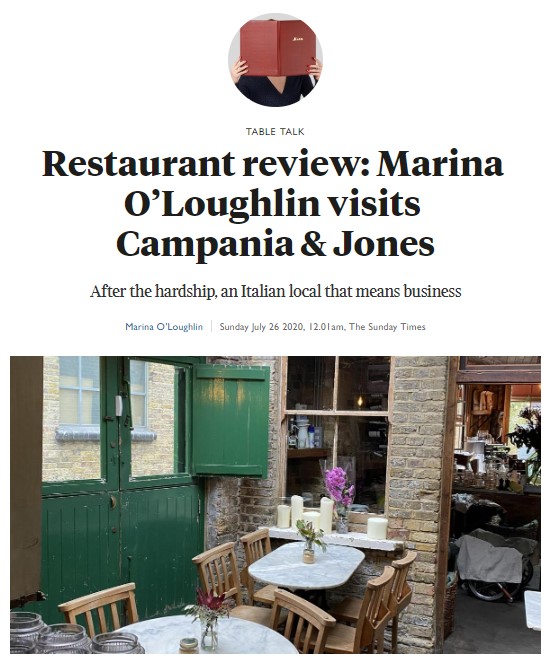 The Sunday Times
Marina O'Loughlin was in East London, at the "deliciously photogenic" Campania & Jones, on a "drizzly, dour evening", eating at her "first actual restaurant in more than three months".
It's one of her "best loved" restaurants, and she'd been in contact with the owner Emma Iantosca during lockdown to see how they were coping (there "are no deep pockets here, no backers, no publicity machine, no big-name chefs"). "Her answer, unsurprisingly, was "difficult"; it felt like "running on the spot"."
But now, the "ancient, wonky premises" are "fully open again, complete with their two outdoor tables" – "in a piece of painful irony the council got in touch to say they'd been given money by the EU to help boost businesses that might need more open space moving forward".
"It's as lovely as ever. Candles and lace, shadowy corners and almost-private nooks, the sort of place to cause a romantic flutter even in this hardened heart." Marina could have ordered everything ("the best kind of menu").
There was comfort food ("oozy, lactic mozzarella fried in the lightest batter; orbs of fluffy ricotta gnudi bathed in sage butter; veal ragu") alongside "twists and discoveries" and "gorgeous, gorgeous pasta", with "blowsy and bitter-creamy" tiramisu and shots of Fernet Branca to finish.
"The chef, Paolo De Martino, is from the island of Ischia and his food tastes as though it's made in Italy, not the back of Columbia Road."
"I'm not going to pretend that everything is normal here: there are a couple of almost comical restrictions — such as having to ask staff if you want to leave your seat or use the loo" but for the independent restaurant like this one, "struggling in the face of seemingly impossible odds, never was the phrase "use them or lose them" more poignant."
*****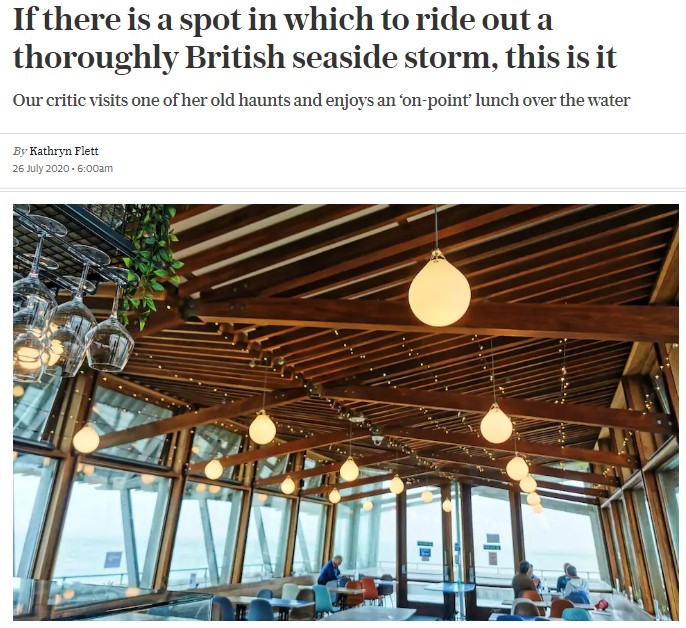 The Telegraph
Kathryn Flett visited the "modishly skinny and mid-century groovy" pier in Deal, Kent, upon which is found the Deal Pier Kitchen. Even a 30-minute wait in the "socially distanced, drizzle-blown queue" didn't dampen her seaside spirits ("a warming blast from the hand dryers in the loos helped a bit").
She missed out on breakfast but the lunch menu, while short, was "casually on-point"; she and 39 others were "warmed and cheered by the confident plates of comfort food" – for her, ham hock mac 'n' cheese, for her other half, a fish finger brioche sandwich.
This was "four-star casual dining" – "chips well-nigh perfect, cod-finger batter crunchy" and the "busy" mac 'n' cheese "hit the spot".
"A perfectly easy-going spot in which to ride out a thoroughly British seaside storm."
*****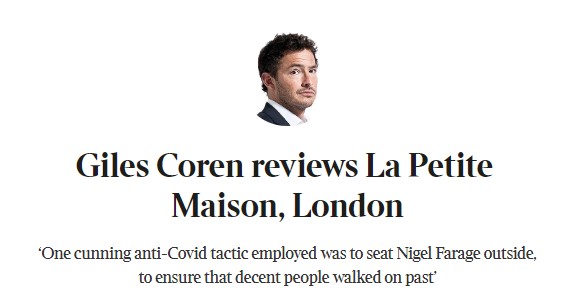 The Times
Giles Coren, back reviewing after producing a lockdown column with his wife, visited La Petite Maison with three chums, as he thought it would be a "pretty fair substitute" for the south of France, where he really wanted to be.
"In fact, it is better than a fair substitute. There are those who would even say that only on a good day is the south of France any sort of substitute for LPM." He loves the "light, white, triangular, well-windowed room on its cobbled Mayfair corner", although the "dozens of unlaid tables" (an anti-Covid precaution) made it look a little strange.
"The other cunning anti-Covid tactic they had employed was to seat Nigel Farage and three friends at a table outside the front. If you're worried about overcrowding, then Nigel is just the man to ensure that decent people will walk on past." A French restaurant with a Nigerian-born chef proprietor (who also owns the Nice original and several others globally) seems an unlikely choice for Mr Brexit, but "perhaps he took a long look at himself during lockdown"?
They ate lots of vegetables until Giles realised there were also main courses on the reverse of the disposable menu, after which they also enjoyed a rack of lamb ("rich, dense, grainy meat, charred, red, juicy, served… with spiced couscous" and tiny roast tomatoes), a "a nice tranche of wobbling turbot with young artichokes and chorizo. And a whole bream, baked en papillote, then boned for us."
The Monday lunchtime meal was very quiet (good tip), due a lack of tourists and older clientele (the usual crowd "in this location and at this level of cooking") but they are still doing "a lot" of takeaways.
*****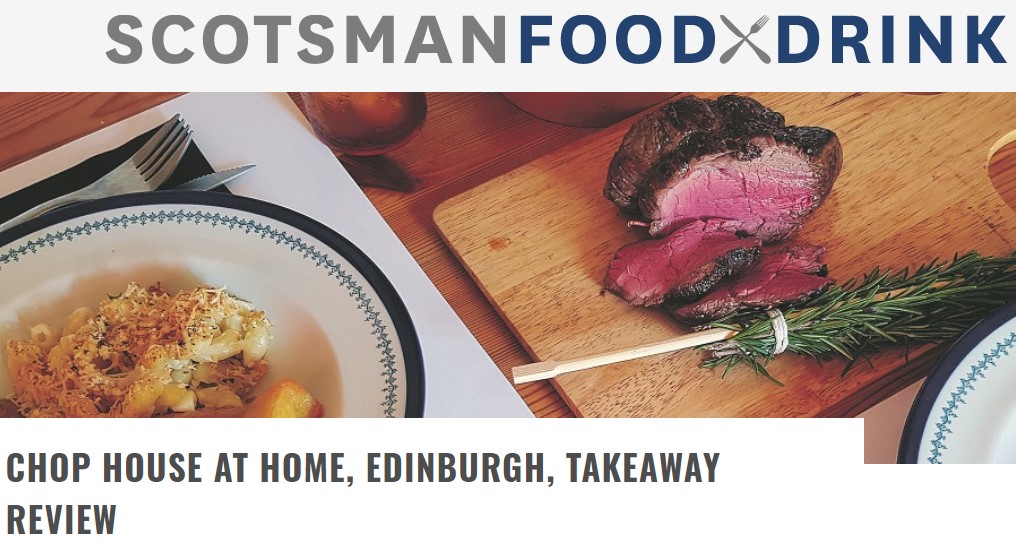 The Scotsman
Gaby Soutar is still working her way through the takeaways and cook-at-home deliveries of Edinburgh; this week it was the Chop House; the Bruntsfield restaurant had been the site of one of her last meals out before lockdown. "At the time, I felt guilty about my lardy lunch. Now I wish I'd eaten more. Carpe diem ante pandemic."
The Bruntsfield branch is now open, but "they continue to offer the new Chop House At Home menu, as the demand has been huge".
The chunk of beef (which "sliced as easily as a damp Battenburg") comes with cooking instructions sides to reheat. "Everything is nicely presented and branded. There are hand wipes, paper placemats and clear instructions."
The "triple cooked beef dripping chips (no lite or diet version available)" had "caramelised vertices and are the size of railway sleepers"; other sides included triple cheese macaroni, wild garlic mushroom and sesame slaw. Gaby finished with a "pudding cocktail" but real desserts are now available.
Another article in The Scotsman revealed a list of new restaurants and bars opening soon in Scotland.
*****
And also…
In The Financial Times, Tim Hayward is back with restaurant reviews, sort of: he explained that "takeaway can be lovely in and of itself", and his takeaway from Osip in Somerset wasn't "necessarily a poor substitute for some 'real' dining experience".
*****
Nothing online from Tom Parker Bowles in The Mail on Sunday.
*****
Articles in the Manchester Evening News hit out at both 'no-shows' and also 'influencers' asking for free meals at some of the city's "most prominent restaurants"; in another article "independent restaurant operators have warned that diners should not expect VAT savings to be passed onto customers, despite big chains offering such discounts".
*****
Bristol Live lists the 2020 closures so far, the local independent restaurants offering the August discount and the change to veteran waterfront restaurant Glassboat, which has been changed during lockdown into a fish restaurant, called Fish.
Recent News from Harden's