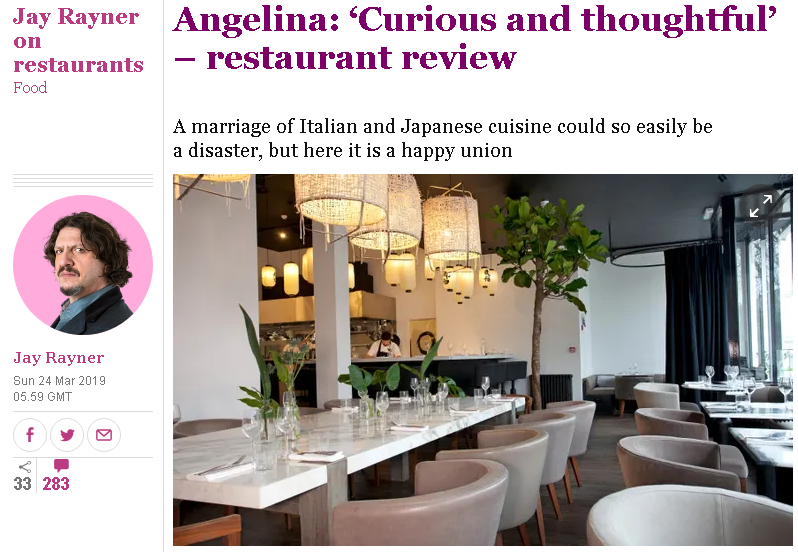 Jay Rayner for The Observer visited Angelina despite the "acute flashbacks" he suffered when told it was a fusion of Italian and Japanese food; it took him right back to the "unmitigated disaster" that was Shumi in 2003.
Luckily for him, and us, Angelina avoids any such disaster: it "feels like a beautifully intentioned, low-key experiment". In fact, "it's like being invited round for dinner by your mate; the nerdy one who can really cook".
The decor is where the "most overtly Japanese elements" can be found, while the food gently recognises the similarities between the two cuisines (rather than attempting Shumi-esque Italian sushi or risotto served with chopsticks). "For surely tempura and fritto misto are two preparations with the same intent? Aren't sashimi and crudo close relatives?"
Risotto "studded with dense, oily pieces of unagi – barbecued eel" was a "plate of loveliness", artichokes came with breaded, deep fried pork and a "dark Japanese-style, sweet-and-sour sauce so that you are now thinking about tonkatsu… of the minor miracles of Japanese cooking"; the wine list is entirely Italian.
Angelina is a "sweet venture" serving "Italian food, with intriguing Japanese grace notes. This time round I give thanks that there appears to be space in the market for something so curious and thoughtful."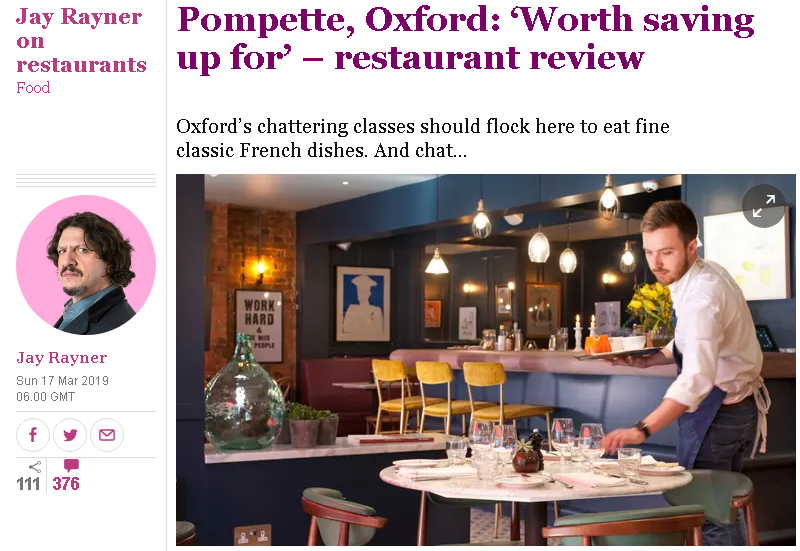 Last week we wrote about Jay's 20 year anniversary as The Observer's restaurant critic – however his trip down Memory Lane wasn't in place of a review, as we stated. Sorry, Jay! And sorry to Pompette, Pascal & Laura Wiedemann's new-ish Oxford restaurant that he reviewed. Pascal worked with Henry Harris at Racine before opening Terroirs.
It's "the kind of classic French restaurant that the British middle-classes adore" – and, as Jay revealed, "where you should take people if you want to get them to confess to almost anything". He should know, he'd recently interviewed "an actual Spice Girl and two Oscar nominees" over lunch, asking them "outrageous questions for a new podcast" (shameless plug for Out To Lunch with Jay Rayner by way of apology).
Pompette provides "culinary reassurance" in the form of bar snacks "charcuterie, cheeses and terrines, which old hands from Terroirs may recognise", starters such as globe artichoke with vinaigrette or fish soup "the colour of copper pans polished to a shine", and main course choices including hake with Umbrian lentils or lamb chops "smeared with… salted anchovy".
"Stay for dessert because they've made the effort." Also because they sound delicious: a "sizable cream-filled choux bun with a crunchy caramel glaze is surrounded by griottine cherries and presented with a jug of hot chocolate sauce. Yes, and please."
The "main menu pricing is robust" but "a place like this is worth saving up for" – or you could go for the bar snacks and the good-value "three-course fixed price lunch menu at £20".
Quinlan's, Killarney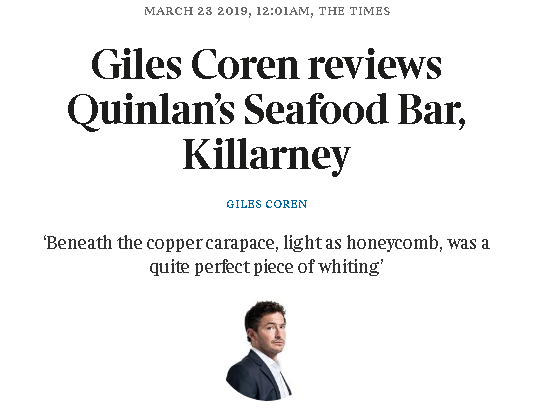 After a perfect score for Endo at Rotunda last week, could any restaurant ever prove as perfect for Giles Coren? Well, in a word, yes. In this week's Times magazine, he gives the same perfect score to a fish supper in Ireland.
A "glorious chowder" to start made his "little heart… pitter-patter with excitement", Portmagee crab claws in garlic butter with "lovely cakey" soda bread made it go "boom, boom, boom". Tiny squid rings came with " with "proper old-fashioned chippy chips, thick and stubby like a fisherman's fingers".
Incredibly, he decided that he had room for some fried fish, and went to watch his whiting being cooked; it was "glorious… a quite perfect piece of whiting".
"And so, again, 10 out of 10 for everything. Because whatever the expectations of your guest, that is the score you deserve when you fulfil them entirely." (30/30)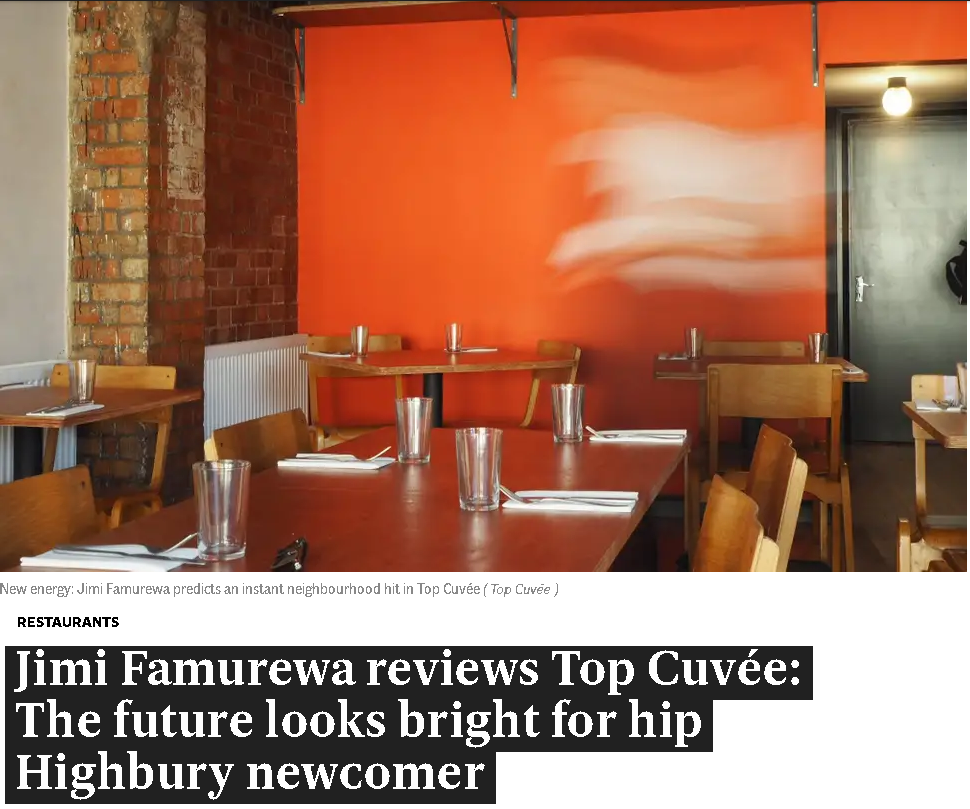 The new neighbourhood wine bar in Highbury had Jimi Famurewa from The Evening Standard feeling "pronounced, irrational envy", because he doesn't live 10 minutes up the road. Top Cuvee comes from an ex-Naughty Piglets chef and drinks experts from Dinner in Melbourne and Three Sheets, and has already established itself as an "instant neighbourhood hit".
Looks-wise, Top Cuvee has a "relaxed culinary hipness that plenty of us will recognise", but the team bring "a new energy, a flavourful wallop and a playfulness to this recognisable formula".
"A couple of slight disappointments" aside, the food was "properly, blissfully good"; chef Dan Miller has a "dynamic way with voguish vegetables". Dishes included sweet potato, blue cheese and sage croquettes with "pungent, yielding centres", a "turbochatrged" house terine and "fantastically sloppy burrata".
Jimi's companions drank some "interesting reds" and the meal was finished with simple, but skilfully produced, desserts and "what felt like an almost criminally low bill". (9/10)
Marina O'Loughlin in The Sunday Times ate at Ottolenghi's new-ish Fitzrovia restaurant: "it is impossible to overstate how much Yotam Ottolenghi has changed the way we eat".
Her meal, full of those now-ubiquitous ingredients we'd never heard of pre-Ottolenghi ("pomegranate syrup, barberries, za-atar"), was "not just dinner — this is good enough for my last supper".
Her tweet on the review sums it all up: "it's a rave. And those lobster crumpets… yes, yes, YES".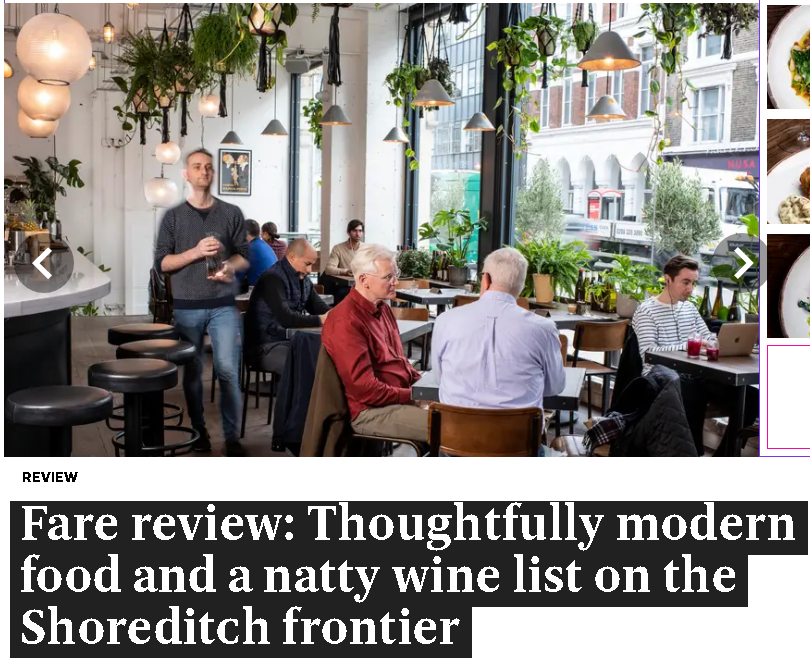 David Sexton reviewed Fare for The Evening Standard this week, a new Clerkenwell joint from the folks behind Sager + Wilde; he describes it as "a bit of everything" – there's coffee in the morning, all-day pizzas and evening wines and cocktails on tap (all with accompanying, and duly named-checked, bits of kit).
Located on "the street level of the big mid-century warehouse block", with the kitchen "discreetly visible through a window", Fare also serves up a "straightforward" modern British menu downstairs; "pleasant enough, unremarkable food, carefully adapted to this locality: thoughtfully modernised but not fanciful, a touch earnest, virtuously sourced, suggestive of sustainability". Wines (all natural) are "fairly priced".
Returning another day for the pizza, David had a "good sourdough pizza with blobs of Cantal cheese, honey vinegar and black pepper" and enjoyed people-watching – "they're interesting, the customers here, frontier people, not the full Shoreditch hipster but far from Islington bourgeois, just right for conditions here on the border". (***)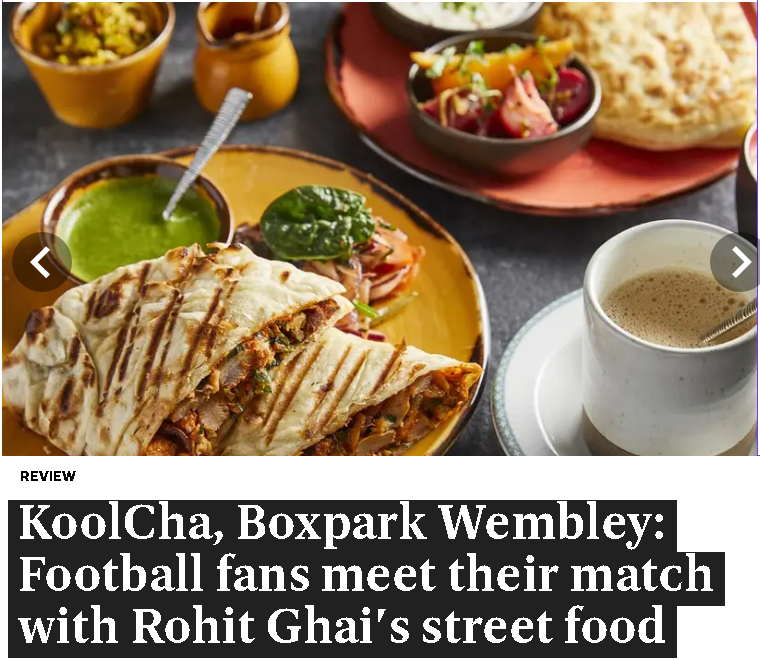 Ailis Brennan writing for The Evening Standard visited Rohit Ghai's street food venture at Wembley's "corrugated steel-clad street food market" – she thought, as many did when it was announced not long after the opening of Kutir, that "it's not where most people imagined Ghai heading next".
KoolCha ("the name is wordplay on the restaurant's feature ingredient, kulcha, Indian flatbread that is typically stuffed and sold as a street-side snack") actually takes up three units at Boxpark, and has 60 covers – Ghai is "not exactly peddling a hot dog cart" here. It's still "casual enough for passing football fans", though – Ailis recommends checking what's on at Wembley before going, to avoid her experience of "a full house of fans visiting the largest capacity football stadium in the UK" on the Jubilee line.
Small plates, thali-style "combo meals" and kulcha options are available – no proper tandoori oven (due to fire regulations) means the breads "are without the smoky charred flavour that one would hope for or, indeed, expect", but are great when "reimagined in grilled sandwich form" (via a panini maker); "the pressed paneer wrap is a highlight of the meal".
It's not "Michelin-star quality food, but it is tremendously cheap" and "boisterous appetites are sufficiently catered for" – football fans would be "hard pressed to find a better match day meal in the capital". (****)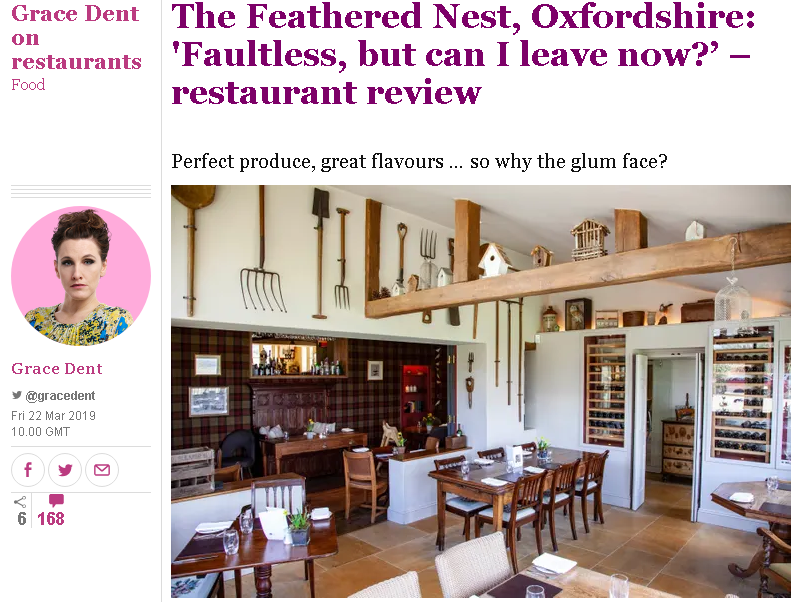 Grace Dent in The Guardian was in Oxfordshire, in the "heavenly" Cotswolds, visiting The Feathered Nest, an "exquisitely restored malthouse".
Don't come here expecting pub grub: chef Kuba Winkowski does "fancy fine dining over several courses", from pre-dinner snacks to "non-surprise surprise petit fours ". "Produce is exemplary, flavours paramount."
Comparisons to both The Ledbury and Fera at Claridge's appear; the food was "faultless" and "wonderful", but Grace was left cold by issues mostly caused by under-staffing. "Such places require a squadron of top-level staff working in nigh-eerie harmony, leaving no knife unswapped, no glass unfilled, no dietary quibble uncherished." At £90 for six courses (plus hefty supplements), you're certainly paying for the squadron, but The Feathered Nest "has an eighth of the staff it needs".
"By course five… a sense of cabin fever that I often experience during fancy dinners takes hold." (17/30)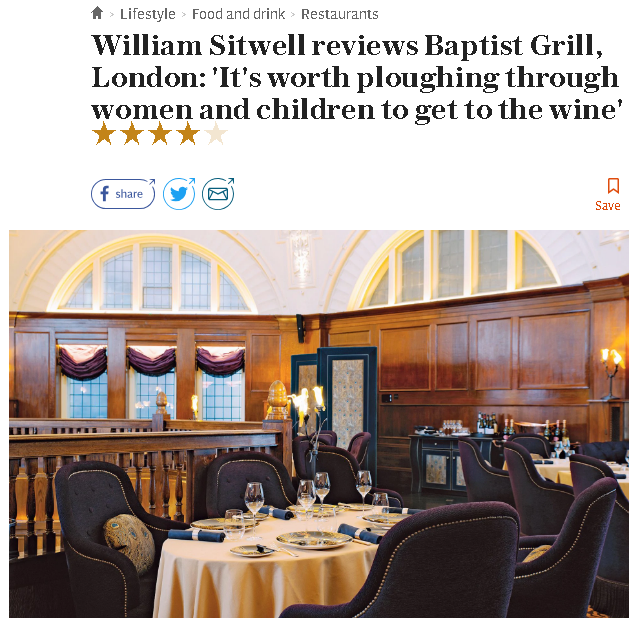 "From the Gothic confines of the Baptist Union of Great Britain has risen L'oscar hotel" with "richly eccentric" decor (it's all black, gold and purple); inside "you'll find the Baptist Grill and an opportunity to get a rather good steak", declares William Sitwell for The Telegraph.
The menu is as "theatrically splendid" as the decor; he ordered octopus carpaccio, then suffered "massive order envy" as his children ordered crab ("a really wonderful dish") and agnolotti. A shared 40oz 'Mini Axe' (tomahawk steak) "was a fabulous piece of meat and with the trimmings arrived like a sultan and his entourage". He drank a rare Rhône valley red with it, "worth ploughing through women and children to get to". (****)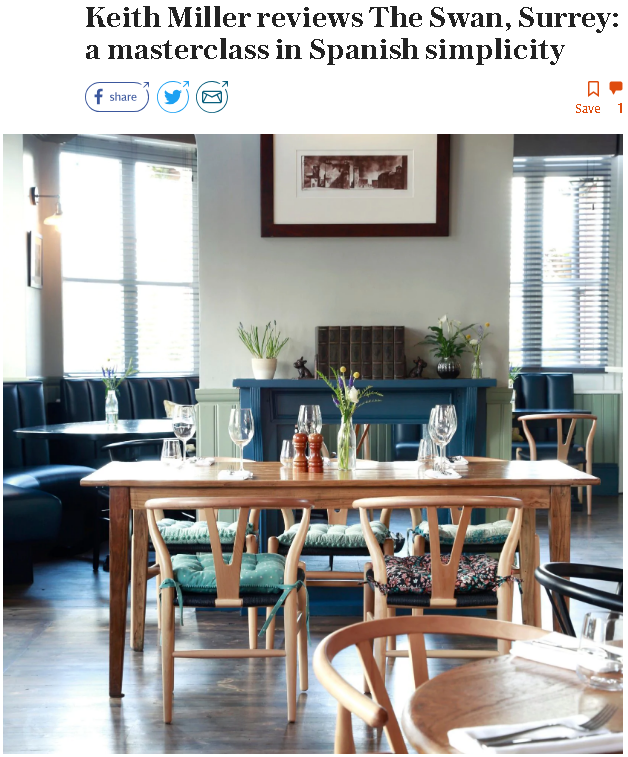 Keith Miller for The Telegraph on Saturday was in deepest Surrey, "classic commuter-belt ­terrain, extra-urban yet sub-rural", to "dive headlong into the delights of José Pizarro's new tapas-tastic pub-restaurant".
"Outside, it retains its resolutely non-gastro appearance"; inside "is a masterclass in what the Italians call cucina povera". There's "no elaborate Basque-style pintxos, no Ferran Adrià-inspired molecular gastronomy" here.
"We loved our dinner" – anchovies were "perfectly poised between sweet, acid and salt", padrón peppers were "pungent and firm and the colour of a vintage racing car" and the pork was "immensely good quality" and "beautifully cooked". There were sherries, Pizarro's own red wine and a "fantastic Spanish cheese board" too.
It may be "a little on the spendy side" but the patrons of Claygate can afford it.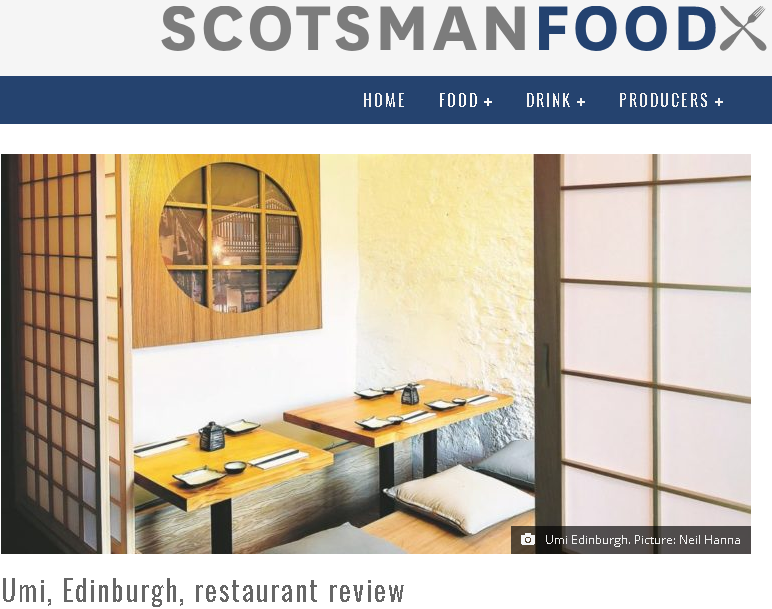 There are many "subterranean delights" in Edinburgh; Gaby Soutar for The Scotsman investigated the latest underground offering, " slotted under… Chinese restaurant, Ping On, in Stockbridge".
"It has a relaxed vibe… though the menu is slightly more experimental" than sibling venues in the city; gyoza were "fancier than your average dumpling… all five connected by a fan of crispy batter that was as lacey as Mary, Queen of Scots' cuffs", the edamame came with truffles, and hamachi carpaccio was "beautiful".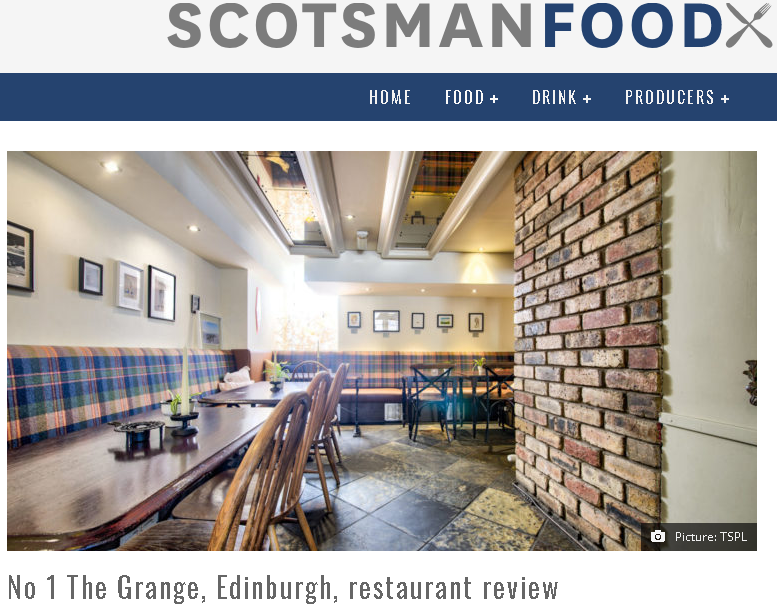 Also in The Scotsman, Catriona Thomson gave a quick historical geography lesson before introducing her review of No 1 The Grange in Edinburgh. It suited the "globetrotting" menu (with some Scottish touches like breaded haggis balls).
Inside, exposed stone walls and retro leather bus seat sofas "go together to create the all-important relaxed atmosphere of a gastropub".
Bao buns with kimchi and enoki fritters gave "pan-Asian satisfaction galore", and the Sunday roast (served with "all of your five a day on a plate", plus Yorkshire pudding) was "a massive waistline increasing quantity of grub". In fact, everything came in "generous portion sizes, do remember that it's good to share." (80%)
And also…
The Financial Timesreviewer experienced "five-flavour Michelin-star extravaganza" at Restaurant Sat Bains, "umami, salt, sweet, sour and bitter dishes all star on the chef's Japanese-inspired menu", while Tim Hayward declared Kym's to be "an almighty curate's egg": "I'd do anything to eat the sea bass again – well, anything except go back to the restaurant"
Tom Parker Bowles for The Mail on Sunday ate "modern Greek food at its very best" at glitzy Mayfair newcomer Onima. It's a shame that his lunch there (accompanied by Giles Coren and two charity auction winners) was so "bum-clenchingly expensive". Presumably that's why it only got three stars…
The decor "isn't bad looking, in a slick, expensive, marble-and-mirrors Mayfair way", the cooking is "really rather good" and " the sommelier knows his stuff".
Saganaki (fried cheese) was "flawless", Sicilian red prawns were "sweet and blissfully rich" and tonnarelli cacio e pepe pasta was "exceptional. Unforgettable. Although at £19, it's peasant food at oligarch prices." And if even TPB finds the prices "difficult to digest", then Onima is perhaps best left to the "jet-set, fat-watch-wearing pan-global hotchpotch" it was designed for. (***)
Daisy Jackson of The Manchester Evening News was in Didsbury for the already-legendary hummus at newcomer Baity; it was "velvet-smooth and so densely comforting it should be prescribed as an anti-anxiety med", although she was disappointed by the accompanying flatbread.
Baity is a "light and airy" spot with "a large olive tree standing proudly in the window". There's just four main courses, lots of small dishes, three desserts and only "soft and hot drinks" available.
Daisy enjoyed the "significantly spicier" version of patatas bravas ("devoured in seconds") and the kunafa cheesecake ("classic New York-style baked cheesecake beneath a layer of sunny orange pastry threads… and a soaking of rose syrup").
"An excellent addition to this bustling strip in Didsbury Village."