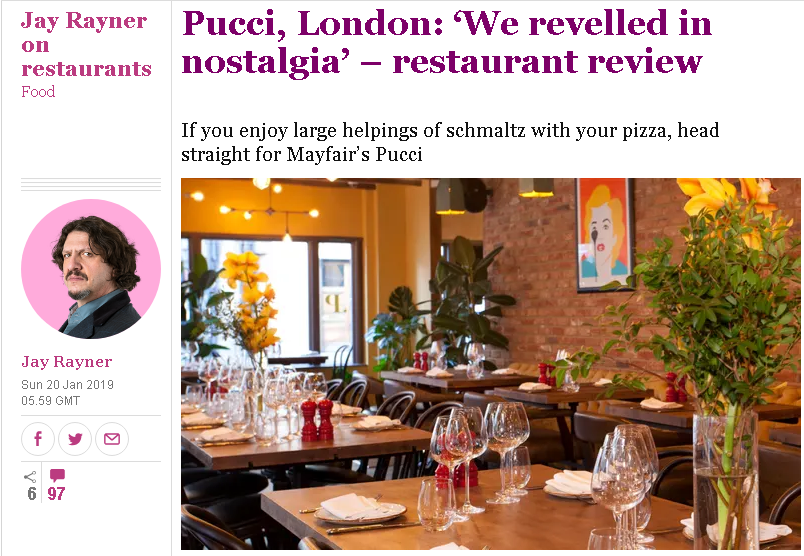 Jay Rayner for The Observer reviewed Mayfair newcomer Pucci, revived from its bygone King's Road days by the founder's son (the original closed in 2010).
Decorated like "a wealthy person's version of a humble farmhouse", it's the sort of room "in which you can have a very good time, though ideally with someone else's money". The new Pucci serves exactly what the old one did – Romanesque thin-crust pizzas, plus a few sharing plates from the owner's wife, who's worked at Noma (unpaid) and Maze. Some of the pricing is ambitious (£45 for a truffle-topped pizza) but you could eat there for a lot less.
Nduja pizza was "a fine piece of work"; the other dishes were good too, and "good value".
Calamari rings and 'courgette fritti' were "baffling" duff notes, rescued by a "truly magnificent Rubensesque pavlova designed for sharing" – "what come-hither desserts should look like".
"We had a very good time, visiting the past. We revelled in Pucci's unconscious act of nostalgia."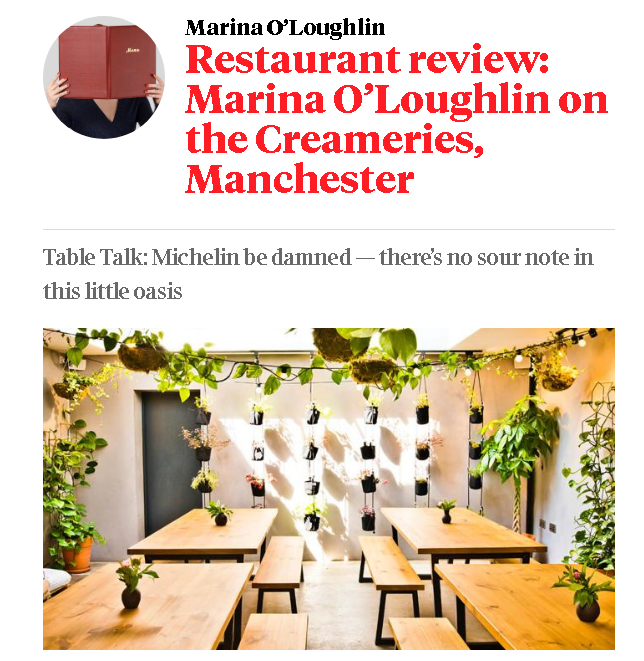 Marina O'Loughlin in The Sunday Times visited The Creameries, a "small oasis of loveliness" in Manchester, a "defiantly Mancunian kitchen" that demonstrates "intense culinary industry".
There' was "nothing tricksy or tortured or tweezered" to be found at this restaurant, from "local hero Mary-Ellen McTague", although that "doesn't indicate a lack of sophistication ". Preserving, curing and other 'heritage' culinary techniques create "the sort of things that would once have bridged the seasonal 'hungry gap'". A butter pie, for example was "a fantastically austere-luxurious thing", accompanied by "a kind of pease pudding studded with cubes of curiously crunchy vinegar jelly" was "comforting, happy-making".
Maybe The Creameries (with fellow hot Manc newcomer Mana) will finally get the tyre men's attention? (Marina is "convinced they're trolling Manc out of sheer mischief " by ignoring the city year after year.) Then again, she's not sure they'd be bothered either way.
It may not be everybody's idea of the "perfect neighbourhood restaurant, but it's still pretty damned close".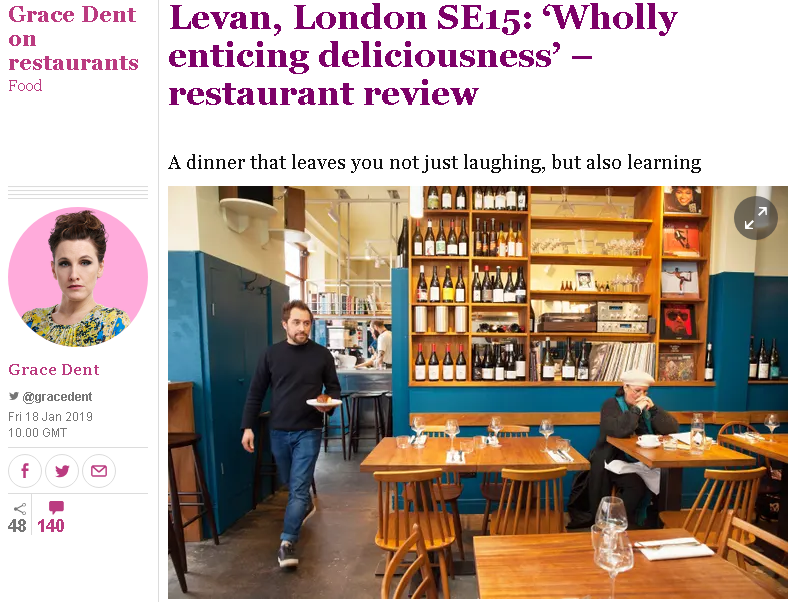 Grace Dent for The Guardian is delighted by Peckham's newest restaurant Levan, where the team (also behind Brixton's Salon) are expert "engineers of the new wave of highly relaxed yet incredibly drilled hospitality" – the attention to detail stretched (importantly) to the toilet, a one-person mini disco (best experienced with wine).
Levan is a "welcoming room, painted midnight blue, with an open kitchen and upbeat staff whom you can't help but befriend"; the menu is "a bit medieval rustique Europe with a Manhattan skeleton" – and full of "wholly enticing potential deliciousness".
Grace declared the "caramelised celeriac ravioli with dashi butter" ("sounds wrong, in principle") to be "the greatest vegetarian dish ever". The "array of snacks", biodynamic wines and never-before-seen cheeses merited special mention ("I like a dinner where I'm not just laughing, but also learning.")
Puddings are "less world-changing" but an espresso and hazelnut choux pastry was "decadently charming".
"Levan, I like you. Probably a bit too much. Nothing good can come of this." (26/30)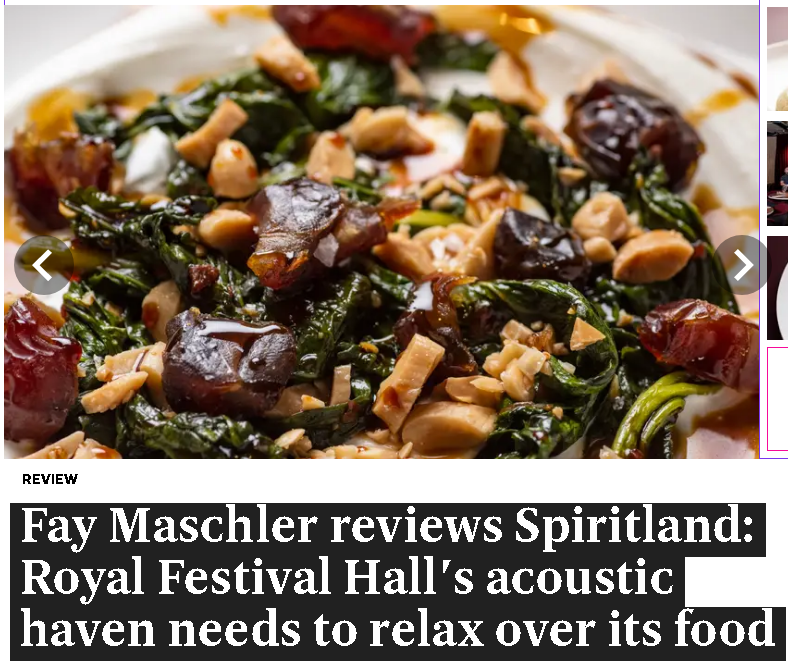 Fay Maschler for The Evening Standard is the first critic to visit the new incarnation of the Royal Festival hall's lower ground floor restaurant (formerly Canteen, RIP); it's now a sibling to a King's Cross cafe, bar and radio studio, and boasts a former Providores/Tapa Room chef as group exec chef, Karl Calvert, aka Moondog.
It's certainly an appropriate location for a "haven for listening" (they even have a 'Headphone Bar' in Mayfair), but "is it bringing rewarding food to the area?" It doesn't bode well that her lunch companion checked out the website beforehand – and eats from the market stalls outside before arriving.
The decor is inspired by "recording studios… complete with angled acoustic panels in the ceiling", and reminiscent of "the set of Mad Men".
The "Tower of Babel menu format" lists ingredients rather than dishes; Fay had a word of 'advice' on almost everything she ate, although rump of lamb was "joyfully comprehensible" (whatever that means).
"The catering is needlessly effortful in a venue so fundamentally pleasurable." (***)


Spuntino, London TW3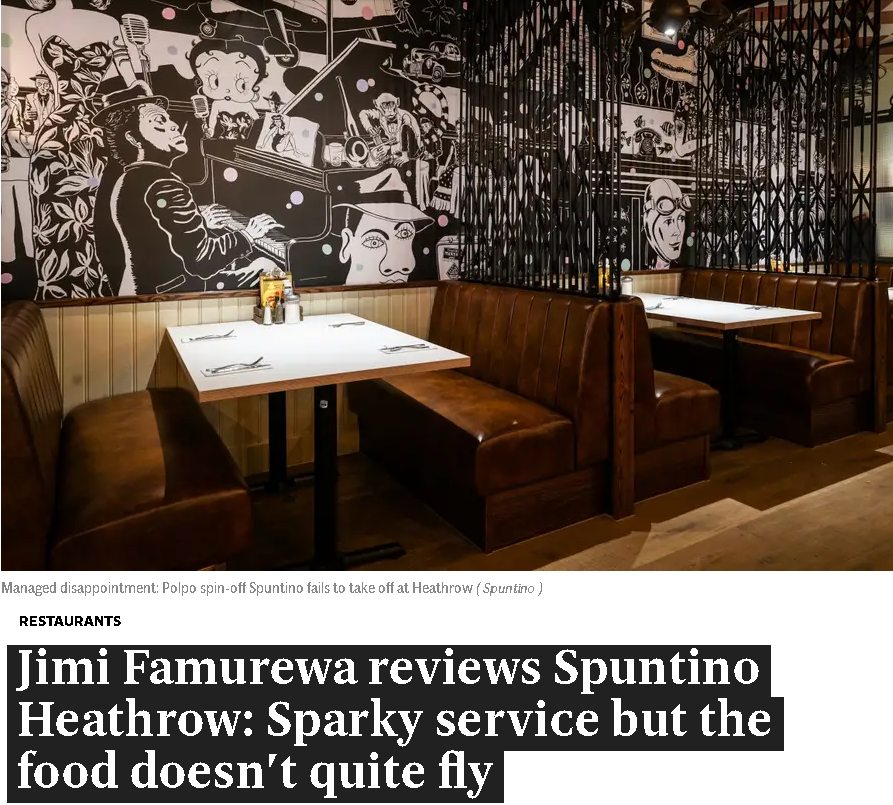 Was it a "locational glitch" that made Spuntino open in Heathrow's Terminal 3? Jimi Famurewa in The Evening Standard visited the "harshly lit consumerist netherworld" of duty-free to find out.
It's a "a big, bright, busy neo-diner space" serving up a menu of "Italian-American comfort food", with "sparky and capable" staff; it sounds great but the realisation was distinctly not. Jimi's truffled egg toast start was a "sad, strangely cold brick of bread" with a "gluey duvet" of melted cheese, not the "luxe-filth spin on egg-in-the-basket" he was expecting. A not-altogether terrible chilli had "the feel of a mammoth fridge clear-out", and puddings were all "unstintingly" sweet.
Ultimately, "all airport food is an exercise in managed disappointment", but "isn't Spuntino meant to be better, cooler and tastier than this"? (5/5)
There's a bumper crop of reviews from The Telegraph this week: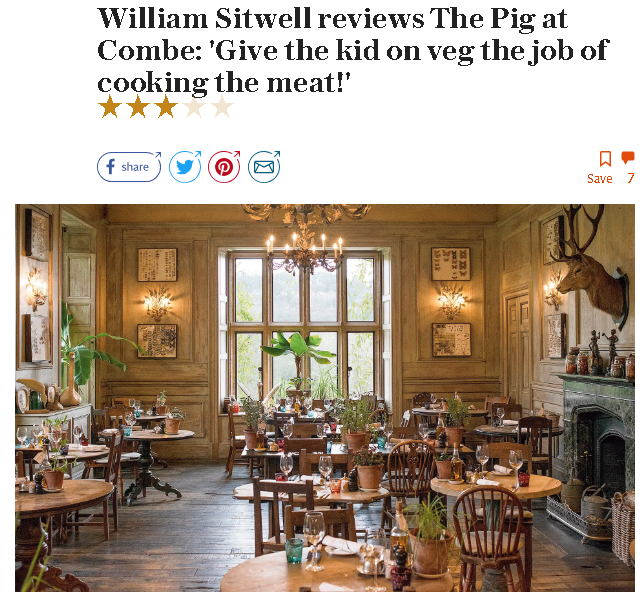 William Sitwell for The Telegraph visited the newest opening in The Pig chain of restaurants-with-rooms – this one's an Elizabethan house "in a beautiful valley near Honiton in Devon", decorated with "stag's heads and light-grey-washed panelling".
"Home-grown produce is what they do best here" – they are rightly proud of their kitchen garden. Which turned out to be a good thing as the meat cooking left a lot to be desired: "give the kid on veg the job of ordering, cooking and resting the meat!"
Service was "wonderfully attentive and friendly", but the food needs "to be better". (***)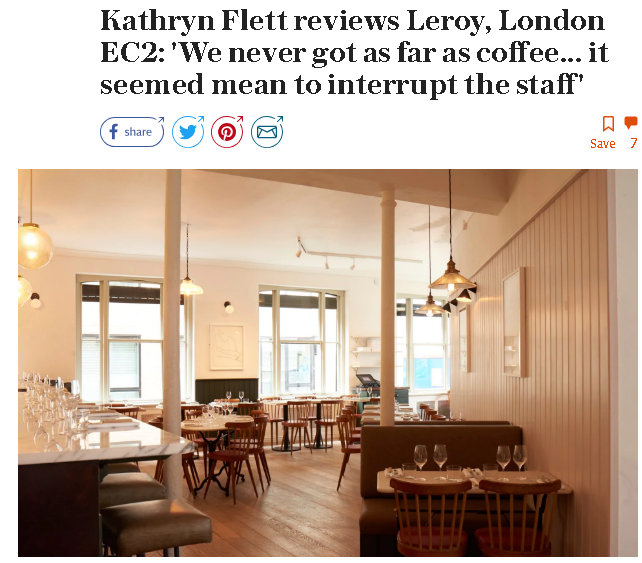 Kathryn Flett for The Telegraph reminisced about the days when Shoreditch was known as "Y'know, near Old Street Roundabout?", and wasn't "heaving with untucked hedge-funders and bridge-and-tunnel restaurant critics" like today.
She took the author of The Ladybird Book of The Hipster along to lunch at Leroy, which she described as "triangular and white and woody and thoroughly easy-going"; unfortunately, beyond a "well harmonised" charcuterie plate, some swoonsome burrata, and a brill dish, neither of them remember the meal at all "other than that the cheeseboard was astoundingly good". (****)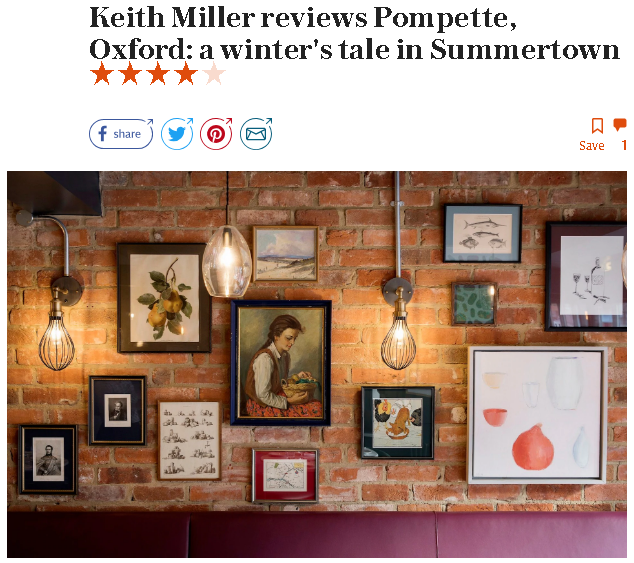 Keith Miller for The Telegraph visited Oxford and Pompette, which translates as "tipsy"; "a good name for a restaurant…but it brings with it… the risk of cuteness. "
The decor was "inviting in a grown-up, restrained and even faintly austere way" (no cuteness there), and the menu embraces a "peasanty European" vibe that "scored highly".
The "bistro classics had touches of originality", and the meal ended with "fantastic puddings". (****)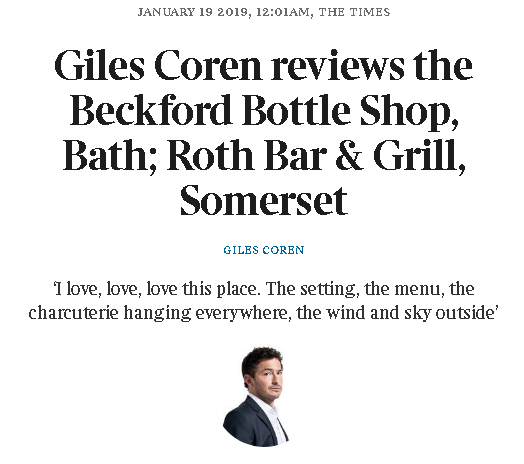 Another two-for-one review from Giles Coren in Saturday's Times magazine; this week he's written about the two West Country places he visited while on his New Year's holiday.
The "beautifully modernised" Beckford Bottle Shop in Bath "is pretty enough to draw tears from a stone goblin" – unfortunately, so are all restaurants in Bath ("in this town, even the crappest places have no choice but to look nice"), but this one is decidedly "not crap".
A pleasing "cross-fertilisation of staff, management and ownership" (with The Talbot Arms in Mells, and the Beckford Arms in Tisbury) gives Bottle Shop a head start locally; during the week there's a "tantalising menu of grown-up sharing dishes", but the Coren family were there for Sunday brunch.
"Quite the most imaginative brunch you could hope for" featured "dazzling" British charcuterie, ox cheek shakshuka and freshly baked madeleines. (32/40)
On New Year's Day they visited a friend who's working at Roth Bar & Grill in Bruton while developing a solo project. It's on a working farm, "with gorgeous stone outbuildings and a huge, lavishly proportioned modern art gallery", with the restaurant located in a "mind-blowing barn of a room".
More "epic charcuterie", "beautiful little burgers" for the kids and a "sticky date and ginger pudding for the ages" formed just part of their meal.
" I love, love, love this place." Having declared an intention to only review places outside London, he's clearly thrilled to discover two restaurants that made him realise "a craphole London is, with its poxy, self-important restaurant "scene" full of online snipe and vile unfriendliness". (Presumably that doesn't include him – or us!) (32/40)


Tom Parker Bowles for The Mail on Sunday was back on form with a predictable four-star review for The Mash Inn, "a serious restaurant hidden within the cosy eaves of a higgledy-piggledly red brick Home Counties pub" .
Why it didn't rate five stars is anybody's guess, as this review was a love letter to the food and the chef (Jon Parry, recently returned from Japan); "one of the most thrilling and original lunches I've eaten in months. Parry's character and travels are indelibly etched into each dish."
TPB opted for the tasting menu, which featured dishes like a lollipop of battered quail, with sprouting broccoli kimchi and a Renegade Monk blue cheese sauce: "Sweet Jesus. What could resemble an Anglo-Korean bar brawl turns swiftly into a multicultural love-in."
"High art meets base pleasure. A roving palate, with technique and talent to match." (****)


And also…
Gaby Soutar of The Scotsman visited So LA, the new Californian-inspired Glasgow restaurant and bar; it's not the best place to go when you're brewing a stinking cold, but it was so dark in there that nobody noticed she wasn't feeling her best. So L.A. (not surprisingly) serves "Californian-style food – think fusion, with East Asian, Mexican and US twists"; there's also a very LA 'motivational quote' served with each cocktail. (And none of the main dishes come with carbs, of course.) The Korean tuna tartare starter "was a strange hybrid of sophisticated option and TV snack", charred monkfish tail was "a beautifully cooked cloud of meat" but the 'PB and J sandwich' pudding tasted "of someone else's childhood": "pretty nice overall".

The Birmingham Mail reviewer Sanjeeta Bains gave readers a sneak preview of the new Chinese restaurant opening in the city on February 1: Tattu, in the former boiler room of the refurbished Grand Hotel, has siblings in both Leeds and Manchester, although this branch is far grander. It's laid out over two floors with very different styles, "inspired by the ancient Chinese philosophy of yin and yang".