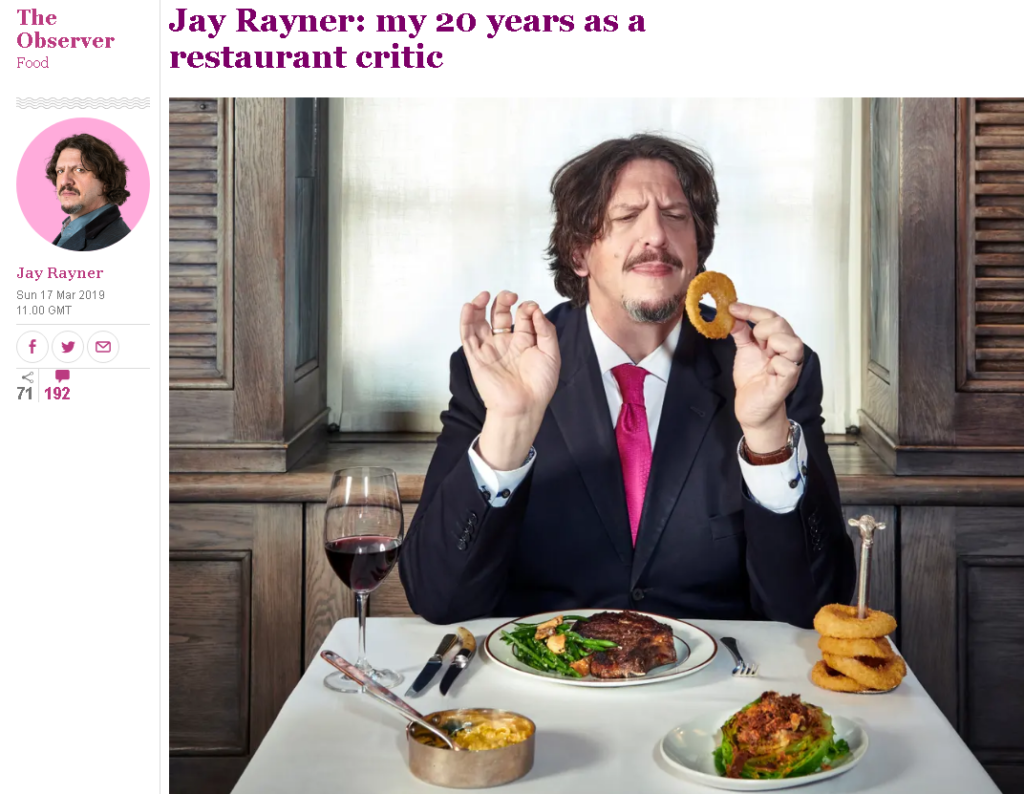 Instead of a review this week, Jay looks back over his 20 years as The Observer's restaurant critic in an article that ranges from 1999 (the year MPW retired, Jamie O debuted his Naked Chef show, Restaurant Gordon Ramsay hit its stride and The Fat Duck won its first Michelin star), through the arrival of 'small plates', Sichuan cuisine and food sustainability. He covers all-vegetarian restaurants, no-reservations policies (he claimed it would never last…), Noma, Basque fire cooking and the domination of London's restaurant scene over the rest of the nation.
Some restaurants have lasted as long as his career in food criticism, some have come and gone. Prices have risen, restaurants have diversifed and street food has become the testing ground of new concepts.
"Have I got anything wrong? Yes. I dismissed the brash Indian Dishoom too easily as all concept and no substance. What was I thinking? The food is great, the brand is strong and they serve a killer breakfast bacon naan. But otherwise, as arrogant as it sounds, I am comfortable with what I've said."
"I get my dinner paid for and then get paid to write smartarse things about it. Who wouldn't want to do that? You'll have to prise my cold dead fingers from this gig."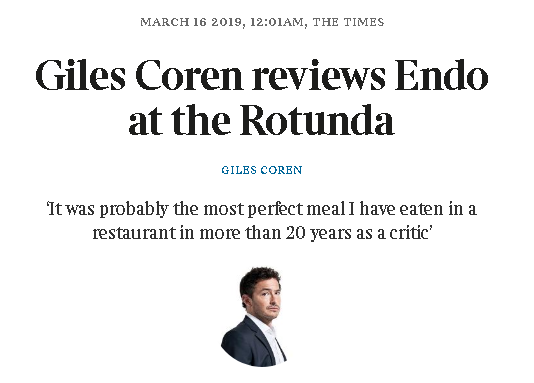 Giles Coren for Saturday's Times magazine is a lucky man. He won the Golden Ticket – an invitation to Endo at Rotunda, the new White City restaurant, before it even opened. And the result? "Probably the most perfect meal I have eaten in a restaurant in more than 20 years as a critic."
Of course, this treatment may well have gone to his head: "The following night… they were expecting the King of Jordan. But first, me. This place knows its priorities."
"Endo's first permanent restaurant with his own name over the door" is an intimate, 18-seat, "breathtaking space" with glass walls that look out on to "a very Japanese-feeling view of new-built office and retail spaces, streetlights, video advertisements, trains" (except with a great big Westfield sign). Endo is the star: it's promised that if he "can't make it, the place won't open".
The 16-dish omakase menu (with a few extra freebie courses) was all made on the spot, and had "not the briefest moment when quality fell away from perfection". The dishes – many just mouthfuls – included a spider crab and sea urchin that "was warm, fresh, melted slowly, yielded sweetness and fat, was beyond imagining. I closed my eyes, like a total knob." Another dish of bluefin tuna wrapped in signature seaweed had Giles hearing the mermaids sing.
From the ancient crockery to the Japanese cypress table that's "planed down after every service to present virgin wood to each new guest", no expense has been spared to provide Endo with this location: "everything comes from Japan. Even the water the rice is cooked in". It's certain to be one of the most difficult places to get into for years to come.
Giles wanted his review to "grasp the humour and humanity, the vastness and smallness of Endo" – we think he captured it pretty well in describing a squid 'mouthful' as "like chewing milk in which someone had… dissolved a seahorse".
"The specialness, the quiet theatricality, the beauty of the man and of his cooking. Everyone will want to be here. But almost nobody will be. I am just so glad that I will be able to say I was here at least the once." (30/30)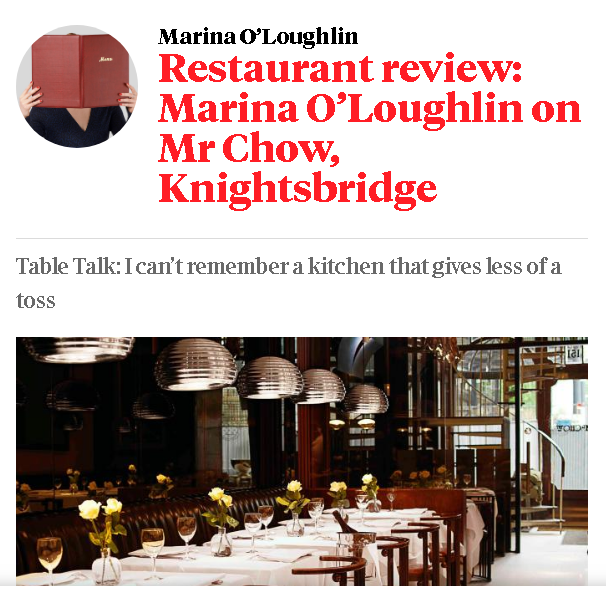 While her colleague Giles Coren was enjoying the best meal of his life at Endo at the Rotunda, Marina O'Loughlin for The Sunday Times fared less well at Mr Chow, which was "the first truly upscale Chinese restaurant in London".
"There's been a lot of talk recently about high prices in ritzy Asian restaurants, as though these shouldn't be allowed to charge like rhinos. But the food of any nation is like every other commodity: you get what you pay for. Usually."
"I can't remember a kitchen that gives less of a toss… my worst meal out ever."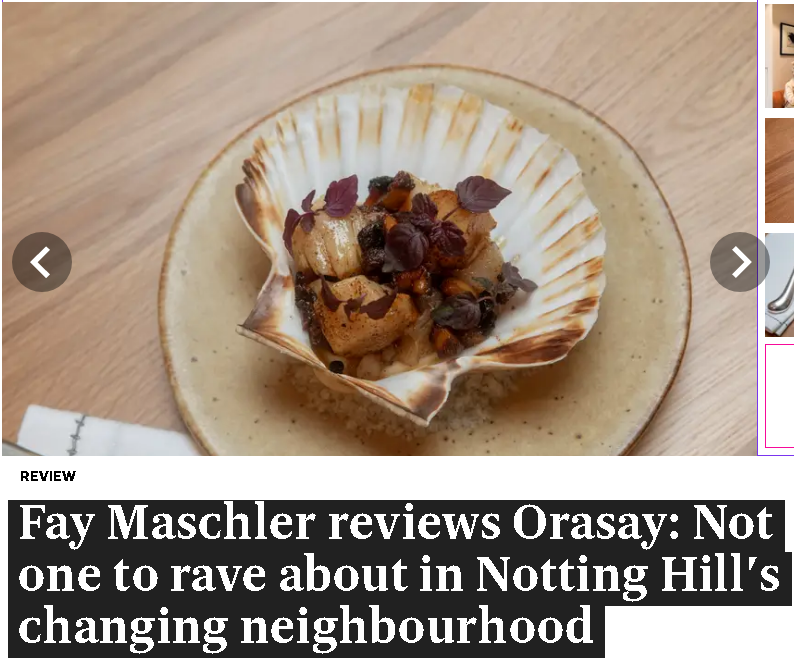 Fay Maschler in The Evening Standard got in with the first review of Jackson Boxer and Andrew Clarke's new Hebridean venture. But then she spent the first five paragraphs of her review in a long ramble about Kensington Place (which closes next week, RIP), Rowley Leigh, Langan's Brasserie and even Boxer's grandparents. Possibly just to avoid the inevitable: "so far, after one dinner and one lunch, I can't rave about Orasay", which is a shame having "eaten entertainingly and well" at Rita's, Brunswick House and St Leonards.
Meat dishes are heftily priced and "pasta seems not a strong suit of the kitchen", so she'd advise that you stick to fish: "part of the USP here is seafood from chilly Scottish waters". But it's "an attractive neighbourhood restaurant" with a "soft colour palette" and decent wines – "I could say I went too soon after its opening but I could say that in pretty much every week's review". (***)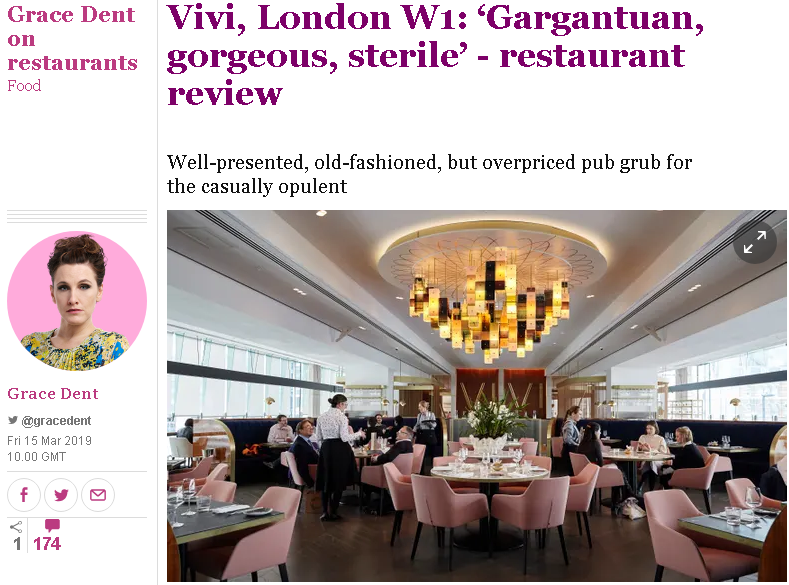 Grace Dent in The Guardian visited Vivi, "one of the bright new jewels in the crown of the all-new, remodelled Centre Point" – and a fine example of how Grace describes the 'new restaurant landscape' in which new openings are "cancelled, heavily delayed, hazily scheduled or, by contrast, brassily rolled out in the most opulent manner ever" (hint: it's the latter).
Vivi is "gargantuan, gorgeous and a little sterile" – "it feels a bit like a fictitious Swiss airport in a James Bond movie"; oddly, it has chosen to serve up a timewarp menu of "old-school British" dishes, with Waldorf salad, chicken Kiev, duck à l'orange and black forest gateau, all "prettily plated and not exactly cheap". "Vivi clearly caters for a type of diner who has money to spend."
Service comes from "legions of gorgeous men in bespoke suits and women in beautiful, made-to-measure, high-waisted circle skirts". Some of the dishes Grace ate were good – there was a " genuinely exquisite" caulifower cheese, breakfast was done well, although with "no surprises or extra flourishes", and a rum baba was "fat, booze-drenched [and] beautiful to look at".
She will probably go back – if only because nowhere else new is opening, and "because it now takes up so much of lower Oxford Street, it's almost difficult not to". (18/30)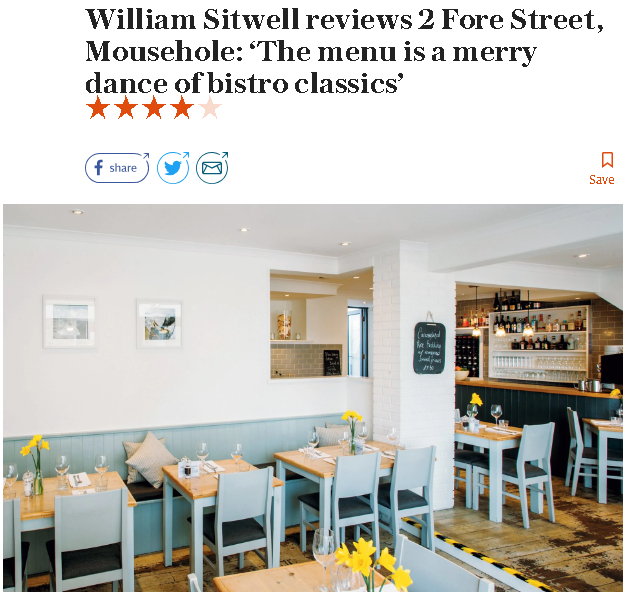 William Sitwell for The Telegraph spent the warm February days in Mousehole, whose "narrow, windy and often steep" streets have a "timeless quality".
At 2 Fore Street, freshly painted over winter in a "springlike wash of white and light blue", he enjoyed a menu that was "an approachable and merry dance of bistro classics", served by very friendly" staff/
He was "mug" about his choice of starter, a Newlyn crab soufflé that was "a heavenly mix of fresh local crab enveloped in Parmesan"; his wife's onion soup was "too thick, too sweet". Then he ate moules marinière, done "pure and simple" without cream and a "crème brûlée meets rice pudding" dessert to convert even his grandfather. (****)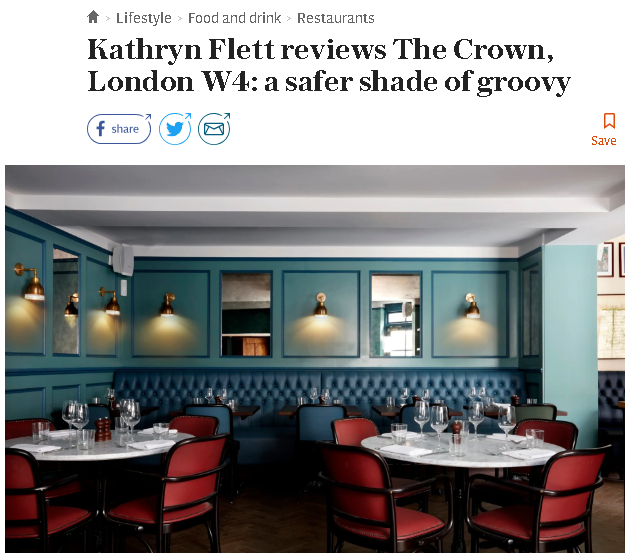 Kathryn Flett for The Telegraph paid a visit to the new Henry Harris pub in Chiswick, the fourth new opening from the ex-Racine chef. It's firmly part of the "urban gastropub movement" started nearly 30 years ago by The Eagle in Farringdon, in which a pub was transformed into an "edgily boho local with open kitchen, blackboard, mismatched cutlery and unexpectedly excellent cooking".
Unfortunately, over the years, this idea has been grabbed by the corporate chains, and gastropubs these days are so often "a series of slick, sophisticated, slightly soulless nucleolus brands with multi-roll-out-able mitochondrial offshoots and predictably "good" cooking" – with no actual locals in them.
Where does The Crown fall? Well, it's part of a chain (of four), has a "recognisably Harcourt-y "signature" style (picture wall art by the yard, crisp leathery banquettes, dark accent walls, polished wood loo seats)", seating for miles (75 covers, plus a garden for summer), a location that's "less edgy than it is hedgy" and a menu that's "well on the safe side of groovy". (Can you see where this is going?)
Despite these reservations, the good-value set lunch (at £19 for three courses, a bargain in W4) made Kathryn "more than merely happy"; "densely fragrant wild garlic soup with fabulously good toasted sourdough, a crumblingly braised shoulder of lamb" and an over-squidgy meringue.
"The Crown is a big, shiny, super-efficient box-ticker that is also a slightly soulless cell… albeit one out of which further mitochondria shall surely successfully… grow." (She'd recommend the set lunch at The Carpenter's Arms up the road for an extra quid.)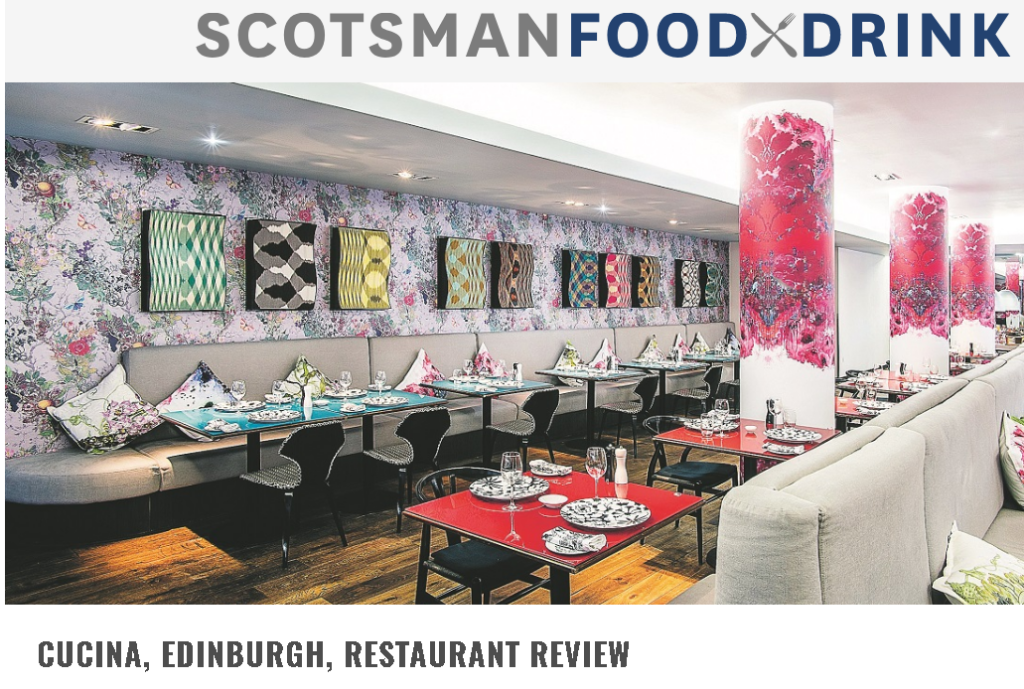 Gaby Soutar of The Scotsman was in five-star luxury at the Radisson hotel on the Royal Mile that was formerly known as Hotel Missoni. The restaurant, Cucina, is now serving and "extravagant" and "sparkling" (their words) brunch and she went along to check it out.
The room is impressive – wall and pillars are "plastered in that Timorous Beasties wallpaper that resembles a rococo Tarantino bloodbath", but her waitress was "angry" and the food was ultimately "disappointing". The self-service starters resembled a "supermarket deli counter selection", while the main course was "breakfast classics alongside the Sunday lunch-ish offerings". It's self-service again for dessert: "a Patisserie Valerie's closing down sale worth".
Cucina is probably best for a boozy, elegant brunch, if you're not expecting too much from the food. (60%)
Mark Taylor of The Bristol Post reviewed a new Mexican cantina in Stokes Croft, that replaced MEATliquor. He rated it as "the most exciting new Bristol restaurant so far this year".
The fifth venue from Kieran and Imogen Waite, the couple behind Bravas, Bakers & Co, Gambas and Cargo Cantina, Mas + Mezcal offers a 100% gluten free menu focused around masa (corn dough) and mezcal, hence the name. The entire team was flown to Mexico to gain a better understanding of the cuisine.
After the "crisp corn tortillas and…vibrant, perky salsas", he ate "crunchy, cigar-like taquitos… packed with slow-cooked lamb", sea bass ceviche ("one of the stand-out dishes of the meal… light, fragrant and fresh") and Galician octopus ("a humdinger of a dish").
"Authentic and modern Mexican food with a real freshness and vibrancy, backed up by a phenomenal range of mescals and tequilas." (11/15)
Tom Parker Bowles for The Mail on Sunday was in Cheltenham, awarding yet another four-star review to Koj, the "izakaya… by way of the West Country" opened by 2012 MasterChef finalist Andrew Koj.
It's "a small, bright room filled with small plates of bright delight", from "cumulus-like" steamed buns to okonomiyaki with "all the bounce and chew you would hope" to "magnificent" puddings ("rich, savoury sweet, umami-packed caramel and miso ice cream. I could eat [it] forever").
"The food is, on the whole, very fine indeed. Precise, clean and expertly cooked… texture is every bit as important as taste." TPB delved deep into his Asian cuisine lexicon with terms like "honk" and "bosky", but overall approves of most of the wide-ranging dishes.
"Genuinely interesting, intelligent Japanese food, far removed from the usual dreary clichés… a gleamingly bright shard of Japan, in this most English of Cotswold towns." (****)
Sanjeeta Bains of The Birmingham Mail checked out the "obscure" homestyle Polish restaurant that's currently appearing second on TripAdvisor's most-recommended restaurants in Birmingham. Inside it "resembles a quaint old fashioned sitting room", albeit with an "extensively stocked" bar; the "food menu is as eclectic as the decor", with Polish and English dishes, all accompanied by "homemade brown Irish soda bread".
Meatballs and creamy mash made for a too-heavy meal, but the "gorgeous" goulash was a "super flavoursome dish"; it's all "brilliant value" and served with "co-owner Richard's genuine warm and effusive hospitality".
"A comfortable and charming dining experience." (16/20)
Recent News from Harden's