Our weekly round-up of what the national and local restaurant critics are writing about, for the week ending 11 October 2020.
Restaurants and bars in England now have a 10pm curfew on top of the 'rule of six' guidance, and there are multiple local lockdowns across the north of England; central Scotland's restaurants are under a second total lockdown, with all others under a 'no alcohol indoors' restriction.
Check with your local and favourite restaurants before heading there; many that are open are operating strict timings due to curfew, reduced cover numbers and social distancing requirements, with reduced menus and booking systems (even if they didn't take bookings before); look at their social media pages for details – all available via hardens.com.
Please consider ordering takeaways or deliveries from your favourite spots if you can; the restaurant industry and everyone involved in it are going to need continued support for some time to come.
*****
The Observer
"There are certain food items that make everything better. A well-made pie is one of them."
Jay Rayner was in Mayfair at The Windmill, which has "taken a turn for the better". It's been taken over by the team from The Guinea Grill nearby (both Young's pubs), notably "the revered publican Oisín Rogers" (who introduced the "magnificent cooked breakfast" to the Guinea when he arrived in 2016) and "Nathan Richardson, the Guinea's head chef". With the Guinea's sommelier working nights at The Windmill too, "it feels like an outcrop of the mothership".
Downstairs is the pub bar "with its own menu of devilled kidneys on toast, sausage rolls and fish fingers" and an "extensive pie menu"; the upstairs dining room has "green-blue walls and thick tablecloths" and "a fancier menu". Jay picked items from both, generously allowing his companion to order a pie while he tried other items; he's probably still thinking about which pie he'd have ordered.
Covid-wise, with spaced tables and contactless ordering and paying, "they've done everything they needed to do" but still, "like so many others have had to contend with the hollowing out of trade in the centre of town. If you feel comfortable with a night out, show the Windmill some love. You'll be rewarded with terrific pie."
*****
The Guardian
"Big Jo may sound a bit like a terrifically handy neighbour with massive hands who you could trust to hammer up a flat-pack shed, but is actually a capacious new pizza parlour that opened up late last month in Hornsey, north London."
Grace Dent is the first to review Big Jo, the bakery from the Jolene / Westerns Laundry / Primeur team; not just a bakery, but a "pizza-selling, croissant-flogging all-day bakery with its own flour mill and grain silo". It's a "big old bare space" with "Lourdes-style tat tastefully" smattered throughout, which makes it feel "buzzy, vast and cosy all at the same time".
The menus changes daily, but it's a "small plates, pizza by the slice and then pudding" sort of place, with touches of David Gingell's "never-ending ability to take simple, wholesome ingredients and make them table-thumpingly orgasmic". Even the pizza has a "Gingell spin" on it, "where the loveliest things imaginable are chucked at very good bread". (The deep-fried calzone arrives "heaving with melted cheese, comes with a blisteringly hot chilli dipping sauce and is literally an extra pant size on a plate".)
"I love Big Jo and want it to survive the apocalypse. Winter is coming, and the only thing I know for certain right now is that people will always like pizza."
*****
The Mail on Sunday
"Maybe I'm lucky, but I don't think I've had a bad bite in Birmingham."
Tom Parker Bowles (in his new column with wine expert Olly Smith) in The Mail's YOU magazine truffled out a "small and discreet" fish restaurant in Birmingham, hidden below the Temple Row Ivy. The Oyster Club is expensively decorated in a muted way, "five-star hotel beige with the odd splash of sombre blue" with "comfortable" chairs and "marble-topped" tables; luckily, but the food is "rather more thrilling than the décor".
It's the second restaurant from chef Adam Stokes, a "local hero who also runs the Michelin-starred Adam's a couple of streets away"; "oysters, as you might expect, play a starring role", but "they know their way around the deep-fat fryer, too", and the "Dover sole is as good as you'd find at Scott's or Wiltons, but considerably cheaper".
"That's not to say The Oyster Club is a bargain basement. You always have to pay for the finest fish, but with cooking this good, you don't begrudge the cost. This is the piscine temple that Birmingham deserves. It's the Bentley's of Birmingham and about time, too."
*****
The Evening Standard
"Through sheer force of personality and culinary imagination" it "blazes with a rare confidence and immense likeability".
Jimi Famurewa paid a visit to The Dairy in its new Bermondsey home; Robin & Sarah Gills' "revered restaurant" was formerly located by the "verdant, picture-book expanse of Clapham Common" and is now "squirrelled away in the glossy rump of a recently developed hospitality complex" it has a purpose-built room with "a majestic panorama of… a massive building site".
But the lack of view is about the only downside to this review; "the lurking presence of excavators and hard hats never fully upstages what is happening on the plate or in the room".
"The food on the concise menu here is hard to pin down", taking in Gill's "youthful wanderings around South East Asia, Italy and Scandinavia" and "a kind of Instagram age kitchen-sink maximalism", and "not everything clicked", but "it spoke to the confident exuberance that will hopefully be core to the future of the Gills' revived operation".
"The view may be a literal work in progress, but The Dairy Bermondsey already stands as a reminder that something born from frantic necessity can still be a vessel for pure, boundless joy."
(The Dairy was also reviewed this week by Kathryn Flett for The Telegraph, who gave it *****, agreed with Jimi that "Clapham's loss is Bermondsey's gain" and declared that "the radicchio is in contention for my Final Supper".)
*****
Also in the Standard, Fay Maschler reviewed Fallow, which landed at 10 Heddon Street, "an incubator of restaurant businesses" in Mayfair after "a short residency at Carousel and at Crispin in Spitalfields"; lockdown interrupted their stint here but they are back "making good their commitment to sustainability of produce, the capability of plants to charm and the power of an enlightened drinks list"
Chefs Jack Croft and Will Murray met working at Dinner by Heston; the " technique and finesse you would absorb working in a Blumenthal kitchen is apparent".
*****
The Evening Standard also reported on the 50+ London restaurants extending EOTHO into October, the new online store from JKS restaurants which allows nationwide ordering of home-coook kits and pantry staples from Gymkhana, Trishna and Brigadiers (ambassadorgeneralstore.com), and chatted with William Chilila about his West African cooking (what he calls "jollof cuisine") at Fitzrovia newcomer Akoko. The November re-opening of Soho's Mr Ji – "with a little help from the team behind cult favourite Tā Tā Eatery" – also featured, as did the news that Ollie Dabbous' pop-up "coffee shop and bar concept Hideaway" has found a permanent home in Mayfair, not far from Hide.
*****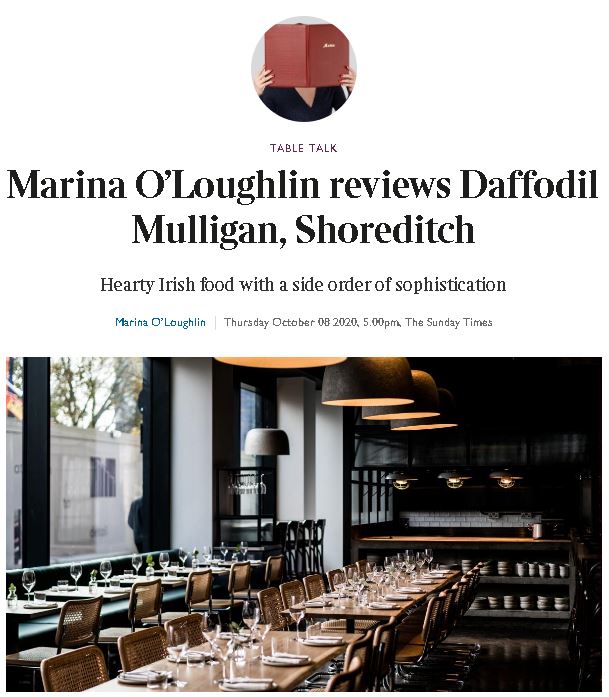 The Sunday Times
Marina O'Loughlin paid a visit to Daffodil Mulligan, despite a range of unwarranted prejudicues against the place, which openined just before lockdown; " I didn't like the name… I wasn't seduced by the look of the place… (Nor does it appear that much has been spent on the redesign since its Nuala days)… I was put off by what seemed like every influencer and freebie hound piling in during its early days… (I guess I was anti-influenced)" and last but not least "Corrigan's fine-dining joint in Mayfair was one of the first restaurants I reviewed for The Sunday Times, not entirely favourably".
In her own words, let me happily choke on my own preconceptions " – from entering (once the standard safety checks had taken place), she found "a place brimming with warm, vibrant life… everyone here seems to be out for the best of times".
The food is "expansive" and "hearty" ("this is not a place to come in your booty-con dresses or skinny jeans") with "massive" flavours (one even "gaspworthy") and a "definite street-food bent to dishes such as salt chilli chicken". "This is the chef unhooking his fine-dining corsets."
She ordered the Hannan's steak and chips after the server evangelised about it (she was planning on the grouse) and it was "the finest steak I've eaten in (genuinely) years", with "dangerously gorgeous" chips.
"This is altogether a more sophisticated outfit than it pretends to be, with its fire-breathing kitchen and slabs of meat." Like Corrigan himself, "it wears its intelligence lightly".
*****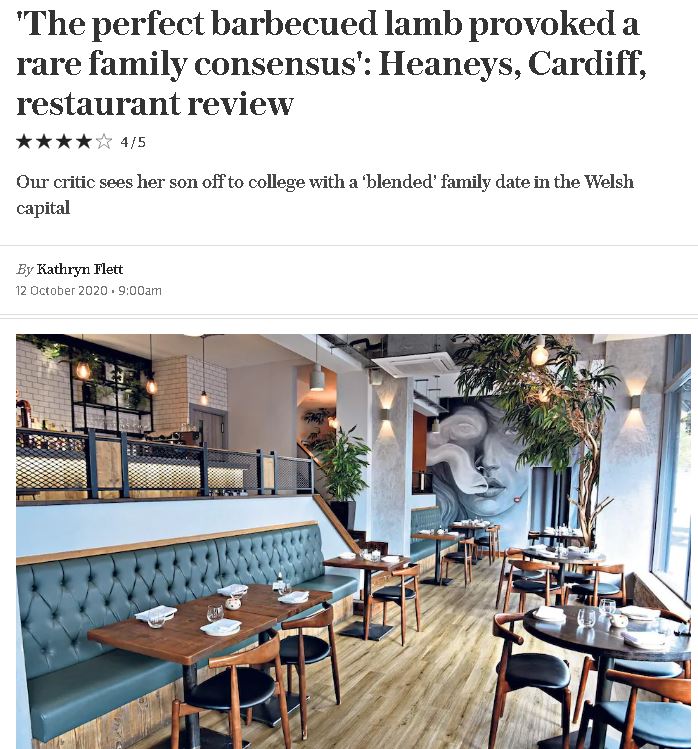 The Telegraph
Kathryn Flett was in Cardiff to drop her son at university, and snuck in a review of Heaney's at the same time; the restaurant is in Pontcanna, a "smart and stylish enclave of attractive terrace houses of various vintages set among leafy streets a mile or so north-west of the city centre" and itself is a "chic, spacious, airily modernist… mezzanine" with "squidgy banquettes" and "comfortable suburban-industrial" decor, run by former Great British Menu finalist Tommy Heaney.
The trio at lunch composed Kathryn, her son and his father ("no longer a nuclear family but a contemporary "blended" one") and they managed a "rare family consensus on the little slab of pinkly barbecued lamb".
"Confident, packed with flavours both comfortingly predictable and pleasingly unexpected, executed with style and delivered with a light professional touch (the minimum of "let me explain…") – "it's fair to say that Heaneys delivered something memorable", not least her last meal with her son until Christmas.
*****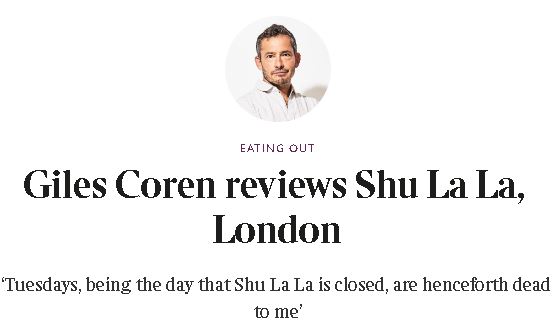 The Times
Giles Coren discovered Shu La La while cycling around Highbury, and now never wants to eat anywhere else. The menu "roams around the various culinary hotspots of China, with a lean towards the chilli-powered hotpots and stir-fries of Sichuan", and there's a speciality menu of BBQ dishes from northern China, properly cooked over charcoal. Giles chose from this and "was amply rewarded for that decision".
The restaurant opened just before lockdown, and would normally be full of Chinese students from London Metropolitan University across the road, "sticks in one hand, phone in the other, and a queue out the door", but it's now so quiet the owner, Lin, is thinking of Anglicising the menu to appeal to English customers; "it's a poor lookout for lovers of real Chinese cooking".
Going back again the next day, Giles chatted with the owner further, who was rethinking the menu again, to maybe offer fewer dishes of high quality (although Giles says the quality is already "fantastically high").
"The main thing for Lin, for Shu La La and for the state of proper Chinese restaurants in this country, is to get our visiting Chinese population back up to pre-Covid levels… so that these restaurants can thrive again. In the meantime, it is down to you and me to fill the gap they have left. So get out there, my friends, and eat." (24/30)
*****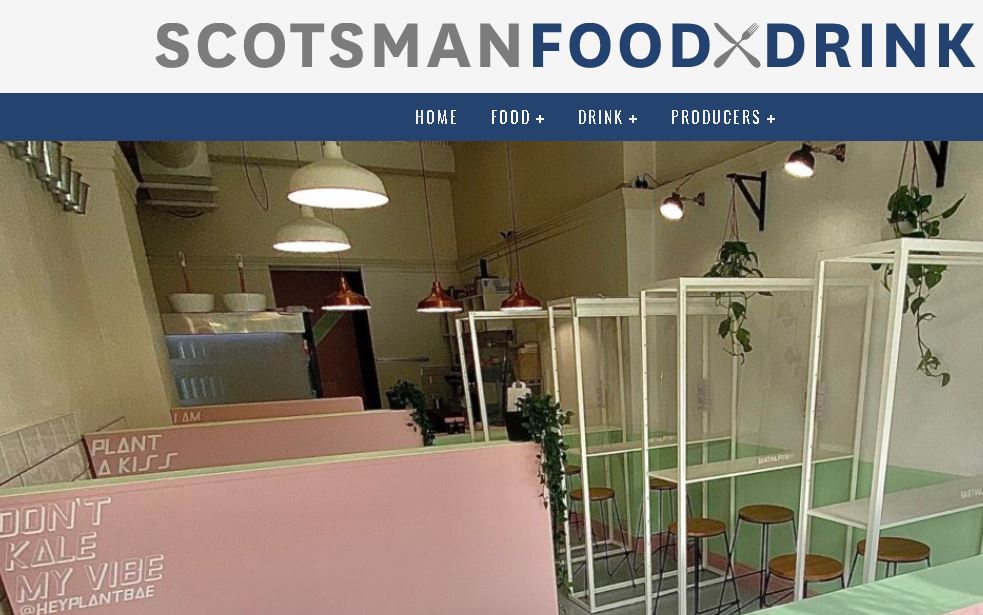 The Scotsman
After a weekend of gluttony on Arran, during which her "five-a-day routine had tipped into minus territory", Gaby Soutar headed for Haymarket newcomer Plant Bae to redress the nutritional balance; as the name suggests, it's a plant-based cafe (originally Grams and under the same ownership) that served up a "quite excellent vegan spread, which was way more interesting than your average avo toast" (especially when "pimped up" with a few poached eggs, like her companion did) and "never a chore" to eat. The waffle she had for dessert, complete with "hypodermic of caramel sauce", may not have been "full marks healthy, but it Trojan horsed a few fruits into my system". (75%)
*****
And also…
In The Telegraph, William Sitwell recommended The Halfway House Inn in deepest Shropshire, a 16th Century coaching inn, for a "solid, well-cooked lunch". (4/5)
*****
The Financial Times visited the site of the "legendary Gay Hussar restaurant" and reviewed its makeover; "Much mourned when it closed in 2018, the Soho institution has been revived by the team behind Noble Rot."
*****
Bristol Live reported on the opening of Sonny Stores, a deli /restaurant from Pegs Quinn, former head chef at Bianchis; it's on the site of Birch, which closed just after lockdown, RIP.
*****
Recent News from Harden's