Harden's regular round-up of the restaurant critics' musings, from the week ending 12 May 2019.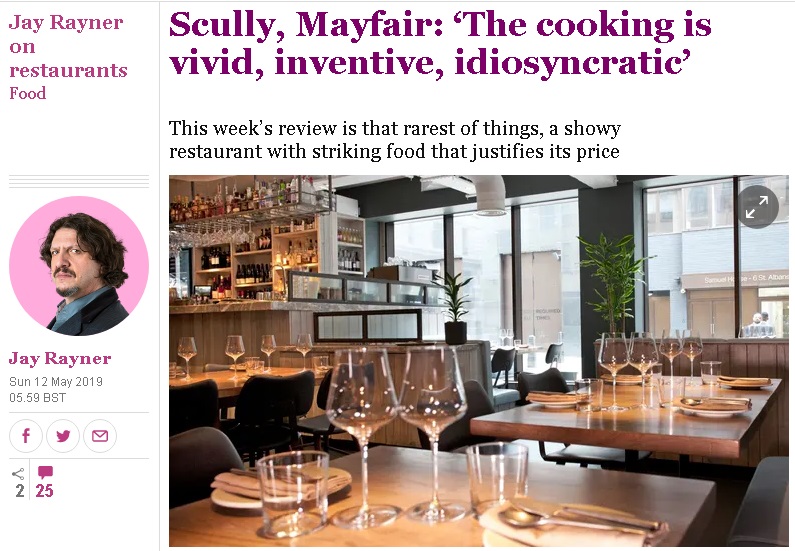 Jay Rayner for The Observer was back in London this week after reviewing several remarkably low-priced restaurants across the UK. Scully is in direct contrast to those places – "the only way you can get out of there for less than £100 at dinner is by not doing it properly".
"But oh my, it's good." It's worth saving up for "citizen of everywhere" Ramael Scully's "ravishing dishes" – if it's Jay's current recommendation for the "must-go place in London", just go, and don't complain about the price, you were warned.
Ottolenghi-trained, Scully "cooks from the broadest of larders" at this St James's Market venture that has noticeable "shine and polish" – the "crockery is in artful shades" and the chefs (visible in the open kitchen, of course) have identical facial hair.
"It's with the first proper snack that the fireworks go bang" – crispy beef tendon with oyster cream is "umami squared". It's a "very meaty dish" that's also clever "misdirection": "the menu at Scully is more interested in non-meat cookery than anything with a pulse".
Jay ordered a range of dishes, but "in retrospect", he would have been happier plotting "a glorious non-meat route" through the menu. The meat and fish dishes were "impressive" and executed with clear skill, but highlighted the fact that "animal protein in the centre of the plate gives the kitchen a more straightforward ride".
Veg-based delights included an "exquisite" salad of yellow and red tomatoes, strawberries, young coconut and edible flowers, with a "vivid sweet-sour dressing in shades of… rust and green". It was "that very rare thing: a beautiful dish that is both worth looking at and worth eating".
"Scully feels like a rarity, because here it is the cooking – vivid, inventive, idiosyncratic – that is front and centre."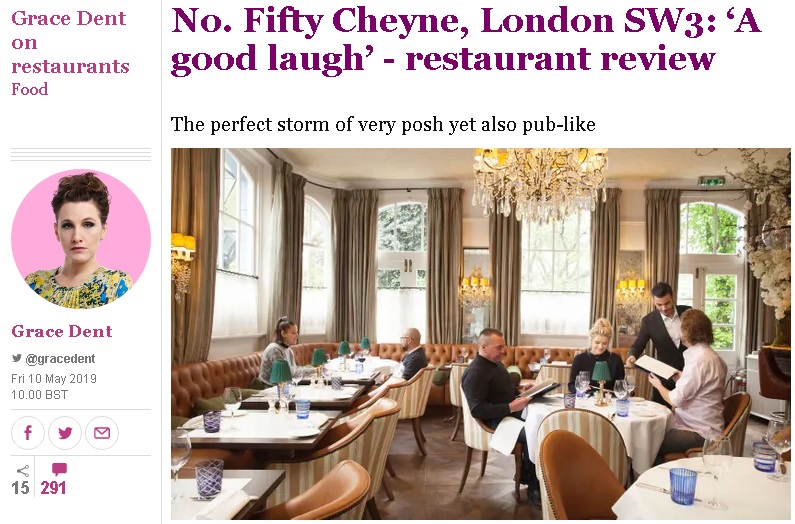 "A good laugh" was possibly not the review that No. 50 Cheyne was seeking, but that's what they got from Grace Dent for The Guardian, first to visit the "aesthetically splendid renovation" of Cheyne Walk Brasserie, still under the ownership of Sally Greene, who has "transformed it into an elegant, grown-up safe space from life's beastliness". Not that many locals need protecting – it's noticeably quiet around there at weekends – "if you can afford to have it as your local, there's a strong chance you have other homes to flee to come Friday".
There's now a "womb-like, windowless cocktail snug" and also a "panelled, bejewelled, sofa-strewn lounge" upstairs from the 70-seat French restaurant, which somehow creates the "the perfect storm of very posh yet also pub-like", helped enormously a the lack of tasting menu rigidity. It's "definitely romantic", too, with "jolly, prompt and unobtrusive" service.
You're never left in doubt as to exactly where you are, though – prices start at "posh gastropub" and soar to "Jesus Christ, how much?" in a very SW3 manner, but with portions that "erred on the side of healthy, rather than stingy" to make up for it.
All three starters ordered were "quite brilliant", with a Grace-pleasing vegan option that was a "strong foray into the tricky world of dairy-free fine dining". Mains, too were "largely faultless" – Grace's vegan dish of braised hispi cabbage was a "bold, rural romp" while her companion's aged beef fillet with smoked bone marrow was "dictionary-definition largesse". Desserts from the pastry chef included a "perfectly executed" rhubarb concoction.
"No Fifty Cheyne's broad-based menu is for the many, but affordable only by the few." (26/30)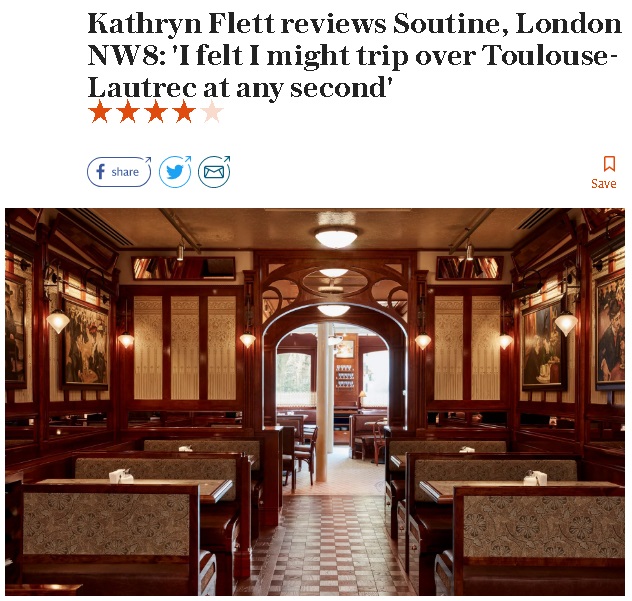 Hot-footing it to St John's Wood to be the first national critic at Soutine was Kathryn Flett for The Telegraph, although does it count when the place "wasn't technically even open"?
Corbin & King's skill at creating restaurants "with instantaneous "historical" provenance" meant that she already can't recall the site's predecessors (most recently a Carluccio's, in case you were wondering, and she later remembered an All Bar One, aided by a Google search). Kathryn stepped into an already "jumping" and clearly "wildly successful Corbin-and-Kingerie".
Inside, Soutine is "smaller, woodier, more intimate" than The Wolseley, with such attention to "every pristine design detail" in the "arts and crafts-inspired interior" that she felt "as though I was walking straight into the 1890s", and kept one eye out for "Toulouse-Lautrec nodding out over a bottle of absinthe in the corner".
"The menu is C&K at their most comforting: it may be predominantly French, but no horses were frightened" – or cooked. There's the signature "fly-by nods to Mitteleuropa" too. Kathryn's food "satisfied perfectly (a hummingly minty puddle of great soup, a meltingly good duck, a proud cluster of perfectly stiff-upper-frites)".
Teething troubles with hovering service, unavailable desserts and top-heavy furniture are hardly worth mentioning, as they'll have been sorted before the real opening, and "absolutely on it" by now, a mere three weeks from launch. (****)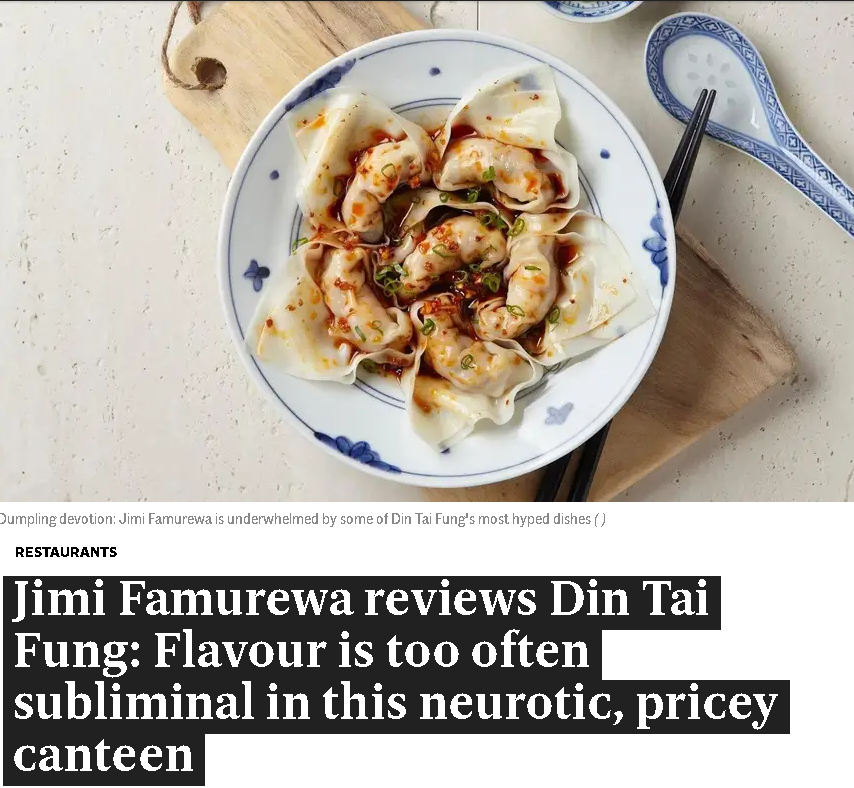 Jimi Famuwera for The Evening Standard visited the Covent Garden newcomer that was so recently the hottest ticket in town – or more accurately, the hottest queue in town – for the famed xiao long bao. "It is a measure of the warp-speed churn of modern news that the Mild Hysteria of Din Tai Fung already feels like it happened actual years ago."
Visiting on a Tuesday for lunch, Jimi noted that although the vast "faintly dystopian" space was "fast-filling", "the queues appear to have gone". Everything else remains the same from that first flush of critics' visits: the "perspex aquarium kitchen… with huddles of CSI-masked technicians", the "the exclusively cold starters" and "the main event".
"Heretical" as it may sound, Jimi's 'XLB' experience was "a little underwhelming" – a "mini gush of clean, richly seasoned soup" followed by "minced meat that felt cheaply sausagey". He much preferred the vegetarian jiao zi with their "pea-green colour, immaculately crimped edges and lasting mushroomy depth" and "massive plate" of crispy prawn and pork wontons.
Jimi's main courses were "seasoned so faintly that any flavour was almost subliminal", although he learned that this is deliberate: "dishes are blank canvases, designed to be personalised with soy, vinegar and… chilli oil". Understandable, but just not his thing.
"Pretty satisfying" puddings finished off the meal at this "quick, neurotically controlled, slightly pricey canteen" that was populated with "giddy tourists" and "East Asian Londoners visibly savouring a taste of home". (6/10)
It was also announced in The Evening Standard this week that DTF are bringing their "signature salted egg yolk custard lava buns" to London – but only 200 a day, and only at weekends. A cynic might suggest that they are trying to revive that early "Mild Hysteria"…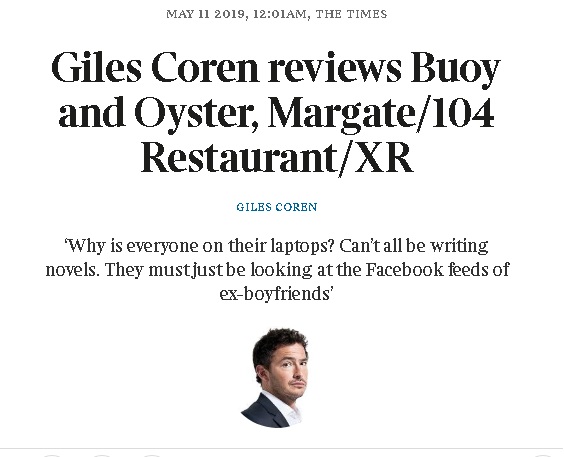 Giles Coren for The Times has been busy – it's another three-review special. And he was forced out of his house by carpet-layers, so had to write the reviews up in a cafe, poor lamb, with other people, and music, and waiters interrupting him. Not to mention (which he does, repeatedly) the "boaky" porridge that tastes of "goat vomit".
First up was Buoy & Oyster, the "swanky new fish restaurant I ate in with my family on the beachfront at (beautiful) Margate", "all new and big and glass-fronted on the second floor above a fish shop". Sadly, his grilled scallops with mango and coconut cream, were "wrong in the mouth" and "the kids' burgers were gristly and tasted of powdered onion".
After an interlude in which Giles had the music turned off (and possibly all the people removed), he launched back into his review, but not of Buoy & Oyster. Can you tell how distracted he was?
104 Restaurant has replaced "Marianne Lumb's rather excellent little teen-weeny bijou Michelin-focused Notting Hill secret romance place". Her "former underling" Richard Wilkins "has taken over the cooking and he's making a fine job if it". Starters were better than mains, one of which he described as "three lozenges of monkfish and three Ratte potatoes sharing a sexless waltz around the plate" and the Challans duck was "quite as full of deep, meaty flavour as an old Hereford bull, but sadly just as tough".
Another diversion, and straight into his third review, XR, downstairs from Xier. "Like most places in Marylebone, XR is all a bit monochromatically up itself", but the food "is colourful and perfectly okay"
No scores because he can't really remember anything, and the music's been turned up again.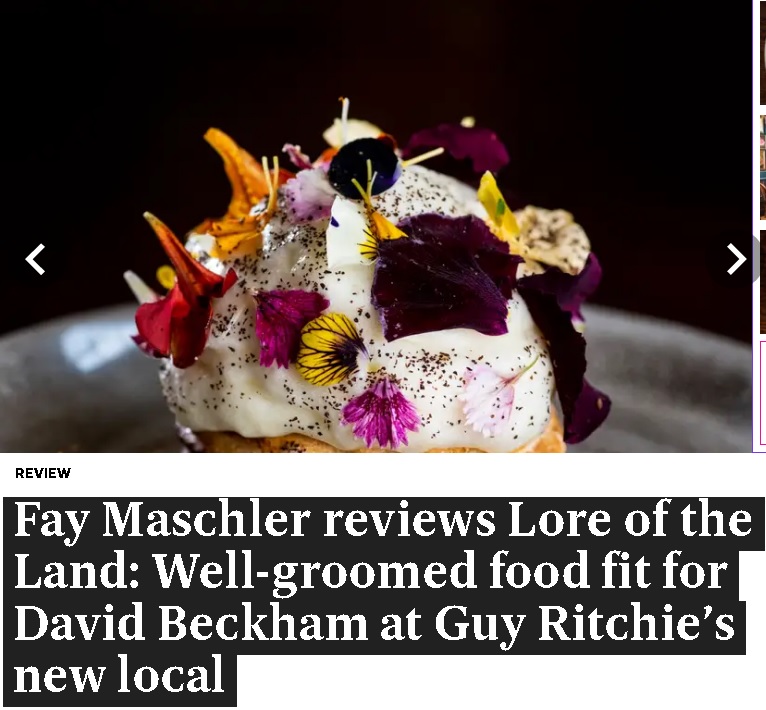 As ever, Fay Maschler for The Evening Standard was the first to visit this new, celebrity-backed Fitzrovia pub (formerly The Lukin); owned by Guy Ritchie and David Beckham, her first impression was that "it looks like the sort of pub a rich man might have built on his estate to have somewhere to entertain friends". Inside, everything has been "expensively stripped then dressed and distressed", along a makeover theme of "rusticity with a capital R". But the "welcome is notably warm".
The LOTL is all pub downstairs; her companion describes the cask pale ale (brewed by the Gritchie Brewing Company) as "bright, fresh and showing evidence of excellent conditioning". The restaurant (with open kitchen, of course) is upstairs, and centres around a sharing plates menu somewhat at odds with the "period feel" of the room.
From the smaller plates ("bites") section, her companion enjoyed the crusty sourdough with walnut, treacle and Marmite butter ("the vegetarian's answer to the lusciousness and rigour of bone marrow?"). Other dishes had been "smashed about" and liberally scattered with predictable pomegranate seeds.
Larger ("meat") dishes can be divided into undersized portions and "weird culinary decisions", although the sticky lamb bun (Marksman inspired?) was "much liked" and the "veg" dishes and retro puds more than made up for any disappointment.
The "well-groomed food" is replaced on Sundays by roasts and food more suited to the decor, suggesting a split personality that might need some attention. (***)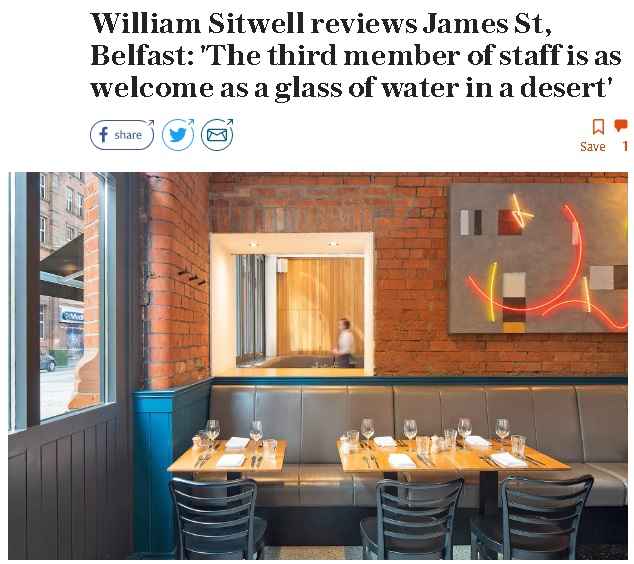 William Sitwell for The Telegraph was in Belfast, at the recently remodelled James Street. His evening started poorly with no water, the wrong wine, and nothing that could be even loosely described as 'service', but it improved when his guest – and a new waiter – arrived.
This breath of fresh air was genuinely welcoming, and described the menu's dishes "with grace and originality". Things improved even further when the food arrived – William's Dundrum crab and chilli linguine was "perfectly balanced", a "silky, comforting and creamy" dish. Rare breed pork several ways was "fantastic meat" served with "deliciously rich kale". His companion's "reassuringly positive noises" confirmed an equally delicious meal on the other side of the table.
If only the original welcome had been warmer. (**1/2)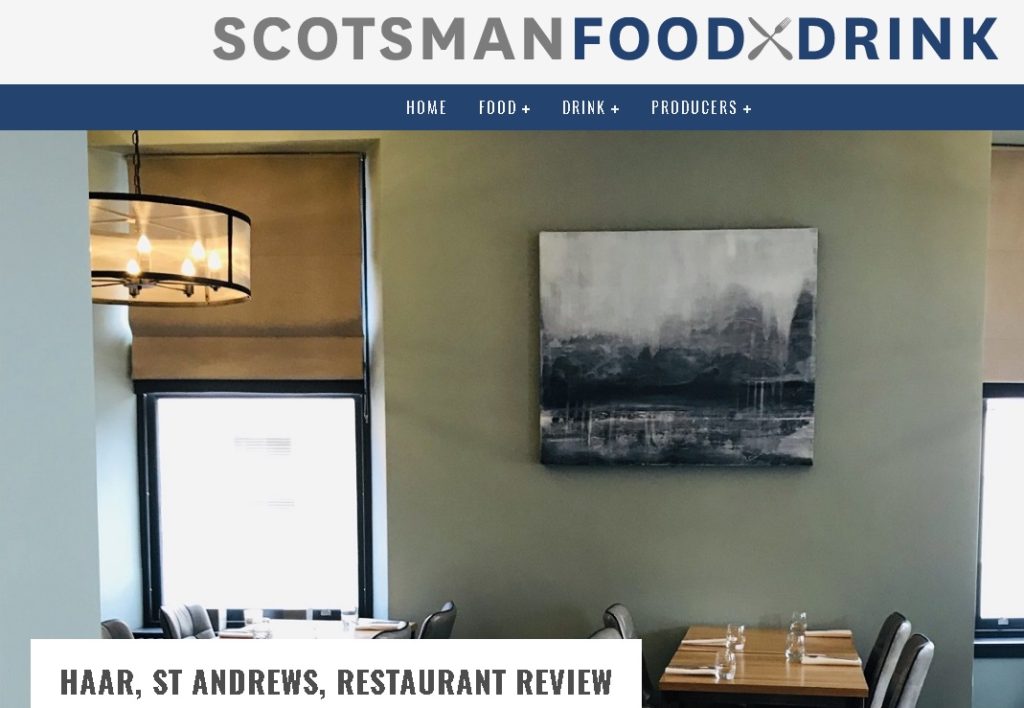 Gaby Soutar for The Scotsman visited this new St Andrews hotel restaurant in suitably bad weather – a 'haar' is cold sea fog on the East coast of Scotland. The restaurant (not the fog) is run by MasterChef: The Professionals 2019 finalist Dean Banks.
The interior is quite "romantic" – all "tactile velvety chairs, antiqued tiles and a suitably misty colour palette". The food is "quite pricey" (but there's a good-value prix fixe option) and the menu is based around sharing plates of different sizes, apparently to "eliminate food envy", although Gaby still wanted what the other tables were having.
One smaller dish of Arbroath smokie was presented, smoking, under a glass cloche with "a nice theatrical touch" (but the dish itself was oddly served chilled like "sort of like a take on vichyssoise, except with seaweed"). North Sea cod and BBQ duck were "lovely".
Just two puddings were offered, which "looked beautiful" but maybe had too many touches of the "powder, foam or puree" style of cooking – "the essence of banoffee had been exorcised. We saw its spirit drifting, to join the haar". (75%)
Tom Parker Bowles for The Mail on Sunday gave a solid four stars to the "mostly Mekong" cooking of his friend, chef Tania Knott, who hosts the current pop-up at Soho's Sun & 13 Cantons' gastropub-guest-chef-carousel. She "makes no spurious claims to pure authenticity" of her cooking, that's "based on a love of Thai Isan and Lao food", but is clearly a "damned fine cook" having more recently been producing Scandi cooking at Snaps and Rye.
Tom's an expert in the region, of course, so could give us a proper analysis of the food, whose flavours "shout and holler, jostling boisterously around the mouth". There's his trademark farmyard noises in the "deep, rich umami grunt" of the eponymous jeow (dipping sauce), and the declaration that Tania "captures the spirit of Laotian food in every bite".
He also ate a "glorious larb with pork and brown crab meat" and a "clean, lithe and bracingly sour" version with Arctic char, a "properly hot and stinky som tu" and "best of all… a devilled lamb faggot… in a tamarind broth of delirious brilliance".
"Jeow Jeow is a bracing blast of brow-beading, lip-smacking, palate-cheering delight. A little Mekong magic, in this most British of Soho pubs."(****)
And also…
Today's Sunday Times is dominated by The Rich List. Maybe Marina O'Loughlin will be back with restaurant recommendations for them all next week.
The Financial Times reviewers were travelling again, at Elkano in Spain ("probably the best fish restaurant in the world") that's "been serving exceptional fish since 1964" and Fagn in Trondheim, Norway, where the crustacea are caught "about 200m from your plate" and the food ensures "a spiralling dive of flavour intoxication".
Sanjeeta Bains for the Birmingham Mail had the "wurst" experience at Herman ze German, newly opened in Grand Central. In fact, she had two, bravely returning after a currywurst covered in "gloopy slightly congealing sauce [that] was super sour with a tangy nasty aftertaste" (although with "nice and crispy" chips). Only the German beer she washed the taste away with was worth the trip. On her second visit, a "tough" chicken schnitzel with a "Marie Rose style sauce…no no no" ensured she'll never go back.  The "characterless" food court location didn't help. (*)
Mark Taylor for Bristol Live enjoyed "amazing" food at Bristol's Lido restaurant: Freddy Bird has now left, and has been replaced by "quite a formidable team with enormous experience", including 2008 MasterChef winner James Nathan. The Mediterranean "food is as ingredient-driven as ever", albeit with a more distinct "Spanish flavour". North African mezze "was a fragrant smorgasbord of sunny flavours and textures", Basque-style fish stew was "a robust and serious dish", and the meal ended with the "Lido's famous ices and sorbets", including an "outrageously decadent salted butter caramel ice cream".
Mark also reviewed "brilliant" new cocktail bar Filthy XIII that's serving up "restaurant-level food" with an "irreverent attitude"and "expertly made cocktails". The "hottest new Bristol bar opening so far this year. It's downright dirty in the best possible way."
Recent News from Harden's