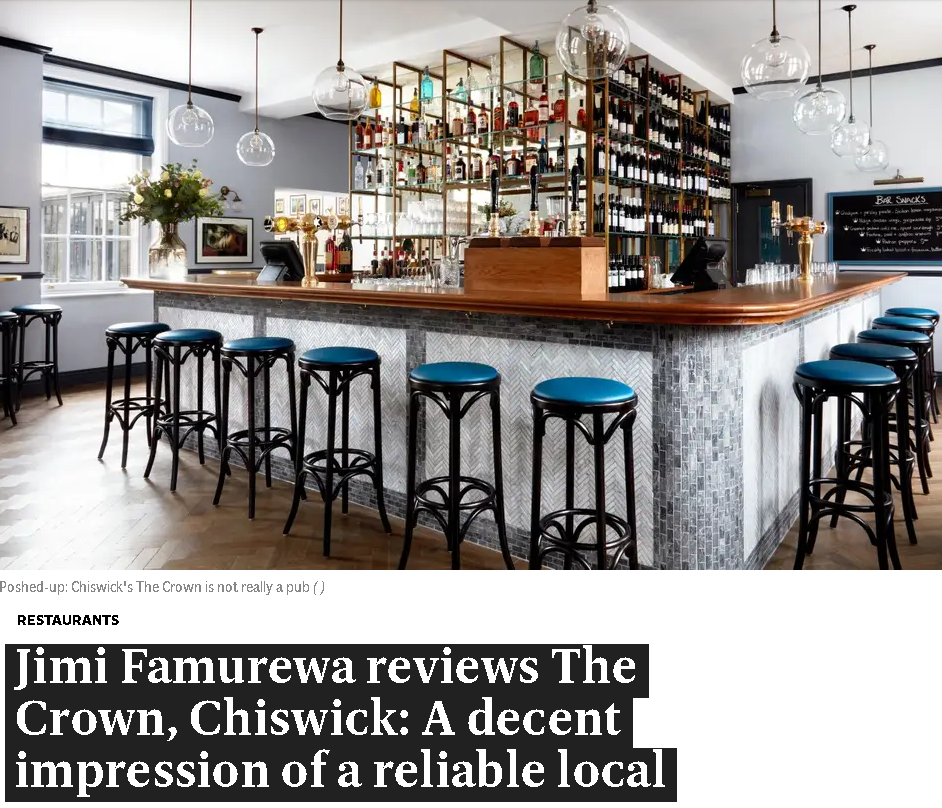 Jimi Fanuwera for The Evening Standard went out to west London to try out the latest of chef Henry Harris's "expanding stable of amiable new-wave gastropubs" – The Crown in Chiswick. He was expecting "a sort of cosy, creaking coastal tavern that had been magically airlifted on to a corner in west London", but that's not what he found, despite the "involuntary pleasure-groans" he'd emitted when previewing the menu online.
The bar was "handsomely done out and encouragingly mobbed", but no longer felt like a pub, and the food was "never actively bad" but "didn't often find the extra gear needed". Starters were only lifted by "zinging" dressings and terrific seasoning; Jimi's main course was "pleasant in the way that a gently poshed-up Côte mainstay might be". The "diner's favourite" pudding on the menu was "merely a quite nice tiramisu, mostly notable for a heady, breathalyser-troubling kick of booze".
Even though the rality clashed with Jimi's imaginings, the Crown is plainly an "instant neighbourhood hit with the customers who will ultimately decide its fate"; even though it's not a pub, but a "restaurant that, in its own way, is already doing a decent impression of a well-oiled, reliable local". (6/10)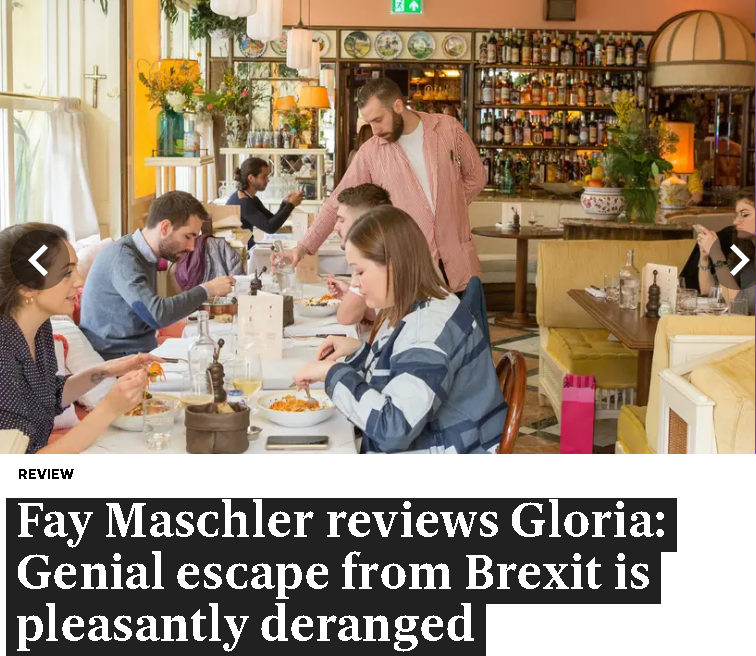 Fay Maschler in The Evening Standard feels that Gloria, the new Hackney trattoria (from the team behind La Felicitá and Pink Mamma in Paris) might just be "restaurants' last hurrah before Brexit… French owners, Italian staff, ingredients imported from Italy".
The decor "feels pleasantly deranged" (the owners describe it as "Capri in the Fifties"), the pizza and pasta dishes, many of which have names with "excruciating puns", are "assemblies that delight", served in impressive portions (with enough leftovers for a doggy bag), often smothered in truffle. She'd summarise the whole place with one dish: the Incomparable Lemon Pie "with its lunatic quiff of meringue, sweet and tart, droll, daft, irresistible and all for £6". (****)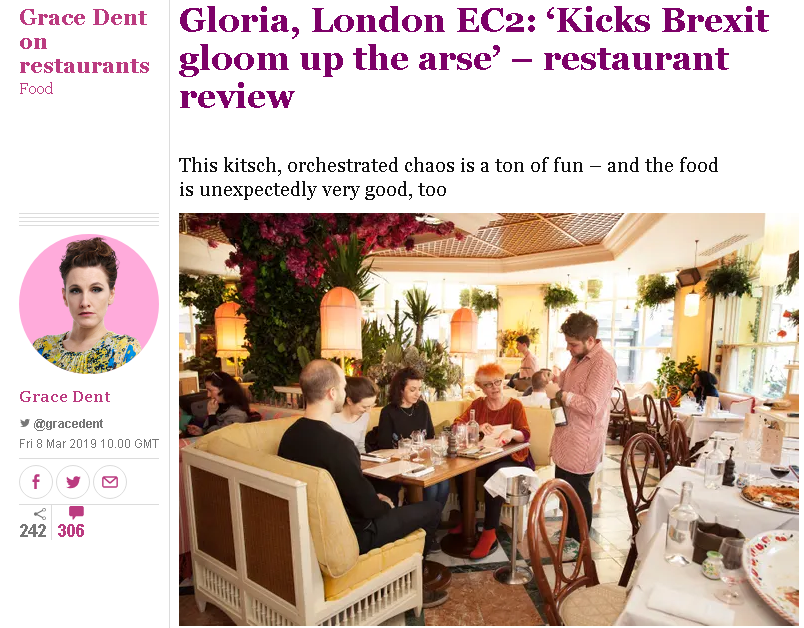 Grace Dent in The Guardian went to Gloria too, and treads a very similar line to Fay, although in a less subtle way: "Gloria is kicking Brexit gloom up the arse with 120mm Miu Miu stiletto pumps".
She loved the "hopelessly optimistic, wanton fun", the menu puns (until the next day, at least), the "purposefully naff, twinkly" decor, the "precisely orchestrated chaos" and she even liked the "sexy queue" – over 100 people waiting for "the pizzas, pastas, cicchetti and dolci, as well as the well-stocked bar that serves until 2am".
And the food? "Everything we had was really good, if not downright delicious." Although the vegan dish was less delightful: "I sense it was added to the menu through gritted teeth". (25/30)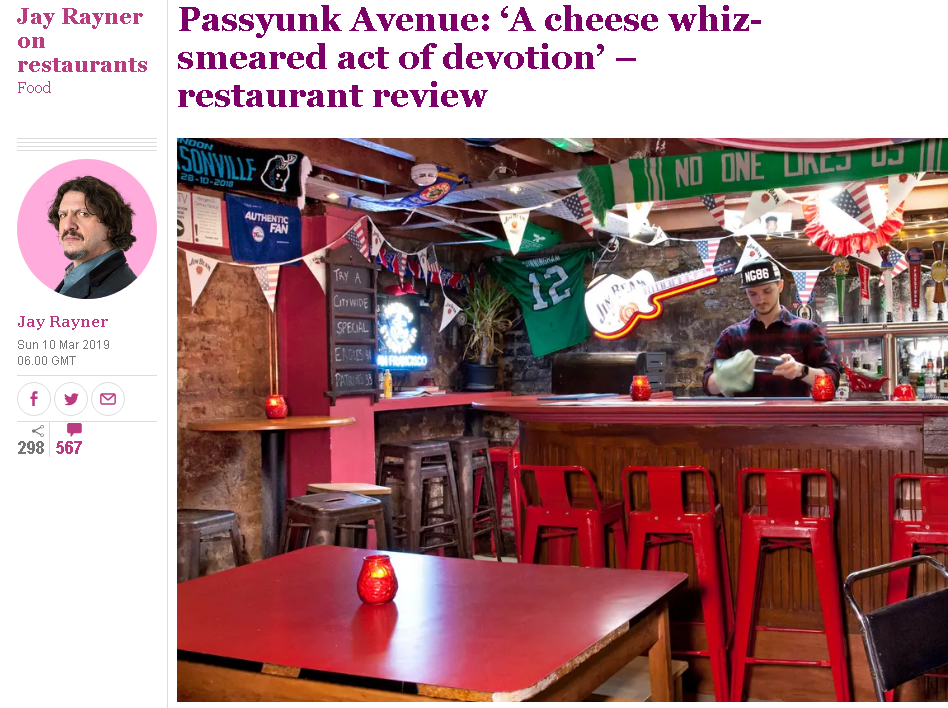 Jay Rayner  for The Observer has "never eaten a cheesesteak in Philadelphia", although he's eaten many others elsewhere, and is well informed on the "American vernacular cuisine" (not his words) served up at this "retro diner on a scuffed backstreet". Does the Philly cheesesteak at Passyunk Avenue taste good? "Oh God yes…  it's a serious amount of sandwich for £11, which will stay with you, possibly for days".
There's other dishes too: "buffalo chicken wings… with the perfect lip-tingling smack of heat and salt and sour" and "tater tots… pebble-sized hash browns". He recommends you don't order the roasted pork platter, or the wine. Drink beer and enjoy this "cheese whiz-smeared, blitzed bacon-pelted act of devotion".
"Check no health professionals are watching, before eating. Access to a defibrillator might come in handy."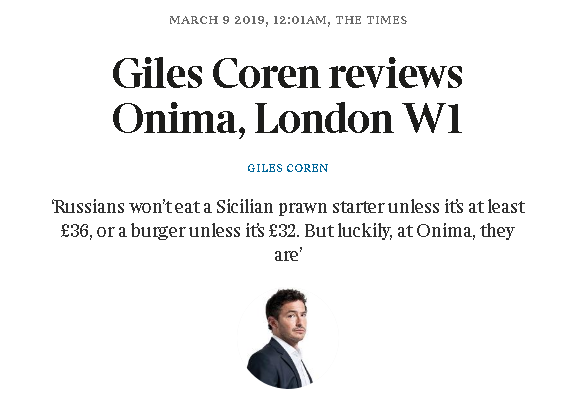 Giles Coren for Saturday's Times magazine was working on a big long moan about how he was going to hate Onima, just because the PR guff claimed it would invoke "the spirit of Mykonos" (which he's obviously never been to). And then he realised that the chef was formerly at Semplice, which he'd reviewed a decade ago and loved.
Giles and Tom Parker Bowles met at Onima to take some charity raffle prizewinners to lunch ("You know the sort of thing: first prize, lunch with a restaurant critic; second prize, lunch with two restaurant critics."). He described the food as "Italian meets Greek with an Asian twist". ("Obviously. If food doesn't have an Asian twist, Russians won't eat it.") He also made several not inoffensive comments about how Russians will only eat expensive food, which is why they were at Onima, where the food is one step above punchily priced.
The food was very good, with no mishits noted, although at "two thirds of a grand for four of us (including wine)", you'd pretty much hope to eat well.  (18/30)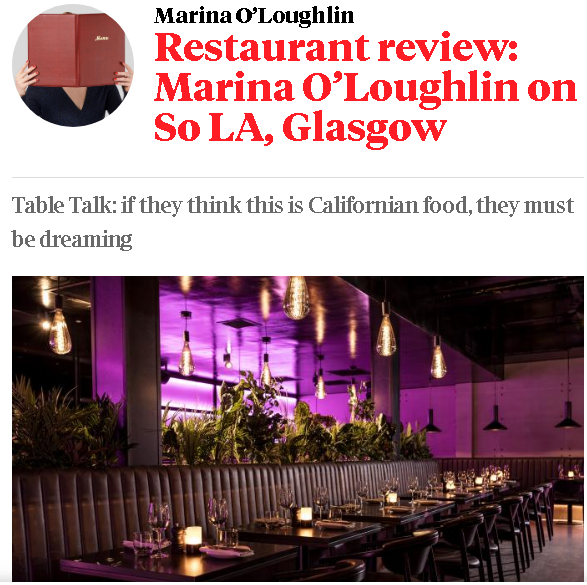 Marina O'Loughlin in The Sunday Times was in Glasgow, expecting great thing from So L.A., having enjoyed the owners' other ventures (Butchershop, Hutchesons, Spanish Butcher).
What is advertised as "diverse, vibrant Californian dining" is sadly realised as "a recherché catalogue of ingredients stoating merrily between Mexico and Japan, India and Thailand, with a side order of good old steak and chips". The reported "million-quid investment" doesn't seem to run very deep, but the food is definitely "better than it needs to be", given that So L.A. "isn't so much restaurant as nightclub", filled with a well-groomed, underdressed clientele who don't seem terribly bothered about the food.
"I'm afraid this really isn't so LA. But it is so, so, so Glasgow."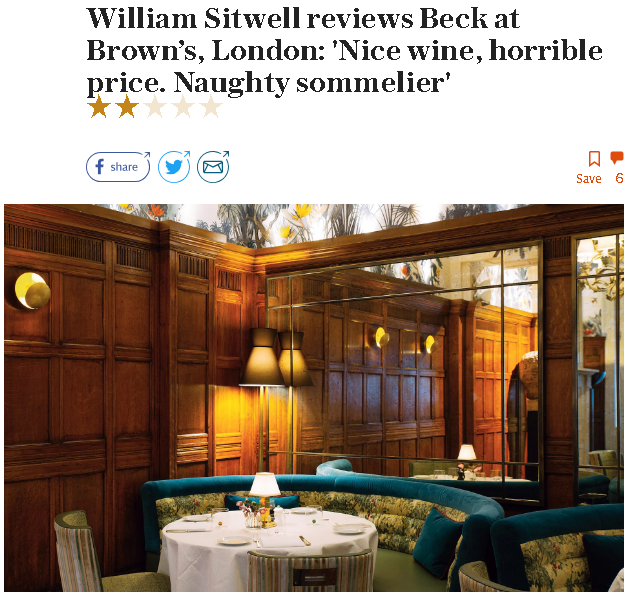 William Sitwell for The Telegraph felt thoroughly fleeced after a meal at Beck at Brown's, and blamed it all on the sommelier who deftly plied him with a Barolo that cost £34 a glass. "Nice wine, horrible price. Naughty sommelier."
He'd visited when the place first opened in 2018, and noted some improvement in dishes like fagottelli alla carbonara, and affogato tiramisu ("a rare example of when deconstructing a dish can be startlingly successful") although the chateaubriand was "strangely soulless", and came with only three (yes, three) chips. (**)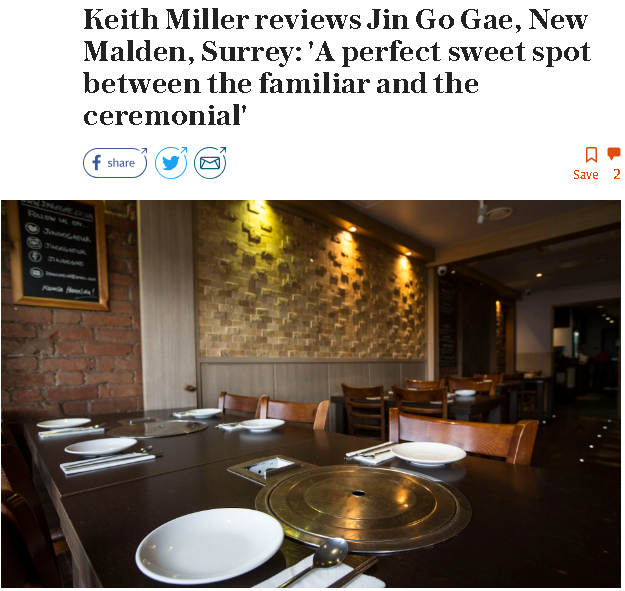 Keith Miller for The Telegraph had heard good things about Jin Go Gae, a central part of the Korean community that has grown up around New Malden. He was also craving a dish of " kwae jang, a show-stopping starter of raw marinated crab in chilli sauce", so it was the perfect place to review.
It's an "unassuming place on the outside", but "homely and inviting" inside, "full with a happy crowd". Tempura prawns were "fresh, juicy and greaseless" and Keith's daughter rated the dumplings over Yo! Sushi's. The crab? "I've never had anything quite like it."
"The restaurant occupied, we felt, a perfect sweet spot between the familiar and the ceremonial: a cavalcade of flavour and colour, shot through with theatre."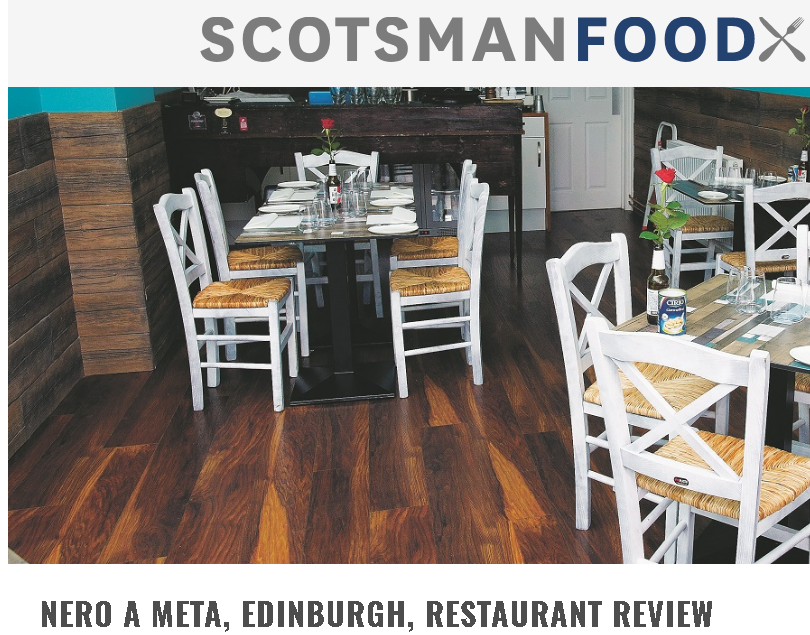 A new restaurant from the team behind Locanda de Gusti opened in the quiet Edinburgh suburb of Slateford where Gaby Soutar of The Scotsman lives, so she hurried along as soon as she could. Owner Rosario Sartore and chefs from Puglia and Lombardy have created a menu "influenced by northern and southern Italian food".
Three "top notch starters" were followed by "slightly less thrilling" mains (although the oriecchette were recommended, "elfin pasta lugs in an amazingly rich, tomatoey and beefy blood red ragu, which was packed with clods of ultra savoury stewed shin".
A dessert list and a pizza oven are to come soon, but Nero a Meta "always has its windows steamed up from a full house" when she passes.

Daisy Jackson for The Manchester Evening News was at the front of the queue when Manchester House, a "staunch member of Manchester's fine dining club" reopened (albeit with a new name).
"From first impressions, nothing at all" has changed (apart from the name) – the anonymous entrance, decor and "huge open kitchen" are all still there.
Tasting menus of varying sizes and costs are on offer in the evening, with "vegetarian and meaty options". The first courses are despatched in "big greedy mouthfuls", the next few include croquettes and "understated and gorgeous" mushrooms.
Restaurant MCR peaks with a goats cheese course of "a theatrical frozen sphere that melts away when a hot goat's cheese and onion soup is poured over"; it's followed by lemon sole "so rich I can still taste it ten days later" and ends with "fantastic weeny Manchester tarts".
The verdict: " there are plenty of swings at memorable, revolutionary dishes, too many just miss the mark". (***)
And also…
Tom Parker Bowles ate out at several of his favourite restaurants in Paris on The Mail on Sunday's expense account, while in the city for the World Restaurant Awards. Lucky him. La Fontaine De Mars received his standard four stars, for its never-changing menu and "easy bonhomie".  (****)
More from Hardens