Harden's regular round-up of the restaurant critics' meals, from the week ending 7 July 2019.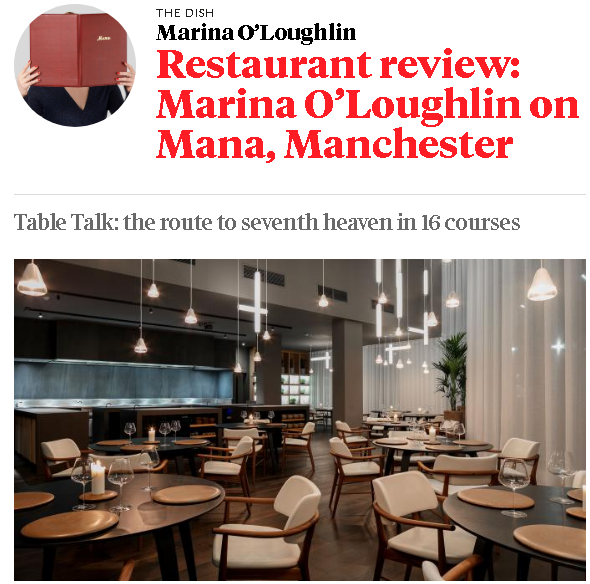 From the moment the first of 16 courses arrived, Marina O'Loughlin of The Sunday Times was "blown away" by Simon Martin's cooking at Mana. He cooked at Noma for several years (unlike so many chefs, which, as Marina points out "if you put all the chefs namechecking Noma on their CVs shoulder to shoulder, they'd stretch from here to the Little Mermaid") and it shows.
"Mana is consciously theatrical, its impressive kitchen the star of the show, every seat angled towards it."
There's just one option, 16 courses for £105 (without drinks), served up in a "lofty, airy and modishly austere Ancoats room". Much has been made of the "outré ingredients" ("blackcurrant wood, "peaso" (miso homemade from peas), beeswax, an artichoke ice-cream sandwich, and a dessert with baby pine cones and wood ants that's a try-hard double whammy"), but "in Martin's hands, it's all less shocker and more sheer seductive hedonism".
Notable dishes include the "English tostada" that arrives "looking like the White Rabbit's herbaceous border", the "sultriest" grilled eel "glazed with blackcurrant vinegar and roasted yeast (like a glorious cross between soy sauce and Marmite)" and "langoustine tails with cured egg yolk and a lick of thick tomalley bisque, lollipopped on spruce twigs, set afire".
"Dishes are served by the chefs, young, earnest, garrulous… it's dizzying to ingest all the information that comes with every course, let alone the extraordinary food."
They told Marina that the "main ambition" of the beef tartare with fermented rhubarb was that it "tastes like beef". It did "like beef squared, beef to the power of beef, incredibeef. I swear, if you put it to your ear like a seashell, you'd hear mooing."
"This isn't a good restaurant by Manchester standards; this is a good restaurant by world standards."
---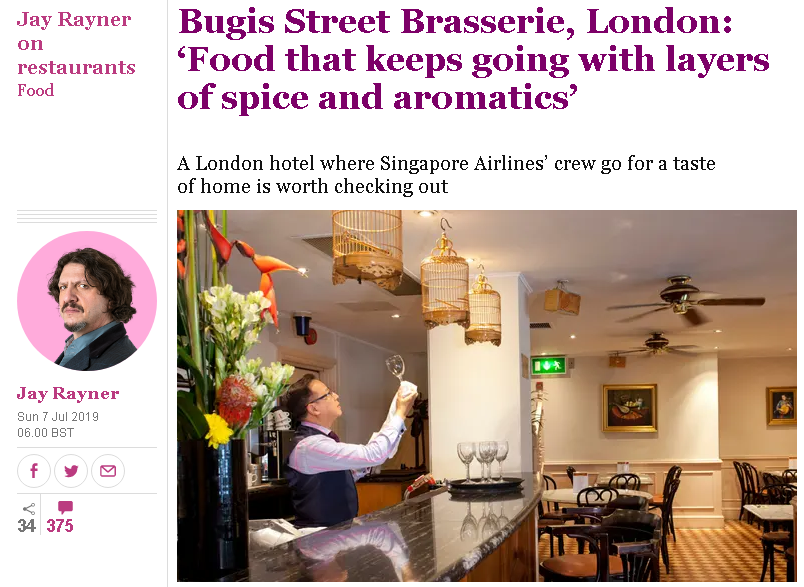 After his recent "hopeful but inevitably hopeless trip" to a certain west London hotel restaurant, Jay Rayner for The Observer was recommended to try another hotel restaurant nearby. The Singapore Airlines cabin crew might stay at the former, but apparently it's Bugis Street brasserie where they  "go for a fix of home". As he's "forever a starry-eyed optimist" (and loves a good laksa), he gave it a go.
Bugis Street is inside the Millennium Gloucester hotel ("a beautiful piece of architecture, if your idea of beauty extends to Stalinist-era pre-stressed grey concrete monoliths of the sort built to house sound-proofed interrogation centres"); the room itself is "a masterful study in beige", but that's fine as "the colour and drama will be on the table in front of you".
Jay ate chicken satay ("smoky pieces of heavily spice-rubbed thigh"), a "classic nasi goreng",  a "terrifying-looking" Malaysian chicken curry, long-braised clay pot pork belly ("a dish for which the words "yes please" were invented") and a prawn laksa ("Oh, the laksa. If, like me, you have a mental laksa map, a geographical plotting of the best places for the dish, drop a pin for this one").
"It's the sort of place where people come alone at lunchtime for a single plate of good food, and feel very comfortable doing so."
---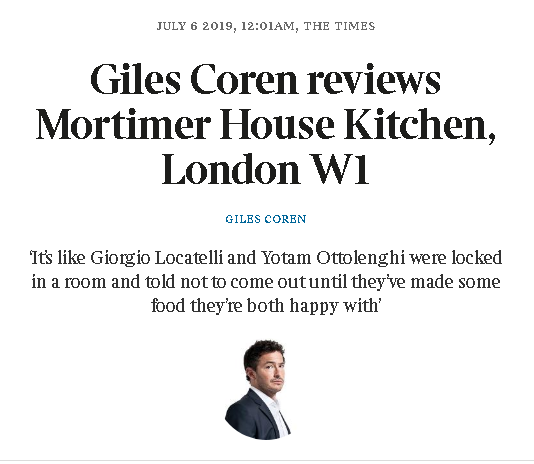 With "restaurants are falling dead around us like stricken soldiers" Giles Coren for The Times' Saturday Magazine has uncovered the solution. At Mortimer House Kitchen, Guy Ivesha has created a multi-level members' club, with working spaces, offices, meeting rooms, a gym, private kitchen (open to the public at weekends) – and a "top-class" public restaurant downstairs. It's "really, truly, spaces for all the things people want to do now, in 2019, that the industry never really thought of before".
The restaurant is a "lovely big room" with high ceilings, "Persian carpets over nicely worn parquet, midcentury seating both soft and upright, further dining rooms screened off by glass and a big open kitchen at the back". The "brilliant" Lello Favuzzi (of L'Anima) is cooking an "Italian-Israeli-Mediterranean mash-up" at the stoves here, while the private kitchen is currently home to a residency from Pidgin's Elizabeth Haugh (or what Giles called a "big-name hipster pop-up").
The menu is divided into small and medium plates, all featuring that "mash-up" cuisine: "pistachios instead of pine nuts… tahini, the smoking of soft cheeses, the precise, classical Italian techniques given a little Tel Aviv slap around the chops".
"It's like a Giorgio Locatelli or Francesco Mazzei has been locked in a room with Yotam Ottolenghi (and maybe José Pizarro as referee) and told they can't come out until they've made some stuff they're both happy with."
A return visit on a rainy Monday found the place "utterly rammed". Is this the restaurant of the future? (27/30, with 10/10 for ambition)
---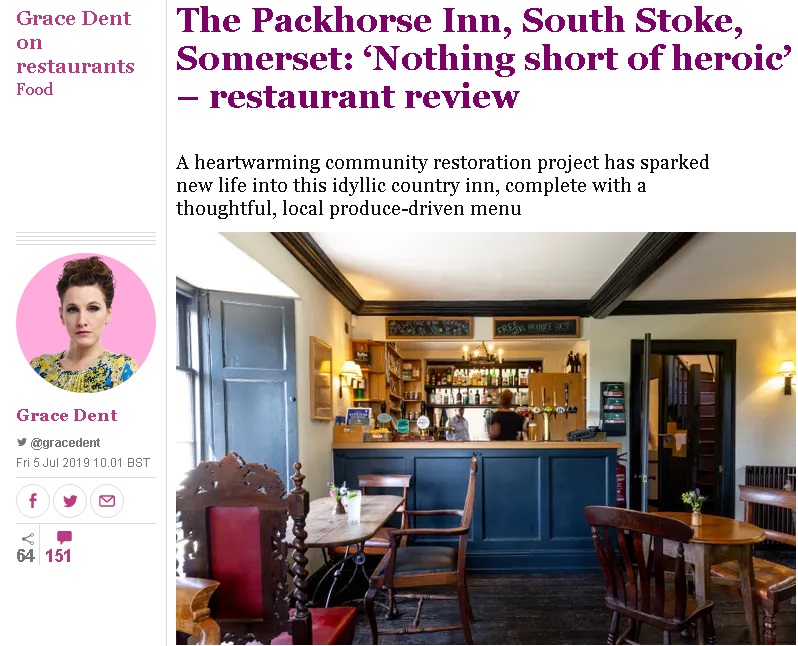 Grace Dent for The Guardian has nothing but praise for the efforts that went into turning a "hulking, ramshackle boozer", in a village outside Bath, back into a thriving community hub – the largest shareholder pub buy-back in the UK.  It's "nothing short of heroic" – and also an "excellent premise for a six-part BBC One Sunday-night drama"?
The Packhorse has become, after years of hard work, "potentially one of Britain's loveliest olde-English watering holes… a Grade II-listed building with inglenooks and ancient beams". Chef James Harris (from the King William in Bath) "isn't serving arty-farty flourishes of distilled wotnot to attract food snobs, but nor is he bunging scampi in a basket".
"He's doing exactly what country pubs need to do nowadays, which is take great, fresh, lovingly sourced local produce and arrange it in a memorable manner." Dishes that "stick in the mind" include spiced apple cake "served with a dark puddle of pickled raisins the likes of which I've not tasted since the late 1970s… [and] a wodge of Ashlynn goat's cheese". This came after a smoked beef hotdog in a bun and a "well-judged piece of cod… on top of a gently curried bowl of quinoa dal".
"It felt quite magical. Like visiting a National Trust Building and going straight to the best part – the tea room – without first having to endure two hours of thimble collections and antimacassars… If I lived locally, I'd come here a lot to take advantage of the views, the booze and the neverending supply of local intrigue as villagers stop by to check up on their investment." (25/30)
---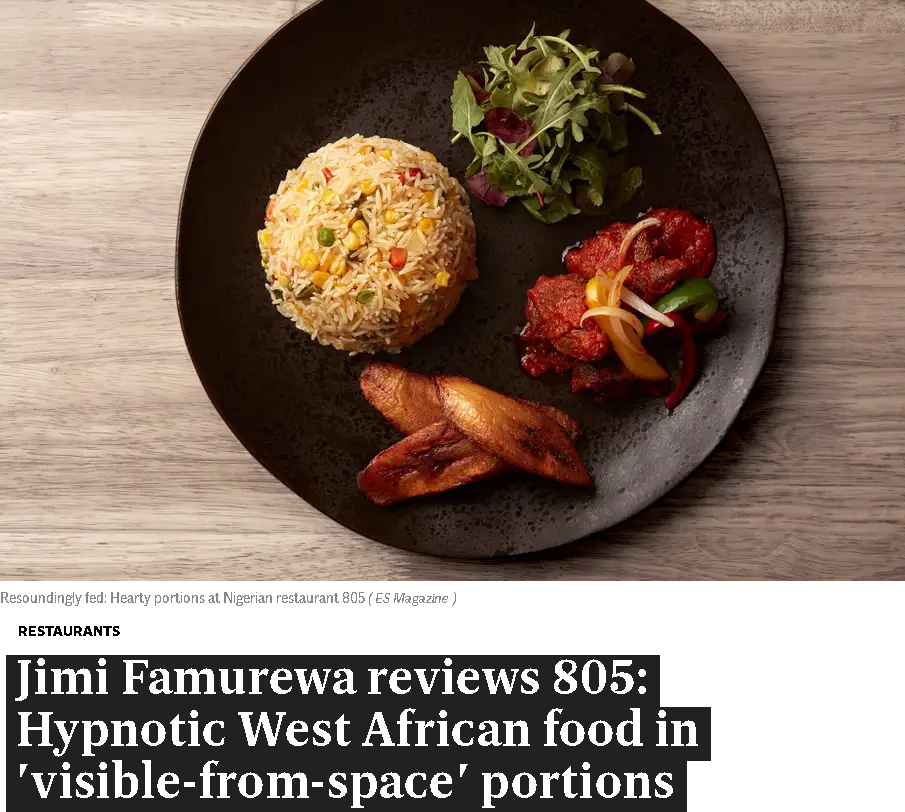 Jimi Famuwera was in Peckham for The Evening Standard, eating jollof rice, roasted plantain and Monika fish at "the Old Kent Road institution that is 805". It's famous for being the place that John Boyega brought Han Solo "for a belt-straining initiation into Nigerian culture", but has a 20-year history beyond that.
Jimi took his family there for what turned out to be "one of the more special, sneakily impressive meals I've had this year". The space "favours faux-opulent modernity over African tradition", with "weirdly clubby blue lights" and "Afrobeats".
"Mains on the exhaustive menu of Nigerian crowd-pleasers can climb to the £20 mark, but the fact that portions are of the 'visible-from-space' variety" – they left with "many (many) doggie bags". The jollof was "tangy and slightly smoky with a blooming lip-prickle of heat", tomato stew "came ladled on chicken or daubed on fat prawns, with the necessary swell of Scotch bonnet and a detectable undertow of cooked-down dried shellfish", and the egusi soup was "thrillingly unattractive". (But the stewed beans were "nowhere near as good as my mum's".)
"I don't know if I will ever fully acclimatise to West African cuisine's continued new life as a Hot Dining Thing." But 805 certainly "excels at the sort of unusual, gratifying experience that can get under your skin". (7/10)
---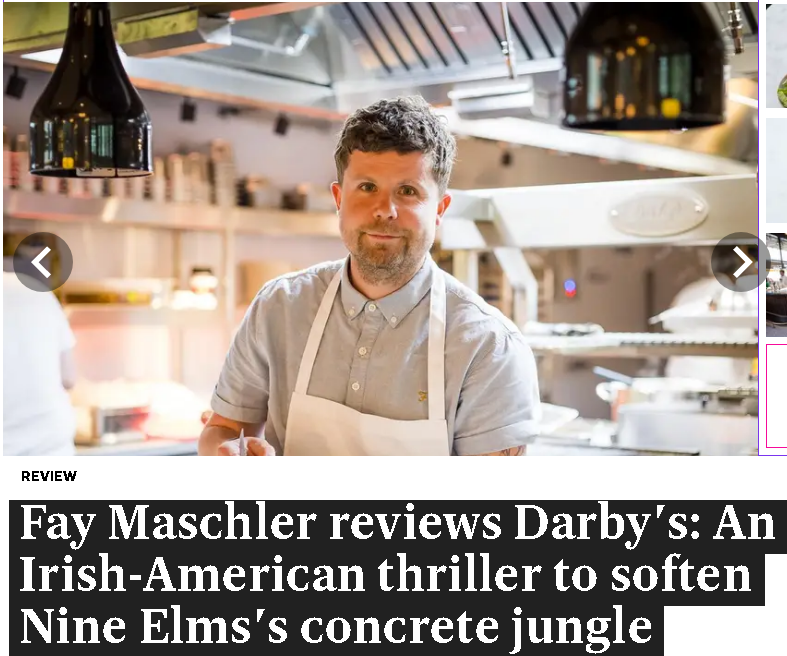 Fay Maschler for The Evening Standard was oddly undecided in her review of Darby's. After a critical overview of the entire Embassy Gardens and Nine Elms Lane area ("They have blighted the banks and skyline of the Thames and done nothing to alleviate the need for affordable housing."), she neither praised nor really criticised the new restaurant from Robin Gill, even after more than one visit – but claims she'll go back again for the happy hour.
"Prices are relatively restrained, comparable with, say, Brat in Shoreditch to which the menu bears some resemblance"; service was "delightful" (the Caribbean band that accompanied Sunday lunch less so).
At her first visit, 'Jersey milk ricotta agnolotti with Grezzina courgette & Nocerella olives' reminded her of "the estimable Sorella", and head-on grilled fish was "pleasingly gleamingly" offset by "crispy beef fat potatoes, layered and ridiculously lush". An "ace dessert" of burnt honey cake followed.
But on her return, spatchcocked chicken from the grill had "feeble texture and flavour", the fish in her smoked mackerel salad was a "surprisingly fugitive presence" and a side dish of vegetables arrived "overcooked, over-buttered". (***)
---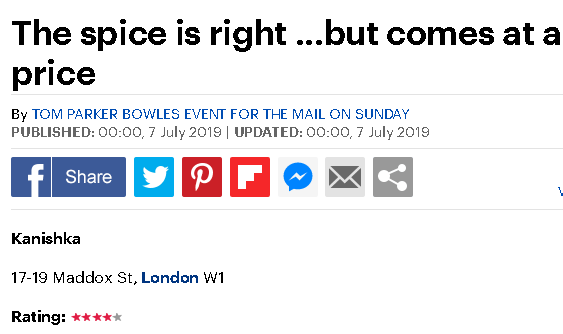 Tom Parker Bowles for The Mail on Sunday was at Kanishka, the posh Mayfair Indian from Atul Kochhar, who, "along with Vineet Bhatia, is the godfather of London Modern Indian".
Here, "things are rather less po-faced and rather more laid-back" than at Benares, with a room that's "smart but not formal, with a black-and-white chequerboard floor, plenty of foliage and a cool, aquamarine hue".
The food focuses on the North East of India, where "China, Nepal, Myanmar and Bangladesh, all neighbours, add their own ingredients and cooking techniques" to the cuisine. There's "noodles alongside the naan, soy and sag aloo, dumplings and murg makhana".
Tom and the man who bid on dinner with him at a charity auction ate a "glorious" venison keema ghotala ("stella comfort food, lavishly spiced and piled thick and rich upon a buttery brioche bun"), a slightly pretentious "textures of cauliflower", the signature black dal that was "creamily lovely" and goat curry that was "a beauty, heavy on the black pepper, chilli and cumin". "The only really forgettable dish is a Sikkimese duck."
Kanishka offers "a taste of something a little different, from a region of India not much explored over here…the cooking is elegantly balanced, yet admirably robust". It's just a shame that the "prices are Mayfair high". (****)
---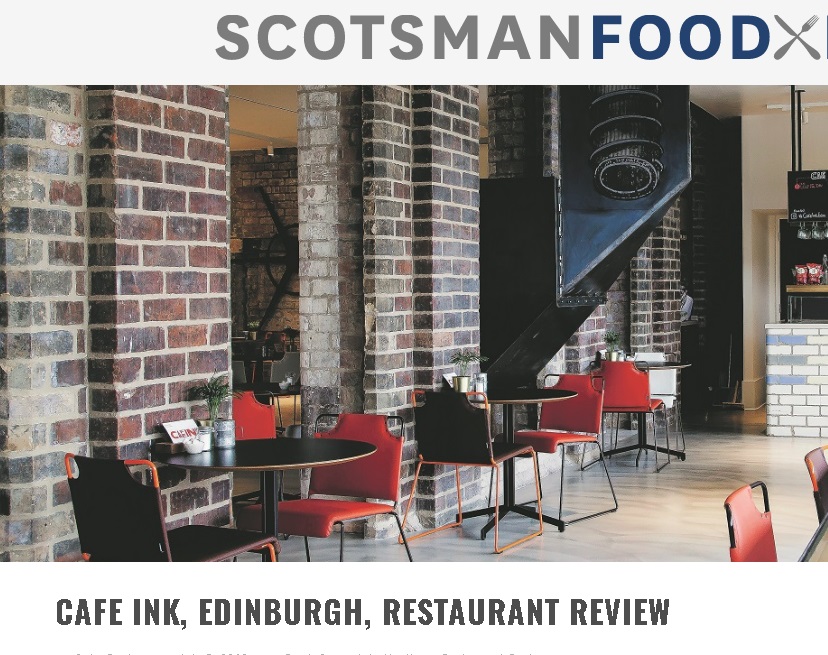 Gaby Soutar for The Scotsman was at the new home of Edinburgh Printmakers, a "beautiful restored building – once the North British Rubber Company headquarters" that's had "an £11 million nip and tuck". The cafe inhabits an "impressive space… at the back, with floor to ceiling windows that look onto a courtyard and garden" and is run by Heritage Portfolio who also run the cafes at (among others) the Scottish Galleries of Modern Art and the Scottish National Portrait Gallery.
"The menu sounds trendier than Heritage Portfolio's other venues" but there were still crowd-pleasing scones ("the bomb – bright orange, craggy, herby and salty"). From the brunch menu, avocado and edamame smash was "super sweet" (but helped along with a serving of salty bacon) and stuffed aubergine was "nice enough, but it would only tickle the sides of a chunky appetite". A cream of courgette and asparagus soup was "vibrant and lovely", but she barely touched her loaded sandwich and the cakes were "a little lame".
"Amazing makeover, but looks aren't everything. The food and service need work." (70%)
---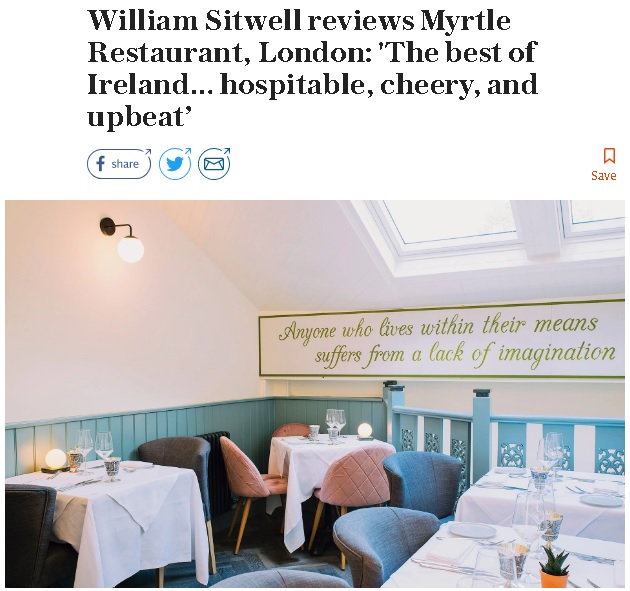 William Sitwell for The Telegraph went to "posh Irish" restaurant Myrtle, and tried Anna Haugh's modern Irish cooking that "acts like a fixed and constant trade stand" for the style first developed by Myrtle Allen at Ballymaloe.
His first dish, a "thin length of black pudding wrapped in crisped potato" was a "miraculous little plate" ("God knows how you wrap a slice of potato around black pudding but the result is a fabulous juxtaposition of rustic flavour and fine-dining presentation; like a soot-covered miner doing a pirouette"), was followed by roasted salmon that was "wonderfully simple and delicate".
The place itself was "soft, delicate, modest and welcoming" – "try to get a seat downstairs, the upstairs has less soul". (****1/2)
And also…
Bristol Live reported on the former head chef at Bristol's Lido, Freddy Bird, who is opening his own restaurant, littlefrench in Westbury Park.
More from Hardens