Our summary of what the national and local restaurant critics were writing about in the week ending 5 March 2023.
*****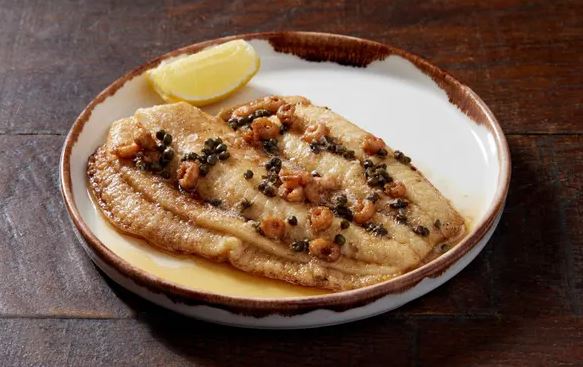 The Observer
Jay Rayner dropped in on 10 Tib Lane during his recent visit to Manchester (see below for a link to his interview with Manchester Live).
The "trio of Manchester hospitality veterans behind the business" describe it as "classic cocktails, natural wine that doesn't scare you off, beer that matters and seasonal food with the best produce we can get our hands on" – in other words, "eclectic small plates and a knowingly idiosyncratic drinks list" much like a handful of other restaurants in the area (Erst and Climat to name a few).
"Somewhere along the way Manchester was culinarily twinned with Hackney…"
"Modern trends have been attended to… but there's also a wonderful old-school sensibility at work" and even "a couple of flourishes" like "a version of Fergus Henderson's hot, wobbly roasted bone marrow with salty, vinegary parsley salad".
*****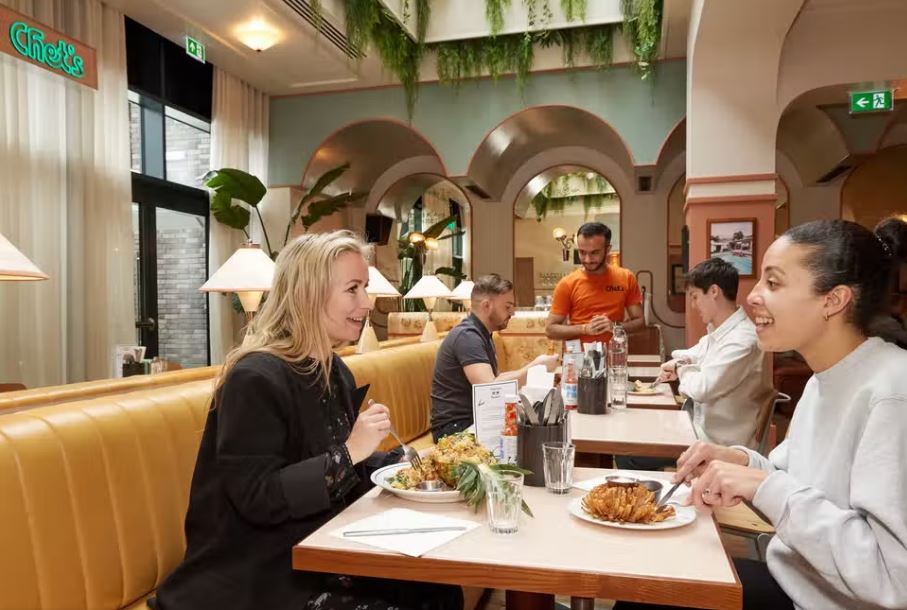 The Evening Standard
Jimi Famurewa has reviewed Chet's once before, when it popped up as a residency last summer in The Hoxton hotel in Holborn; his impression of the "LA-based, Thai-American chef Kris Yenbamroong's collaborative comfort food concept" was "of a fitfully effective, lightly confusing work in progress".
Chet's has now settled in The Hoxton's Shepherd's Bush location, and Jimi returned for a "proper" review: "It is time for me to eat crow… here is Yenbamroong's creation as it was initially conceived: a huge, intricately wrought, all-day operation… truly a thing of screaming, irrepressible brilliance… I absolutely get it now."
Chet's "understands that US diner culture is about maximalist abundance of spirit as much as portions". The pineapple rice ("a deeply spiced, kitchen-sink cascade that's served in half a hollowed-out pineapple shell") "probably best encapsulates this place's embrace of deceptively nuanced high camp and barrelling south-east Asian flavours".
"Chet's full, blockbuster production is one I plan to experience again and again."
*****
Also in The Standard, news of a new opening from the Big Mamma Group, of Gloria, Ave Maria, etc fame. Carlotta will open in Marylebone in May, and is promised to be "a more tempered-down spot", although with a "10-tiered chocolate fudge cake" on the menu, it certainly won't be boring.
Plus: a round-up of the capital's top pies (with a side order of puns) for British Pie Week, recommendations ranging "from Arments to Quo Vadis", and a long-awaited opening date for Rambutan in Borough Market. The "debut project from award-winning British-Sri Lankan food writer and pop-up sensation Cynthia Shanmugalingam" will open on March 17.
*****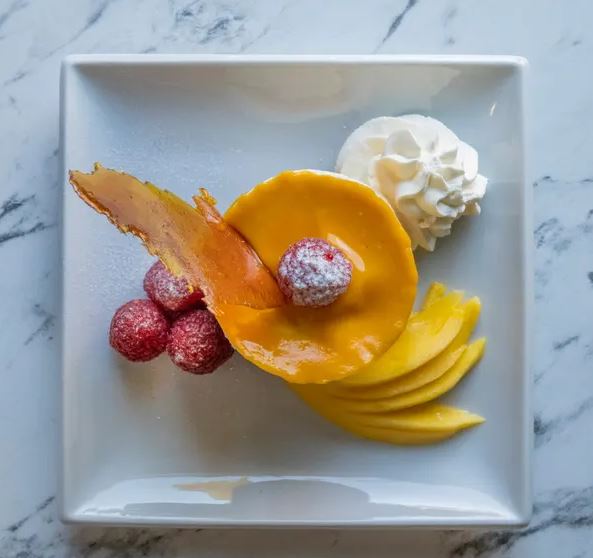 The Guardian
"Casa Romana does not need my feedback. I hope they change absolutely nothing. They've stood upright since 1993. Put me down for a table for two for its 50th."
Grace Dent returned to an old haunt, "an unreconstructed British-Italian restaurant" in Carlisle that she used to frequent before a night out, which has recently celebrated its 30th anniversary. "Locanda Locatelli in Marylebone this is not – and thank God." It is "large, heaving, far from London, with not a whiff of pretension".
"Nothing at Casa Romana is dainty or tweezered, but it is enjoyable."
Yes, it's a safe choice, "but over the decades it has also moved with its audience".
Grace very recently declared that only Basque cheeseckes are worth eating, "so why did I inhale Casa Romana's mascarpone and mango cheesecake with its crumbly bottom and sunset-coloured, teeth-chatteringly sugary fruit sauce… scraping the bowl like a labrador? It is a woman's prerogative to change her mind".
*****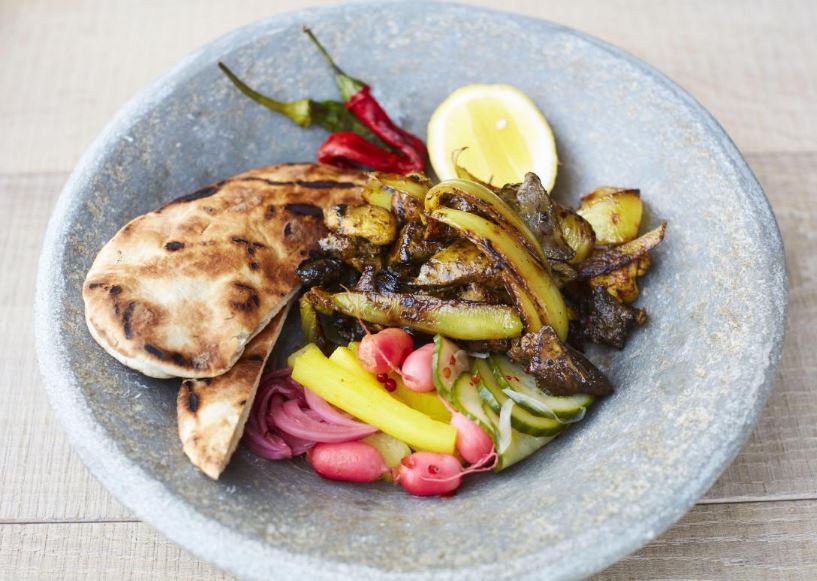 The Times
Giles Coren ate at the counter in Rovi only after discovering that his two first choices for a fast-breaking, quick vegan lunch are permanently shuttered (Detox Kitchen and Ethos); his celeriac shawarma and side dishes came in at "£42.75 all-in, this being an Ottolenghi offshoot, it's a mite pricey for posh silage".
So he decided to share his recommendations for "terrific, definitely not vegetarian places where I've lunched alone" in central London.
One "place I dropped in on and had the time of my life last week was the old Four Seasons on Gerrard Street" where his roast duck meal "would have shared well with a friend, if I had one, and been less than £20 a head, with tea and service".
He'd also suggest you "have a crack at Speedboat, a fizzing Thai sports bar… modelled on Bangkok's Chinatown… ablaze with bright colours, fiery tastes woven from [Luke]Farrell's own Dorset farm produce, loud music and guileless staff in luminous blue and pink sports kit." The "Thai-Chinese cooking is a brilliant step sideways from Plaza [Khao Geong]".
The last option, the "newly refurbished" and "wonderfully cosy, elegant upstairs dining room" at The Barley Mow on Duke Street breaks both Giles's budget and vegan intentions: "it is no vegetarian buffet, I grant you. But it is quite survivable in its way".
*****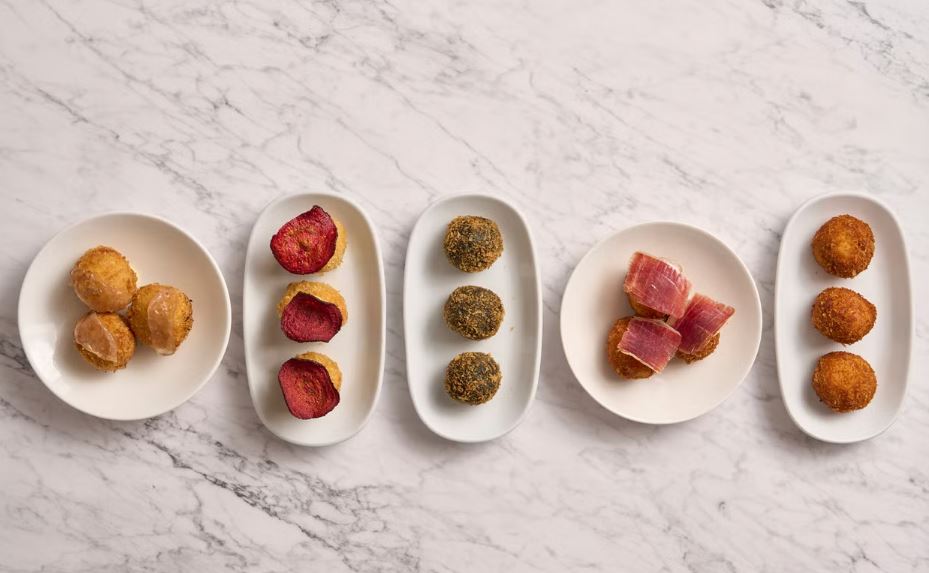 The Independent
"This place has it all: mix'n'match small plates, genuinely flirty, chatty atmosphere, freshly sizzled foods, swift drinks service and friendly, helpful staff."
 Lucy Thackray tried "deep-fried balls of everything" at Bar Kroketa, a "cosy, convivial Spanish hangout" off Carnaby Street that's "a potentially chemistry-crackling date place".
The USP is (as the name suggests) croquettes, or croquetas – everything possible is spelled with a K, "Kardashian-style" ("the spelling may be gimmicky but the food is not") – "served in pairs, fresh from the fryer" with "sweet options as well as savoury". (The dessert ones were "most novel and delicious of all.")
*****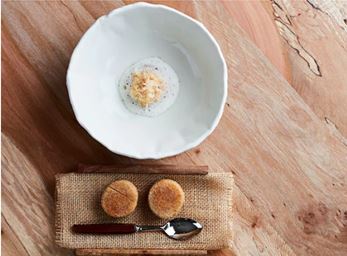 The Telegraph
"A deft and clever example of modern British cooking."
Once he found it ("the greatest restaurants often have the most subtle entrances" and there's also a "front door… so stiff you need a battering ram to get in"), William Sitwell enjoyed St Barts, "recently opened… in a new development called Barts Square in Smithfield", from the team behind Nest in Hackney "and the brilliant Fenn in Fulham".
It's "a Scandi-style space: minimalist, clean, light woods, fur throws on the chairs in the bar, an open, immaculate-looking kitchen" and was very quiet at William's Wednesday lunch.
In an "audacious" move, they have launched "in a cash-strapped era with a compulsory evening tasting menu for £120 per head, without booze and stuff" – William opted for the cheaper set lunch of "five courses and bread for £60".
"What a calming, assured and revelatory gastronomic embalming it proved to be… a set menu to turn the tasting-menu sceptic." (****)
*****
Also in The Telegraph, an interview with Noma's René Redzepi on why he's closing "the world's best restaurant… and moving 6,000 miles away", opening a "new £670-a-head venture in Japan".
*****
The Scotsman
Gaby Soutar was in North Berwick, where the restaurants "cling like barnacles" and nothing new ever opens; she resorted to visiting The Herringbone, which has "just reopened after a major makeover and menu update".
It now has a "smart casual bistro-meets-gastropub vibe" – "the new interior… [is] looking spot on, but the food needs a few tweaks". (15/20)
*****
Rosalind Erskine reviewed the new "playful" (their words) Italian restaurant in Bearsden, a short drive out of Glasgow; Oi Mamma is
"a nice addition to the dining options in Bearsden, so long as you're not after truly authentic Italian dishes". (13/20)
And also…
Manchester Live scooped an interview with Jay Rayner as he stayed in the city to record his BBC Radio 4 culinary panel show, The Kitchen Cabinet. They treated him to lunch at Erst, which he reviewed glowingly in 2022; "the kitchen staff breathed a collective sigh of relief" as he complimented the beef fat flatbread.
Also on Manchester Live, a look inside Gary Usher's White Horse pub at Churton, which opens this weekend.
*****
Bristol Post reported that the barge once known as The Glassboat, and – since lockdown – FiSH under the same owners, has been put up for sale (and currently appears to be sold STC); the fish restaurant has not been open for several months.
*****
Birmingham Live conducted a thorough survey to find (and eat) the most expensive breakfast in the city. Dishoom was the winner, whose 'Big Bombay' will set you back £14.90 and was "worth every penny".
Also on Birmingham Live was a look inside James Martin's latest venture, taking over the Grill at the historic Lygon Arms in Worcestershire.
*****