Harden's weekly round-up of the restaurant critics' reviews, from the week ending 4 August 2019.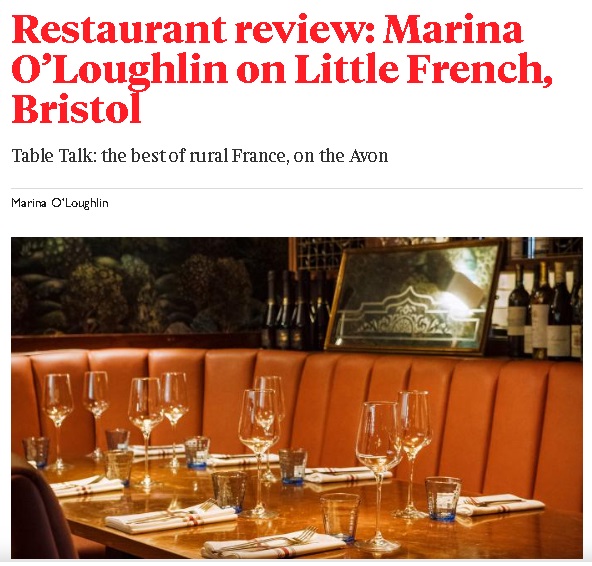 Marina O'Loughlin for The Sunday Times was in Bristol checking out the brand-new (and first solo) venture from Freddy Bird (formerly of the city's Lido restaurant) – with a challenge, no less: "there are four of us for lunch, four very different people, different ages, different tastes".
Luckily for all of them, Bird and his wife Nessa (and his "infectious delight" in being his own boss) are serving up "the finest French food I've eaten in a long time" – a true compliment from a critic so well versed in rural French cooking.
"Each of our dishes wallows and glories in the excellence of the raw ingredients." From the lamb's kidneys as a bar snack ("Who'd have thought that these would fly in a world of offalphobes and vegans?") to the hand-chopped steak tartare and the "undoubted showstopper" of "a vast, whole john dory" served in its roasting paper with "unmissable" chips. ("One pal suggests they might be "too crispy"; he is now dead to me.")
Little French is "just a lovely place to be", occupying a "lovely old shopfront location", decorated with "trailing ivy, glittering ranks of wine bottles and moody, beautiful wallpaper that looks like the endpapers from a dreamy grown-up fairy tale". Service is helpful and friendly. "There isn't a missed beat, not a hiccup."
If Marina had found Little French in any of the "smaller French cities in which I like to hang out, I'd be ecstatic. To find it here is close to nirvana."
BristolLive reporter Mark Taylor also reviewed Freddy Bird's new place ("fully booked with a queue of hopefuls waiting at the door" on the second day) having notified us of its arrival a few weeks ago. He called it "a humdinger of a new venue" – "big news for the Bristol restaurant scene and the city's most exciting new opening so far this year" – and praised the "robust, full-flavoured Gallic cooking at prices kind enough to encourage locals to revisit often". (*****)
---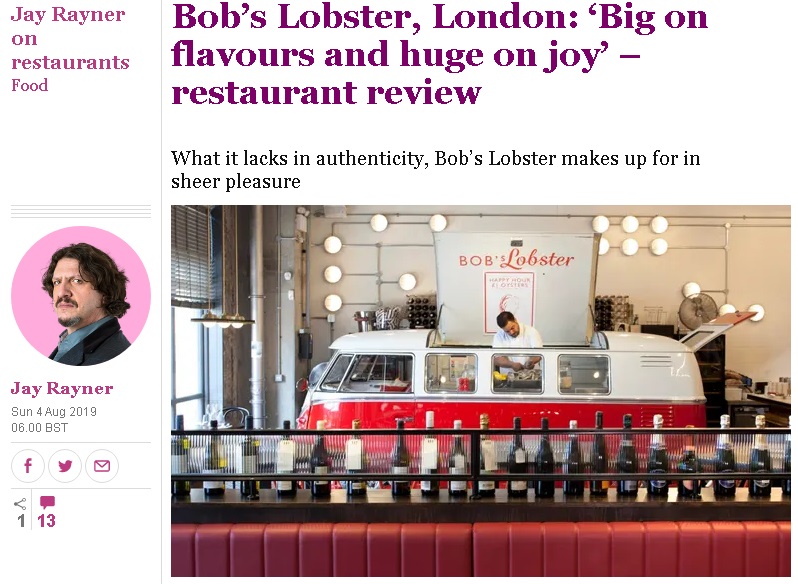 Jay Rayner for The Observer recommends a visit to BOB's Lobster as therapy for many an ailment: just head down underneath London Bridge station – the area that "was, until very recently, a deserted and scuffed Bermondsey drag" but now houses this place, alongside the buzzing Vinegar Yard.
"Calamitous break-up" a la Bridget Jones, Chardonnay-loving local resident? "Order the fries with mussel and bacon chowder, because they will make everything better." It's a "deep, soothing bowl… bobbing with Ford Cortina-orange mussels, into which has been dumped a whole serving of rather good chips" – "solace in a bowl", an "outrageous and joyous menu item… which sums up the full-frontal assault of the food here".
Feeling unhealthy? Order the quartet of tuna tacos, nestled into their own bespoke "taco luge" and made with "sashimi-grade tuna, wasabi-boosted guacamole, chipotle-flavoured cream and deep-fried wonton shells". "Each one is three or four satisfying mouthfuls of quality raw fish, acidity, crunch and spice" and eating them "feels like an act of virtue".
Jay's own personal therapy is much in evidence: "if in doubt, add bacon". Chocolate brownie with sprinkles couldn't fail to put a smile on anyone's face – nor could the foaming pisco sours, especially when offered with happy hour oysters at £1.
Authenticity isn't what they are going for here – the succotash with its "courgettes, fresh mint and… crumbled feta, leads it off towards the southern Mediterranean rather than the southern US", but the lobster and crayfish roll will make you feel as if "all is right with the world". "None of this is subtle. None of this is poised. But it's big on flavours and it's huge on joy… overseen by a young staff who appear to give a damn".
"When emotional times are hard, and nice things are needed, I think it can… serve as a vital emergency service."
---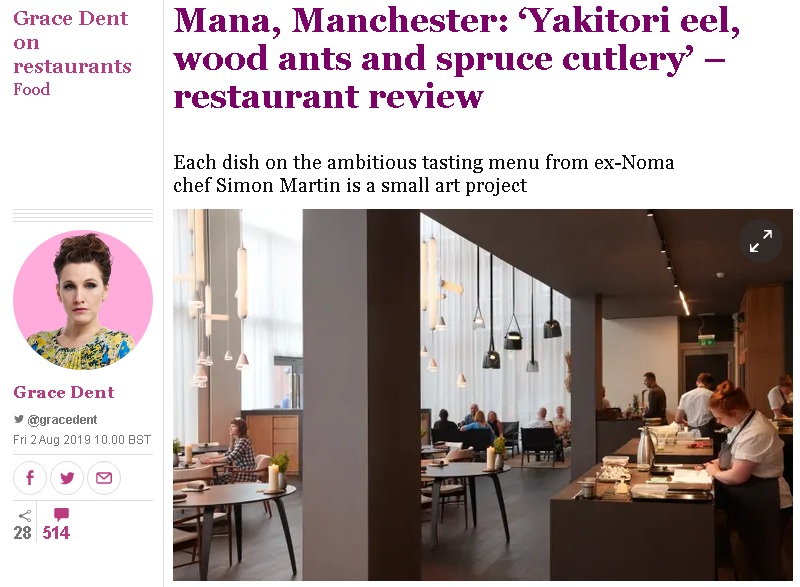 Grace Dent for The Guardian was in Manchester, wondering why on earth a city "where so many restaurants are reaching for greatness" has not received even a single star from the tyre men.
She refused to join in the "north-west snubbing" and visited ex-Noma chef Simon Martin's "ambitious project" in Ancoats: "think 16 courses, and potentially more, but put aside three hours and £105 a head". It's not a million miles away from Noma's style, but imitated "positively, jubilantly, and creating their own buzz in the process". Grace took a die-hard Noma fan to dinner, and they were won over.
Each dish "is a small, fancifully presented art project" using ingredients and techniques including "flower petals strewn about the place willy-nilly…, foraged stuff, ants, beeswax, picklings, dehydrated scallops, artichoke ice-cream" – not to mention "spruce branches as cutlery".
Yakitori eel glazed with yeast and "deep, red blackcurrant vinegar" was the "certain star of the show" for Grace – "so incredibly funky… a funk that curls your toes with its all-powerful, umami thrust", although she loved the "bowl of sweet, velvety charred onion petals with fermented barley and kelp", too.
"Mana is the sound of Manchester turning a corner." (25/30)
---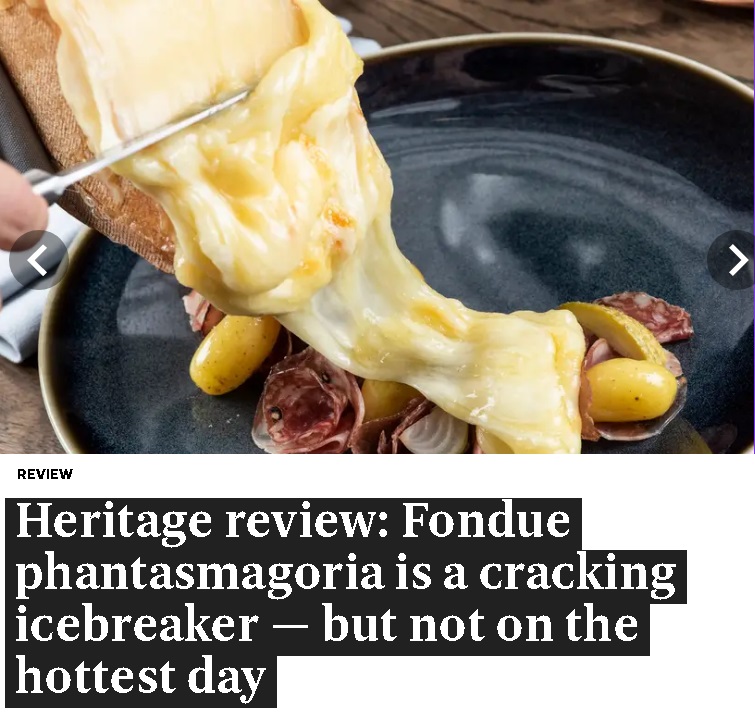 David Sexton for The Evening Standard followed in Jay Rayner's footsteps to Heritage on an equally hot summer's day. The location is less than ideal, in the "resiliently scuzzy" area between Piccadilly Circus and Leicester Square, and the dimly-lit "nightclubby" decor incongruous on the hottest day of the year, but as Swiss cuisine is still so "sorely under-represented" in London, he felt obliged to persist.
David's menu descriptions range from "wildly unbalanced" to "a cheesy phantasmagoria"; he enjoyed his plate of "high-quality, locally made charcuterie" and a "well-made" Dingley Dell bacon rosti. Too many of the dishes, though, had the raclette "re-appearing over and over — ta-ra! — in slightly different guises".
"Service is effusive… more than it is attentive", and wines (especially by the glass) were "stingingly expensive". (***)
---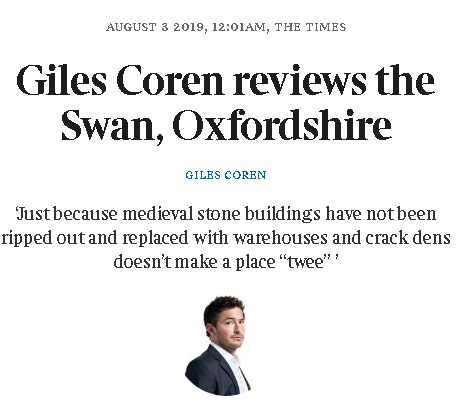 Giles Coren for The Times was loudly defending the Cotswolds this week (it's all AA Gill's fault that critics bash the "twee" Cotswolds, apparently), while eating at The Swan in Ascott-under-Wychwood, from the company of "wealthy local benefactors" that recently took over The Talbot in Yorkshire (and already owned The Chequers in Churchill) .
It's a "great big, newly upgraded, spanking bloody excellent Cotswolds pub" with a menu that's "a kitchen-sink affair of the new school – mains, roasts, sharing plates, pies, breads, starters, all of it local, hearty and modern"… "it's all very good English stuff (with some exotic twists) and fresh and tasty".
"A gallimaufry, a great massive hotch-potch of reimagined pub classics, mostly brilliant, and just how I like to eat at weekends: lots of people, a pint, a glass or two of wine, too much food."
But even with all this praise lavished on the pub and the region in general, even Giles couldn't write about "Chipping Norton 'nduja" without a smirk ("even I laughed. Heaven knows what Adrian would have done"). (26/30)
---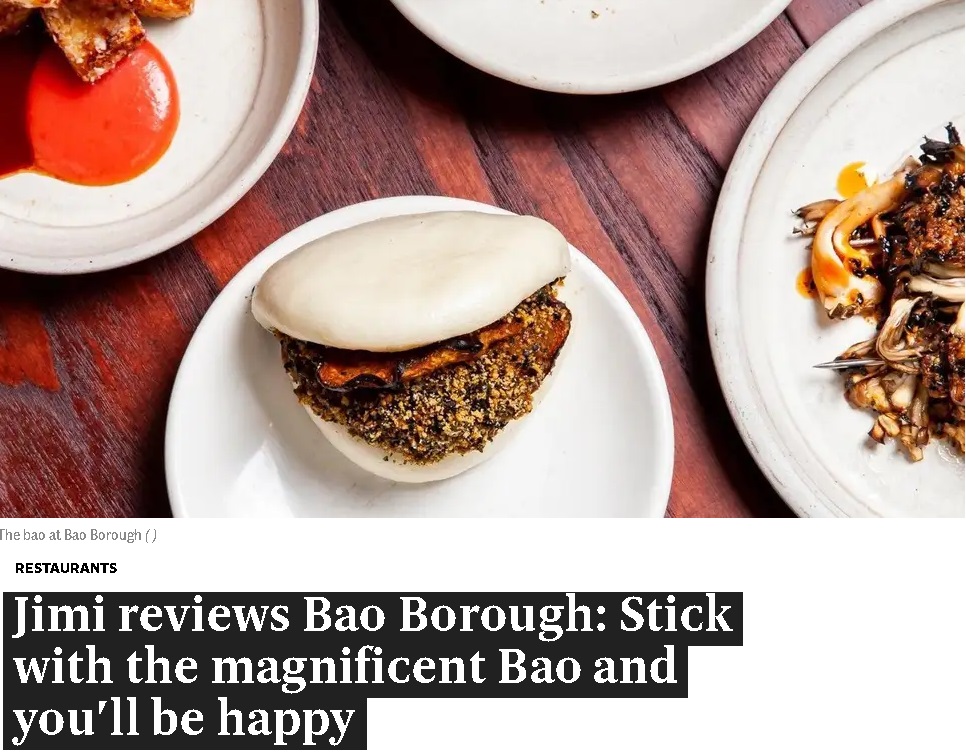 When Jimi Famuwera for The Evening Standard read about the 'currywurst hot dog bao' available at "formidable cult" chain Bao's new Borough flagship, it was, for him, "a clear sign of the sort of devilish, imaginative cooking that deserved a closer look". It's been open since May but has been largely overlooked by his fellow critics.
The decor (very different from the other Baos) is "simultaneously celebrating and lightly spoofing" the "lively Asian grill houses" that the food recreates.
Curry cheese bao was "a riotous eruption of katsu sauce… outrageous, indecent and very addictive" and the chicken nugget bao concealed "whole galaxies of sprawling, spiced complexity".
But Jimi's visit didn't quite live up to his expectations. Yes, Bao Borough delivered "unmatched quantities of acute, shuddering pleasure" but also lacked "some of the crucial balance and restraint" of its siblings – "it feels like an arresting, extended drum solo of fat, umami and double-fried crunch that occasionally makes you long for something a little quieter". Have "Bao's founders… ramped some things up a little too much"?
"The food is fast, fun and commendably cheap" – Jimi's tip is to "prioritise those magnificent bao" in order to "leave here very happy". (7/10)
---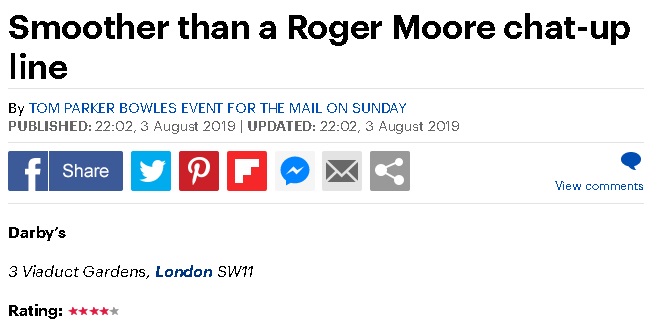 Tom Parker Bowles for The Mail on Sunday awarded his four stars this week to Darby's, the new restaurant "from the very talented Robin Gill (and wife Sara)", opposite the new American Embassy.
The "NYC-inspired" oyster bar, bakery and grill is "suffused with an easy natural warmth, modern without trying to be trendy, comfortable rather than contrived". It's noisy, and there is music, but he'll forgive them.
Service is "friendly, not over-familiar, slick but not pushy", – "it takes a huge amount of hard work to appear this laid-back". It's "one of those rare restaurants that is born near perfectly formed, radiating pure succour and good cheer".
Tom ate "blissfully light" boozy chicken liver mousse with "charred and chewy" sourdough (baked in-house), lobster roll (wolfed down "in two soft, salty bites"), "proper slow-cooked veal ragu" with "great fat ribbons of pappardelle" and a "whole turbot, cooked, just like at Brat, over coals".
"It's impossible to hate anything about Darby's." (****)
---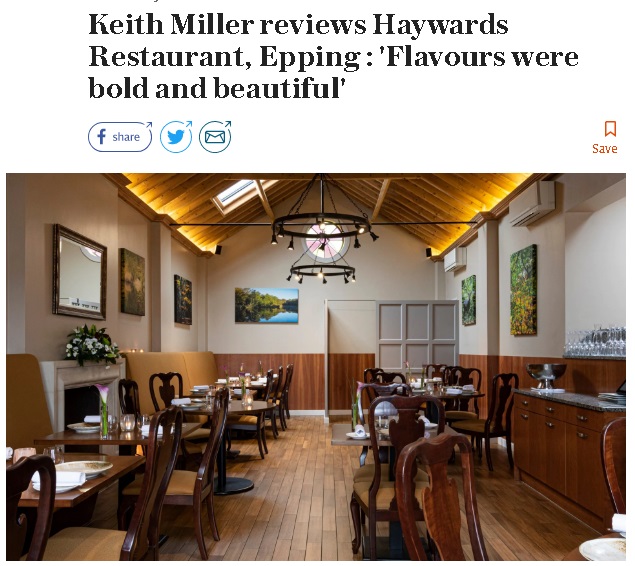 Keith Miller for The Telegraph was in Essex, at Haywards, a "husband-and-wife operation in a pretty converted stables next to a rangy pub on the edge of Epping Forest". He wasn't sure about quite what to expect – especially given the portrayal of Essex natives on reality TV shows.
It's not a wildly ambitious place – the decor was "suavely neutral" and the clientele are clearly "willing to experiment up to a point but no further", but the menu had "a clever retro sensibility", the food was "beautifully presented" and the front of house team were "superb: laid-back but solicitous".
Keith enjoyed flavours that were "bold and original" – a "Sicilian-style sauce" of pine nuts, raisins, capers gave a new twist to roasted cauliflower, for example (rather than follow "the beaten path of Ottolenghoid orientalism"). (***1/2)
---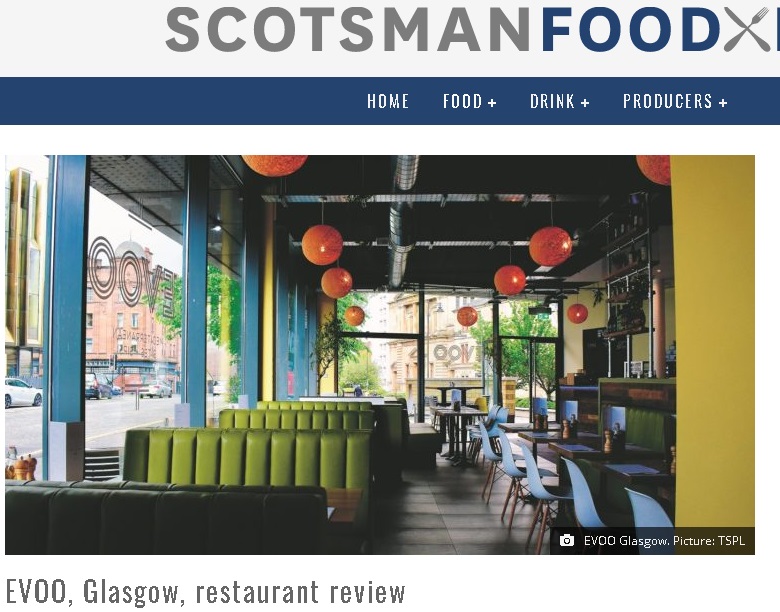 Gaby Soutar for The Scotsman detected "glimmers of magic" in the food she reviewed at Evoo (named for the acronym for extra virgin olive oil): killer cocktails, generous portions of well-cooked 'small plates' Mediterranean fare (roasted sea bass, pig cheeks and the like), with "gratis" flavoured olive oils, service that was "very welcoming and kind" – and a "lovely Sicilian lemon tart" to finish off. (78%)
And also…
In The Financial Times, Tim Hayward was thinking about "the restaurants we love going back to" and the ingredients for "a great regular haunt" – "in search of the new, we often neglect our old favourites". There was also a review of Parrillan, "a restaurant that shows London can do summer as happily as any city in the world", serving "immaculate food in a glorious setting".
Recent News from Harden's