Our weekly round-up of what the national and local restaurant critics are writing about, for the week ending 2 August 2020.
Restaurants, pubs, bars and cafes in England were permitted to re-open on Saturday 4 July after over 100 days of enforced closure. Some establishments remain closed – the owner of the three Market Halls, for example, has decided to remain closed until social distancing has ended.
For the month of August, the government 'Eat Out to Help Out' scheme, aimed at boosting teh restaurant sector, is offering a 50 per cent discount, up to a maximum of £10 per person, on food and non-alcoholic drinks, any Monday to Wednesday. For more details, see our article here.
Check with your local and favourite restaurants before heading there; many are operating strict timings, reduced menus and booking systems, even if they didn't before; look at their social media pages for details (all available via hardens.com).
*****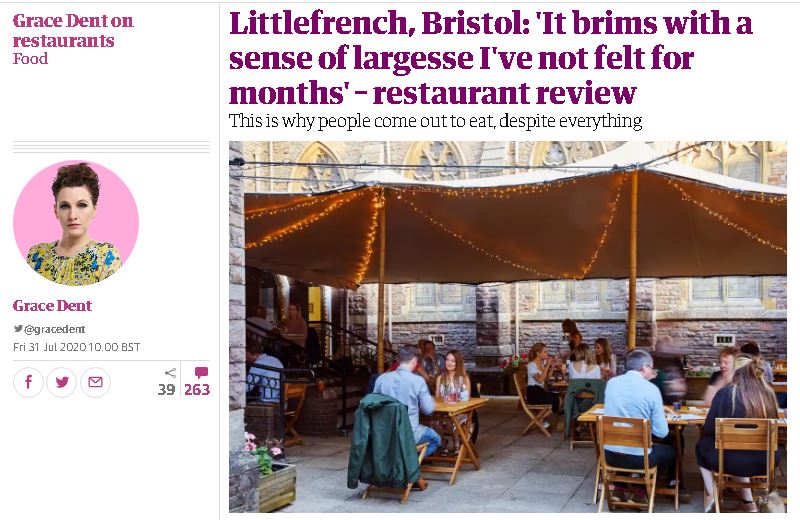 The Guardian
It's been a long time since Grace Dent kicked off her heels under a restaurant table – a sure sign that she's very happy and staying as long as humanly possible – but she did it at Littlefrench in Bristol, on a rainy Saturday night under cover ("that specific British genre of alfresco dining that requires a bobble hat"). Due to restrictions inside their "pretty, little restaurant", Freddy and Nessa Bird have "set up shop round the back".
The combination of "good hospitality" ("and there's that in heaps at Littlefrench") and "deftly mixed" cocktails "transformed Bristol into Biarritz" for the evening. One of those coctails (a French 75) and a "prettily plated volley of fat roast queen scallops, presented in their shells and swimming in a heroically good sauternes butter" started the evening off well.
Grace had arrived "rather hungry" as she'd been unable to pick up any food (no catering, cafes closed, long queues) since getting on the train in London. "Tiny, mundane, ever-present hiccups in normal life mean you never quite forget this is where we are now; things are not the same, and perhaps they never will be again."
But Littlefrench soon fed her, and in style. She enjoyed "excellent, crisp, peppery radishes" with a "gloriously brutal" ("exactly as it should be") Provençal-style anchoïade dip, then "fresh goat's curd with just-podded and barely even blanched peas and a pile of confit'd new-season garlic on toasted sourdough".
Dinner continued with rare onglet in a red wine jus ("steak frîtes elevated way past pub grub level") and "a whole turbot, a fearsome challenge, with tartare hollandaise and soft, buttered Cornish earlies spuds with wilted spinach", ending with a prune and armagnac tart ("with which I ordered a glass of Cornish Mena Hweg sweet wine"), those heels kicked off under the table and Grace feeling "very grateful indeed".
"Littlefrench brims with a sense of largesse that I've not felt for months."
*****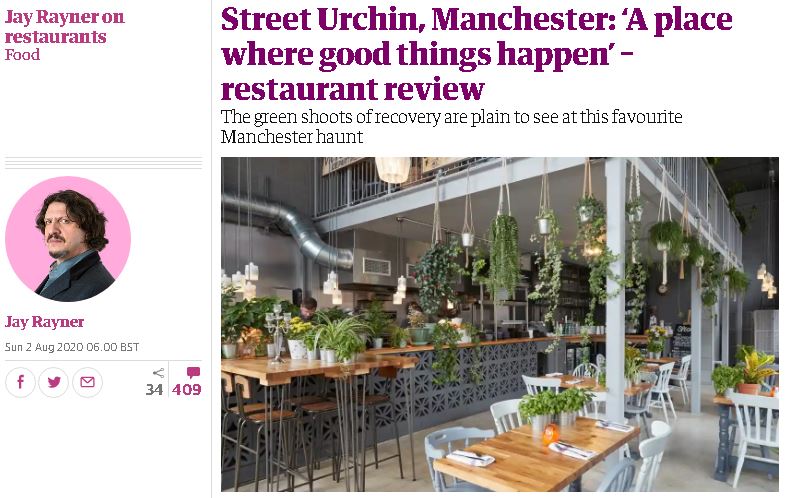 The Observer
Jay Rayner was in Manchester this week, at Ancoats restaurant Street Urchin, where owners Kevin and Rachel Choudhary looked after forests of potted plants throughout lockdown; the healthy plants are now being used as screens and on tables to reduce cover numbers.
"I've sat in a few dining rooms since the reopening and the necessary demands of social distancing can have uneasy impacts… A bold hedge of luscious fronds between diners… makes for an unforced intimacy that this devoutly modern space… might otherwise lack."
"On the day of my booking I was emailed a photograph of both the main blackboard and the specials. I spent half an hour thumbing my screen in anticipation, and dribbling. Thank God the iPhone 8 is water-resistant… I love it when a restaurant flirts with me like that."
Jay appreciated the sausage-making skills in the kitchen ("never a bad thing"), specifically the 'morcilla-style' black pudding, which was "dense and with an edge of fire and comes on a big splodge of a bold tomato chutney" with an apple and walnut salad. "It's a cheerful tumble of great ingredients."
Some dishes are less successful; chicken livers and chorizo needed no bread, and the "tempura queenie scallops and squid rings, with battered samphire on a potato cake was "just a little overseasoned". He also didn't love the vinegared anchovies in his Caesar salad, rather than salted. ("I constantly bang on about the cult of authenticity being a dead end where food is concerned… I'll just moan quietly to myself about it and feel as old as time.")
Dessert was a play on Manchester tart, the pastry deep-fried in balls and filled with custard, sprinkled with sweet, grated coconut and served with "a jug of loosened jam for dipping. He calls them Manchester Moneyballs and they are both delightful and fun to eat."
"Service was managed slickly by two waiters in black masks bearing the image of the Manchester bee, the venerable mark of the city's hard graft and unity." Ancoats was previously "rich with flat whites and artisan bakeries, with craft ales and the sort of rumbustious enterprise which makes life better. The reopening of Street Urchin is a sign it can be again."
*****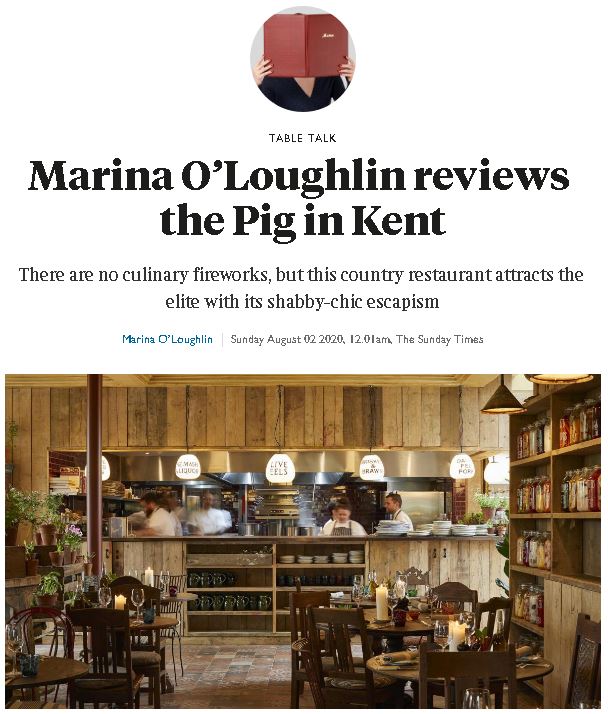 The Sunday Times
"If you want somewhere to blot out everything, to stick fingers in ears going la-la-la-up-yours-horrible-world-outside, I really can't think of anywhere better."
Amid the general anxiety of lockdown easing, Marina O'Loughlin sought out a place to make her feel " even temporarily that all is well with the world". So she went to The Pig at Bridge Place, in Kent. It's "one of a small group of ultra-boutique hotels dotted around lovely parts of the country, the sort of spots where Downton Abbey is regarded as a lifestyle manual."
Owners Robin and Judy Hutson "could turn any old sow's ear into a silk purse: they're particularly good at marrying country-house comfort and luxury with a palpable air of possible debauchery" (their latest Pig, at Harlyn Bay near Padstow in Cornwall, opened just last week).
The Bridge Place Pig is "an absolute knockout beauty dating from the 17th century, rosy-bricked and elegantly proportioned", and the "country-louche vibe" spreads through to the restaurant, whose menu "ticks vaguely hipster boxes while still being somewhere you could happily take grandpa".
"There's a very determined English accent, none of your "au poivre" here; nor crème brûlée — the Pig's is "burnt cream", and a lovely thing it is too." Much of the produce is from a 25-mile radius, and they have their own smokehouse and kitchen garden.
Marina ate caulifower risotto, "piggy bits" and venison cottage pie that looked a little like a supermarket ready meal "but the minced meat has real depth and resonance and the mash is fluffy and comforting, the leeks buttery. It's a hug of a thing."
"Honestly, though, the food is the least interesting thing about the place… it's perfectly competent and acceptable, it all looks good and if you were here for the weekend, you'd be delighted. It's a bit like a country outpost of the Ivy: nobody comes here for culinary fireworks." It's also "a touch bean-counted" and "the prices: yikes. We rack up a bill north of £150 for two without going anywhere near the full Johnny Depp. But the provenance is unimpeachable."
*****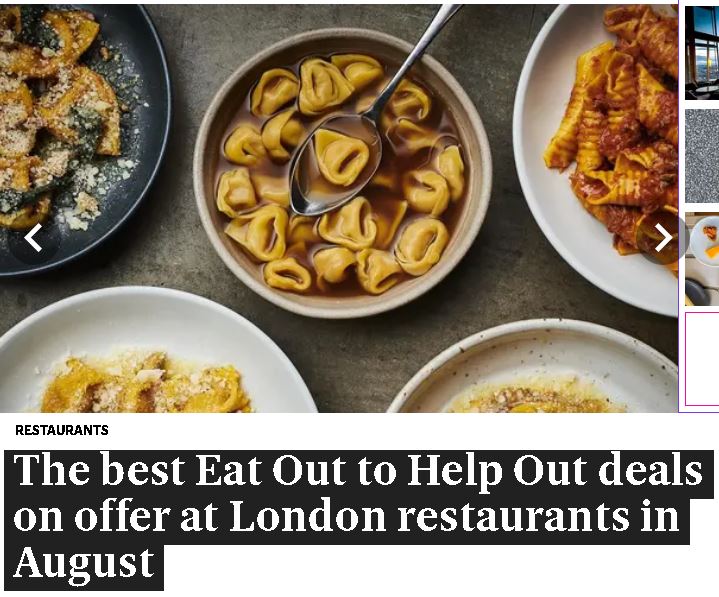 The Evening Standard
The Standard published a list of restaurants offering the best Eat Out to Help Out deals in August, plus a list of the capital's best rooftop restaurants.
No review from Fay Maschler this week, despite eating out every day – her regular week in food page lists all her meals out, which this week included a Forgotten British Menu at Aqua Shard and a Greek dinner at Lemonia in Primrose Hill.
*****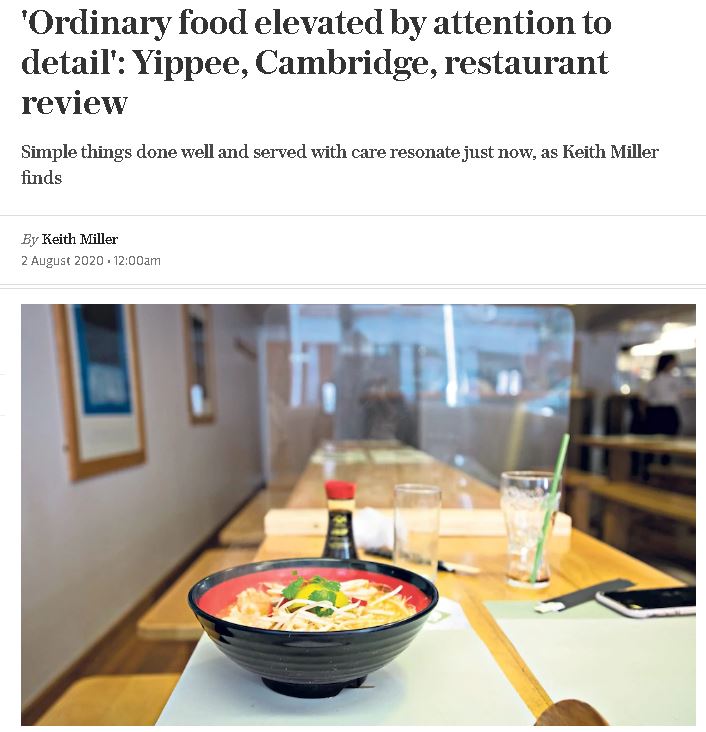 The Telegraph
Keith Miller and his lockdown beard ("after three unrazored months, I'd attained a sort of castaway look") were in Cambridge, slurping down at Yippee, a Chinese restaurant with a "crisp, modern design… blond wood refectory tables" and walls "hung with Mark Rothko posters".
He was attracted to the place by the "sheer optimism of its name" and the fact that "a fairly eminent restaurant writer based in Cambridge had been posting his lunches there on Instagram". (Regular Review of the Reviews readers will recall a nostalgic lockdown review from Tim Hayward in The Financial Times which talked about his favourite restaurant in Cambridge – which he didn't name – with refectory tables and Mark Rothko posters on the walls. Bingo. He'll be pleased to see it open again.)
"We really wanted to do a Chinese restaurant. Since even before the lockdown, the sector has had a rough time of it, from confected panics about the coronavirus to a huge drop-off in the number of Asian visitors to the UK, to the perfect storm that currently afflicts Chinatown in London."
The vibe at Yippee is "clearly supposed to be bustly and canteeny, like a non-corporate Wagamama". Can it survive with Perspex screens, reduced numbers and not enough customers? "This is one of the questions that's hovered over the restaurant business since reopening – can intangible qualities like "vibe" survive in depopulated rooms?… In the case of Yippee, I'm going to plump for a cautious yes."
"It's not an expensive banqueting-style restaurant; it's not particularly niche – it just serves canonical dishes from what might be one of the few genuinely global cuisines, cheaply and well."
Familiar dishes were "elevated by acute attention to detail. Noodle dishes were glossy… "Yippee sauce" was a potent take on hoisin, made in-house… ingredients were super-fresh."
"They are doing what they do well, and inexpensively, and with care – and that feeling of being taken care of really resonates at the moment. Though maybe they were just being extra nice to us because they took one look at my post-lockdown beard and thought I was Jay Rayner."
*****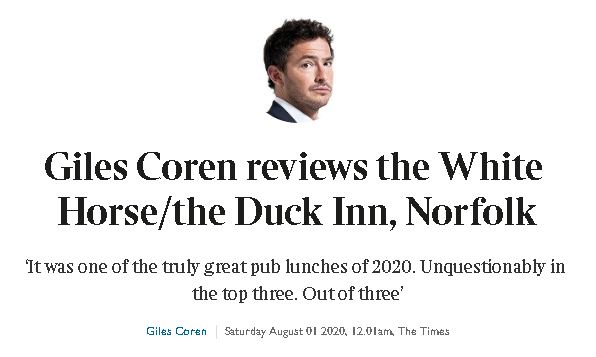 The Times
Giles Coren still seem to be reviewing restaurants, despite insisting he wasn't going to. This week he was in north Norfolk, so getting the family's holiday meals on his expense account seems to be the order of the day (there's three places mentioned this week, and he mentions half way through that, and in the comments, that next week's two reviews are in the area too).
He rambled about lockdown – and how we all missed restaurants, such insight – for several paragraphs, then shot arrows at his fellow critics who "have declared that negative reviews are on hold in "the current climate", thereby rendering positive reviews, of course, completely worthless." And then went on to say he's not scoring reviews right now.
After a quick (and apparently unpleasant) drink in a pub, just because it was open, he went to The White Horse at Brancaster Staine, and enjoyed "lovely views of the marshes and the sea"; they have "a marquee right on the shoreline to accommodate all the people who aren't allowed inside at the moment". Giles carped about the way the establishment handled the Covid regulations, which probably explains why he described his dishes as a "smallish" lobster that was "lukewarm and soft, not sizzling with joy and garlicky heaven" and fish 'n' chips which were "definitely in the top 20 per cent of fish and chips, but not the top 5 per cent".
Another meal, at The Duck Inn in Stanhoe, wasn't on the coast, but in "a cute, modern, open-sided barn, giving onto a lovely garden of apple trees and bright flowers". Apparently, they do one-way systems and hand sanitising the Coren-approved way, so the food was more kindly described, as "properly good and the service swift and understanding" and he liked it much better than The White Horse.
*****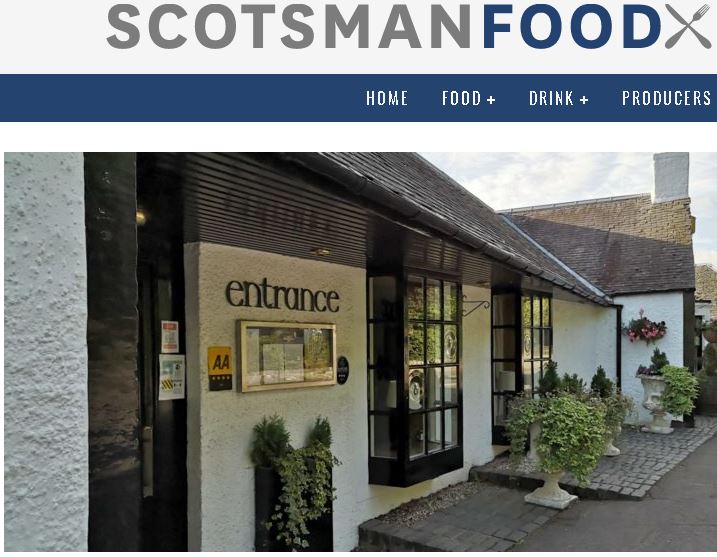 The Scotsman
Regular reviewer Gaby Soutar enjoyed a delivery from catering company Hickory this week ("All rather lovely, and, as anticipated, it was all beautifully designed and well considered. Nothing had gone soggy, mushy, squelchy or stale."), and left it to Catriona Thomson to produce an actual restaurant review – albeit another delivery.
The Horsehoe Inn at Eddleston was taken over by new owners before lockdown, so she hadn't tried it before, although heard about them "doing great things for the community", including "meals for villagers" and "afternoon tea deliveries". The beer garden is now open for those close enough to visit.
The fare is standard pub grub; calamari and nachos were the family's choice of starters, while Catriona plumped for "dainty mango and brie filo parcels… which are not too shabby". Mains include burgers (her beetroot and quinoa burger was "served in a deliciously toasted pretzel bun") and fish 'n' chips, while the family all enjoyed the puddings of sticky toffee pudding, Biscoff cheesecake and mango passion fruit meringue roulade. (70%)
*****
And also…
The Financial Times reviewed the takeaway ("a packed lunch for the synaesthete") from Bokman Korean restaurant in Bristol; "This is exactly why people are getting so worked up about Korean food."
*****
The Independent looked at who will benefit from the Eat Out to Help Out scheme, and the persistent problem – and true impact – of no-shows.
*****
This week again produced nothing from Tom Parker Bowles in The Mail on Sunday.
*****
Bristol Live reported on the new face of the Severnshed (RIP) site, which opens as "relaxed pub, lounge and terrace" Harbour House next weekend.
*****
The Birmingham Mail reported on local closures (including Pint Shop, RIP) and some impressive future openings, including as yet unnamed places from former head chef of Adam's, Tom Shepherd, "understood to be opening his own place in Lichfield later this year" and a Jewellery Quarter opening for MasterChef: The Professionals 2019 winner Stu Deeley. Branches of two Thai chains, Rosa's and Giggling Squid, are also in the pipeline.
*****
Manchester Evening News reported on Jay Rayner's review of Street Urchin, and featured the "sleepy Peak District town" of Glossop that's having a restaurant revival.
*****
Recent News from Harden's