Our weekly round-up of what the national and local restaurant critics are writing about, for the week ending 7 June 2020; the country remains in lockdown, with restaurants, cafes and bars officially closed due the coronavirus outbreak since March.
Gradual easing of lockdown rules recently means that restaurant and bars can start planning for re-opening in early July, albeit with socially distanced (possibly only al fresco) dining and drinking. Several restaurants, including high-profile names such as Nathan Outlaw's Siren, however, have already announced they will not be re-opening.
You can still support your local and favourite restaurants; many are offering takeaways or deliveries, or you can buy produce, meal kits, vouchers, cookbooks or merchandise. Check out their social media pages for details (all available via hardens.com)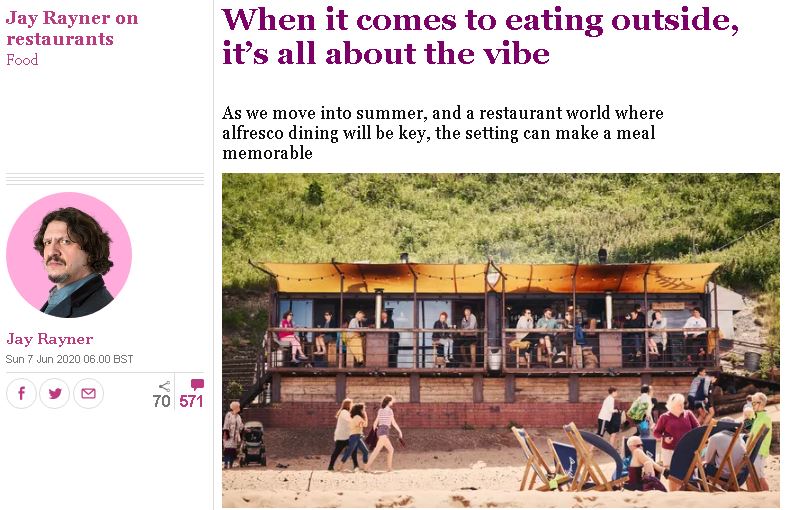 The Observer
"As we move into summer, and a restaurant world where alfresco dining will be key, the setting can make a meal memorable."
Jay Rayner reminisces about his favourite outdoor meals this week, because "it seems very likely that the first restaurant experiences to return after this crisis will be without walls or ceilings".
"Let's first acknowledge that the great British weather is not generally a willing accomplice."
He remembers the "beguiling" Riley's Fish Shack in Tynemouth, where he enjoyed "a marvel" of a lunch. Riley's is essentially "two shipping containers, banged together" with an open kitchen in one containing a wood-fired oven "that might provide warmth and a beach outside, dotted with firepits". Of course, being on a beach, it sometimes has to close, but only "when storms threaten injury – for this is the northeast, where they don't hold with hypothermia".
He ate "fillets of the freshest mackerel, the skin grilled to a blackened bubble and crunch, with roast potatoes and chopped salads that were so rugged they recalled late-career Harrison Ford" as well as "pearly fillets of plaice en papillote with brown shrimps, and empanadas of spiced salmon, enclosed in their own smoky flatbreads". All enjoyed with "a harsh wind blowing off the North Sea" (he "loved every minute") as "each mouthful got a boost from the externals. It was a genuine exercise in augmented reality".
Jay also notes that "the greatest of outdoor experiences.. can be urban, too" – he remembers a lunch in the courtyard at Toto's (RIP) which felt like "the adult equivalent of that fabulous day when your primary school teacher said you could have lessons outside under the conker tree because it was sunny and almost the end of term". There's always La Famiglia too, which, "in the 1970s and 80s the walled back garden, with its retractable awnings for rainy evenings, was filled with stars of the sort they don't quite make any more".
But he's mostly yearning for a meal at "Elliot Cunningham's live-fire barbecue operation" Lagom, in the "urban garden at the back of the Hackney Church Brew Co… a gravel yard furnished with picnic tables and illuminated by fairy lights overhead, beneath the friendly boughs of London plane trees. When you eat in a space like this, formality crumbles. It's all about the appetite and the soundtrack of babbling voices."
---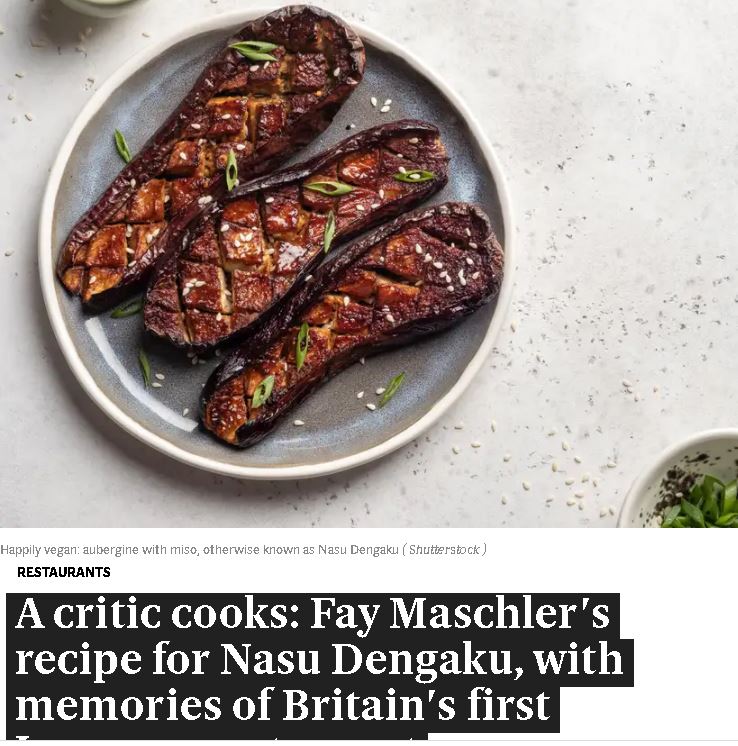 The Evening Standard
Fay Maschler appears twice this week, with the third instalment of her new 'recipe and recollections' column and also an article on the varitety of home cooking during lockdown. Neither article contains a plug for her sister's restaurant, surprisingly, but she does sneak in a mention of her son's place, "The Compasses Inn in Lower Chicksgrove, Wiltshire, which is perforce temporarily closed".
The "first Japanese restaurant in London, indeed in Britain – Ajimura in Covent Garden's Shelton Street – opened in 1972, the year I started reviewing for the Evening Standard."
"Ajimura's owners were keen to initiate their clientele into the culinary traditions, word spread and gradually other places opened. It wasn't until the early Nineties when Alan Yau's Wagamama opened, followed five years later by Yo! Sushi that what you might call the fear factor was removed completely."
Her recipe for nasu dengaku (aubergine with miso) comes from "the diminutive Inaho in Notting Hill Gate… which opened about 25 years ago".
Sourdough and banana bread are the obvious mentions for her other article, on home cooking during lockdown, but some of her friends are also attempting Japanese delights. "The increased opportunity for delivery of prime fish, including the sort of specimens that once were the privilege of now-dark restaurant kitchens… makes sashimi an option."
"Some of these activities are time consuming, which is exactly what is needed. Chopping up fillings and rolling out dough to pleat and pinch into little dumplings, or grinding or pounding a list of spices as long as your arm for an elaborate… Indian curry, knits up the skeins of lassitude that hang about and also delivers something needed and appreciated at the end."
"There is time also to hark back to the classics or master fundamentals… that in another life — that previous life — you would almost certainly have bought ready-made" – such as puff pastry or Bearnaise sauce. Home schoolers can delight the kids by making honeycomb (handily, there's a recipe in her book!) or practice the art of "fakeaway", the "recreation of fast food staples" ("unless your kitchen cupboard is stocked with palm oil, preservatives, emulsifiers and e-numbers, the recreation of KFC, Big Mac or Gregg's (vegan) steak bake at home is likely to be healthier and less fattening than the in-shop version").
"Now that rules are relaxing, bakeries are opening their doors to the public and restaurants are stirring, what will we take away from lockdown larder-centred life once it is over?"
Also in The Evening Standard: we waited for years, then it finally opened in 2019, and now the London branch of Wahlburgers has announced that it will not reopen after lockdown; delivery has already ceased.
---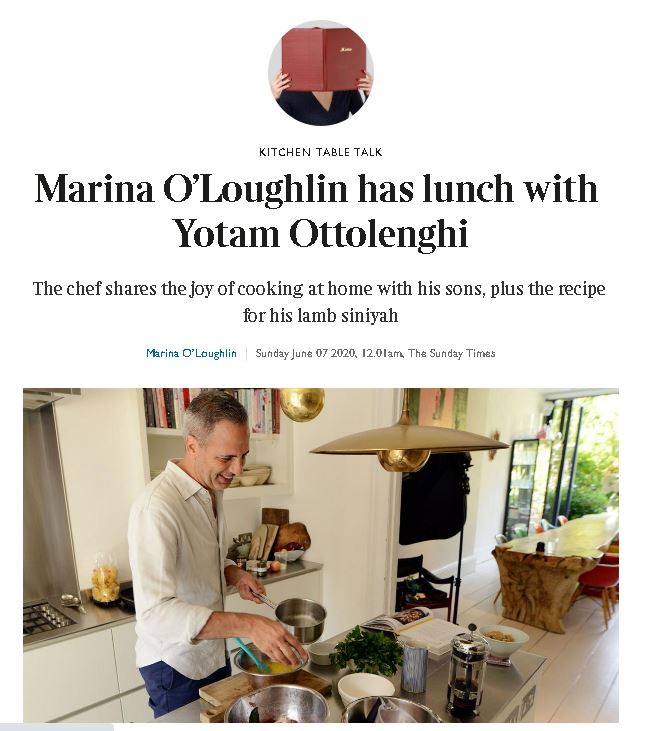 The Sunday Times
This week Marina O'Loughlin had a Zoom interview with Yotam Ottolenghi ("Do I really need to introduce Ottolenghi? A man who has people queuing round blocks at book signings (especially in the States where he has rock-god status); a man responsible for a million dinner party dishes sparky with pomegranate molasses or nutty with tahini; a man who makes supermarkets rethink what's on their shelves.")
They didn't cook together ("I'm not sure if I'm paranoid or relieved. The pressure of cooking Ottolenghi's food in front of actual Ottolenghi might finish me off.") but they have cooked siniyah in advance, a "Middle Eastern shepherd's pie" of roast lamb with a "moussey crust" of tahini and baharat spice.
Although untested, Yotam believes he had a bout of Covid-19 weeks before lockdown."I can't imagine what it must have been like for Yotam Ottolenghi to lose his senses of taste and smell. It would be like David Hockney losing his sight or my beloved Dolly Parton her voice: unthinkable."
They discuss the Ottolenghi testing kitchen, which has recently reopened (it's "where he and his team conjure up new recipes… like Dahl's chocolate factory… its spirit inhabits Ottolenghi's Instagram account"), cooking for small children (his sons, age 4 and 7, just rejected the garlic prawns he'd cooked them), the same-ness of days in lockdown ("There's nothing to punctuate the day, only meals.") and the future of restaurants "post-pandemic".
---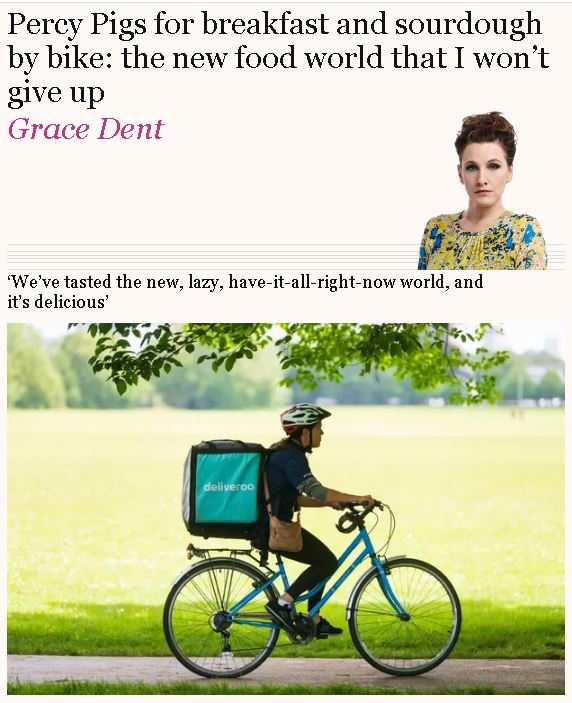 The Guardian
Grace Dent looked into the rash of new delivery services and pivoted restaurants, pubs and cafes; even her local M&S is doing delivery by bike as of this week, prompting the magnificent headline (and meal option) of "Percy Pigs for breakfast".
"We've tasted the new, lazy, have-it-all-right-now world, and it's delicious." But will we be able to give them up ? "Good luck… to the council busy-bodies who eventually try to pull the plug on straight-to-the-park wine delivery", and "publicans will be hard pressed to call time on collection-only Sunday lunches, because too many of us have grown accustomed to roast beef and trimmings without going through the faff of securing a table".
She does worry that M&S delivery "will have a good go at murdering the returning weekend cafe trade" and the pre-prepared meals (with wine) to the door "will in the coming years kill off supermarkets entirely".
"I shall miss the local Sainsbury's when it is eventually just a boarded-up grocery wish-fulfilment centre surrounded by waiting scooters in an abandoned high street of boarded-up cafes and empty pubs that pivoted to supplying park drinkers. But still, we must embrace the future. "
"We've had services we didn't even know we wanted. Now, a life without them will feel only half-lived."
---
The Times
The Corens' joint column has a vaguely restauranty theme this week. Giles is missing lunch. "Lunch as an adventure that completely fills the middle of the day. Lunch as a ludic interlude in city life, like the remove to Arcadia in a Jacobean comedy.
"But without lunch in the middle of it, a day just isn't a day… Without a nice tight lunch belted round the middle of it, a day is just an amorphous calendar blob. A boundless timefart."
Esther didn't enjoy lunch much as a home-working mother of two, but now she's responsible for home schooling, "these days when lunch arrives, I grab it with both hands. Any time after 11.30am, when we can all stop the ludicrous pretence of school, the children get a bit of screen time and I can eat my feelings". Also, as it means Giles can't go out to lunch at a fancy restaurant and get plastered with some young actress, he has to look after the children for the afternoon.
---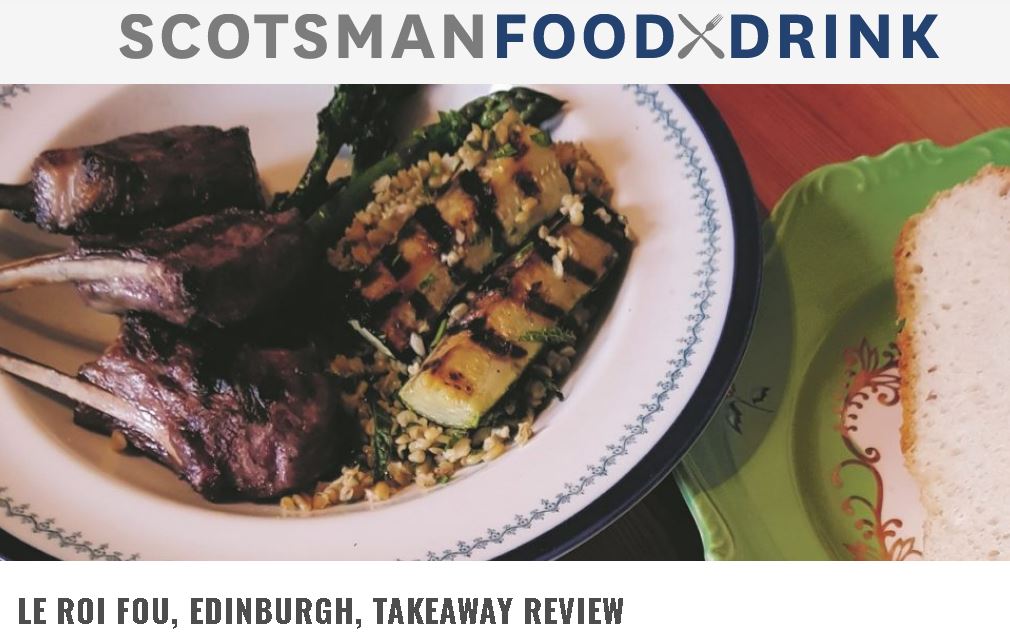 The Scotsman
You have to admire a restaurant that delivers the giant ice cube to go with the negroni you've ordered. That's real attention to detail.
Gaby Soutar's takeaway this week was from Le Roi Fou, the New Town French restaurant. "Other restaurants have chosen to simplify their usual offering as part of their lockdown service. However, this place has been quite ambitious, and you'll find a few of head chef and owner Jerome Henry's signature dishes, like steak tartare or his upmarket take on Welsh rarebit."
They enjoyed two cold starters; one, pickled mackerel "with a feathery salad of shredded coriander, dill, fennel and mint" and the other, a terrine that "was like the delicate mackerel's bodyguard", a "kilner jar that was stuffed with a pale pink and dense pork and chicken liver mixture" that snapped the crackers in half.
The grilled lamb chops and braised beef cheek needed a few minutesin the oven. "While feasting in my bleak living room, I closed my eyes and was almost transported to Le Roi Fou's smart dining space". The beef was "beautifully rich and dissolving, with seams of melting collagen. It was like it had been massaged, acupunctured, counselled and coddled into this super soft and relaxed state".
Dessert included a chocolate mousse "more aerated than a deep sea sponge in an oxygen tent" and accompanied by a "sugar powdered sable biscuit… slid into a little labelled envelope".
The giant ice cube hardly melted throughout the meal. "Unlike my heart, which is obviously a puddle on the floor for Le Roi Fou's lockdown effort." (80%)
---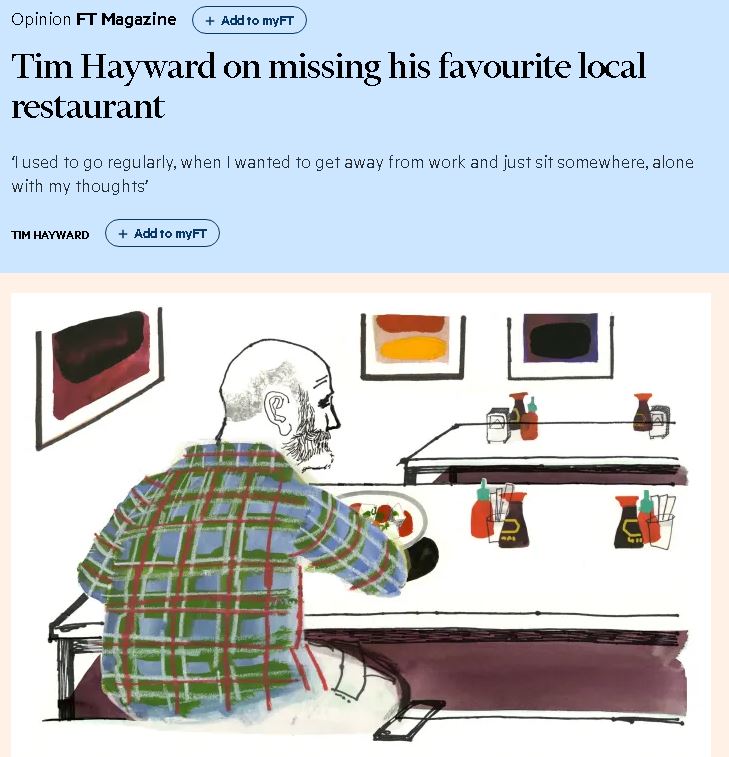 The Financial Times
Tim Hayward revealed that he is "missing his favourite local restaurant" in Cambridge – although he won't reveal its name, as he also owns a restaurant in the city and on principle doesn't do 'reviews' there. It wouldn't be too hard to find though – he described it as "away from the tourist-trampled centre, in a rank of undistinguished modern shops" with white walls decorated with "a collection of Rothko posters" and long, refectory style" tables. It serves "Chinese, Japanese, Singaporean, Thai and Vietnamese-inspired dishes" and "things that regular customers have loved over the past 20 years".
"It's no coincidence that, in big cities and small towns all over the world, it is immigrant families who have started up places like this. Unpretentious "joints" serving good food at low prices to a democratically mixed audience." Sadly, in the weeks before lckdown, it was conspiciously empty – "racism I really didn't expect in such an ostensibly educated and liberal city" – and he hopes it survives the long lockdown. ("If it dies, I shall miss it horribly.")
"I used to go regularly, when I wanted to get away from work and just sit somewhere, alone with my thoughts."
"It's not just my personal work canteen, but a touchstone. When work was filled with launches, star chefs and starred restaurants, it was a constant three-dimensional reminder of what's really important in our business. God willing, I'll be back."
And also…
The Telegraph is champing for some post-lockdown socialising, with articles on pubs with big beer gardens for social distancing, the best restaurants with outdoor spaces and the called-for pedestrianisation of Soho.
---
Birmingham Live reported on the potential loss of the city's "cheap and cheerful" curry houses – and up to 30,000 jobs – if social distancing rules are enforced for restaurants reopening in July.
---
The Manchester Evening News reported on the closure of Lunya's Manchester (Barton Arcade) branch. "Peter and Elaine Kinsella, who own the Catalan restaurant, bar and deli on Deansgate, said the impact of the lockdown had been 'devastating' and they had no choice but to shut it to avoid bringing their whole company down." The remaining branches, both in Liverpool, are to reopen.
---
Still nothing from Tom Parker Bowles in The Mail on Sunday…