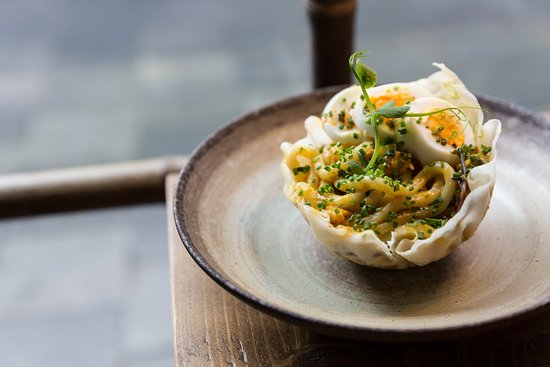 Burmese restaurant Lahpet, in Shoreditch, has launched an online shop, selling pantry staples and meal kits to recreate dishes at home.
Lahpet, which translates to 'tea', is one of London's only Burmese restaurants, and one of only a handful of Burmese restaurants in the UK.
The restaurant was founde by Dan Anton and Burmese-born Head Chef Zaw Mahesh, who aim to shine a light on Burmese heritage and the relatively untapped cuisine of Myanmar.
Many Burmese pantry items have, until now, been difficult to find in the UK, and the Lahpet team want to make use of the Covid-19 lockdown to propel it into the mainstream.
Pantry
Pickled Tea Leaves – a national delicacy, widely used in Myanmar and the main component in the ubiquitous tea leaf salad
Pickled Ginger – made with young ginger which is almost translucent in colour and imported direct from Myanmar
Shan Tofu – a silky smooth tofu made in house in the traditional Burmese style, with yellow split peas, ready to be sliced and deep or shallow fried at home
Double Fried Beans – containing an assortment of butter beans, broad beans, split peas, chana dahl, garlic, all double fried. Great for adding a moreish crunch to a variety of salads or simply as a snack
House Tamarind Sauce – sour with a fiery kick, this goes excellently with fried Shan tofu fritters, crudités or as part of a dressing
Balachaung – a spicy Burmese condiment made with dried shrimps, shallots, garlic, paprika, turmeric, fish sauce and chilli, fried together then pound into a paste. Great with rice and curries
House Pickles – made with mustard greens, this can add a sour and fiery kick to curries and noodle dishes
House Chilli Jam – Lahpet's restaurant recipe, well balanced with a sweet and sharp chilli kick. Wonderful with steamed rice and grilled meat and fish
Crispy Shallots – made in house, these are a delicious garnish on salads, curries and noodle dishes
Shallot Oil – a by-product of the crispy shallots, its common practice in Myanmar to use leftover cooking oils to reduce waste and add extra flavour to dishes. We've yet to see a product like this on the shelves in the UK. Great drizzled over salads, grilled meat, and fish. For a truly Burmese experience mix with fish sauce and lime to dress salads and noodle salads
Garlic Oil – another oil under used in most Western kitchens. Made in house, this makes a great alternative to olive oil when it comes to dressing dishes
Meal Kits
Coconut Noodles with Chicken (Ohn-no Kauk Swé) – Lahpet's much loved rich and fragrant chicken and coconut noodles, comes with a serving of Lahpet's chicken and coconut broth, egg noodles, shallots, spring onion, paprika oil, egg, lime, coriander and crispy noodles to garnish, you simply supply and fry the diced chicken thigh
Tea leaf salad (Lahpet Thohk) – Lahpet's eponymous, umami packed, texture laden salad comes withpickled tea leaves, double fried beans, cabbage, dried shrimps, garlic cloves, Birds' eye red chillies, Lahpet dressing, fish sauce, sesame seeds – you supply the tomato and a squeeze of lime
Ginger salad (Gin Thohk) – fresh and fiery, comes with pickled ginger, double fried beans, cabbage, fresh shallot, crispy shallots, garlic, coriander, Birds' eye red chillies, toasted gram flour, shallot oil – you supply the tomato and a squeeze of lime
The salad kits come in two sizes; small, serving 2-3 people, and large, serving 4-6. The noodle kits come in servings of 2, 4, 6 and 8. Each meal kit and pantry product label has a QR code linking to the Lahpet website, which will have helpful serving suggestions, recipes and how-to videos. Further dishes will be added to the Lahpet meal kit menu soon, such as the traditional Shan Noodles (Shan Kauk Swé) containing rice noodles, minced chicken and pork, paprika and tomato, pickled mustard greens, pea shoots and sweet soy peanuts.
Drinks
Pineapple and Coconut Cooler – sweet, fruity and lightly carbonated
Raspberry and Ginger Cooler – refreshing and fierywith a ginger kick and sour finish
Alcoholic drinks on offer include:
Lahpet Margarita – made with Betel leaf infused tequila and Jaggery syrup, lime and Himalayan pink salt, which should be cooled and shaken before serving
Myanmar lager – a crisp and refreshing Burmese beer
Lahpet intends to launch a full menu restaurant delivery and takeaway service later in the summer.