Harden's regular round-up of the restaurant critics' musings, from the week ending 2 February 2020.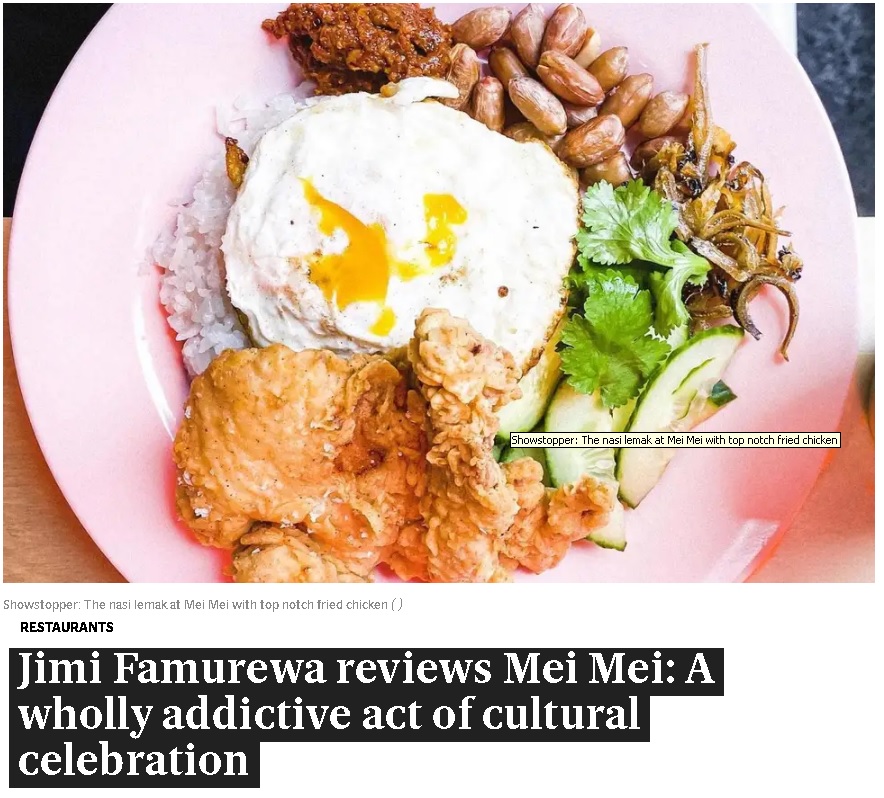 Jimi Famuwera for The Evening Standard is the first to report on Elizabeth Haigh's new Borough Market Kitchen outlet; the "tiny counter café" that's "a meticulous, loving riff on the thrumming 'kopitiam' coffee shops that are an institution in her native Singapore" might at first seem an odd move for the ex-chef of much-feted Pidgin. But whatever the reason, she has turned this "professional voyage of discovery into something truly breathtaking".
Not even the "tooth-loosening clatter of a… railway bridge" dampened Jimi's delight with the place though; "Mei Mei, frankly, might be one of the best new operations of any size currently trading in the capital… a vividly expressed, generous and wholly addictive act of cultural celebration that… punches wildly above its culinary weight".
It's run by "a small, smiley team of chefs who, this being winter, are generally so bundled up they bring to mind Joey wearing all of Chandler's clothes". There's just 10 items on the menu, including Hainanese chicken ("life-changing flavour"), nasi lemak ("shattering strips of pure umami") and fried chicken ("decisively spiced… among the best I've ever had").
A "concentrated showcase for a specific brand of cheap, fast Singaporean hospitality, presented without awkward fusion flourishes or nervous concessions to Western sensibilities". (8/10)
---
The Financial Times also reviewed Mei Mei: "A counter beneath a railway arch is the unlikely home for one of Britain's most promising young chefs; Experience genius for pocket change."
---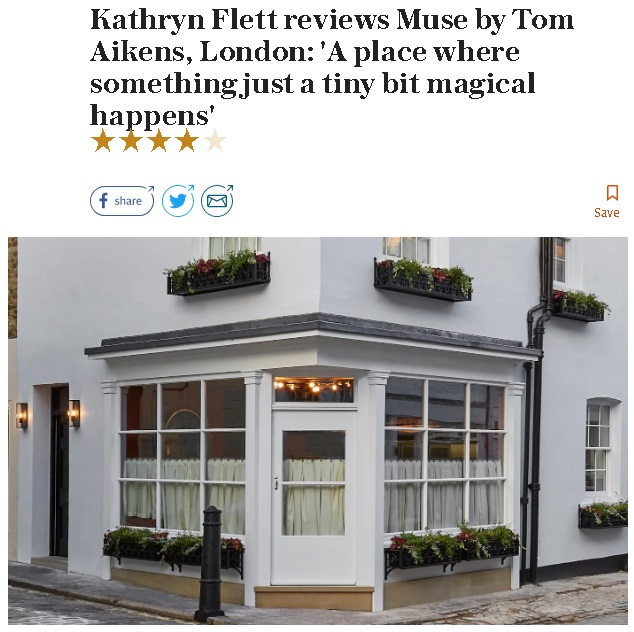 Kathryn Flett for The Telegraph isn't the first to review Muse, but we get the feeling she won't be the last.
She wasn't really in the best mood for a review; certainly not "excited at the prospect of a fussy six-course lunchtime tasting menu from Tom Aikens" – especially one that has seen headlines including "Is this the most pretentious restaurant ever in the history of the world?" ("I am rarely in the mood for pretensions – and never at lunchtime.")
The menu was "high on whimsy… and low on ingredients" but the "jewel-box room with 25 covers had a come-hither appeal" and she's "never had a meal cooked by Aikens that wasn't a cracker".
The courses changes regularly, so there's no point in describing dishes in detail, but Kathryn's praises included "winning combination", " a very satisfying feat of cooking" and "stunningly good".
"Aikens delivered most of the dishes to the table himself… and then, afterwards, cleared away the plates. In that respect, it was very un-Belgravia; almost a dinner-party pop-up from the 2000s."
"The whole place has an atmosphere of almost meditatively yogic calm" and the "front-of-house balanced professionalism and warmth with enormous skill".
Muse may be pretentious, but it's also "just a tiny bit magical". (****)
---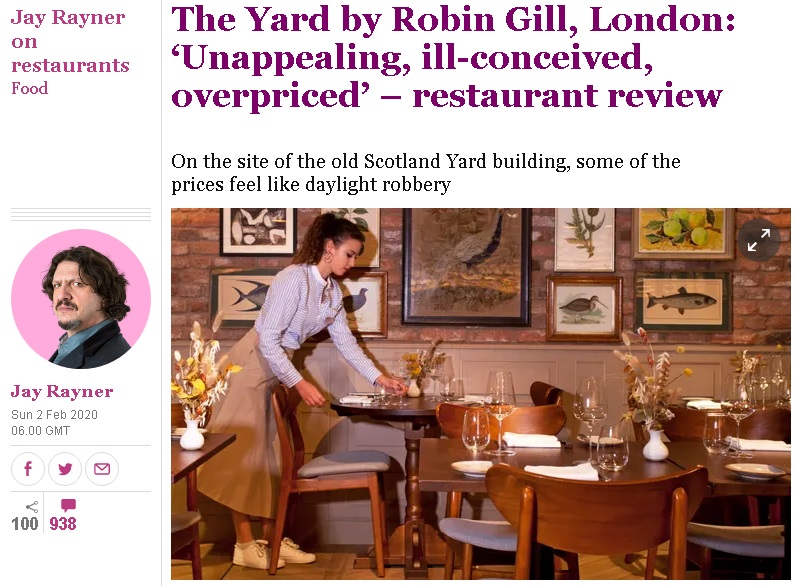 Jay Rayner from The Observer reviewed Robin Gill's signature restaurant at the Great Scotland Yard Hotel this week; it's quite a read. "The Yard may well be the worst new restaurant from a critically acclaimed chef I have ever reviewed."
There are lots of strangely detailed references to the building's past as the headquarters of the Metropolitan Police, such as an antique truncheon in a case in the foyer, the serving staff with genuine knuckle dusters dangling from their "Peaky Blinders-vintage utility-wear" uniforms, and the "often-harrowing" paintings from current UK inmates around the restaurant (considering the prices, "the art doesn't feel transformative. It feels exploitative").
A few of the dishes made the grade to justifying the prices – a "very jolly long-cooked pork jowl", a "louche version of a Japanese tonkatsu breaded pork cutlet" and a "clever chocolate mousse".
"It's 2020 and the vegetarian option is: a bowl of bloody pasta" with a on a "cloyingly sweet pumpkin sauce" ("Gill is better than this.") The £26 price tag on the veggie main "tastes of laziness and gross profit margin".
The whole meal was "an asphyxiating £288" for three.
---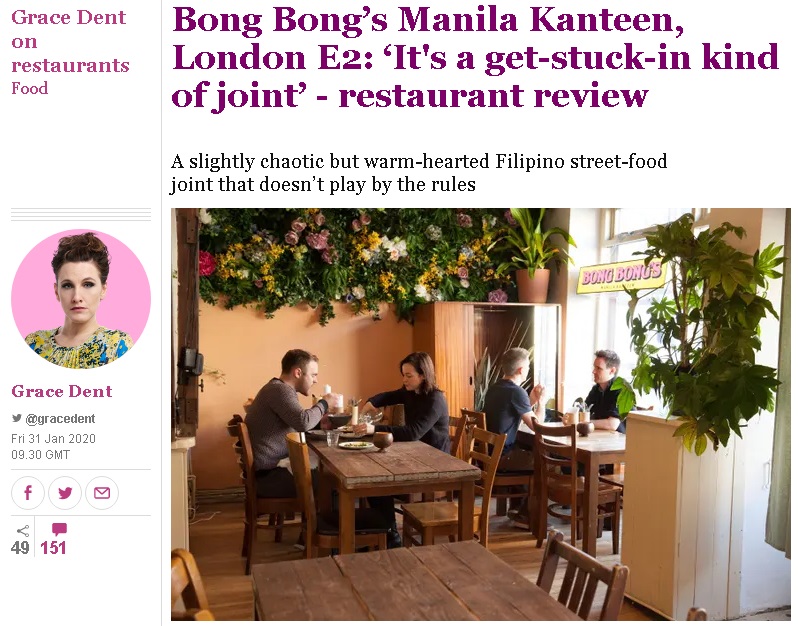 Grace Dent of The Guardian visited the new permanent home for the team who won BBC Two's My Million Pound Menu in 2019, which announces its name with an "enormous, American mustard-yellow and neon-pink electric sign in the window". The name change from BBQ Dreamz was advised to help customers understand the Thai flavours they are cooking up (Fun Fact: Bongbong is the nickname of Imelda Marcos' son).
It's "not a stand-on-ceremony kind of place. Harking back to its street food era, it's a take your family and friends and get stuck in kind of joint".
Grace and Charles ate "messy" but "pleasing bowls of aubergine kare kare (a curry of turmeric, coconut and peanut)… crisp pata (pork hock with liver sauce) and finished with "large, hot, crisp banana and cinnamon spring rolls with… ridiculously rich vanilla ice-cream". They are going back for the cutlery-free Sunday feast lunch (kamayan).
"I can't say it's the best food I've eaten in 2020 so far, but the place is warm-hearted and definitely weird… childlike and slightly chaotic, but also very confident." (23/30)
---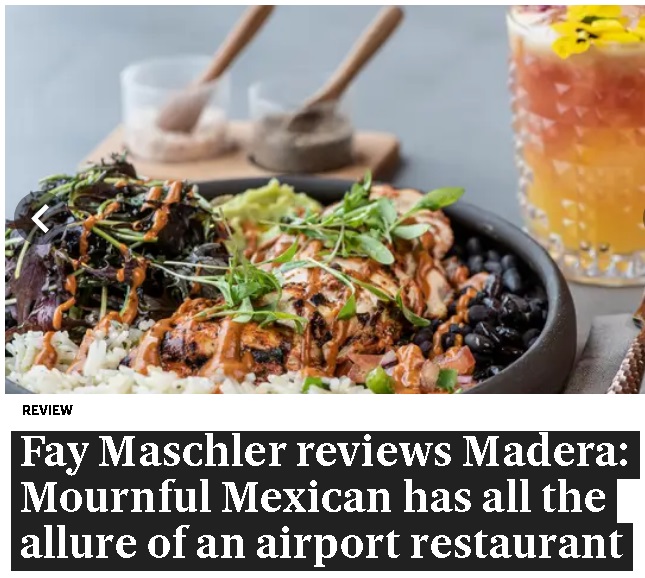 Fay Maschler for The Evening Standard was at the "nature-inspired" Treehouse London Hotel (previously the "mutinously fusty" Saint Georges Hotel) to try out the new Mexican "top-floor restaurant and rooftop bar" that are sibling to the original in LA and a spin-off in Arizona.
Sadly, "any link to real Mexican cooking seems tenuous". A free appetiser of pico de gallo with tortilla chips was "so bland we ask for salt and pepper" (and they were warned it might be too spicy!), the halibut ensenada was "pulpy" and the steak in their fajita bowl sat "mournfully beside a heap of black beans that are dull where glossy is anticipated". Fay's companion ordered a £17 cocktail that was "unthinkably, undrinkably sweet and is returned".
The "delightful waiting staff… seem a little untutored"; Fay's companion at a second visit "remarks that it has the air of a chain restaurant in the departure area of an airport". (**)
Fay ended her review with a visit to La Chingada in Surrey Quays, where the tacos are "crunchy cradles" filled with "flavourful meats" and served with "confident vibrant salsas"
---
Tom Parker Bowles for The Mail on Sunday found Davies and Brook to be "a place to respectfully admire, rather than passionately love".
Some of his "earliest food memories emerge from the mighty dining room of this magnificent hotel" – apparently both his grandmother and great-grandmother had permanent suites at Claridge's, so he spent lots of time here.
The latest incarnation of the "mighty dining room of this magnificent hotel" (which "has always managed to keep abreast of current culinary zeitgeist without ever resorting to the dumb chasing of trends") sees an ex-employee at the stoves – Daniel Humm worked in the kitchens aged 15 before heading to New York to open 11 Madison Gardens.
On a pre-opening visit, TPB witnessed the same tortuous wine opening that Giles Coren described in his review ("a lot of kerfuffle with a pair of heated tongs"). On this visit, service was "predictably immaculate and well drilled", although the space was chilly and "difficult to love".
The freebie appetisers ("everyone gets these, not just your overfed critic") and starters were "nothing short of exquisite", and confirmed that "Humm is an inspired chef with magisterial command of texture, acidity and umami". Mains were a "little less exciting".
"Despite Humm's mighty talent, I won't be rushing back. Because a great restaurant is never just about the food and service. Rather those ephemeral, all-important and impossible to manufacture qualities: heart and soul." (****)
---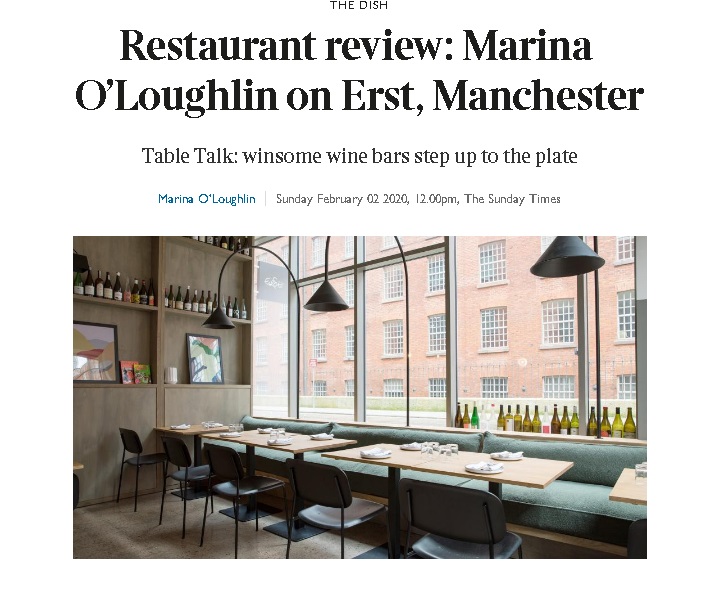 Marina O'Loughlin for The Sunday Times investigated a Manchester (actually Ancoats, naturally) wine bar. Erst is one of the "new generation of wine bars" – not "fusty… subterranean dives", they are "different: accessible, fun, as smoking hot as they are supercool, installing clever preservation systems that allow even the most recherché labels to be served by the glass". The food, too, has "moved light years away from slate tiles heaped with sheeny salami, greying pâtés and shrivelled cornichons". This one, "from the people behind Manchester's popular Trove bakery and cafes", is a "dazzler".
Erst's short menu may be a "magpie collection" of their "collective fancies" – but it's clearly a serious one. There's "fiendishly good crispy potatoes" with an "ultra-savoury" yeast sauce, "salads and cold dishes are inspired", and "the lewdest-looking boudin noir" was served with a "splendid" version of "Manc skordalia".
The space is minimally designed with "none of the genre's tropes, no bare brick, no velvet upholstery, no art deco posters of Burgundy, no bloody filament lightbulbs"; the "warmth comes from the food, the welcome, the wine". ("Mark-ups aren't greedy either.")
---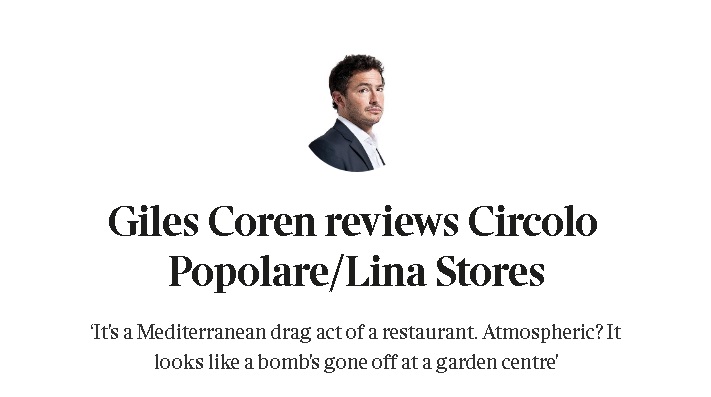 Giles Coren of The Times this week gave us his trademarked double review this week. It wasn't fairly split though, as he spent the majority of his review blasting Circolo Popolare (he called it a "monstrous 1980s Mediterranean drag act of a restaurant"), directly contradicting most other reviewers who've been there.
He hates the decor: it "looks like a bomb's gone off at a garden centre. The interior is the size of St Paul's Cathedral and they've done that ghastly 1970s suburban trattoria thing of "decorating" the place with bottles".
And that's before the "forgettable cooking" (although his magic mushroom bruschetta "was wonderful") and the crowd of people younger than him, all taking pictures of their food and each other.
The staff had trouble understanding his veganism (to be fair, a pizza restaurant isn't the best place to review if you're only eating plants); the "Animal Lover" pizza was "unremarkable", salad "enormous and uneven" and the churros for dessert were "off-puttingly huge". (12/30)
Lina Stores had a few paragraphs as an afterthought. His (non-vegan, but largely vegan by choice) dinner "wasn't much good", although "it's a beautiful dining room, refined and quietly atmospheric", and everything was "fairly priced". "It was superficially everything a modern Italian restaurant ought to be and Circolo is not. But the cooking wasn't right. Not yet anyway." (21/30)
---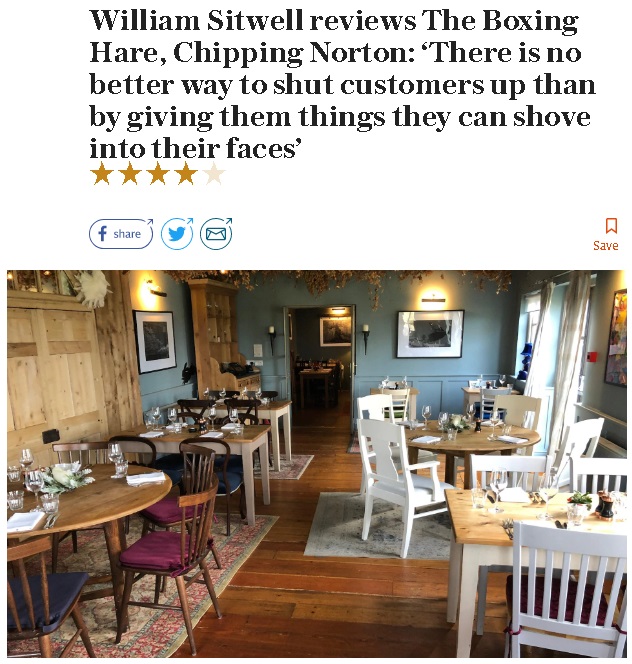 William Sitwell for The Telegraph visited a pub formerly known as The Masons Arms, a Cotswold stone inn located "on the A361 between Banbury and Chipping Norton".
"With its tasteful wooden furniture, attractive bar, stags' heads, and fridge used for ageing beef, it… is a place of immaculate and sensible hospitality."
He and his companions were immediately served bread and butter on arrival. ("It always baffles me as to why more places don't do this. There is no better way to shut customers up for a while than by giving them things that have barely any cost which they can immediately shove into their faces.") He also ate a "deeply tasty" Cheddar soufflé' and "faultless" main courses, ending the meal with "an immaculate warm and oozing chocolate fondant".
"Service was joyous and The Boxing Hare is a pub of well-lit, stylishly furnished excellence." (****)
---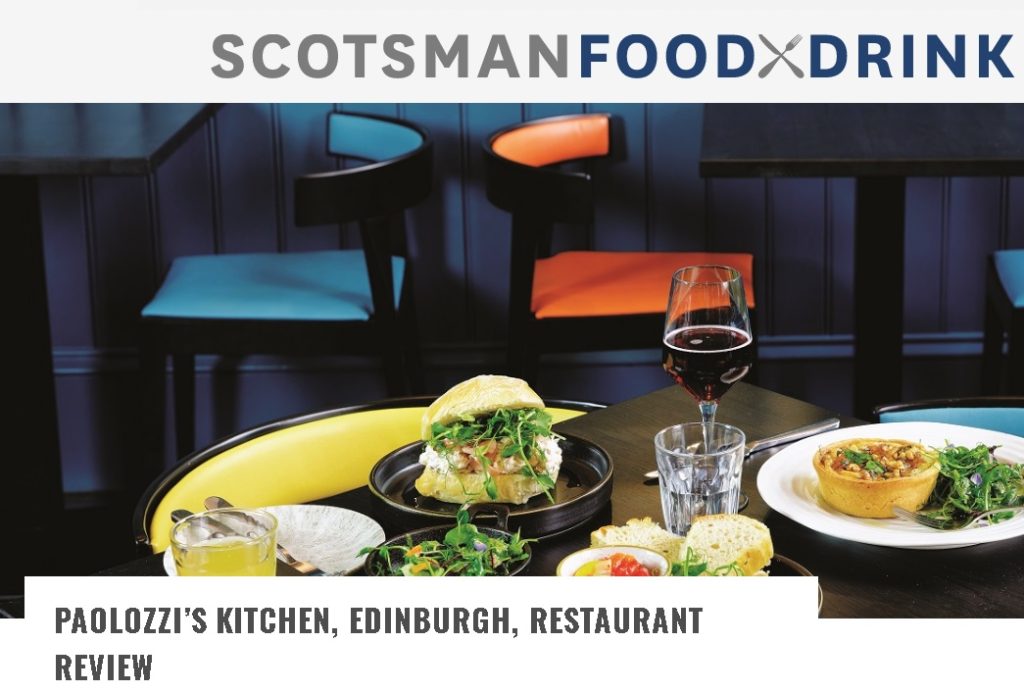 Gaby Soutar for The Scotsman visited the cafe at National Galleries of Scotland Modern Two gallery; there's a reconstruction of the Italian Scots artist's studio here, and he donated many of his works to the gallery. "You can eat in the shadow of his two storey sculpture, Vulcan, which is like a tarnished disco ball turned Transformer."
The "food by Heritage Portfolio, has an Italian Scottish twist", including a "massive still life of cakes" at the counter. There's pizza, open sandwiches and sharing platters available, but Gaby plumped first of all for the "bubbling hot" haggis lasagne. Desserts were "enjoyable". (75%)
And also…
The Bristol Post reviewed Eatchu, the gyoza specialist (and former street food stall) located inside St Nick's Market, where the queue builds up before noon each day. The "dangerously moreish" gyoza are "made on the premises by hand using seasonal ingredients and free-range meat from Olveston butchers Origin" and served with "sesame seaweed salad, dressed sushi rice, soba noodles or the soy-pickled free-range egg" to takeaway (there's only three stools inside, plus some covered table outside). (4/5)
Daisy Jackson in The Manchester Evening News reviewed The Northern, in Bolton, where Paul Heathcote has revived the Albert Halls' staff canteen into a "proper Northern" joint, serving "proper northern, old-fashioned food" that's not just a gimmick. "The menu here reads like an excerpt from a tourism guide, in the best way" and "there's a gallery wall of famous faces from the region" – with Paddy McGuinness in person on her visit (although he's probably not a permanent fixture). Happily, it's also "stupidly good value for the quality of the cooking and produce".
Recent News from Harden's