Our weekly round-up of the national and local restaurant critics' columns, for the week ending 29 March 2020; the country is in lockdown, with restaurants, cafes and bars closed due the coronavirus outbreak.
You can still support your local and favourite restaurants – many are offering takeaways or deliveries of cooked food or groceries, or you can buy vouchers, cookbooks or merchandise. Check out their social media pages for details (all available on hardens.com)
In these difficult times for the hospitality industry, we salute those establishments offering free or discounted meals for NHS staff and keyworkers.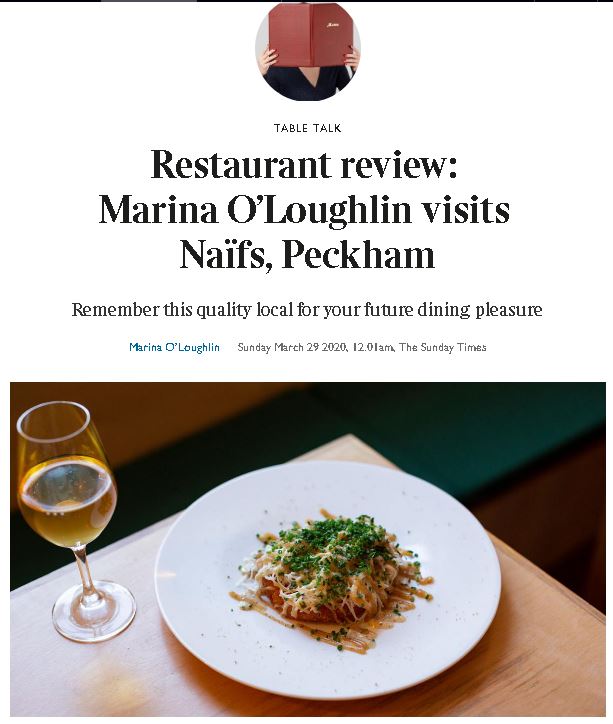 "Remember this quality local for your future dining pleasure."
Marina O'Loughlin for The Sunday Times Magazine is "determined to shine a light on the best kind of restaurants and the best kind of restaurant people. Yes we're all staying in right now, but the light can still shine on."
With her deadlines two weeks before publication, it was unfortunate that her scathing review of Mercato Mayfair (see Review of the Reviews 16.3.2020) was published just as "just as restaurants the length of the country were staring tumbleweed and closures in the face, which caused a lot of dark, furious muttering".
From now on, she will be the picture of positivity. Especially towards vegans, who also created a considerable amount of "dark, furious muttering" after her review of Lewis Hamilton's Neat Burger.
"I also wanted to showcase somewhere vegan-friendly and worth a schlep, where vegetables in all their glory are celebrated, applauded and treated with loving care, not formed with spooky, unbilled ingredients into hot dog impersonators or Frankenburgers."
Naïfs, in the less charming stretches of Peckham, is "a genuine family business" from "the best kind of restaurant people plus a fully vegetarian and vegan menu". Marina surmised that they have "opened on a shoestring, right down to recycling the furniture and galley kitchen from the space's previous tenants. But, sweetly — a word I want to use about this place over and over — with added trailing festoons of plants and paper stars."
"Dishes are furiously, gleefully magpie"; one dish blends Italian and Japanese elements, another is "koji-pimped schnitzel", and there's "no shortage of comfort-eating". For the vegans, the team "wreak real opulence without meat". Vegetarians could try the "pasta dish that could happily grace any white-hot New York nouveau-Italian: silky sfoglia parcels stuffed with goats' curd".
Naïfs is "light and loveliness and, as the name suggests, suffused with a kind of optimistic innocence. Even this stony-hearted carnivore comes away beaming". "I so want Naïfs to do well. They simply deserve it. Perhaps you think I've gone all soft: fair enough — Naïfs will do that to you. But when this crisis is over, I defy you to go here and not feel the love."
"This will be my last restaurant review for a while. It's impossible to be objective at a time when businesses are at risk."
Marina is "thinking the next few months' columns might be about home delivery or meal kits. These are frightening times. Locals like Naïfs need our support: now that we can't get there in person, we could order deliveries from them or even pay forward for a time when we can all go out again without concern".
---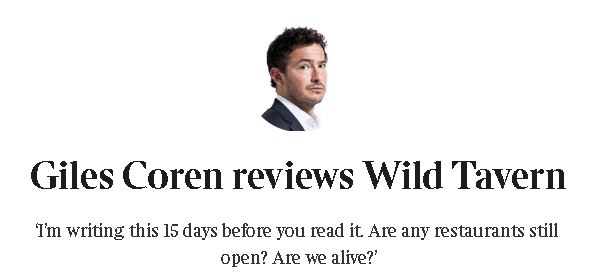 The reviews from Giles Coren for The Times are also published in a magazine printed weeks ahead, so he wrote this week's review "15 days before you read it. I always do. But it doesn't usually matter. Things happen slowly enough in the restaurant world that there is little risk of one's words becoming irrelevant in such a short space of time. Less so today."
"It just seems a bit bonkers to be recommending restaurants when two weeks from now they may be closed and there may be no food anywhere. This virus, whatever stage it is at now, is going to kill a lot of restaurants."
His review, written on the day the restaurants were asked to close, was of a "wonderful new restaurant in Chelsea called Wild Tavern". It's "a nicely put together space… from the brilliant Russian guys behind the Goodman steakhouses and Burger & Lobster chains", a "one-off" restaurant "focused almost exclusively on wild (and thus very expensive) ingredients, left pretty much to themselves".
After "delicious" seafood starters, he shared tagliolini with winter truffle ("probably a fiver a mouthful, but worth it if it's the last restaurant meal you eat for a while"). Mains were some "oh my God" tuna belly grilled on the Josper and "beautifully done" rib-eye with a £9 side of grilled globe artichoke hearts ("one of my sides of the year so far – if that's a thing").
"Yes, I'm sold on this one. They've got old tiles, lamps like bums and they just take top-quality wild stuff and do very little to it. It's all I ask for in a restaurant and if we're all still here come March 28, this is where you'll find me." (29/30)
In the last week of restaurants being open, Giles also visited Gizzi Erskine's pop-up the Nitery ("such an unlucky moment to have opened"). The St Martin's Lane hotel has been "comprehensively Gizzified by the gorgeous TV chef, DJ, tattoo canvas, art fancier and fashion muse: the lighting lowered, crazy paintings hung and ear-blistering 1970s punk rock thumping out as you eat"; "flavours are ramped up to the max to compete with the music". If it re-opens after the lockdown, Giles recommends that you "go along and support her".
Next week – no more restaurant reviews, but a new column from Giles. If it's food related, we'll keep sharing it with you.
---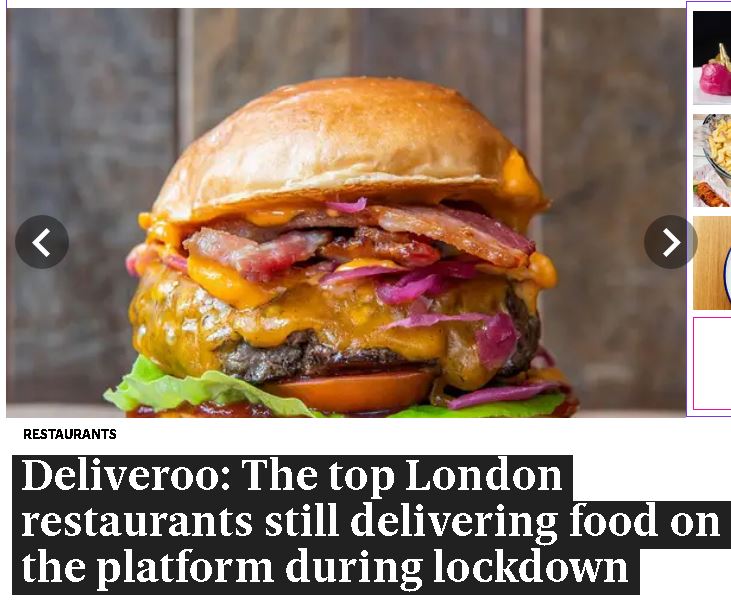 Londoners will appreciate this article from The Evening Standard reporting on the London restaurants offering takeaways via Deliveroo. Another article was published earlier in the week, listing London restaurants newly offering deliveries. There's even companies delivering drinks.
---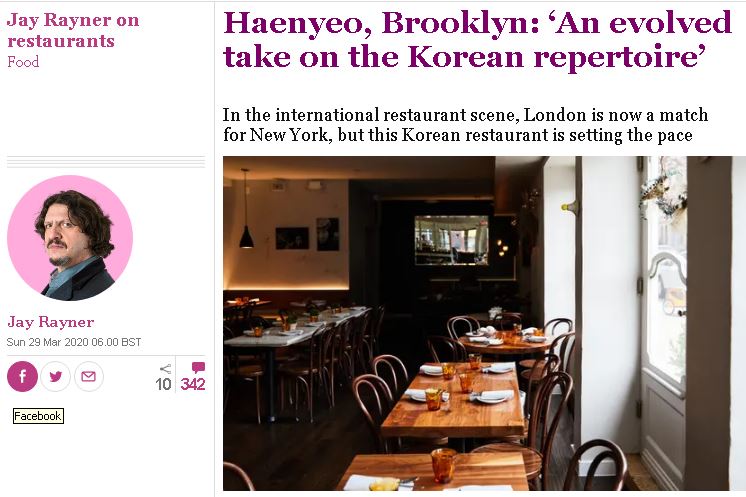 Haenyeo, Brooklyn
Jay Rayner for The Observer published a review from a few weeks back ("It's important we continue to celebrate the pleasure restaurants give us while we await their reopening."), from a visit to New York.
"Identifying the differences between the restaurants of New York and London is rarely straightforward these days. For a long time, New York's restaurants felt to me like the cooler elder sibling… We, meanwhile, were trying to imitate, clumsily. These days, not so much."
He visited some old favourites: Union Square Cafe ("their bruiser of a Berkshire pork chop with braised sauerkraut and celeriac purée deserves its own Instagram account"), the original Red Rooster ("ditto, fried chicken, spicy beef sausage and waffles for brunch") and Crown Shy in the financial district, where he ate an "extraordinarily complex monster" of a chicken that "had been aged, massaged, brined, marinated and probably taken to Lincoln Center for some serious jazz, before being roasted and served with hot sauce". He also enjoyed the "crowded and intimate" King in SoHo.
"While there's some great service in London, it is generally still better in New York: engaged without being stalkerish, efficient without being rushed. But oy, you pay for it." And the wine lists are "entirely distressing for European wallets".
His main review was of Haenyeo ("named after the amazing women who free dive for seafood off the coast of South Korea") where Korean chef Jenny Kwak "cooks a playful collection of dishes without ever losing sight of the essentials". These included barbecued beef short rib, wilted swiss chard, raw flounder with "pokey spiced olive oil", and an "intensely comforting" warm, set custard topped with salmon roe.
"The star of the night is a generous chunk of sablefish which has been simmered and then sautéed in sweet, dark garlic-enriched soy full of hefty caramel tones. The skin, the colour of night, is crunchy and sweet-savoury."
He ordered all three desserts (rude not to), which included a "perfectly judged crème brûlée" with sesame and "a flourless warm fondant-style chocolate cake with a centre of pure, molten fruity cocoa darkness". But the wine was too expensive.
---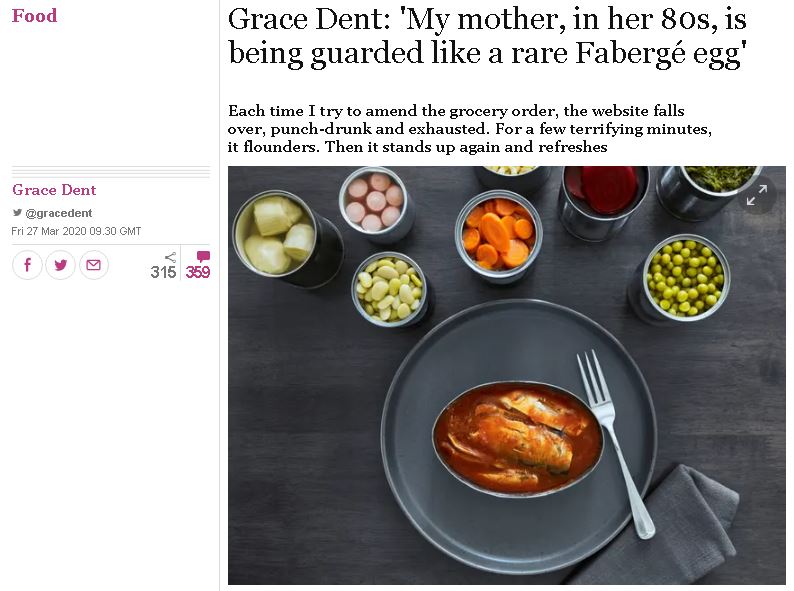 Grace Dent for The Guardian wrote about a dilemma facing so many of us, ordering food online. She's shopping for her mother in Cumbria, and is learning what her mother really likes (not fish, but Heinz chicken noodle soup,  sliced beetroot and tinned sardines, apparently) and singing the praises of the supermarket workers.
"When the madness passes, which it will, because all things do, I hope we remember how the supermarket staff really served us. It's ironic how many of us slagged off these places for decades, told the masses to avoid them. Let's all eat risottos of foraged acorns made with small-batch artisan butter from our bi-weekly farmers' market! And then this happened, and the Aldi car park is full of Audis jam-packed with Super Noodles. It's almost as if River Cottage never happened."
"I hope we remember the selfless hard work of the till workers and midnight shelf-stackers, the people on self-service checkouts who sort our unexplained items." They have "had no time to plan for their own families or to watch rolling news or to think too hard if their sweat was the mark of hard work or a fever" and we should appreciate them more.
---
The Independent listed the quality independent restaurants doing "posh takeaways": after all, "staying in is in the new going out". "As we can't go out to eat, independent restaurants are having to find new ways to diversify in order to keep going. .. some meals even come with the wine, music and napkins, too."
Charlie Mellor of The Laughing Heart in London has compiled the London Restaurant Resistance: "a database… of all the independent restaurants in London offering deliveries", complete with "a summary of what each restaurant does, written from the view of someone else in the industry".
There's a discussion about how the restaurant experience can (and should) be recreated at home, with advice for restaurants to "omit dishes that don't travel" like deep-fried items or noodles.
---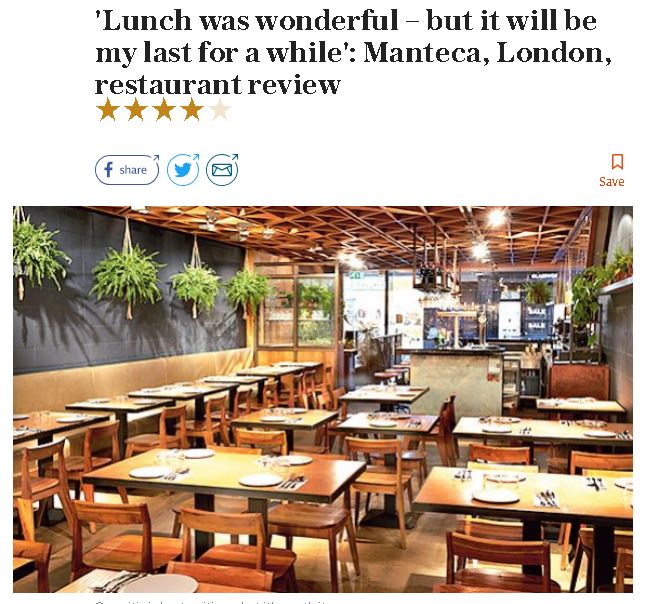 William Sitwell for The Telegraph went to Manteca for his review ("my last for a while").
He focused on all the "good points": the "cosy atmosphere in that long and narrow room", the "informally attentive service", the "stylish design" and the "Italian menu that celebrates great butchery and handmade pasta in an array of moreish dishes".
His companion was late, so he moaned about that for a while, but all in all, his last meal before lockdown was "wonderful". (****)
And also…
The Scotsman reported on the (presumably temporary) end of production of those Scottish classics, Tunnock's teacakes and Buckfast tonic wine.
---
Birmingham Live highlighted two of the city's establishments hosting crowdfunders to raise money to keep them afloat, including The Wilderness (at nearly £13k on 27 March).
---
The Financial Times listed the various "Michelin starred meals [being] delivered to homes in lockdown", and discussed the "top restaurants finding new ways to keep going during virus outbreak".
Recent News from Harden's