Harden's weekly update of where the critics are eating, recommending and avoiding, for the week ending 27 October 2019.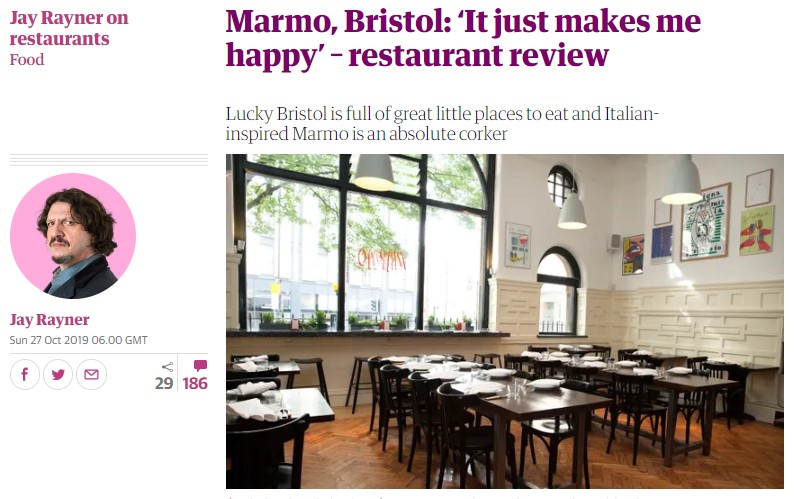 Jay Rayner for The Observer was in the South West this week, in one of the "small, perfectly formed" restaurants that Bristol seems to specialise in. They are in no way "Identikit", but share many qualities: "usually single rooms, basically furnished… decorated in shades which run the whole gamut from white to off-cream" with "short menus" and "eminently reasonable" prices. Beyond that, "they all have their own quirks and idiosyncrasies and personalities" (none of which are "exotic"). Save for Wallfish (RIP), they also seem to thrive in this city in a way and quantity that nowhere else can sustain: "The people of Bristol support their independents".
This week, Jay investigated newcomer Marmo, from a couple who met in the city but cut their restaurant teeth at the likes of St John and Luca, in the kitchen and front-of-house. "They know what they are doing. Now they are doing it here."
An appetiser of pork crackling was served "still warm and spice-dusted with a scoop of quince jelly" while Jay perused the menu, which costs no more than £20 a head for lunch (without alcohol), rising to barely £30 at dinner. Prices are kept this low for lunch "by bolstering many of the plates with carbs, though not in a way that looks cheapskate".
Jay tried starters of mussels with leeks and cider butter broth ("make sure not a drop of that liquor goes back to the kitchen") and mortadella layered over gnocco fritto ("pork fat-enriched pillows of bread, puffed up in the fryer… use your hands to wrap one across the other"). His main course of pasta with globe artichokes and brown shrimps, "brought together by the sort of butter emulsion that you don't want to let get away" was "a simple dish but very effective". ("I would be invading my own privacy if I revealed how much of that sauce landed on my shirt.")
Desserts were "simple but still effective" too – dark chocolate mousse or affogato. "This is robust cookery, determined to get the best out of the humble."
If only all cities could have restaurants like this – but not all cities are Bristol, brimming with TV producers "fed fat on the trattorias of London's Charlotte Street, determined to carry on lunching well". "It just makes me happy that right now we have cities like Bristol, playing host to restaurants like Marmo."
---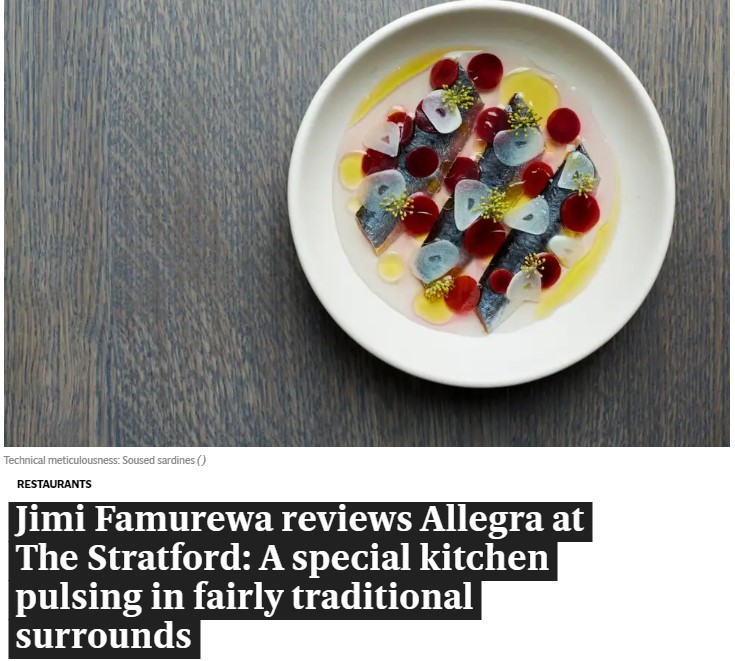 Is it wrong to assume that Jimi Famurewa from The Evening Standard got to review "tremulously anticipated" Allegra (from "Chiltern Firehouse developer Harry Handelsman and its former head chef Patrick Powell") because its location – on the seventh floor of a new luxury high-rise in Stratford – was too far away for Fay Maschler? Whatever the reason, Jimi was the winner, as the food he ate there had "an uncommon creative energy, focus and technical meticulousness".
The room itself was "grey-accented" and "faintly Nordic" (there's no mention of a view). Jimi's meal started with "fantastic" bread and a pistachio choux bun with chicken liver parfait (a "three-quid mouthful but a pretty unassailable one") that "elicited nerdy appreciation and low, indecent groans". Another "pastry-based mic drop" appeared in the form of a smoked cherry tomato tart.
A "feeling of slightly obstructive cleverness permeated the next couple of arrivals" – French onion soup that was too "clean" and "elegant", and lamb had too many "tricked-out splats". The "monster" wine list helped Jimi and his mate through to desserts that had such "focus and poise that meant, whatever the grumbles about atmosphere and fussiness, we left with an appreciation that this is a special kitchen".
"You would hope that there would be a time when the arrival of somewhere as ambitious as Allegra in Stratford wouldn't be news. But until then there is Powell's legitimate genius… and the sort of deliciousness that works in any postcode." (7/10)
---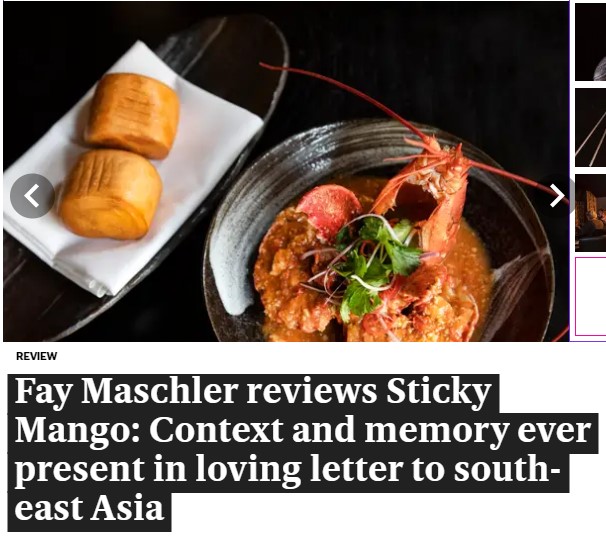 Fay Maschler for The Evening Standard was on more familiar territory, on London's South Bank, where chef-patron Peter Lloyd's Sticky Mango concept (once a first-floor visitor at RSJ on the same site), now "pervades the whole premises", enlivened by a recent trip to Bali.
On a visit with a friend, they tried the "£45 11-course menu Taste of Indonesia" and note that the "the chef comes across as the most intense kind of nerd, the approach you need and want in a chap immersing himself with love and respect in another culinary culture". "BBQ sea bass in banana leaf outshines the meat dishes", while the Loire wines "assembled by [RSJ] owner Nigel Wilkinson… happily still figure – and travel well to South East Asia".
Her other visit, with her son and step-daughter, brought forth a "shriek of delight" for the tempura soft-shell crab steamed buns, followed by crab dumplings and duck fried rice. "Devilment is in the detail in all the assemblies but magnificently so in desserts… mango with black sticky rice is the obvious and ideal finale". (****)
---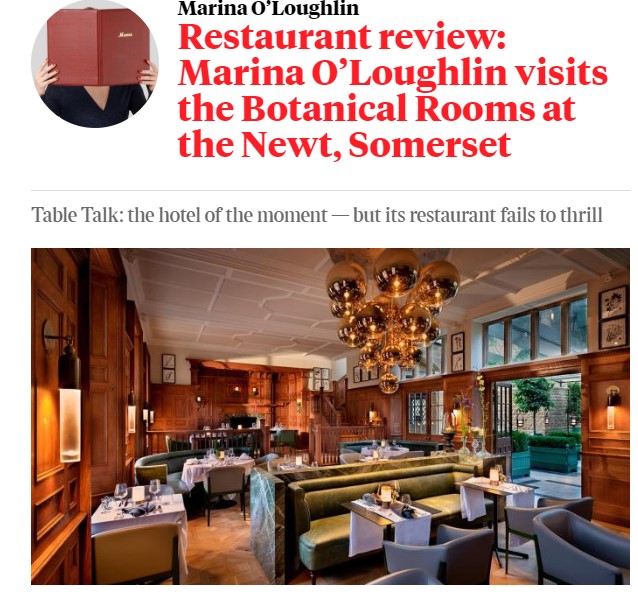 "Drawing up outside, we all duly gasp." Marina O'Loughlin for The Sunday Times was in Somerset at The Newt, a Palladian country pile (now luxury hotel) set in 300 acres of immaculate gardens that's been "heralded in every travel page as the next greatest thing".
Formerly known as Hadspen House, The Newt was bought and refurbished by "South African billionaire Koos Bekker and his ex-Elle Decoration editor wife, Karen Roos", opening in late August this year. There's "a large, chic cafe for people paying to visit the glorious grounds" and also a main restaurant, The Botanical Rooms, "in the former billiard room, all oak-panelled heritage given a jolt of modernity from dramatic light fittings", which is where Marina ate.
The stunning surroundings were sadly the best part of the meal: staff were "dramatically undertrained" ("there doesn't appear to be a grown-up in charge anywhere") – although one "professional" bored them "into a torpor" with "the provenance of everything".
Marina's companions ate dishes that were "mostly unremarkable", occasionally "a trial", but her "shocking" dishes included "the most ill-judged starter I've eaten since people used to grill sugared grapefruit" (a sort of pulled rabbit with slow-cooked egg "the texture of fudgy snot" and raw mushrooms) and "impenetrably tough" pork with none of the correct side dishes. "Bizarrely, desserts are heavenly… affogato arrives with freshly baked madeleines every bit as good as Fergus Henderson's."
"The restaurant feels like an afterthought, a tagged-on that'll-do by a billionaire wondering which trinkets to add to his opulent toy." It's unquestionably beautiful, but "utterly short-sighted to spend a reputed £200m on creating this arcadia and what appears to be about five bob on staff training."
---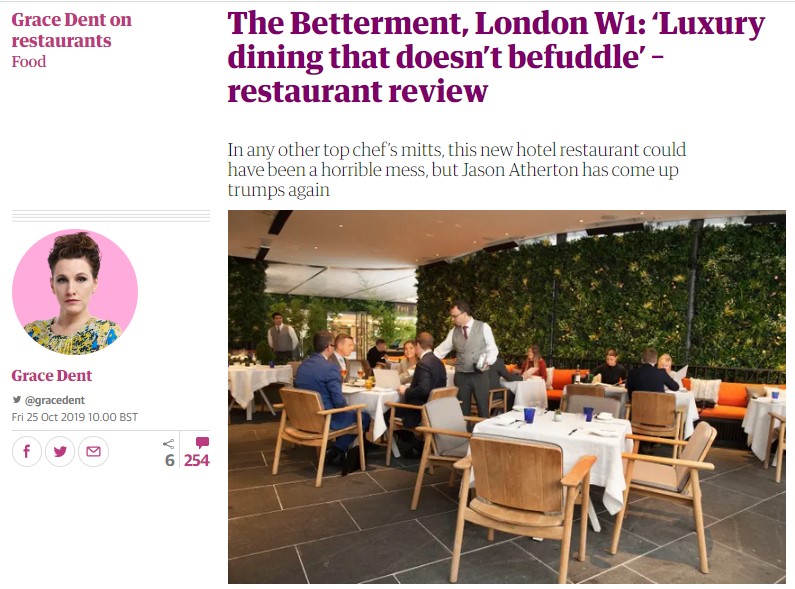 Other critics beat The Guardian's Grace Dent to Jason Atherton's newest London opening; Fay Maschler could barely raise enough praise to warrant her three-star rating, while Marina O'Loughlin bumped into other critics as she was leaving, and "they all agreed they wouldn't be back".
Grace's review was certainly more positive than they were, but still there's the sense of her stretching to find something to be kind about. Indeed, she focused quite heavily on what it could have been ("a stiff, corporate-focused, fine-dining borefest", a "horrible mess") in any other top chef's hands, and her warmest praise was of "a thoroughly acceptable night". Its proximity to Gordon Ramsay's Lucky Cat ("which I'd rather dine on a Felix duck and lamb in jelly wet pouch than visit again") also gave The Betterment an appeal it may not have earned itself.
Stand-out dishes included the Insta-famous onion flower ("a deep-fried onion, splayed to resemble a sort of floral octopus, with fancy mayo, and definitely a must-order") and a "world-class" dark chocolate tart. The food was "much more hearty than the menu suggests" – on paper it's "a cacophony of snow pea, langoustine crudo and horseradish velouté", but one dish of short-rib with Montgomery Cheddar was such "an assertive, umami-heavy, emotional battering of bone marrow-encrusted, meaty, cheesy decadence" that she recommended a sedan chair to get home.
The setting could be a large part of the problem – The Biltmore is "the sort of hotel no one who is remotely from Planet Earth ever stays at… a vast, showy… Mayfair rich-person's mothership". Even in the best seats "you're essentially sitting in a repurposed car park".
It's "a new place with old-school glamour, with receptionists in off-the-shoulder LBDs… But I did enjoy The Betterment, and I would go back." Are you persuading us, or yourself, Grace? (21/30)
---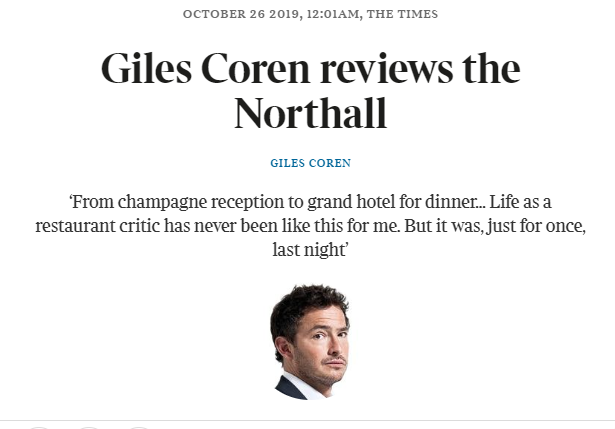 Tom Kerridge's not-so-new-anymore installment at The Corinthia in Northumberland Avenue has taken much – if not all – of the press attention away from the new resident in the hotel's other restaurant, The Northall. André Garrett, previously at Cliveden for half a decade and before that, Galvin at Windows, quietly took over all of the food here (including room service, but not Kerridge's) this year.
Giles Coren in The Times' Saturday magazine had taken notice of it, however, and booked a table for two. And then turned up, drunk on Champagne and giggling like some sort of modern day Bertie Wooster, with a handful of extras. All of which, the "beautifully attired" staff at The Northall seemed to take quite in their stride, welcoming him by name ("I'd booked under a pseudonym, but I love that shit, naturally").
The hotel's mega-refurbishment in 2011 bequeathed The Northall with a "jaw-dropping dining room beneath infinite alabaster columns and flower arrangements the size of St James's Park, in the comfiest seats, with the fattest linen and the properest cutlery".
Giles ordered some "non-vintage poo" that was apparently good value as it was only twice the price of Waitrose, but wasn't about to go crazy and order caviar or oysters. The party ate duck liver and smoked eel crumpets that were "warm and clean and elegant", Dorset crab "delivered with restrained ceremony" and strozzapretti with summer truffle ("altogether dirtier").
Main courses included whole grilled Dover sole, turbot with coco beans and roasted native lobster ("well, why not?"), which had been "properly fiddled"; desserts of strawberry panna cotta and peach crème brûlée (£12 each) contributed further to a bill that was "very large indeed".
Hospitality staff around the country will be relieved to hear that Giles doesn't do this sort of thing every night, much as he'd love to. (25/30, with 10/10 for the dining room)
---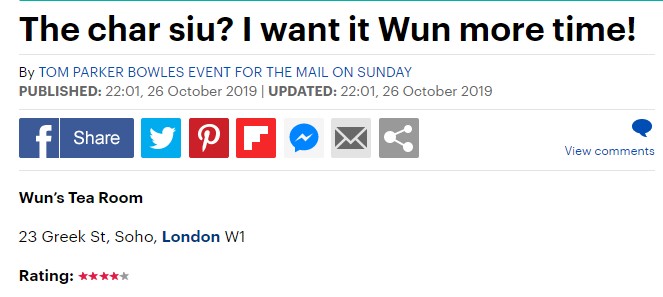 Tom Parker Bowles for The Mail on Sunday gave his four-star treatment to Soho newcomer Wun's, even after it gave him the opportunity to wax on about similar places he'd been to in Hong Kong for two whole paragraphs.
There's a speakeasy-style tearoom with a restaurant upstairs "where mint green dominates… not so much kitsch as effortlessly cool". The newspaper drinks menu featured baiji ("Handle with extreme care.") and other "proudly Chinese" spirits.
Snacks of "salty, chilli-dusted peanuts" and 'HK Wind Shelter' ("whole whitebait, lightly battered… hidden among a crunchy mess of golden deep-fried garlic, dried chillies") were "robust, no-nonsense, bar-snack Cantonese", while the main dishes were "pure Cantonese comfort".
The char sui pork ("of which much has already been written") lived up to expectations. It was "to the usual roast pork what jade is to green glass. Coated in sugar, this is both sweet and savoury, chewy and tender, and lavishly, lasciviously fatty." He – like Jay Rayner – had to visit again just so he didn't have to share his next plateful.
"Wun's Tea Room is a blast. For the most part, a joyous glimpse of a lesser known part of this great regional cuisine. It's Cantonese, Jin, but not as we know it." (****)
---
Marina O'Loughlin for The Sunday Times
---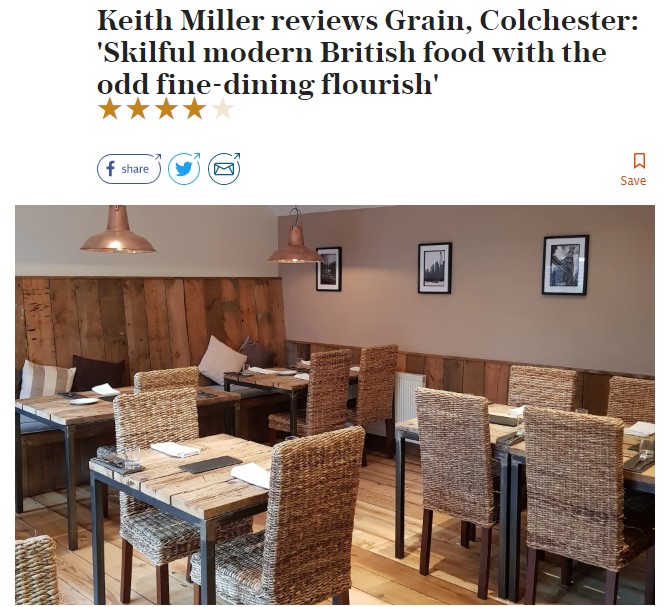 Keith Miller for The Telegraph was in Essex, seeking out a recipient of the latest Michelin Bib Gourmands (he attended the "tedious" ceremony where the stars are announced, and gives an amusing account of what it's like for journalists at the coal face.) He prefers the BGs, announced a week earlier "to minimal fanfare", as a more "more reliable indicator of character", given their £30-a-head ceiling. ("Starred restaurants pursue an ever-narrower conception of excellence, and resemble one another more and more, the higher up the greasy pole they scramble.")
"Freshly Bibbed" Grain in Colchester, crowdfunded in 2017, cowers "beneath the ramparts of the multi-storey like some miraculous survival from the Boudiccan destruction layer of AD 61". Once found, however, Keith detected "good judgment and sure craft" in the dishes he tried from the small plates menu (apparently a concept new to these parts).
A "smokiness that came and went from dish to dish, the expert cooking of meat and fish, the free use of herbs" were all admired, along with the "stellar" cheeses.
"Simple, skilful modern British food, in short, with the odd fine dining Euro-flourish, at entirely Bib Gourmand-friendly prices (if you don't go to town on the wine)." (****)
---
And also…
The Financial Times critic was in Derby, at Ebi Sushi, which "looks unpromising from the outside but this place serves brilliant Japanese food": "to eat here is an honour".
---
William Sitwell for The Telegraph revisited Julie's, and admired the new décor, "rather wonderfully… done by Julie Hodgess herself – the original designer and proprietor". (****)