• London restaurant market escapes record slump… just
• Survey Celebrates a great year for female chefs
• Bills rise at record rate
• East London loses some momentum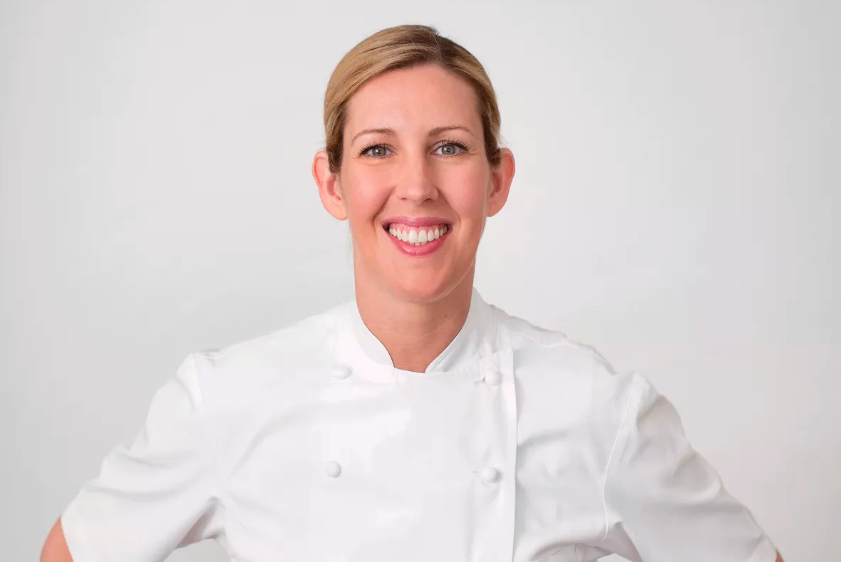 The growth of London's restaurant scene staged a weak recovery in the last 12 months.
That's the conclusion of the 29th edition of Harden's London Restaurants and its restaurant-finder app, published on 24th October, which records 174 newcomers in its new edition (up from 167 last year): the fourth-highest year for openings on record (the record of 200 being three years ago).
Closures, however, also stand at near-record levels with 110 recorded. This level is barely below last year's chart-topping 117, and the former record of 113 in 2004 (a year hit by the second gulf war and SARS epidemic).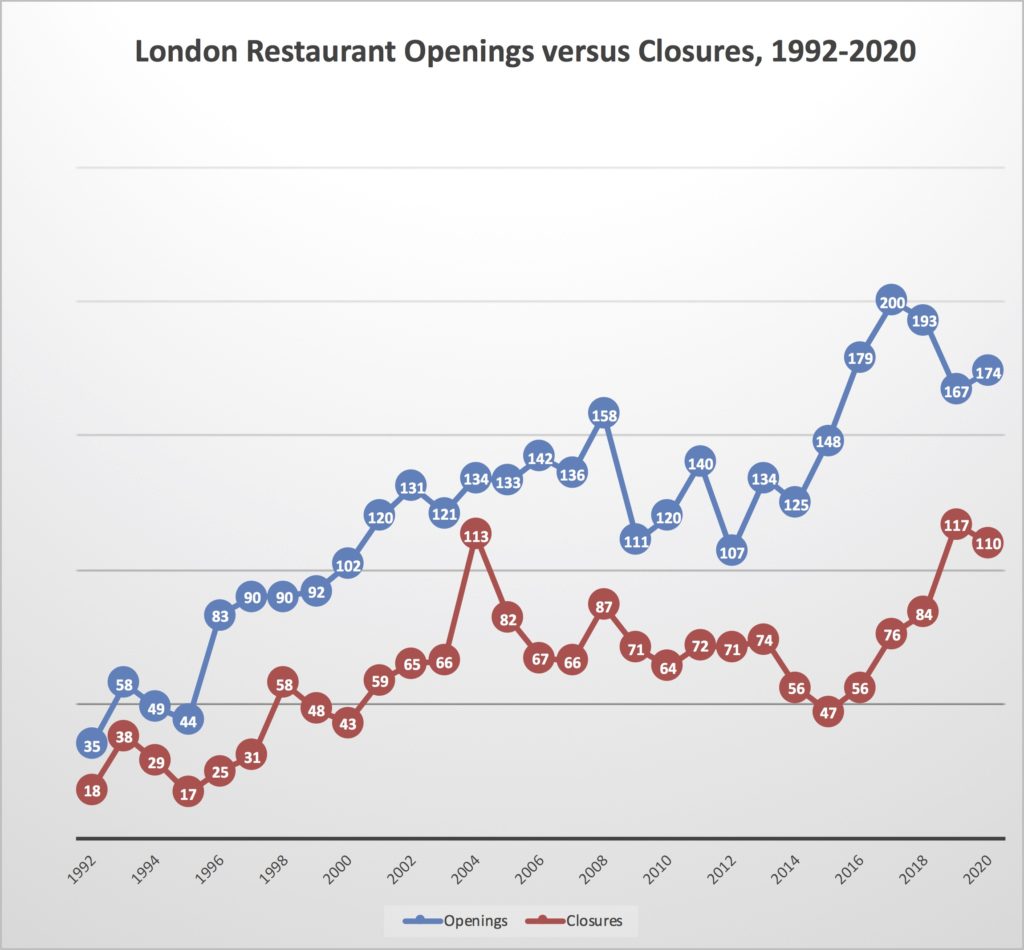 Net openings (that is Openings minus Closures) of 64 (174-110) were up by 28% on the previous year's figure of 50 (167-117). Viewing these figures on the graph of London Net Openings below adds to the strong impression that the figures recorded in the middle of the decade were exceptional, and that the market has returned to a 'normal' level of growth (at 50-75 net openings per year).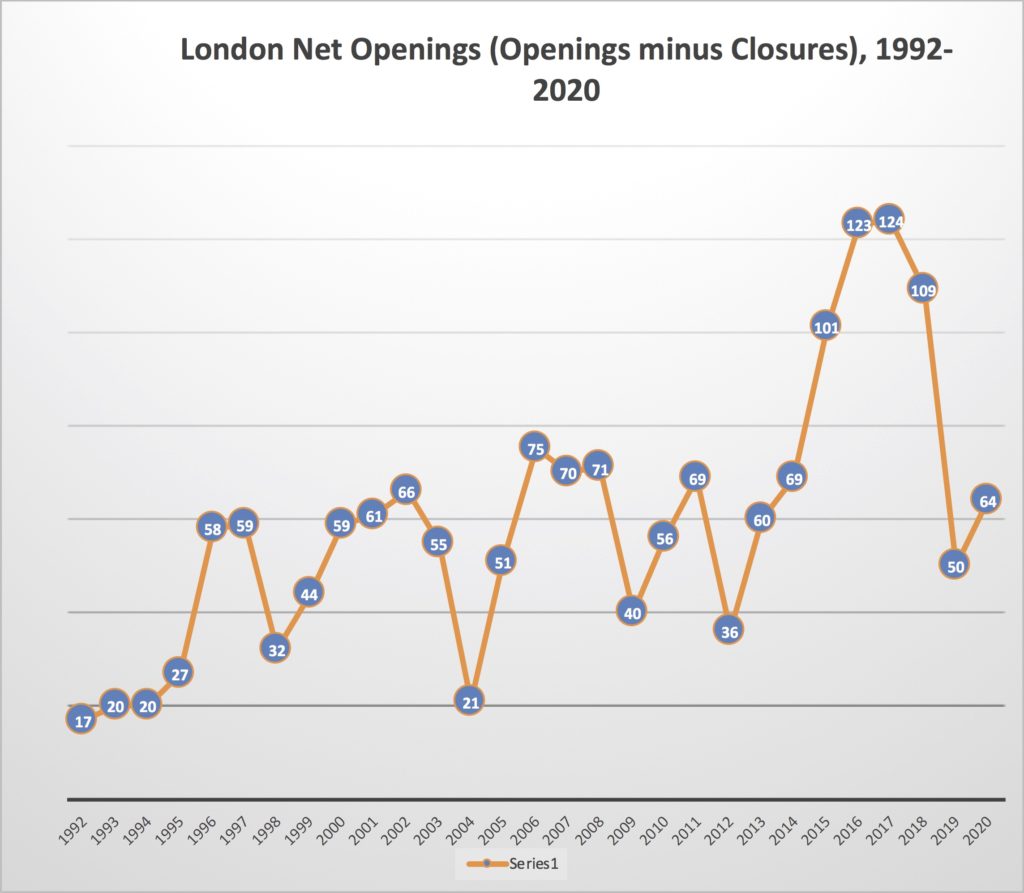 The feeling that the market is still a tough one is reinforced by the ratio of openings to closures, or "churn". At 1.6:1, it represents only a slight gain from last year's 1.4:1, and is well below the 29-year average of 2.1:1.
Previous slumps in activity have generally been followed by a sharp rebound in the ratio of Openings/Closures either back to, or above, the long-term average. But you have to go back to the deep recession of the early 1990s to find as limp a recovery as the one currently underway.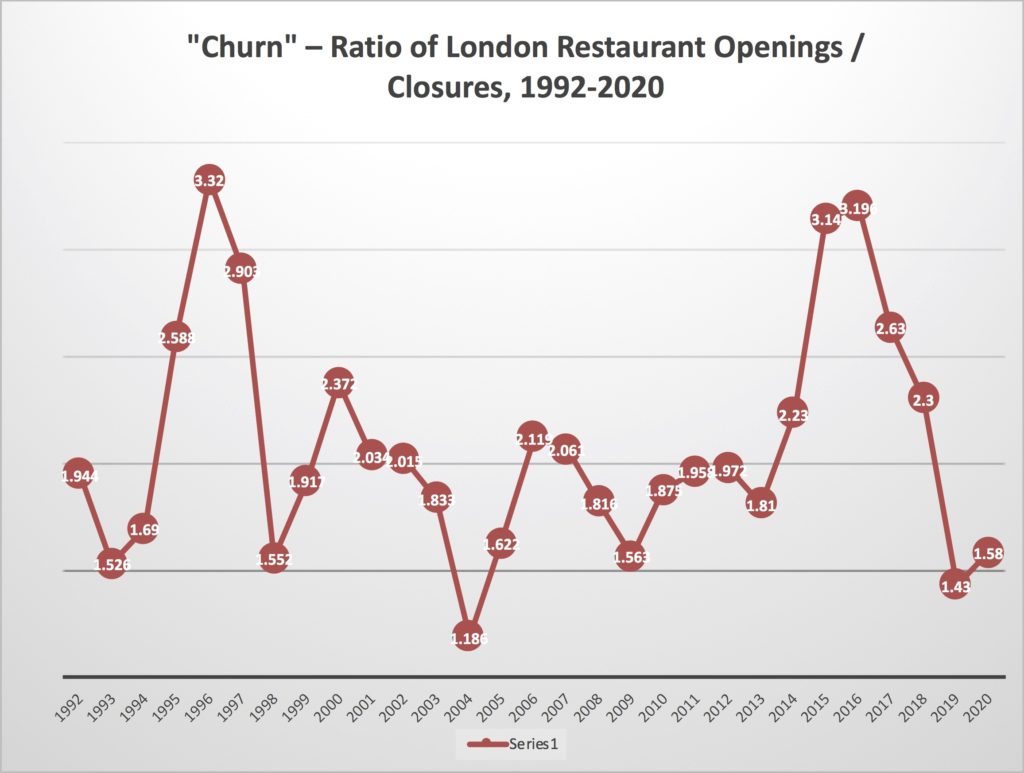 In the press release accompany the guide, Harden's co-founder, Peter Harden, said:
"Any book on entrepreneurialism will tell you that just to stand still it is necessary for any business constantly to reinvent itself. That is ever-more the case in the London restaurant scene where any site that is not performing at its peak, will quickly be reformatted under the same brand or a new one.
The good news is that London's restaurateurs are a much more formidable bunch than when this guide was first published. The last three decades have seen an incredible rise in the professionalism of the trade. Opportunities continue to present themselves to those with witty new formats or sufficient passion to excel at the old ones."
The new guide records a large number of high-profile casualties amongst last year's casualties. Leaving aside well-publicised liquidations and CVAs in the mid-market such as Jamie's Italian, the well-known indies who shut up shop included Fifteen, Hedone,The Providores, Shepherd's, Kensington Place, maze, The Red Fort, Sonny's, Asia de Cuba, and Great Queen Street. Also small multiples of quality such as Rök, Picture and Foxlow.
Survey celebrates a great year for female chefs
Ratings and reviews in the newly released guide and app are based on one of the UK's most detailed annual polls of restaurant-goers, with some 7,500 people contributing 50,000 reports for the 2020 edition.
Stand-out performances from female chefs include the following: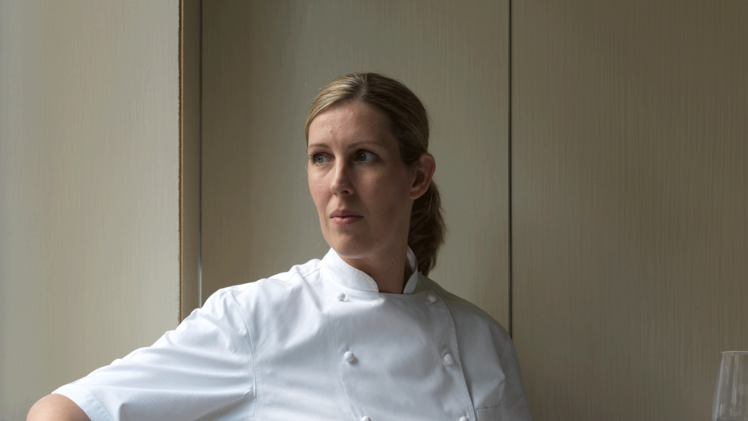 • Core by Clare Smyth knocked its near neighbour The Ledbury from the No. 1 position in votes for Top Gastronomic Experience of the Year; it also entered the list of Top 10 Most-mentioned restaurants in the survey, cementing its position as one of London's pre-eminent restaurants. Diners were wowed by its "superb, friendly, and unpompous" approach and the "original thought has gone in to the masterfully-blended dishes, showing occasional idiosyncratic touches to create precise, exquisite morsels that look like art on a plate and taste fabulous".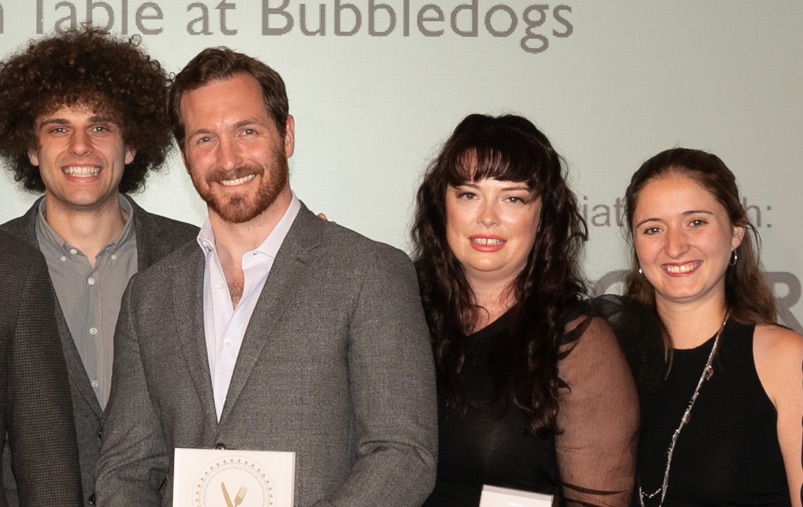 • Taylor Bonnyman's Five Fields – head chef Marguerite Keogh – scored the survey's highest food mark having hit a "particularly impressive and consistent culinary stride in recent times, with not a single negative report received… Head chef, Marguerite Keogh strives for perfection, and the care and attention to detail of ingredients processed and plated is second to none, delivering divinely flavoured dishes in a mould that's classic in style, but very modern in execution – witty and inventive, without being up itself or over-fussy".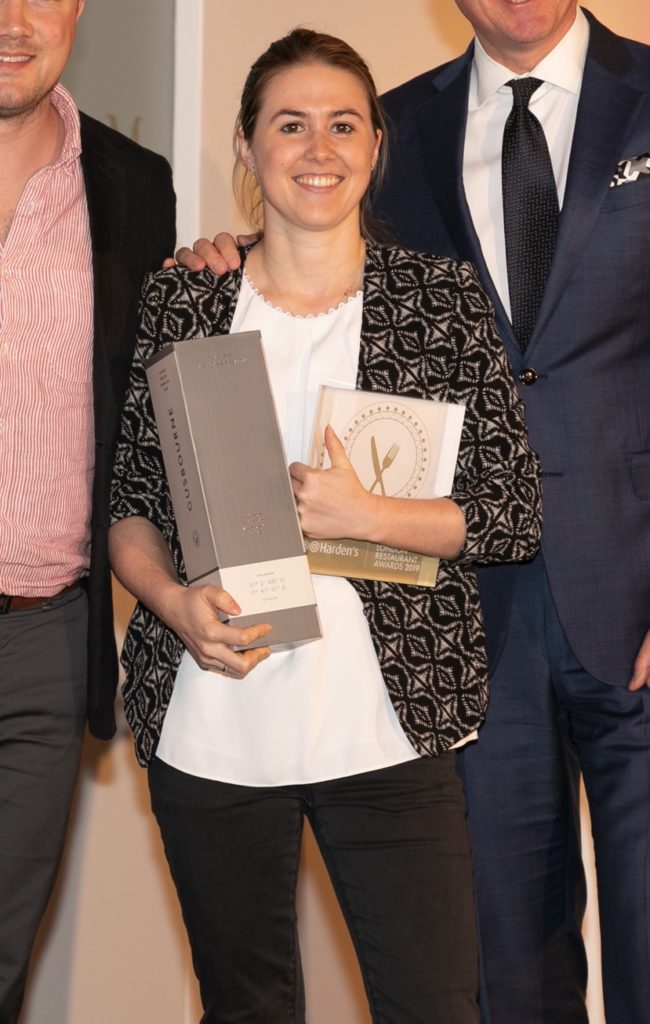 • Newcomer of the year was Caractère: Emily Roux's venture in partnership with husband Diego Ferrari and another high quality opening in Notting Hill which is undergoing something of a renaissance: "Just around the corner from The Ledbury, but half the price and less formal – it provides a fabulous all-round experience".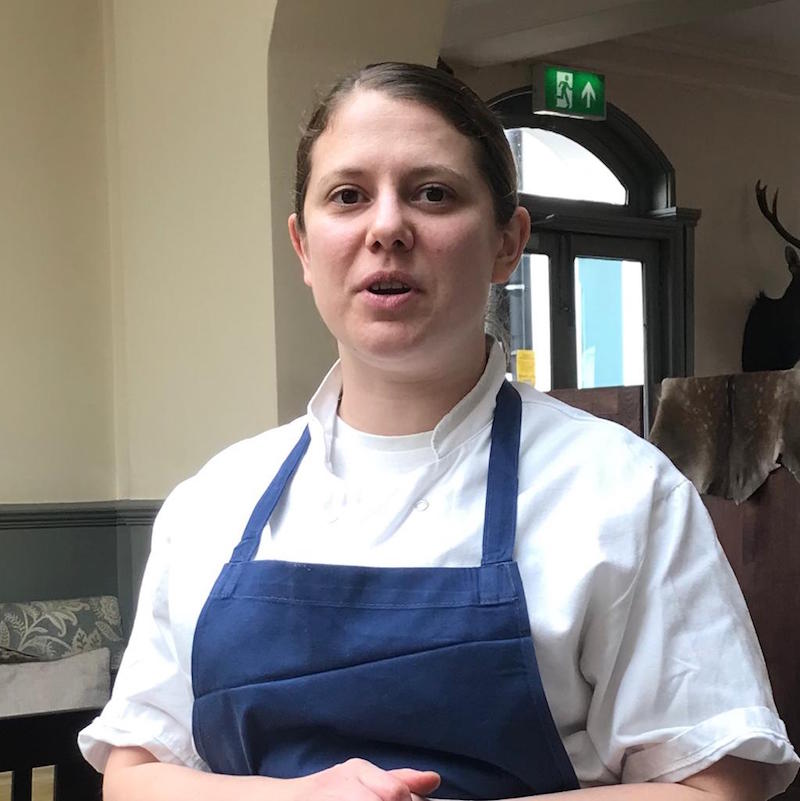 • Sally Abé, head chef at The Harwood Arms, which was nominated for a second year as London's Best Gastropub. "Fabulous game is a highpoint of the simple food, cooked to perfection (mouthwatering meat so tender the knife just fell through it) at this super-fine hostelry in the distant backstreets of Fulham".
• Achievement of a sort: Ruth Rogers's River Café – yet again voted London's most overpriced restaurant. The results of the survey note a tension between fans who say "'forget the haters – if you think it's overpriced, you simply don't understand food!' and other dines who are badly torn: 'The food is delectable. But let's be honest: we have many excellent Mediterranean restaurants all across town nowadays, and a grilled piece of fish, a slice of lemon tart, and a glass of Vermentino isn't really worth half-a-week's wages!!'"
London restaurant bills in record rise
The average price of dinner for one at establishments listed in the new edition is £59.28 (compared to £55.76 last year). Prices have risen by 6.3% in the past 12 months (up on 4.8% in the preceding 12 months).
With the exception of 2011-2012, when the rate of increase was affected by a change in the VAT rate, this is the highest rate of increase in the last 20 years.
The rise compares with a general annual inflation rate of 2.1% for the 12 months to July 2019, yet further accelerating the trend seen in the last three years by which London restaurant bills have seen price rises running significantly higher than UK inflation generally. Restaurants are a people-heavy business, though, and with UK wage growth having picked up to 4%; and with high rises in food costs noted in the last year, an above-inflation rise in restaurant bills is to be expected.
East London loses some momentum
Whereas in recent years new restaurant openings have been focused in hipster enclaves in the East End, this year saw openings much more targeted on Central London (with 82 newcomers).
Away from the centre, activity was very much more evenly spread than it has typically been in recent times. East London led the way, but only by a whisker (with 27 openings) closely followed by both South London (with 26) and West London (25).The only laggard was North London which – after a promising year last year – reverted to being the least popular area (with just 14 newcomers).
Modern British cuisine (53) is by far and away the most popular for newcomers, with Italian (17), Indian (10) and Japanese (9) the next most numerous.
Buy your new Harden's Guide now at a specially reduced rate
Based on the largest survey of restaurant-goers in the UK, this Harden's bestseller is the discerning London restaurant-goer's bible. Objective, reliable, and covering 1,700 pubs, cafés, curry houses and gastronomic dining destinations across the capital, the guide has been put together with user-friendliness as a top priority. Pithy reviews pull no punches, and all entries are rated (based upon the survey) for food, service and ambience.
Price £14.99, Buy now at £3 off post-free

Never be out of date again. The Harden's Restaurant Finder app updates constantly and costs just £4.99 Per year.