Our weekly round-up of what the national and local restaurant critics are writing about, for the week ending 27 September 2020.
The new 10pm curfew for restaurants and bars, on top of the 'rule of six' guidance, could be a "hammer blow" to the industry, as The Evening Standard claims in its interview with top chefs and restaurateurs (Tom Brown, chef/owner at Cornerstone's interview is particularly spicy).
Check with your local and favourite restaurants before heading there; many are still operating strict timings due to reduced cover numbers and social distancing requirement, with reduced menus and booking systems (even if they didn't take bookings before); look at their social media pages for details – all available via hardens.com.
Please consider ordering takeaways or deliveries from your favourite spots if you can; the restaurant industry and everyone involved in it are going to need continued support for some time to come.
*****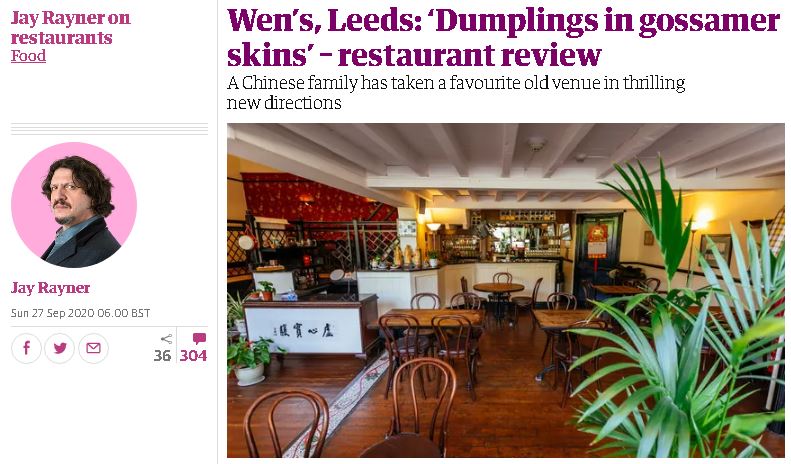 The Observer
Jay Rayner was in Leeds, re-visiting the site that was Hansa's for over 30 years and a firm favourite of his while at university (and which closed last year, RIP). The new "Chinese venture which has replaced it represents continuity. It too is a family affair. And the matriarch also plays a big part." Wen's can be found in an area that is "not one of Leeds's loveliest", but definitely worth seeking out.
"The ready-made Chinese dumpling market in the UK has become extremely sophisticated… But Mrs Wen's are so much better." Handmade daily, they have "gossamer and silky skins", contain a "dense, spiced filling, leaking enough juices to mimic soupy dumplings" and "are precisely crisped on the bottom".
But it's not just dumplings. "The menu ranges widely across many Chinese traditions, with vigorous nods towards Sichuan" where the family originates from; they'll also cook "pretty much any Anglo-Cantonese classic" according to a note on the menu. ("Do that if you wish, but you'll be missing the fun.")
The "pokey" salt and pepper baby squid was "a pert heap of almost shockingly crisp but tender golden tentacles"; a rarely-seen a salad of julienned potato with chilli oil was "both a warm hug and a cheery slap around the chops at the same time", a whole sea bass arrives "in a bold, deep sauce of minced pork and chilli, which is an unapologetic Trumpian orange" and the "crispy sliced lean pork in special made sweet and sour sauce" was an "outrageous, roaring, blistered and curled confection". ("It's an utter, shocking disgrace. It is also fabulous. I suspect you knew that.")
There were vegetable and dessert options too. ("Our sweet tooth has been more than satisfied by that pork, so we decline.")
"I leave knowing that I have a very good reason to keep going back to this site on North Street; to the place where my independent restaurant going began. It's an extremely comforting thought."
*****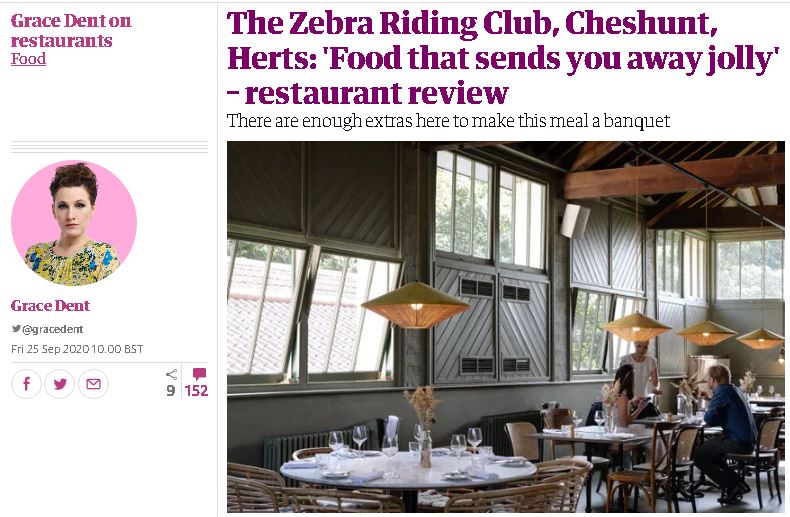 The Guardian
"I don't have the emotional bandwidth to change the spotlights in my kitchen right now… so it's comforting that someone out there is thinking, 'Why don't we open a ginormous, almost indefinable community drop-in experience with candle-making lessons and gong baths and ping-pong and 140 bedrooms.'"
Grace Dent was in deepest Hertfordshire at The Zebra Riding Club, part of Birch, "a mind-bendingly ambitious project that's taken over a hotel and conference centre and its 55 acres of nature"; The Dairy chef Robin Gill has been "parachuted in" to run this restaurant in a former stable block (actually a "huge, capacious, open barn, with a visible kitchen").
As it's a "wellness-focused community", Grace slightly expected a "po-faced and joyless" eatery, serving a "purging, waist-sculpting, freegan, chakra-balancing juicing menu" – but she was wrong.
"This is very much a Gill restaurant along the lines of Darby's, one of my favourite places in London." Gill, protege Ben Rand and Sussex farmer Tom Morphew "provide a farm-to-table menu for both here and a more casual, all-day restaurant called Valeries".
"This is food that aims to feed you and send you away jolly…. Staff are bright and charming, and not remotely airily cool" and there's even an "odd sense of opening your car door at Glastonbury".
The five-course tasting menu delivered up "delicious Cantabrian anchovies on toasted sourdough", then a "small, pleasing tartlet", "grilled ox tongue Reuben-style", a "warm, spicy, enveloping, Thai-style, vegetable soup" ("one of those moments when Gill and his team always win my heart, wherever they're cooking" and Grace's star of the show), red mullet wrapped in nori, salt marsh lamb and dessert of blackberry ripple ice-cream with peach and a "fresh, warm, rosemary-scented sablé biscuit". ("I've thought of this pudding often since.")
"Life's a Birch – or at least it is when Robin Gill is there in the midst, making magic."
*****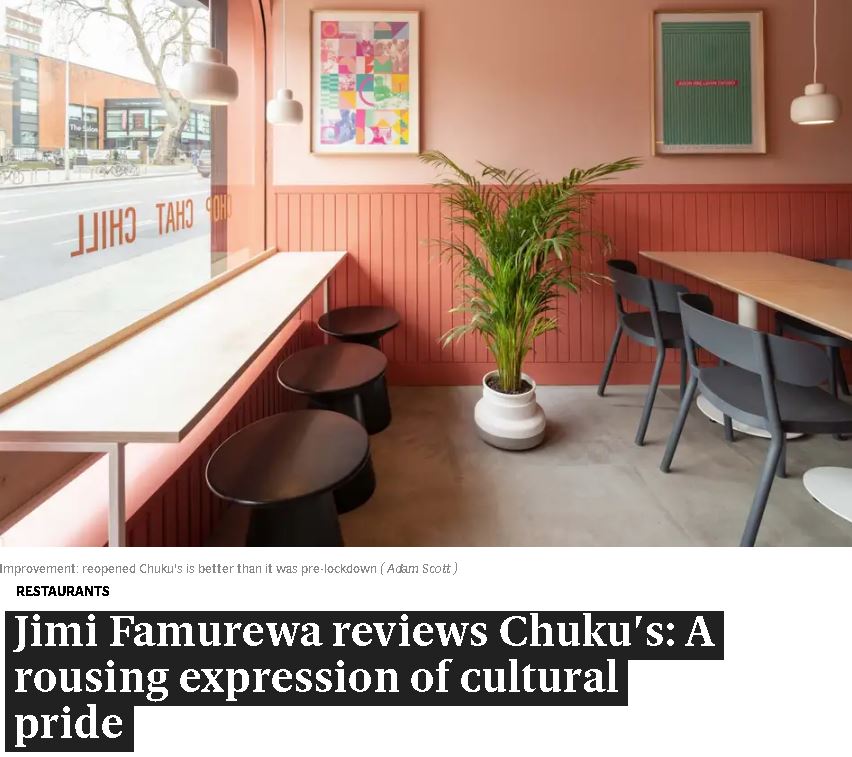 The Evening Standard
Jimi Famurewa is back with a storming review of Chuku's; he'd been in March ("not long after it had opened and mere weeks before everywhere closed") and had to bin the review, so "I felt I owed them, basically. And not just because this summer has crystallised the importance of celebrating genuinely good black-owned food businesses."
Brother and sister team the Fredericks "chose to fine tune their offering during lockdown rather than pivot to takeaway" and "now preside over a significantly better restaurant than the one they opened in spring".
"Boldly conceived, buoyantly atmospheric and packing a new fire-breathing flavouring oomph it signals, to my mind, a levelling-up moment for Nigerian-inspired hospitality in the capital."
It's also "really, really fun". "The twin hit of well-made, fruit-forward cocktails and vigorously applied Scotch bonnet [gave] us all a dopamine buzz that lasted until we stepped out into the mild autumn night, plastered with grins."
Dishes that "sparkled" from the "expansive sharing-plates menu" include cassava fries with a "nicely rowdy" fried pepper sauce, "revelatory" caramel kuli kuli chicken wings and the egusi bowl ("I'm in complete awe… if you order one per person I can guarantee it still won't be enough"), a "striking tricolore" of spinach, tomato and egusi (melon seed) stews studded with creamy pounded yam dumplings.
"For British-Nigerians like me, Chuku's is a rousing expression of cultural pride that gets you up on your feet… a place that inaugurates a love for West African cuisine's powder-keg spicing and meets an uncertain, fearful moment with inventiveness, joy and an irrepressible burst of warmth."
*****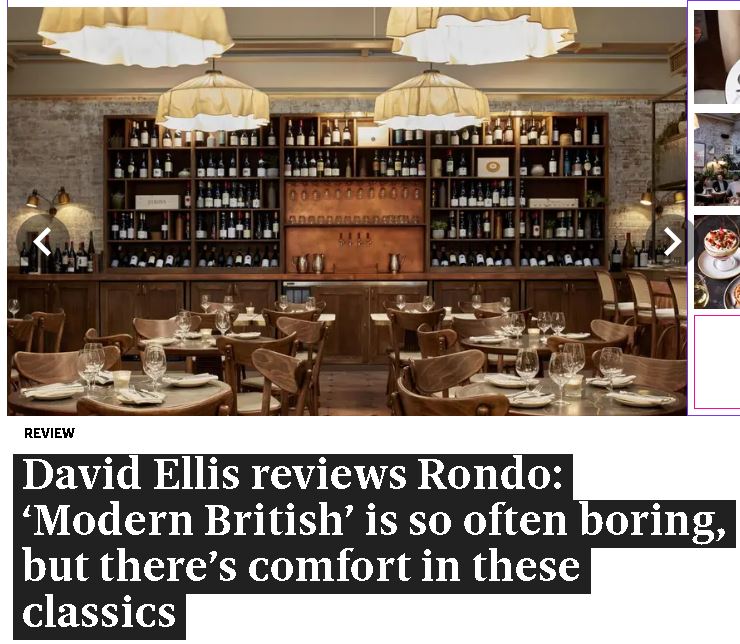 Also in The Evening Standard, David Ellis is on a roll with first reviews – this week he was at Rondo, having lost out on his booking at Battersea newcomer Kibou (sibling of the Cheltenham Japanese), which would also have been a first.
Located at The Hoxton's "likeable" Holborn hotel, Rondo is the brainchild of two St John alumni, former bartender William Lander (now co-owner of Clipstone & Quality Chop House) and chef Chris Gillard who "picked up a Michelin star at St John, and followed it with stints in the adored Quo Vadis and Andrew Edmunds".
He wasn't sure he'd wanted to visit Rondo, but happily ate his words along with "a roll call of finely tuned British cooking, presented cleanly, mostly rich and delicious". Crispy pig cheek, roast cauliflower, lemon sole and tarte tatin were "demolished with a grin". Only roast chicken with liquorice hit an odd note.
Decor-wise, it's "still a bit, well, Holborn" – all dark wood, but staff were "still friendly through a mask" and the comfort food made everything worthwhile.
*****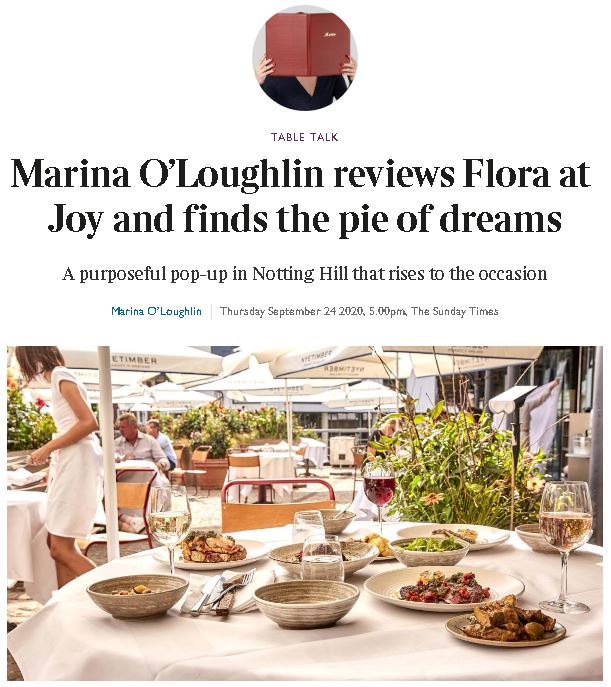 The Sunday Times
Marina O'Loughlin ventured to west London and the "sure-footed and nimble-thinking" Stevie Parle's Flora at Joy on the back of two emails; one a "hosanna" from a food-writing pal ("it all reminded her of Zuni Café, the San Francisco-based pioneer of luxurious seasonal simplicity") and another from Susanna Sait, owner of the Goods Shed in Canterbury ("one of my favourite food businesses in the country") who praised Flora and Joy for "using so much Kent produce… it's a real game-changer for our growers".
It's also "the pies that swing it. Flora's pies aren't the homey, school-canteen British model, floury dollops to be custarded into submission. These are the kinds of pie you only ever experienced via American cartoons and movies: the sort of thing left on windowsills by unseen adults in Peanuts… pies of pie-eating contests and greedy Jugheads."
Then there's the "ad hoc, bohemian wedding party air of the place, with its banks of vast flowered planters and outside grill" and the staff, "who can't do enough for us" and the menu that "twinkles with promise".
Stand-out dishes include clams and guanciale, "dizzyingly, face-planted-in-bowl good" and "the simple genius of serving a perfect, inches-thick pork chop with a few just-grilled greengages and a fine anchovy or two".
"Flora at Joy isn't just a maybe-pop-up, maybe-more-permanent restaurant… it's a statement of bullishness, a bravura creative move, a testament to the indefatigable nature of the hospitality industry. And, not least, a hymn of praise to pie."
*****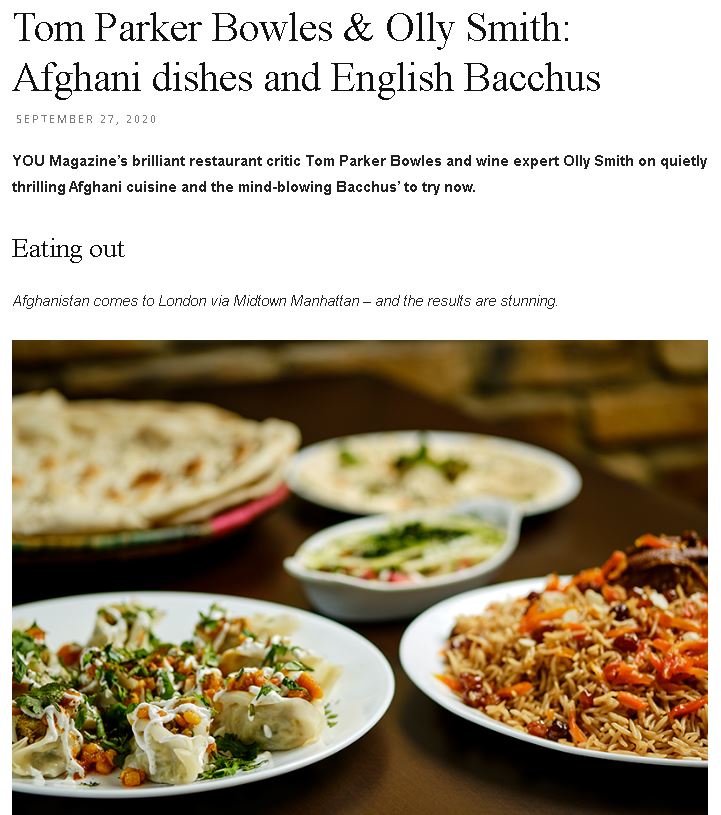 The Mail on Sunday
"It's not often you find an offshoot of a Manhattan restaurant on Kilburn High Road."
Ariana II is where Tom Parker Bowles (in his new column with wine expert Olly Smith) in The Mail's YOU magazine reviewed this week. It's housed (and has been for 10 years) near the Kiln Theatre (previously The Tricycle) and is "as much local hero as it is Afghani stalwart, the sort of place that feeds expats, locals and novices (including me) with equal delight".
Tom went "on the recommendation of Hamid, a charming Afghani taxi driver, who hollered its praises" and it was a "revelation". "Inside, the lights are bright, the tables rammed, and the atmosphere thick enough to smear on fresh baked bread" and the service is "brisk but warm".
Leaving the ordering to the waitress, Tom sampled dumplings "stuffed with spiced leeks and lavished with a minced lamb sauce", ("My endless quest for new forms of dumpling has found a new star.") and "hot, fluffy naan" with dishes of aubergine and pumpkin and kabuli palaw that's "basmati at its best, each glistening, luscious grain rolling lasciviously across the tongue", at once "softly Moghul and absolutely Afghanistan".
*****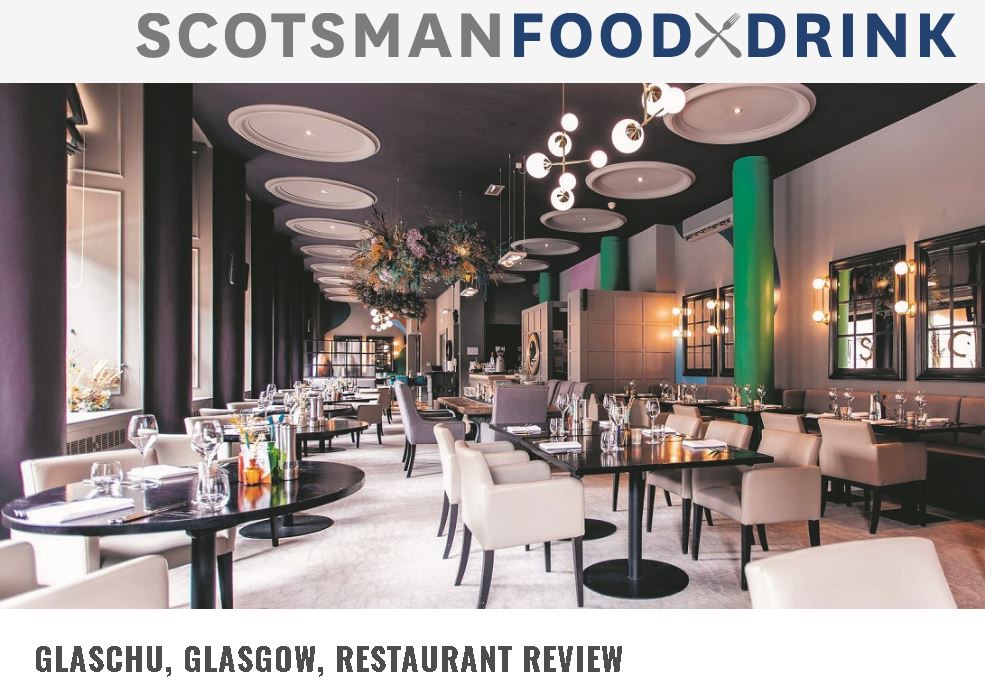 The Scotsman
For her first foray to Glasgow, Gaby Soutar picked Glascho (the Gaelic for Glasgow… pronounced glas-a-hoo), a first floor restaurant decorated "in the stormy colour of the bow-legged pigeons that scrape around outside its Royal Exchange Square neighbour, GOMA". It opened in February 2020 and promptly closed again, so this is her first chance to visit. With low footfall in the city centre, it's pretty quiet.
"The menu, created by head chef Dion Scott, formerly of Glasgow's The Spanish Butcher, is quite old school and luxury-hotel-ish. Count me in. I don't want to be challenged, just swaddled like an elderly baby."
Gaby ate a "satisfyingly meaty" lobster canneloni and Jerusalem artichoke velouté ("a balm for the insides" which came with truffle and a cheeky Scotch egg) to start, mains of Gigha halibut and roast lamb cannon ("my tired taste buds, which had been anaesthetised by mask steam, were reanimated"), and banana parfait for dessert, a "triangle of oaty and creamy monkey magic ". (80%)
*****
Also in The Scotsman this week, Gaby reviewed tiny new ramen bar Ikigai Ramen, with her sister and baby nephew (they had the whole place to themselves under current restrictions, it's that small); "noodles are made in-house, and are suitably slippery, chewy and soft", and served in"variations on the soupy theme" such as " opaque and creamy pork bone broth" or "wholesome-tasting shiitake mushroom broth".
There's no sushi – "they have one humble speciality and do it well", with a few side options including edamame, yakitori and gyoza " just to keep things interesting". (80%)
*****
Also, Catriona Thomson went to The Buccleuch Arms Hotel, which won a community pub award during lockdown and whose Blue Coo bistro has been modernised while preserving the heritage of the hotel. (70%)
*****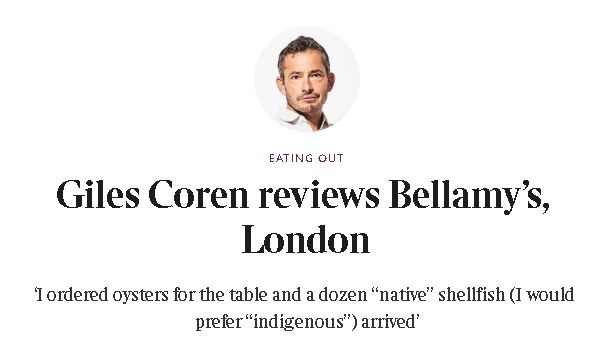 The Times
Apparently Giles Coren has been targeted by the 'Food Left', a band of "furious young food writers" who claim that the "six or seven main national restaurant critics are all white (true), review mainly white-owned European restaurants (true) and should all be pensioned off and replaced by a younger, more diverse crowd (meh)" and "have unquestionably got the establishment rattled".
He's been accused of "a whole raft of ghastly accusations including racism, sexism, fattism, nepotism, homophobia, transphobia" (most of which, to be fair, he doesn't deny), but he did rightly get upset when the personal comments started in on his family, so he left Twitter and hasn't heard another thing.
But now they have "turned their fury upon the other critics, all of whom are unquestionably even less racist, sexist, fattist, nepotistical, homophobic and transphobic than I". One result of this is that "most of the other critics are now taking precautions in the form of culturally appropriate dining partners hauled in as allies whenever some sort of cultural bridge is to be crossed… it's all the rage these days and I've decided I ought to follow suit."
As a tongue-in-cheek (or possibly red rag to a bull) version of "culturally appropriate dining partner", Giles dined at Bellamy's ("in Mayfair, right at the very heart of the vibrant Wasp community") with Tom Parker Bowles, keen to see and experience him in his native habitat, learn and observe the customs. "Tom really is an old friend, honest… but I realise now that I have not devoted enough time to learning about how his community lives and eats."
Amusing asides and observations included the eating of raw (and alive) food, ingredients which weren't what they said they were (white Burgundy, cream of cauliflower ("a kind of soup, though it doesn't say so ") and "crème brûlée that was not burnt at all"). (26/30)
*****
And also…
The Telegraph reported on CareerScope, a new "support network for struggling restaurant workers could help secure the future of the industry"; supporters include "Clare Smyth, Michel Roux Jr, Paul Ainsworth, Richard Corrigan and Raymond Blanc" and industry organisations.
*****
Bristol Live reported on the top TripAdvisor rated restaurant in Bristol, Pipal Tree, and its plans to open a sibling, Pipal Leaf on 1 October.
*****
In a similar vein, Birmingham Live reported on the city's No1 pizza restaurant on TripAdvisor, @pizza, which is crowdfunding to open a drive-thru pizzeria in 2021and to expand further in Edinburgh.
*****
The Manchester Evening News noted the closure of five-year old tapas joint Tapeo and Wine.
*****
The East Anglian Daily Times highlighted the menu revamp that's taken place at Pea Porridge in Bury St Edmunds, where Moorish cuisines are now inspiring chef/patron Justin Sharp's cooking.
*****
Recent News from Harden's