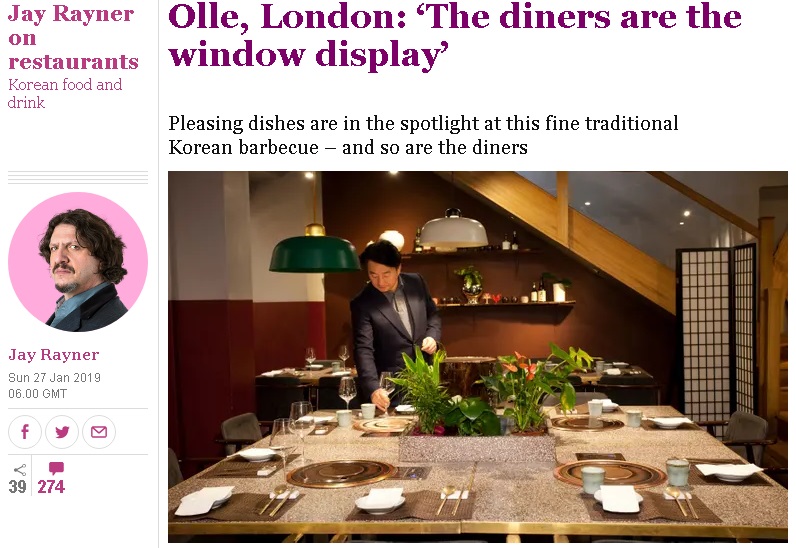 Jay Rayner for The Observer became the living window display he has so often admired when he dined at Olle, a Korean barbeque joint on Shaftesbury Avenue.
The menu at Olle will be "broadly familiar" to those have tended to their own hotplate before – here, "they just do it very well" and with "uncommon grace and charm".
Jay enjoyed a seafood pajeon ("a cross between a pancake and an omelette") and Olle's Korean fried chicken ("everything I want it to be, with a double fried crunch that creates ricocheting echoes in every cranial hollow and cavity") and a selection of meat and prawns to sizzle and sear.
Top Tip: don't order it all at once, or you'll get all your dishes at once and won't have room at your table. Oh, and the Wagyu is really good value. And don't bother with dessert, do what Jay did and head to Pompi for a taste of Rome's best tiramisu: "light and fluffy and creamy and spongy and utterly compelling".
Gucci Osteria da Massimo Bottura, Florence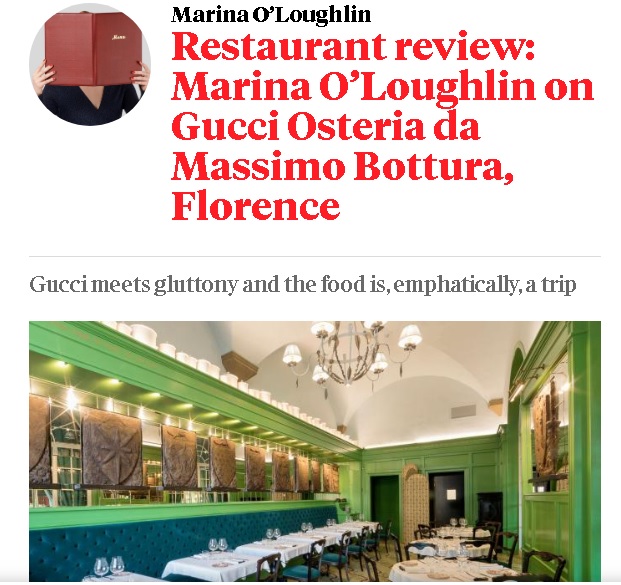 Marina O'Loughlin in The Sunday Times was in Florence, checkin gout the new restaurant from "Massimo Bottura, he of the "world's no 1 restaurant", Modena's Osteria Francescana… in conjunction with Gucci. Gucci!"
She found it "enormous fun" – and not just the "ravishing space" and the people-watching. ("It's a riot. At one point we play "men's fashion week attendee or homeless person"")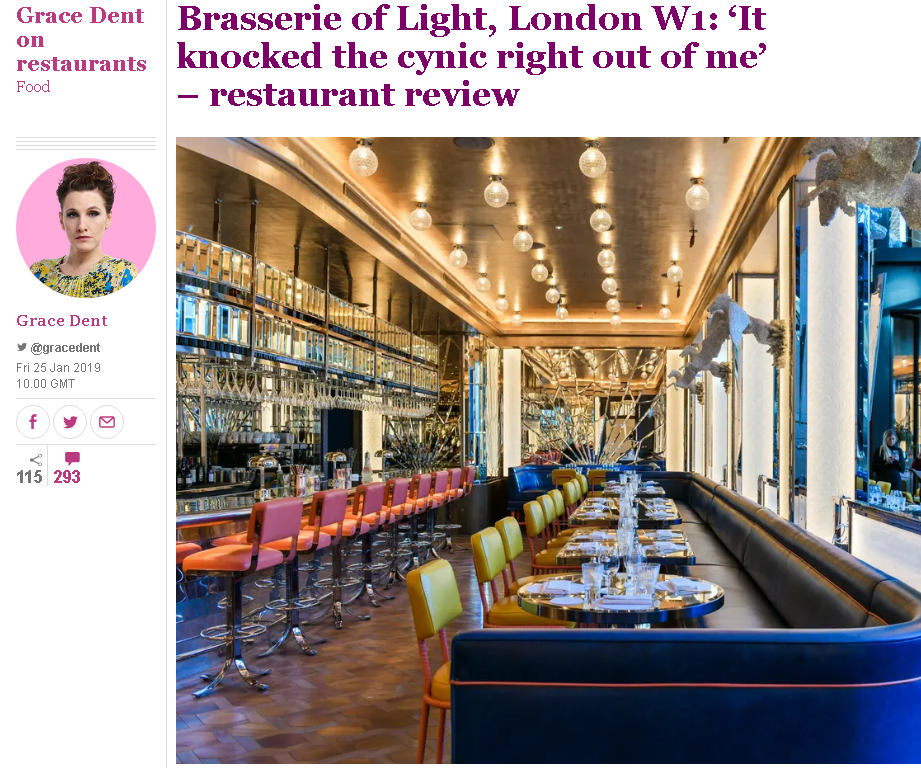 Grace Dent for The Guardian isn't the first critic to eat her words after a visit to the restaurant-within-a-department store ("a clash of fine leisure pursuits… sounds atrocious") Brasserie of Light at Selfridges.
The "splendid-looking, twinkling, expensively hewn 1940s Hollywood movie set that serves cocktails, carpaccio of tuna, steak tartare and shaved fennel salad" changed her mind about shops in stores forever: " Selfridges knocked the cynic right out of me".
It's part of the Richard Caring empire that includes The Ivy, Le Caprice and the "absolutely bloody ridiculous" Sexy Fish (with which Brasserie of Light shares an OTT decor theme).
It's "open all day, always gorgeously lit, and the ambience is never anything less than nicely bubbling". And "food is much better than one would imagine, too" – popcorn shrimp and black cod are recommended, but don't bother with the Pegasus Pie: it's "a bowl of yuzu-flavoured foam with sesame biscuit wings… pudding for dessert-dodgers". Try one of the other " preposterous in a Heston-type way" puddings instead – or just "go and sit up at the bar, drink Bottega Brut and feel like Rita Hayworth". (24/30)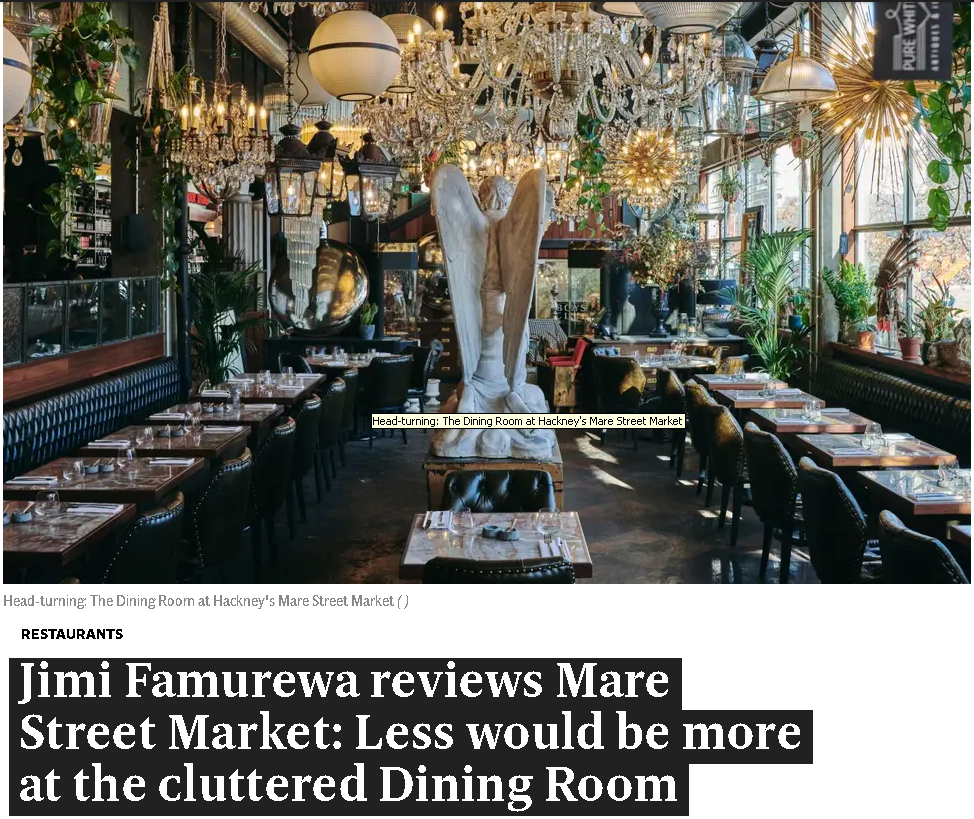 Jimi Fanuwera in The Evening Standard visited The Dining Room at Mare Street Market, "undeniably a head-turning space" within the "grand, multi-use jigsaw" of Mare Street Market, which itself is what the PR people have called a 'food, drink and design consortium'.
He describes the interior of The Dining Room as a "darkened, indoor scrapyard, starved of customers but swarmed with vintage chandeliers and other Insta-ready curios".
Starters were more than "decent"; grilled scallops with miso butter had "proper slurpable decadence", and short ribs were "lifted by a terrific prune and date brown sauce". Mains were less consistent: "each spark of imagination… tempered by either unfortunate sloppiness or needless maximalism — or both". And dessert? "The less said about it, the better."
But he concedes that the bill "didn't climb to a brazen height", the kitchen has some serious talent hidden away and there's "an interesting-looking veggie and vegan menu". (6/10)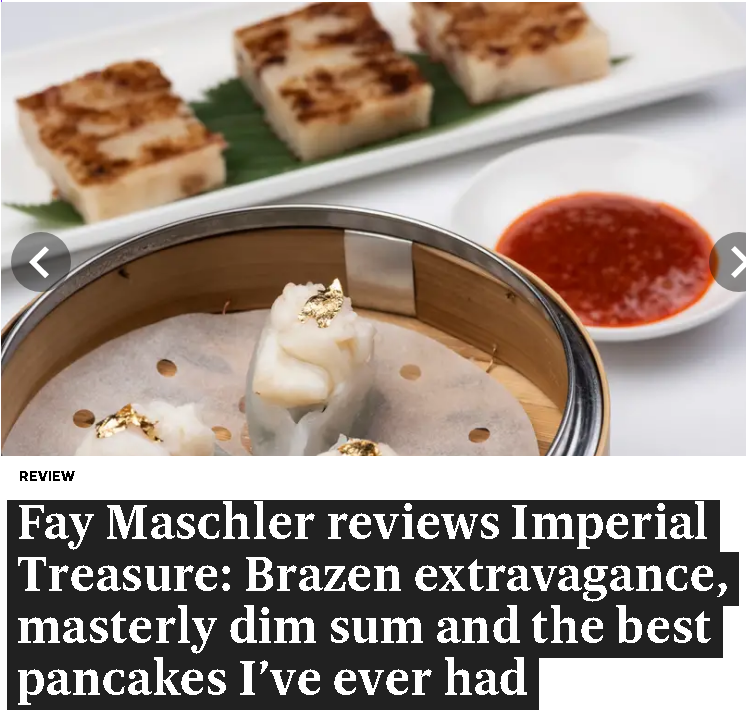 Fay Maschler for The Evening Standard fared better than fellow critic Jay Rayner when she visited Imperial Treasure, the latest in a slew of Asian-global imports. (He's not going to forget the Peking duck being removed from his table for quite a while…). She mentions this incident, and his reaction to the "brazenly extravagant" price, although fails to name-check Jay, while shamelessly plugging her companion's latest book. (The restaurant now offers "a second course prepared three ways" if you order the duck, you'll be pleased to know.)
The skin of the much-mentioned duck, served first, has "remarkable depth of flavour", and the flesh is served with "the best pancakes — light, layered, fluffy and, importantly, hot — I have ever come across". Chinese cabbage in a "labyrinthine stock" is "in its way as impressive as the duck".
For her second review, she went at lunch, for the dim sum, and heartily approved of the xiao long bao, prawn and pork siu mai, "big and busty" sesame prawn toasts and vegetarian ruyi (with "umami forcefulness"). (****)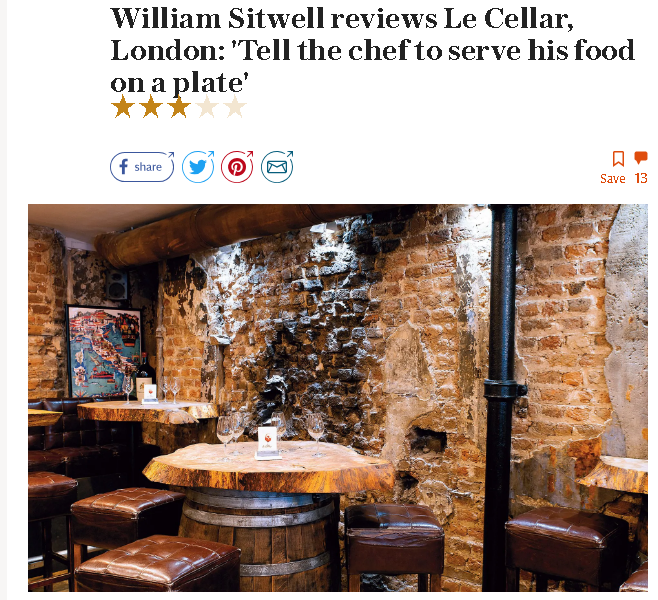 William Sitwell for The Telegraph visited "new, dinky temptress of a place in Clerkenwell" Le Cellar, where the wines are fine (one of the founders is a former Cellar Gascon wine buyer) and the inventive tapas are good – but he could have done without the quirky presentation: "Tell the chef to serve his food on a plate."  (***)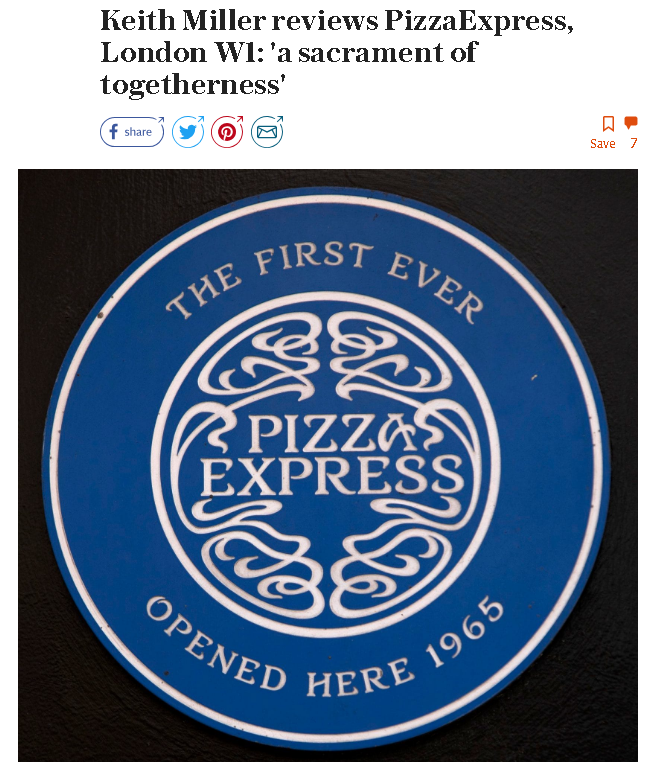 Keith Miller for The Telegraph visited the original PizzaExpress in Soho's Wardour Street, to "raise a glass of red" to the chain's founder, the late Peter Boizot, who died in late 2018, and to " gently take stock of his legacy".
Familiarity is the key – there are better and cheaper pizzas to be had these days – but everyone has PizzaExpress in their memory banks (and taste buds), a favourite branch and a regular order (not to mention that the house red is " still one of the best sub-£20 bottles around ")
"Let's whisper in the ears of his successors, the Chinese private equity firm Hony Capital, that it's probably diverged from his template about as far as it ought to for now." (***)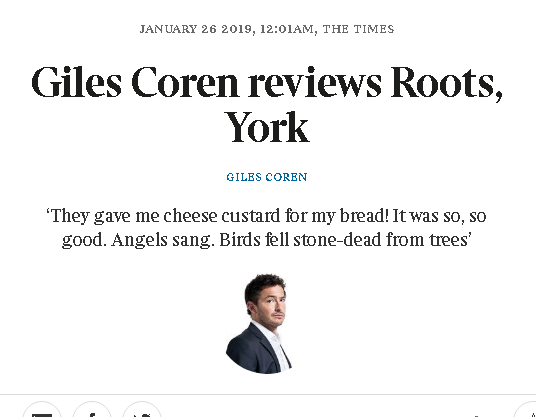 Just one review from Giles Coren in Saturday's Times magazine this week: he's ventured north from London and the Cotswolds, albeit to nice, safe York. But what an adventure it was.
It's a gushing foodie rave from start to finish, no meandering off-topic, not even once. The food at Roots, from the cheese custard ("the best thing I had eaten all year") to the lamb and fermented turnip bao ("one of the best things I have ever eaten"), via gooseberry lemonade ("a pure distillation of that single afternoon in early July when gooseberries are in season") and the "legendary" Black Swan dish of crapaudine beetroot cooked in beef fat was all "bloody wonderful ". And that was just the starters.
"This is a great restaurant… bright and comfortable and pretty with enthusiastic young staff… The cooking is smart, modern, unpretentious and brilliant. There is nothing in London to touch this." (29/30)
And also…
Tom Parker Bowles for The Mail on Sunday sought out the best laksa in London by visiting two new-ish specialist vendors, Laksamania, north of Soho (***) and Sambal Shiok in Highbury (****).
He describes the dish as "the beloved bastard child of two great food cultures": "beautiful fusion of Chinese noodle soup with local coconut and [Malay/Thai/Indonesian/Singaporean] spice". Of course, he's eaten laksa in every country that makes it, "in strip-lit food courts and flashy upstarts alike", but humbly claims to be "no expert".
Laksamania's "Melaka laksa… is a good 'un. Sharp, sour, spicy and rich", while Samabal Shiok's laksas" are magnificent… murky with profoundly fishy depth and a base chilli grunt" – and they win the coveted TPB four stars.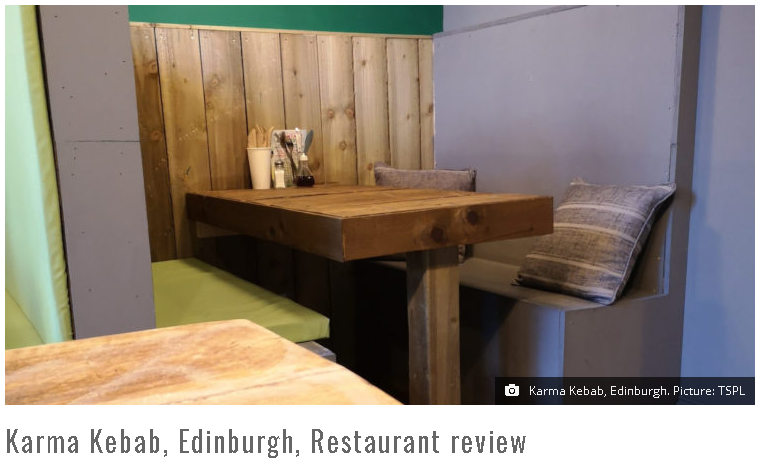 Catriona Thomson of The Scotsman visited Karma Kebab, the new ly opened vegan kebab shop (or "modern morality restaurant") in Edinburgh. Everything is 100% plant-based, from the kebabs to the falafel and poutine; the "wee café" itself has "healthy green and grey painted walls, rough and ready wooden seating booths, and a relaxed student vibe".
The 'doner' leaves our reviewer "lukewarm" but the falafel is "not too shabby". Perhaps any kebab is best eaten late at night after a few drinks, and not on a "quiet Monday lunchtime".
Mark Taylor for The Bristol Post reviewed newcomer Beijing Cooking Pot, run by a lady who used to work at Chilli Daddy, the Sichuan former occupant of this site. As the name suggests, the new place "focuses on the food of the Chinese capital and also Tianjin in the north of the country".
The weekday hot pot meal changes daily; Tuesday's spicy fish hot pot was served with "translucent sweet potato noodle" and packed "a serious kick" – "it was worth all the coughs, sniffs and tears". (4/5)
More from Hardens