6 March 2019
Exclusive "Celebration of Iceland" dinner at London's #1 restaurant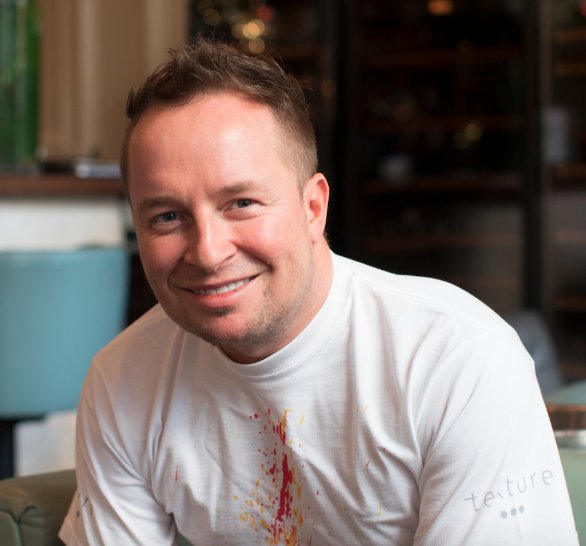 Harden's invites you to a Celebration of Iceland dinner with Agnar Sverrisson,
chef-patron of Texture, #1 rated for food in Harden's 2019 survey
Tickets are now on sale for an exciting one-off dinner at Texture in Marylebone celebrating Icelandic cuisine; we invite you to secure your place before they all sell out.

Icelander Aggi Sverrisson's "more-than-first-class" ten-year-old restaurant is a showcase for his "truly superb" and "excitingly original" Scandi-inspired cuisine.
In the 2019 Harden's survey he achieved the highest rating for food in London (and was second in the whole of the UK in the Harden's 100). This – and his "outstanding" wine selection – have won the ex-head chef of Le Manoir aux Quat'Saisons consistently high ratings from Harden's reporters, reflecting the excellence that won Texture its Michelin star.

On Wednesday 6 March, Aggi will cook an exclusive 4-course menu, specially created for Harden's, which showcases some of the best of Iceland's produce. Head sommelier Alan Bednarski will expertly pair wines to each dish.
Guests will also sample a glass of "Black Death", an Icelandic Brennivin (caraway-spiced schnapps) and the country's signature spirit. Following dinner, a Q&A will present guests with the chance to quiz Aggi about his style of cooking and Icelandic heritage.
The evening starts at 7pm with a Gusbourne sparkling wine canapé reception, hosted by Harden's co-founder Peter Harden.
It is sure to be an unmissable evening of gourmet food and fine wine; guest numbers are limited, so be sure to book today to avoid disappointment as these events can sell out quickly.
Tickets are £130pp including paired wines, and may be purchased by calling the Harden's office on 020 7839 4763 today (between 11am and 5.30pm) or email Tracy, th@hardens.com
Wednesday 6 March
Texture Restaurant,
34 Portman St, Marylebone, London W1H 7BY
7pm
canapés
2013 English Sparkling, Gusbourne Blanc de Blancs, Brut, Sussex
●●●
7.30pm
icelandic smørrebrød
herring, pickled prawns, rye bread
NV Aqua Vitae, Brennivin, Black Death, Iceland
●●●
icelandic gravlax
oscietra caviar, cucumber, sorrel
2016 Riesling Trocken, Peter Jakob Kuhn, Pfalz, Germany
●●●
devon greedy carver duck
celeriac, cranberries, bacon, flower sprouts
2015 Pinot Noir, La Crema, California, USA
●●●
icelandic isey skyr
ice cream, williams pear, rye breadcrumbs
2016 Chardonnay Beerenauslese, Helmut Lang, Burgenland, Austria
●●●
Q & A with Chef Patron Aggi Sverrisson
●●●
tea/coffee, petit fours
£130pp
●●●
Agnar Sverrisson
Agnar Sverrisson is chef-patron and owner of the Texture restaurant group – an independent collection of restaurants and bars.
Sverrisson began his cooking career in Iceland, aged 18, at one of Reykjavik's most renowned restaurants. After leaving Reykjavik in 2001, Agnar joined the Michelin-starred restaurant Pétrus, owned by Gordon Ramsay, and run by Marcus Wareing.
Later the same year, Agnar accepted a sous chef position at highly acclaimed Lea Linster in Luxembourg, in order to deepen his understanding of French cuisine.
In 2002, he returned to England to join Raymond Blanc at Le Manoir aux Quat'Saisons, the oldest Michelin two-starred restaurant in England. Agnar was soon promoted to sous chef, and then to head chef in 2005.
In September 2007, Agnar launched his first venture, Texture Restaurant & Champagne bar offering modern European food with Scandinavian influences.
Since opening, Texture has received many accolades including a Michelin star, and in Harden's most recent 2019 survey secured the highest rating for food of any restaurant in the capital.
Tickets are £130 per person.
To book your place please email th@hardens.com or call 020 7839 4763.
Payment will be taken in full upon booking.
Tickets are non-refundable but are transferable.
As this is a banqueting style event, whilst we will do our best to accommodate, smaller tables may be sharing with others.
Menu items/Drinks are subject to change due to availability on the day.
Please advise us of any special dietary requirements when booking.
Recent News from Harden's